New Age Islam News Bureau
8 Nov 2017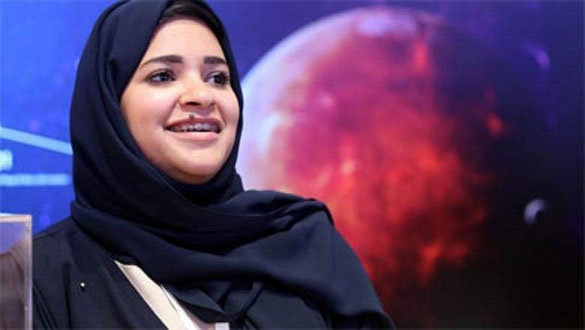 Amel Amin of the Mohammed bin Rashid Space Centre
-----
• Iran: Injured Women Footballer Left Beside The Field
• Canada Groups Launch Court Challenge To Quebec's Face-Covering Ban
• Rajasthan: 'Love Jihad' Woman Returns To Husband
• Released from Indian jail, Pakistani women recall warm treatment in captivity
• Boris Johnson Remarks 'Had No Impact' On Jailed British-Iranian Woman
Compiled by New Age Islam News Bureau
URL: https://www.newageislam.com/islam-women-feminism/women-take-lead-uae-space/d/113154
--------
Women Take A Lead In UAE's Space Missions
Sarwat Nasir/Dubai
November 7, 2017
UAE's leading space centre received mostly job applications from women
Five years ago when engineer Amel Amin joined the Mohammed bin Rashid Space Centre, there was only one female engineer employed there. But, fast forward to today, more than 80 per cent of applications received by the centre are from women.
Women are taking a lead role when it comes to engineering and contribution to the space industry in the UAE, Amin told Khaleej Times at the sidelines of the High Level Forum, which is being hosted by the Mohammed bin Rashid Space Centre (MBRSC) and jointly organised by the United Nations Office for Outer Space Affairs (UNOOSA) and the UAE Space Agency.
Amin said that the centre received more than 80 applications this year from university students who were looking to join them and 75 of those applying were women.
"The change is mostly because the work has become localised. In the past 10 years, we had a lot of the work done in South Korea, so we would have to relocate and work there. It was harder for girls to join, but since the work has moved to the UAE, we've seen a lot of the engagement from girls," Amin, who is currently the head of education unit at the MBRSC, said.
"Even through the application process, we see more girls wanting to join. We have around 180 engineers at the centre and it's about 40 per cent females and 60 per cent men. When I joined five years ago, I was the second female engineer to join the space centre. Because of the movement back to the UAE, we had a huge change that happened - from two female engineers to 40 per cent females.
Amin also pointed out that of the 15 university students who currently work at the MBRSC, 11 are women.
"I think this reflects what you see in universities these days because more girls are graduating in engineering than males," she said.
The MBRSC looks after the space projects taking place in the UAE, including the country's satellites - DubaiSat 1, DubaiSat 2, Nayif-1 and Khalifa Sat.
The rise of women in other areas of the space industry is also visible at the Emirates Mars Mission (EMM) programme.
The EMM project manager Omran Sharaf told Khaleej Times that women are playing a "vital role" at the programme.
"When you look at the role of the women in the Emirates Mars Mission, they play a vital role. More than 40 per cent of our team members are women," he said. "Within the mission, we have eight deputies and three of them are women. One thing we are always proud of is that the role of Emirati women in taking us to Mars."
The EMM aims to launch an unmanned spacecraft to Mars by 2020 to study the planet's atmosphere and climate. The data that will be gathered by the spacecraft, named Hope, will be disseminated to the public for free, Sharaf said.
https://www.khaleejtimes.com/nation/women-take-a-lead-in-uaes-space-missions
--------
Iran: Injured women footballer left beside the field
07 November 2017
Zeinab Karimi, footballer of the Kheibar women's team of Khorramabad (capital of Lorestan Province in western Iran), experienced an inhuman treatment after being injured in the field.
In an interview about her injury during the third week of women's Football League she said, "I was injured in the 20th minute of the game. I remained suffering from pain beside the field until the end of the first half of the game. The supervisor did not even turn an eye on me. The ambulance driver came to me, but when I asked him to quickly take me to the hospital, he answered that 'the supervisor does not allow this. Since you are not bleeding, we do not have permission to transfer you to hospital."
After a while, I was taken to hospital by someone's car.
As for the reaction of the manager of the Khuzistan Club who said, "there was not any serious problems," she posed a question, "Is a dislocated shoulder not important?"
"I waited for four hours in the hospital before being attended to because I had not been transferred by an ambulance. They did not even give me a chair to sit," she lamented. (The state-run ISNA news agency – November 5, 2017)
http://women.ncr-iran.org/iran-women-news/4474-iran-injured-women-footballer-left-beside-the-field
--------
Canada groups launch court challenge to Quebec's face-covering ban
7 November 2017
Two Canadian groups have asked a court to overturn a new Quebec law that bans observant Muslim women from wearing a full-face veil when providing or receiving government services.
The National Council for Canadian Muslims, the Canadian Civil Liberties Association and Quebec Muslim resident Marie-Michelle Lacoste asked a provincial court to declare the law invalid, arguing that it discriminates against Muslim women and violates equality and freedom of religion protections in the Canadian and Quebec constitutions.
The provincial Liberal government that backed the law, passed on 18 October, has rejected claims that it targets Muslim women. It argues that the ban on all face coverings was necessary for security reasons and to facilitate communication and identification of people. Debate has focused on the niqab, a veil worn by a small minority of Muslim women that covers the whole face except the eyes.
Opponents of the law say it targets a visible minority that has been subject to threats and violence in the primarily French-speaking province. Quebec had about 243,000 Muslims as of 2011, according to Statistics Canada.
The government believes the law is constitutional and will defend it in court, Isabelle Marier St-Onge, a spokeswoman for Quebec's justice minister, Stéphanie Vallée, said by phone on Tuesday.
The law affects teachers, police officers, hospital employees and daycare workers in government agencies, and users of public services, from schools to mass transit systems.
"Such blatant and unjustified violations of freedom of religion, as well as of the equality guarantees of the Quebec and Canadian Charters, have no place in Quebec or Canada," the groups' court submission said.
The plaintiffs stand a good chance of success, said the political scientist Emmett Macfarlane, who has written extensively about Canada's constitution and supreme court.
"It's a pretty clear case, where we know who's being adversely affected and we know it's a distinct minority," Macfarlane said.
In January, a gunman walked into a Quebec City mosque and shot six people to death. A French-Canadian university student has been charged as the sole suspect.
France, Belgium, the Netherlands, Bulgaria and the German state of Bavaria have imposed restrictions on the wearing of full-face veils in public places. Denmark plans to institute its own ban.
https://www.theguardian.com/world/2017/nov/07/quebec-face-covering-law-niqab-muslim-court
--------
Rajasthan: 'Love jihad' woman returns to husband
Nov 8, 2017
JODHPUR: A 22-year-old Hindu woman whose conversion to Islam and marriage to a Muslim had led her family to allege 'love jihad' returned to her husband's home on Tuesday after the Rajasthan high court said she was free to go anywhere she wished.
Last week, the court had sent Aarifa Modi, earlier Payal Singhvi, to a 'nari niketan' after her brother filed a habeas corpus petition saying the conversion was forceful. On Tuesday, Aarifa told the court that she did not wish to go back to the women's home. "After this answer, the court set her free and allowed her to go anywhere she wished. The court directed police to leave her wherever she wanted to go," said her husband Faiz Modi's counsel Mahesh Bora. Some Hindu organisations and her parents protested against her decision to return to Faiz. The demonstrators allegedly manhandled Bora, calling him anti-Hindu. Following this, two lawyers' associations suspended work in the second half.
Earlier, when Aarifa's family said they couldn't trace her, police had refused to register an FIR, saying the accused had already approached them with an affidavit on conversion given by her. Last week, wondering whether conversions could be recognised on the basis of affidavits on a Rs 10 stamp paper of mere Rs 10, the court had pulled up police. The case will be heard again on Wednesday.
https://timesofindia.indiatimes.com/india/rajasthan-love-jihad-woman-returns-to-husband/articleshow/61554386.cms
--------
Released from Indian jail, Pakistani women recall warm treatment in captivity
November 7, 2017
Last Thursday on November 2, India released and returned 13 Pakistani prisoners through the Wagah-Attari border, including two women and one little girl who was born on Indian soil in captivity. Hina, who is almost 11, was born in Amritsar jail on November 11, 2006, where her mother Fatima, aunt Mumtaz and grandmother Rashida, found themselves detained that fateful year.
It is a day of celebration in Gujranwala in Punjab, Pakistan. While Rashida passed away in jail in 2008 from a heart attack, the others have made it back after being apart from their family for more than a decade. As for Hina, it is the first time she set foot in Pakistan. "We have slept only for two hours since we got here. We're elated to see so many people coming to meet us. It seems all of Gujranwala has come over to us," Mumtaz, Fatima's younger sister, told Dawn.
The three women had been arrested in 2006 at Attari station while they had been on their way to Delhi for a family wedding the Dawn report said. 400 grams of drugs had been found in their possession. Fatima maintained that the arrest had been based purely on suspicion as the real culprit, a Lahore-based fellow who also travelled on the Samjhauta Express, left his luggage with them as he went to take care of immigration. All the drugs were found therein and he confessed upon arrest — yet the women were sent to prison, she told Dawn. The women had worried about how they'd be treated, especially Fatima who was pregnant at time. Fortunately, they needn't have.
Utterly depressed, they ate very little in jail for eight days, the Dawn reported. On the ninth day, however, the jail superintendent assured them that they were his responsibility and he'd take care of them. Hina was born four months later. Fatima was hospitalised a month before the birth and discharged after fifteen days after. "The woman constables staying with me at the hospital took great care of me there," Fatima recounted to Dawn, adding that she had no trouble bringing up Hina and that she remains thankful to the jail staff for their courtesy, help and support. As Hina grew up, she went on to attend school along with other inmates' children.
The women recall being treated warmly in captivity. Yet, one person towards whom they particularly feel grateful is their advocate Navjot Kaur Chhaba. After an initial bad experience with an insincere, profiteering lawyer — they searched for a new one and found Navjot Kaur Chhaba. Fatima shared that Chhaba fought their case earnestly and ensured bail. "She even contacted an NGO to arrange the Rs 400,000 fine, but didn't charge a penny herself."
"We will never forget what Chhaba ma'am did for us. For a whole year she struggled tirelessly for our release. She didn't help us because we were Pakistani, but on humanitarian grounds. She came to see us off at the border," Mumtaz told Dawn.
On the day of departure, the Pakistani sisters were congratulated by the inmates, wished well by jail staff and showered with gifts by the locals. Hina's teachers and school principal came to see her off to the border. Returning to Pakistan was an experience of overwhelming emotion for the grown up. Hina, until homecoming, only knew her father and family from pictures accompanying exchanged letters in jail and just beginning to get acquainted. Unsurprisingly, she — now a class VII student — dearly misses her school friends. Her father Saifur Rehman recalls the distressing eleven years they spent apart. "I had to marry off my two daughters in their mother's absence. Now, thank God, my family is complete. But I have hardly spent any time with Hina," he told Dawn. Homecoming was all that was due: happiness, tears, prayers and food. If there is any bitterness, it was in Hina's maternal uncle's feeling that the Pakistani government did not make an effort to help them through these trying years and to unite them with their loved ones at the earliest.
http://indianexpress.com/article/world/released-from-indian-jail-pakistani-women-recall-warm-treatment-in-captivity/
--------
Boris Johnson remarks 'had no impact' on jailed British-Iranian woman
7 November 2017
The Foreign Office has insisted Boris Johnson's remarks about a British-Iranian woman have had no impact on her imprisonment in Iran, although the foreign secretary has admitted he "could have been clearer"in his comments.
Johnson telephoned his Iranian counterpart, Javad Zarif, on Tuesday morning to discuss the case of Nazanin Zaghari-Ratcliffe, a charity worker who was detained while visiting the country with her young daughter.
The call came after Johnson told the Commons foreign affairs committee that Zaghari-Ratcliffe had been "teaching journalism" while in Iran, a statement rejected by her family and employer, who said she was on a family holiday.
Johnson's comments were cited in Iran as evidence that Zaghari-Ratcliffe was spreading "propaganda against the regime", prompting fears she could be detained for longer as a result.
But in his talk with Zarif, Johnson said his remarks "could form no justifiable basis for further action in this case", and urged Iranian authorities to release Zaghari-Ratcliffe on humanitarian grounds.
A Foreign Office statement said: "The foreign secretary expressed concern at the suggestion from the Iranian judiciary high council for human rights that his remarks last week at the foreign affairs committee 'shed new light' on the case.
"The foreign secretary said this was absolutely not true. It was clear, as it always had been, that Miss Zaghari-Ratcliffe has been in Iran on holiday when arrested.
"The foreign secretary made clear that the point he had been seeking to make in his evidence to the foreign affairs committee was that he condemned the Iranian view that training journalists was a crime, not that he believed the Iranian allegations that Miss Zaghari-Ratcliffe had been engaged in such activity."
In return, the statement said, Zarif told Johnson that any developments in the case "were unrelated to the foreign secretary's remarks" and he was committed to finding a solution.
The statement added: "The foreign secretary accepts his remarks to the foreign affairs committee could have been clearer on this aspect."
Monique Villa, the chief executive of Zaghari-Ratcliffe's employer, Thomson Reuters Foundation, said Johnson had still never met her family or her employers.
Villa said she welcomed the clarification, but it would be "useful for him to finally meet with Nazanin's family, and myself, to fully appreciate the situation. This would be the first time he would have met us since Nazanin was jailed 19 months ago."
She said Nazanin had never trained journalists in Iran "and we are pleased that [Johnson] has admitted to the Iranian foreign minister that she was in Iran purely on holiday".
Johnson is set to address the Commons on Tuesday afternoon, where it is understood he will clarify his comments.
The address will be focused on updating MPs on efforts to combat Islamic State, but Johnson is also expected to address his comments about Zaghari-Ratcliffe to head off an urgent question tabled by her MP, Tulip Siddiq.
The former shadow home secretary Yvette Cooper and the former foreign secretary Jack Straw have been among those condemning the remarks, made last week to the foreign affairs select committee.
"Hard to find words for how appalling this is. For him it's just another lazy, arrogant failure to check facts. For her it's incarceration," Cooper tweeted.
Straw told the BBC it was a "grave error" by Johnson. "In those circumstances he should have taken rather less than six days to make that clear. Rule one, if you are a British foreign secretary, is to remember that careless talk can cost lives, in the case of Mrs Zaghari-Ratcliffe may cost her literally an extra five years in prison," he said.
The foreign secretary was also criticised by Tory grandee Sir Malcolm Rifkind, who accused him of being too hazy on the detail of his Foreign Office brief. He said Johnson had got it wrong and called on him to pay more attention to his job.
But the international trade secretary, Liam Fox, said "we all make slips of the tongue" and suggested that, despite the concerns the comments could lead to an extension of the jail term, Johnson's remarks were "not a serious gaffe".
Johnson had told the foreign affairs select committee last week that he believed Zaghari-Ratcliffe was "simply teaching people journalism, as I understand it". He said neither she nor her family had been told what crime she had committed. "And that I find extraordinary, incredible."
Her family and her employer, Thomson Reuters Foundation, have said she was in Iran on a family holiday with her now-three-year-old daughter, who is still in Iran being cared for by grandparents while her mother serves her jail term after being convicted of spying.
Shortly after Johnson's comments to the committee, she was returned to court, with his words cited as evidence against her.
The shadow foreign secretary, Emily Thornberry, said in a letter to Johnson that his comments "reveal a fundamental lack of interest or concern for the details of Nazanin's case and the consequences of your words".
https://www.theguardian.com/politics/2017/nov/07/boris-johnson-could-have-been-clearer-over-jailed-british-iranian-woman
--------
URL: https://www.newageislam.com/islam-women-feminism/women-take-lead-uae-space/d/113154
New Age Islam, Islam Online, Islamic Website, African Muslim News, Arab World News, South Asia News, Indian Muslim News, World Muslim News, Women in Islam, Islamic Feminism, Arab Women, Women In Arab, Islamophobia in America, Muslim Women in West, Islam Women and Feminism