New Age Islam News Bureau
30 Aug 2019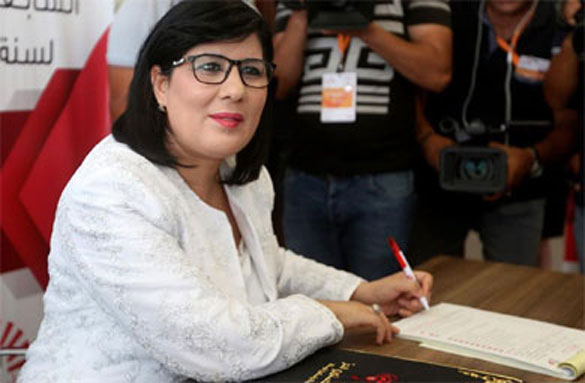 President of the Free Destourian Party (PDL) Abir Moussi submits her candidacy for the upcoming presidential elections in Tunis, Tunisia, Friday, Aug. 2, 2019. Tunisian women can seek abortions, file for divorce and enjoy other rights unheard of in some parts of the Arab world _ and two presidential candidates say it's time to put a woman in charge of the country. Selma Elloumi Rekik and Abir Moussi want to fight against creeping fundamentalism that has threatened Tunisian women's freedoms, and improve economic prospects for unemployed youth. (AP Photo)
------
• Lawsuit: Illinois Secretary Of State Required Muslim Woman to Certify When She Wears Headscarf to Receive Driver's License
• Malaysian Women Deserve Better, Advocacy Group Says After Civil Court Shuts Door On Sisters in Islam
• Princess Doaa Appeals to Boost Awareness of Exercise in Teenagers
• Five women shortlisted for Arab British Centre Award for Culture
• Egypt Suspends TV Host for Body Shaming Women despite Sisi's Call For People To Lose Weight
Compiled by New Age Islam News Bureau
URL: https://www.newageislam.com/islam-women-feminism/women-seeking-tunisian-presidency-say/d/119609
--------
Women Seeking Tunisian Presidency Say It's Time For Change
August 30, 2019
TUNIS, Tunisia (AP) — Tunisian women can seek abortions, file for divorce and enjoy other rights unheard of in some parts of the Arab world — and two presidential candidates say it's time to put a woman in charge of the country.
Selma Elloumi Rekik and Abir Moussi want to fight against creeping fundamentalism that has threatened Tunisian women's freedoms and improve economic prospects for unemployed youth.
Their chances of winning are slim and they're up against two dozen men for the job. But the race is wide open ahead of the first-round vote Sept. 15.
They're running in the hastily organized election to replace Beji Caid Essebsi, Tunisia's first democratically elected president who died in office last month, throwing the small North African nation into political uncertainty.
"There is a clear change in the mentality of Tunisians, who now trust women, and now accept that the country could be led for the first time by a female president," Elloumi, 63, told The Associated Press in an interview.
The centrist businesswoman entered the political scene in 2012 alongside Essebsi, served as tourism minister and created her own political group called Al Amal, or Hope. Her goal, she says, is to "give back hope to young people who no longer have confidence in the political class and to improve the condition of women, especially rural women, who are sidelined by society."
Both she and Moussi consider themselves from the "Bourguiba school," referring to Tunisia's first president after independence from France, Habib Bourguiba. He championed a landmark 1956 family code that gave women unprecedented rights, and today, Tunisian women hold more university degrees than men and have a significant presence from medicine to law and beyond.
In most Arab countries, women still struggle to secure equal political, legal, economic and marital rights as men. Issues like equal inheritance, the right to have an abortion or the right of a Muslim woman to marry a non-Muslim remain taboos for strictly religious reasons.
Moussi, 44, is known as the "steel lady" for her tenacity and firm opposition to Tunisia's Islamists, who have become an important political force since the 2011 Arab Spring revolution lifted restrictions on their activities.
She wants to push moderate Islamist party Ennahdha out of the political scene and change the constitution to ban parties based on religion, calling political Islam "antithetical to democracy."
Her candidacy is marred by her past positions in the RCD party of autocratic former President Zine El Abidine Ben Ali, overthrown in the 2011 uprising, but she told Tunisian radio she still has "serious chances" of winning. She has suggested re-opening legal cases against Ben Ali, who has taken refuge in Saudi Arabia, saying he was subject to "unfair trials."
Both candidates prioritize the fight against terrorism after a string of deadly Islamic extremist attacks that devastated Tunisia's tourism sector and rocked its fragile democracy.
They also both stress the importance of economic diplomacy to boost foreign investment and create jobs. Tunisia has 15 percent unemployment, and the rate is higher among young college graduates struggling for opportunity. Tunisia's post-revolution leaders have failed to bring prosperity, and the economy will be the new president's biggest challenge.
Despite Tunisia's relative female-friendly political climate, many adhere to more traditional views of a woman's place. Essebsi had hoped to see a law passed giving women equal inheritance rights, overturning the current system based on Islamic Shariah law that entitles daughters to only half the inheritance given to sons. But the measure was highly controversial and drew street protests by thousands of fundamentalists, who remain a potent force.
Al-Azhar, the highest Sunni religious institution in the Muslim world, released a statement dismissing calls to amend Tunisian inheritance and marriage laws, saying they could lead to instability in Muslim societies.
Still, some men embrace the idea of a women in power. Last year, a woman from Tunisia's moderate Islamic party was elected mayor of Tunis, the capital, in a first.
Prominent male politician Jomaa Rmili, who joined Elloumi's party, told The AP: "I think it is time, through elections of course and in a democratic way, for the Tunisian people to vote to choose a woman as president."
https://www.egyptindependent.com/women-seeking-tunisian-presidency-say-its-time-for-change/
--------
Lawsuit: Illinois Secretary Of State Required Muslim Woman to Certify When She Wears Headscarf to Receive Driver's License
By NAUSHEEN HUSAIN
AUG 29, 2019
A Rockford woman is suing the Illinois secretary of state in an attempt to change a state rule requiring those who wear a religious head covering in their driver's license photo to also certify that they do not normally remove that head covering in public.
Maryjane Bicksler, 68, filed the lawsuit this week in Chicago federal court with the help of the Chicago chapter of the Council on American-Islamic Relations.
The suit states that Bicksler, who is Muslim and wears a hijab, went to her local DMV in Rockford to renew her driver's license in July. She was asked to sign a form saying that if the DMV received evidence that she does not wear her hijab in public, her driver's license would be canceled.
Bicksler said when she asked to take a photo of the form, she was refused.
"That made me feel like something wasn't right, it was suspicious to me," Bicksler said in an interview. "Were they going to put my name on a special list? Was there going to be a Muslim hijabi list in Springfield so they could identify us all later for some reason? It just didn't feel good."
Illinois policy states that an ID photo should feature the full face with no head covering. Religious headwear, like a hijab or a pagri (a Sikh turban), is allowed as long as it doesn't cover the face. A second part of the regulation states that the person must sign an acknowledgement that he or she does not typically "remove the head dressing in public as a matter of courtesy or protocol."
The second part of that policy has been criticized by CAIR since 2017, when another person had the same experience, said attorney Phil Robertson, who is representing Bicksler. He said the organization has been trying to work with the secretary of state to change the language and reached out as recently as January, when Gov. J.B. Pritzker's administration took office.
"We understand that they would ask for a statement that this is a sincerely held religious belief. That's OK, we've seen that in many other states," Robertson said. "But the regulations in the form go further than that, and that's what we have an issue with. We've been trying to work with the office to adjust the language to make it less ambiguous and more workable, and they unfortunately have not agreed to any of the changes."
The lawsuit calls for the language in the regulation to be more specific so that it is not intrusive.
"We want clarification on when (removing headwear) is OK and when is it not. The way it is now, it goes beyond what the First Amendment allows them to do," Robertson said. "There are myriad reasons where it would be merited, or even chosen or decided, for a hijab to be removed publicly."
A spokesperson at the Illinois secretary of state's office said the office cannot comment on pending litigation.
Bicksler, who worked as a community organizer for almost 20 years and converted to Islam in 2003, said when she wears her hijab is an issue of personal understanding and choice.
"Once I decided I wanted to become a Muslim, I studied over a year, because I knew I would wear a scarf and I knew that, my job being in rural Illinois, people were going to wonder why I was wearing this scarf. It was a commitment I made immediately when I decided I would be a Muslim," Bicksler said.
"But some nights when I have to take my young son to work, it's dark and we're rushing out the door, I don't put it on. It's very seldom. It feels like when you forget a ring or your watch, but it happens."
In 2015, the secretary of state's office sent flyers to DMV employees to remind them people do not have to remove religious headwear when taking official photos. The Sikh American Legal Defense and Education Fund partnered with CAIR to encourage this action, and both organizations worked with the secretary of state's office, even lending staff members to pose for photos for the flyers.
At that time, Robertson said, the form Bicksler was asked to sign was not discussed.
Rules about head coverings in official photos differ from state to state. According to a 2005 CAIR report by former research director Mohamed Nimer, the trend of accommodating different religions in ID and license photos increased after Sept. 11.
"At that time, there were cases from Muslim women who were encouraged to take off their headscarves for these photos. That was the main complaint at the time, and we wrote the report so that states could learn from each other," said Nimer, who teaches at American University in Washington, D.C. "It seems here that they're trying to stay in the loop on someone's religious beliefs. What happens when a woman changes her view of what the hijab is — does she report that to the DMV?"
Other states, and other kinds of faith practitioners, are also dealing with similar issues when trying to clarify how to address religious beliefs in official identification.
In Alabama, the American Civil Liberties Union filed a complaint in 2016 on behalf of a Christian woman who was asked to remove her head covering for a driver's license photo. She was told the rule allowing for religious headwear only applied to Muslim women. That same year in Maine, a Pagan priest was allowed to keep his religious headwear — goat horns — for a driver's license photo, after explaining to the DMV how and why they are religious.
Bicksler, who said the experience made her angry, had her own specific request:
"That there is no form for any Muslim to sign."
https://www.chicagotribune.com/news/breaking/ct-religious-headwear-drivers-license-20190829-kvnn3toqurfgzj7trme3fyjkmy-story.html
--------
Malaysian Women Deserve Better, Advocacy Group Says After Civil Court Shuts Door On Sisters in Islam
30 August 2019
By Soo Wern Jun
KUALA LUMPUR, Aug 30 — The Asian Pacific Resource and Research Centre for Women (Arrow) today urged the civil courts to review the recent judgment on Muslim women rights advocacy group Sisters in Islam (SIS).
Arrow said the High Court's dismissal of SIS' challenge against a five-year fatwa labelling it an Islamic "deviant" organisation has severe repercussions for Malaysia in the advocacy and protection of women's rights and their dignity.
"To reiterate what SIS has already said — after 62 years of independence, Malaysian women deserve better than this," Arrow executive director Sivananthi Thanenthiran said in a statement.
Arrow, a Malaysia-based NGO which advocates women and youths rights, asked how SIS is considered to be "deviant" by pushing for policies that are today being implemented in other Islamic countries like Morocco and Tunisia as well as famed Islamic institutions like the Al-Azhar University in Egypt.
"SIS is a civil society working towards advancing the rights of Muslim women in Malaysia within the framework of Islam, universal human rights principles, constitutional guarantees as well as live realities and experiences of women.
"SIS has also been advocating issues in relation to end child marriage, female genital mutilation (FGM), promoting gender equality in Muslim marriages and Islamic Family Laws, and taking a stance against gender based violence and moral policing," Sivananthi said.
"By saying that the civil court has no jurisdiction relating to Shariah law, it is setting the stage for increasing crackdown on women's rights organisations by fundamentalist and conservative groups," she added.
Last Tuesday, High Court judge Datuk Nordin Hassan threw out SIS' challenge of the fatwa saying the civil courts have no jurisdiction to decide on the case.
He said SIS should instead go to the Shariah courts to challenge the fatwa.
The judge also said on the Selangor fatwa applies to SIS Forum (Malaysia) even if it was a company.
Companies and their directors are usually considered separate legal entities, but the judge said justice in this case requires this corporate veil to be lifted.
While acknowledging the company SIS is an "artificial legal person", the judge said its directing minds are Muslims and their activities touch on Islamic law which the fatwa is applicable on.
https://www.malaymail.com/news/malaysia/2019/08/30/malaysian-women-deserve-better-advocacy-group-says-after-civil-court-shuts/1785853
--------
Princess Doaa Appeals to Boost Awareness of Exercise in Teenagers
August 29, 2019
By Saleh Fareed
JEDDAH — The United Nations Ambassador for Peace and Children Princess Doaa Bint Mohammed has initiated a survey, based on a questionnaire, regarding the number of adolescents partaking in various sports activities in a week.
The survey saw nearly 2,500 Twitter followers of her Twitter page @PrincessDoaaKSA participating and the opinion of the respondents were varied. Most of the respondents agreed on the need to exercise once in a week — which is nearly 42%.
The polling showed the significance of exercise in a teen's life, while the normal time spent by teenagers exercising via various sports activity is 60 minutes a day.
On the other hand, the survey results showed that 28% exercise daily, while the proportion of people exercising three times a week is 20%, and the lowest number of people exercising twice a week is 10%.
Princess Doaa appealed to parents to encourage their children to follow healthy lifestyles and set aside time for exercise, which will lower triglycerides, cholesterol and improve mood.
She added, "Exercise helps to relieve anger and improve mood through the production of endorphins, which helps a person to feel happy, burns calories, helps adolescents avoid weight gain, and also protects against the risk of diseases such as type 2 diabetes and high blood pressure, which has become more prevalent among teenagers."
In conjunction with the approach of the new school year, the subject of school sports and their activation and attention is very important, as it is the responsibility of schools to provide appropriate facilities for the various exercise and sports activities.
The famous saying "Healthy mind in a healthy body" demonstrates the importance of sports in enhancing the mental abilities of students and the significance of incorporating sports and physical activities during the school days.
Schools should spread awareness regarding the importance of sports, and various exercise related activities among students and teachers, and to correct misconceptions about the negative impact of exercise on level of academic performance.
Princess Doaa also highlighted the importance of using social media in awareness campaigns on child and women related issues, which is a cornerstone of the new digital era.
Princess Doaa poses several questions and discusses them with the followers, and she also provides information that will increase awareness in the community.
Princess Doaa is the wife of Prince Mohammed Bin Abdullah Bin Turki Al Saud, one of the most prominent pioneers in community work, charity, humanitarian and influential figure in the Arab world, and the ambassador of peace for children and youth from the United Nations.
She is also the Supreme Head of the Arab Women Foundation, Ambassador of Peace and Human Rights and Goodwill Ambassador for Humanitarian Action and Sustainable Development from the Arab Dream Foundation.
She is the owner and founder of the Friends Zone Academy, Planning and Development Consultant, Effective Contributions for the betterment of Orphans and the Elder aged people, Women and Children and building Community relations for Sustainable Development and taking Charitable Initiatives.
http://saudigazette.com.sa/article/575824
--------
Five women shortlisted for Arab British Centre Award for Culture
29 Aug 2019
With women dominating, the Arab British Centre Award for Culture has shortlisted nine candidates, five individuals and four organisations, for its 2019 valuable award, noting the high standards of applicants at the prestigious competition.
"Thanks so much to everyone who submitted this year – the standard was extremely high, and the breadth of submissions represent the diversity, strength, and resilience of the Arab cultural sector here in the UK," reads a statement published on the organisation's official website in late July.
The five individuals shortlisted are Lebanese-American musician Juliana Yazbeck, children's author and illustrator Nadine Kaadan from Syria, Sudanese artist Omeima Mudawi-Rowlings, Scotland-based curator and activist Samar Ziadat and comedian Esther Manito.
Among the shortlisted organisations are 'The Barakat Trust', an Islamic arts and culture preservation organisation, 'Comma Press', a non-profit independent short-story publisher, event producer 'MARSM', and 'SARHA', which is a collective of filmmakers and other artists.
The winner will be named at the Award Ceremony reception on 26 September 2019.
The award is a biennial prize established in 2008 to celebrate significant contributions of Arab arts and culture and "further dialogue and understanding" of the Arab world in the United Kingdom through financial support to individuals and organisations.
The award, which includes a bespoke trophy as well as a cash prize of £2,500 and a British Council travel grant of £1,500, was previously granted to Saqi Books, Zaytoun, Liverpool Arab Arts Festival, Al-Jazeera English, playwrights Hassan Abdul Razak and Hannah Khalil, and Arts Canteen.
http://english.ahram.org.eg/NewsContent/5/35/344677/Arts--Culture/Stage--Street/Five-women-shortlisted-for-Arab-British-Centre-Awa.aspx
--------
Egypt Suspends TV Host for Body Shaming Women despite Sisi's Call For People To Lose Weight
August 29, 2019
Egyptian TV presenter Reham Saeed has been banned from appearing on any media platform for one year after she body shamed women by saying "fat people are dead".
"You lose part of your femininity if you are fat," she added. "They are burdens on their families and on the state, and are an eyesore."
Social media users were outraged by her comments, including Lebanese TV host Rabia Zayyat, who said: "The words of this woman are full of bigotry, ignorance and untreatable disease. This is a dangerous example in the media."
After widespread backlash Reham announced via Instagram that she would be quitting, however this is not the first time Reham has been under fire for controversial comments. In 2015 she accused a woman of dressing indecently after she was slapped by a man who was sexually harassing her and shared photographs of her wearing a swimsuit.
After the government-run National Council for Women (NCW) filed a complaint against her, the Supreme Council for Media Regulation issued a decree banning her for 12 months for committing a "media crime by insulting Egyptian women" and violating "professional standards".
But the NCW has itself come under fire in the past for being ineffective at fighting sexual harassment against women. In 2018 Egyptian Streets revealed that 95 per cent of calls made to their sexual harassment hotline were ignored.
In fact authorities are regularly criticised for their inaction on sexual harassment. In 2014 the government passed a law stipulating sexual harassment should be punishable by five years in prison, but it is rarely enforced.
Women who do speak out about sexual harassment are often penalised by authorities – in 2018 Amal Fathy was sentenced to prison after posting a video on Facebook calling out sexual harassment.
The decision to sack Reham will be seen as contradictory to those that remember President Abdel Fattah Al-Sisi's announcement last year that presenters and guests should not appear on TV shows if they are fat.
The president attempted to justify strict and deeply unpopular austerity measures being rolled out in the country by saying Egyptians should make more of an effort to lose weight.
In televised comments he said: "The second I walk into any place I look at things you cannot possibly imagine I would notice; and I ask myself 'what is this? Who are these people? Why are these people not looking after themselves?'"
He then turned to his prime minister and asked him not to put on weight.
There was an outcry against his comments, which people labelled fat shaming and an elitist approach to a poverty problem.
These are not isolated comments. Several years earlier Al-Sisi called on Egyptians to cut down on what they eat to save money. While his education minister has suggested students get off the metro two stops early and walk to exercise.
https://www.middleeastmonitor.com/20190829-egypt-suspends-tv-host-for-body-shaming-women-despite-sisis-call-for-people-to-lose-weight/
--------
URL: https://www.newageislam.com/islam-women-feminism/women-seeking-tunisian-presidency-say/d/119609
New Age Islam, Islam Online, Islamic Website, African Muslim News, Arab World News, South Asia News, Indian Muslim News, World Muslim News, Women in Islam, Islamic Feminism, Arab Women, Women In Arab, Islamophobia in America, Muslim Women in West, Islam Women and Feminism