New Age Islam News Bureau
24 Sept 2015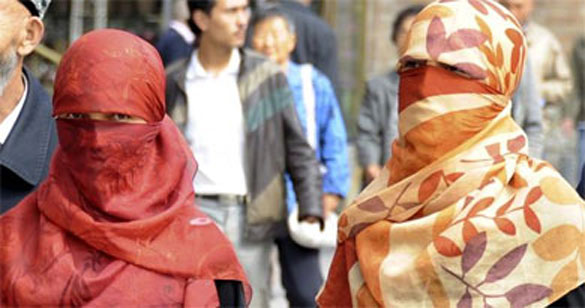 Uighur women wearing face veils walk on a street in Urumqi September 17, 2013 Reuters/Stringer
---------
• Women's Veils a Sign of Backwardness in Xinjiang: Officials
• Saudi Women Artists Throw Light on Their Work At Jeddah Event
• Women in Remote Pakistan Ostracized For Medical Condition
• The Islamic State West Africa Continues To Utilize Women as Suicide Bombers
• Women Are Highly Valued In Muslim Culture
• What Feminist Christians Think About Pope Francis
• Controversy Surrounds IDF Shooting Death of Palestinian Woman in Hebron
• Police Hunt Logan Anti-Islam Abuser Who Exposed Backside to Woman
Compiled by New Age Islam News Bureau
URL: https://newageislam.com/islam-women-feminism/women-veils-sign-backwardness-xinjiang/d/104705
-------
Women's veils a sign of backwardness in Xinjiang: Officials
Thursday 24 September 2015
BEIJING: The custom of women wearing face veils is not a tradition of minority people in China's western area of Xinjiang or in any Muslim country, but is a symbol of extremism and backwardness instead, a senior regional official said on Thursday.
Energy-rich Xinjiang, visited this week by British finance minister George Osborne on a rare trip by a Western official, is strategically located on the borders of Central Asia.
China has great plans for the region in its new Silk Road strategy.
The government has stepped up curbs on religious clothing in the heavily Muslim area, where it blames Islamist separatists for violence that has killed hundreds of people over the past few years.
Many Xinjiang experts say the outlawing of veils and strict enforcement of the rules could further stigmatise the region's Uighurs, who speak a Turkic language and call the region home.
Last year, Karamay, a northwestern city in Xinjiang, banned people wearing head scarves, veils or long beards from boarding buses.
Authorities in Xinjiang's capital of Urumqi have also banned the wearing of Islamic veils in public.
In unusually strong comments, Xaukat Emen, a member of the Xinjiang Communist Party standing committee, said face veils and other coverings for women were "typical extremist attire" and had nothing to do with Xinjiang, or Arab or Muslim countries.
"A people who totally cover both their eyes are certainly a backward people. We Uighurs do not want to see our female comrades wear this type of clothing," he told a news conference in Beijing.
"Many women want to work, and many want to have contact with society. So on this issue, we will resolutely not agree." In some cases, men had worn the veil to kidnap children, he added.
Uighurs have traditionally followed a moderate form of Islam, but many have begun adopting practices more common in Saudi Arabia or Pakistan, such as full-face veils for women, as China has stepped up the security crackdown of recent years.
Exiles and many rights groups trace the real cause of the unrest to China's heavy-handed policies, including curbs on Islam and the culture and language of the Uighurs.
China denies trying to repress the Uighurs.
An Uighur himself, Xaukat Emen said the government was committed to supporting religious rights in Xinjiang, especially those relating to important festivals such as Eid and the fasting month of Ramazan.
"All the people enjoy religious freedom, and the normal religious practices of believers are protected by law," he said.
http://www.dawn.com/news/1209074/womens-veils-a-sign-of-backwardness-in-xinjiang-officials
--------
Saudi women artists throw light on their work at Jeddah event
Published — Wednesday 16 September 2015
JEDDAH: More than 30 Jeddah art aficionados and cultural cognoscenti gathered at the US Consulate on Monday for a panel discussion on Saudi women in the arts.
The event was part of the ongoing public affairs series called "Friends of the Arts."
The work and perspectives of artist/scholar Dr. Lina Kattan, painter/professor Samiah Khashoggi and photographer Suzan Iskandar were presented at the event.
Kattan, a graduate in Islamic Art Education from King Abdul Aziz University and a Ph.D. in Visual and Performance Arts from Texas Tech University, presented selections from her recent projects. Employing a unique approach known as collaborative art, some of Kattan's works are a fusion of creativity from two or more artists. She also discussed pieces from her recent US exhibition.
Khashoggi, professor of interior design at Dar Al-Hekma College, has degrees from Kingston University and De Montfort University UK. Since 1990, Khashoggi's life has been divided between her academic profession and an art practice. In 2005, Khashoggi founded Saudiaat, a women artists' group diverse in their styles and techniques united by their gender and solidarity. She has extensive experience with digital art.
Born in Makkah, the artistic talents of Iskandar were discovered while she was in elementary school. She began her professional career in 2002 as a newspaper photographer covering events and official ceremonies. This past summer she was the featured artist at the Jeddah Festival, with a pavilion exclusively devoted to her images of the Two Holy Mosques and the surrounding region.
Following the formal presentations, the three Saudi artists fielded numerous questions from an inquisitive audience.
Responding to a query on her series of women's face coverings, Kattan said: "Whenever I do artwork, I like to research the religious documents. I put it as an open statement to the spectators for them to judge for themselves about the idea.
Khashoggi has exhibited in numerous group shows. Her first solo exhibition, "Reflections" was held in 2000 at Al-Alamiya Art Gallery in Jeddah. Her art developed from conventional realism to a more stylized expressionist approach. Describing her recent work, she mentioned the collages as a process of "collecting textures" and incorporating collages. "I prefer that there is a bit of humanity and a bit of a personal touch in everything. The digital world is becoming too flat and too repetitive, computerized, robotic."
Answering a question from the audience about the dominant, empty areas of her paintings of women in abayas, Khashoggi said: "You give space for the composition to breathe. If I complicate it, it will take away from the structure itself. The presence of 'the ladies' has to be the most important thing."
Iskandar showed her recent book of photos of the Two Holy Mosques. She stated that photograph uses a language that is universally understood. One of her favorite experiences was how the viewing her photographs was a catalyst for a Chinese man convert to Islam. "My photographs convey an unseen message," she said.
http://www.arabnews.com/art-culture/news/806971
--------
Women in remote Pakistan ostracized for medical condition
By Safiullah Shahwani
24 September 2015
QUETTA, Pakistan, Sept. 23 (News Lens Pakistan) -- Ever since she endured a complicated pregnancy years ago, Bibi Razia has been ostracized by her family, barred from even sitting with her husband other members of her family.
She suffers from a little-known but devastating disease known as obstetric fistula. The condition, according to the Fistula Foundation, is the result of a hole between the vagina and rectum or bladder caused by prolonged labor and often affects women in the developing world due to the poor state of maternal care there.
"I was abandoned in a separate room with my child, and food was served me there," Razia said. "I was not allowed to cook food because of the smell that continuously came from me."
In Pakistan, there are said to be as many as 8,000 fistula cases. The large number of cases is blamed on women in places like Balochistan province having babies delivered at home by traditional birth attendants because they cannot afford to go to the hospital. Botched hysterectomies are responsible for causing fistula.
"This is a disease of poor, where poor women grapple with it during the delivery," said Sajjad Siqqui, the Pakistan country director for the U.N. Population Fund, adding that among every 100,000 delivery cases, 726 women die each year in Pakistan, and the ones who survive suffer complications of fistula."
Siqqui said that there are only 56 doctors in the entire country available to treat fistula patients, partly because it is not a lucrative business.
"In Balochistan, only four doctors have expertise to treat patients, all based in Quetta," Siqqui added.
Ahsan Tabusum, the U.N. agency's provincial coordinator, told News Lens Pakistan that the agency, in collaboration with the Pakistan National Forum for Women Health, has opened three centers for fistula treatment in Quetta. They have treated over 500 patients since 2006, he said, with a 90 percent success rate. But he said so far there has been little interest from the government in expanding or taking over the program. Making matters worse, doctors at government facilities often fail to refer patients or inform the women of the centers.
"Once we roll back our program, then what will be the fate of patients suffering from fistula?" Tabusum wondered.
Adding to the women's woes is the fact that many are given little support and wait years and even decades to have the condition addressed. Most do not even know there is a relatively routine treatment available, and are often abandoned by their families before they get the treatment.
"We do not have recorded data as to how many women have been divorced in Balochistan or abandoned so far, but I do have idea that they are beaten, abandoned and even divorced after developing fistula," said Tasneem Ashraf, president of Pakistan Association of Gynecologists.
The obstetric fistula can be closed with intravaginal surgery, according to the Fistula Foundation. If a skilled surgeon performs the surgery, the foundation said a fistula patient has a good chance of returning to a normal life.
Women who do not know about the treatment are forced to endure a life of misery.
One of those women, Bibi Sursan, has been suffering with the condition for 25 years. Living in the remote district of Harnai, Sursan only learned about the condition when she visited a doctor in Quetta.
"I informed my husband, but he did not know that the disease would linger on for the next three decades," said Sursan, who is in the process of getting treatment.
Razia, too, has come to Quetta for treatment.
Hailing from Nasirabad district, 125 miles from the Quetta, Razia could not afford to get the treatment for much of her life because her husband is a poor farmer. After finally making the travel arrangements to Quetta, however, she was found to have developed an infection in her bladder.
"I was abandoned and ostracized," she said. But with the treatment, Razia said she is hopeful her life can change for the better.
"I hope to reunite with my family and children," she said.
--------
The Islamic State West Africa continues to utilize women as suicide bombers
BY CALEB WEISS
September 23, 2015
Boko Haram, which now calls itself the Islamic State's West Africa Province (ISWA), continues to utilize women as suicide bombers in northeastern Nigeria and in neighboring Cameroon. The jihadist group killed three people today in a suicide attack in the town of Mora in northern Cameroon.
According to Reuters, a police officer and two civilians were killed after two female suicide bombers detonated themselves in a car close to the town's stadium. Early reports have indicated that the police officer stopped the car for a routine check before being killed in the blast. The death toll is expected to rise as authorities begin searching the scene and gather more information. The attack also occurred just hours after coordinated improvised explosive device attacks in the Nigerian city of Maiduguri killed over 50.
The attack in Cameroon is just the latest to have been perpetrated by ISWA this year. Earlier this month, the jihadist group used two teenage girls to attack a local market and a nearby army camp in Kerewa killing 30. In July, a 12-year old girl killed 20 people when she detonated in a crowded bar in Maroua, the capital of Cameroon's Far North Region. A week before that attack, two teenage girls blew themselves up in a market in Maroua, killing at least 20. A few days before, two other teenage girls detonated in the border town of Fotokol, killing 10 civilians and a Chadian soldier. In response to these attacks, the regional government banned women from wearing burkas, which the ISWA often uses to mask its suicide bombers.
The tactic of using women as suicide bombers has been a common occurrence in Nigeria over the past two years. In one of the deadliest attacks, on Nov. 27, 2014, two women killed 78 people and wounded scores more at a market in Maiduguri. The group's first known instance of using a female suicide bomber was on June 8, 2014, when a middle-aged woman on a motorcycle detonated near a Nigerian military barracks in Gombe, killing one policeman.
The consistent tactic indicates that the jihadist group is running camps to indoctrinate and train its recruits. The ISWA is known to have kidnapped hundreds of young girls and women in order to convert them to Islam, marry them off to fighters, and train them to conduct attacks.
The ISWA has deployed at least 44 female suicide bombers in Nigeria and Cameroon since June 2014, according to data compiled by The Long War Journal. The use of women can make it easier for jihadist groups to conduct suicide attacks, as explosives may be easier to hide, and men are less likely to search women due to cultural sensitivities. The ages of the women range from just 12 years old to middle-aged.
The group is not the first terrorist organization to use women to carry out suicide attacks. Jihadists in Russia's North Caucasus are famous for deploying "Black Widows," who are the wives of fighters killed while battling Russian troops. Al Qaeda in Iraq (the predecessor to the Islamic State), the Afghan Taliban, and the Movement of the Taliban in Pakistan have all deployed female jihadists to attack their enemies.
Despite a coordinated military offensive by Nigeria, Chad, and Cameroon that has targeted ISWA strongholds in the Lake Chad region, the jihadist group has maintained its attack tempo. ISWA has launched two suicide attacks in N'Djamena, the capital of Chad, over the past months, and has conducted multiple military assaults in Niger, Cameroon, and Nigeria. In one particularly gruesome attack, ISWA gunmen assaulted two mosques in the town of Kukawa in Borno as worshippers were praying. At least 97 people, many of them children, are reported to have been killed. Around 800 people are suspected to have been killed since Nigerian President Muhammad Buhari came into power in May.
List of Islamic State West Africa/Boko Haram suicide attacks utilizing women since the beginning of June 2014:
Sept 20, 2015 – A police officer and two civilians were killed when two female suicide bombers detonated themselves in Mora, Cameroon.
Sept 5, 2015 – Two female suicide bombers killed 30 and wounded over 100 in an attack on a local market in Kerawa, Cameroon, and on a nearby army camp.
Aug 25, 2015 – A 14 year old girl suicide bomber killed 5 in an attack on a bus station in Damaturu.
July 25, 2015 – A 40 year old woman, described as "mentally unstable," detonated herself in a crowded market in Damaturu, Nigeria, killing 14.
July 25, 2015 – A 12 year old girl killed 20 people in a suicide bombing on a popular bar in Cameroon.
July 22, 2015 – Two girls killed at least 20 people in separate suicide bombings in Maroua, the capital of Cameroon's Far Northern Region.
July 17, 2015 – A 10 year old girl and an elderly woman killed 50 people in separate suicide attacks in Damaturu, Nigeria.
July 16, 2015 – A young woman suicide bomber killed at least nine people as they gathered to mark the Muslim holiday Eid al-Fitr in Damaturu.
July 12, 2015 – Two women suicide bombers killed 10 civilians and a Chadian soldier in an attack in the Cameroon border town of Fotokol.
July 7, 2015 – A woman killed at least 20 people after detonating her vest in a crowd of Nigerian government workers in Zaria.
July 7, 2015 – A female suicide bomber detonated her explosives after she was stopped at a roadblock in Zaria.
July 3, 2015 – A teenage woman suicide bomber killed 12 worshippers when she blew herself up in a mosque in Malari in northeastern Nigeria.
July 3, 2015 – A woman suicide bomber killed five people at a Christian church in Potiskum, Nigeria.
July 1, 2015 – The Nigerian military said that six women suicide bombers killed scores of civilians and one soldiers in separate attacks in the village of Zabamari Muna near Maiduguri.
June 24, 2015 – A girl, who is thought to have been 12-years-old, killed 10 people after detonating her explosive vest at a market in Yobe state, Nigeria.
May 16, 2015 – A woman killed 10 people in a suicide attack in Damaturu, Nigeria.
March 12, 2015 – A woman killed at least 34 people after detonating an explosive device at a market in Maiduguri.
Feb 22, 2015 – A young girl killed five people and wounded dozens more in a bombing at a security checkpoint outside a market in Potiskum.
Feb 15, 2015 – A woman killed at least seven people in a bombing at a crowded bus station in Damaturu.
Feb 12, 2015 – A woman killed seven people in a suicide attack at a crowded market in Nigeria's Borno state.
Jan 10, 2015 – A female suicide bomber killed 19 in an attack in Borno.
Dec 10, 2014 – Two female suicide bombers kill four in Kano.
Dec 1, 2014 – Two women suicide bombers kill five in Maiduguri.
Nov 26, 2014 – Two women suicide bombers killed 45 people at a crowded market in Maiduguri.
Nov 16, 2014 – A woman suicide bomber killed at least 12 in an attack at a cellphone market in Azare, Nigeria.
Nov 12, 2014 – A woman suicide bomber detonated her vest at a teacher training college in Kontagora in Nigeria's central Niger State.
July 31, 2014 – A woman killed three people after detonating her explosives at a college in Kano, Nigeria.
July 30, 2014 – A teenage girl killed six people after blowing herself up among a crowd of students at a college campus in Kano.
July 28, 2014 – A young woman killed three people after detonating her bomb at a kerosene queue in Kano.
July 28, 2014 – A teenage girl injured six people after detonating a bomb at a shopping centre in Kano.
July 27, 2014 – A teenager with an explosive device concealed under her veil detonated her bomb up at a university campus in Kano, injuring five police officers.
June 25, 2014 – A woman detonated her bomb after parking her car next to a gasoline tanker at a fuel depot in Lagos, Nigeria.
June 8, 2014 – A middle-aged woman killed a policeman in a suicide attack at a military barracks in Gombe, Nigeria.
http://www.longwarjournal.org/archives/2015/09/the-islamic-state-west-africa-continues-to-utilize-women-as-suicide-bombers.php
--------
Women Are Highly Valued In Muslim Culture
September 24, 2015
Dear Ali: I used to think that Arab or Muslim men don't have enough respect for women, which I admit is a common stereotype in my country. However, after reading a couple of your previous articles, I noticed how often you mentioned the value of women and the respect that should be shown to them. So I want to ask, what is understood as respect towards women in your culture? DA, Canada
Dear DA: Thank you for asking this question. Honouring women is a very important subject in our culture, not only among Arabs, but also the Muslim world in general.
We're commanded to respect our mothers more than anyone else. This how we're brought up. This respect is understood as we shouldn't say a word against our mother, or even a sigh of tiredness if she asks us to do something. This also goes for our sisters, daughters, wives and so on. It's really important to make her needs a priority and to comfort her. We have a very powerful saying that the way to paradise lies at the feet of our mother. It teaches us how to honour a mother.
Another understanding of respect towards women in Islam and Arabic culture is protection – to protect her from any possibility of harassment, danger or mistreatment. It's not only a family duty; every man in our country is responsible for women's safety, whatever relationship they share. They could be anyone – relatives or strangers, it doesn't matter.
We always try to remove any burden of difficulty from women's shoulders, because we pay attention to their comfort, too. It means that she will always have some privileges: when she drives, at work, shopping or just walking in the street. Men will give way to her and try to assist as a priority. When visiting most organisations, she often won't need to wait in a queue with men, because there will be a separate dedicated area for women. If there's no such area, then women will probably be allowed to pass forward without the need to wait in turn. So it's about offering comfort to her in all fields.
As you see, there's a whole system for that, but what's really interesting is how in countries such as the UAE it's a woman's right to have equal treatment to men. This is the real interpretation of how Islam has taught its followers to show respect to women and give them the value they deserve. This is why today in my beloved country, we tend to witness great achievements, from women being top students and graduating to pursuing their higher-education degrees, to Air Force pilots or in the Army, or engineers in various fields, not to mention excelling in communications, public relations, media, tourism and politics – we have several female ambassadors of the UAE in Europe and other regions.
But most importantly, we truly believe that women aren't half of the society but all of it, because without our mothers, we wouldn't exist, so they should always be treated as queens.
http://www.thenational.ae/arts-lifestyle/ask-ali/ask-ali-women-are-highly-valued-in-muslim-culture
--------
What Feminist Christians Think About Pope Francis
Sept. 23, 2015
As Christian feminist theologians, we have devoted our lives to promoting the full inclusion of women in Christian churches. No one knows better than we do the horrible history of Christian churches as it relates women both in the church and throughout the world. And in the midst of this history, there is no one who symbolizes the power of church patriarchy more clearly than the patriarch of the church, the pope. Given this, it may seem strange that as feminists, we are still excited about Pope Francis's visit to our community, New York City, this week.
Here's our feminist theological scorecard on the pope:
Positive: On so many issues that disproportionately affect women, this pope has used his platform to advance public policy and to shape the consciences of the people who hear his message. The pope has primarily targeted unfettered greed and global capitalism in its current form, manifested through the twin evils of climate change and economic injustice. In nations that have been most scoured by global capitalism, women bear the brunt of the challenges associated with these crises. No pope in recent memory has so effectively challenged the economic status quo and the devastation of our "shared home" both in word and indeed.
In addition to policy, the pope has also taken major steps in his own institution to further include women. He has not pursued the interrogations of women religious orders, unlike previous Vatican leadership. In fact, he has even met with them, hearing them voice their concerns. He has washed the feet of Muslim women and acknowledged that the Church needs a better "theology of women." This is good.
He has also taken serious steps in the wake of the sexual abuse scandal. While we often think of this issue primarily affecting young boys, this issue has also tragically impacted women and girls. For the Catholic Church to be a force for good for women, it needs to continue down this path of true confession and repentance.
Negative: There are still major problems. The continued patriarchy of the church is epitomized most clearly in its theological claim that only men can be priests. This policy that deems women as incapable of serving as clergy simply due to their sex is blatantly wrong, and it stands in stark contrast to the pope's own larger vision for the church, a diverse, thriving institution always welcoming more people. Indeed, as long as the church believes only men can be leaders, it can't help but to perpetuate gender injustice and promote a theology that harms women. We cannot lose sight of the importance of this issue.
Though Francis doesn't have a perfect record, our scorecard ends on a note of hope. We believe Pope Francis has the capacity to listen to and learn from women, and that he can set his church on yet another course toward justice, that he can lead all of our communities of faith to welcome and celebrate the leadership of women. If we are to journey with the Pope towards a better world, we must all be able to do so—all genders, indeed all people, held within the endless diversity of God's amazing created order.
http://time.com/4046990/what-feminist-christians-think-about-pope-francis/
--------
Controversy surrounds IDF shooting death of Palestinian woman in Hebron
By YAAKOV LAPPIN, TOVAH LAZAROFF \ 09/23/2015
The IDF is investigating the shooting death of Hadeel al-Hashlamun, a Burka-clad 18-year-old Palestinian, who the army said threatened soldiers with a knife in Hebron on Tuesday morning.
The military said on Wednesday that she advanced toward them – with a knife drawn – at a checkpoint, after ignoring warnings and shots fired at the ground to stop.
Palestinians, however, disputed the IDF's account, releasing photographs of the woman at the checkpoint with no apparent weapon in sight.
Palestinian woman is seen carrying a case as she turns her back to Israeli soldiers (Reuters)
The IDF Spokesman's Office said shots were fired by soldiers to remove the threat posed by a woman advancing towards them with a knife.
The unit "acted in accordance with expectations, and that the whole incident will be investigated," it said.
A senior army source said Hashlamun set off a metal detector at Hasam Shoter (the policeman's checkpoint) in Hebron, which separates the Israeli and Palestinian sections of the city.
She ignored requests by the soldiers to stop, and stood in a suspicious manner before advancing toward the soldiers, the source said.
"Soldiers shouted for her to stop, and fired at the ground. She, nevertheless, continued to walk toward them, and pulled out a large knife. The soldiers fired at her legs, but she did not stop. At this stage, she was hit in the lower body," the source said.
Minutes after the incident, the IDF recovered the knife from Hashlamun, and published a photograph of the knife on the ground.
A picture of the knife the IDF says was found in possession of the woman shot at a checkpoint in Hebron. (IDF Spokesperson's Unit)
A Palestinian eyewitness disputed the IDF's version of events, however, saying Hashlamun was confused and had not drawn a weapon.
"I heard the soldiers screaming so I walked toward the checkpoint where I saw two soldiers aiming their weapons at a woman wearing all black and she was looking toward the soldiers," said Jawad Abu Shamsieh.
"I offered to help them [the soldiers] communicate with the woman because she did not speak Hebrew. I asked her to move far away from the soldiers for her safety, but one of the soldiers came close to her and prevented her from walking away and fired bullets at the ground," Abu Shamsieh said.
"At this point, four more soldiers arrived at the scene, so the number of soldiers became six, aiming their weapons at her and screaming at her. I told them to give me a minute to speak to her, but they refused and one of the soldiers sniped and shot her left leg so she fell to the ground.
Then he shot her right leg, and seconds later he fired four bullets at her," said Abu Shamsieh.
A Palestinian group, Youth against Settlements, published a series of photographs on their Facebook page, which it said documented the incident.
Two IDF soldiers aim their weapons at a Palestinian woman as an unidentified man looks on. (Reuters)
In one of those photographs, a soldier can be seen with his weapon drawn at Hashlamun, who is covered from head to toe in a burka with only her eyes showing. She is holding a school bag in her hand.
In another picture, two soldiers have their weapons drawn at her.
The photos also feature Abu Shamsieh.
The final photograph shows Hashlamun lying on the ground, shot in the leg. The image shows that she was wearing jeans under her burka, as well as canvas sneakers.
A video published on Twitter showed the soldiers dragging her body away from the path where it initially lay, before she was taken away from the scene in an ambulance.
Hashlamun's funeral was held in Hebron on Wednesday, with mourners parading her shroudwrapped body on a gurney through the streets.
Some 200 Palestinians rioted at the checkpoint and threw stones and firebombs at soldiers.
A similar riot involving some 100 Palestinians occurred there on Monday.
Late Monday night, near Hebron, a Palestinian man was killed when a grenade, intended to be used to harm Israeli soldiers, apparently detonated prematurely while still in his hands.
A Palestinian hospital official said the 23-year-old man was showered in shrapnel and also shot in the head, though the military said it had not shot him.
Islamic Jihad identified him as Diyaa Abdul Halim Talahmeh and claimed him as one of its members.
It said he had been shot dead by the soldiers.
http://www.jpost.com/Arab-Israeli-Conflict/IDF-soldier-seen-in-photo-aiming-at-Palestinian-woman-who-was-killed-in-Hebron-417905
--------
Police Hunt Logan Anti-Islam Abuser Who Exposed Backside to Woman
September 24, 2015
A Muslim woman told police she was subjected to a sustained anti-Islamic tirade outside a Logan shopping centre on Wednesday, during which time she captured the man on video baring his backside at her and her two young children.
The woman reported the incident to the Islamophobia Register Australia, an online site dedicated to exposing incidents of anti-Islamic abuse, after saying two calls to police for help went unanswered.
Site organiser Mariam Veiszadeh said she spoke to the angered woman in the wake of the attack, who told her the tirade continued for more than half an hour, during which time her calls to police were not responded to.
At the urging of Ms Veiszadeh, an advocate for Australian Muslims and a lawyer, the woman then went to Logan police to report the abuse in person.
A Queensland Police Service spokesman said police attended the shopping centre car park after the second call but could not locate the woman.
They are now searching for the man.
The woman told Daily Mail Australia the man hurled multiple obscenities at her, accusing her of terrorism and being unemployed, as she sat in her car waiting for her husband with her two children, aged five and eight.
She was wearing a niqab, which exposed only her eyes.
The German woman, a teacher, converted to Islam 16 years ago, Ms Veiszadeh said.
"She felt the need to continue to explain to me, 'I can't believe he said I'm unemployed and makes such assumptions - I'm an educated woman, I'm a teacher,'" Ms Veiszadeh said.
"She responded to him by saying, 'I am not unemployed and I am European'.
"Something that really angered her was that the hatred had so many stereotypical assumptions embedded in it.
"She also made reference to her stepson being in the ADF and he puts his life at risk for Australians to fight for this country and yet she gets racist and Islamophobic abuse hurled at her on the streets."
Ms Veiszadeh said the woman had also been upset that a number of witnesses did not intervene to stop the abuse.
"It's quite concerning when this man was clearly abusing her, no one came to her defence," Ms Veiszadeh said.
"People sitting in the front were indifferent or went along with it and it was only after he left people approached her.
"I appreciate Logan police station had serious matters to deal with but this is yet another example of complaints regarding an assault targeting an Australian Muslim woman not being taken seriously by authorities."
Ms Veiszadeh said women wearing the visible symbols of their faith were increasingly bearing the brunt of racist and Islamophobic public attacks, often in the presence of children.
"It's incredibly worrying that the vast majority of reports being submitted to the Register are of verbal and physical abuse directed at Australian Muslim women, with a large number happening in the presence of young children," she said.
"This woman is particularly concerned about the devastating impact this incident has had on her children. How do you even begin to explain Islamophobia to your five-year-old child?"
http://www.brisbanetimes.com.au/queensland/police-hunt-logan-antiislam-abuser-who-exposed-backside-to-woman-20150924-gjtvm9.html#ixzz3meFCXx49
------
URL: https://newageislam.com/islam-women-feminism/women-veils-sign-backwardness-xinjiang/d/104705