New Age Islam News Bureau
20 November 2020
• Women Refugees Learn To Read And Write In Malaysia
• Saudi Women's Participation In Sports Has Increased By 70 Percent
• 'Tiny Terrorist' Momena Shoma Stabbed Fellow Prisoner, Police Allege
• Saudi G20 Women's Group Rep Calls For 'Gender-Equitable' COVID-19 Recovery
• Saudi Ladies Club Sees Over 1,000 Women Sign-Up To Learn Golf
Compiled by New Age Islam News Bureau
URL: https://www.newageislam.com/islam-women-feminism/women-rights-activists-tortured-forced/d/123526
--------
Women's Rights Activists Tortured, Forced To Kiss, Perform Sexual Acts On Interrogators, Alleges Recent Report
19 November 2020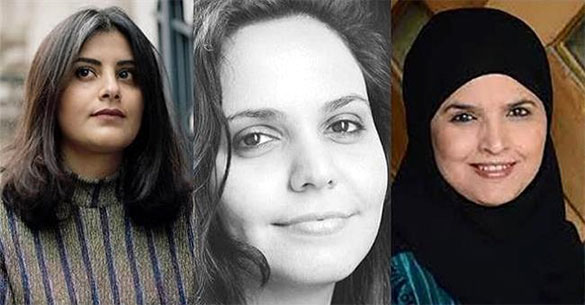 Jailed Saudi human rights activists (L-R): Loujain al-Hathloul, Eman al-Nafjan and Aziza al-Yousef (Photo via Twitter)
-----
A new damning report has revealed that imprisoned Saudi women's rights activists are tortured and sexually abused by their interrogators at detention centers in the kingdom.
Scottish barrister Baroness Helena Kennedy said in a 40-page report that the female detainees are made to watch pornography, threatened with rape, hung from the ceiling, beaten and suffered electric shocks during interrogation.
The human rights lawyer highlighted in the report, entitled A Stain on World Leaders and the G20 Summit in Saudi Arabia, that many of the activists had been "subjected to treatment amounting to torture, including by individuals who are closely connected to Crown Prince Mohammed bin Salman, such as his advisor Saud al-Qahtani and younger brother Khalid bin Salman."
The barrister cited one source which reported that Aida al-Ghamdi had been forced to watch pornography; and several other sources which reported that Loujain al-Hathloul and Eman al-Nafjan had been forced to kiss and perform sexual acts on interrogators.
The report noted that Hathloul's interrogation had been overseen by Qahtani, who has been implicated in the murder of US-based dissident journalist Jamal Khashoggi at the Saudi consulate in Istanbul on October 2, 2018. Saudi authorities have acquitted him though.
Qahtani, in echoes of Khashoggi's dismemberment, is said to have told one of the women, "I'll do whatever I like to you, and then I'll dissolve you and flush you down the toilet."
Another woman activist claimed her interrogation sessions were overseen by the de facto Saudi ruler's younger brother, who would boast about his position of power, saying, "Do you know who I am? I am Prince Khalid bin Salman, I am the ambassador to the US, and I can do anything I like to you."
The prisoners were often transferred between Dhahban Central Prison near the Red Sea port city of Jeddah and an "unofficial detention facility," according to the report.
Kennedy called on the United Kingdom and other nations to boycott this weekend's G20 summit hosted by Saudi Arabia unless the women are set free.
In recent years, Saudi authorities have rounded up hundreds of perceived political opponents, detained more than a dozen women's rights activists, and continued mass prisoner executions.
Public protests, political parties and labor unions are banned in the traditionally closed-off country, where the media are tightly controlled and criticism of the royal family can lead to prison.
The crackdown gathered pace in September 2017 with the arrests of prominent religious leaders, some of whom could now face death penalty.
Top businessmen and senior officials were arrested two months later in a purported anti-corruption campaign. The measure was criticized as a power play and shakedown of Mohammed bin Salman's potential political rivals.
Bin Salman also stands accused of being directly involved in the cruel murder of Khashoggi, after he entered the kingdom's consulate in Istanbul to obtain paperwork for a planned marriage with his Turkish fiancée Hatice Cengiz.
Turkish officials say his body was dismembered by Saudi killers and his remains are yet to be found.
https://www.presstv.com/Detail/2020/11/19/638962/Saudi-interrogators-forced-jailed-women-rights-activists-to-perform-sex-acts-Report
--------
Women Refugees Learn To Read And Write In Malaysia
20th November 2020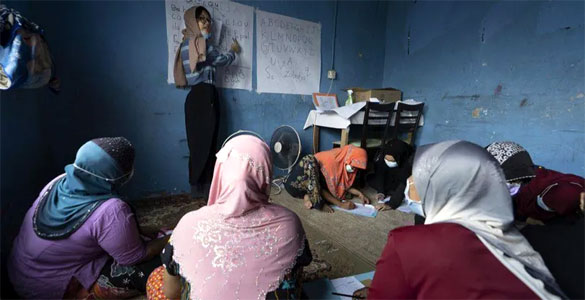 The students are refugee women in Malaysia, some in their late 50s, who for the first time are learning how to read and write.
------
In a bare room, students seated on the floor recite the alphabet and the sound of the letters. But these are not preschoolers. The students are refugee women in Malaysia, some in their late 50s, who for the first time are learning how to read and write.
Arissa Jemaima Ikram Ismail, 23, was a volunteer with a relief agency when a refugee leader in Selayang town, which is home to many migrant workers, requested help for women in his community.
She and fellow student Davina Devarajan, 25, then met some of the women and were surprised that they requested for literacy lessons, as education was often viewed as a low priority for women.
The duo then formed Women for Refugees and recruited teachers via Instagram. They have now about 20 volunteers, giving weekly two-hour literacy classes in English and Malay in a run-down two-storey block that houses some 50 families.
"It was very essential for us to not pitch the refugee women as a charity, where they are constantly requiring external aid. We want to equip them with the necessary skills so that they can sustain themselves," Arissa said.
The weekly classes in a dingy neighbourhood outside Kuala Lumpur are offered by the Women for Refugees group, which was formed in September to help illiterate migrant women integrate into the local community and empower them to be more than just passive wives.
"I cant read any alphabets, so if I can learn a bit then that's good," Zaleha Abdul, 54, a minority Muslim Rohingya refugee, told the Associated Press as she struggled to remember the letters during a class in early October. She said she wants to be more independent when going to the shops or elsewhere.
Like Zaleha, many refugee women in Malaysia have picked up the local language, but without knowing how to read or write, their options are limited.
In the long run, Davina said they hope to expand classes in other neighborhoods and include technical skills that could help the women earn an income.
All classes have, however, been halted since mid-October in tandem with a movement restriction order in Kuala Lumpur and surrounding areas to curb a fresh surge in COVID-19 cases. The curbs were expanded to most part of the country this month, and all schools nationwide were shut until the year-end.
Arissa said teaching still go on with pre-recorded lessons that are viewed on three shared laptops in the migrant's living quarters. She said live classes were also conducted once a week for older migrant children.
"We are hoping that as the situation with COVID-19 subsides and gets better, we love to integrate more volunteers... to actually come and teach them and have this very community-based integration between them who are marginalized and the locals," Davina said.
Their group is not the first to offer literacy courses for refugees, but one of only a few to focus on women. Some 178,000 refugees and asylum seekers are registered with the United Nations High Commission for Refugees, and many pockets of the refugee community are left out in terms of educational opportunities.
When the AP visited in October before the classes stopped, Shahidah Salamatulah, 38, was among three women learning how to communicate in English when seeking treatment at the clinic. The women broke into giggles at the antics of their Algerian volunteer teacher.
Shahidah, a Myanmar Muslim and mother of two, said she is preparing for a new life abroad. She was called for interviews three times last year by the UNHCR on possible resettlement to a third country but there has been no news amid the coronavirus pandemic.
"English is important for us... when we go overseas we will need English," she said.
https://www.republicworld.com/world-news/rest-of-the-world-news/women-refugees-learn-to-read-and-write-in-malaysia.html
--------
Saudi Women's Participation In Sports Has Increased By 70 Percent
Marco Ferrari
20 Nov 2020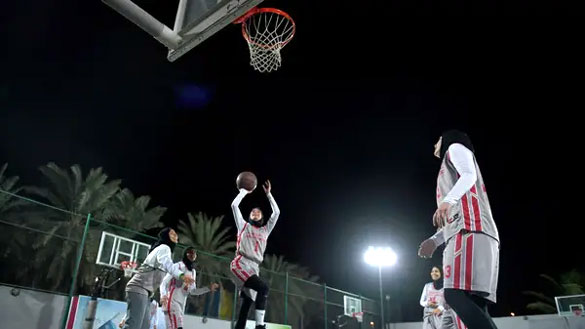 Players from Jeddah United, Saudi Arabia's first women's basketball team train at their club in Jeddah. (File photo: AFP)
------
There has been a 70 percent increase in women's participation in sports in Saudi Arabia, Prince Abdulaziz Bin Turki al-Faisal said on Thursday.
Prince Abdulaziz highlighted Saudia Arabia's success in empowering women and youth through sports, including the first ever Saudi women's football league set up on Wednesday, in a virtual talk entitled Opportunities for Youth to Create a Better Future ahead of the G20 summit in Riyadh.
For all the latest headlines follow our Google News channel online or via the app.
On the women's football league, Prince Abdulaziz said: "We are very excited, and hopefully it's one step towards many more steps to come, inshallah."
He also highlighted steps that the Kingdom has taken to make it easier for small and medium enterprises (SMEs) to set up sports clubs.
Newly developed technology has made it easier for clubs to gain licensing, he said, which has boosted jobs for young people.
He said: "We are looking at the bigger picture to see how we can empower everyone in the Kingdom."
https://english.alarabiya.net/en/News/gulf/2020/11/19/G20-Saudi-women-s-participation-in-sports-has-increased-by-70-percent
--------
'Tiny terrorist' Momena Shoma stabbed fellow prisoner, police allege
NOVEMBER 20, 2020
A convicted terrorist has been accused of stabbing another inmate at a Melbourne women's prison.
Momena Shoma was charged on Wednesday with engaging in a terrorist act in relation to the alleged stabbing.
The 27-year-old sat stock-still and stared straight ahead during her appearance over videolink in the Melbourne Magistrates Court on Thursday.
The "altercation" between the two female inmates occurred on October 30, police allege.
Police say they were called to the prison, understood to be Dame Phyllis Frost Centre in Ravenhall, to respond to the incident.
A 27-year-old woman was taken to hospital with an injury to her hand, police said.
Magistrate Carolyn Burnside said it could be more than a year before the matter reached trial due to delays caused by COVID-19.
Shoma's lawyer Crystle Gomez Vasquez told the court the prisoner was only two years into her 42-year sentence.
The 150cm-tall woman nicknamed the "tiny terrorist" was convicted in June 2019 for stabbing her landlord, Roger Singaravelu, in front of his five-year-old daughter in February 2018.
The Islamic State devotee shouted "Allahu Akbar" – meaning God is great – while she tried to deliver a fatal blow to his neck.
Judge Lesley Taylor said when sentencing the Bangladesh native that her sole purpose of coming to Australia was to carry out an attack that would "trigger the West" and make her a martyr.
She had been in Australia for just eight days when she carried out the attack on Mr Singaravelu.
A court previously heard Shoma had practised her attack by stabbing a mattress while she had been boarding with a different family.
"She did the practice run on the mattress with the first family that hosted her and they felt intimidated enough to go to whoever organised it, saying, 'We're scared, we don't want her to continue living with us,'" Magistrate Charlie Rozencwajghe said at the time.
Shoma was sentenced to 42 years behind bars and will serve a minimum of 32 years.
At the time of her sentencing, Justice Taylor said the attack was about terrorism, even though it failed.
"At the scene, you told police that you had come to Australia to carry out the attack because you were ordered to do so by the caliph of Islamic State," she said.
"Your deeds and words … have sent ripples of horror throughout the Australian community. But they do not make you a martyr. They do not make you a beacon of Islam.
"They do not give you green wings to ascend to Jannah (Islamic heaven).
"They make you an undistinguished criminal. You should not mistake your passing notoriety for importance, nor equate it with achievement."
Victoria Police and the Australian Federal Police jointly said there was no need for the community to fear an ongoing threat.
"(We) would like to reassure the community that the threat has been contained and there is no ongoing risk to the broader community posed by this individual," they said in a statement.
"Victoria has well established and co-operative counter-terrorism and emergency management plans in place and constantly monitor and assess our preparedness to respond to a range of incidents.
"The Victorian JCTT and the Victoria Police Counter Terrorism Command maintains strong links with intelligence and other partner agencies, which gives us the best possible understanding of emerging issues.
"The community should continue to go about their daily business."
Shoma will return to court in March.
Report any suspicious activity to triple-0, Crime Stoppers on 1800 333 000 or the National Security Hotline on 1800 1234 00.
https://www.theaustralian.com.au/breaking-news/tiny-terrorist-momena-shoma-stabbed-fellow-prisoner-police-allege/news-story/26bcf3f403d6dd9f9ad552c54561f791
--------
Saudi G20 Women's Group Rep Calls For 'Gender-Equitable' COVID-19 Recovery
November 19, 2020
DUBAI: The coronavirus disease (COVID-19) crisis has highlighted and possibly deepened existing gender inequalities, Saudi Arabia's representative to the official G20 engagement group on women has claimed.
Speaking to media ahead of the G20 Leaders' Summit in Riyadh, Women 20 (W20) sherpa Salma Al-Rashid called for a "more equitable approach" to post-pandemic recovery.
"We need to highlight how critical the full and equitable participation of women is for sustainable and faster socio-economic recovery, as we rebuild our economies in the post-COVID-19 era," she said.
Al-Rashid pointed out that it was important to recognize the "gendered" impact of the COVID-19 pandemic, adding that women had faced unique challenges ever since the virus outbreak.
The prominent Saudi social worker said that the global health crisis had provided an opportunity for G20 leaders "to reset economies through a more inclusive approach."
She noted that the W20's main function was to ensure gender considerations were inserted into G20 negotiations, particularly on issues such as labor and employment, political representation, and digital inclusion.
Al-Rashid said there was a lack of female participation in government initiatives to address COVID-19.
"Women's voices were largely missing, despite the fact that women constitute the majority of frontline health and social workers and continue to bear a greater burden of unpaid care work within their families and communities," she added.
One of the W20's key recommendations, which was written through a communique to be shared with G20 leaders, was to ensure a balanced growth by supporting women empowerment as the world navigates the impact of the pandemic.
Women should be represented at all levels of decision-making in the private and public sectors, Al-Rashid said, adding that fiscal planning should be "gender-responsive."
There should also be increased investment on social infrastructures for women, she said, as well as income protection mechanisms for female workers in the developing world.
The Saudi sherpa recognized the difficulty of creating recommendations because of the severe impact of COVID-19 on women, but she said the group remained agile in championing gender equality.
https://www.arabnews.com/node/1765411/saudi-arabia
--------
Saudi ladies club sees over 1,000 women sign-up to learn golf
November 19, 2020
JEDDAH: A golf initiative launched by Saudi Arabia to get women into the sport saw more than 1,000 new golfers sign-up in just four days.
Inspired by the weekend's debut Aramco Saudi Ladies International – the Kingdom's first ever professional women's golf tournament – hundreds of women across the country registered to learn golf for the first time.
The newly launched "Ladies First Club," will be giving free golf lessons, driving range access and full rounds of golf at courses across the country.
Women will be coached through the basics of the game at either Riyadh Golf Club, Dirab Golf Club or King Abdullah Economic City's (KAEC) Royal Greens Golf & Country Club, host course of this week's tournaments.
The membership will also include a digital "Introduction to Golf" education pack, which will provide monthly seminars outlining the key aspects of golf for beginners. Each course will host a Ladies First golf clinic once a month, led by a professional, which will conclude with an on-course induction for all participants and an 18-hole round.
The club opened for membership on the first the tournament on Thursday, where it saw more than 500 women sign up.
There were less than 20 female members across the Kingdom's golf clubs ahead of the Aramco Saudi Ladies International.
It was launched as a way of bringing more Saudi women into golf, as part pf Saudi Arabia Vision 2030 which aims to get more Saudis regularly active.
"We have been absolutely blown away by the phenomenal response to the Ladies First Club. One thousand new golfers is extraordinary for golf in Saudi Arabia and will change the entire landscape of the game across the Kingdom," Golf Saudi CEO Majed Al-Sorour said.
"To have a thousand of our women and girls commit to learning golf on the weekend of our debut Aramco Saudi Ladies International presented by PIF is an unbelievable legacy, and goes beyond even our most ambitious expectations," he added.
Arabic golfer Maha Haddioui - was one of the 108 professionals competing in the Aramco Saudi Ladies International – said she knew the event was making waves when she came off the course to Instagram requests from Saudi women desperate to know how they could get into golf.
"I got direct messages from Saudi women saying: 'I want to play golf, how do I do it?', which was great with the Ladies First Club launching this same weekend. So I sent them the link and they signed-up, which is so exciting! I can't wait to follow-up with them a year or so down the line," Haddioui said.
"They've just been awesome, messaging me and asking questions all about golf. It shows the impact this event – and the Ladies First Club – are having here. Something like this I'd never have been able to even imagine two years ago when I first came here to play," she added.
Ladies European Tour CEO Alexandra Armas spoke of her delight at the instant impact of the Tour's first event in the Kingdom, and paid testament to Golf Saudi for ensuring women inspired by the tournament had a simple and accessible way to carry that momentum forward.
"As soon as I started conversations with Golf Saudi about bringing the Tour here I was very keen to understand what their vision was for the game in the Kingdom, and how they wanted to develop golf here," said Armas.
"The Ladies First Club is a superb concept and with a thousand members joining in just its first four days shows that what's happening on the golf course here is already translating into women and girls picking up golf clubs, which is just fantastic," she added.
Off the course, and the Ladies First Club will also provide a range of social opportunities, including invites to social mornings, plus the likes of Pilates, yoga, bridge and other wellbeing activities.
https://www.arabnews.com/node/1765401/sport
--------
URL: https://www.newageislam.com/islam-women-feminism/women-rights-activists-tortured-forced/d/123526
New Age Islam, Islam Online, Islamic Website, African Muslim News, Arab World News, South Asia News, Indian Muslim News, World Muslim News, Women in Islam, Islamic Feminism, Arab Women, Women In Arab, Islamophobia in America, Muslim Women in West, Islam Women and Feminism