New Age Islam News Bureau
28 Nov 2018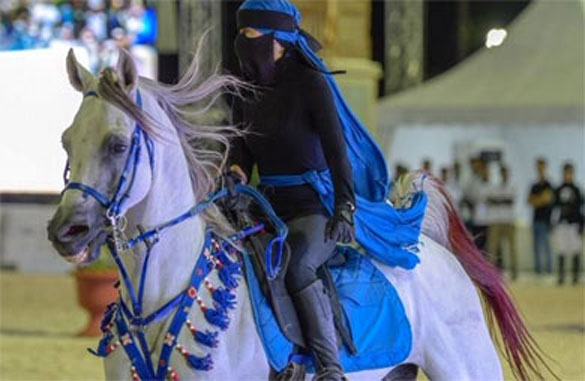 Sama told how the costumes of each player are designed according to the societal structure of Saud Arabia. It it a revamped version of Abaya
------
• Pakistani-Born US Woman Pleads Guilty To Bitcoin Fraud to Help IS
• Roya Rahmani Appointed as Afghanistan's New Ambassador to United States
• Number of Women in Public Enterprises Lags behind Men in Turkey
• Female Professional Athletes in Iran Lack Sponsors, Government Support
• 5 Rights Saudi Women Acquired In a Year
• UAE Bats for Gender Balance at Aqdar World Summit
• 'Future of Women Is the Future of All': Iraqis Stand Up Against Crimes Targeting Women
• Afghanistan- U.S. Helps Afghan Women In Financial Sector
• UN Urges End of Violence against Women in Iraq
• Former Bigg Boss Contestant Sara Khan Trolled For Her Burqa Remark, Issues an Apology
Compiled by New Age Islam News Bureau
URL: https://www.newageislam.com/islam-women-feminism/women-ride-horses-play-sports/d/117006
--------
Women Ride Horses, Play Sports and Make History in Saudi Arabia
November 28, 2018
Long gone are the times when only men dominated the sports in Saudi Arabia. During the Mecca championship Saudi women equestrian riders showcased their skills. These women have been showcasing their talents not only in local tournaments but also international equestrian events. Same Hussein, leader of Sama El-Khail team explained more about their presence at the event.
She talked about how 14 minutes have been allocated to each team so they can showcase their skills by jumping barriers, picking up wedges and a horse show. Team of 5 was highlighted throughout the even but not only for their love and passion of equestrian but also for their unique outfits too.
Sama told how the costumes of each player is designed according to the societal structure of Saud Arabia. It it a revamped version of Abaya which is customised accordingly. These outfits even had a hint of embroidery to make it shine. She also talked about how the team keeps up with this passion by practicing extensively which ends up in good competition. This team of 5 were awarded by the Prince Khaled Al Faisal at the closing ceremony. Winners make a mark on the sports predominanted with men.
https://en.dailypakistan.com.pk/world/women-ride-horses-play-sports-and-make-history-in-saudi-arabia/
--------
Pakistani-Born US Woman Pleads Guilty To Bitcoin Fraud to Help IS
November 28, 2018
A Pakistani-born American woman has acknowledged her role in defrauding numerous financial institutions in a bitcoin scheme to help the militant Islamic State (IS) group.
Prosecutors say Zoobia Shahnaz, a naturalised US citizen living on Long Island, pleaded guilty in federal court in Central Islip on Monday to providing material support to a foreign terrorist organisation.
The 27-year-old was charged with laundering bitcoin and wiring money to the IS group. After quitting her job, she was stopped at Kennedy Airport last year attempting to fly to Pakistan.
Shahnaz's lawyer has said she was trying to help Syrian refugees.
She faces up to 20 years in prison.
https://www.pakistantoday.com.pk/2018/11/27/pakistani-born-us-woman-pleads-guilty-to-bitcoin-fraud-to-help-is/
--------
Roya Rahmani Appointed as Afghanistan's New Ambassador to United States
Nov 24 2018
President Mohammad Ashraf Ghani has appointed Roya Rahmani as the new ambassador of Afghanistan to United States, it has been reported.
According to reports, Rahmani was previously serving as the Ambassador of Afghanistan to Indonesia and has recently been appointed as the Afghan Ambassador to U.S.
This comes as the former Afghan Ambassador to the United States Dr. Hamdullah Mohib resigned from his position nearly three months ago and assumed charge as National Security Adviser.
The former National Security Adviser Mohammad Hanif Atmar had earlier stepped down from his position.
In the meantime, reports indicate that President Mohammad Ashraf Ghani had earlier proposed to his senior adviser for UN affairs Farkhunda Zahra Naderi to assume charge as the new Ambassador of Afghanistan in United States.
However, the offer was reportedly rejected by Naderi who announced her resignation as senior presidential adviser in Kabul today.
https://www.khaama.com/roya-rahmani-appointed-as-afghanistans-new-ambassador-to-united-states-02805/
--------
Number of Women in Public Enterprises Lags behind Men in Turkey
November 28, 2018
Turkey strides toward the inclusion of more women in the workforce through government-sponsored initiatives, but the number of women remain far below men in state-owned public enterprises known as KİTs.
Figures compiled by the state-run Anadolu Agency (AA) show that 90.3 percent of the staff in those enterprises, ranging from a natural gas company to a major tea producer, are men. This means roughly only one out of 10 staff members is a woman. Figures presented in a Finance Ministry report from 2017 highlighted the need to increase the number of women in public enterprises, especially when compared to public institutions, like the civil service and bureaucracy, which have managed to raise the number of women.
In the past decade, the country sold most KİTs, which were conceived in the early years of the Republic of Turkey, as a way to boost the economy. A number of companies with strategic value still remain under state ownership though. The number of personnel employed by those enterprises was reduced to 101,306 from about 200,000 in 2000 and a quarter of them are older employees.
Striving to break male domination in the country's workforce, Turkey has managed to significantly boost its female employment rate to 34.7 percent, a substantial increase compared to figures more than a decade ago. The increase is partly the result of incentives by the government for working women, especially mothers who often choose caring for their children over full-time jobs. Gender equality and affirmative action for women are high on the agenda of the government. In his party's manifesto ahead of the last elections, President Recep Tayyip Erdoğan pledged to end "every tradition of the age of ignorance targeting women."
The Family and Social Justice Ministry already works to empower women with projects to improve gender equality for women, who have lagged behind men in every field, courtesy of a patriarchal mindset. In recent years, the government rolled out a series of incentives for working women, from longer maternity leaves to financial support for daycare needs, as well as payments to grandparents caring for their grandchildren with working parents.
The government set the bar higher to increase the employment rate to at least 41 percent in the near future and decrease illegal labor by women to at least 30 percent. As for female entrepreneurs, the government plans to extend loans to more women willing to set up their own business. Women are already provided up to TL 50,000 ($9,549) for loans.
https://www.dailysabah.com/turkey/2018/11/28/number-of-women-in-public-enterprises-lags-behind-men
--------
Female Professional Athletes in Iran Lack Sponsors, Government Support
27 November 2018
Female professional athletes in Iran are not supported by sponsors or the government, and are not paid according to their contracts.
Mahshid Ashtari, one of the top players on the Iranian Women's National Ping Pong, has not been able to change her racket for six months and must go through the championship games in Finland with a secondhand racket.
She noted lack of support from sponsors as the main problem of female professional athletes and said, "It is difficult for women to attract sponsors, especially if the athlete takes action on her own."
Mahshid Ashtiari added, "The representative of Butterfly is a sponsor who does not support very well in Iran. I called its representative in Iran and told them that my situation is different from the rest, I am the top player in Iran. Now I'm having trouble even for my racket which is the most important thing, let alone the rest of the issues. Each racket is close to one million toumans, and for us, who play professionally, it must be changed at least every two months."
Fatemeh Amel, the goalkeeper of the women's futsal team in Razavi Khorasan Province said, "We still do not have a sponsor. All of the players are native and have a lot of pressure on them. No player has ever received any money."
The women's futsal team in Razavi Khorasan does not have any specific time and place for training. The disorganized management leads to the failure of many players who have jobs or are studying to participate in the training. Therefore, the wage of the player who is employed is reduced and this is irreparable. If practices are held in the afternoons at a specific time and place so that all players can take part, the training can be held in an organized manner. But unfortunately, there is no system for planning and providing these facilities to female professional athletes in the country. (The state-run ISNA news agency – November 26, 2018)
https://women.ncr-iran.org/iran-women-news/5600-female-professional-athletes-in-iran-lack-sponsors-government-support
--------
5 Rights Saudi Women Acquired In a Year
By Fatma El-Bakry
Nov. 27, 2018
CAIRO - 27 November 2018: Since coming to office, Saudi Crown Prince Mohammed bin Salman has taken several procedures to boost women's position in the Saudi society. Such decisions enabled women to regain most of their stolen rights.
Recently, the kingdom has witnessed a great advancement in women rights which started by giving women the right to drive and allowing them to work as drivers on different applications inside the kingdom.
Additionally, Saudi females have been granted the right to attend matches in stadiums since January and are now able to join the army and General Intelligence.
Furthermore, in September, the Custodian of the two Holy Mosques gave an order to draft a law against sexual harassment.
Thanks to Bin Salman, Saudi females have become decisions makers, as they started participating in the academic, social and political life and took part in the municipality elections as voters and elects in August 2018.
Needless to say, Saudi women play an influential role in developing the kingdom, being members in the Consultative Assembly of Saudi Arabia, participants in different international and regional delegations of the kingdom and diplomats who represent Saudi Arabia abroad.
"There is no difference between men and women in Islam; they are the same.Almost half the habitants of Saudi Arabia are women.Women pay the same sum of money that men pay; thus they should get the same rights," the crown prince said in one of his interviews.
He also assured "I support Saudi Arabia; Saudi females are almost half of the inhabitants so I support them."
Bin Salman also said that women are not obliged to travel with a custodian as long as she is safe.
http://www.egypttoday.com/Article/2/61108/5-rights-Saudi-women-acquired-in-a-year
--------
UAE Bats for Gender Balance at Aqdar World Summit
Nov 27, 2018
Abu Dhabi: UAE's Minister of Community Development Hessabint Essa Buhumaid on Tuesday said that her government focuses on the balance between the two genders rather than on the equality, as the "balance is deeper and more comprehensive."
Speaking on "Gender Parity: the Mean for a Balanced Society," during Aqdar World Summit, Buhumaid said, "The directives of the UAE government focus on the balance between the two genders rather than on the equality, as the balance is deeper and more comprehensive."
It was the second day of the second edition of Aqdar World Summit held under the theme "Role of Human Empowerment in Developing Stable Societies: Sustainable Development" at the Abu Dhabi National Exhibition Centre (ADNEC) in Abu Dhabi.
"Gender balance is the equal distribution of opportunities and resources between women and men. It is one of the important issues in the UAE Vision 2021, which seeks to raise the level of women's participation in society, especially in the economic sphere, by giving them equal opportunities with men in all fields to contribute to the process of comprehensive and sustainable development while taking into consideration their different needs," she said.
She further stressed that the concept of balance is not a new one for the UAE. "It is part of the culture of the people of this region for thousands of years and it is a tangible value rooted in the country's culture before even the union," she added. Buhumaid also talked about the equal rights provided to women in the Constitution of the UAE.
"The Constitution of the United Arab Emirates stipulates that women shall enjoy full rights as of men and includes provisions that affirm the principle of social equality and the full right of women to education, work, and jobs, same as men. The Constitution enshrines all that is stated by Islam regarding women's rights in regards to inheritance and ownership, which was the case before the establishment of the Union," she stated.
She also added that the leadership of the Gulf nation has been keen to establish women's economic institutions such as the Emirates Businesswomen Councils and the Businesswomen's Councils in each emirate.
"According to 3-year reports, we have 12,000 women entrepreneurs in the UAE who own over 22,000 projects, with investments exceeding 45 billion dirham. Emirati businesswomen make up about 21 per cent of all businesswomen in the GCC, and it is the highest percentage," she said.
Buhumaid further stated that statistics reflect that women hold about 66 per cent of government jobs in the country and about 37.5 per cent in the banking sector. Also, there are about 11,000 investment projects run by businesswomen, worth over $ 4 billion.
"Furthermore, women in the UAE are at the forefront of the board of directors, and are expected to be ranked first in the world very soon in light of the rise of the female component and leadership in many fields," the minister asserted.
The activities of the second day of the Summit also featured a youth circle called "The Impact of Economic Growth on Youth and Finding the Decent Job" which was attended by guests from the Ministry of Economy Youth Council.
Also, a number of workshops were organised parallel to the conference sessions including a workshop under the title "99 Dialogues with the Soul" presented by Saud Mohamed Hasan Mohamed AlHammadi, Acting Head, Department of Preaching and Counseling, and Abdulla Mohammad Ahmad Al Ansari, Director of Community Research, Awareness and Public Relations in Erada Center for Treatment and Rehab.
Another workshop "My Journey: Back to Life after Addiction" was coordinated by Ali Hassan Al Marzooqi, Health and Research Department Director of National Rehab Center, where he hosted a recovering addict and showcased the reasons for his falling for addiction and the challenges that faced him as an addict, as well as how successful the program was and how it helped him to get back to life.
Held on the sidelines of the conference, the exhibition hosted more than 50 exhibitors from the both private and government sectors from the region and the world. Visitors and participating delegates were introduced to the latest projects and solutions in the field of sustainable development and human empowerment.
https://www.siasat.com/news/uae-bats-gender-balance-aqdar-world-summit-1438495/
--------
'Future of Women Is the Future of All': Iraqis Stand Up Against Crimes Targeting Women
27 November, 2018
"Raise your voices! Where are your voices? Raise your voices against killings of women, raise your voices for women!" exclaimed the scores of women and men at a demonstration in central Baghdad this month.
Activists gathered near the al-Mutanabbi Statue in downtown Baghdad on November 16, calling for the end to violence against women. Hundreds of others in the area joined the activists, reinforcing their outcry for women and freedoms of women.
Every year up to hundreds of women in Iraq are killed by men belonging to tribes. They accuse women of immorality and they proudly claim to possess them and their honour, while impeding them from any decision in life or free movement.
The protests were planned by the Organisation of Women's Freedom in Iraq (OWFI), with demonstrators holding large red banners stating that tribal killings of women should be treated in the same way as the Anti-Terrorism Act. Activists said that these unjustified killings destroyed the woman's family life and endangered her children for the rest of their lives.
"Every tribe man who takes a woman's right to life must be punished - not defended or protected by the state," said activist and founder of OWFI, Inar Mohammed.
"The state is collaborating with tribes in the killings of women under the guise of dishonour to society. We are here today against these tribal killings, against child marriages and against all violence women endure."
Inar Mohammad, together with her fellow friends and OWFI activists, are responsible for many shelters and safe spaces for women suffering from domestic violence or who receive death threats from families or tribes. The headquarter of the organisation is in the capital Baghdad and they also have four others branches in the country. The organisation was found in June 2003, three months after the beginning of the US invasion of Iraq.
Female activists felt the urgent need to challenge the growing patriarchal, tribal, and religious institutions gaining ground in Iraq. It then grew to combat all kind of violence and the rise of the extremist terrorist and misogynistic groups like the so-called Islamic State [IS] group.
Writer and activist, Ahlam al-Ubaidi, stands with a young girl during the demonstration. Grasping her shoulders, she starts to cry: "Can you see this girl? She is just 12-years-old. Can you imagine her marrying a man of 24? Double of her age? For us this is more than a crime, it is the rape of childhood, and is already a killing."
Ahlam has been an active participant in all women's rights demonstrations and other civil society protests at Maydan Tahrir - a main gathering point which symbolises freedom in central Baghdad - since 2010. Although she has been threatened and insulted many times, it has not stopped her from protesting.
"I will continue to protest and cry until this country changes," she says.
At the same demonstration in Baghdad, activists from Erbil are also taking part. "We came from Erbil because this is one the most important demonstrations for all of Iraq," activist Kareem Bootane told The New Arab. "How can we rebuild Iraq if women continue to be killed?"
Lawyer Mohammad Ju'a has been working on women's cases for 12 years but highlights his frustration at being unable to protect or help them.
According to the Iraq's Penal Code, law 409, number 111 of 1969, a rapist can avoid punishment by marrying his victim. On most occasions, the victim's family accept this decision to "save the family's honour."
"Crimes of honour are something crazy," Mohammad begins. "It is a crime and there is no honour in a crime. One of my clients committed suicide in Basra because she was raped, and her family wanted her to marry the rapist. Many other women like her in Iraq have no choice. We must fight for the future of Iraq by changing this law where a rapist or killer is protected, not the victim."
In the last few months many women have been victims of honour killings or public shaming. This has increased even more since last May's election campaign, resulting in an outcry and demonstrations.
Journalist Joumana Mumtaz denounced the public shaming cases against women, many of whom were then killed.
"I told the story of Tara Fares, a very famous Instagram star, six months ago," Joumana tells The New Arab. "I wanted to raise awareness about her case. She was risking her life and occasionally threatened only because she wanted to live her life as she wished. She was killed in September. Just being a woman in Iraq is enough of a reason to be killed."
The Baghdad protests clearly show how more and more Iraqis are condemning the ongoing violence against women, showing their support and taking the time to listen.
"In the end, the future of women is the future of all," Mohammad concluded.
https://www.alaraby.co.uk/english/indepth/2018/11/27/iraqis-raise-their-voices-for-womens-rights
--------
Afghanistan- U.S. Helps Afghan Women In Financial Sector
11/28/2018
One hundred and two young Afghan women graduated on Tuesday from USAID's Promote: Women in the Economy (WIE) Microfinance Institute Training (MFI) program.
According to the agency's statement, the women are part of the program's second apprenticeship session, which now includes 177 graduates. Implemented by the Afghanistan Microfinance Association (AMA), the program equips women with technical and managerial skills needed to secure jobs in the banking and microfinance sectors.
Operating in Kabul, Herat, and Balkh since November 2016, AMA has placed trainees in the First Microfinance Bank of Afghanistan, the Afghan Rural Finance Company, the Foundation for International Community Assistance in Afghanistan, OXUS Afghanistan, Mutahid, Hand in Hand, and Exchangerzone. Fifty-four of the women have transitioned to full-time jobs.
'An important step towards improving access to finance for women-owned businesses and self-employed women is increasing the number of women in mid- and senior-level positions in banking and microfinance, including commercial lending. Increasing the number of women in the financial sector, particularly in decision-making and lending roles will make it easier for other women to obtain financial services,' said Susan DeCamp, Gender Office Director for USAID Afghanistan.
The Executive Director for AMA, Najibullah Samim said, 'In addition to increasing the number of women employees in the financial sector, the program provides opportunities to member MFIs to hire trained and dedicated women employees that will help them to provide better financial services to women entrepreneurs.'
USAID's Promote: Women's Empowerment is the umbrella program that consists of four components: Women's Leadership Development, Women in Government, Women in the Economy, and Musharikat or civil society advocacy. This five year program (2015-2020) has already assisted over 50,000 young women across the country, the statement added
Promote: Women in the Economy assists businesses that are women-owned or those employing women to increase income growth, and provide business sustainability. It also supports Afghan women in finding new or better jobs through career counseling and workplace skills development.
https://menafn.com/1097755933/Afghanistan-US-helps-Afghan-women-in-financial-sector
--------
UN Urges End of Violence against Women in Iraq
28 November, 2018
On the International Day for the Elimination of Violence against Women, UNICEF has called for the end for violence against women and girls in Iraq. The call comes amid estimates indicating that the fate of 2000 Yazidi women and girls is still unknown after being kidnapped by ISIS during its control over Sinjar province in Nineveh late 2014.
Despite the exceptional and unprecedented disaster experienced by Yazidi women, the challenges that faced other Iraqi women were not easier, mainly those caused by long wars and violence that dominated the country over the past decade, and their consequences on the life of women, including continuous insecurity, poverty, and losses of husbands, sons, and family providers.
A UNICEF report talked about unofficial figures indicating that hundreds of thousands of women in the country are widowed, along with many cases of violence against women in houses and streets. According to the report, in Iraq, women and girls from different backgrounds remain at risk of violence, in their homes, at school and in public spaces.
The report also highlights a recent joint survey by the Government of Iraq and UNICEF, showing that 37% of women between the ages of 15 and 49 in Iraq think that violence towards women is acceptable. It also mentions a new UNFPA study that shows that 63% of Gender Based Violence incidents in the country are perpetrated by a family member.
The report cites Peter Hawkins, UNICEF representative in Iraq, who said: "Violence towards women and girls is a violation of human rights and has a devastating impact on their health, well-being, and their futures. It can never be justified. Women and girls make up half of the population in Iraq and they have a right to live free from fear and violence and be free to fulfill their fullest potential."
The report also quotes Dr. Oluremi Sognuro, UNFPA representative to Iraq, who said: "Ending violence against women and girls is not a choice, it is rather a long-term commitment and should become part and parcel of Iraqi society through joint efforts from all of us."
According to the report, in areas of displacement and return, threats and risks of violence against women and girls are higher particularly sexual violence and exploitation, harassment and child marriage. In Iraq, girls as young as 12 years old are being married off.
"The fate of more than 2,000 Yazidi women and girls kidnapped by ISIS is still unknown," said Nazik Barakat, a Yazidi activist. On the International Day for the Elimination of Violence against Women, which coincided on Monday, the Emma Association for Human Development organized many events and activities as part of the 16-day anti-violence campaign. Nazik Barakat, the Sinjar born activist, told Asharq Al-Awsat that "a group of Yazidi girls from a refugee camp in Zakho district, Dahuk province, Kurdistan, participated in various events on the occasion."
According to Barakat, activities included "raising slogans calling for the end of violence and gender equality, and a play on gender-based violence in the presence of the camp administration and staff from the Norwegian People's Aid, the organization's partner in this program."
Some Yazidi girls wore orange to symbolize freedom and cheered "Life is sweet in the color of women". "The activities of the first day ended with a march inside the camp amidst the cheers of participants denouncing violence against women, and calling for respect and empowerment," she said. The Yazidi activist expected that the activities on this international day will run for more than two weeks in the province of Dohuk, and the rest of the Yazidi regions.
On the other hand, the Supreme Judicial Council issued Monday, October's statistics of divorce and marriage cases in Iraq. It showed that the number of marriages in all over Iraq amounted to 10,866, while external divorces and separation under a court decision hit 4130 and 1611 cases respectively.
https://aawsat.com/english/home/article/1481536/un-urges-end-violence-against-women-iraq
--------
Former Bigg Boss Contestant Sara Khan Trolled For Her Burqa Remark, Issues an Apology
November 27, 2018
Popular TV actress and former Bigg Boss contestant Sara Khan is controversy's favourite child. Be it her wedding fiasco on TV, her nude video going viral or her recent comment on burqa, she always manages to grab eyeballs. Sara, who was recently in news for going nude for the poster of her song Black Heart, has recently posted a video apologising for hurting the sentiments of Muslim community.
In the video she says, "There is a video that has gone viral where I am seen commenting on Islam and burqa. I didn't mean it in that way. My way of saying it and the words used were wrong, and I am nobody and speak against any religion. I would like to apologise to all the Muslims, who were hurt because of me."
The actress posted the video with a note that said, "Apologies to all the Muslims for what I said I don't know what was I thinking. Extremely sorry."
Recently, while addressing the media with Rakhi Sawant, Sara Khan had commented on Burqa and said, "Just because in Muslim community it is said that girls should do purdah, why don't they say that men should cover their eyes. I am Muslim myself, and I have only one complain towards those people who keep ranting about burqa. Shame on them as to why are they seeing that thing. Why should we be in purdah."
https://www.indiatoday.in/television/celebrity/story/former-bigg-boss-contestant-sara-khan-trolled-for-her-burqa-remark-issues-an-apology-1397277-2018-11-27
--------
URL: https://www.newageislam.com/islam-women-feminism/women-ride-horses-play-sports/d/117006
New Age Islam, Islam Online, Islamic Website, African Muslim News, Arab World News, South Asia News, Indian Muslim News, World Muslim News, Women in Islam, Islamic Feminism, Arab Women, Women In Arab, Islamophobia in America, Muslim Women in West, Islam Women and Feminism