New Age Islam News Bureau
17 Nov 2019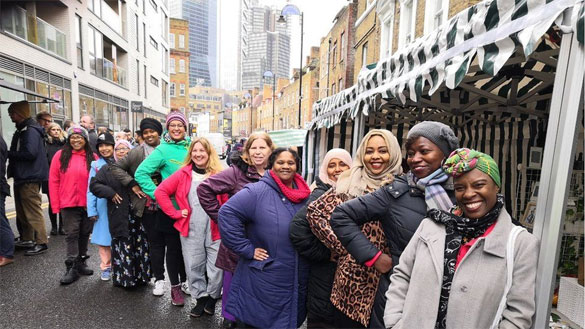 Lady Lane Market opened after Tower Hamlets Council found that most stallholders were usually male
-------
• Women-Only Street Market Opens In London
• Why Women Are Not Admitted To SGPC-Run Sikh Missionary Colleges
• Different Score Displayed during Brazil Women's Football Final To Protest Pay Gap
• Sabarimala Opens, Kerala Cops Block Entry Of Women Below 50
Compiled By New Age Islam News Bureau
URL: https://www.newageislam.com/islam-women-feminism/women-only-street-market-opens/d/120284
------
Women-Only Street Market Opens In London
15 November 2019
A women-only street market has opened in London's East End.
Lady Lane Market, which forms a part of Petticoat Lane Market, features nine stalls although more are due to open in the coming months.
All stallholders have been given council-funded business and social media training.
The project is part of a Tower Hamlets Council and City of London initiative to regenerate the area, at a cost of £2.7m over four years.
"Markets have played a crucial role at the heart of the East End for generations but they have traditionally been male-dominated spaces," Ann Sutcliffe, a corporate director at Tower Hamlets, earlier told the Local Democracy Reporting Service.
Susanne Nicholas, 55, and Marilyn Crew, 53, founders of Mazsu Naturals, sell homemade organic skin and hair care products.
"We sell at other markets, where stall holders are often quite surprised to see women traders," Ms Nicholas said.
"It's really nice to be amongst other women here."
Amiira Ismail, 30, of Poplar, sells a homemade traditional Somali chilli sauce.
"I don't like cooking except for making this sauce," she said, adding: "It took me nine months to create this flavour."
Ms Ismail lost her job in 2017 and has been selling her sauce - Bas Baas - for the last year, once a week at Roman Road in Bow.
But she hopes this project will help her be able to start selling to shops and supermarkets.
Anila Babla, 35, from Shadwell, a freelance graphic designer and art therapist sells vintage and retro pin badges, along with hand-made bags and purses.
"I think this council project is amazing and so exciting," she said.
Jayne Amoah, 62, from Bethnal Green, sells hand-made textile art and jewellery.
"I've always done crafts," the former Job Centre administrator said. "This is such a great opportunity to sell my art."
Lottie Lee-Gough, 31, from Bethnal Green, sells home sewing kits.
She said: "All the other women have been so supportive and all the guidance and advice I've been given has been really helpful."
Alice Firmeza, 43, from Bow, sells imported jewellery at the moment but hopes to build up a customer base so she can eventually make and sell her own designs.
"I used to be project management officer in the banking sector, but I've always liked jewellery," she said.
Former child minder, bus conductor and school kitchen assistant Audrey Aymer, 60, from Bethnal Green, sells crochet and knitting baby blankets, scarves and throws.
"I had to stop working for health reasons, and until recently have only been making these to give to friends and family," she said.
"But my son encouraged me to start selling them."
Kirsty Valentine, programme manager for high streets and town centres at Tower Hamlets Council, said 31 more women were due to trade after completing their training programme.
Lady Lane Market on Wentworth Street will be open between 10:00 and 15:00, every Friday.
https://www.bbc.com/news/uk-england-london-50426904
------
Why Women Are Not Admitted To SGPC-Run Sikh Missionary Colleges
November 17, 2019
Sikh women are not allowed admission in SGPC-run Sikh missionary colleges even though the Sikh Gurus have always advocated gender equality. The Indian Express explains the courses offered by these institutes and why Sikh women are deprived of them
During the 550th birth anniversary celebrations of Guru Nanak Dev at Sultanpur Lodhi, several women parcharaks and women kirtani jathas performed at both the Shiromani Gurudwara Parbandhak Committee (SGPC) and the Punjab government's stage.
However, Sikh women are not allowed admission in SGPC-run Sikh missionary colleges even though the Sikh Gurus have always advocated gender equality. The Indian Express explains the courses offered by these institutes and why Sikh women are deprived of them
What is the purpose of the SGPC-run Sikh missionary colleges?
These colleges aim to produce parcharaks (propagators of Sikh religion) and Kirtan Raagis (those who sing religious text and devotional songs). Dedicated religious study is the sole purpose of these colleges.
What is on offer at such colleges?
The Sikh missionary colleges offer three year Kirtan (Gurmat Sangeet), Tabla Vadak and Parcharak courses. The students need to stay at the college throughout three years. A new batch is admitted only after the previous batch has graduated. A maximum 50 students can be admitted to each course but in majority of these colleges, the seats remain vacant.
These courses are free of cost and boarding and lodging charges are borne by the SGPC, which also gives a monthly stipend of Rs 1,200 to each student. The classes starts at 4 am and continue till 8 pm with breaks for breakfast and lunch. Only male students are admitted to these colleges, mostly after completing 10+2.
According to SGPC there are over a dozen Sikh missionary colleges with four of them located in other states – Gurmat Sangeet Academy Shekhupura Manchuri, Karnal in Haryana, Sant Fateh Singh Chanan Singh Sikh Missionary College, Budha Johar (Sri Ganga Nagar) in Rajasthan, Sri Guru Nanak Dev Gurmat Vidyala Rajpur in Chhattisgarh and Sri Guru Ram Das Gurmat Sangeet Vidyala Railway Colony Roza, Shahjahanpur in Uttar Pradesh.
What are the opportunities for students who complete their course from here?
Amid tussle with Sena, Fadnavis says 'Bal Thackeray taught us self-respect'
Parliament's winter session begins tomorrow, govt looks to push citizenship bill
A student pursuing Kirtan course, where he is taught about all 31 raags and are trained on the saaz (instruments) too, can become a 'Raagi' or a music teachers. They can also pursue masters degree in music. Those pursuing Parcharak course – where they learn about the five banis (Japji Sahib, Jaap Sahib, Tav-Prasad Savaiye, Chaupai and Anand Sahib) and other religious scriptures – can become 'Pathis' (religious teachers) or Granthi at gurdwaras and lecturers in schools and colleges.
Can girls pursue religious studies at the other schools and colleges run by the SGPC?
SGPC has been running various schools and colleges across Punjab and several other states including Himachal, J&K, and Haryana where girl students can pursue 'Gurmat studies' as a subject .
Then why the discrimination against the girls at the Sikh missionary colleges?
There is no rule barring the Sikh woman from taking admission in Sikh Missionary Colleges but, SGPC officials, says that when such colleges were set up as long back as 1927, the 'Gurmat education' was not very prevalent among the Sikh woman and mostly men used to opt for it. It gradually became a tradition that only men will become Parcharaks and Ragis. "The students at these colleges are required to stay in the hostels and majority of the institutes were not ready to take the responsibility of the girls," said a senior staff member at one of the missionary colleges.
"Going by the huge interest shown by the Sikh women, we have discussed opening a separate college for them. The SGPC has already started enrolling the women Parcharaks now," said Bibi Jagir Kaur, the only woman to have remained SGPC president.
Is there any women staff in these colleges?
Prof Majit Kaur was the first woman staff appointed as 'Gurmat Sidhant' teacher in 2003 in Amritsar Missionary College. In January 2019, she was appointed as the principal of the same college. Two more women were appointed at the same college of which one has retired and the other will retire in a couple of years. Prof Kaur said that she had completed her graduation and post graduation in 'Gurmat' studies from Guramt College Patiala.
"Now more girls are coming forward seeking to pursue 'Parcharak' and Kirtan courses. We are hopeful that soon these girls will get admission in the Sikh Missionary colleges too," she said, adding that they have been making efforts in this direction for the past 8-10 years.
She said that almost all the universities in Punjab and several private institutes too are now offering Gurmat education and SGPC would certainly allow girls in Sikh Missionary colleges too.
https://indianexpress.com/article/explained/why-women-are-not-admitted-to-sgpc-run-sikh-missionary-colleges-6123768/
------
Different Score Displayed During Brazil Women's Football Final To Protest Pay Gap
November 17, 2019
After recent research showed that women in Brazil earn 20% less than men for the same work, São Paulo's Paulista Women's Championship displayed a different score on the screens during the second leg title clash between Corinthians and Sao Paulo.
When Corinthians took the lead five minutes into the first half, the official scoreboard flashed Corinthians 0.8 – 0 São Paulo instead of 1-0, displaying 20% of the first goal by Victoria Albuquerque.
The same was done for the other goals, screen showing 1.6-0 when Juliet scored the second and 2.4 when Millene completed the third. The initiative was part of an action of the Paulista Football Federation (FPF) with the UN Women and the advertising agency BETC.
Como apenas uma foto é pouco, o estagiário decidiu colocar mais três desse momento da taça. Elas merecem demais! 😍
"We believe that the decision of the Female Paulista, which ends with a record historical visibility, is an opportunity to question the fact that women still have lower pay compared to men in the labor market. It is essential, especially nowadays, to bring important discussions for the growth of our society, "said Aline Pellegrino, Women's Football Director of the Paulista Football Federation.
Corinthians beat local rival Sao Paulos 3-0 in front of a packed crowd in the Arena Corinthians. Corinthians had also won the first leg 1-0. The final was attended by 28,862 fans, record attendance at women's soccer game in Brazil. Match tickets had been given out for free during the week.
The previous record was in 2017 at Manaus' Arena Amazonia in the semifinals of the Brazilian championship when Iranduba lost 2-1 to Santos in front of 25,371 people.
https://indianexpress.com/article/sports/football/different-score-brazil-womens-football-final-pay-gap-6123852/
------
Sabarimala Opens, Kerala Cops Block Entry Of Women Below 50
Nov 17, 2019
SABARIMALA: As the Sabarimala temple opened on Saturday evening for the two-month annual festival amid tight security, the Kerala police in defiance of the Supreme Court order, stopped women pilgrims at Pamba, 5km from the hill-top temple of Lord Ayyappa, checked their documents for proof of age and allowed only those above 50 to proceed further. According to police, 10 women pilgrims from Andhra Pradesh "who were below 50" were turned back.
In September last year, the Supreme Court had held that the centuries-old ban on women and girls aged 10 to 50 was illegal and unconstitutional. On Thursday, the court referred the Sabarimala issue to a larger seven-member bench, stating that detailed examination is required into the matter, without staying its 2018 verdict.
The LDF government, which was proactive in implementing 2018 Supreme Court order during the previous pilgrim season, had indicated on Friday that it wasn't in favour of young women going to Sabarimala, despite Thursday's verdict making it clear that there was no stay on allowing women to have darshan of Lord Ayyappa at the shrine.
Though police refused to reveal details of the women who were forced to turn back, TOI managed to identify two of them as Manthayaru (49) and Sati Anasooya(38), both natives of Kakinada in Andhra Pradesh. The two women reached Pamba as part of a group of around 30 people who are on a pilgrimage tour of Kerala.
The Renaissance Protection Committee, a LDF-backed organization, said it was outraged by Saturday's developments and criticised the ruling LDF government, saying it had "gone soft" on its stand on the issue and this would only help "weaken the cause".
Heavy security arrangements are in place at Sabarimala. Around 1,400 police personnel have been deployed at the Sannidhanam (the area near the sanctum), led by a superintendent-rank officer and 10 deputy SPs. At Pamba and Nilackal, there are around 720 and 700 police personnel respectively on duty, and this includes around 250 women police officers. In addition, separate teams of Quick Reaction Force, Rapid Action Force, police commandos and National Disaster Response Force are also deployed at the Sannidhanam. At Pamba, metal detectors and X-ray scanners have been installed. More than 50 women police personnel have been entrusted with verifying women pilgrims' ID cards.
A senior police officer told TOI that they have been instructed by the government not to permit women from the "barred age group" from climbing the hillock. "We are checking the ID cards of all women at Pamba itself to avoid further confusion at Sannidhanam. Women police officers have been deployed at Pamba to ensure that," he said.
Manthayaru said that they reached Pamba hoping that they could have Ayyappa darshan but the police blocked them. "We could not climb the hill as the police said we cannot go there because we are aged below 50. So, we are waiting here for others from our team to return from the temple," she told TOI near the Ganapathi temple at Pamba.
"After finding them to be in the barred age-group, we advised them to go back. They cooperated with us and did not proceed further. Around eight other women who were part of the group also returned with them," a police officer told TOI.
As the temple opened on Saturday, thousands of devotees from Kerala, Tamil Nadu, and other neighbouring states offered prayers at the temple. At 5 pm, Kandararu Mahesh Mohanararu opened the sanctum sanctorum of the temple and performed poojas.
A K Sudheer Namboodiri took charge as Sabarimala 'melshanti' (chief priest), while MS Parameswaran Namboodiri is likely to take charge as chief priest of the adjacent Malikappuram devi temple by November 23.
https://timesofindia.indiatimes.com/india/sabarimala-opens-kerala-cops-block-entry-of-women-below-50/articleshow/72090960.cms
------
URL: https://www.newageislam.com/islam-women-feminism/women-only-street-market-opens/d/120284
New Age Islam, Islam Online, Islamic Website, African Muslim News, Arab World News, South Asia News, Indian Muslim News, World Muslim News, Women in Islam, Islamic Feminism, Arab Women, Women In Arab, Islamophobia in America, Muslim Women in West, Islam Women and Feminism