New Age Islam News Bureau
25 Nov 2014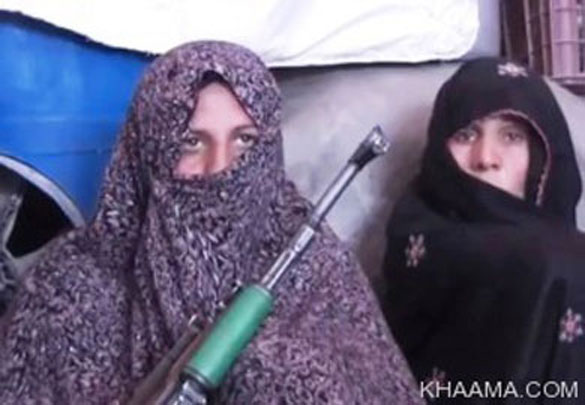 Photo: Afghan woman kills 25 Taliban rebels to avenge her son's murder
-----------
• Afghan woman kills 25 Taliban rebels to avenge her son's murder
• Indian Muslim Girls Decorate Earthen Lamps for Hindu Devotees
• Kurdish Women Join YPG in Syria to Fight Islamic State
• Why a Muslim woman is BJP's face in Kashmir
• Yorkshire Muslim Girl Speaks Of Grooming Ordeal
• Muslim Girl Beaten By Male Relatives for Being 'Too Western' In Italy
• Saudi Women Fight to Save Mangrove Forests
• Saudi Arabia: 'End Excessive Dowry Demands To Encourage Marriages'
• Indonesian Women's Rights under Siege
• United Nations Members Resolve to End Child Marriage
• Pakistani Christian Woman Sentenced To Death for Blasphemy Files Appeal
• Diary of an Islamic State Wife: British Woman in Syria Tells Of Husband's Death in Kobani
Compiled by New Age Islam News Bureau
URL: https://www.newageislam.com/islam,-women-and-feminism/new-age-islam-news-bureau/women-not-equal-to-men--turkish-president/d/100184
-------------
Women Not Equal To Men: Turkish President
25 Nov, 2014
ISTANBUL — Turkish President Recep Tayyip Erdogan declared that women are not equal to men and launched a bitter attack against feminists in Turkey, claiming they reject the concept of motherhood.
Speaking at a summit in Istanbul on justice for women, the president said that biological differences between women and men meant they cannot serve the same functions in life.
"Our religion (Islam) has defined a position for women (in society): motherhood," Erdogan told an audience of Turkish women including his own daughter Sumeyye.
"Some people can understand this, while others can't. You cannot explain this to feminists because they don't not accept the concept of motherhood."
He recalled: "I would kiss my mother's feet because they smelled of paradise. She would glance coyly and cry sometimes.
"Motherhood is something else."
He went on to say that women and men cannot be treated equally "because it is against human nature."
"Their characters, habits and physiques are different.... You cannot place a mother breastfeeding her baby on an equal footing with men. You cannot get women to do every kind of work men can do, as in Communist regimes. You cannot tell them to go out and dig the soil. This is against their delicate nature."
Erdogan was apparently referring to the practice during and after World War II for women in Communist states like the USSR to do heavy manual work in factories or in roles such as tram drivers.
Erdogan has also drawn the ire of feminist groups for declaring that every woman in Turkey should have three children and with proposals to limit abortion rights and the morning-after pill. — AFP
http://www.saudigazette.com.sa/index.cfm?method=home.regcon&contentid=20141125225469
------------
Afghan woman kills 25 Taliban rebels to avenge her son's murder
November 25, 2014
An Afghan woman has killed at least 25 Taliban militants to avenge the murder of her son who was a police officer in western Farah province.
According to reports, Reza Gul was forced to pick up arms after her son was shot dead by Taliban militants in front of her eyes.
Her son was leading a small group of police forces in a check post located in a village of Farah province.
She was supported by her daughter and daughter-in-law during the gun battle which lasted for almost 7 hours that left at least 25 Taliban militants dead and five others injured.
Sediq Sediq, spokesman for the Ministry of Interior (MoI) said the armed campaign by women against the Taliban militants is a symbol of a major revolution and public uprising against the group.
The Taliban militants group has not commented regarding the incident so far.
Farah is among the volatile provinces in western Afghanistan where anti-government armed militants are actively operating in its various districts and frequently carry out insurgency activities.
http://www.khaama.com/afghan-woman-kills-25-taliban-rebels-to-avenge-her-sons-murder-8794
----------
Indian Muslim Girls Decorate Earthen Lamps for Hindu Devotees
25 Nov, 2014
Varanasi (ANI): Varanasi, situated on the banks of river Ganga, in the northern state of Uttar Pradesh, is known as the spiritual capital of India. The city is known for Ganga-Jamuni Tehzeeb or religious harmony between the people of different faiths. This Tehzeeb is upheld by the people, who celebrate religious co-existence in the city with utmost devotion. A similar example is witnessed in a Muslims locality where Muslim girls paint and decorate earthen lamps for Hindus during their religious occasions. Their aim is to maintain the age-old culture of religious harmony and promote peace and brotherhood in the city. Besides, these Muslim girls want to gift the decorated lamps to their Hindu sisters as a sign of mutual respect and gratitude. These efforts enlighten the hearts of the people of different communities who work ceaselessly to maintain communal harmony in the region, for which Varanasi is popular.
http://www.business-standard.com/video-gallery/general/muslim-girls-decorate-earthen-lamps-for-hindu-devotees-on-religious-festivities-14162.htm
------------
Kurdish Women Join YPG in Syria to Fight Islamic State
November 25, 2014
Kurdish women continue to join the People's Defense Unit, or YPG, who have been leading the resistance against Islamic State (formerly ISIS/ISIL) since it began its siege on Kobane, Syria, in mid-September.
This video, filmed by Radio Free Europe/Radio Liberty on November 23, shows members of the YPG's Women Defense Units training in the northern Syrian city of Qamishli. The young fighters are pictured learning military commands and practicing their marksmanship.
In recent months, Islamic State militants have attacked a number of Kurdish regions in Syria and Iraq, forcing thousands of refugees to flee their homes, according to reports. Credit: Radio Free Europe/Radio Liberty
https://sg.news.yahoo.com/video/kurdish-women-join-ypg-syria-152817530.html
------------
Why a Muslim woman is BJP's face in Kashmir
November 25, 2014
In Srinagar's Amira Kadal neighbourhood, a young woman dressed in black with a headscarf is rapping on people's doors.
People gather in the narrow lanes of the congested neighbourhood, others peer out of windows - women gather around her, some stroking her cheek and others embracing her.
The young woman is Hina Bhat - a candidate for the five-phase elections in Jammu and Kashmir which begin on Tuesday - who is attracting disproportionate attention in the polls in the Muslim majority state which is disputed between India and Pakistan.
That's because she is a Kashmiri Muslim who has been fielded by the Hindu nationalist BJP, India's governing party.
The BJP has never been a serious player in Kashmiri politics - it has a non-existent base in the Muslim-dominated Kashmir Valley given its hardline views on the state's tenuous relationship with India.
But under India's new Prime Minister Narendra Modi, who swept to power in the May general elections, the BJP is making an audacious bid to capture Jammu and Kashmir.
"What Kashmiris really need is development. And that is what Mr Modi offers," says Ms Bhat as she hurries through the lane, supporters and security men in tow.
"Our youth are frustrated - there are no jobs, no opportunities. We aim to change that."
Fragile relationship
In the valley at least, it's a threadbare campaign. There are a handful of party flags visible, mostly of the two regional parties that dominate local politics - the governing National Conference and the opposition People's Democratic Party (PDP).
But the BJP is attracting interest and also, unusual support.
Sajjad Lone is a former separatist leader who is contesting the election from his family stronghold of Kupwara, a rural hamlet once a hotbed of militants and quite close to the Line of Control, the ceasefire line which divides Indian and Pakistan-administered Kashmir.
Earlier this month, Mr Lone met Narendra Modi in Delhi leading to speculation that the two could come to an understanding if the BJP was close to the 44 seats it would need for an outright majority in the 87-member state assembly.
And while some hardline separatists, like Syed Ali Shah Geelani, are concerned about a possible BJP win, others argue that it is not likely to change anything significantly.
We believe that Kashmiri governments have little power since everything is controlled by Delhi," says moderate separatist leader, Mirwaiz Umar Farooq.
"We might as well deal directly with a national party like the BJP."
But on the streets of Srinagar, there is little visible enthusiasm for the election itself, let alone the BJP or other parties.
The city is only just recovering from devastating floods of September. The water level in the central Lal Chowk area had reached up to the first level of the buildings there and even though it has now receded, the damage is plainly visible.
"We have hardly got any compensation from the government," says a shopowner who refuses to give me his name.
"My shop was damaged, my stocks destroyed. It's going to take me months to recover. Who cares about the elections."
Many others concur, saying that a new government will not change anything on the ground for Kashmiris, especially when it comes to issues such as the role and presence of the Indian security forces and the powerful laws under which they operate with immunity.
Earlier this month, two Kashmiri teenagers were shot dead by army troops, who fired on their car at a checkpoint.
In a rare admission, the army accepted that it had shot the boys by mistake.
But that is little comfort for Mohammad Yusuf Bhat, whose 13-year-old son Burhan was one of those killed.
"All he had on him was books, no guns, no bombs. And they shot him," he says.
"If Kashmiris are not safe travelling on the roads, then what's the point of making grand promises of building new roads and bridges?"
http://www.bbc.com/news/world-asia-india-30173138
------------
Yorkshire Muslim Girl Speaks Of Grooming Ordeal
November 25, 2014
A report has lifted the lid on the sexual exploitation of at least 1,400 children in Rotherham between 1997 and 2013, by gangs of men who were predominantly of Pakistani origin. Although most of the victims were white, some were also Asian.
A teenage Muslim girl has told the BBC how she was groomed and then sexually abused by gangs of men in Yorkshire.
It started at the age of 13 when she was plied with alcohol and drugs including cannabis.
Lubna - not her real name - thought the men were her friends. Some of the men lied about their real age.
"I met some of them in local Shisha bars. They got their own way with me," she told BBC Asian Network.
She says she did not realise what was happening to her and she felt alone and thought they "cared about her".
"They asked me to wear clothes that would show my figure and different parts of my body," said Lubna.
Feared for family
Being a Muslim of Pakistani origin, she realised what she was doing was against her religious beliefs.
But she feared for her family's safety if she tried to stop: "I thought they might come to my home and break the windows - even kill someone."
She says she felt "worthless" and began to self-harm.
"I was punching walls. Then I found a knife in the kitchen drawer and cut my arms. I thought the pain felt good," said Lubna.
She tried to overdose twice, ending up in hospital. It was then her father stepped in.
Lubna's father, Mushtaq, said many young men were friends with her on Facebook. They would often pick her up from home in their cars.
Mushtaq decided to confiscate her phone. He told me: "I went through it speaking to all her male contacts to find out who they were."
Suffering in silence
Campaigners have said Asian victims of sexual abuse are often forced to remain silent to protect what their families believe is their honour.
They say it is a nationwide problem which is under-reported.
Jaswinder Sanghera, a founder member of Karma Nirvana, a charity that helps women and men who are subjected to "honour-based abuse", says: "Asian women are deliberately targeted because men know they won't come forward [to complain].
"So they can be exploited and abused."
Sheffield City Council said 20% of the referrals they dealt with in 2013 came from young people from black and minority ethnic backgrounds.
Sue Fiennes, from the Sheffield Safeguarding Children Board, told the BBC: "We are engaging with the community about the issues and we offer intensive support to victims of CSE [child sexual exploitation] regardless of their race and ethnicity."
Mushtaq is aware of the taboo surrounding the issue of sexual grooming but believes the community should do more to help victims rather than "brush it under the carpet".
"There's nothing in our religion that says you can't speak out about a crime," he said.
Lubna is receiving counselling following her ordeal.
And with the help of her father she has turned her life around. She is back at college, continuing her studies.
"I would tell other teenagers to listen to their parents because they know best," she says.
Nobody has been prosecuted for abusing her.
http://www.bbc.com/news/uk-30152240
------------
Muslim Girl Beaten By Male Relatives for Being 'Too Western' In Italy
November 25, 2014
A 15-year-old teenager has been severely beaten by her father and brothers in Italy because they considered her behaviour "too Western." With injuries to her head, face, shoulders and ribs, the girl was hospitalized and then entrusted to social services.
A Muslim girl, whose name wasn't revealed, has been beaten up by her Moroccan father and brothers who later locked her in the bathroom, police sources told Italy's ANSA news agency.
The accident happened in the city of Forli, in Emilia-Romagna, northern Italy.
One of the girl's brother's friends took a picture of the girl as she was walking in a shopping centre with her classmate.
The picture, sent to the girl's parents with an offensive comment, was the trigger for such a harsh attitude from her family.
It was the girl who called the police. She was immediately admitted to the hospital with a head trauma and injures to the face, shoulders and ribs. She was then taken to a facility for minors and met with medical workers and psychologists.
Police are now considering pressing the charges against the girl's father for injures and ill-treatment of his daughter, the sources said. The investigators are also deciding whether to charge her brothers with kidnapping.
The girl's father, 49, a worker, has lived in Italy for about 20 years. After the beatings he decided to take his daughter back to Morocco, Italian press reports.
About 2 percent of Italian populations are Muslim, according to 2011 estimates.
http://rt.com/news/207939-italy-teen-beaten-muslim/
------------
Saudi Women Fight to Save Mangrove Forests
25 Nov, 2014
Hardly a month goes by without Najwa Mohammed Bukhari participating in the campaign to "save the mangroves" on the coast of al-Qatif governorate. She did not participate in the latest monthly campaign only because she was not in Saudi Arabia at the time. However, Bukhari's friends headed to the coast of Saihat City a few weeks ago to save the remains of these trees, which decades ago made up the coastal forest that surrounded the shores of eastern Saudi Arabia. Yet, according to even the most optimistic estimates and official statistics, only 10% of the forest remains; the rest has been destroyed by the ongoing bulldozing and landfill operations which have been taking place over almost four decades to accelerate the growth of urbanization. Saudi Aramco has announced a plan to plant 1.2 million mangrove trees on the coast of the kingdom in four years.
Bukhari and her female friends, who are members of the Supporters of the Environment and Volunteers Association, consider the protection of the mangroves a key mission. Their ambitions converge with the aspirations of their counterparts in al-Ataa Charity Association for Women in the al-Qatif governorate: to protect these marine trees and prevent those remaining from being removed. Women in both associations work long hours and with unrivalled enthusiasm to try and achieve their goals.
Mangroves, which are also called Shura, qurm and Ibn Sina — alluding to the Arab world where the benefits of this tree were discovered — are considered a natural habitat for marine species. It is an evergreen tree that grows in tidal areas on the coast, ranging from one to five meters in height. It provides a welcome environment, allowing many marine organisms to reproduce, particularly the Caridea. These species represent an important part of the coastal ecosystem, supplying varied foodstuff for birds and fishes and thus establishing a nature reserve of paramount importance.
Mangrove trees have other benefits: They increase levels of oxygen and reduce levels of carbon dioxide in the atmosphere, thereby helping to reduce global warming.
These trees have the ability to absorb some of the chemical contaminants in their environment, including oil pollution. Further, they increase green spaces, especially in the desert regions, and have the ability to absorb high energy wave action.
Dalal al-Awami, head of al-Ataa's health and environment team, told Al-Hayat: "We are making strenuous efforts to protect the environment through our communication with supporters. We got in touch with the Saif Association at Saudi Aramco and they agreed to cooperate. We also participated in protecting the remaining mangrove forests."
Barely five women took part in the first campaign, but Awami stressed that "there has been an unexpected change" in the second and third campaigns. In fact, the level of female participation has increased exponentially and there are now over a hundred female volunteers representing a variety of ages and backgrounds.
"Women who participated in the campaigns were not looked down upon or underappreciated. Everyone was working toward the same goal. Even some parents encouraged their sons and daughters to join in this voluntary work with the aim of instilling in them the the importance of volunteering, a concept generally absent from society, particularly in the fields of agriculture and environment," Awami added.
As for their role as a team, she said: "Our main focus is health and environment, and our work is not merely confined to campaigns. By raising awareness we elevate the level of culture among people of the region. This might be done by organizing lectures, distributing leaflets and through social networking sites. This is how we manage to attract hundreds of volunteers and receive positive feedback from people. We also get suggestions from volunteers, which we follow up on all the time, whenever we feel they could lead to the protection and conservation of these forests."
Although it has been only two years since the launch of the campaign to save the mangrove forests, the strenuous efforts of female volunteers — which Awami described as "modest" — have made an enormous impact. Volunteers have made their voices heard by politicians, and this has led to a reduction in practices harmful to this valuable resource.
Jaafar al-Safwani, deputy chairman of the Hunters' Association in the eastern province and a member of the Saudi Organic Farming Association, said: "Efforts have been made to eliminate much of the plastic waste that is harmful to wildlife and causes the death of dozens of birds, fish and other animals when they swallow it." He also stressed the importance of the mangrove forests, "as they are seen as an essential resource of fish and shrimp in the eastern Saudi Coast of the Arabian Gulf. This has been turned partially into a landfill, as many fail to see the great importance of these trees."
http://www.al-monitor.com/pulse/culture/2014/11/saudi-arabia-qatif-mangroves-climate-change.html#ixzz3K23R2Bqs
------------
Saudi Arabia: 'End Excessive Dowry Demands To Encourage Marriages'
25 Nov, 2014
JEDDAH — In light of parents and guardians often preventing their daughters and the young women in their care from getting married for flimsy reasons, many Saudis are calling for the establishment of a government organization that could help facilitate marriages for such women.
Though there are no official statistics available, many people feel that there has been a sharp increase in the number of single women in the Kingdom, something they say is worrisome and a danger to society.
It is thought the huge number of single women is on account of the high dowries that parents often ask from prospective suitors.
Ali Majdou is a Saudi civil servant. He feels that not being able to get married is a social problem. "It affects young women's psychological state and causes insomnia. It's a terrifying problem for society. Fathers should fear Allah and reduce the dowries they demand from the young men who ask for their daughters' hands in marriage," he said.
"Imams and preachers in mosques need to tackle this subject in their Friday sermons and lectures," he added. Muhammad Abdulhadi, educator, said there are some two million single women in the Kingdom.
"This is a serious matter negatively affecting the country's social fabric. In order to get rid of this problem, we need to return to the teachings of the Prophet (peace be upon him) and reduce the dowries that we ask from prospective suitors," he said.
Saad Falah said not being able to marry is a "terrifying nightmare" for many young women. "It's worrying that this problem is on the increase. I know of some families in which there are lots of young women who are ready to get married but they are unable to do so. They cannot get married because of the high dowries," he said.
"I think the problem lies with the intransigence of the fathers. Dads need to prioritize their daughters' happiness and stability over everything else," he added.
Muhammad Abdulrahman Bin Sulaiman, deputy chief of Al-Aasirah villages in Bani Amr, praised parents who make it easy for young men to marry.
"These parents are the thoughtful ones. They don't demand expensive dowries or huge quantities of gold or call for massive wedding parties. The fact is, these demands prevent young men from marrying as many people cannot possibly afford the associated expenses," he said.
Bin Sulaiman said he has approved a document that includes guidelines on how much dowry a person should ask for. "This document is for the Al-Aasirah villages and Udhaidat tribe in Bani Amr, north of Al-Namas. We've placed a SR20, 000 cap on dowries for women who have never been married. This sum includes gold for the engagement and marriage. We also recommend a further SR3, 000 for the engagement," he said.
"The dowry for a woman who is getting married for a second time is capped at SR15,000. This includes the cost of gold for engagement and marriage. We advise that such women should also be given SR3, 000 for her engagement," he added.
Bin Sulaiman said the document has been in force since 2004. "It has had a prominent role in facilitating marriage for young men and achieved its aspired goal in considerably reducing the burden of getting married," he said.
Abdulrahman Saleh, a teacher, praised fathers who demand low dowry for their daughters' marriages. "Being realistic and helping young men to get married ultimately means that one's own daughter will be able to live her life with her husband free from the burden of loans and debts. We need to realize that starting off in life with a debt can negatively affect a marriage," said Saleh.
He also called for awareness programs, especially in light of the increasing number of young people who are finding it difficult to get married.
http://www.saudigazette.com.sa/index.cfm?method=home.regcon&contentid=20141124225341
------------
Indonesian women's rights under siege
25 Nov, 2014
On Nov. 18, Human Rights Watch (HRW) reported that the Indonesian government subjects female police recruits to discriminatory and degrading virginity tests. Indonesia's National Police law division head, Inspector General Moechgiyarto, defended the tests as a means to ensure the morality of female applicants.
"The procedure has been practiced for a long time," he told reporters in Kuningan in South Jakarta on Nov. 19, referring to the use of virginity tests. "If [a candidate] turns out to be a prostitute, then how could we accept her for the job?" Indonesia's coordinating minister for politics, law and security, Tedjo Edhi, confirmed that virginity tests have long been obligatory for female military recruits.
The police and military's use of a degrading, unscientific and discriminatory test is not an isolated example of women's rights abuse in Indonesia. It is part of a wider pattern of attacks on women's rights that has been in the making for more than a decade, despite guarantees in Indonesia's Constitution against such discrimination.
In many parts of Indonesia, local laws compelling women and girls to don the hijab, or headscarf, are increasingly common in schools, government offices and public spaces. While many of these laws specify traditional Sunni Muslim garb both for women and men, research by HRW shows they disproportionately target women.
In January 2013 the mayor of Lhokseumawe in Aceh province barred women from straddling motorcycles in the name of Sharia. In May 2013 the district chief in neighboring Bireuen barred women from dancing in public places. In Gorontalo on Sulawesi Island the government removed its entire female support staff in July 2013, replacing them with men as part of an initiative supposedly to discourage extramarital affairs. In Meulaboh, another Aceh regency, the local government has restricted women to wearing skirts since 2012.
The HRW is not alone in highlighting the proliferation of regulations that deny women the right to freedom from discrimination under international law. In August 2013, Indonesia's Commission on Violence Against Women reported that since 1999, national and local governments have passed 342 discriminatory regulations, including 79 local laws requiring women to wear the hijab. Although the number of the discriminatory local laws has doubled, from 154 in 2009 to 334 in 2013, in July 2013 the Ministry of Home Affairs said it would revoke only eight of them.
The United Nations has also sounded the alarm. "The committee is deeply concerned about the persistence of a large number of discriminatory laws at the national level … [as well as] discriminatory bylaws," the U.N. Committee on the Elimination of Discrimination Against Women, said in its 2012 compliance review (PDF).
Indonesian women's rights groups have opposed the passage of these discriminatory regulations. The National Commission on Violence Against Women linked a sharp decline in the enactment of such rules from 2006 to 2009 to the "strong reactions from civil society at the national level."
This is not the Indonesia I knew growing up. I was born in Jember, a small town in East Java in 1965. At the time, there were no regulations that required women to wear the hijab. There was no multiplicity of local regulations and ordinances curtailing women's freedom to dress, dance or ride pillion. To be sure, Indonesia was no paradise for women's rights in the 1970s and 1980s. For example, the 1974 Marriage Law contained many discriminatory provisions, including the legalization of polygamy. But it also recognized women's right to marital property.
Although Indonesia's dictator Suharto flouted many basic human rights during his 33-year-long reign, he established the Ministry of Women's Empowerment in 1983. A year later he allowed Indonesia to sign and ratify the Convention to Eliminate All Forms of Discrimination Against Women, the first human rights convention the country signed. In October 1998, Suharto's successor President B.J. Habibie formed the National Commission on Violence Against Women. In concert with the Ministry of Women's Empowerment, the agency was explicitly tasked with integrating women's rights as a key component of government policy formation.
Indonesia's democratization and decentralization after Suharto's fall in 1998 has emboldened Islamic activists who have spearheaded the calls for laws and regulations that limit women's rights. Ironically, the rise of discriminatory laws occurred despite the fact that Indonesia elected its first female president in 2001 and enacted a domestic violence law three years later. The 2010 gender equality bill, aimed at ending discrimination, remains stalled in parliament because of opposition from Islamist politicians.
The government's failure to prevent the erosion of basic rights of women and girls is not accidental. Opening the Indonesian Ulama Council congress in 2005, former President Susilo Bambang Yudhoyono, wooed members of the country's top Muslim clerical body, promising to integrate fatwas (Islamic edicts) into government policies. He appointed a handful of conservative politicians and Islamic clerics as advisers and Cabinet members.
President Joko Widodo, who replaced Yudhoyono in national elections on July 9, was sworn into office on Oct. 20. Widodo's challenge is to prove that his administration will not tolerate abusive virginity tests or trade women's fundamental rights for political support from Islamist militants. Widodo should send that message by boldly banning virginity tests and lifting Islamist-imposed restrictions on women's rights. Failure to act on women's rights will mark a betrayal of Indonesian women and haunt his administration for years to come.
http://america.aljazeera.com/opinions/2014/11/indonesia-women-srightsvirginitytestsfemalepoliceofficers.html
------------
United Nations members resolve to end child marriage
25 Nov, 2014
UNITED NATIONS (Reuters) - (Story corrects name of organization in final paragraph to "Girls Not Brides" from "Girls Before Brides" from 21/11/2014)
The United Nations agreed on Friday that all members should pass and enforce laws banning child marriages, resolving to end a practise that affects about 15 million girls every year.
The committee of the 193-nation General Assembly that deals with human rights adopted by consensus a resolution urging all states to take steps to end "child, early and forced marriage."
There are now more than 700 million women who were married before their 18th birthday, many in conditions of poverty and insecurity, according to U.N. statistics.
Child marriage among girls is most common in south Asia and sub-Saharan Africa. In Niger in West Africa, which has the highest overall rate, 77 percent of women between 20 and 49 were married before the age of 18.
Bangladesh has the most girls who married under 15 and India is home to one third of all child brides worldwide.
Christine Kalamwina, the deputy permanent representative of Zambia, which initiated the resolution with Canada, said child marriage impeded poverty reduction, education, gender equality and women's empowerment, child mortality, maternal health, and combating HIV/AIDS and other diseases.
According to the resolution, early marriage is also a serious threat to the physical and psychological health of girls who are not physically mature enough as it "increases the risk of unintended pregnancy, maternal and newborn mortality and sexually transmitted infections."
The 118 countries that sponsored the resolution included Mali, Ethiopia and the Central African Republic, which are among the 10 countries with the highest rates of child marriage.
The resolution called on states to ensure that marriage is entered into only with the full consent of the intending spouses, was adopted without a vote. The resolution will go to the full General Assembly for formal approval in December.
While supporting the document, the Islamic Republic of Iran and Sudan both expressed concern over a paragraph urging governments to protect the right of girls to have control over their sexuality and implement laws that protect reproductive rights.
General Assembly resolutions are not legally binding, but can increase political pressure on countries.
"This is a firm statement from the international community that child marriage will not be tolerated," Girls Not Brides, a global partnership of over 400 civil society organizations, said in a statement.
http://www.thestar.com.my/News/World/2014/11/25/United-Nations-members-resolve-to-end-child-marriage/
------------
Pakistani Christian woman sentenced to death for blasphemy files appeal
November 25, 2014
A Pakistani Christian woman sentenced to death for blasphemy has filed an appeal in the country's top court , her final legal recourse after being found guilty of insulting the prophet Muhammad four years ago.
A high court in Lahore confirmed the death sentence of Asia Bibi last month, dashing hopes the conviction might be quashed or commuted to a jail term. She has been on death row since November 2010 after being convicted of blasphemy during an argument with a Muslim woman over a bowl of water.
"On behalf of Asia Bibi I have today filed an appeal in the supreme court," her lawyer Saiful Malook said on Monday.
Malook said in the petition his client had asked the court to reconsider deficiencies in the case including allegedly manipulated evidence and a delay between the time of the incident and its investigation by police. He added that the blasphemy claim was concocted by Bibi's enemies to target her and had no basis in fact.
"We expect an early hearing of the appeal and hope that the proceedings will be over in one year," Malook said.
The allegations against Bibi date back to June 2009, when she was labouring in a field and a row broke out with some Muslim women she was working with. She was asked to fetch water, but the Muslim women objected, saying that as a non-Muslim she was unfit to touch the water bowl. A few days later the women went to a local cleric and put forward the blasphemy allegations.
Bibi's husband has also written to Pakistan's president, Mamnoon Hussain, to ask for her to be pardoned and allowed to move to France.
"We are convinced that Asia will only be saved from being hanged if the venerable President Hussain grants her a pardon. No one should be killed for drinking a glass of water," Ashiq Masih wrote in an open letter dated 17 November. The mayor of Paris, Anne Hidalgo, has said the couple are welcome in the city.
Blasphemy is a hugely sensitive issue in the majority Muslim country, with even unproven allegations often prompting mob violence. Pakistan has never executed anyone for blasphemy and has had a de facto moratorium on civilian executions since 2008. But anyone convicted, or even just accused, of insulting Islam, risks death at the hands of vigilantes.
http://www.theguardian.com/world/2014/nov/24/pakistani-christian-woman-sentenced-death-blasphemy-file-appeal
http://www.telegraph.co.uk/news/worldnews/asia/pakistan/11251848/Pakistani-Christian-woman-sentenced-to-hang-for-blasphemy-makes-last-appeal.html
------------
Diary Of An Islamic State Wife: British Woman In Syria Tells Of Husband's Death In Kobani
November 25, 2014
A British Muslim woman who went to Syria to marry an Islamic State militant has written about her experiences in a blog.
The woman -- who calls herself Umm Khattab al-Britaniyyaa -- says she was married to a Swedish IS militant until his recent death in Kobani. In her blog, she describes her everyday life in Syria, including her reactions when she learned her husband had been killed.
Umm Khattab also relates how she travelled to Syria via Turkey and the difficulties she faced when trying to cross the border to join IS.
The diary offers insights into how and why Western women are going to join IS in Syria and Iraq; the extremist Sunni group's attitudes toward women's roles; and how women are taught to react when their husbands or male acquaintances are killed in the fighting.
Umm Khattab's description of her husband's death is almost matter-of-fact. She writes that on October 28, another woman, who is also with IS, came to visit her and told her that her husband had been killed in IS's offensive against Kurdish forces in the northern Syrian town of Kobani.
"[A] sister came to me and asked if my husband was Abu Khattab Al Swedi ["The Swede"] I said yea and she said Mabrook ["congratulations"] his [sic] Shaheed ["a martyr"], I didn't know how to react cause I didn't believe it so I laughed," Umm Khattab recalled in a blog post on November 22.
Umm Khatab says she felt "very happy for my husband" even though she would not see him again until "Akhirah" (an Islamic term referring to the afterlife) because he had "finally made it" as a martyr after a year in Syria.
Like other Salafi-jihadi groups, IS's ideology glorifies the concept of "martyrdom" -- being killed in battle or committing suicide in an attack against "infidels" -- as the ultimate reward for waging jihad. "Martyrs" are lauded as extraordinary heroes who made the ultimate sacrifice to help establish an Islamic state. Social-media accounts supportive of or run by IS militants often publish photographs of militants who have been killed in battle, frequently claiming that the dead men are smiling in death.
Umm Khatab also describes the death of another IS militant, her husband's best friend, named as Abu Uthman Afghani ("The Afghan"). Some days after Abu Uthman was shot in Kobani and paralyzed from the waist down, he succumbed to his injuries. "On 7th November Abu Uthman Afghani also achieved what he was seeking for," Umm Khatab writes.
In an earlier diary entry, Umm Khatab describes how she travelled to join IS in Syria, leaving behind her parents and younger siblings. In Turkey, the British woman met up with two friends and their small children. While trying to reach Syria, however, the three women were detained by the Turkish authorities, who suspected they were with IS. The Turkish authorities did not believe the women when they said they were aid workers seeking to go to Syria and remanded them in custody, seeking to deport them.
However, in an interesting twist, Umm Khatab says that IS intervened to help get the three women released.
"Dawlah [Islamic State] found out about our predicament and sent us a lawyer who worked some magic and after a looooong tiring week in prison they let us go," she wrote.
Once released, Umm Khattab says that she and her friends went to cross the Turkish border into Syria. However, their difficulties were not yet over: The three women found themselves at a border crossing controlled not by I but by militants from the "FSA [Free Syrian Army] and Jabhat [Jabhat al-Nusra, Al Qaeda's Syrian affiliate]."
When the militants at the border crossing started to speak in Arabic ( they said that Umar Shishani, IS's military commander in Syria, was a "murtad," an apostate) Umm Khattab began to feel uneasy. "I then knew we were in a real sticky situation," she writes.
The militants in charge of the border crossing forced the three women to go back into Turkey, where they were driven to a second border crossing, this time controlled by IS.
Reading 'Pride & Prejudice' With IS Wives
Umm Khattab is not the only Western woman to write a diary about her experiences traveling to Syria to join IS.
Another woman, who calls herself Bird of Jannah ["Bird of Paradise"] and says she is a doctor who came to Syria to join IS in February, writes an English-language blog called Diary of a Muhajirah ["Female Foreign Jihadi"]. In it, she describes her daily life in Raqqa, the IS's de facto capital in Syria, and offers advice to wannabe IS wives about what to bring to Syria (she suggests bringing a book, such as Jane Austen's classic love story, "Pride And Prejudice").
"Download some good books or bring one or two good book. Please, no *hardcore* topics. I personally downloaded few iBooks like Pride and Prejudice and some english novels beside books written by Ibn Qayyim [an Arab Sunni Islamic scholar] - and it helped a lot," she advises in her blog.
Bird of Jannah describes how IS provides housing, and basic necessities (stove, cooking utensils and monthly groceries) for women who come to Syria and join its ranks.
When women first arrive in Syria and join IS, the group places them in an all-women's house called a "makkar," Bird of Jannah says. Women are then rehoused elsewhere in Syria.
Women who join IS with skills such as teaching and nursing are allowed to work, Bird of Jannah says.
Bird of Jannah describes the difficulties she faced in adapting to life as an IS wife, including dealing with her family's anger and concern.
"I received tons of messages from my sister and family. Anger, disappointed, confused -- their messages is all about asking 'Why' I have to leave them in such horrible way. Another half of their messages is all about requesting me to come back and they promised they will do anything even travel to Turkey, only to bring me back home," she admits in her blog.
However, Bird of Jannah says her parents have accepted that she will never return.
http://www.rferl.org/content/islamic-state-wives-syria-uk-blog-kobani/26708088.html
------------
URL: https://www.newageislam.com/islam,-women-and-feminism/new-age-islam-news-bureau/women-not-equal-to-men--turkish-president/d/100184