New Age Islam News Bureau
September 8, 2017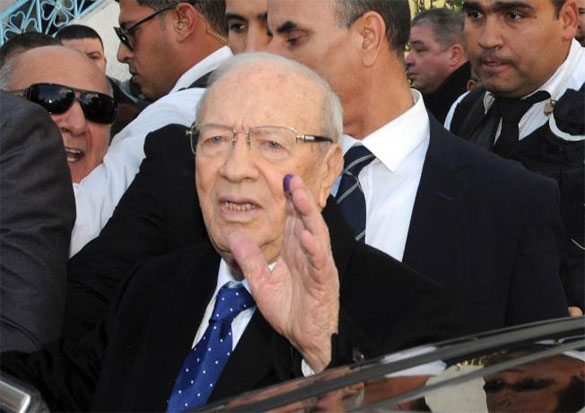 File photo: Beji Qaid Al Sebsi displays his finger with the indelible ink mark after voting in Soukra, on the outskirts of Tunis, Tunisia, Sunday, Dec, 21, 2014.
Image Credit: AP
---------
• Girls clinch top positions in HSSC exams
• Calgary Muslim website defends female circumcision and critiques 'Jewish media'
• Neighbors complain about woman for 'wearing shorts at her home' in Turkish capital
• Singapore police arrests man, woman for 'terrorism-related' activity
• Pregnant woman suffering severe pain kills herself after family refuses cesarean
• Girl abducted during robbery at house
• Man sentenced to three years in jail for kicking woman on Istanbul bus 'for wearing shorts'
• Agreement inked for supporting girls' right to education
• Survey results reaffirm trend of growing conservatism in Indonesia
• Hyderabad: Rise in demand for mufti course among women
Women and the Masjid
• Afghan travel entrepreneur aims to give female students chance to fly to success
Compiled by New Age Islam News Bureau
URL: https://www.newageislam.com/islam-women-feminism/women-inherit-less-under-islam/d/112471
--------
Women Inherit Less Under Islam. Tunisia is trying to change that
September 7, 2017
Tunis: Halima Bin Diafi says her brothers spent their summer enjoying Tunisia's Mediterranean coast while she was stuck in the capital, trying to scrape together enough cash to feed her children.
That's because the men got all the family money. Their father was fairly prosperous by local standards, and left land and a house worth about $200,000 when he died. But under the country's inheritance laws, a daughter is only entitled to half of what a son receives. And many women, pressured by their families and communities, end up ceding their share entirely.
Which is what happened to Halima. "I feel helpless and bitter," she said in the rundown suburb of Tunis where she looks after her bedridden husband and three children.
"After receiving all our father's inheritance, my brothers only care about their own families. They travel. And they've forgotten they have sisters."
In most Arab countries the laws on such matters claim derivation from Islam's holy texts.
Changing them, in a climate where religious extremism has thrived, is a high-risk undertaking. Yet that's what Tunisia's 90-year-old President Beji Qaid Al Sebsi is proposing to do - and his call has found echoes across the Muslim world, stoking a wider debate about modernising Islam.Last month, Al Sebsi ordered a review of civil codes that govern inheritance, saying equality "is the foundation of justice and the basis of life in a community." If that requires the reinterpretation of religious teachings, the president said, then so much the better: "This new direction should be welcomed and encouraged."
A backwater for most of Islamic history, this decade Tunisia has found itself on the cutting edge of change, maintaining a balancing act between democracy and political Islam that's proved impossible in other Arab Spring countries. In some corners of the Middle East, Islamists declared theocratic rule; in others they were killed, jailed or driven underground. Only Tunisia seemed to offer a middle way. There, an Islamist party won elections, then ceded power peacefully, then re-entered government in a coalition with secular partners.
It hasn't been easy. Since the January 2011 revolution, Tunisia has had eight governments. It's also suffered four major attacks by Islamist militants, decimating the vital tourism industry. Critics of Al Sebsi's initiative say it could provoke further violence.
Tunisia has a history of advancing women's rights. Under Habib Bourguiba, who presided over independence from France in 1956, and his successor Zine Al Abideen Bin Ali, polygamy was banned and women were given a say in divorce proceedings.But those leaders were widely seen, by admirers as well as critics, as secular dictators—suppressing religion as they sought to create a modern society in imitation of the West.
Women wearing Islamic headscarves were treated as outcasts, harassed by the police and excluded from business life. Bourguiba called the garment an "odious rag."
Tunisia's neighbors are watching closely. In Algeria, newspapers and TV shows discuss the idea; in Morocco, a similar movement has been reinvigorated. Al Sebsi's proposals came under fierce attack by Egypt's Al Azhar university, the Sunni Muslim world's leading religious institution, which said it doesn't typically meddle in the domestic affairs of other countries but couldn't remain silent while the doctrines of Islam were tampered with.There are dozens of verses in the Koran devoted to inheritance, and Muslim scholars ruled on what they meant over centuries. In the eyes of conservatives, the process of interpretation—"ijtihad" in Arabic—is over. But that's the word Al Sebsi used, suggesting that there's room for new readings, and some theologians agree.
Soheib Bin Shaikh, an Algerian scholar and former Mufti of Marseilles, distinguishes between a "literalist" approach to Koranic prescriptions, and one that's interested in "the objective or the purpose desired by the commandment." He called Al Sebsi's initiative "completely laudable, legitimate and part of his role as a politician who guides his people."
Moroccan cleric Abdul Wahab Rafiki argues that social roles have evolved, so Koranic verses devoted to inheritance must be reinterpreted.
Once a hardliner, Rafiki was jailed after the country's 2003 Casablanca bombings; last year, he was among 100 male writers, journalists and artists who put their names to a book entitled Men Defend Equality in Inheritance.
Behind his appeal to universal principles, Al Sebsi may be doing some domestic political math. He's from the secular wing of Tunisia's coalition; analysts say that the inheritance debate is likely to open rifts among the other branch, the Islamist movement Al Nahda. That could benefit the president's faction when the two sides contest parliamentary elections late this year.
In any case, changing the culture in countries like Tunisia and Morocco will probably be even harder than changing their laws. Even if Al Sebsi gets his measures through, "the situation of women won't change overnight," sociologist Sami Nasr says.
For 46-year-old Halima, it's probably too late. She says her only wish is that life will be easier for her daughter. But with an income of about $150 a month from her job as a maid, and a husband who's been bedridden and unable to work since 2015, Halima struggles to make ends meet—let alone save money to bequeath to her children.
gulfnews.com/news/mena/tunisia/women-inherit-less-under-islam-tunisia-is-trying-to-change-that-1.2086621
--------
Girls clinch top positions in HSSC exams
September 08, 2017
MIRPUR (AJK) - Colleges, running in private sector, broke previous record of success in Higher Secondary School Certificate (HSSC) Part-II (Composite) examination (Annual-2017), held under the auspices of AJK Board of Intermediate and Secondary Education Mirpur as the result was announced here on Thursday.
Government sector colleges, however, failed to make its mark, leaving a question mark on the performance of the education department.
The girl students also stayed atop as they secured first top three positions, out of top 20 positions in the results of the annual HSSC Part-II examination - 2017.
The AJK BISE formally announced the results at a news conference here on Thursday. The BISE also unveiled names of top 20 positions holding students, both male and female, appeared in the examination.
Newly-inducted AJK BISE Mrs Anjum Afshan Naqvi was the chief guest on the occasion who unveiled names of the first top three position-holders - all girls, including two belonging to two private private-sector educational institutions and a public-sector college of AJK.
AJK BISE Controller (Examinations) Colleges Prof Muhammad Aslam Chaudhry, Division Director Colleges Mirpur Div Prof Tahir Farooq, BISE Secretary Prof Muhammad Shahpall, Zia Ullah Joshi and MD Tahir Jiraal highlighted salient features of the foolproof examination system established by the board.
Ms Momina Faryad d/o Faryad Hussain (Roll No 501362) of the private sector Read Foundation College Mirpur (AJK), belonging to pre-medical group secured first position in the entire Board by securing 1052 marks out of total of 1,100 marks.
Similarly, Ms Amna Naseer d/o Muhammad Naseer (Roll No 502154) (Pre-Medical group) of Al-Ghazali College of Sciences, Kotli and Ms Nosheen Nazim d/o Nazim Hussain (Roll No 502156), (Pre-Medical group) of the same Al-Ghazali College of Sciences, Kotli secured 2nd and 3rd positions with 1044 and 1043 marks out of a total of 1100 marks respectively.
The result is also available on the website of the AJK BISE: ajkbise.net, the BISE Controller Examination told the news conference.
The preliminary analyses of the overall results spoke of the unprecedented performance of the private-sector colleges as compared to those running in the public sector across AJK - as only 3 public-sector colleges including Govt Science College Muzaffarabad, Govt Degree College Bhimbher and the Degree College Rawalakot, secured a total of six positions out of first top 20 positions in the examination.
The private-sector Kashmir Model College Mirpur secured a total of five positions out of top 20 positions in entire board.
According to Prof Muhammad Aslam Ch, a total of 39,833 candidates, out of a total of 42,864 candidates appeared in the examination. Out of them, 21,033 candidates were declared successful. Thus the overall result of the entire Board remained 52.80 percent. The overall result of regular candidates remained 70.44 percent - whereas the overall result of private candidates remained 25.52 percent.
Besides top five out of total of top 20 positions secured by Kashmir Model College Mirpur, five positions were bagged by Read Foundation College Bhimbher, four bagged by Alghazali College Kotli, three each by Ibne Seena College Kotli and Govt Model Science College Muzaffarabad, one secured by Read Foundation College Mirpur.
nation.com.pk/national/08-Sep-2017/girls-clinch-top-positions-in-hssc-exams
--------
Calgary Muslim website defends female circumcision and critiques 'Jewish media'
Tom Blackwell
September 7, 2017
A website serving Calgary Muslims has raised eyebrows by making a lengthy pitch for female circumcision, arguing the practice has "immense" value and blaming its poor reputation on Jewish-controlled media.
The provocative blog post by a foreign Islamic scholar drew strong rebukes this week from researchers and advocates concerned about female-genital mutilation, and from a major Jewish group.
It also resurrected questions about whether genital cutting of young women is taking place in Canada, despite being a crime punishable by up to 14 years in prison.
The essay advocates only removing the prepuce, or layer of skin, over the clitoris, calling it similar to taking off the foreskin in male circumcision. But all forms of female genital cutting have been outlawed here since 1997.
One expert on FGM said she's worried the authoritative-sounding article could send the wrong message to Muslim families.
"It's putting a burden on these parents, because now they are having to choose between maintaining adherence to (the author's views), versus the Criminal Code," said Corinne Packer, a senior researcher with the University of Ottawa's School of Epidemiology and Public Health. "Any cutting of the genitalia for non-medical reasons is prohibited — it has been prohibited for 20 years."
The Muslims in Calgary website lists three local mosques, one of which hosts the Muslim Council of Calgary, on its contacts page.
The council, the community's elected body, said Thursday it actually has nothing to do with the site, and condemned the Jewish references in the article.
But it voiced support for the limited type of circumcision the blog promotes.
"Female genital mutilation in the form that cuts the clitoris or inhibits a woman's ability to achieve sexual pleasure in any way is absolutely against Islam and the values it preaches," the group said in an emailed statement. "Female circumcision in the form that removes the skin above the clitoris, thereby further exposing it and enabling a woman to achieve more pleasure during the sexual act, is something that scholars in the Islamic world have recommended for many centuries."
The post by Asiff Hussein, affiliated with the Centre for Islamic Studies in Sri Lanka, promises to explain "how misogynists and feminists are feeding upon each other to denigrate an Islamic practice that brings untold benefits to women."
It says circumcision should only involve removal of the clitoral prepuce, argues it is endorsed by the Hadith, sacred interpretations of the Prophet Mohammed's words.
He said Islam forbids the more severe forms of genital mutilation practiced in Africa, but the truth about female circumcision has been obscured by "Islamaphobic sentiments expressed by a largely Jewish-controlled media." Jews also want to hide the fact that limited female circumcision is another "feather in the cap" of Islam, the article says.
But the variety of health groups that have condemned genital cutting, citing its often-serious physical and emotional impacts, include removing the prepuce in their definition of the act.
The World Health Organization classifies the procedure as a type-one form of mutilation, on a scale of severity that extends up to type four.
And the Canadian Criminal Code section banning non-medical genital cutting says excising "in whole or in part" the clitoris constitutes aggravated assault.
There has been some debate within the medical community lately about whether this form of cutting does constitute mutilation, said Els Leye, a professor in the International Centre for Reproductive Health at Belgium's Ghent University.
But there's no guarantee the circumcizer won't go further, and advocating it as a religious rite could legitimize the whole concept of genital mutilation, said the leading FGM expert.
"It doesn't have any health benefits, of course," Leye said. "Circumcising women is clearly something that impacts on their sexuality, on their right to bodily integrity … It's very difficult to maintain that it is harmless."
Meanwhile, a Jewish group voiced dismay that the article was "littered with classical anti-semitic tropes."
"To gratuitously implicate Jewish people in the discussion is unnecessary and disturbing," said Jared Shore of the Calgary Jewish Federation.
Citing census data on families from countries where FGM is common — including Sudan, Somalia and Egypt — Packer and a colleague have estimated that 5,572 Canadian girls are at risk of being subjected to the practice.
But little is done to advertise the criminal ban in Canada and, unlike in other Western countries, there is no attempt to track how often it might occur here, she said.
nationalpost.com/health/calgary-muslim-website-defends-female-circumcision-and-critiques-jewish-media
--------
Neighbors complain about woman for 'wearing shorts at her home' in Turkish capital
September/07/2017
Locals in the Kolej neighborhood of the capital Ankara have reportedly filed a complaint about a woman for "wearing shorts."
Neighbors reportedly complained to the manager of the apartment building where the woman lives, demanding that she keep her curtains closed as she was "wearing shorts in her home."
The woman, an English teacher identified only by the initials T.E., said she had been "monitored" by her neighbors and workers at the construction site across from her apartment for a long time and had been abused through her social media accounts.
"I am constantly being monitored and abused at my house near Kızılay, where I have been living for around a year, by workers at the front, people living in the apartment building nearby, and by the son of my neighbor," T.E wrote on her social media account on Sept. 6.
"Now those who monitor my home because I wear shorts have complained about me to the building manager. The manager has warned me to keep my curtains closed for my own sake," she added.
hurriyetdailynews.com/neighbors-complain-about-woman-for-wearing-shorts-at-her-home-in-turkish-capital.aspx?pageID=238&nID=117676&NewsCatID=341
--------
Singapore police arrests man, woman for 'terrorism-related' activity
September 08, 2017
SINGAPORE: Police in Singapore have arrested a man suspected of planning to join Daesh-linked fighters in the Philippines and a woman who was in contact with foreign militants, the government said on Thursday.
Singapore, regarded as the most stable country in Southeast Asia, has become increasingly concerned about the risks of radicalization among its Muslim minority.
At least 14 radicalized Singaporeans have been put under restriction or detention orders under a tough internal security law since 2015, up sharply from 11 cases between 2007 and 2014, the government said in June.
The man arrested was identified as Imran Kassim, 34. The Ministry of Home Affairs said he had tried to make his way to Syria to join Daesh fighters at least twice, and had been prepared to attack members of the Singaporean armed forces.
More recently, he had intended to join militants who seized control of Marawi City in Philippines this year, the ministry said in a press release.
Imran's arrest came as a result of information given to police by "people close to him".
Authorities have mounted a campaign to encourage family members, friends and neighbors to report on anyone they fear was in danger of becoming radicalized.
The woman who was arrested was identified as Shakirah Begam binte Abdul Wahab, a 23-year old administrative assistant. The ministry said she had been in contact with several foreign fighters since 2013.
"Shakirah has demonstrated a propensity to engage in risky behavior which renders her vulnerable to adverse influence and recruitment by terrorists who belong to a group that poses a security threat to Singapore", the ministry said.
She was put under a restriction order, which means suspects are monitored and their movements are restricted.
A child care worker arrested in June is the only Singaporean woman to have been placed in custody under the Internal Security Act, which allows for detention without trial.
An auxiliary policeman who was suspected of becoming radicalized was also arrested in June.
nation.com.pk/international/08-Sep-2017/singapore-police-arrests-man-woman-for-terrorism-related-activity
--------
Pregnant woman suffering severe pain kills herself after family refuses cesarean
7 September 2017
DUBAI: This video captures a young pregnant woman who killed herself after begging her family to let her have a cesarean because she was in so much pain – her baby's head too large for a natural birth.
It was not long after this security camera footage was recorded that she threw herself from a fifth floor window and plummeted to her death.
Under Chinese law the family must first give their permission before a cesarean can be performed, but in the case of the 27-year-old, named only as Ma, it appears this permission was not given.
She was 41 weeks pregnant.
In the video footage she can be seen shuffling around the maternity ward of a hospital in northern China clearly in discomfort.
At one point she can be seen crouching and doubling over – aided by unidentified people. Reports have suggested that she was at this stage in immense pain.
According to reports doctors examined her and concluded that she needed a cesarean as she would not be able to give birth naturally.
Doctors had told her a natural birth "would have been very risky," according to the China Economic Daily newspaper.
But reports claim it was advice ignored by the woman's family who insisted on a natural birth.
A hospital spokesman said: "The family said they understood, but refused the surgery, and wanted to keep the situation under observation."
It is a claim denied by the woman's husband, identified only as "Yan", who told the Beijing Youth Daily: "We did not disagree to a cesarean."
Yan told the newspaper he was concerned after his wife twice left the ward in pain, asking doctors to find someone "familiar with cesarean procedures."
Sometime later she fell to her death after repeated attempts to leave the medical center – her unborn baby also died in the fall.
According to reports, her medical notes read: "The pregnant woman twice walked out of the ward to tell her family that she wanted a cesarean because she could no longer bear the pain, but the family continued to insist on a natural delivery."
C-sections were commonplace in China, they were seen as a less painful way of giving birth.
But since the one-child policy was waived in October 2015 the government has been encouraging women to opt for natural births.
This video shows the woman shuffling around, clearly in severe discomfort, before being led out of shot.
arabnews.com/node/1157306/offbeat
--------
Girl abducted during robbery at house
September 08, 2017
OKARA - Dacoits barged into two houses in separate incidents, abducted a girl and made off with cash, gold jewellery and other valuables here the other day. Rabia, sister of Jabar Ali, of Faisal Park was alone at home when Ali Gohar Chishti and Amir Chishti along with three armed accomplices barged into the house. They looted 4 tola gold jewellery and Rs122,000 cash. They also bundled Rabia into a vehicle and fled away. In another incident, three armed dacoits entered the house of local trader Khalid Mehmood at F-Block. They held the family hostage, looted 20 tola gold jewellery and Rs400,000 cash and fled. Police registered cases and launched investigation.
nation.com.pk/national/08-Sep-2017/girl-abducted-during-robbery-at-house
--------
Man sentenced to three years in jail for kicking woman on Istanbul bus 'for wearing shorts'
September/07/2017
An Istanbul court sentenced Abdullah Çakıroğlu on Sept. 7 to three years and 10 months in prison for kicking a young woman for wearing "inappropriate clothes" on a public bus.
The Istanbul 40th Court of First Instance said in its ruling the sentence was given on charges of "prohibiting the freedom of belief and opinion," "deliberate injury" and "insult."
Lawyers of the Family and Social Policies Ministry, Turkish Bar Association, Istanbul Bar Women's Rights Center, İzmir Bar Association and the NGO named "We Will Stop Femicides" were also present at the sixth hearing of the trial under as participants.
Çakıroğlu kicked Ayşegül Terzi, a nurse, in the face, on Sept. 12, 2016 on a public bus in Istanbul.
He later said he committed the act because he did not find Terzi's outfit "appropriate."
After the incident, Terzi filed a criminal complaint against Çakıroğlu and he was arrested by police.
A court then ruled to release him but upon public outrage over his release, he was arrested again and stood in the dock for the initial hearing that took place at an Istanbul court on Oct. 26, 2016.
The court then adjourned the trial while again ordering his conditional release.
On Sept. 7, the court asked Çakıroğlu for the final words in his defense. "I was not going to say this, since it is disgraceful, but her [Terzi's] underwear could be seen while she was sitting down. I would like to know where our state draws the line. This is Turkey and it is an Islamic country … I have been provoked. Also, I had not taken my medication [the day of the attack], which had an influence," he said.
[HH] Neighbors complain about woman for 'wearing shorts in her home'
In a separate incident, locals in the Kolej neighborhood of the capital Ankara have reportedly filed a complaint about a woman for "wearing shorts."
Neighbors reportedly complained to the manager of the apartment building where the woman lives, demanding that she keep her curtains closed as she was "wearing shorts in her home."
The woman, an English teacher identified only by the initials T.E., said she had been "monitored" by her neighbors and workers at the construction site across from her apartment for a long time and had been abused through her social media accounts.
"I am constantly being monitored and abused in my home near Kızılay, where I have been living for around a year, by workers in the front, people living in the apartment building nearby and my neighbor's son," T.E wrote on her social media account on Sept. 6.
"Now, those who monitor my home because I wear shorts have complained about me to the building manager. The manager has warned me to keep my curtains closed for my own sake," she added.
hurriyetdailynews.com/man-sentenced-to-three-years-in-jail-for-kicking-woman-on-istanbul-bus-for-wearing-shorts-.aspx?PageID=238&NID=117679&NewsCatID=509
--------
Agreement inked for supporting girls' right to education
September 08, 2017
Islamabad - United Nations Educational, Scientific and Cultural Organization and the government of Italy yesterday signed an agreement of approximately $1.7 million to support the girls' right to education and safeguarding of cultural heritage in Pakistan.
The funds will enable UNESCO to implement a two-year project titled 'Support for girls' right to education and safeguarding cultural heritage through education in Pakistan,' said a statement released here by the Italian Embassy.
In the presence of the Minister for Federal Education and Professional Training, Mohammad Baligh-ur-Rehman and Additional Secretary, Ministry of Information, Broadcasting and Natural Heritage, Syed Junaid Akhlaq, the agreement was signed by Stefano Pontecorvo, the Italian Ambassador to Pakistan, Santa Molè, Head of Italian Cooperation and Vibeke Jensen, UNESCO Representative.
The project has two components: the first one on education, which aims to support the efforts of governments of Punjab and Khyber Pakhtunkhwa in increasing access, retention and improving the quality of girls' education through capacity building and targeted interventions at both institutional and community levels. District Bahawalpur in the Punjab and District Swat in Khyber Pakhtunkhwa are the focused districts.
"The Italian funds allow us to expand our ongoing girls' right to education interventions to more districts, and we are deeply grateful for that," said Vibeke Jensen, UNESCO representative.
The second component is aimed at supporting the efforts of the government of Pakistan in the protection of cultural heritage through enhancing the role of young people and communities in safeguarding cultural heritage through capacity building in protection.
UNESCO will undertake awareness raising activities among the general public and specifically focus on school going youth and teachers. All four provinces will benefit from the interventions of this component. "Sustainable Development Goals 4 on education points out the importance of teaching children respect for cultural diversity, respect for the environment and promote a culture of peace," stressed Santa Molè said.
She added, "We are delighted to provide this assistance through UNESCO to the government of Pakistan allowing future generations to fully appreciate the incredibly rich and diverse culture that Pakistan possesses."
nation.com.pk/islamabad/08-Sep-2017/agreement-inked-for-supporting-girls-right-to-education
--------
Survey results reaffirm trend of growing conservatism in Indonesia
SEPTEMBER 8, 2017
SINGAPORE — A large percentage of Indonesians support women donning the hijab and the implementation of Syariah law, a nationwide survey has shown, amid signs that secular Indonesia is becoming more conservative.
Although most of its more than 200 million Muslim population practises a moderate form of Islam, the survey commissioned by the Iseas-Yusof Ishak Institute found that 82 per cent of the 1,620 respondents considered the wearing of the hijab or Islamic headscarf, an important outward sign of Islamic religiosity for women.
The same sentiment prevails across those with both low and high education.
"Indeed, almost 80 per cent of Muslim women surveyed wear the hijab and, interestingly, it is becoming more common the higher the education and income, suggesting that the Islamic headscarf is getting more popular among Muslim women of higher social class," said the survey report. "Thus, not only does it seem that wearing the hijab has become an accepted outward sign of Islamic religiosity for women in Indonesia, it may have also come to be associated with social status for Muslim women."
The survey was conducted across all 34 Indonesian provinces between May 20 and 30 this year, after the Jakarta gubernatorial election. Muslims constitute 86.2 per cent of the sample.
A moderate, secular democracy with the world's largest Muslim population, Indonesia in many ways provides a counterweight to the sectarian clashes and autocratic rule that have plagued Muslim countries in the Middle East. But, in recent years, radical Muslims who have been trying to turn Indonesia into a strict Islamic state have gradually gained influence.
Since 1998, with the introduction of democracy and the decentralisation of power to local authorities, more than 440 local ordinances have been adopted, imposing elements of Islamic law, or Syariah, such as requiring women to wear headscarves or restricting alcohol sales. The survey also found an overwhelming 91 per cent of Muslim respondents think there will be various benefits to the implementation of Syariah law, with 67 per cent saying the most important benefit will be safeguarding the moral fabric of society.
Only a mere 9.07 per cent of the respondents believe the Islamic law "benefits would be very limited or null".
"In other words, Syariah law is seen, not so much as the imposition of a certain socio-legal system, but as a measure for safeguarding moral values in society," said the survey report by Iseas-Yusof Ishak Institute researchers Diego Fossati, Hui Yew-Foong and Siwage Dharma Negara.
At the same time, the respondents felt the greatest challenges to Islam are not external, such as Christianisation or non-Muslim leaders becoming too powerful, but rather, factors that challenge the internal integrity of Islam, such as divisive debates and Islamic leaders' involvement in politics.
"In short, it appears that what are perceived as challenges to Islam are not so much external factors, but factors that challenge the internal integrity of Islam," added the survey report.
The survey results also echoed some of the key issues that cropped up during the hotly contested Jakarta gubernatorial election.
That saw former education and culture minister Anies Baswedan — a Muslim — winning with 58 per cent of the votes versus 42 per cent for incumbent Basuki Tjahaja Purnama, an ethnic Chinese and Christian minority, backed by President Joko Widodo.
Religious tensions were an undercurrent in the election campaign, with Purnama currently serving a two-year jail sentence for blasphemy over comments he made last year that many said were insulting to Islam.
The survey also found that Mr Widodo's approval rating hovers around 68 per cent. This figure is similar to other polls, including one conducted by Saiful Mujani Research and Consulting in June this year.
The survey found that 63 per cent of Indonesians support punishing blasphemy against Islam. Of these, 58 per cent also felt it important to vote a Muslim leader into office, coinciding with the level of support that Mr Baswedan received. "This result supports anecdotal evidence from the electoral campaign and anti-Purnama rallies that the blasphemy charges were considered serious not just by Jakarta voters but also by Muslims across the country. This suggests that these issues have currency beyond Jakarta and the gubernatorial election," said the report.
todayonline.com/world/asia/survey-results-reaffirm-trend-growing-conservatism-indonesia
--------
Hyderabad: Rise in demand for mufti course among women
Sep 8, 2017
Hyderabad: More women are now becoming muftis in the city in order to reach out to Muslim women who are hesitant to approach male muftis to sort out their problems.
A mufti is a legal expert who is empowered to give rulings or advice on religious matters. Muftis issue fatwas based on the questions asked and in the light of Islamic laws and preaching.
A fatwa is an opinion that Muslims seek on a range of subjects, such as divorce, adoption, namaz and roza, property issues, general issues, banking etc.
Several Islamic seminaries and schools in the country offer Mufti courses. But almost all of them are for men.
The Jamiat-ul-Mominath seminary at Moghalpura in the Old City is the first and only institution to offer a Mufti course for women.
"We want Muslim women to also seek advice after discussing their issues openly and without any social stigma. Keeping this in mind, the course was started," said Hafiz Mastan Ali, founder of the academy.
He said that initially, only a handful of women enrolled for the course, but later on the numbers are now encouraging. "This year we have about 17 women who are taking the course."
Those who have passed the 'Fazil course' (post-graduation) offered by any Islamic seminary are eligible for the Mufti course of one year's duration. The academy has so far trained 355 women as muftis and the process is continuous.
"A total of 1,000 questions pertaining mostly to women's issues have been prepared and every day we give three or four questions to the students and ask them to find answers for it along with references," said Nazima Aziz, head of the Fatwa department at Jamiat-ul-Mominath.
Students here are now, also learning how to use computers and enrolling for other vocational courses, such as tailoring, hand embroidery and craft courses.
The institution also offers modern education including English language.
The demand for this has come from the students themselves who are looking to get jobs after completing the courses.
"All girls are not allowed to go out and work due to the conservative background of the families they come from. For such girls we are imparting training in tailoring and other related courses," says Hafiz Mastan Ali, founder of Jamiat-ul-Mominath seminary.
Jamiat ul Muminath was set up in 1991.
The Mufti course for women was started about 12 years ago.
About 2,500 girls and women study at the institution, and around 400 live in its hostels.
The institution offers vocational training to its students as well as modern education.
deccanchronicle.com/nation/current-affairs/080917/hyderabad-rise-in-demand-for-mufti-course-among-women.html
--------
Women and the Masjid
Khalid Baig
September 08, 2017
LET us take a careful and balanced look at the role of the masjid and that of our sisters in it according to Islamic teachings. Does the Quran require Masjid attendance by women? The answer is no. Neither the Quran nor the Hadith make it a religious obligation for women to pray in a masjid. It is permitted, with conditions, as we shall see below. But it is never required.
Abdullah Ibn Umar (RA), narrates that the Messenger of Allah (PBUH), said: "Do not prevent your women from (entering) the mosques, but their houses are better for them." [Abu Dawud Kitab-us-Salat. Bab Ma Jaa'a fi Khuroojin-nisaa-i ilal Masjid]. Abdullah Ibn Umar (RA), narrates that the Messenger of Allah (PBUH), said: "Do not prevent your women from (entering) the mosques of Allah." [Sahih Muslim. Kitab-us-Salat, Babu Khuroojin Nisaai ilal masjid iza lam utarattab.]
From these hadith and other ahadith like this it appears that women should not be prohibited from the masjid, but with conditions that the scholars have mentioned and which are deduced from ahadith and these are: (1) She should not wear any perfume. (2) She should not be wearing jingling jewellery. (3) She should not be wearing fancy clothes. (4) She should not mix with the men. (5) The path to the masjid should be safe (i.e. there should be no fear of any problem on her way to and from the masjid).
Certainly there are authentic reports that tell us that women did attend the prayers at the masjid during the time of the Holy Prophet (PBUH). But they do not support the overall picture being painted by the mixed masjid campaigners. Regarding women's prayers in the masjid, we get this account: Hazrat Aishah (RA), narrates that the Prophet (PBUH), used to pray Fajr at dusk and then the women would leave immediately without being recognised because of darkness and they would not recognise each other. [Bukhari, Kitab-ul-Azan Bab Sur'ati Insiraaf-inisaai min as-subh]
Another thing to keep in mind is the well-established Islamic juristic principle of blocking the means to sin. In life often one thing leads to another. An act of sin is not an isolated event but is preceded by chains of other events, which facilitate it. Therefore, Islam does not just forbid the final act, but also the preceding acts that can lead to it. There are hundreds of laws in Islamic jurisprudence that are based on this important principle. Consider alcohol. All its problems arise from its consumption. But Islam banned not just consumption of alcohol, but also making it, storing it, selling it, offering it, and even eating at a table where it is being served. This is blocking the means. One only needs to look at the spectacular success that Islam had in prohibiting alcohol and keeping the lands of Islam dry compared to the miserable failure of other societies in achieving that goal to appreciate the wisdom of the Islamic teachings.
Islam's laws of purdah follow the same principle. Ultimately, it is the illicit extramarital relationships that are prohibited. But Islam does not limit itself to banning this final result. It also prohibits a number of other practices that could lead to this final sin. Again, the result speaks for itself. For centuries, Islam has provided an atmosphere of chastity and decency in its societies that remains unmatched by any other society. And this has been accomplished through the same laws of purdah and segregation of sexes that are under attack today.
As has been shown above, the case for a full and equal participation by men and women without barriers in the main hall of the masjid, therefore, has no foundation in the Shariah. However, women may have genuine needs for using the masjid and they have been permitted to do so. It is the responsibility of the administrators of a masjid to see to it that these needs are met by providing them with a safe, protected, and private space. Where women are denied entry in the masjid, or where they are required to enter the main hall, the situation should be corrected.
While the advocates of the mixed masjid claim that they are asserting the rights of women, they are in fact denying the right of a private space to both men and women. Masjid is the pivot for the Muslim community. It has to be the place that sets the standards for proper behaviour. It is the responsibility of everyone to protect it from all corruption, including the one promoted in the name of reform. — Courtesy: Albalagh.com
pakobserver.net/women-and-the-masjid/
--------
Afghan travel entrepreneur aims to give female students chance to fly to success
7 September 2017
By Bahaar Joya
LONDON, Sept 7 (Thomson Reuters Foundation) - An Afghan entrepreneur is hoping to inspire a new generation of women by using her travel agency to help female students secure places at universities in Turkey, Russia and Europe and then break into male-dominated careers.
Marjana Sadi, 21, set up Banoo Travel Agency in a market in central Kabul nearly a year ago where eight young female staff now work under the portraits of successful Afghan women.
Sadi said she set up the company after hearing many women complaining about their struggles to get jobs as they could not get into foreign universities and her company has so far secured places for more than 35 women.
"I'd been a radio presenter for more than 3 years and I was fed up with hearing that some jobs are exclusively for men and women don't have the skills for these jobs so I decided to set up my own company," Sadi told the Thomson Reuters Foundation in a phone interview from Kabul.
Sadi said her father and brother helped her with the $50,000 needed to set up Banoo Travel Agency and friends from the Ministry of Women Affairs linked her to contacts in foreign universities to arrange places for women to study abroad.
She said in the past year her travel agency has managed to secure university places for 35 girls in Turkey and they are currently working on sending some women to Russia and India. She said the next target was universities in Europe.
One student, Muazama, who did not want to give surname, is getting ready to leave for a journalism course at Istanbul University with Banoo arranging her visa, travel and university admission at a cheaper cost than she could have arranged. "I always wanted to continue my education but never had a way to do it, but Marjana helped me to get admission for 50 percent cheaper at Istanbul University," Muazama said via phone.
According to a World Bank report, about 76 percent of women aged over 15 in Afghanistan are illiterate.
For although Afghan women regained the right to go to school, vote, and to work since the ultra-conservative Taliban was overthrown in 2001, the nation's economic and security crisis makes it difficult for women to access education.
Many areas of Afghan society remain male dominated, and changes taking place are often slow and patchy.
In May a new TV channel dedicated to women with all female presenters and producers began broadcasting while Afghanistan's first female pilot, refugee Shaista Waiz, hit the spotlight with her bid to be first Afghan woman to fly solo around the world.
Sadi, who has never studied overseas but has visited India and Turkey, said she hoped one day soon to be among the students heading for a university life abroad and new career.
"Through my own travel agency, I am planning to continue my higher education in Business administration in the next two years in Turkey or India," she said. (Reporting by Bahaar Joya, Editing by Belinda Goldsmith; )
dailymail.co.uk/wires/reuters/article-4862880/Afghan-travel-entrepreneur-aims-female-students-chance-fly-success.html
--------
URL: https://www.newageislam.com/islam-women-feminism/women-inherit-less-under-islam/d/112471
New Age Islam, Islam Online, Islamic Website, African Muslim News, Arab World News, South Asia News, Indian Muslim News, World Muslim News, Women in Islam, Islamic Feminism, Arab Women, Women In Arab, Islamophobia in America, Muslim Women in West, Islam Women and Feminism