New Age Islam News Bureau
28 Oct 2013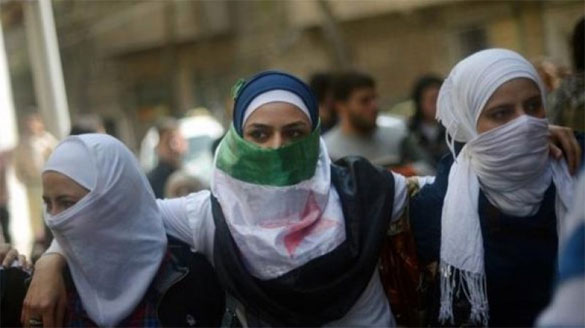 • Qatar, Turkey and Lebanon Work Together To Free Women from Assad's Jails
• A Father's Heartbreak as His Daughters Leave Norway to Join Jihad in Syria
• Many women get behind wheels, face road bumps
• Protests in Kenya after 3 rapists asked to cut grass as punishment
• Women of the Wall Demand Right to Read from Torah At Kotel
• Tunis Women Performing Controversial 'Sexual Jihad' Arrested
• Calls for Massive Campaign to Curb Domestic Violence in Saudi Kingdom
• Jerusalem Women Remembered For Role in Palestinian Politics
• Vitamin D Deficiency in Saudi Women Rise at Alarming Rate
• Leaving Teen Girls to the Taliban
Compiled by New Age Islam News Bureau
URL: https://newageislam.com/islam-women-feminism/women-pakistan-being-stabbed-"for/d/14188
------------
Women in Pakistan Stabbed "For Leaving Their Houses after Sunset"
October 28, 2013
MULTAN: The Sahiwal district police officer has announced a Rs200, 000 cash prize for anyone who helps the police arrest the people who have been stabbing women in shopping areas.
On Saturday, DPO Syed Khurram Ali had suspended Cheechawatni Station House Officer Abid Hussain from service for failing to arrest the gang members. The SHO had been given four days to track the suspects.
The DPO said that a criminal gang had recently surfaced in Cheechawatni. He said the gang members stabbed women "for leaving their houses after sunset". He said most of the women were attacked in shopping areas.
Police said at least 25 cases had been reported in October so far. In most cases, they said, the victims were accompanied by brothers and husbands waiting in the parking area while they went shopping.
Dr Asim Nawaz at the Tehsil headquarters hospital told The Express Tribune that two to three women were being brought to the hospital every day since October 6. He said most of them had been stabbed in the shoulders, back and arms. Some had also been attacked on their faces.
He said four women were brought to the hospital on Saturday. Three of them were referred to the district headquarters hospital in Sahiwal.
One of the injured women, who did not want to disclose her identity, told The Express Tribune that a masked man stopped her and asked why she was out in the market unaccompanied. She said she ignored him and walked away but he stabbed her in the shoulder.
The DPO said the incidents had caused alarm among residents, who were not allowing their women to leave home or go shopping on their own.
He said they had also led to low attendance at girls' schools and colleges. He said some working women had requested the police for deployment at major roads.
He said most cases had been reported from Ahmed Nagar, Ali Town, Block No 10, Block No 19, Kamalia Road, and Gyarawala Mor. He said the victims had not been robbed.
He said the injured women had told police that the assailants had told them that they were not allowed to leave their homes and that "it was against the Sharia law for women to go shopping".
http://tribune.com.pk/story/623385/vigilante-violence-women-stabbed-for-shopping/
------------
Qatar, Turkey and Lebanon work together to free women from Assad's jails
October 28, 2013
Damascus (AsiaNews/Agencies) - Syria freed 64 women prisoners yesterday, following pressures from Turkey, Qatar and Lebanon. The women had been imprisoned for over a year in Adra Prison, northeast of the capital. The act of clemency is part of an agreement between the Syrian regime and Turkey, Qatar and Lebanon. By the end of this week, another 64 women arrested for ties with the rebels will also be released. Most of them are from Damascus province.
"Syrian authorities have ordered some prisoners to leave Syrian territory while others were given a choice to stay or leave," said Sima Nassar, a human activist involved in the mediation.
Among those released were a Lebanese, two Palestinians and a Syrian who had been imprisoned because she is related to two dissidents.
The other women released from notorious Adra prison are humanitarian activists. According to Nassar, one of them is a widow who has cancer.
The involvement by Turkey and Qatar on behalf of (Syrian) women is in stark contrast to the position taken by Saudi Arabia, which is the two countries' main ally in the war against Assad.
Riyadh, which just refused a seat as a non-permanent member in the UN Security Council accusing the latter of doing nothing for Syria, has adopted domestic policies that are very similar to those of the Syrian dictatorship.
Still, opposition by Saudi authorities to the right-to-drive campaign has proven controversial. The online campaign has so far been signed by 16.000 people. Its goal is to get the government to drop its ban on women drivers on the grounds that it is against Islamic law.
For tomorrow, the organisers' planned action is to get thousands of women out to drive in their cars. Today however, the Interior Ministry warned those who want to join the protest that no violation of the law would be tolerated.
After a similar event organised in 2011, the authorities arrested activists Manal al Sharif and Sheima Jastaniah. The first was released after ten days. The second, who was sentenced to ten lashes, was pardoned by King Abdullah.
http://www.asianews.it/news-en/Qatar,-Turkey-and-Lebanon-work-together-to-free-women-from-Assad's-jails-29374.html
------------
A Father's Heartbreak as His Daughters Leave Norway to Join Jihad in Syria
October 28, 2013
A father's worst fears come true as his two teenage daughters who left to wage jihad in Syria are identified in the rebel held city of Aleppo
The father of two Norwegian sisters who said they were leaving to wage jihad in Syria has told the Telegraph of his heartbreak as his daughters have now "been seen" with the rebels.
As he learned of the their plan, the father rushed to the Turkish border with Syria, hoping to catch his daughters, aged 16 and 19 and of Somali origin, before they crossed into the war-torn country.
But late on Thursday night, activists from Azzaz, a town in Syria close to the Turkish border that is controlled by a branch of al-Qaeda, seemingly confirmed the worst, saying they saw two girls matching the sisters' description "get in a car and drive away towards [the rebel held city] Aleppo".
"My daughters! You saw my daughters?" said the father, whose identity is not being disclosed for his own safety, his voiced tinged with desperation as he spoke, in the presence of The Telegraph, on the phone with the Syrian activist who delivered the news.
"I saw war in Somalia for seven years. I know your condition; I see what you see, I feel what you feel," he pleaded with the activist. "But please, I am a broken hearted father. If you hear or see anything, please tell me".
Earlier this week Oslo launched a global hunt, mobilising Interpol to look for the girls as one of them is a minor. The identity of the family has not been made public for their protection.
The family first heard of the two sisters' intentions one week ago via email, which said: "Muslims are currently under attack from all fronts and something needs to be done. We want to help the Muslims, and the only way to do so is to be with them in their pains and their joy."
Speaking from the Turkish town of Antakya, the father looked lost, frightened and confused:
"My daughters are beautiful girls," the father told The Telegraph from the Turkish town Antakya. When asked whether he suspected that his girls had been affected by the situation in Syria he shook his head and clicked his fingers: "One day they just vanished".
For years this moderate Muslim family lived a calm life in Norway. The girls were both students and seemed happy, he said.
However, in recent months the older sister had become more conservative in her practicing of Islam. She reportedly started to wear a full black niqab, covering her head, body and face in public.
Some local activists in Syria said they feared the girls may have come into online contact with some of the foreign jihadists now fighting in Syria, and been lured by them to "join the jihad".
"This has happened many times before," said Ahmed, one local activist in touch with foreign fighters who have come to fight for al-Qaeda in Syria.
"A woman would not be allowed to fight on the front line; for a woman they interpret jihad to mean they must cook and clean, and sometimes have intercourse with the fighters".
Since arriving in Turkey, the father has been able to speak once to his daughters: "They said: 'forget it dad, it is too late," he said.
The father held his head in his hands: "I have not slept for four days, and I will not sleep until I bring my daughter's home. If I have to go to Syria, I will go there to find them".
http://www.telegraph.co.uk/news/worldnews/middleeast/syria/10406351/A-fathers-heartbreak-as-his-daughters-leave-Norway-to-join-jihad-in-Syria.html
---------
Many women get behind wheels, face road bumps
October 28, 2013
RIYADH – At least 16 Saudi women received fines for driving on Saturday with authorities saying that appropriate actions were taken according to regulations.
More than 60 women claimed that they got behind the wheels of their cars, according to reports.
A Saudi professor and campaigner Aziza Youssef said the activists received 13 videos and another 50 phone messages from women showing or claiming they had driven, the Associated Press reported. But she said that they have no way to verify the messages.
May Al-Sawyan, a 32-year-old mother of two and an economic researcher, told a news agency that she drove from her home in Riyadh to the grocery store and back.
She said she was far enough from a police car that she was not spotted. "I just took a small loop," she was quoted as saying. "I didn't drive for a long way, but it was fine."
Several videos of women purportedly driving in Riyadh, Al-Ahsa and Jeddah were uploaded on YouTube. It was not possible to verify when they were filmed. Another video to feature on YouTube was the spoof 'No Woman, No Drive.'
But AFP quoted police officers and media reports that at least 16 women were fined for taking the wheel.
"Police stopped six women driving in Riyadh, and fined them SR300 each," Riyadh's police deputy spokesman Colonel Fawaz Al-Miman was quoted as saying by AFP.
Each of the women, along with her male guardian had to "sign a pledge to respect the Kingdom's laws," Miman said.
In Jeddah, police also fined two women for driving, according to the Red Sea city's police spokesman, First Lt. Nawaf Al-Bouq.
Al-Bouq said two women were spotted by officers at Al-Samer neighborhood. One was a widow accompanied by her son while the other was a divorcee.
Al-Bouq said that all were taken to Al-Samer Police Station and their cases were referred to the Bureau of Investigation and Prosecution. Proper procedures will be taken against them and the owners of the automobiles.
He noted that a women and her daughter were caught on Makkah-Jeddah Highway. The woman asked her driver to get off and she got behind the wheel. She was asked by officers to pull over and was referred to the pertinent police station.
Reports also said that six women were stopped by police in the Eastern Province, and at least two others were stopped in other parts of the Kingdom.
Eastern Province Police spokesman Lt. Col. Ziyad Al-Ruqaiti confirmed that five women were seen driving. Officers treated these women as per pertinent procedures and instructions.
Madinah Police spokesman Col. Fahad Al-Ghanam said a young girl was caught driving at Yanbu's neighborhood.
Her father was arraigned before the pertinent police station and he signed an undertaking that he will not allow his daughter to drive again.
http://www.saudigazette.com.sa/index.cfm?method=home.regcon&contentid=20131028184954
-----------
Protests in Kenya after 3 rapists asked to cut grass as punishment
AFP
October 28, 2013
Over a million furious campaigners have signed a petition demanding justice after three men accused of brutally gang-raping a Kenyan schoolgirl were ordered to cut grass as punishment.
The ferocious attack on the girl and lack of action towards those who carried it out has sparked
outrage in the country. The girl is now wheelchair-bound with a broken back, caused either by the beating or by being hurled down into the pit, and also suffered serious internal injuries from the rape.
The 16-year old girl was reportedly attacked, beaten and then raped by six men as she returned from her grandfather's funeral in western Kenya in June, before the gang dumped her, bleeding and unconscious, in a deep sewage ditch.
On Monday, the number of those who signed an online petitions started by a Kenyan woman, Nebila Abdulmelik, and publicised by the campaign group Avaaz topped a million, and was continuing to grow.
"Letting rapists walk free after making them cut grass has to be the world's worst punishment for rape," Abdulmelik said. "It's an absolute failure of the entire system and an absolutely shameful response by Kenya's police."
The victim knew some of the attackers, and three of them were taken by villagers to the local police station, the girl's mother earlier told Kenyan media.
"The three were only ordered to cut grass around the police camp and set free shortly after," the girl's mother told the paper.
"My wish is to see justice done," the girl told The Nation newspaper, which first reported the story, and has led a campaign including raising funds to cover medical costs. "I want my attackers arrested and punished."
Lawmakers have condemned the attack and subsequent police failures, ordering action to be taken.
http://www.hindustantimes.com/world-news/protests-in-kenya-after-3-rapists-asked-to-cut-grass-as-punishment/article1-1143669.aspx
---------
Women of the Wall demand right to read from Torah at Kotel
October 28, 2013
The Women of the Wall will insist on continuing to pray at the women's section of the Kotel and will demand that the restrictions preventing them from reading from the Torah scroll in this space be lifted, until a new egalitarian prayer space has been constructed at the Western Wall that fulfills all its requirements.
This was one of the key conditions spelled out on Monday morning by Anat Hoffman, chairwoman of Women of the Wall, for eventually moving the prayer group's monthly prayer service out of the women's section and to the new mixed space.
Regulations initiated and enforced by the Kotel rabbi, Shmuel Rabinowitz, have until now prevented Women of the Wall from bringing their own Torah scroll into the women's section – despite the fact that Jerusalem District Court Judge Moshe Sobel ruled earlier this year that for women to read from the Torah in the women's section is not a violation of local custom.
Women of the Wall are also demanding that in the meanwhile, so long as they continue praying in the women's section and until the new space is completed to their liking, the government take firm action to put an end to continued demonstrations against them each month by ultra-Orthodox men and women and prohibit the use of loudspeakers at the Kotel to drown out their prayers.
Women of the Wall plan to hold a special Rosh Chodesh prayer service commemorating the 25th anniversary on November 4 in the women's prayer section. More than 400 women from Israel and abroad will be attending the service.
Before submitting Women of the Wall's list of demands to Cabinet Secretary Avichai Mandelblit on Monday morning, Hoffman presented them at a press conference in Jerusalem. Mandelblit heads a government committee that is putting together recommendations to resolve the ongoing controversy over prayer at the Western Wall. His committee is expected to recommend creating a new egalitarian space on the other side of the Mughrabi Bridge – in line with the proposal initiated by Jewish Agency Chairman Natan Sharansky.
Hoffman has come under attack from members of her own organization for expressing willingness to compromise with the government and abandon the women's section after 25 years of praying there. Dissidents in the organization, many of them American women who helped found Women of the Wall, have said they will continue to pray in the women's section even if the government accepts all the group's demands.
The following is a list of the demands presented to the Mandelblit committee:
• As reported in Haaretz earlier, Women of the Wall demand that control over the upper plaza of the Kotel (the area just above the segregated prayer spaces) be wrested from the hands of the Western Wall rabbi and be transferred to a new authority that will also administer the egalitarian space. This would restrict the authority of the Kotel rabbi to the men's and women's sections only.
• The new egalitarian space will need to accommodate at least 500 women and provide for direct physical contact with the Western Wall. It should be at the same level as the existing women's prayer section and a natural extension of it.
• The new space should be open 24 hours a day, seven days a week. Entrance should be free of charge without the need to book the area in advance.
• The new space will be renamed to include the word "Kotel" in it. Instead of being called "Ezrat Yisrael," it will be called "the Kotel – Ezrat Yisrael."
• Half of the members of the authority administering the new space will be women, including members of Women of the Wall.
• The authority administering the new space will receive at least the same level of government funding as the Orthodox-run Western Wall Heritage Foundation, which today administers the entire area of the Kotel.
• The government will take active measures to refer visitors from abroad, school children, soldiers and visiting dignitaries to the new space. It will also hold official ceremonies there.
• Women of the Wall will participate in designing the new space to ensure that those women who wish to prayer together, and not as part of a mixed service, have the means to do so, and that individuals with disabilities are provided with convenient access to the area.
• A sign will be displayed at the Western Wall commemorating its conquest by Israeli army paratroopers in 1967.
• The authorities administering the different prayer spaces at the Western Wall will hold joint meetings six times a year.
http://www.haaretz.com/news/national/.premium-1.554792
-----------
Tunis Women Performing Controversial 'Sexual Jihad' Arrested
October 28, 2013
Tunisian authorities arrested several young women who allegedly left their homes to perform sexual jihad. According to the officials, the arrest supports rumors that have been plaguing Tunisia for months.
BBC reported the story roots from the Chaambi mountains located near Algeria where militants and the army have engaged in battles since 2012. Tunisian authorities reportedly made the arrests in the cities surrounding Chaambi.
Families of the detained women are in shock, sources said. The rest of Tunisia greeted the government statement with scepticism.
In an interview with Ahmed Maher of the BBC, a mother of one of the accused believes that her 17-year-old daughter is innocent.
The teenage girl is one of 19 women detained for sexual jihad. Her mother said her daughter "has never been to the Chaambi mountains."
"These are false accusations, " she added.
In a statement in September, Interior Minister Lofti bin Jido said girls and women went to the Tunisian countryside and Syria to perform sexual jihad as a way of boosting the morale of jihadists.
The minister said the Tunisian women and girls were "swapped between 20, 30 and 100 rebels." He added the girls came back "bearing the fruit of sexual contacts in the name of sexual jihad."
Critics of the government dismissed the Interior Minister's statement and said stories about sexual jihad are political propaganda. Observatoire de l'islamisation reported Oct. 14 that women who were "brainwashed" to provide sexual services to the Mujaheddin were told they will get heavenly salvation.
Examiner also reported that Sheikh Muhammad al-'Arifi of the King Fahad Mosque allegedly issued a fatwa or an Islamic ruling that Muslim women and girls should go to Syria to help "relieve pent up sexual frustration" of jihadists.
According to Asharq Al-Awsat, sexual jihad is a lie. Other newspapers and magazines such as Le Monde and Foreign Policy also conducted investigations on the sexual jihad controversy but found that the Imam who allegedly issued the fatwa never issued such a ruling.
Asharq Al-Awsat's Diana Moukalled also reiterated that Tunis officials who issued the statements regarding sexual jihad were not able to "present solid evidence."
http://au.ibtimes.com/articles/517311/20131028/sexual-jihad-tunis-tunisia-syria.htm#.Um7v0nC-rXA
------------
Calls for Massive Campaign to Curb Domestic Violence in Saudi Kingdom
October 28, 2013
JEDDAH — Several sociologists and academics have underlined the need for launching a massive awareness campaign about ways to end domestic violence.
They called for establishing an independent body to follow up abuse cases and ensure protection of victims, according to a report in Al-Madinah Arabic daily.
The Ministry of Social Affairs and other concerned agencies are currently working on an executive bylaw for the domestic violence law, which was approved by the Council of Ministers on Aug. 26. The new law is aimed at guaranteeing protection from various kinds of abuses and providing assistance and treatment to victims of abuse.
Dr. Muflih Al-Qahtani, president of the National Society for Human Rights (NSHR), stressed that the bylaw should clearly specify each and every type of abuse as well as ways to address them.
According to Al-Qahtani, the new law represents a qualitative leap in protecting civil rights and preventing domestic abuses in the Kingdom. "The bylaw is expected to cover all aspects of domestic violence and related matters, such as the role of shelter homes, case of people abandoned by their kin and the like," he said.
Maysoon Al-Dhakheel, a writer and researcher at the department of education and psychology at King Abdulaziz University, underscored the need for intensifying efforts to raise awareness among members of the family about the provisions of the new law, especially the punitive measures that will be taken against abusers.
"The awareness campaign should focus on enlightening women on their rights and the ways to secure them. The media has to play a bigger role in making the members of society aware of each and every provision of the law," she said
Khaled Al-Tuwaim, professor of Islamic studies at Umm Al-Qura University, said domestic violence has a negative impact on the mental growth of children as well as their relationship with parents.
"Most of the undesirable behavioral problems among children are attributed to domestic abuse. In most cases, a major reason for domestic violence is the mentality of parents that the right way of raising their children is to treat them in a harsh manner," he said.
Prominent researcher and specialist on women's affairs Suhaila Zainul Abideen drew attention to some other forms of abuse such as denial of inheritance and financial requirements of women and children. She called for amending the pension law to protect the rights of underprivileged women, including divorcees and widows.
http://www.saudigazette.com.sa/index.cfm?method=home.regcon&contentid=20131028184941
------------
Jerusalem Women Remembered For Role in Palestinian Politics
October 28, 2013
History books contain very little information about the women of Jerusalem's contributions to Palestinian politics or feminist action since the 1920s.
Two demonstrations that actually had a profound effect on the course of the Palestinian struggle do stand out. The first was comprised of 120 automobiles that cruised the streets of Jerusalem — following the annual conference organized in Jerusalem in 1929 — and stopped by the various foreign consulates to hand their consuls memoranda about the conference's decisions.
The second took place on April 15, 1933, when women voiced their objection to the visit of British officials Lord Allenby and Lord Swinton to the country. Despite the pouring rain, women marched through the streets until they reached the Omar Mosque, where one of their leaders — Mathilde Maghanem, a Christian — delivered a speech from the mosque's tribune. The demonstrators then continued on to the Holy Sepulcher, where another of the women's leaders — Tarab Abdel Hadi, a Muslim — delivered her speech from in front of Christ's tomb.
What political wisdom did Palestinian women in general, and women from Jerusalem in particular, possess at that time?
Jerusalem women's political contributions were not limited to demonstrations and the organization of political conferences. They, in fact, established unions for women and charitable organizations, and participated in direct and indirect political action.
In addition to the participation of urban women, rural women also played an important part, as chronicled in the early 1990s through the study of oral traditions that are passed on.
Yet, the testimony of many of the narrators demonstrated that the urban women's names were the clearest in their minds; their memories made permanent by their activities in women's associations and unions in particular.
Dawoud Ereikat talked about the struggles of Palestinian women before 1948. He mentioned the names of urban leaders such as Zuleikha al-Shihabi, and proudly spoke about his own mother's (Aisha el-Hajj Khalil al-Maki) political participation as well as that of his maternal aunt (Rakiah el-Hajj Khalil al-Maki); both of whom he only named after the researcher insisted.
Sheikh Zuhair al-Shawish explained that women's names were deliberately not mentioned due to social traditions, as doing so was considered shameful. This partly explains why recorded history neglected to mention the names of these women who contributed to public life in the 1930s.
The testimonies of narrators also highlighted names that were mentioned in recorded history as well as names that remained alive in their minds alone. Among the names of Jerusalem women whose memories staunchly endured in the minds of people are veteran pioneers such as Zuleikha al-Shihabi, Hind al-Husseini and martyr Hayat al-Balabseh. Female pioneer Essam Abdul Hadi remembers the names of many women who rose to prominence through their activism. Among them was Zuleikha al-Shihabi, who established, with Milia al-Sakakini, the first Palestinian women's union in 1921; and Hind al-Husseini, who established the Arab Children's House to take care of the daughters of fallen martyrs.
Other Jerusalem women are also remembered, most prominent among them are Qudsiyah Seif Eddine, Nahed Abdo al-Sujudi, Nazha Darwish, Hilwa Zeidan, Salma al-Husseini and Badria al-Husseini.
Pioneer female activist Widad al-Ayyoubi talked about her colleague Fatima Abu al-Saoud, and the distinguished political role that the latter played: "Fatima worked with a particular group of female students who filled baskets with figs or grapes and went about visiting shops and homes to distribute pamphlets, that they hid under the figs and grapes, calling for strikes or demonstrations."
Doumia al-Sakakini, on the other hand, in addition to talking about known names, spoke with admiration of a previously unknown lady who worked in first aid: Kokon Talil.
Pioneer activist Salma al-Husseini recalled the distinctive role played by militant Wajiha al-Husseini, who was only known for being the wife of martyred leader al-Kader al-Husseini. She talked about Wajiha's role in smuggling weapons to her husband and his comrades, and characterized her tribute to Husseini as a sort of redress following history's neglect of the woman: "Why did I speak about Ms. Wajiha? Because history neglected her memory. She worked hard. There isn't always a woman behind every great man, but, in this case, she was a great woman, just like her husband was a great man."
According to the testimonies of those interviewed, rural women also played their part, despite the fact that their names have been forgotten.
Dr. Sobhi Ghosheh talked about the nature of rural women's participation in the revolution of 1936: "Women participated in all manner of national action. They smuggled weapons in and out of towns, particularly those among them who wore traditional robes, who hid weapons, grenades and pistols under their clothes. There are stories about a woman from the Dkeidek family as well as other rural women who smuggled weapons to the rebels inside Jerusalem under bales of parsley and chard. We also remember many rural women who smuggled arms, food and news to the rebels."
Militant Bahjat Abu Gharbiyeh confirmed women's participation in political and military action: "They carried rifles just like their husbands. No names, I can't remember them. The one that comes to mind used to be known as Um al-Moumineen (mother of the believers). I saw her. She belonged to the Arab Sawahrah clan. I also saw other women in Balaa and during the demonstrations that took place in Jerusalem, where I saw them clash with the police."
Ahmad al-Issawi, from Beit Hanina in Jerusalem, remembers some of the women's names: "God be my witness, I remember one who came from our village. Her name was Mansia from Beit Hanina. There was also one called Latifa al-Salman and another one named Hasna al-Qatnawiyah."
Zuhair al-Shawish also remembers the effective role played by rural women during his march with his comrades to come to the aid of commander Abdel Qader al-Husseini in Al Qastal: "Who was guiding us along the way? Two men and four women from the villages. The women showed us the way, and were, even more than us, exposed to gunfire."
And so the story goes. Pioneer women recounting the achievements of other pioneer women. Old generations handing the torch to new ones, forever and ever.
There is still a lot to tell about Jerusalem women, and the roles that they played. Their stories necessitating endless study and research.
Oral history remembers a lot of known facts and some previously undiscovered ones. There are still aspects that remain unknown, requiring collective effort to elucidate. This is a debt that we hold, a duty that our conscience needs performed, in honor of those who paid and are still paying the ultimate price, for the independence and freedom of our land.
http://www.al-monitor.com/pulse/culture/2013/10/palestinian-women-history-collective-memory.html#ixzz2j3tJiPhV
------------
Vitamin D Deficiency in Saudi Women Rise at Alarming Rate
October 28, 2013
JEDDAH — A heads up health alert for women in Saudi Arabia demands immediate attention.
Vitamin D deficiency among women in the Kingdom has reached endemic levels, while most women are not even aware of the existence of this problem in the first place, nor do they understand its full implications.
Several common ailments and health complaints can actually be allayed by correcting a silent, underlying vitamin D deficiency.
A study reported in the International Journal of Health Sciences revealed that the prevalence of vitamin D deficiency among an otherwise healthy Saudi population in Al-Qassim was 67.8 percent.
Another study conducted at King Fahd Hospital in Dammam showed an alarmingly high rate of vitamin D deficiency among both men and women.
Reem Al-Athem has been working as the head of a laboratory in Jeddah for over 15 years.
She said: "In more than 70 percent of our blood work samples for vitamin and mineral levels in female patients' results show severely low levels of vitamin D."
Vitamin D is mostly recognized for its function in the absorption of calcium, increasing bone density, helping to maintain strong bones, and thus protecting against osteoporosis.
An adequate level of vitamin D is also needed for healthy teeth. In one study, a 47 percent reduced risk of cavities was found with vitamin D supplementation.
A low level of vitamin D not only puts you at risk for weaker bones, but it may also be affecting your mood.
Symptoms of chronic vitamin D deficiency include irritability, nervousness, depression, and lethargy.
Evidence shows a link between vitamin D deficiency and persistent daytime sleepiness, headaches, and joint pain.
In recent years, vitamin D has been shown to play an important role in immune and metabolic functions.
Vitamin D deficiency may play a role in high blood pressure, allergies, asthma in children, pulmonary disease, chronic pain (particularly muscular and skeletal pain), and even diabetes.
How do you know if you have a vitamin D deficiency? You can easily find out by taking a blood test. The guidelines for blood vitamin D levels are as follows:
Severe deficiency: levels below 10 ng/ml
Deficiency: levels below 12 ng/ml
Inadequate: levels between 12 and 20 ng/ml
Adequate: levels between 20 and 50 ng/ml
Excessive: levels over 50 ng/ml
The amount of supplementation needed to treat the deficiency depends on the severity of the deficiency.
Usually, patients with vitamin D readings below 12 ng/ml require an injection of a high amount of vitamin D once a month for three months after which the test is repeated again — and this treatment is fairly expensive.
If your vitamin D levels are inadequate but not severely deficient, an oral supplement may be enough.
For optimal absorption, it is recommended that you take your supplement with a main meal that contains some fat. Vitamin D is a fat-soluble vitamin and so, requires fat for absorption.
"One of the main reasons why vitamin D deficiency is so common in the Kingdom is because there are very few food sources of vitamin D. Foods which have fairly good amounts of vitamin D are fish liver oil, sweet potatoes, egg yolks, vegetable oils, butter, and fatty fish such as salmon, sardines, and tuna," said Dr. Rasha Jameel, a consultant in family medicine at a local hospital.
In the United States, all milk and dairy products are fortified with vitamins A and D, but no such measures are in place in the Kingdom.
Researchers at King Fahd Hospital in Dammam suggest fortification of food products with vitamin D to compensate for the reduced skin exposure to sunlight and to reverse the current state of vitamin D deficiency in the Kingdom.
It is ironic that the best source of vitamin D is sunlight exposure and the Kingdom is one of the sunniest countries on Earth yet citizens and residents living here lack the sunshine vitamin.
Ultraviolet sun rays act on oils in the skin to produce vitamin D. Due to the unbearable heat, most people avoid going out in the sun and when women do step outdoors, they are covered from head to toe.
On a positive note, vitamin D deficiency is preventable and reversible and the solution is simple: exposure of face, hands, and arms to direct sunlight for half an hour each day.
Since Muslim women can only reveal the hands and face, they may need to be out in the sun for longer than 30 minutes.
If the deficiency is severe, supplements will be needed at first to bring the levels up to normal and afterwards as maintenance a daily dose of healthy sunshine should do the trick.
Pick the hours of the day that are cooler but when the sun is still bright, ideally between 6:30 and 9:30 am. Take a walk at this time, swim if you have access to a pool, go to a nearby park or garden or even the balcony if you live in an apartment, or as a bare minimum open the window of your house or office and sit right next to the window to be sure to catch the sunlight.
Priding myself that I am a health conscientious person because I always walk outside for 10 minutes every day and eat a healthy diet, I had convinced myself that the statistics did not necessarily apply to me.
However, I was shocked when I finally took the blood test and found out that I had severe vitamin D deficiency. Apparently, 10 minutes of sunlight exposure are not enough and every woman should check her vitamin D levels.
My advice to mothers who have adolescent kids is to be a bit more cautious with the information you share with them. I was mistakenly too open with my teens and I explained all the symptoms of vitamin D deficiency, even the part of irritability and moodiness.
Regrettably now, every time I lose my temper over messy rooms, incomplete homework, and too much TV time, my kids ask me with seeming-concern, "Mom, have you taken your vitamin D injection this month?"
http://www.saudigazette.com.sa/index.cfm?method=home.regcon&contentid=20131028184953
------------
Leaving Teen Girls to the Taliban
October 28, 2013
A few weeks ago, Malala Yousafzai toured the NYC-DC axis. The 16-year-old Pakistani Nobel candidate is a powerhouse, mesmerizing in her poise and courage in everything from staring down Taliban misogynists to charming Jon Stewart to telling the president of the United States to end drone strikes.
I had the honor of meeting her at a reception at the 92nd Street Y. She's even smaller than you think. Local luminaries and media stars mobbed her, trying to touch her hand and snap a picture (yes I did, too). The event was a Christiane Amanpour interview taping, in which Ms. Yousafzai recounted the day some Taliban "boys," as she called them, shot her in the head for blogging about girls' education.
After recovering from a coma, her commitment to the cause of school for girls increased. She also talked about other depredations visited on girls her age, including the marrying off of her teen friends to older men. She even suggested there should be a legal age restriction for girls in marriage, as there is for alcohol, drugs and voting.
When the Nobel Committee chose chemical weapons inspectors over this tiny hero for their big prize, I was disappointed. It is too easy to picture a room full of white Scandinavian men missing the point that this girl, with her half-paralyzed visage and indomitable spirit, represents millions of girls not just denied education but beaten, treated like chattel and forced to submit to endless violation by Uncle Festers, impregnated repeatedly until their spirits die.
But Ms. Yousafzai is young, and maybe the Nobel would have peaked her too soon. No one who watches her for five minutes can doubt that she is destined for great work, unless they kill her first.
While fans mobbed Ms. Yousafzai, I retreated to the sidelines and met a middle-aged Afghan woman in an embroidered scarf, wiping tears from her eyes. Razia Jan is the founder of a girls' school outside Kabul. She said she was moved by the outpouring for Ms. Yousafzai but was thinking about the girls who will never be famous. "Like her, there are thousands of girls, and things are being done to them, horrible abuse," she said.
Ms. Jan founded the Zabuli Education Center in 2008. The day before she opened her doors, three men in white robes visited. One stuck his finger in her face and said, "You have three hours to turn this into a boys' school. Men are the backbone of Afghanistan."
Ms. Jan said she replied, "Women are the eyesight of Afghanistan, and you are blind."
The men backed off and she opened for business. Four years later, she has 400 pupils but the school's water must be tested daily for poison, and the building must be vigilantly guarded against bombs and poison gas.
Ms. Jan runs the school on a year-round schedule, because the greatest threat to girls' education (after the depredations of the Taliban) comes from the girls' own male relatives at home. As soon as the men see signs of incipient womanhood, they trade, sell or barter them off.
Education empowers the girls to resist, Ms. Jan said, but at great cost. One 23-year-old student's father wanted to take a younger wife for himself and decided to trade his daughter off to that girl's father. His daughter objected. Over six months, according to Ms. Jan, male relatives broke her nose, broke her ribs and poured boiling water on her, but she refused to acquiesce, and finally her father backed down.
Another student, a 13-year-old girl, was left in charge of eight younger siblings when her father died. The girl's uncle offered to take them all in but only if she married his son. She refused and tried to kill herself with rat poison. Ms. Jan interceded, and the uncle agreed to wait until the girl finished 12th grade.
"She said, 'If I can just finish 12th grade, I can take care of my siblings,'" Ms. Jan said.
Even with the Americans still in Afghanistan, the things happening every day to girls and young women under the Taliban defy belief. A few weeks ago, Ms. Jan narrowly missed a bomb detonated at a major shopping centre in Kabul. She said she never watches television to avoid bad news, but, when she got home, she turned it on to confirm that a friend and her children had died in the blast. Immediately after that report, the broadcast turned to a stoning in a town under Taliban control.
A girl, of age, had refused to marry an older man and married her younger lover instead. As Ms. Jan and the rest of Afghanistan watched, men in white robes stood outside a mosque, a figure draped in white was dragged to the middle of the square, and the men threw stones.
"These were not pebbles," Ms. Jan said, wiping tears. "They were bricks. And the men were laughing."
At the end of next year, American troops will finally leave Afghanistan. The prospect of a resurgent Taliban is real. American diplomats have engaged in nearly three years of secret meetings and diplomatic back channels to lay the groundwork for talks to begin. In June, the U.S. came close to openly negotiating after the Taliban opened a public office in Qatar. Those talks never got off the ground after the Taliban decorated its new office with the flag, anthem and symbols of the Islamic Emirate of Afghanistan, and Afghan President Hamid Karzai pulled the plug.
The challenge of negotiating with this particular devil is immense. Marc Grossman, the former U.S. special envoy for Afghanistan and Pakistan, writing in Yale Global recently described "highly classified" talks in which he participated and which ultimately failed. "Secretary Clinton made clear that ... Washington would support reconciliation with only those insurgents who met three important end conditions: Break with al Qaeda, end violence and live inside an Afghan Constitution that guarantees the rights of all individuals, especially women."
Obviously, such enlightened conditions will never be met by warriors fantasizing about a medieval transnational caliphate, for whom national borders mean nothing and for whom girls of child-bearing age must be kept illiterate, the better to force them to submit to their sole biological purpose as male-producing cows.
Before the Qatar gambit collapsed, Afghanistan's education minister, Farooq Wardak, said the Taliban was backing off its ban on female education. But Ms. Jan sees no evidence of that on the ground. "I know these people will never do what they say," she said. "If there is any chance for the women, for girls to get educated, you have to think 10 times before you negotiate with these murderers. They put acid on girls, cut their throats, cut their noses for just going to school."
With all due respect to the admirable efforts of Mr. Grossman, Hillary Rodham Clinton, John Kerry and Barack Obama, it is not our duty to negotiate with the Taliban. Not our drones nor our diplomats nor our money will change their minds.
The parties who should be dealing with the Taliban are their friends in the oil-soaked Gulf states who have done the most to promote a despicable ideology for a generation. The Taliban's Wahhabism was born in Saudi Arabia in the 19th century.
Their strain of Islam contradicts major tenets of the traditional faith and offends many believers. But the Saudis have been successfully exporting it, financed by whopping oil profits, since the early 1970s. According to its own figures, the kingdom spent more than $80 billion between 1973 and 2002 creating a worldwide network of Wahhabi mosques, Islamic centers, madrassas and charities. This network became a framework of jihadi extremism that, among other things, is the primary force against women's rights on this planet. The Afghan Taliban is among the recipients of that money.
One way to help Ms. Yousafzai and the girls she represents is for other Muslims to consistently object to barbarism from the mosques and minarets of Europe, the U.S., the Middle East and elsewhere. When will the vast majority of peace-loving, moderate Muslims and their religious leaders, in numbers large enough to be heard, speak out for an end to the atrocities carried out against females in the name of their religion?
Meanwhile, soldiers prepare to come home from the war without end, our negotiators get no foothold, and millions of girls are on their own, their fates left to God and the men who claim to speak for Him.
A version of this column appeared in the New York Observer.
http://www.huffingtonpost.com/nina-burleigh/leaving-teen-girls-to-the_b_4167667.html
------------
URL: https://newageislam.com/islam-women-feminism/women-pakistan-being-stabbed-"for/d/14188