New Age Islam News Bureau
7 Feb 2014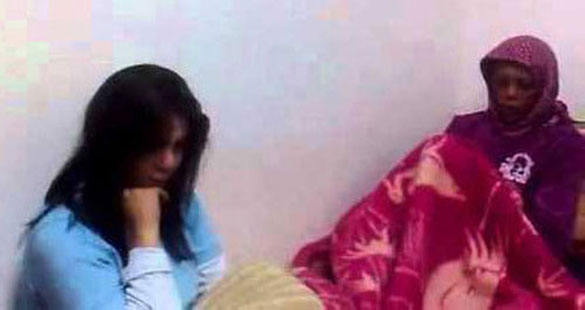 Women in Libyan Jails Seek Right to Suicide to End Unbearable Humiliation, Photo: Voice of Russia
-----------
• Muslim Teen Harassed After Wearing Hijab to School in Florida
• Qatar Airways under Fire over 'Short Skirt' Drive
• Working Expat Women in Saudi Arabia See No End to Their Woes
• Nobel Winner Shirin Ebadi Slams Russia for Protecting Assad
• Sharjah Baby Friendly Drive Honours Partners
• Old Challenges Continue For Women under New President in Iran
• 1 In 3 Saudis Rejects Nursing Profession for Women
• Beirut: Refugee Crisis Boosts Women's Services
• Five-Year Plan In Pakistan: $7m For Girls Education In Distant Areas
Compiled by New Age Islam News Bureau
URL: https://newageislam.com/islam-women-feminism/women-libyan-jails-seek-right/d/35635
------------
Women in Libyan jails seek right to suicide to end unbearable humiliation - activist
February 7, 2014
Libya's female prisoners have appealed to the country's spiritual leaders to allow them to commit suicide as endless abuse and humiliation make life unbearable for them. Libyan female activist and rights campaigner Wafa Mabda told in exclusive interview with the Voice of Russia about the brutal mistreatment of women in post-Gaddafi Libya.
How are female prisoners treated in Lybia?
Women suffer horrible torture in Libyan jails. They are burned, subject to electric shocks and placed in solitary cells for weeks or months on end. Women have long been complaining to us about that. We've been receiving letters revealing absolutely appalling episodes. Prison wards sell female inmates, letting men rape any woman they choose for a certain pay. Rape victims say that once important people from Qatar came and the prison was turned into a brothel.
Another episode involves drunken Frenchmen. Prison wards lead them into cells and allowed them to rape several inmates. Imagine what wards themselves do.
One woman witnessed how 26 "dirty beasts" raped her cellmate one by one. She lost consciousness but that didn't stop them. The following day, she died.
What are those jails?
Those atrocities are committed in the Ain Zara, Gargur and Maitiga jails. There reportedly are seven girl inmates in Gargur.
Who controls those jails - the authorities?
Some jails are controlled by the authorities, others – by armed groups.
What does the public do to monitor the situation in jails?
Libyan activists have repeatedly sought permission to monitor the destiny of each and every female inmate, but without success so far. There is no respect for human rights here. When people picketed the Gargur jail, the guards began shooting at them.
What do women ask you in their letters?
They want to die to escape further humiliations. They ask spiritual leaders to issue a fatwa allowing them to commit suicide.
http://voiceofrussia.com/2014_02_05/Women-in-Libyan-jails-seek-right-to-suicide-to-end-unbearable-abuse-activist-4702/
-------------
Muslim Teen Harassed After Wearing Hijab to School in Florida
Florida Student Harassed For Hijab
February 7, 2014
FLORIDA – For Zahrah Habibulla, the life went smoothly in her school until she decided to don the Islamic headscarf last December 14, starting a new episode of verbal and physical assaults by her colleagues.
"I've been bullied in school," Zahrah Habibulla, a 14-year-old student at Polk County School District, told WESH TV on Tuesday, February 4.
"I had verbal assaults, physical assaults."
Before wearing Hijab the girl had good ties with her colleagues who disavowed her after wearing Hijab last December.
"As soon as I started wearing it, my friends turned on me. People weren't the same," said Zahrah.
Moreover, the Muslim girl was verbally abused after being called terrorist at the school.
"This boy opened the door when I was leaving the 9th grade building and he yelled 'terrorist, terrorist, run' and he ran away," the young Muslim girl recalled.
Getting tired of daily abuse, she decided to share her sad stories with her mother who was shocked to hear the news.
"It breaks my heart. I don't want to see that," said Zameena Habibulla.
"I'm hoping for a safer school for her. Every day she goes to school I've got fear."
Islam sees Hijab as an obligatory code of dress, not a religious symbol displaying one's affiliations.
Though there are no official estimates, the US is home to an estimated Muslim minority of six to eight million.
An earlier Gallup poll found that the majority of Americans Muslims are loyal to their country and optimistic about their future in the United States.
Another US survey has revealed that the majority of Americans know very little about Muslims and their faith.
Help
Seeking help from the Muslim community, Zahrah's mother asked Kissimmee's imam advice who mediated to end the girl's suffering.
"We can't wait until Zahrah becomes a victim," Imam Abufarah, a member of the American Muslim Youth Leadership Council, said.
"To be quite honest with you, that's the thing that scares me the most."
During his meeting with the school principal, the imam said: "I believe the school has failed to provide a safe atmosphere for this young lady."
The school administration, however, denied accusations saying that they are keen on providing a safe atmosphere for all students.
"Since learning of these concerns, school officials have taken a proactive role in addressing any issues to ensure the safety and welfare of the student," Polk County School District said in a statement released last Monday.
"The School Board remains committed to providing an educational environment that is safe, secure and free from harassment or bullying."
Moreover, Zahrah's mother hired a lawyer to advocate her daughter's rights through coordinating another meeting with the principal.
Bringing her case to the public, young Zahrah said she hopes that other Muslim girls would be saved from similar bullying.
"If any other girl comes to this school and wears a Hijab too, I want her to feel comfortable, and that she has the support from the school," she said
"And that nobody would bother her, because I don't want anybody to go through what I did."
http://www.onislam.net/english/news/americas/468903-florida-student-harassed-for-hijab.html
http://www.wcsh6.com/news/national/article/269644/44/Muslim-teen-harrassed-after-wearing-hijab-to-school
-------------
Qatar Airways under fire over 'short skirt' drive
February 7, 2014
Qatar Airways this week came under fire from Norway's anti-discrimination ombudsman after it posted an advert telling women to wear short skirts to a cabin-crew recruitment day in the capital, Oslo.
In the same advert, men were asked to come wearing "business suits," according to Norwegian news website The Local.
The advert was later changed to state that both men and women to attend wearing "business wear."
"We believe that it is contrary to law that there should be different clothing requirements for men and women," Carl Fredrik Riise, an advisor for the country's anti-discrimination group, told Norway's DN newspaper.
'Astounding'
David Mackenzie, managing director of Dubai-based recruitment consultants Mackenzie Jones, said the ad was "ethically and morally wrong."
"There's no way you should discriminate on how short a person's skirt is," he added.
However, the blame may be due to the Doha-based carrier's job requirements being misinterpreted by an external agency, he said.
However, "for them to have released this, or even to have allowed an agency to release this, is astounding," said Mackenzie.
A previous listing in Dubai in January, posted on the carrier's website, specified that women should wear a "business suit, kneelength skirt without any tights or stockings or skin colored tights/stockings and a short sleeved blouse. Hair neatly tied back with appropriate make up."
Previous controversy
A similar recruitment event for cabin crew in Bangkok, Thailand in October, had the same requirements – although the type of stockings (or lack thereof) was not specified.
Qatar Airways could not be reached for comment.
The airline sparked controversy in September last year after the International Transport Workers' Federation claimed that the airline forced its female workers to seek permission from the company if they wish to marry.
The trade federation also said that the carrier's hiring contract for female workers states that employees must contact a supervisor if they become pregnant – and can be fired if they fail to do so.
http://english.alarabiya.net/en/variety/2014/02/06/Qatar-Airways-slammed-over-short-skirt-recruitment-drive.html
-------------
Working Expat Women in Saudi Arabia See No End To Their Woes
February 7, 2014
Many expatriate women working in the corporate sector have lost their jobs as they failed to transfer their sponsorship to their employers as mandated under new labour laws.
Several expatriate women working in secretarial positions have already been replaced with Saudi employees, while others holding executive or managerial positions in the corporate sector have said that they are still confused in the absence of no clear guidance from their employers on transferring their sponsorship.
"My Iqama and passport have been with my company for the last three months. I have been asked to work from home until they get my Iqama transferred. It is very confusing. I just don't understand why the company is taking so long to make the transfer," said Fatima Rehman, a Jeddah-based engineer.
According to an official at the labour office, a very small percentage of women have transferred their sponsorship to the companies that employ them, while the rest are still in the process.
Hameed Al-Bassam, a Jeddah-based human resource manager, said: "The transferring of female sponsorship is taking time compared to male employees. To keep the work going, companies have asked most women to work from home."
Moreover, several female expatriates working in the corporate sector have been replaced with Saudi employees. "We have prioritized Saudi female employees to keep up with the new government regulations and in the process, many expatriate female employees may miss the chance of employment," said Hameed, a human resource manager at a manufacturing company in Jeddah.
Meanwhile, agents, or "Muaqqibeen" in Arabic, have been sought by a few employees to help them complete official procedures.
"My company tried to transfer my sponsorship, but their attempts were unsuccessful. As a result, I had to hire an outside agent. I paid him SR5,000 to transfer my sponsorship from my father to my employer," said Shatha, a translator at an international organization.
Transferring sponsorships through agents can cost up to SR10,000.
Several women decided against risking such large amounts of money for fear of losing their job.
In addition, many women are holding onto their existing sponsors so that they don't forgo the benefits they are entitled to at their workplaces.
Hiba, an accountant, said: "Being an expat makes it difficult for us to find new jobs since Saudis are given priority. I am waiting for my present employer to transfer my sponsorship." Expatriate female employees are requesting the ministry to introduce a new law that will enable them to acquire work permits without undergoing transfer procedures.
http://www.arabnews.com/news/521941
-------------
Nobel winner Shirin Ebadi slams Russia for protecting Assad
World Bulletin / News Desk
February 7, 2014
Nobel Peace Prize winner Shirin Ebadi says that photographs showing torture in Syria mean that the country's president, Bashar Assad, must be tried before the International Criminal Court.
Ebadi, an Iranian lawyer, said Assad could not currently be put on trial at the international tribunal because Syria is not a member of the court. But she noted that Sudanese President Omar al-Bashar was brought before the court because of a UN initiative.
Slamming the Russian government's pro-Assad stance, Ebadi claimed that Russia, as one of the five permanent members of the UN Security Council, has vetoed initiatives to bring Assad into justice and put him on trial at the ICC. She said Russia is working to protect its interests in Syria by blocking Assad's trial.
Ebadi, who won the Nobel Peace Prize in 2003, made the comments during an interview Wednesday with The Anadolu Agency.
She criticized her own country, too, claiming that soldiers sent into Syria by Iran had trained Syrian soldiers and had also killed many Syrians:
"I am ashamed of my country's intervention in Syria where civilians are killed, and as an Iranian I apologize to the Syrian people. The Iranian state intervenes in Syria despite the will of Iranian people."
Ebadi called for an immediate ceasefire between the sides in war-torn Syria and said millions of people should be given a chance to return their homeland.
"Everyone who respects humanitarian values and has a conscience should do their best to help to those Syrians whose homes were demolished," she said.
"War benefits nobody. The lack of progress in the Geneva talks should not cause despair. The problem should be solved through negotiations despite everything."
Ebadi is an activist and former judge. She was awarded the Nobel Peace Prize in 2003 for her efforts on behalf of democracy and human rights.
According to UN figures, approximately 2.5 million Syrian people have taken refuge in neighbouring countries after fleeing Syria, where the civil war has claimed more than 100,000 lives so far.
http://www.worldbulletin.net/todays-news/128357/nobel-winner-shirin-ebadi-slams-russia-for-protecting-assad
-------------
Sharjah Baby Friendly drive honours partners
February 7, 2014
Dubai: A food and nutrition engineer consultant to the World Health Organisation (WHO) stressed on Wednesday that the "baby friendliness" of hospitals worldwide must be the primary reason why these should be accredited by authorised bodies such as the Joint Commission International.
At the "Sharjah Baby Friendly City Campaign (SBFCC) Awarding Ceremonies 2014," Eng Randa Saadeh congratulated the Sharjah government for successfully carrying out its two-year SBFCC that has been espousing the breastfeeding of babies until age two.
"Well done Sharjah," she stated in her speech delivered at the Al Jawaher Reception and Convention Centre.
Saadeh also pointed out that the alarming rates of cardiovascular diseases and obesity among other health concerns, as gathered by the WHO, would definitely dwindle down if and when everyone helps in the promotion of the "breastfeeding culture."
She said doing right from the start would have a long-term effect on the health of each and every individual.
Saadeh said that based on WHO data, only one-third of the world's children are properly breastfed so there is still a long trek and for which the SBFCC is the "ideal model."
Forty-two entities in the Emirate were honoured by Sharjah Investment and Development Authority chairperson Sheikha Bodour Bint Sultan Al Qasimi.
These have not only incorporated the necessary breastfeeding requirements within their facilities and services to their employee mothers and clients but also have been teaching their workforce on empowering and supporting women.
Health Minister Abdul Rahman Owais, Social Affairs Minister Maryam Khalfan Al Roumi and a United Nations International Children's Educational Fund representative graced the occasion.
Saadeh repeated that the other emirates and countries in the region must "replicate the Sharjah initiative" because its comprehensive approach to encouraging a "breastfeeding culture" is the "ideal model."
She said the SBFCC is ideal because it involves all sectors of the society such as the health workers, governments, schools, employers and families that must work hand-in-hand in ensuring a healthy population.
"You cannot just focus on one element and forget the rest," Saadeh said, when interviewed.
She hailed the clear vision and mission of the SBFCC.
The SBFCC vision is to "foster life-long physical and psychological health for all children and their families" while its mission is to "empower all mothers to breastfeed their babies for two years, to give them the right start in life as designed by our Creator."
Saadeh also highlighted the commitment of the SBFCC management to walk their talk, the women-centredness of the approach, and the expertise on the ground to lead and act.
"It is the basic," Saadeh told reporters when asked by The Gulf Today to expound on the need for hospitals to be baby friendly before these get accredited.
She added that the hospitals must not only be the primary source of information on the benefits of breastfeeding but must also be equipped with all of the logistics and staff needed by pregnant and new mothers.
"No mother will decide not to breastfeed when she is well-informed," said Saadeh.
She pointed out that family and community support continues thereafter, especially when the hospital stay for the new mother and newborn is limited to a maximum of three days.
http://gulftoday.ae/portal/4c27895f-2053-4638-be6c-dc203bb1357b.aspx
-------------
Old challenges continue for women under new president
February 7, 2014
A woman nurse in Iran checks IV fluid for infants at the Imam Khomeini Hospital in Tehran. Recent October 2013 protests by nurses from the hospital brought the needs for trained women medical workers to the attention of others after a shortage of workers caused nurses to greatly increase their hours for low pay. Image: Trend
(WNN) Los Angeles, California, UNITED STATES, AMERICAS: Despite the election of new President Hassan Rowhani in the Islamic Republic of Iran (IRI), women continue to face new challenges in exercising their civil rights. For women this means a great challenge to reach equality as well as accessing educational and workforce resources.
Many women's groups have been skeptical about the scope of changes that Iran's new president will bring for Iranian women as women express publicly what they expect from the new president. Asking for Iran's government to remove all "obstacles" that were created during eight years of Ahmadinejad's presidency, many women who have received a higher education are now suffering under a growing national gender gap that is blocking their ability to participate fully in Iran's society, especially its economy.
"These obstacles include measures and policies aimed at limiting women's public and social lives," outlines expert sociologist and Iranian university professor Dr. Ms. Shahla Ezazzi. "Apparently, [the authorities] had come to the conclusion that if men don't want to control their women and force them to stay at home, the government should act as father and grandfather and control women," Ezazzi continued. "…this way of thinking has led to restrictions on women's access to higher education, prohibitions on their studying certain disciplines at universities, and encouragement to stay at home and have babies," she added.
Not only is Iran's new President Rowhani not responding to women activists, but there are new restrictions on women in accessing jobs, especially jobs for single unmarried women.
During the first decade after the Iranian revolution in 1979, many western scholars debated the impact of the revolution on women's economic participation and employment patterns. 35 years after the revolution in 2014 it is clear that the impact of fundamentalist Islamitization and economic policies on Iranian society over the last three decades has not brought good news for women. Instead it has resulted in marginalization in the role of women in Iran's society and economy.
The Comprehensive Population and Family Excellence Plan in Iran proposes legislation that covers 50 legal articles that aim to encourage population growth, a departure from Iran's current population control policies which have been in effect for the past two decades. Incredibly The Plan's main goal is: to "increase the pregnancy rate to 2.5% of the quantitative population growth until the year 2025, simultaneous with qualitative improvement of the population and its stabilization by the year 2051."
The Plan also lays out intentions to deny some women access to the jobs market in the hope that this will make them more likely to stay at home and bear children.
With wide opposition from Iran's civil society The Plan has been opposed by women's groups and activists alike, as well as those living outside in the diaspora. Through an act of opposition 650 signatures on a petition state that The Plan in Iran will only work to widen the country's gender divide in labor. It will also place new and additional restrictions on women's employment, particularly on unmarried women.
According to human rights reporters at ISNA – Iranian Student News Agency, the rate of unemployment for women increased inside Iran in 2013. This was assessed as numbers were recorded for women's employment during the Spring of 2013. Showing a rate that is five times greater than the rate of unemployment for men, women's employment is 13.6 percent, as compared to 64.7 percent for men. Under employment policies that produce a major barrier for women's fair competition in the job market, as well as a chance for 'equal-pay-for-equal-work', the government of the Islamic Republic of Iran now encourages and incentivizes women to stay home, get married and raise more children.
"Much like the other laws and resolutions passed over recent years; women are again deprived of their rights in this plan and are only seen in their reproductive position," shared Iranian women's rights group Change for Equality.
In their statement the 650 petitioners have relayed to the government of Iran that The Plan's "regrettable [policy] articles" covering women, specifically pertaining to new restrictions on the use of contraceptives, intends to further restrict women. It particularly restricts single women from accessing employment and educational opportunities, outlines the International Campaign for Human Rights in Iran.
Barriers on women's employment also affects a diverse array of careers. Women real estate agents, while holding more than 66 percent of the real estate business licenses issued in Tehran, are currently banned in Iran from working in their chosen field as real estate agents. Women are also only currently allowed to be employed as a clerk only in any real estate agency office, including their own office.
According to Sharia Law in Iran, it is the duty of the husband to work for a living and provide nafaqa (maintenance) for the family while the wife has no such duty. However if a wife decides to work, whether on account of her personal desire or due to an insufficient income of the family she does have the right to work, outlines the Law. This right nevertheless is conditional and can be restricted by the husband.
From 2001 to 2002 well-known Iranian photographer Ms. Shadi Ghadirian portrayed Iran's women hiding under domestic veils made from kitchen tablecloths and other textiles with faces that include 'found' household items. Her photo series called "Like Every Day" portrays 17 separate portraits of Iranian women 'in hiding', a drastic contrast to the unveiled images of Iranian women in 1971. Image: Derivative image of the original by Shadi Ghadirian
Article 1117 does not forbid or deny the wife's general "right to work." Instead it gives the husband the right to prevent his wife from a "specific job or profession."
According to the Global Gender Gap Report in 2013 issued by the World Economic Forum, Iran now ranks close to the bottom of the list for women's economic participation at position 130 out of 136 countries. As the social and employment engineering of the IRI aims to close the employment gap for women it is actually widening the barriers for women inside the labor market.
In other words, the Civil Code has not prescribed the same rights for a wife to prevent her husband from taking a job even though she may view it as incompatible with the family's interests or her position. Seeing that the Law does not protect women's rights in Iran, some women when marrying their husbands now add binding conditions to their marriage contract stating that a husband cannot forbid them from working. A woman may also stipulate in a marriage contract that she can keep her current job even after marriage.
While restrictions against women real estate agents is not a new ban on women in the field, a recent threat in real estate office closures by the head of Tehran's Real Estate Consultants Association forewarns that offices with any women holding positions as real estate agents will be closed as a form of punishment for one week.
This recent delivery of sanctions has been placed into policy in spite of the fact that out of a total 1,200 real estate business licenses in Tehran, 800 of these licenses for real estate offices were issued to women. The licenses were issued though with a legal precondition that the position of real estate agent, called 'real estate consultant' inside Iran, will only be given to male associates or employees. In contrast a woman owner of a real estate business license is not allowed to work in this capacity.
"According to Islamic rules the rights of men and women are equal but the ban on women holding a position of real estate agent is just to ensure the safety of women," said the president of Iran's Association of Real Estate Agencies in a recent interview.
The 650 signatories of the petition to stop The Comprehensive Population and Family Excellence Plan strongly disagrees though.
"Is there no other way to promote excellence than to deprive women of jobs, income, and education, and to limit women to the role of a procreation instrument and not as half of the population with rights?" outlined the 650 petitioners to The Plan in their statement. "Why does excellence in every issue mean discrimination and limitation and animosity with women's rights for the legislators?" they continued.
Emphasizing that depriving women of employment does not lead to their bearing more children and would only lead to an increase in both women's and men's presence in the unofficial and unsafe job markets, the statement signatories also asked members of the Iranian parliament to remove The Plan from their agenda. They also caution parliamentarians that approving The Plan will only serve to increase gender discrimination in Iran as it becomes "a huge regression for women" under the Law.
The reality of women's economic participation is far from the Sharia Law that manifested itself through religion 14 centuries ago. According to Shargh News in January 2014, women heads-of-household make up 12 percent of all families in Iran. Surprisingly 82 percent of these women are unemployed. This means out of 2.5 million families with women heads-of-household, only 550,000 are employed.
As Iran's labor market 'inflexibility' and social engineering policies deny women public space and presence, the structure of inequality is not on the agenda for Iran's new president. Women's human rights and dignity are as fragile in today's Iran as ever since the beginning of the establishment of Islamic Republic of Iran in December 1979.
Some women do receive minimal governmental support, but 250,000 families are currently not receiving any kind of support in Iran as they become statistics known globally as the 'poorest of the poor'.
"Gender segregation cannot succeed," say women activists who live in Tehran today. "Let us remember that societies only thrive when women thrive," they add.
During a 2008 lecture Iranian Nobel Peace Prize Laureate, Dr. Shirin Ebadi, shares her personal story about how she, as a woman living in Iran, lost what she loved most and had worked through a graduate university education to achieve, her position and job as a woman judge working inside Iran's judicial system. As restrictions prohibiting women in certain careers became policy inside the country, Dr. Ebadi and other women lost their positions and their careers. Since 2009 Ebadi has lived in exile outside of her country as she continues to speak on the issues of human rights worldwide.
http://iranian.com/posts/view/post/27982
-------------
1 in 3 Saudis rejects nursing profession for women
February 7, 2014
The nursing profession for women is still frowned upon by almost a third of Saudi families because of customs and traditions.
This attitude is negatively impacting the majority of families who accept the profession.
Taqwa Yusuf, dean of the College of Nursing at King Saud University for Health Sciences at the National Guard in Jeddah, acknowledged that a small percentage of female nursing students gave up studying nursing due to family and community pressures.
Speaking at a press conference on the eve of an upcoming international conference on nursing in Jeddah, Yusuf said that many change professions after completing their studies.
Nursing, she said, is a costly discipline that the government spends huge amounts on, being a four-year course with a year's worth of training. Changing professions would mean that state expenditure on this vocational course has gone to waste, she said.
Yusuf said that many nurses at National Guard hospitals have transferred to Ministry of Health hospitals owing to low wages, strict attendance and long working hours.
Nevertheless, the number of Saudi female students studying nursing has drastically increased since 2001, said Sabah Abu Zinada, assistant director of the nursing department at King Faisal Specialist Hospital and Research Center.
"Yet figures mean nothing since Saudi nurses are mostly found in major cities such as Jeddah, Riyadh and Dammam. We face a shortage of female nursing staff in other smaller cities because their culture is against it," she said.
"Families don't allow their daughters to work as nurses because the job calls for long working hours, interacting with male patients and working night shifts at the hospital," she said.
What has proved to be an even bigger challenge than societal perception, however, is getting qualified.
"Nursing departments at most universities and colleges are underfunded. The nursing major is usually subsumed under medical or medical sciences majors, which receive the lion's share of the budget," said Abu Zinada.
"The nursing profession is skills-based, which means students must spend a lot of time working at clinical laboratories and out in the field. Training programs are not available at most universities and colleges. What you end up with is a bunch of under-qualified nursing graduates," she said.
After graduating, nurses enter into the real world, where they have to work up to 12 hours a day and stay up all night at the hospital. "This kind of pressure is not welcomed in our society and women are not used to sleeping outside their homes. Doctors, by contrast, get to go home and even do their jobs over the phone," said Abu Zinada.
"Societal pressure on working women prevails and women are routinely judged by their profession. This has prompted many nurses to switch to administrative roles within the hospital," she added.
The conference, which will kick off on Feb. 11, will bring together 45 speakers and experts from countries including the United States, South Africa, Sweden, Egypt, Turkey and Malaysia.
The conference will focus on clinical education for nursing, identifying creative strategies for development and evaluating nursing education.
http://www.arabnews.com/news/521966
-------------
Beirut: Refugee crisis boosts women's services
February 7, 2014
BEIRUT: Two months ago, Fatima (not her real name) was subjected to a horrifying act of violence at the hands of a man. She won't say what exactly, only that she ended up needing medical treatment as a result. Although it was initially difficult to find out what services were available, she said the process was quick and easy once she got in contact with a non-governmental organization. She was referred to a community center where a doctor gave her the treatment she needed for free, and the NGO even gave her money to get there.
"The people I dealt with were compassionate and respectful," Fatima said by email in order to protect her identity, "but I know not all NGOs have professional staff."
A couple of years ago, having such a tailored experience involving specially trained professionals would have been rare for survivors of rape, domestic abuse or other forms of gender-based violence in Lebanon. But the influx of Syrian refugees, many of whom had similar experiences, has focused international attention on boosting services in the country to address the phenomenon.
"In an ironic twist, in some ways the Syrian crisis is actually helping women in Lebanon," said Hillary Margolis, a researcher on Syrian women's rights at Human Rights Watch. "Because hopefully what will come out of this is more attention to establishing a national protocol and making sure staff are properly trained."
Stories from Syria of sexual harassment at checkpoints, punitive gang rapes during house raids and genital torture of both male and female detainees have been widely reported. For many Syrians, the suffering continues even after they have made it to safety in Lebanon, with instances of domestic violence, prostitution and early forced marriages – to name a few – well documented.
In response, international and local organizations have channeled funding, training and material support toward initiatives to treat both the physical and psychological wounds of such abuse.
Although a number of local NGOs and one or two ministries had long been working to improve services related to gender-based violence – the preferred term over "violence against women," although most gender-based violence is against women and girls – the resources available were limited in reach and efficiency.
One of the biggest gaps, for example, was the lack of health care professionals specially trained to deal with victims such as Fatima. Those who did have some specialized training were forensic doctors who tended to approach cases from a legal perspective, with an emphasis on collecting evidence that could stand up in court.
"Now we are trying to ensure as many different types of medical staff as possible are trained on this subject," said Jihane Latrous, UNICEF's child protection and gender-based violence specialist. "Nurses, gynecologists, emergency room staff and so on."
Since 2012, UNICEF and Abaad, a Middle East-based group that promotes gender equality, have trained up more than 150 people.
They plan to conduct another 15 training sessions this year covering about 300 different people, as well as provide refresher courses for previous attendees.
"We have been training doctors on how to deal with child survivors, how to help people lodge a complaint, how to talk to a survivor without creating more harm, without judging them. We also teach them to respect the patient and their confidentiality," Latrous said.
"This feeds into our belief that it's important not to just see the survivor as a body of evidence but to respect them and their choices."
Also lacking in the country was access to post-rape treatment – including drugs to reduce the risk of contracting HIV – outside of Beirut and other city centers.
The costly medicine, which must be taken within 72 hours of the incident, was not widely available before, according to Latrous.
Up until 2012, rape survivors who went to a hospital would have to be referred to the Health Ministry's National AIDS Program to get the drugs. Of the 23 centers able to give such treatment listed on NAP's website, 16 are in Beirut, two are in the Bekaa Valley and a handful are in the south. There are none listed in the north.
To remedy this, the U.N. Population Fund and the Social Affairs Ministry last year provided an extra 17 hospitals and primary health care centers all over Lebanon with post-rape treatment equipment, covering the potential needs of more than 1,000 survivors.
The drugs, like all the GBV services mentioned in this article, are available for people of any nationality, whether Lebanese, Syrian, Palestinian or Sri Lankan. Everything is free and NGOs also help with transport costs where necessary.
The refugee crisis has also prompted, or perhaps sped up, the creation of secular midway houses – temporary shelters for women and their children at high risk of being beaten, raped or even murdered.
"There are now three new such houses in Lebanon – in the north, in the Bekaa Valley and in the south," said Ghida Anani, the director of Abaad. "They were set up mainly for Syrian refugees but they will stick around even after this crisis is over.
"There were about four before, but they were largely church-affiliated, so these new houses are filling in a major gap."
The availability of such places, and the creation of appropriate referral pathways, could be the difference between life and death for people such as Roula Yaacoub.
Although Yaacoub's husband was last month acquitted of beating her to death, the final medical report noted evidence of nonlethal injuries in the form of bruises, and her family continues to insist he beat her regularly. The judges' ruling also relied partly on Yaacoub's daughters' testimony that their father had not beaten their mother "that day."
All of these extended services have been made possible by the increase in money available, NGO and aid workers say, largely due to the rolling media coverage of the plight of Syrian refugees.
"Of course we have had more funding because of the crisis," said Anani. "And this has allowed more money to be invested in GBV services in a way that will benefit country beyond the crisis."
But the Syrian crisis hasn't proved a boon for everyone working on the issue. A draft law criminalizing family violence has been stuck in the bowels of Parliament since last summer due to a stalemate at all levels of government that has been blamed on the war in neighboring Syria.
"We need to wait for a Cabinet so that the General Assembly can approve the draft law," sighed Zoya Rouhana, director of KAFA, a Lebanese NGO that promotes the rights of women and children. "This would be a very important law concerning GBV."
"It also concentrates more on protecting the victim rather than just penalizing the prosecutor."
But with negotiations over a new government still painfully slow, Rouhana is pessimistic:
"The Syrian crisis has slowed down the whole process of the government; it has affected all parts of society, including us and our work."
Rouhana's opinion is one that is echoed by the highest echelons of the medical establishment.
"All these sorts of problems take second place right now," said Nagi Souaiby, a veteran emergency physician and forensic doctor who specializes in gender-based violence cases.
He points to an enormous gap in the role of local authorities and the implementation of existing laws.
"Most of the laws are there, but the application is problematic," Souaiby said.
"The Justice Ministry needs to do more," he added. "We need special police trained to receive GBV cases, for example, and special judges to deal with the cases in courts."
KAFA is already spearheading a UNFPA-funded project with the Internal Security Forces – which was in the works long before the Syrian war – that has seen them set up women-friendly spaces in 12 stations across the country. They are now training up personnel to respond to gender-based violence.
But the traditional mentality and stigma surrounding the issue in many parts of Lebanon means that for some people, just accessing those services can be a huge step, something that will take NGOs and aid agencies years, even generations, to break through.
"My husband first hit me three days into our nine-year marriage," explained Reem Zakaria, a 30-year-old writer from Akkar.
"But when I told my mom she told me it was normal ... She said I should obey my husband."
Even when Zakaria was beaten so badly that she ran away, fearing for her life, almost everyone in her family apart from her parents shunned her. When she started speaking out about how she had been treated, everyone from the mufti to the mayor in her village tried to get her to shut up. Only her parents stood by her.
Now divorced, she has since moved to Beirut to find work and build a new life for herself.
"I would have been the second Roula Yaacoub if I had listened to my family's advice. I got away with my life because I spoke out."
http://www.dailystar.com.lb/News/Lebanon-News/2014/Feb-07/246631-refugee-crisis-boosts-womens-services.ashx#ixzz2sZf3obEw
-------------
Five-year plan in Pakistan: $7m for girls education in distant areas
February 7, 2014
ISLAMABAD: The Ministry of Education, Trainings and Standards in Higher Education signed a memorandum on Thursday with Unesco to spend $7 million on improving the accessibility and quality of education for girls in remote areas.
The fiver-year plan announcement was made at a news conference held by Unesco Director-General Irina Bokova who was flanked by Minister of State for Education, Trainings and Standards in Higher Education, Engineer Muhammad Balighur Rehman.
Former president Asif Ali Zardari had pledged the amount under the Malala Fund for Girls' Right to Education in 2012. The fund aims at raising billions of dollars to ensure that all girls of primary and secondary schools are enrolled.
Unesco Director General Irina Bokova was also conferred with Hilal-e-Pakistan.
Speaking on the occasion Bokova said that Unesco was "with the Pakistani government to improve the access to education while improving the quality".
She noted that the recently launched Global Monitoring Report of Unesco in Pakistan painted a grim picture of educational standards in the country where only 43% of fifth graders surveyed could read English.
Bokova was of the view that under the agreement expanding access for girls to primary and secondary education would increase employment opportunities for female teachers in the area.
"We will try to push locals, religious scholars and the community to encourage girls' education in remote areas," she remarked. In response to a question about terrorism she stated that such attacks held the country and its education plan hostage.
Heritage sites
In regard to the protection of cultural and heritage sites in Pakistan, she reiterated her organisation's plans to stop the illicit trafficking of antiquities. "We will assist Pakistan for the protection of their heritage," she said.
The mister of state for education commented that out of a total of $10 million, seven million dollars will be spent on girls' education in Pakistan while the remaining three million will be spent on conflict-hit areas of Afghanistan.
http://tribune.com.pk/story/668654/five-year-plan-7m-for-girls-education-in-distant-areas/
-------------
URL: https://newageislam.com/islam-women-feminism/women-libyan-jails-seek-right/d/35635