New Age Islam News Bureau
13 February 2021
• Female Referees Edina Alves Batista and Neuza Back Reportedly Approached the Sheikh at FIFA Club World Cup Ceremony but Were Denied A Handshake
• 18 Women Arrested For Violating Public Morals in Muscat
• Turkish Scientist Urges Girls to 'Never Give Up'
• First Woman, First African: Nigeria's 'Troublemaker' On Track To Run WTO
Compiled by New Age Islam News Bureau
URL: https://www.newageislam.com/islam-women-feminism/women-kuwait-defying-conservative-norms/d/124299
--------
Women in Kuwait Are Defying Conservative Norms and A Culture Of "Shame" To Speak Out Against Harassment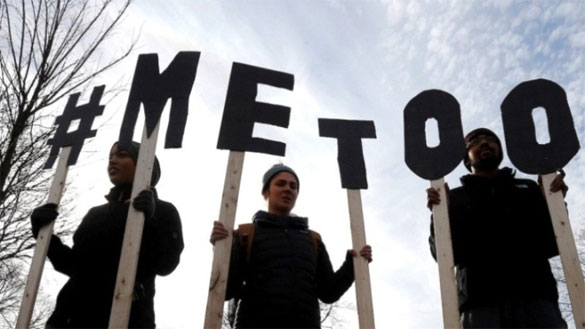 In Kuwait, women launch their own #MeToo movement
----
10 FEB, 2021
Women in Kuwait are defying conservative norms and a culture of "shame" to speak out against harassment for the first time, in a social media campaign sparked by a popular fashion blogger. Dozens of testimonies about being stalked, harassed or assaulted have emerged online, focused on the Instagram account "Lan Asket", Arabic for "I will not be silent".
Kuwaiti fashion blogger Ascia Al Faraj, who has more than 2.5 million social media followers, said in an explosive video uploaded last week that there is a "problem" in the country.
"Every time I go out, there is someone who harasses me or harasses another woman in the street," she said in the emotionally charged video uploaded after a vehicle sped up to "scare" her while she was walking to her car.
"Do you have no shame? We have a problem of harassment in this country, and I have had enough." Faraj's video sparked a nationwide movement in a country where the #MeToo campaign that took off in the United States in 2017 did not make much of an impact.
Radio and TV shows have hosted activists, lawyers and academics to discuss the issue of harassment, and the US embassy in Kuwait also threw its weight behind the women.
"A campaign worth supporting. We can all do more to prevent harassment against women, whether in the US or in Kuwait. #Lan_asket," it said in a tweet last week.
The embassy also tweeted a striking graphic that illustrates the campaign — images of three women, one unveiled, one with a headscarf, and another with her face covered — and bearing the slogan "Don't harass her".
Activists have also emphasised that foreign women who make up a large portion of the Kuwaiti population, many in menial roles, are among the most vulnerable to assault and abuse.
'Silence not an option'
Shayma Shamo, a 27-year-old doctor who studied abroad and moved back to Kuwait last year, launched the "Lan Asket" platform after seeing Faraj's video.
"As soon as I opened the account, the messages started to pour in... from women and girls that have experienced verbal, physical and sexual harassment," she told AFP.
Faraj said in another video uploaded later that week that she had also received "intense stories" by Indian, Pakistani and Filipina women working in Kuwait.
"The expat community here is incredibly vulnerable and are sometimes harassed at a level that Kuwaiti women will never understand," she said. While there has been tremendous support online, the movement has also faced a backlash from conservative voices who say women should simply dress conservatively to avoid harassment.
"Silence is no longer an option. We must speak up, unite and defend each other because what is happening is unacceptable," Shamo told AFP.
Rothna Begum, a senior researcher at Human Rights Watch, said women were taking the fore in a society where, like many in the Middle East, police often do not take such abuses seriously, and the fear of bringing shame to families silences many.
"These accounts being published are incredibly important to give Kuwaitis a sense of what harassment actually looks like and the terrible harm it causes," she told AFP.
'Shame' culture
The Arabic word "ayb", or shame in English, is a term that most girls growing up in the region learn at a very early age.
"Going to the police station is 'ayb' and talking about harassment is 'ayb'," said Shamo.
"As soon as a woman starts to speak about being harassed, the questions from family members start: What were you wearing? Who were you with? What time was it?" But Kuwaiti women are pushing the boundaries of their society, considered one of the most open in the Gulf region, and where a law against harassment exists on the books, but where discussions about gender-based violence remain taboo.
Lulu Al-Aslawi, a Kuwait media personality whose Instagram feed features her in glossy fashion shoots, said she has been bullied online for the way she dresses.
"Girls don't speak up over fears of being stigmatised, but we will not stop until we overcome this cancer in society," she told AFP.
https://images.dawn.com/news/1186528/in-kuwait-women-launch-their-own-metoo-movement
--------
Female Referees Edina Alves Batista and Neuza Back Reportedly Approached the Sheikh at FIFA Club World Cup Ceremony but Were Denied A Handshake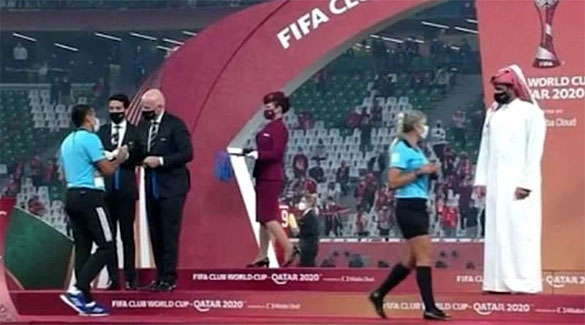 The Sheikh reportedly didn't shake hands with female referees after the match
-----
Feb 13, 2021
Bayern Munich defeated Tigres 1-0 in the final of the FIFA Club World Cup to complete the 'sextuple' of titles. Having won practically everything that was to offer, Bayern expectedly made headlines in world media. However, an off-field incident during the FIFA Club World Cup final has triggered a huge debate on social media.
A member of the royal family, who was present at the final in Qatar, didn't shake hands with the female referees after greeting the male referees with a fistbump. The sheikh has been identified as Joaan bin Hamad Al Thani, the younger brother of Qatari ruler Sheikh Tamim bin Hamad Al Thani and is also the president of Qatar's Olympic Committee. He was standing next to FIFA president Gianni Infantino during the award ceremony after the conclusion of the match.
It has been reported that female referees Edina Alves Batista and Neuza Back approached the Sheikh but were denied a handshake or fist bump. As per a report in The Daily Mail, the female officials were instructed to walk straight past the member of the royal family after the snub. The Sheikh's decision to snub female referees entirely has triggered a debate on social media.
In the post-match ceremony, Bayern Munich players Joshua Kimmich and Robert Lewandowski were given trophies by the Sheikh. While the Sheikh only fist bumped male officials, Infantino was spotted giving fist bumps to all, including females.
Some reports also claim that in Muslim cultures, physical contact with the opposite sex, barring family members, is prohibited
Qatar, which is also scheduled to host the FIFA World Cup next year, has several restrictions in place when it comes to women's rights as well as homosexual relationships.
FIFA Club World Cup 2021 Final
With the victory over Tigres, Bayern Munich became only the second team in the world to complete the 'sixpack' of major titles in a single season. The German giants had earlier won the Bundesliga, DFB Pokal, German Super Cup, UEFA Champions League and the UEFA Super Cup.
https://www.timesnownews.com/sports/football/article/no-handshake-from-sheikh-female-referees-snub-at-fifa-club-world-cup-ceremony-triggers-debate/719726
--------
18 Women Arrested For Violating Public Morals In Muscat
10/February/2021
Muscat: More than 15 foreign women have been arrested by the Royal Oman Police (ROP), for engaging in acts contrary to public morals.
A statement issued online by ROP said: "South Al Batinah Governorate Police Command arrests 18 foreign women on charges of engaging in acts contrary to morals and public morals. The legal procedures are being completed against them ."
https://timesofoman.com/article/18-women-arrested-for-violating-public-morals-1
--------
Turkish Scientist Urges Girls to 'Never Give Up'
Zehra Melek Cat
13.02.2021
A female Turkish scientist at the European Council for Nuclear Research (CERN) and member of the Petroleum Environmental Cleanup Fund Award (PECFA) at a CERN institution, has been a role model for Turkish women for 16 years.
Ayben Karasu Uysal told Anadolu Agency she had an interest in physics since childhood and went to Switzerland for her doctorate after studying physics at Istanbul's Yildiz Technical University.
Uysal, who received the professor title last year, is the leader of the ALICE experiment Turkish team, which is research that has been conducted within CERN.
She said since 2012, she has provided communication between the CERN-ALICE experiment and Karatay University, which she is a member in central Konya province, and participated in scientific research and trained students.
"We are analyzing subatomic particles colliding at speeds very close to the speed of light and trying to get information about the formation of the universe.
"At the same time, as a team leader of the university, I also provide communication between Turkey and the ALICE experiment. Karatay University is the only Turkish university that is a full member of the ALICE experiment.
"In this context, we have a wide range of responsibilities, such as conducting data analysis, taking part in the installation and operation stages of detectors," said Uysal.
'Few female scientists at CERN'
Uysal stressed that the proportion of women scientists at CERN, compared to global figures is 20%, and it is important to increase the number.
"The number of women working in the fields of science and technology is trying to increase all over the world," she said.
"As a scientist who has worked in basic science for 16 years, I positively discriminate against female students. I also think that female students can be much more detailed, especially in high energy physics studies. The personality traits of women are very compatible, especially in the field of physics and high energy physics. So I really want female students to be brought up, especially in the field of high energy physics.
"In experimental high energy physics studies, the most advanced hardware and software technologies in the world are learned and used. Therefore, these studies have applications in many areas, from artificial intelligence technologies to medical diagnosis and treatment methods. The fact that Turkish scientists and especially women have experience in these areas will increase the level of prosperity and development of our country," she said.
Expressing that there is positive discrimination against women in the field of science, Uysal said that the level of development of countries will increase with the participation of women in scientific studies, as in all areas of work life.
Uysal stated that her activities at CERN are an example and morale for women who want to do scientific work, and she said she is trying to pave the way for women.
Uysal emphasized that the number of women in her study team is higher than men, and explained that she worked with only four women in one of two separate projects she conducted at CERN, and one man and two women in another.
Calling on all young people, especially girls, to "never give up" their goals, Uysal said, "it is very important not to give up, to work persistently, to learn something from mistakes."
She added that "Mistakes are the first step in learning. Therefore, being able to work in any field without giving up is a guarantor of success. That's why it's so important that people do the work they love."
https://www.aa.com.tr/en/life/turkish-scientist-urges-girls-to-never-give-up-/2143374
--------
First Woman, First African: Nigeria's 'Troublemaker' On Track To Run WTO
FEBRUARY 13, 2021
ABUJA (Thomson Reuters Foundation) - Nigeria's Ngozi Okonjo-Iweala – an elite economist who has confronted corruption and kidnappers at home and risen to the top ranks of the World Bank, is poised to become the first woman and first African in charge of policing global trade.
Backed by U.S. President Joe Biden to lead the World Trade Organization (WTO), the 66-year-old Harvard graduate was dubbed "troublemaker" by friends and foes alike in Nigeria for her vigour in championing the poor and fighting the good fight.
It is a nickname the former finance minister was fond of.
"It was a badge of honour. If I was regarded as ... trouble to the establishment because of my desire to clean up our public finances and work for a better life for Nigerians, then so be it," she wrote in her book "Reforming the Unreformable".
Daughter of a traditional king, Okonjo-Iweala saw her mother kidnapped - she had dared to call out corruption in the Nigerian oil industry - then stared down her captors. They blinked first, though full details of the release never emerged.
Okonjo-Iweala also received threatening phone calls and ably outmanoeuvred political foes seeking her downfall.
All good credentials for a woman charged with steering global trade back on track and closing the widening chasms - be it between China and the United States or rich and poor nations - at a time when economic ground rules are up for grabs.
Okonjo-Iweala won White House backing to lead the embattled WTO last week, lifting a block imposed by former President Donald Trump after a WTO selection panel recommended her as chief in October.
'WE HAD TO FIX EVERYTHING'
Born in the southern Nigeria town of Ogwashi-Ukwu, Okonjo-Iweala spent most of her childhood with her grandmother while her parents were studying in the United States, and sometimes recalls the hardships she experienced during her early years.
She left home as a teenager in 1973 to study economics at Harvard and in 1981 earned her PhD in regional economics and development from the Massachusetts Institute of Technology, eventually becoming a U.S. citizen in 2019.
In 2007, she founded NOI Polls, Nigeria's first indigenous opinion-research group, which partners with Gallup.
Following in her footsteps at Harvard, her daughter and three sons all graduated from the Ivy League school. Her husband is a neurosurgeon based in Washington.
Much of Okonjo-Iweala's career has been spent at the World Bank, where she rose to the No. 2 spot after returning to Nigeria to serve as the country's first female finance minister under former President Olusegun Obasanjo.
"It seemed in those days as if we had to fix everything at once," Okonjo-Iweala wrote in her book about her 2003-2006 spell as Obasanjo's finance chief.
"We needed to redress fundamental inequality, pervasive corruption, and power struggles that were undermining the Nigerian society," she said.
Aides recall her endless energy and dedication.
"Her sense of duty is astonishing," said Chiogor Constance Ikokwu, a media adviser to Okonjo-Iweala during her second stint as finance minister, under former President Goodluck Jonathan from 2011 to 2015.
"Once, we travelled outside the country for an assignment. She was unwell. She was in pain at the hotel.
"To my amazement, Madame Minister pulled through. Not only did she make it to the function, her performance was dazzling. No one at the event had an inkling that she was ill an hour prior," she told the Thomson Reuters Foundation.
Supporters hope Okonjo-Iweala can reinvigorate the leaderless 164-member WTO, which observers say is facing the deepest crisis in its 25-year history.
It has not clinched a major multilateral trade deal in years and failed to hit a 2020 deadline on ending subsidies for overfishing.
Okonjo-Iweala, who said last week she was looking forward to the conclusion of the leadership race and moving ahead with needed reforms, has previously stressed the need for the WTO to play a role in helping poorer countries with COVID-19 vaccines.
"Trade can contribute to public health - seeing that connection, invoking those (WTO) rules, actively discussing COVID-19 issues and how the WTO can help ... For me, that would be a priority," she told Reuters in September.
https://www.reuters.com/article/us-trade-wto-nigeria-women-trfn/first-woman-first-african-nigerias-troublemaker-on-track-to-run-wto-idUSKBN2AC2DD
--------
URL: https://www.newageislam.com/islam-women-feminism/women-kuwait-defying-conservative-norms/d/124299
New Age Islam, Islam Online, Islamic Website, African Muslim News, Arab World News, South Asia News, Indian Muslim News, World Muslim News, Women in Islam, Islamic Feminism, Arab Women, Women In Arab, Islamophobia in America, Muslim Women in West, Islam Women and Feminism