New Age Islam News Bureau
14 Jan 2017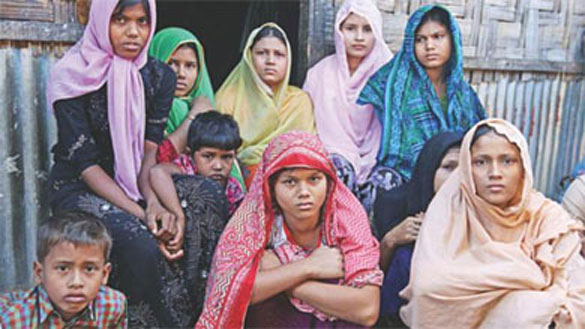 Rohingya women reveal the horrors -- reprisals, rape and burning people and houses. Star file photo
-----
• Displaced Rakhine Muslim Women Share Their Shocking Stories
• Pakistan Holding Hundreds Of Pashtun Girls As Sex Slaves: A Pashtun Activist
• Kolkata's Imam Sparks Row Again: 'Women Should Always Be In Veil'
• Women's March on Washington Unveils Its Official Platform
• Bangladeshi Law Proposing Child Marriage In 'Special Cases' Is A Step Backwards: Charities
• Indonesia Not Prepared To Deal With Female Extremist Threat, Expert Says
• World Hijab Day For Solidarity With Muslim Women On February 1
Compiled by New Age Islam News Bureau
URL: https://newageislam.com/islam-women-feminism/women-india-pakistan-unite-right/d/109725
--------
Women in India and Pakistan Unite for the Right to Loiter
January 13, 2017
In India and Pakistan, groups of women are organizing events in which they do, at first glance, not much – that is, they loiter. They sit on street corners. Hang out in parks. Drink tea at sidewalk stalls. Walk around at night. All this is purposefully aimless – and, to most of them, a completely new experience.
"In our cities, it is acceptable for men to loiter, but not women," says Neha Singh, 34, the actress and writer who organized the first Why Loiter? events in Mumbai. "Women go to work, shop, use public transport. They can be out in public spaces alone, but they have to have a purpose," she says. Single girls meet up at restaurants, malls or movie theaters, but these are all private spaces, Singh notes. "Men, meanwhile, can be out all day, just sitting on a park bench or a footpath, chatting, smoking, reading the newspaper."
Singh started organizing loitering events in May 2014, after reading the book "Why Loiter? Women and Risk on Mumbai Streets." The book, published three years earlier, examined the use of public spaces by women in Mumbai, and found that women were always moving through the spaces, rarely staying in one spot for long. It argued that to make public spaces safer for women, women had go out and claim these spaces for themselves, ideally by loitering.
"The argument of safety is often used to keep women from loitering," says Shilpa Phadke, one of the book's co-authors and a professor sociology at Mumbai's Tata Institute of Social Sciences. "But not being able to go out is also a form of violence."
The idea resonated with Singh. "I realized I wasn't living my life to the fullest because of my condition as a woman, that I had internalized all these ideas about how we should behave in public," she says. "So I decided to change that."
Singh and her roommate carried out their first act of loitering at a public park, where they just sat in the grass – something they had never done before.
"The park was open and free for all, but we had never seen any women there before," she says. "A lot of men came up to us and said, 'What are you doing here? Why don't you go home?' The park's gardener even told us that we should go home and read a book or watch TV. They all said they were giving this advice for our own good."
But Singh and her friend carried on, and enjoyed the experience. "This was the first time in my life that I was lying on the grass, looking up at the sky," Singh says.
After she posted about their small act of defiance on Facebook, a lot of her friends said they wanted to join in, so she created a WhatsApp group and named it Why Loiter?, after the book that had inspired her. Soon, group members were organizing loitering events every weekend, both during the day and at night.
"Since we started, we've done more than 20 post-midnight loiterings, in small groups of between two to seven women," Singh says. "Because it is so rare for women to walk at night, most people assume that we are sex workers."
They get a lot of stares and, more than once, men have flashed them. Often, they get stopped by the police.
"They ask for our IDs, for our parents' phone numbers. But we explain that we just want to walk at night because it's fun, it's less hot and crowded, and if the men can do it, why can't we?" says Singh. "They usually end up sympathizing with us, and saying something like, 'If there were more women out on the streets, it would be safer.' And we say, 'Okay, but if you're not going to let a few women walk around, how will that ever happen?'"
According to a recent study by ActionAid, nearly four out of five women in India have experienced sexual harassment in public. Rape is also a serious concern on the streets, as was highlighted by the rape and murder of a young medical student on a public bus in 2012. The crime prompted mass protests, and encouraged many women to speak out against sexual violence and harassment.
Singh's husband and many of her friends support her efforts, but not everyone agrees with her loitering revolution. "I have often been shamed, belittled and made to feel it's a waste of my time – mostly by men, but also by women, especially my mother and aunts," she says.
That hasn't stopped Singh's message from spreading beyond Mumbai. Women have organized Why Loiter? events in several other cities in India – including New Delhi, Jaipur and Thane – and also across the border in Pakistan, in cities like Karachi, Islamabad and Lahore.
At the same time as the Why Loiter? movement was growing in India, two friends in Pakistan were launching their own pro-loitering movement. In 2015, Sadia Khatri and Sabahat Zakariya were sharing pictures of themselves having chai tea at roadside cafes called dhabas, where unaccompanied women rarely venture. Other Pakistani women followed their example, posting pictures under the hashtag #girlsatdhabas.
"We discovered Why Loiter? a few months after we launched Girls at Dhabas," says Khatri, 26. The girls saw an opportunity to amplify their call for the right to just hang out, as well as the chance to bridge the political divide between their two nations as hostilities flare in the disputed region of Kashmir. "There is power in numbers, and also in joining forces while our nations are mired in tense relations," she says.
For the past two years, at the end of December, the Girls at Dhabas group have coordinated multiple loitering events with groups across India during a two-week campaign. Just like Singh, Khatri has found herself having to defend her ideas to disapproving friends and family.
"I've lost track of the number of times my mother and I have argued over this convoluted idea of 'safety' that keeps women inside four walls, while effectively rendering them incapable of navigating public spaces, and therefore making public spaces even more dangerous for women," she says. Meanwhile, she's managed to keep her father in the dark about her loitering habits: "If my father found out, I know his immediate reaction would be an attempt to curtail my freedoms."
Organizers on both sides of the border stress that loitering is a form of protest that is sustainable because it's fun and comes from a place of optimism. "It's not reactionary, like protests after someone gets raped," Singh says. "We're not out on the streets because of a rape. We're out all year long, no matter what."
https://www.newsdeeply.com/womenandgirls/women-india-pakistan-unite-right-loiter/
--------
Displaced Rakhine Muslim women share their shocking stories
January 13, 2017
Keeping themselves confined to a tiny room with no light inside, two young Rakhine Muslim women were struggling to get rid of the trauma and forget the brutality they had gone through.
They remained speechless for minutes seeing the presence of a newsman at Kutupalong refugee camp in Ukhia. Later, they revealed the horrors -- reprisals, rape and burning people and houses.
"We're asked to get undressed and look up at the sun...we were left naked and with no food and water before being gang-raped (by Myanmar forces)," Hosne Ara (not her real name), a 25-year-old Myanmar national, told UNB narrating the horrible torture perpetrated on her and her relatives.
Hosne Ara, hailing from Kyari Parang village from Myanmar side, said her husband Sona Miah and her son Ibrahim got confined to their house when Myanmar forces put their house on fire.
"I was caught by several soldiers. The soldiers had previously gathered women of the village and took all of them to nearby paddy fields where they were all raped one after another," she recalled avoiding the eye contact.
Nur Sufia, another 20-year-old woman, sitting beside Hosne Ara, was also sharing a similar sad story.
"On December 10, soldiers came to my house and burned it down. I managed to escape with my two kids -- Mohammed Selim, 4, and 18-month-old Noor Kayes," Sufia told UNB.
She said four soldiers caught her and raped her before shooting the kids in their heads. "My husband and two brothers were burned in the fire."
Though a commission probing violence in Myanmar's Rakhine State denied security forces had abused Rohingya, anyone can see totally a different picture while talking to the new arrivals from Myanmar here in Bangladesh.
Around 65,000 people fled Myanmar and entered Bangladesh since October 9 last and the influx is still on, according to officials at the Foreign Ministry.
Nur Mohammad, who arrived in Bangladesh 20 years back from Myanmar, told UNB that people are still crossing the border secretly and taking shelter in Bangladesh.
"Those who arrived here are unwilling to go back to Myanmar fearing further attacks. The international community needs to put genuine pressure on Myanmar so that peace and stability are restored in Rakhine State," he said.
It is very difficult to digest the stories being unfolded from the victims who took shelter in Bangladesh side, Nur added.
Arafat Ara, another victim, said the Na'f River has lot of stories to tell. "Through this river, I have been able to arrive here. Journeys of many people to Bangladesh for shelter ended halfway," said the 25-year-old Rakhine Muslim woman who took a boat journey through the Na'f river with her five children.
Describing tortures on Rohingya people by Myanmar forces, Dudu Miah, a community leader in Leda unregistered refugee camp, told UNB that the United Nations needs to deploy peacekeepers there to restore peace.
"We had full support for Aung San Suu Kyi in the past. Now she is not talking about Muslims. We've no hope right now," he said adding that Rohingya people will get back to their homeland if their rights are protected.
Bangladesh has already clearly conveyed Myanmar side to take back all Myanmar nationals -- documented, undocumented and new arrivals - as soon as possible.
Bangladesh has also proposed a coordinated and holistic approach to stop marginalisation of Rakhine Muslims, restore peace and stability in Rakhine State ensuring their livelihoods so that Myanmar nationals living in Bangladesh feel encouraged to return home.
As part of mounting international pressure on Myanmar, the member states of the Organisation of Islamic Cooperation (OIC) will come together in Kuala Lumpur on January 19 to discuss possible remedies to the situation of the Rohingya Muslim minority in Myanmar.
This is going to be an 'extraordinary' meeting of the Council of Foreign Ministers where Bangladesh will place its position on overall situation apart from the latest developments on the Rohingya issue.
Myanmar's special envoy and Minister of State for Foreign Affairs Kyaw Tin who arrived here on Tuesday evening, discussed bilateral issues with special focus on Rohingya crisis during his meetings with Bangladesh.
Sharing the outcomes of the meetings, Foreign Minister AH Mahmood Ali on Thursday said Bangladesh is 'quite evidently' heading towards the next step to have a permanent solution to Rohingya issue. "Surely, they'll have to take back their (Myanmar) nationals (documented, undocumented and new arrivals)."
Bangladesh has also proposed forming a proper body to verify the citizenship of Myanmar nationals and Rakhine Muslims who took shelter here.
Both Bangladesh and Myanmar agreed to quickly sign two under-discussion MoUs on security dialogue and cooperation; and border liaison office to boost security cooperation between the two countries.
Bangladesh thinks Chittagong and Cox's Bazar are extremely important and tourism development activities and stability are being hampered there due to recent arrivals from Myanmar and over 3 lakh undocumented Myanmar nationals.
Bangladesh also placed a demand for bringing back normalcy in Rakhine State so that Myanmar nationals staying in Bangladesh can go back to their home safely and with dignitary.
http://www.thedailystar.net:8080/world/south-asia/displaced-rakhine-muslim-women-share-their-shocking-stories-1344943
--------
Pakistan Holding Hundreds Of Pashtun Girls As Sex Slaves: A Pashtun Activist
Jan 14, 2017
NEW DELHI: A Pashtun activist, in a startling revelation, today alleged that Nawaz Sharif-led Pakistan government is using Pashtun women as sex slaves to fund terror camps in the area.
Umar Daud Khattak, a Pashtun activist based in Afghanistan, claimed that Pakistani Army has destroyed several houses and kidnapped hundreds of Pashtun girls from Swat and Waziristan area to be used as sex slaves in Lahore.
"Pakistan has misled Pashtuns enough, now we won't be fooled anymore. We are forming a Pashtunistan liberation army aiming for an armed struggle against Pakistan," Khattak told ANI.
"The Pashtunistan liberation army will put an end to terror," Khattak said while appealing international community to help the Pashtuns in the movement.
He also claimed that about five lakh people from the area have fled to Afghanistan to escape atrocities of Pakistan Army The Pashtun are Pakistan's third largest ethnic group which has suffered the most from the Pakistani Taliban's seven-year onslaught against government forces and civilians.
http://timesofindia.indiatimes.com/india/pakistan-holding-hundreds-of-pashtun-girls-as-sex-slaves-umar-khattak/articleshow/56534176.cms
--------
Kolkata's Imam Sparks Row Again: 'Women Should Always Be In Veil'
Jan 14, 2017,
At an event organized at the Tipu Sultan Mosque on Friday, Barkati said, "Women are more respectful if they hide themselves from the eyes of men. If they are 'sexy ", then they will attract more eyes and will fall victim to men's "hawaz". Like Rajasthani women use veil, Bengali women wear saris and Muslim women wear Burqas, veils will make them respectful."
When asked what he meant by 'sexy', Barkati said he meant 'attractive' by the word 'sexy'. Explaining his stand, Imam Barkati said, "Young women are innocent. Even without their knowledge, they become the object of men's lust. So by wearing veil, she will follow the Hindustani culture and will be able to protect herself properly."
Barkati referred to Saudi Arabia where women remain veiled, but opt for different professional careers. "Veil, Dupatta or Burqa help women dress appropriately," he said.
Imam sparked a row last week for offering a reward of Rs 25 lakh to anyone "who cut off PM Narendra Modi's beard, shave his head and smear him with black ink". On Friday, he targeted Modi again.
"If you are a PM, you should be righteous and secular," Imam said. Calling Modi a "cheater", Barkati said, "The CBI and Army are being used to petrify Indians. They picked up Sudip Bandopadhyay for raising voice against currency ban. He is terrifying people of his country. Didi, Kejriwal are all his victims." He urged "all Muslims of Uttar Pradesh to vote for secular faces like Akhilesh Yadav, Mayawati or Rahul Gandhi".
http://bangaloremirror.indiatimes.com/news/india/kolkatas-imam-sparks-row-again-women-should-always-be-in-veil/articleshow/56526393.cms
--------
Women's March on Washington Unveils Its Official Platform
Jan. 13, 2017
The Women's March on Washington released its official platform, making it clear that the movement will focus on intersectional feminism and reproductive rights.
The March organizers published a four-page document outlining the goals for the event, which will take place the day after President-elect Donald Trump's inauguration. The official platform includes a plea for the passage of an Equal Rights Amendment, an end to police brutality, equal pay for equal work and open access to affordable birth control and abortion.
Earlier this week, some women said that they wouldn't attend the March after they felt some attendees were "alienating" white women. But the March's platform makes it clear that it intends to advocate for all. In addition to reproductive rights, the platform includes sections about the group's "moral imperative" to end racial inequality in the criminal justice system and expand the rights of LGBTQ individuals.
"We believe Gender Justice is Racial Justice is Economic Justice," the platform reads. "We must create a society in which women, in particular women — in particular Black women, Native women, poor women, immigrant women, Muslim women, and queer and trans women — are free and able to care for and nurture their families, however they are formed, in safe and healthy environments free from structural impediments."
The platform was crafted by a variety of activists and leaders of community organizations. Gloria Steinem will serve as an honorary co-chair for the event, and while Planned Parenthood will help provide security and services.
"We believe that Women's Rights are Human Rights and Human Rights are Women's Rights," the platform says. "This is the basic and original tenet from which all our values stem."
http://motto.time.com/4634336/womens-march-on-washington-platform/
--------
Bangladeshi law proposing child marriage in 'special cases' is a step backwards: charities
Jan 14, 2017
NEW DELHI: Bangladesh will be taking a step backwards in efforts to end child marriage if parliament approves changes to a law which would permit girls below 18 to be married in "special cases", a global alliance of charities said on Thursday.
The poor South Asian nation has one of the highest rates of child marriage in the world, despite a three-decade-old law which bans marriage for girls under 18 and men under 21.
Girls Not Brides, a coalition of more than 650 charities, said Bangladesh's parliament was expected to consider the proposed change to the Child Marriage Restraint Act. This is expected to take place in the next session beginning Jan. 22.
Girls Not Brides in Bangladesh said the proposed change was "alarming" and a step backwards for the country which has reduced child marriage in recent years.
"We have worked with thousands of girls who have been pulled out of education, married off early, bear the scars of early pregnancy, and forced to marry their abusers. This is simply unacceptable," said a spokesperson from the alliance's Bangladesh chapter in a statement.
The proposed law was open to abuse since it gave no definition of the term "special cases", Girls Not Brides said.
Statements made by Prime Minister Sheikh Hasina suggest exceptions would apply in instances of accidental pregnancy, or where a marriage would help to protect a girl's "honour" and the family's reputation in this largely conservative society.
Bangladeshi officials were not immediately available for comment.
Along with Niger, Guinea, South Sudan, Chad and Burkina Faso, Bangladesh is among the 10 worst countries for child marriage despite moves to strengthen law enforcement and toughen penalties against the crime.
In 2011, 32.5 percent of girls aged between 15 and 19 were married compared with 37.5 percent a decade before, said Girls Not Brides, citing data from Bangladesh's Bureau of Statistics.
Campaigners say girls face a greater risk of rape, domestic violence and forced pregnancies - which may put their lives in danger - as a result of being married as children.
Child brides are often denied the chance to go to school, are isolated from society and forced into a lifetime of economic dependence as a wife and mother.
Yet the practice continues largely due to a combination of social acceptance and government inaction, activists say.
"Marriage before 18 does not ensure a pregnant girl's safety," said Lakshmi Sundaram, executive director for Girls Not Brides, said in the statement. "In reality it exposes her to the risk of sexual, physical and psychological violence."
"The progress Bangladesh has made to address child marriage is impressive, and reflects a real commitment from the highest levels of the government. Now is not the time to regress."
http://nation.com.pk/international/13-Jan-2017/bangladeshi-law-proposing-child-marriage-in-special-cases-is-a-step-backwards-charities
--------
Indonesia not prepared to deal with female extremist threat, expert says
Jan 14, 2017
Indonesian authorities are not prepared to deal with the threat posed by women extremists, terror analyst Sidney Jones says.
Last month counter-terrorism officers foiled an attack by Indonesia's first female would-be suicide bomber.
Dian Yulia Novi said she was told by an Indonesian ISIS operative to blow herself up at a Changing of the Guard ceremony at Jakarta's State Palace. She was arrested with a prepared pressure-cooker bomb.
"I think it's the beginning of something, not just in Indonesia but in the region more generally," Sidney Jones, from the Jakarta-based Institute for Policy Analysis of Conflict said.
"I think women who have been active in ISIS or who are supporting ISIS now want a more active role and have been pressing the men in ISIS to give them one."
Female terrorists are common in the Middle East, but this was a first for Indonesia, where the threat coincides with a growing religious conservatism and rise in visibility of hardline groups like the Islamic Defenders Front (FPI).
"In many cases intelligence agencies have not paid particular attention to the role of women," Ms Jones said.
"They don't search women as thoroughly when they go through metal detectors for example, they haven't paid as much attention to women visitors in prison, even though it is very clear for a long time that women play a key role as couriers."
Women a presence at hardliner rallies
Women are a small but noticeable presence at regular rallies by hardliners in Jakarta, against the city's Christian governor Ahok.
Conservative Islamic organisations like Hizb ut-Tahrir say they are opposed to violence as a way to achieve an Islamic caliphate in South-East Asia.
The ABC attended one recent Hizb ut-Tahrir women's conference in Jakarta, which made it clear that life inside the caliphate would be violent — for some.
"Men and women who have sex before marriage — they both should be whipped 100 times each," Hizb ut-Tahrir activist Ismah Cholil told an audience of about 3,000 women and children.
"If they are married, and are having extra-marital sex, they should be stoned to death in public, and it should be shown widely on television.
"The next day do you think people will still dare to do pre-marital sex?"
She said the caliphate would treat gay and lesbian people in the same way as rapists and other criminals.
"Kill them straight away! So their evil deed will be buried under the ground, mixed together with the bacteria, the earthworms, and they will have no time to infect the living."
Failed female suicide bomber felt 'alienated'
Foiled suicide bomber Dian Yulia Novi said after her arrest that she felt alienated by moderate Muslims.
"Only a few are willing to take the burqa — yes, the burqa is not forbidden here, not like in some countries, but when I walk outside people see me as a strange," she said.
"It's not the same treatment to people who are wearing the common hijab."
Ms Jones said women were pushing to play a bigger role in the extremist world.
"They have had to play a more active role since many of their husbands and sons have been arrested or have left for Syria. And I can't discount the influence of social media and exchanges among women," she said.
"And a desire in part inspired by ISIS propaganda for a more active role."
Hizb ut-Tahrir says sharia law is nothing to fear.
It is just as much about economics as morals, said the group's spokesperson Iffah Ainur Rochmah.
"Islam acknowledges plurality — that in an Islamic caliphate we will not only give a place for Muslims but also for believers of other religions to practice their religions," she said.
Indonesian ISIS operative Bahrun Naim was once a Hizb ut member.
"Because [Hiab ut-Tahrir] has focused on the caliphate as the solution to all problems, we see some people attracted to ISIS and cross over and one of those is Bahrun Naim," Ms Jones said.
The would-be female suicide bomber Dian Novi said Bahrun Naim gave her instructions to kill over instant-messaging app Telegram.
"I had been communicating with him for three days, yes, via Telegram. He told me which target to bomb, the Presidential Palace Military Guards."
http://www.abc.net.au/news/2017-01-14/indonesia-not-prepared-for-potential-female-terrorists-expert/8181796
--------
World Hijab Day For Solidarity With Muslim Women On February 1
Jan 14, 2017
EDISON, NJ, January 13, 2017 /24-7PressRelease/ — World Hijab Day (WHD) is an annual event in its fifth year. On February 1st of every year, WHD asks global citizens of all faiths to observe Hijab (head-covering) for a day in solidarity with Muslim women worldwide.
The overall mission of WHD is to create a more peaceful world where global citizens respect each other. Particularly, WHD focuses on fighting bigotry, discrimination, and prejudice against Muslim women. This is most crucial in these times where Hijab is being banned in some countries while in other countries, Muslim women are being targeted and harassed verbally and physically.
Below are some of the shocking but true headlines:
Muslim Women Have Been Attacked at Multiple Colleges Since Trump Won (Vice)
Queens Muslim Woman 19: Pair Yelled Remove Hijab (NY Daily News)
Muslim High School Teacher Told Hang Yourself With Hijab (NY Daily News)
Muslim Girl's Hijab Ripped Off in Front of Students (Times of India)
UW Bothwell Investigating Possible Hate Crime Against Muslim Women (Seattle Times)
California Woman Robbed Called Hijab-Wearing B* (NY Daily News)
New York State assemblyman David Weprin issued an endorsement of World Hijab Day stating: "With hate crimes against Muslim-Americans tripling in 2016, it is important we take this moment to stand together with our fellow Americans on World Hijab Day. Rooted in the American principles of religious freedom and liberty, the World Hijab Day movement seeks to end the discrimination and judgment that comes with wearing a hijab."
Nazma Khan initiated this global movement with the intent of bringing awareness on a subject that's very dear to her and millions of Muslim women across the globe. While growing up in NYC, she was harassed both physically and emotionally on numerous occasions. The presence of such discrimination heightened around 9/11 because of her human right to wear the hijab. Her purpose was to introduce her pain to others in hopes that no one will ever have to go through the emotional trauma simply because of the love they have for their faith. Consequently, on February 1st, 2013, she asked her fellow sisters of all faiths across the globe to don the hijab for one day. Within eight days, she got responses from women residing in 67different countries that represented a conglomerate of religious backgrounds, to include Christians, Jewish, Pagans, Wiccans, Rastafarians, Buddhists, Atheists etc. WHD gave an opportunity to citizens worldwide who were not familiar with the Islamic faith to open up dialogues with their Muslim neighbors, co-workers, and friends. WHD gave an opportunity to teachers to understand why their Muslim students wear the hijab. It also gave non-Muslim mothers an opportunity to better understand their daughter's faith and the decision to wear Hijab. The negative perception on hijab allowed people to act upon their fears and hurt innocent women without a real and existing threat. WHD simply presented an opportunity for everyone to learn about hijab and its importance in the Islamic faith without perpetuating the negative generalizations in today's society.
WHD has thousands of volunteers worldwide and 70+ WHD Ambassadors from over 45 countries. WHD Ambassadors come from all walks of life from a high school student to a Congresswoman in the Philippines. Last year alone, 150 countries partook in WHD. In addition to that, WHD has been endorsed by many world renowned individuals including scholars, politicians, and celebrities worldwide. WHD was covered in mainstream news media including New York Times, BBC, CNN, Al-Jazeera, Huffington Post, etc to name a few. It is estimated 190 countries will take part in WHD'17.
"I participated in World Hijab Day and it was a good experience that I will repeat. I live in a very small, very Christian town. There were some strange looks and people were staring at me – and then looking away quickly when they realized I saw them looking. A few people seemed surprised that I spoke English. The fact that I was wearing hijab gave me the opportunity to talk to my step children about respect, difference, and peace." (Talya Leodari -Jewish, USA)
We must STAND for Muslim women's right to cover. There are many ways to show your solidarity.
*Attend the WHD event on Facebook and invite your friends: https://www.facebook.com/events/357711751248489
*Observe Hijab on Feb. 1st, 2017
*Use the hashtags: #IStand4Hijab and #WorldHijabDay
*Organize a WHD event in your community.
*Send emails or letters to local Mosques/religious congregations showing your support.
*Write letters to local officials about protecting Muslim women's right to cover.
http://satprnews.com/2017/01/13/world-hijab-day-for-solidarity-with-muslim-women-on-february-1-2/
--------
URL: https://newageislam.com/islam-women-feminism/women-india-pakistan-unite-right/d/109725
New Age Islam, Islam Online, Islamic Website, African Muslim News, Arab World News, South Asia News, Indian Muslim News, World Muslim News, Womens in Islam, Islamic Feminism, Arab Women, Womens In Arab, Islamphobia in America, Muslim Women in West, Islam Women and Feminism, Moderate Islam, Moderate Muslims, Progressive Islam, Progressive Muslims, Liberal Islam