New Age Islam News Bureau
17 Sept 2013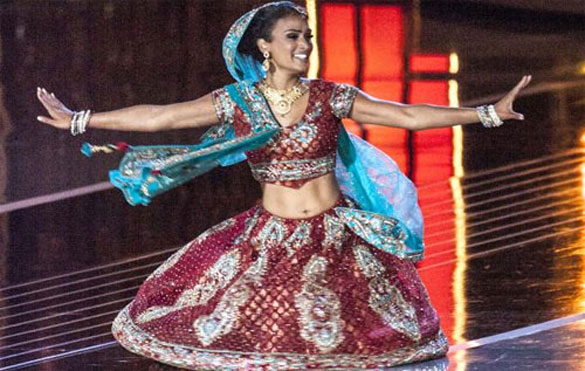 Nina Davuluri of New York performs her talent, Classical Bollywood Fusion during the finals of the Miss America Pageant at Boardwalk Hall in Atlantic City September 15, 2013. She was crowned the new Miss America 2014. UPI/John Anderson License photo | Permalink
----------
• New Miss America accused of being 'Arab' and 'terrorist' on Twitter
• Afghan Policewomen Say Sexual Harassment Is Rife
• UK Judge Compromises Over Niqab for Muslim Woman in Dock
• Pak Punjab Villagers Bar Girls from Going to 'Co-Ed' Schools
• Egyptian state-run women's council calls for quota of women MPs
• Indian Government developing safety device for women, senior citizens
• 13-Year-Old Indian Girl Master of Own Destiny
• Huji Leader's Ex-Wife Narrates Prelude to Aug 21 Attack
• Two Women in Pakistan Injured In Acid Attack
• Kuala Lumpur Women Fight Conservatism by Leading Prayers
• Indonesian Police Chief Urged to Allow Headscarves
• Malala Receives Top Amnesty International Award
• Quebec Muslim Woman Told: 'Change Your Religion'
• Saudi Narrates Her 21-Year Ordeal in Pakistan
• Saudi Women Married To Expats Denied GOSI Help
Compiled by New Age Islam News Bureau
URL: https://www.newageislam.com/islam,-women-and-feminism/new-age-islam-news-bureau/women-in-hijabs,-aussie-t-shirts-make-a-pitch-for-cricket-in-kashmir/d/13537
------------
Women in Hijabs, Aussie T-Shirts Make a Pitch for Cricket in Kashmir
Sep 17, 2013
Ishfaq-ul-Hassan
For the last two months, an under-19 women's cricket tournament organised for the first time in the Valley has been a runaway success.
Dressed in a yellow T-shirt and trousers, the batswoman attempts to hit the ball through midwicket. The wicketkeeper, wearing a Hijab, has her eyes glued to the ball, lest the woman on strike misses it completely. The match is being played in scenic Kashmir, where women's cricket has become a runway success in the last two months.
Months after Praagaash, an all-girl band, was forced to disband after the Grand Mufti issued a fatwa calling music unIslamic, women cricketers battled all odds and organised an under-19 tournament for the first time. From July, 728 women participated in the two-month-long event.
Though the tournament was a fitting reply to the moral police in the Valley, the women remained rooted to their culture. Several women donned the hijab during the matches. "I have been wearing the Hijab as it is my identity and I feel comfortable in it," said Sheikh Nayeema, a class XII student of Lolpora village, who represented Pulwama.
Nayeema, the daughter of a poor farmer, has six siblings. Despite the hardships, she pursued her dream. "I started playing cricket when I was a child. For two years, I have been playing for my team and it has been a great experience," she said.
Fifty-two teams from 10 districts played for the championship, which ended in a pulsating final between Pulwama and Anantnag on Monday. Anantnag beat Pulwama by 25 runs.
"Each team had 14 players, most of them living in far-flung places. Their passion for cricket cannot be described in words," said Gulshan Ara, tournament coordinator.
The players did not complain despite the limited number of resources at their disposal. For example, bats and gloves had to be exchanged between players because there were very few of them. Also, they had to fetch potable water in a bucket because mineral water was not available. "The teams did not even have a proper uniform. The Anantnag team wore yellow-coloured cricketing gear," said a spectator.
Such problems did not deter the players. The sound of the bat hitting the ball or the sight of stumps flying in the air gave them unlimited joy.
http://www.dnaindia.com/sport/1889959/report-women-in-hijabs-aussie-t-shirts-make-a-pitch-for-cricket-in-kashmir
------------
New Miss America accused of being 'Arab' and 'terrorist' on Twitter
17 September 2013
Natasha Baker, Al Arabiya
The news of an Indian-American contestant winning the national Miss America beauty pageant, has resulted in a barrage of racist messages over the internet.
Although Nina Davuluri told a press conference after winning Miss America that she was "so happy this organization has embraced diversity," social networking platform Twitter erupted with users expressing their displeasure at her victory.
Reactions to Davuluri's success in the competition included claims that she was of Arab origin.
Feedback
Offensive comments ranged from outrage at the proximity of the "Arab" win to the Sept. 11 attacks, to her faith, to jokes about her having possible ties to militant group al-Qaeda.
One Twitter user wrote: "This is Miss America... Not Miss Foreign Country."
Some users even questioned Davuluri's links to militant group al-Qaeda asking: "Miss America right now or miss al-Qaeda?"
This added to a plethora of messages deeming Davuluri's win as inappropriate a few days after 9/11.
"9/11 was 4 days ago and she gets Miss America?" a Twitter-user said and another added:
"@ABC2020 nice slap in the face to the people of 9-11 how pathetic #missamerica"
Perhaps the tip of the iceberg was the outright claim that the problem with Davuluri's success was her "Arab" nationality.
"I am literarily soo mad right now an ARAB won," said one user.
Fighting back
Ibrahim Hooper, the National Communications Director at the Council of American-Islamic Relations, said if people "falsely label her as a Muslim, I would assume it is the same people who are engaged in anti-Muslim bigotry on the internet that would attack somebody that they perceive to be Muslim even though it wasn't the case."
"Obviously we would be against any kind of racist attack on this individual," Hooper added.
Davuluri brushed off the comments against her saying: "I have to rise above that," emphasizing that she is "first and foremost" American.
Moreover, when the contestants were questioned, the future pageant winner explained her view of the contest: I've always viewed Miss America as the girl next door. And Miss America is always evolving…Be confident in who you are," she said.
Supporters of the competition and the new winner rushed to defend Davuluri.
TonySals93 said: "I can't believe people are tweeting racist things about our new crowned Miss America! People like that need to vanish. #MissAmerica"
Another user, Aashkey, tweeted: "A country full of racists. That is America. #MissAmerica"
The estimated Twitter reach for tweets related to the famous beauty pageant is in the millions; at the time of writing exposure to the hashtag #MissAmerica left impressions on 10, 913, 257 Twitter accounts, according to a website that counts "tweet reach."
Déjà vu
This is not the first time that a winner of the world-famous beauty contest has faced negative comments.
A similar controversy emerged when Rima Fakih was crowned Miss USA in 2010. Fakih is Muslim and of Lebanese descent and many commentators were quick to try to link her to Islamist militant group Hezbollah. She was the first Arab-American to win the crown.
Sara el-Khouly, winner of Miss Egypt 2010 and a Miss Universe 2011 contestant explained in an interview with Al Arabiya English that racist slurs against beauty pageant winners do not just affect those in the United States, but also in the Arab world.
"There is a backlash in the Western and the Arab world to women who win beauty pageants, whether it is because of the photo-shoots, swimsuit competition or the tight dresses worn during the contest. However, there is also a lot of support," she said.
"We have already had an Arab-American winner and as long as the women represent themselves and their countries appropriately there is no basis for racism that causes huge misunderstandings. Not all Arabs are linked to al-Qaeda, for the majority of us, our hearts go out to the victims' families of 9/11. There should be support for beauty queens, not criticism."
Davuluri's duties will cover a range of activities over the next year but one of her primary aims is to celebrate diversity, not reject it.
According to a press release from the Miss America organization, Davuluri "will travel approximately 20,000 miles each month speaking to audiences about her platform entitled Celebrating Diversity through Cultural Competency."
http://english.alarabiya.net/en/variety/2013/09/17/Miss-America-or-Miss-al-Qaeda-Nina-Davuluri-faces-racism-attacks.html
-----------
Afghan Policewomen Say Sexual Harassment Is Rife
By ALISSA J. RUBIN
Sep 17, 2013
KABUL, Afghanistan — An unpublished United Nations report on female police officers in Afghanistan found accounts of pervasive sexual violence and harassment by their male colleagues, according to Afghan and Western officials familiar with the report.
The report, which the United Nations has circulated only among senior Afghan officials at the Interior Ministry, found that about 90 percent of the policewomen interviewed described sexual harassment and sexual violence as a serious problem, and that about 70 percent of the policewomen said that they had personally experienced sexual harassment or sexual violence themselves, according to people who saw the report or had it described to them.
While a much smaller fraction reported either being raped or otherwise sexually assaulted, the overall picture was of a police force in which women were constantly at risk.
Although the report has not been made public and was not made available to The New York Times, two other recent reports touched on similar problems, though they did not focus as closely on the issue of sexual assault and harassment.
Ghulam Mujtaba Patang, who stepped down as interior minister in August, described the United Nations report's broad outlines, but questioned its findings. He said that after reading the report he sent a team to investigate the situation of female police officers and that none of the women his team spoke to complained of such mistreatment.
"If an Afghan policewoman is being raped or sexually harassed, they would report that — they wouldn't keep it secret," he said.
The chief spokesman for the Interior Ministry, Seddiq Seddiqi, said he thought the report had "some exaggeration of the issues and the problems."
Both men insisted, however, that the ministry was committed to improving the situation of policewomen.
The report, according to two people familiar with it, surveyed nearly 10 percent of the female police force. United Nations officials would not discuss its details.
"We are working with the ministry on follow-up to the report and to put in place improvements," said Georgette Gagnon, the United Nations director of human rights for Afghanistan.
Few subjects are as taboo in Afghanistan as sexual behavior, and female victims of sexual attacks are often accused of immorality, shunned and sometimes jailed.
Women's rights advocates said that because Afghan policewomen were afraid of being penalized for revealing the problem, it was extremely difficult to get them to talk about abuse. That is all the more true if the person committing the sexual abuse is their commander or one of his close friends on the police force.
The policewomen interviewed by The Times said they feared being fired or demoted, or being sent to work in a job that was far away from their home if they complained.
Most policewomen are low-level security screeners at checkpoints or government buildings, and in many instances they are the only person earning money in the family and desperately need their salaries — usually around $240 per month.
A further disincentive to talking publicly about sexual abuse or coercion is that many Afghans already believe female police officers have loose morals simply because they are willing to work in public with men who are not relatives. If a woman admits that she is under pressure to have sex, conservative relatives might force her to quit — or even kill her to expiate the perceived dishonor to the family.
General Patang said he had visited policewomen in all of the provinces and had never heard a complaint about sexual abuse. Most mentioned discontent with salaries or a lack of promotions, he said.
"I think the reason they told these things to the U.N. and did not mention it to my inquiry was that these were mainly illiterate women who thought they might gain more attention and support by making these claims," he said.
The situation for female police officers is made more difficult because there are so few of them — barely 1 percent of the roughly 155,000-member force.
A policewoman from eastern Afghanistan who spoke on condition of anonymity said she was the only female of more than 20 people working at her checkpoint. "I have asked to move, the men are not good there," she said.
"They were making bad cheap jokes every time I came in, and one man was leering at me every day saying, 'Talk to me, be with me.' What should I do?" she said.
Though they questioned the scope of the report's findings, Interior Ministry officials said they were trying to improve conditions for female officers.
"We are currently working seriously to make sure that the women are happy and women have the best environment to serve their country," said Mr. Seddiqi, adding that the new minister, Umar Daudzai, wants to recruit 10,000 policewomen by the end of 2014. In addition, the ministry will strive to increase public awareness of the role of female police officers, Mr. Seddiqi said.
The recruitment goal, while lauded by some, is in many ways a distraction from the problem. Even reaching the current goal of 5,000 policewomen by 2015 is behind schedule, according to ministry officials. The latest biannual report to Congress by the Pentagon acknowledged that recruiting women "will remain a serious challenge."
Senior ministry officials understand that one way to decrease the chance of sexual harassment is to have more women in the police force so that it becomes more normal for them to work alongside men, Mr. Seddiqi said. Now a number of male commanders simply do not want to fill posts with women, according to the Pentagon report.
Yet, it is difficult to persuade women to join the police if they fear they will be at risk of harassment, violence or worse. In Helmand Province, where there are 30 policewomen, three have been killed since the beginning of July, including their commander, who died on Monday after being shot in the neck the day before.
The United Nations report is the third this year that examines the hardships faced by Afghan policewomen, including their vulnerability to sexual harassment.
The other reports were conducted by Human Rights Watch and Oxfam.
The Human Rights Watch report examined the lack of female toilets and designated changing rooms, which the report contended increased women's exposure to abuse.
The Oxfam report focused on the tiny number of female police officers, and emphasized that the absence of policewomen also harms Afghan women because they suffer from high rates of domestic violence. Afghan women would be more likely to discuss such violence with another woman, since they fear that a man might not believe them or, worse, return them to the family where the abuse took place.
http://www.nytimes.com/2013/09/17/world/asia/afghan-policewomen-report-high-levels-of-sexual-harassment.html?pagewanted=all
------------
UK Judge Compromises Over Niqab for Muslim Woman in Dock
Sep 17, 2013
A Muslim woman must remove her full-face veil when she gives evidence but may wear it at other times during her trial, a judge has ruled.
Judge Peter Murphy's compromise ruling, which involves screening her from public view in the court when she is not veiled, will set a precedent for how criminal courts deal with defendants who wear a traditional Niqab.
The 22-year-old woman from London, referred to in the judgment only as D, says it is against her religious beliefs to show her face in public. She pleaded not guilty to a charge of witness intimidation last week while wearing a veil.
Directions for the trial at Blackfriars crown court, due to take place in November, will also prohibit courtroom artists from making any sketch or drawing of the defendant without her Niqab. Only the judge, jury and legal counsel will be able to see D's face when she gives evidence.
Murphy, who received submissions from prosecution and defence, said there was no clear legal authority to resolve the problem. It had consequently "resulted in widespread judicial anxiety and uncertainty and a reluctance to address the issue". The niqab, he said, had become "the elephant in the courtroom".
He continued: "Whether or not there is an obligation to wear the niqab is not a subject of universal agreement within Islam; rather, it is a choice made by individual women on a personal basis." That choice, nonetheless, should be "respected as a manifestation of religion or belief".
The issue, the judge said, was how to balance the defendant's right to manifest her religion or belief, as set out by article 9 of the European convention on human rights, against the public interest in the courts conducting criminal proceedings "in accordance with the rule of law, open justice, and the adversarial trial process".
Necessary and proportionate restrictions could be imposed on religious freedoms, the judgment said. The European court of human rights, it noted, has recently upheld a ban on a nurse wearing a cross at work on safety grounds.
Murphy added: "The ability of the jury to see the defendant for the purposes of evaluating her evidence is crucial … The right to give evidence involves a corresponding duty to submit that evidence to the scrutiny of the jury."
Similar compromises have been established at airport security checks or when obtaining a passport, he said. The judge had earlier warned that the woman would have to show her face to be properly identified. However, he backed down last Thursday and permitted her to enter the dock after she had been identified in a private room by a female police officer.
The Metropolitan police constable, who was present when the defendant was photographed after her arrest in June, then swore on oath that it was the same woman in the dock.
A Niqab covers the face, with a slit for the eyes. It is commonly worn in the Saudi Arabian peninsula and many other Muslim countries.
The National Secular Society objected to Murphy's ruling and said it would lodge an official complaint. "It is vital that defendants' faces are visible at all times, including while others are giving evidence, so we regret the judge's decision not to require this," said the organisation's executive director, Keith Porteous Wood. "We will be complaining to the Office for Judicial Complaints and also be asking senior legal officers to make visibility throughout court hearings mandatory, and not subject to judges' discretion."
The defendant's barrister, Susan Meek, had argued it would breach her client's human rights and be counter to Britain's tolerance of Islamic dress if she had to remove her veil against her wishes during the trial.
A Niqab covers the face, with a slit for the eyes. It is commonly worn in the Saudi Arabian peninsula and many other Muslim countries.
The Muslim Council of Britain called for a "sensible, non-hysterical conversation" over the issue of the Niqab following the ruling but added that women should be allowed to wear the veil if they want to.
"She is entitled to wear it in private and in public," Meek said last week. "That right to wear the Niqab also extends to the courtroom. There is no legislation in the UK in respect of the wearing of the Niqab. There is no law in this country banning it.
"The jury will be able to determine her demeanour while wearing the veil. Demeanour is not just how their mouth moves, it is how their head moves, their eyes move, their hands move. That will be fully visible to the jury and no bar to her giving evidence."
Liberty, which campaigns on civil liberties and human rights issues, said it welcomed the ruling. Director Shami Chakrabarti said: "Credit to Judge Murphy for seeking to balance the freedom of conscience of the defendant with the effective administration of justice.
"He has shown a sensitivity and clarity that can only further build confidence in our courts in Britain's diverse communities and around the world."
The judgment came on the day that the deputy Prime Minister, Nick Clegg, said he did not believe it was "appropriate" for students to wear a full veil in the classroom or for people to go through airport security with their faces covered.
Clegg told the BBC: "I think it is very un-British to start telling people what pieces of clothing they should wear. I think there are exceptions to that as far as the full veil are concerned – security at airports, for instance. It is perfectly reasonable for us to say the full veil is clearly not appropriate there.
"And I think in the classroom, there is an issue of course about teachers being able to address their students in a way where they can address them face to face. I think it is quite difficult in the classroom to be able to do that."
The Home Office minister Jeremy Browne earlier called for a national debate on whether the state should step in to prevent young women having the veil imposed on them.
That intervention was sparked by a row over the decision by Birmingham Metropolitan College to drop a ban on the wearing of full-face veils. Browne said he was "instinctively uneasy" about restricting religious freedoms, but he added there may be a case to act to protect girls who were too young to decide for themselves whether they wished to wear the veil or not.
http://www.theguardian.com/world/2013/sep/16/muslim-woman-niqab-judge-ruling
------------
Pak Punjab Villagers Bar Girls from Going to 'Co-Ed' Schools
WASEEM ASHRAF BUTT
Sep 17, 2013
GUJRAT: Just when the Punjab government launched its enrolment campaign in schools, parents in four major villages of the district have stopped their daughters from going to schools against the government's decision of merging primary schools of boys and girls.
Girl students of classes 4 and 5 have been forbidden by their parents from attending schools following a unanimous decision by the village council (panchayat) to resist co-education even at the primary level.
In Union Council Machiwal's Chokar Khurd village, the government had merged boys and girls primary schools. Students of nursery to class three in these schools had been merged into the girls primary school building, while boys and girls of classes 4 and 5 had been merged into the boys school.
Following the merger decision, a meeting of village elders was called where it was decided that parents would not send their daughters studying in classes 4 and 5 to a co-education school. The decision was announced in mosques of the village and all parents had been abiding by the decision for last two weeks.
A resident of the village whose daughter was a class 4 student told Dawn no girls were attending school and the matter had been reported to the district administration. He said an overwhelming majority of the villagers was religious and they did not accept co-education system in schools even at junior level.
He said concerns of the villagers had been conveyed to the officials concerned of the education department and until the decision by the government was revoked, parents would not send their daughters to school. He said the villagers were not against girls getting education but co-education was not acceptable to them.
The same issue had been reported to the district administration from villages in Tanda, Kakrali and Sara-i-Alamgir where parents were not sending their daughters studying in classes 4 and 5 to schools due to the merger.
Gujrat District Coordination Officer Asif Bilal Lodhi confirmed the reports and said he had already informed the competent authority of the province through a letter and was waiting for a response.
He said if the district administration came up with a local arrangement by resuming the previous system of separate schools for boys and girls it would be a violation of the government policy.
The DCO said the merger had also been done in the tribal belt of Punjab in Dera Ghazi Khan and Rajanpur, so people should understand the government's constraints that led to such a decision.
When asked if barring girls could have a negative impact on the government's ongoing drive to enroll children into schools, the DCO said the campaign had so far been successful and according to set targets in the district.
http://www.dawn.com/news/1043463/villagers-bar-girls-from-going-to-co-ed-schools
------------
Egyptian state-run women's council calls for quota of women MPs
Sep 17, 2013
The National Council for Women called on the committee which is drafting Egypt's constitution to include a quota for women in parliament, Egypt's state news agency MENA reported on Monday.
The state-run body organised a meeting on Monday to discuss the amendments it would like to see adopted in the constitution, which is currently being amended.
The council's head, Mervat El-Tallawi, is one of the committee's fifty members.
The council said that the quota should be applied for two election cycles to change "the people's culture" and give women the required political representation.
It also said the constitution should include an article criminalising all forms of violence against women.
A quota of 12 percent was adopted for the first time in the 2010 parliamentary elections. Sixty-four seats that could be only contested by women were added to the 454 seats of the People's Assembly. The provision was seen by many as an attempt to strengthen the power of the regime.
The quota was removed after the 2011 revolution.
http://english.ahram.org.eg/NewsContent/1/64/81757/Egypt/Politics-/Egyptian-staterun-womens-council-calls-for-quota-o.aspx
--------
Indian Government developing safety device for women, senior citizens
Sep 17 2013
New Delhi : The government is developing a personal safety device which could be used to trigger alarm and send signals to pre-identified phone numbers in case of emergency.
"This can be used by women and elderly citizens to trigger alarms and also send signal to pre-identified phone numbers," Rajiv Gauba, Additional Secretary, Ministry of Communications and Information Technology, said.
"We have roped in Indian Institute of Technology-Delhi and Centre for Development of Advanced Computing (C-DAC), Thiruvananthapuram for this project," Gauba, who is associated with the e-governance group of the ministry, said.
He was speaking at a conference on 'Secure Cities 2013' on how information technology is transforming the security architecture in India. A ministry official said the device would be a mobile-like gadget. Gauba, however, added that the challenge lay in making the device affordable for everyone and then going for mass production.
http://www.indianexpress.com/news/government-developing-safety-device-for-women-senior-citizens/1170362/
--------
13-Year-Old Indian Girl Master of Own Destiny
Sep 17, 2013
LUCKNOW — In a country where many girls are still discouraged from going to school, Sushma Verma is having anything but a typical childhood.
The 13-year-old girl from a poor family in north India has enrolled in a master's degree in microbiology, after her father sold his land to pay for some of his daughter's tuition in the hope of catapulting her into India's growing middle class.
Verma finished high school at 7 and earned an undergraduate degree at age 13 — milestones she said were possible only with the sacrifices and encouragement of her uneducated and impoverished parents.
"They allowed me to do what I wanted to do," Verma said in an interview Sunday, speaking her native language of Hindi. "I hope that other parents don't impose their choices on their children."
Sushma lives a very modest life with her three younger siblings and her parents — eating, sleeping and studying alongside them in a cramped single-room apartment in Lucknow, the capital of Uttar Pradesh state.
Their only income is her father's daily wage of up to 200 rupees (less than $3.50) for labouring on construction sites. Their most precious possessions include a study table and a second-hand computer.
It is not a great atmosphere for studying, she admitted. "There are a lot of dreams ... All of them cannot be fulfilled." But having no television and little else at home has advantages, she said. "There is nothing to do but study."
Sushma begins her studies next week at Lucknow's B. R. Ambedkar Central University, though her father is already ferrying her to and from campus each day on his bicycle so she can meet with teachers before classes begin. Her first choice was to become a doctor, but she cannot take the test to qualify for medical school until she is 18.
"So I opted for the MSc and then I will do a doctorate," she said.
Sushma — a skinny, poised girl with shoulder-length hair — is not the first high-achiever in her family. Her older brother graduated from high school at 9, and in 2007 became one of India's youngest computer science graduates at 14.
In another family, Sushma might not have been able to follow him into higher education. Millions of Indian children are still not enrolled in grade school, and many of them are girls whose parents choose to hold them back in favor of advancing their sons. Some from conservative village cultures are expected only to get married, for which their families will go into debt to pay exorbitant dowry payments, even though they are illegal.
For Sushma, her father sold his only pieces of land — 10,000 square feet (930 square meters) in a village in Uttar Pradesh — for the cut-rate price of 25,000 rupees (about $400) to cover some of her school fees.
"There was opposition from my family and friends, but I did not have any option," said her father, Tej Bahadur Verma.
The rest of Sushma's school fees will come from a charity that traditionally works in improving rural sewage systems, which gave her a grant of 800,000 rupees (about $12,600).
"The girl is an inspiration for students from elite backgrounds" who are born with everything, said Dr. Bindeshwar Pathak of Sulabh International, who decided to help after seeing a local television program on Sushma. She is also receiving financial aid from well-wishing civilians and other charities.
http://www.saudigazette.com.sa/index.cfm?method=home.regcon&contentid=20130917180629
------------
Huji Leader's Ex-Wife Narrates Prelude to Aug 21 Attack
Sep 17, 2013
'I saw the cartons full of grenades and bullets'
On Sunday, the ex-wife of a leader of a militant outfit based in India-administered Kashmir narrated how the assailants in the August 21 carnage used their house to meet secretly and hoard grenades before the attack.
Nahid Layla Kanon, a prosecution witness and ex-wife of Pakistani national Abu Yusuf Butt (alias Abdul Majid), a leader of Harkat-ul-Jihad-al Islami (Huji), Sunday testified before the Speedy Trial Tribunal-1 in the capital.
She said she met Arif Hasan Sumon – an accused in the case – in 2003 when she lived in a hostel at Mohammadpur. Arif was a resident of Mohammadpur. He built a close relation with Kanon.
"Sumon was 3-4 years junior to me. He treated me like his elder sister. He used to visit our place," she said.
After Kanon's mother requested him to find a bridegroom for her, Sumon suggested Majid.
Majid was a tenant of Sumon's house in Mohammadpur. He was a Pakistani national and member of a militant outfit. "Sumon concealed the information from our family," Kanon said.
Kanon and Majid got married on October 3, 2003 and Kanon started living at Majid's place at Mohammadpur.
Huji leader Mufti Abdul Hannan, Huji operative Maulana Idris, former deputy minister Abdus Salam Pintu's brother Maulana Tajuddin and Arif were present at the marriage ceremony.
"Militant leaders Maulana Idris and Tajuddin visited our Mohammadpur house frequently after the marriage. One day my husband brought two cartons to our house. I saw the cartons full of grenades and bullets," she told the court.
A couple of days before the grenade attack, Maulana Yusuf, Munir, Tajuddin, Mufti Hannan and some unknown men sat for a meeting in Kanon's house. She was not allowed to go to the meeting room.
"But from an adjacent room I overheard that they were going to attack an Awami League rally. After the guests were gone I asked Majid about that. He said nothing," she said.
On the day of attack Tajuddin took away the carton from their house. After the attack Kanon asked her husband again about the attack.
"Then he said Harkatul Jihad Al Islami [Huji] Chief Mufti Abdul Hannan and Tajuddin did that," she told the court.
Majid and Kanon divorced on December 2, 2011.
After recording her statement, Judge Shahed Nuruddin fixed today (September 16) for cross-examination.
A grenade attack on an Awami League rally left 24 party leaders and workers dead, including immediate past president Zillur Rahman's wife Ivy Rahman. As many as 300 others were injured in the attack.
Sheikh Hasina, the then leader of the opposition and now prime minister, narrowly escaped death but sustained ear injuries caused by the impact of the blasts.
Hannan made a confessional statement on his involvement in other bomb and grenade attacks excepting the August 21 one.
http://www.dhakatribune.com/crime/2013/sep/16/huji-leader%E2%80%99s-ex-wife-narrates-prelude-aug-21-attack
------------
Two Women in Pakistan Injured In Acid Attack
Sep 17, 2013
CHITRAL: A man on Sunday threw acid on her wife and her mother here, causing serious burn injuries to them.
Chitral police spokesman Inspector Buzurgud Din told Dawn that Sultan Zeb of Jandul, Lower Dir, attacked his wife when she refused to go with him to his home town.
"When her mother came to her rescue, the man threw acid on them, injuring both the women. They were shifted to Peshawar for treatment. The accused escaped the area after the incident," said the police official.
He said the acid throwing incident was the first of its kind in the district.
Drosh police registered case against the accused, Sultan Zeb, under sections 324 and 337 of PPC.
http://www.dawn.com/news/1043250/two-women-injured-in-acid-attack
------------
Kuala Lumpur Women Fight Conservatism by Leading Prayers
September 14, 2013
By Mohani Niza
KUALA LUMPUR: Mandeera Mohamed*, 40, has always been concerned about the status of women in Islam and four years ago she mustered the courage to lead a mixed gender prayer congregation.
It took courage because leading a congregation in prayer is generally regarded as a man's role in Islam.
She said she had looked into the Quran to see whether the holy text barred women from leading prayers, and could not find any such ruling.
"For me, this is patriarchy, authority and power which are not the Islam I know, love and embrace.
"(For me) it's an inner calling, (I get) a sense of liberation from the Islamic framework and I feel so blessed," she said.
She said gender socialisation meant that she had been 'trained' to believe that the role of the imam belonged only to men.
But despite the Quran's lack of mention on whether women can lead men in prayers, the dominant Islamic thought about the issue has always been negative.
The Hanbali, Shafii and Hanafi schools of thought allow women to lead only other women in prayers, while the Maliki school of thought forbids women from leading prayers altogether.
But according to an article by the Mumbai-based Islamic Research Foundation International, forbidding women from leading prayers contradict the egalitarian essence of Islam.
The article further states that the Prophet Muhammad allowed his companion Umm Waraqah, a woman well-versed in the Quran, to lead mixed gender-congregations.
In 2005, Amina Wadud, an American scholar, made international headlines when she led a mixed-gender prayer congregation.
No fatwa barring women
But such a view does not bode well for the conservatives in Malaysia.
While there is no fatwa (edict) here that bans women from leading prayers, it is not common for them to do so.
Due to fear, it is not known how many Muslim women lead men in prayers.
Zeehan Zahari, 26, is one of those who disagree with the practice.
"Women of Rasulullah's time and even after, during the first four caliphate were so strong and empowered.
"They were teachers and they were leaders in their own ways and right, but none ever questioned this part of ibadah," said Zeehan, a MBA graduate.
On the other side of town, Nik Elin Nik Rashid, 52, a lawyer, however is adamant that it is her right to lead men in prayer. – in her case she leads her Muslim convert husband and their two sons.
It made more sense since her husband needs someone to lead him and Nik Elin is after all more learned than him and knows the Quran.
Asked whether she thought Islam forbids women from leading a prayer congregation, Nik Elin said there's no such a thing.
"It's a dogma people have been carrying for years that women can't lead men in prayers," she said.
http://www.freemalaysiatoday.com/category/nation/2013/09/14/women-fight-conservatism-by-leading-prayers/
------------
Indonesian Police Chief Urged to Allow Headscarves
By Markus Junianto Sihaloho
September 17, 2013
House Commission III members came out on Monday in support of National Police chief Timur Pradopo's decision to allow female police officers to wear a Jilbab, or headscarf, while on duty.
"We support the National Police chief's decision to follow up this matter with a National Police chief decree," said Tjatur Sapto Edy, deputy chairman of Commission III, which oversees legal affairs.
Lawmakers asked Timur to revise a 2005 decree which prohibits police officers wearing headscarves.
Aboe Bakar al-Habsy from the Islam-based Prosperous Justice Party said although Timur supported female officers wearing headscarves, he still needed to revise the 2005 decree to make the policy official.
Voicing a similar opinion, Ahmad Yani from the United Development Party, which is also Islam-based, observed that other countries allowed female officers to cover their heads.
"Indonesia should give its officers the chance to wear Jilbabs," said Yani.
Yani argued that the prohibition contradicted two provisions in the Constitution which guarantee freedom of religion.
Ida Fauziyah, head of Fatayat, the women's wing of Indonesia's largest Muslim organization, Nadhlatul Ulama, agreed with Yani. She said the prohibition on wearing Jilbabs amounted to preventing Muslim women from practicing their faith, and she strongly opposed such an infringement on their rights.
Ida questioned the need for the ban, saying that the head covering did not interfere with the police uniform nor prevent female officers from discharging their duties effectively.
"If Jilbabs don't change how the uniform looks and don't disrupt an officer carrying out their duty, there is no reason to ban them," she said.
Timur has previously said he was happy to hear out any officers requesting permission to wear a headscarf.
"We have received such requests and we're considering them. I would like to thank the general public for the interest they have shown in the police force, even down to details such as the uniform and personal appearance."
Previously, Brig. Gen. Boy Rafli Amar, a spokesman for the National Police, had played down concerns about the 2005 rule, but left the door open for review.
"In principle, the matter of dress is up to each individual when they're off duty, because there's already a regulation dress code when on duty," he said.
"However, this regulation is now being re-evaluated."
http://www.thejakartaglobe.com/news/national-police-chief-urged-to-allow-headscarves/
------------
Malala Receives Top Amnesty International Award
AFP
Sep 17, 2013
LONDON: Rights group Amnesty International announced on Tuesday it had awarded its highest honour to Malala Yousafzai, the Pakistani teen shot in the head last year by the Taliban for campaigning for girls' education.
Malala will share the 2013 Ambassador of Conscience Award with American singer and human rights activist Harry Belafonte, the London-based NGO revealed.
The award, which recognises "individuals who have promoted and enhanced the cause of human rights through their life and by example," will be presented by Irish rock singer Bono at a ceremony in Dublin, Ireland, on Tuesday.
"Our two new Ambassadors of Conscience are different from each other in many ways, but they share a dedication to the fight for human rights everywhere and for all," said Salil Shetty, Secretary General of Amnesty International.
"Harry and Malala are truly Ambassadors of Conscience, speaking up for universal rights, justice and human dignity and inspiring others to follow their example.
"Malala was shot in the head by the Taliban on a school bus last October, an attack that drew worldwide condemnation.
She was flown to Britain for surgery for her head injuries and returned to school in Birmingham in March.
The 16-year-old said she was "truly honoured" to receive the award.
"I would like to take the opportunity to remind everyone that there are many millions of children like me across the world who fight every single day for their right to go to school," she added.
"I hope that by working together we will one day realise our dream of education for every child, in every corner of the world."
Emmy award winner Belafonte paid tribute to his co-winner.
"I am especially honoured to receive the Ambassador of Conscience Award because I am having the distinction of sharing this with Malala Yousafzai, a true hero of our time," he said.
"My admiration for her is unending. She has awakened many in the global family to a commitment in struggle against tyranny. For all this I remain eternally grateful."
http://www.dawn.com/news/1043512/malala-receives-top-amnesty-award
------------
Quebec Muslim Woman Told: 'Change Your Religion'
CBC News, Sep 16, 2013
A Muslim woman says she and her family were verbally assaulted, her son was spit on and they were told to "change your religion" while on a recent trip at a Quebec City shopping centre.
Badia Senouci and her family are blaming the incident on the current controversy over the province's proposed charter of values.
Senouci was shopping two weeks ago in Ste-Foy with her son and husband when an older woman approached them and began insulting their religion.
"She told me, 'Madame, change your religion,'" Senouci says.
Charter of Quebec values would ban religious symbols for public workers
5 things Quebec's charter will do and 5 things it won't
The woman continued to insult Senouci's religion, to which she replied, "'It's not your problem. I'm free to embrace whichever religion I want, and this is the religion that suits me,'" Senouci recounts.
The woman insisted that Senouci remove her hijab, and then told her the government would soon be forcing her to remove her headscarf anyway.
Senouci says that when her 18-year-old son Ahmed intervened and asked the woman to stop harassing his mother, she spit in his face.
The son pushed the older woman in reaction. She in turn hit Senouci's son, and then the husband when he acted to separate them, with her bag. Then, say the family, the woman appeared to feign a fall.
The woman reportedly told police responding to the call that the men were responsible for her fall.
When the police arrived, they took Senouci's husband, Abdelmalek Mansouri, out to the cruiser for questioning. He told them them should check security cameras in the shopping centre to get the accurate version of events.
Ad aims to lure Quebec doctors to Ontario, targeting values
According to the husband, he was let go after police and mall security reviewed the tape.
Proposed Quebec charter blamed
Mansouri says everyone involved in this dispute was a victim of some sort.
"Even this woman was a victim, of her ignorance," he says.
But, he says, the real guilty party is Pauline Marois and her Parti Québécois government.
The PQ's proposed charter of Quebec values was released last week and drew much consternation among those who believe it's an affront to freedom.
Thousands of people marched in a weekend demonstration in Montreal against the charter, which aims to ban overt religious symbols in the public sector.
Senouci and her family are originally from Algeria, but have lived in Quebec for 14 years.
She operates a home-based daycare, and her husband is a computer technician with the Quebec government's Transport Ministry.
She says this incident, and another one from earlier in the day where she was insulted while her car stopped at a light, are the first times she has been a target while living here.
The family says the charter has already radically changed Quebecers.
She feels the charter and the controversy it has caused has made it socially acceptable to single out people like her.
http://www.cbc.ca/news/canada/montreal/quebec-muslim-badia-senouci-told-change-your-religion-1.1855675
------------
Saudi Narrates Her 21-Year Ordeal in Pakistan
Sep 17, 2013
Popular Saudi TV show "Eight O'clock," presented by Dawood Al-Shiryan, aired a video report Sunday about Umm Amal, a Saudi woman who was forced to work as a housemaid in Pakistan for 21 years after being raped by a man almost 30 years her senior in the Kingdom.
Umm Amal was just 14 when she was raped after being asked by her stepmother to seek a loan from a Pakistani neighbour.
Her stepmother persuaded her biological mother to leave the country under the pretext that her father would kill her if he learned of the incident.
Her rapist arranged for her to travel to Pakistan.
Her rapist married her legally upon arrival in Pakistan.
She lived in Pakistan for 21 years, earning her living by working as a housemaid. She gave birth to three children during that time.
"I was kidnapped by a Pakistani man and lived in Pakistan this entire time. I re-established communication with my family by chance when I bumped into a group of young Saudis in Karachi and gave them the name of my father. I told them that I wanted to go back to Saudi Arabia because I was afraid that my daughters might meet the same fate. I did not want them to work as housemaids in Pakistan," she said.
"A week later, I called my father but he refused to speak to me."
"I called but he hung up again. A Saudi young man advised me to go to the Saudi Embassy in Islamabad, who referred my case to the consulate in Karachi. I followed up on my case with Ubaid Allah Al-Harbi, the vice consul, who said he would send a car to take me to the consulate, but he then found out that I live in a neighborhood known for its high crime rates and didn't send the car," she said.
"I took a taxi to follow up on my case, but I was unsuccessful. For two years, I got nothing from the consulate in Karachi. Okaz newspaper raised my case. My father then came to see me in Pakistan. He told me that I have no honour and that I am a terrorist belonging to Al-Qaeda," she added.
"My father was very cold with me even though I haven't seen him for 20 years. He did not hug me. He ridiculed my children, saying they look like housemaids. He left a photocopy of my passport with the Saudi Embassy in Islamabad," she said.
"I am not going back to Pakistan. Now that my father has disowned me, I only have my country left," Umm Amal added.
http://www.arabnews.com/news/464915
------------
Saudi Women Married To Expats Denied GOSI Help
Sep 17, 2013
Many Saudi women married to non-Saudis have complained that the General Organization for Social Insurance (GOSI) stopped their pension nearly a year ago.
According to the accounts provided by several Saudi women, GOSI did not provide them with an official communication to notify them that their welfare assistance would be stopped. A monthly payment of no more than SR850 was previously deposited into their accounts.
"When my husband faced financial difficulties, I approached GOSI for assistance. My request was immediately granted, however on the day I was scheduled to receive financial support, I discovered that the money was not deposited in my account," narrated Umm Saif, from Al-Ahsa, who has been married to a non-Saudi for the past 30 years.
She added that she initially assumed an error or misunderstanding had occurred. However on inquiry at the GOSI office in Al-Ahsa, she was told that the assistance was stopped because her husband was a non-Saudi, a local newspaper reported Sunday. "Am I not still a Saudi? Why should I be denied assistance?" the woman asked.
Umm Bandar, who is in her sixties, said she would have to resort to begging on the streets to feed her four children since her monthly grants have been stopped.
"I used to be able to meet the basic needs of my family with the meager GOSI pension given to me every month," she lamented.
Meanwhile, Umm Abdul Aziz, a Saudi woman living in a tiny house with cracked walls, said she was panic-stricken when she heard that she would no longer receive the monthly pension. "I rushed to a nearby ATM to check my account, and to my great dismay I found it was empty," she said, wondering how she would feed her children from now on. "My father and grand fathers were all Saudis. It was my parents' financial difficulties that made me marry a foreigner. Is it a sin to marry a non-Saudi?" she asked.
The Ministry of Social Affairs was unavailable to provide further details regarding its decision to stop the pension of Saudi women married to foreign men, the daily reported.
http://www.arabnews.com/news/464810
------------
URL: https://www.newageislam.com/islam,-women-and-feminism/new-age-islam-news-bureau/women-in-hijabs,-aussie-t-shirts-make-a-pitch-for-cricket-in-kashmir/d/13537