New Age Islam News Bureau
8 Jan 2017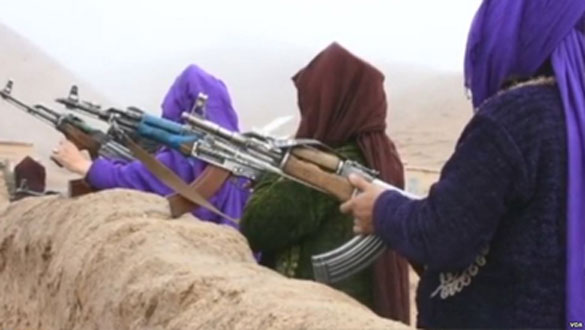 Photo: Afghan women who lost male family members in northern Jawzjan province of Afghanistan joined forces to fight Taliban and IS militants. (M. Bezhan/VOA)
--------
• Darz Ab Women Up In Arms against Daesh Insurgents
• Bengaluru Molestation: Religious Leader Finds Fault with Women
• Over 50% of German Women Feel Less Safe After Cologne Sex Attacks, Poll Shows
• Girl Impregnated by 3 Boko Haram Fighters Details Horrors of Sex Slavery
• 20 Saudi Women Take Up Hospitality Jobs at Airports
• How WhatsApp Is Helping Women Get Married In Saudi Arabia
Compiled by New Age Islam News Bureau
URL: https://newageislam.com/islam,-women-and-feminism/new-age-islam-news-bureau/women-in-afghanistan-join-forces-to-fight-militants/d/109641
---------
Women in Afghanistan Join Forces to Fight Militants
January 07, 2017
A group of 150 women in the northern Jawzjan province of Afghanistan have taken up arms to fight Taliban and Islamic State militants.
Some of the women, who live in the violence-plagued districts of Qoosh Tapa and Darz A'ab, say Taliban and IS militants, killed the male members of their families.
Mumlakat is a woman from Qoosh Tapa district:
"They killed three of my sons and burned down our livelihood. Now we have come out to fight IS," she said.
The Afghan women, who say they are ready to fight alongside men from their districts, say they can no longer tolerate the brutalities of the militants.
Nafisa is a resident from Darz A'ab district:
"They [the militants] killed my brother, sister, and a nephew. That is why I took the arms and seek the Afghan government's help in the fight against IS," she said.
Hafeez Khashi, the local national police commander, said they are trying to support and equip the women.
voanews.com/a/women-in-afghanistan-join-forces-to-fight-militants/3667103.html
----------
Darz Ab Women Up In Arms against Daesh Insurgents
Jan 07, 2017
SHIBERGHAN (Pajhwok): Over a hundred women from the Qush Tepa district of north-eastern Jawzjan province have taken up arms against Daesh militants, asking the government to help them eliminate the terrorist network.
The armed women belong to the families whose homes have been destroyed by Daesh insurgents in the Jar village of Darz Ab district. The affected families have migrated to the Jarqud village of Qush Tepa.
Malaika, one of the armed women, said: "Taliban and Daesh fighters set alight my home and killed my family members. Now I have no hope in life. I have taken up arms in self-defence and am ready to fight against the group."
She accused Daesh terrorists of killing her three brothers and two sisters. Subsequently, she migrated to Qush Tepa to escape Daesh suppression. She is determined to avenge the barbarity inflicted on her family.
Badam, another woman who has become a sworn enemy of the Islamic State, said: "Daesh rebels killed her husband, uncle and another relative before forcing her to migrate from the area." She has no option but to take on the terrorists.
Asking the government to help the courageous women, she remarked: "We are the people whose men were killed by Daesh. Coming from poor families, we are in urgent need of support. Daesh will not make mercy on us; it may kill us."
The affected families are currently living in Qush Tepa district, 50 kilometres west of Shiberghan, the provincial capital.
Deputy police chief Col. Abdul Hafeez Khashi confirmed the women belonged to the families whose homes were destroyed by Daesh in Darz Ab district ten days back.
He acknowledged innocent civilians from Jar village, who had no connections with government or police, were put to death by the extremist outfit. He said the cruelty of Daesh had made the women to take arms in self-defence.
Khashi said the women had bought weapons with whatever resources they had and no assistance had provided to them by the government. The number of armed women is more than 100, living in Nawabad Jar village.
"We consider supporting the women who are up in arms and waiting for their turn to take ravage for the killing of their loved ones," he said. A month earlier, 15 women rose against Daesh in Darz Ab district.
pajhwok.com/en/2017/01/07/darz-ab-women-arms-against-daesh-insurgents
----------
250 Female Afghan Officers, Sergeants Return After Graduation from Turkey
By KHAAMA PRESS - Sun Jan 08 2017
A group of 250 female police officers and sergeants return to Afghanistan after completing their training in Turkey, the Ministry of Interior (MoI) said Sunday.
The female officers and sergeants completed a course of 4 month training in Turkey amid ongoing efforts by the government leadership to increase the role of women among the security institutions.
Deputy Commander of training and education of the Ministry of Interior General Javid Ahmad Biheshti said the graduation of the female officers and sergeants is an important step towards strengthening of the police forces, particularly the policewomen.
General Bihesti further added that the leadership of the Ministry of Interior remains committed to support and pave the way for empowering the women in the Afghan National Police ranks.
The head of the human rights, women's and children's affairs of the ministry General Hekmat Shahi said the presence of the female officers among the Afghan National Police is an urgent need, emphasizing that the graduation of 250 officers and sergeants reflects the growth and empowerment of the women in the country.
He said the policewomen are receiving better training as compared to the past and this shows the success of the police forces to suppress the militant groups.
One of the officers thanked the government and leadership of the ministry for paving the way to train the female police cadets.
khaama.com/250-female-afghan-officers-sergeants-return-after-graduation-from-turkey-02632
----------
Bengaluru Molestation: Religious Leader Finds Fault with Women
Jan 08, 2017
Religious leader and president of Basava Dharma Peetha, Mate Mahadevi, said on Saturday that there had been an increase in sexual assaults against women as "girls roam in the night freely."
Reacting to the molestation of girls during the New Year's Eve celebrations in Bengaluru, she said that it was not right on the part of girls to behave "provocatively" wearing skimpy dresses on the pretext of New Year's Eve celebrations. "Such conduct is an invitation to sexual perverts," she said.
She said that in order to prevent such instances in future, girls should cover themselves up and a dress code should be introduced for them in colleges. "Women are partly responsible for rapes against them and so is society. Porn movies too play a role. Therefore, a dress code on the lines of one in Arab countries should be introduced for women in India," she said.
deccanherald.com/content/590419/bengaluru-molestation-religious-leader-finds.html
----------
Over 50% of German Women Feel Less Safe After Cologne Sex Attacks, Poll Shows
EUROPE 03:05 08.01.2017
MOSCOW (Sputnik) — According to the poll, published Saturday in the Bild newspaper, 58 percent of German women consider visiting public places to become less safe for them than previously. At the same time, 31 percent of respondents did not notice any change in the safety level, while 10 percent of women said that Germany became even safer. The poll revealed that almost half of the respondents prefer to avoid some places in their residence area late in the evening. Moreover, 16 percent of women carry a pepper spray with them, with many other considering to buy it. © AP PHOTO/ JENS MEYER German Police, Media Slam Fake Breitbart Story about Migrant Mob Burning Church On 2016 New Year's Eve, hundreds of women in Cologne were robbed, threatened and sexually assaulted by small groups of aggressive men, mostly of Arab and North African origin. A total of 333 suspects have been identified with 87 being accused of sexual assault. This year, German police said it stopped and questioned hundreds of people of North African decent during the New Year celebrations in Cologne. Germany has been the key destination for thousands of refugees and immigrants coming to Europe since the start of 2015. Last year, the country registered over a million asylum applications, nearly five times more than the number registered in 2014, according to the interior ministry's estimates.
sputniknews.com/europe/201701081049364343-german-women-unsafe-cologne-sex-attacks/
----------
Girl Impregnated by 3 Boko Haram Fighters Details Horrors of Sex Slavery
The mother of a missing Chibok girl reacts during a march, with other women calling for their daughters to be brought back home, to the presidential villa in Abuja, Nigeria January 14, 2016. Picture taken January 14, 2016.
As the Islamic State-linked jihadi group has terrorized the northeastern Borno state, attacked churches and murdered thousands of civilians, it has also captured hundreds, if not thousands, of women and girls, forced them into Islamic marriages and trained them to carry out suicide bombings and other terrorist attacks.
In an interview with the British news site the Daily Mirror, the former Boko Haram captive, who goes by the pseudonym Amina, detailed how she had been held captive as a Boko Haram sex slave since the age of 15.
She explained that she was visiting her older sister in their home town of Baga when she was captured by 10 Boko Haram militants who jumped out of a car and beat her unconscious.
"They were purposefully hunting for girls to kidnap," Amina told Daily Mirror reporter Emma Retter at the Muna Refugee camp in Maiduguri, just five weeks after she escaped.
When Amina regained consciousness, she woke up inside the 500-square-mile Sambisa Forest, Boko Haram's headquarters and stronghold. She found herself among 200 women.
She was soon married off to three different militants and was raped, beaten and impregnated by each of them.
"I was forced into marriage three times, and had a child with each husband," she stated.
campaigners and parents of abducted Chibok girls denied access by police to see President Muhammadu Buhari take part in a rally in Abuja, Nigeria, August 25, 2016.
The first fighter she was forced to marry was 40 years old.
"They put a gun to my head. There were women who had refused," Amina stated. "But they were tied up and raped."
She added that she was physically abused and raped repeatedly and that her first husband even "dislocated my arm."
After her first husband was killed just four days after the birth of her first child, Amina was immediately forced to marry a 50-year-old militant, who also raped and beat her.
"When I refused sex, he locked me up," Amina detailed.
After she became pregnant again and her second husband died, she was forced to marry a third husband almost as soon as she delivered her second child.
"Almost immediately, I was pregnant again," Amina said.
Despite the horrifying circumstances in which her children were conceived, Amina said she loves her children.
"They are all I have," she said. "It does not matter."
christianpost.com/news/girl-impregnated-by-3-boko-haram-fighters-details-horrors-of-sex-slavery-172653/#Cisih6BOWphCeIzr.99
----------
20 Saudi women take up hospitality jobs at airports
Jan 8, 2017
By Zain Anbar
JEDDAH — Some 20 Saudi women have joined the hospitality sector in four airports in Riyadh, Jeddah, Dammam and Madinah to work as lounge supervisors and receptionists.
Director of hospitality department of Saudi Arabian Airlines (Saudia) Talal Al-Tuaimi said the women will work in shifts especially designed for them so that they do not work beyond 9 p.m.
He said eight of them are working in Jeddah, five in Riyadh, five in Dammam and two in Madinah.
Tuaimi said their selection was based not only on their educational qualifications but also on other skills, etiquette and proficiency in English language.
He said the women were rigorously trained.
Ibrar Hashim, a receptionist at Al-Fursan lounge for domestic flights at King Abdul Aziz International Airport in Jeddah, said she was not facing any problems in dealing with passengers who willingly convey to her their remarks and observations.
"Passenger satisfaction is our main objective," she said, adding that the training courses greatly helped her in discharging her duties.
Fatima Al-Arabi, a supervisor, said she joined about six months ago after receiving intensive training in customer service.
Meanwhile, another national airline company has employed Saudi women at King Khaled International Airport (KKIA) in Riyadh to issue boarding passes and check-in passengers.
Nawal Al-Ahmari, who is working for the company, said she joined about four months ago and was supported by her husband and family.
She is a holder of a master's degree in IT from Australia and was a lecturer at King Saud University and Imam Mohammed Bin Saud Islamic University.
"I preferred the airport job because it is more challenging. I was among the first five women to be appointed," she said.
Ghada Al-Qadi, who studied in the US, said she came to know about the hospitality openings from a friend and immediately sent her CV.
Qadi said they received training on customer service.
"The work environment is extremely healthy and the job is challenging," she said.
CEO of the Saudi Gulf Air Company Samir Al-Majali said that about 15 percent of the company's jobs will be occupied by women.
"We have tried employing women in Jeddah and Dammam, but will soon generalize the experiment to cover all the airports," he said.
saudigazette.com.sa/saudi-arabia/20-saudi-women-take-hospitality-jobs-airports/
----------
How WhatsApp is helping women get married in Saudi Arabia
This may sound unbelievable, but Saudi marriage officials alarmed over increasing divorce rates in Mecca created a WhatsApp group to encourage men to take more than one wife.
How WhatsApp is helping women get married in Saudi Arabia
File photo of a man with more than one wife
According to Express.co.uk, organizers of the service said the idea came after they were alarmed at rising divorce rates in the Makkah area and decided to promote polygamy to get men to take multiple brides. Under Islamic marital law, Muslim men are allowed to have more than one wife at the same time up to a total of four.
entertainment.naij.com/1081359-how-whatsapp-helping-women-married-saudi-arabia.html
URL: https://newageislam.com/islam,-women-and-feminism/new-age-islam-news-bureau/women-in-afghanistan-join-forces-to-fight-militants/d/109641
New Age Islam, Islam Online, Islamic Website, African Muslim News, Arab World News, South Asia News, Indian Muslim News, World Muslim News, Womens in Islam, Islamic Feminism, Arab Women, Womens In Arab, Islamphobia in America, Muslim Women in West, Islam Women and Feminism