New Age Islam News Bureau
18 December 2020
• Prosecutor's Office in Saudi Arabia Seeks Maximum Jail Sentence for Women's Rights Activist Loujain al-Hathloul
• Iran Transfers Ninth Female Dissident to Harsher Prison
• Saudi Women Make Up 6% of Engineers In Labour Market
• Women Inspectors Document 4,000 Violations in Riyadh
• Yemeni Woman Makes Epic Eight-Month Journey To Reach UK
Compiled by New Age Islam News Bureau
URL: https://www.newageislam.com/islam-women-feminism/women-56-countries-experienced-social/d/123805
--------
Women in 56 Countries Experienced Social Hostilities for Clothing Deemed Too Religious – Or Too Secular
BY VIRGINIA VILLA
DECEMBER 16, 2020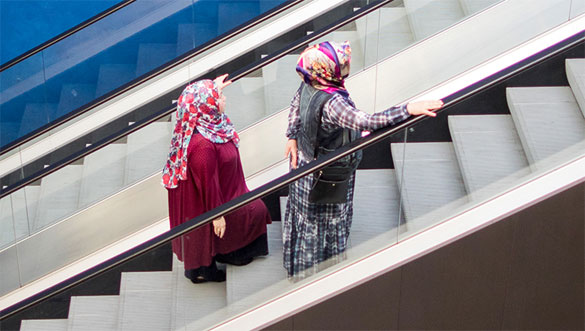 (Rolf Vennenbernd/DPA/AFP via Getty Images)
-----
Religious restrictions around the world often target women, who in many countries face censure because their clothing is considered too religious – or not religious enough. These restrictions frequently take the form of social harassment by individuals or groups, but also sometimes involve official government actions.
Women in 56 countries experienced social hostilities – that is, harassment from individuals or groups – due to clothing that was deemed to violate religious or secular dress norms, according to the sources analyzed for a recent Pew Research Center study of 198 nations. Social harassment can range from verbal abuse to physical violence or killings motivated at least in part by the target's religious identity; incidents for this measure took place between 2016 and 2018.
Meanwhile, women in 61 countries faced government restrictions on dress – specifically, regulations on their head coverings. This measure covers rules that were in place or incidents that occurred in 2018.
The number of countries where women faced social hostilities and government-imposed restrictions related to their dress has risen in the five most recent years of the study.
Social hostilities
In 42 of the 56 countries where sources indicated that social harassment took place between 2016 and 2018, women were targeted for violating secular dress norms, such as by wearing a hijab or other religious garb. In 19 countries, women were harassed for not adhering to religious dress codes, such as by not wearing head coverings or dressing in other ways deemed offensive to religious norms. (In five countries in the study — Germany, India, Indonesia, Israel and Russia — women experienced both types of harassment.)
In four of the five regions covered in the study, social harassment for overly religious clothing was more common than harassment for overly secular clothing. The exception was the Middle East and North Africa, where women more commonly faced harassment for clothing deemed too secular.
In 20 European countries, women were harassed for clothing not deemed secular enough
Europe had the most countries where women faced social hostilities for violating dress norms, with incidents recorded in 20 countries, or 44% of the 45 nations in the region. In all of these cases, Muslim women faced discrimination, physical violence and other forms of abuse for wearing head coverings. In Denmark, for example, a driver refused to cede a parking space to a Muslim woman in 2018 because she was wearing a headscarf. And in Germany, a woman hit a Muslim woman and tried to remove her headscarf.
The Asia-Pacific region had the second-most countries with such incidents, with women facing harassment for violating dress codes in 14 of the region's 50 nations, or 28%. In 10 of these countries, women were harassed for clothing that was deemed too religious, whereas in six countries, they experienced harassment for attire that was considered too secular (in two countries – India and Indonesia – both types of harassment occurred). In Malaysia, for instance, police in 2018 arrested a man who admitted to assaulting a woman because she was not wearing a headscarf. And in Kyrgyzstan in 2016, billboards sparked debate over religious dress in the country by displaying photos of women in various forms of Islamic dress with the caption "Oh, poor nation, where are we headed?" The displays were seen as a commentary on the spread of foreign and overly religious dress customs in the country.
Women faced social hostilities for violating dress codes in seven countries in sub-Saharan Africa and six countries in the Americas. In sub-Saharan Africa, women were harassed for violating secular dress codes in four countries, and for violating religious dress codes in three. In parts of Kenya, for example, a teacher's union reported in 2018 that female teachers were required to wear hijabs, while in Liberia, Muslim women reportedly experienced workplace discrimination for wearing headscarves.
In the Americas, all instances of harassment targeted women who wore clothing considered too religious. In Trinidad and Tobago, for example, a Muslim teacher at a Hindu school in 2018 was told to remove her hijab or leave the premises. And in Canada in 2016, a woman spit on and pulled the hijab and hair of a Muslim shopper in a supermarket in Ontario.
In the Middle East and North Africa, eight of 20 countries saw harassment for overly secular attire, while two countries saw it for overly religious clothing. In Israel, for instance, a group of Orthodox Jewish men in 2018 were seen chasing and yelling at a girl for dressing that they perceived as "immodest." In Qatar, a Muslim woman in 2016 was criticized for appearing on a news program without a hijab.
Government restrictions
Official rules about the wearing of religious symbols – such as hijabs for women and beards for men – are another form of religious restriction observed around the world. In the vast majority of countries where such restrictions were recorded in 2018, they targeted head coverings for women.
Every region had at least some rules about women's headdress. Europe had the most countries where women's head coverings were restricted by the government, with instances in 21 of 45 countries. In Norway, for example, the government passed a ban on face-covering clothing at educational institutions, preventing students and teachers from wearing niqabs and burqas in schools and daycare centers. The country continued to ban religious headwear and other religious symbols from being worn with police uniforms, but allowed religious headwear in the military.
Governments regulated women's headdress in 16 countries in the Asia-Pacific region, nine in the Middle East and North Africa, nine in sub-Saharan Africa and six in the Americas. In Australia, for instance, a judge did not allow a woman to wear a niqab in the court's public spectator gallery during her husband's trial on charges of terrorism. In Turkey, by contrast, students and parents claimed a school principal in the city of Urfa threatened that female students would receive failing grades if they did not wear head coverings.
In some countries, governments have specific rules for the type of religious clothing women should wear. In Iran, for example, the government requires all women to adhere to "Islamic dress" standards in public, including covering their hair and bodies in loose clothing.
https://www.pewresearch.org/fact-tank/2020/12/16/women-in-many-countries-face-harassment-for-clothing-deemed-too-religious-or-too-secular/
--------
Prosecutor's Office in Saudi Arabia Seeks Maximum Jail Sentence for Women's Rights Activist Loujain al-Hathloul
16 Dec 2020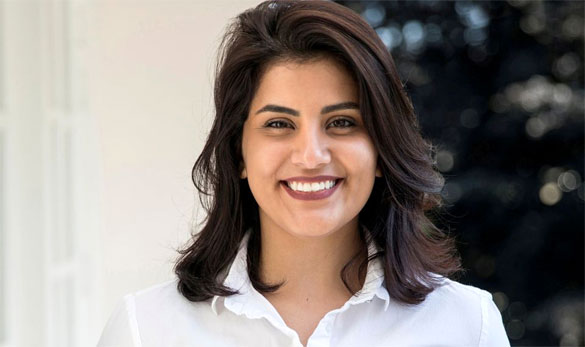 Loujain al-Hathloul has been detained several times for defying the ban on women driving and for campaigning for an end to the male guardianship system, which makes women second-class citizens. Photograph: Reuters
-----
The state prosecutor's office in Saudi Arabia is seeking the maximum possible jail sentence for the women's rights activist Loujain al-Hathloul, raising the possibility that the campaigner could face 20 years behind bars after a verdict in her case is announced next week.
In a hearing on Wednesday at Saudi Arabia's notorious terrorism court, the judge said he would deliver a verdict and possible sentencing in the case on Monday, said Hathloul's sister Lina, who also shared a copy of the prosecution's indictment with the Guardian.
Later on Wednesday night, however, Loujain's parents, who act as her legal team, received a text message summoning them to Riyadh's criminal court on Thursday morning. It is not yet clear what this development means for Hathloul's case, which was transferred from the criminal court to the terrorism court last month.
"My sister must be released … All she has done is ask for women to be treated with the dignity and freedom that should be their right. For that, the Saudi authorities are seeking the maximum sentence available under the law – 20 years in prison," said Lina al-Hathloul.
"They say she is a terrorist – in reality she is a humanitarian, an activist and a woman who simply wants a better fairer world."
Hathloul, 31, is one of Saudi Arabia's most prominent human rights activists. She has been arrested and detained several times for defying the country's ban on women driving and for campaigning for an end to the male guardianship system, which makes women second-class citizens.
She was kidnapped and arrested along with several other activists in May 2018, just before the law on women driving was changed, in what was interpreted as a message from the Saudi leadership that reform in the ultra-conservative kingdom can only come from the top down.
Since then, relatives say Hathloul has been sexually assaulted, tortured with beatings and electric shocks, and held incommunicado for long periods of time. Several hunger strike attempts have also led a UN women's rights committee to express alarm about her failing health.
After being tried in Riyadh's criminal court on spurious charges including destabilising national security and working with foreign entities against the state, Hathloul's case was transferred in November to the specialised criminal court (SCC).
Amnesty International alleges that the secretive body routinely hands down lengthy jail sentences and death sentences to those who defy the country's absolute monarchy and obtains confessions under torture.
"A regime that sees women's activism as terrorism is deeply broken. There is no moral or legal case for [activists'] continued imprisonment, and their prolonged incarceration is not even in the narrow interests of the Saudi regime," said Lucy Rae, a spokesperson for the human rights advocacy body Grant Liberty, which campaigns on behalf of Saudi prisoners of conscience.
"Saudi Arabia will never rehabilitate its reputation while it continues to imprison and torture those who campaign for basic freedoms."
Riyadh has embarked on a series of wide-reaching social reforms since Crown Prince Mohammed bin Salman was appointed heir to the throne in 2017: as well as allowing women to drive, the country's notorious morality police have been reined in and women now have the freedom to travel without the permission of a male guardian.
The reforms, however, have been accompanied by a mounting state crackdown on dissenting voices.
While Donald Trump cultivated a personal relationship with Prince Mohammed, supporting the heir to the throne's intervention in Yemen's war and defending him against allegations of involvement in the murder of journalist Jamal Khashoggi, president-elect Joe Biden has promised to re-evaluate US-Saudi ties.
In a sign the kingdom may be doubling down on its repressive tactics, however, on Tuesday, the prominent dual-national Saudi-American doctor Walid Fitaihi was sentenced to six years in prison on charges that included getting US citizenship without approval and sympathising with an unnamed terrorist organisation.
Riyadh has not publicly commented on his case.
https://www.theguardian.com/world/2020/dec/16/saudi-prosecutor-seeks-maximum-jail-sentence-for-womens-rights-activist-loujain-al-hathloul
--------
Iran Transfers Ninth Female Dissident to Harsher Prison
By Michael Lipin, Ramin Haghjoo
December 18, 2020
WASHINGTON - Iran has transferred a women's rights activist from Tehran's main prison to a notorious women's jail on the capital city's outskirts, according to a relative, making her the ninth female dissident to face harsher detention in Iran in recent months.
Saba Kord Afshari, a campaigner against Iran's compulsory hijab (veil) for women in public, was transferred from Evin prison to the quarantine section of Qarchak women's prison on Dec. 9, her sister, Sogand Kord Afshari, said in a series of recent tweets.
In a Tuesday tweet, Sogand Kord Afshari wrote that her jailed sister's last phone call from Qarchak's quarantine ward was on Saturday and since then there had been no further news about her.
Iranian authorities arrested Kord Afshari in June of last year and later sentenced her to 15 years in prison on national security charges for her peaceful act of removing her hijab in public as part of a women's right's campaign against the Islamist-ruled nation's compulsory hijab laws.
In a Dec. 11 interview with VOA Persian from Iran, a knowledgeable source said Kord Afshari's family was concerned about risks to her already fragile health from being placed in Qarchak's quarantine ward.
"They worry that she will contract the coronavirus while in quarantine," the source said.
Kord Afshari, who is in her early 20s, has suffered from preexisting gastrointestinal problems that worsened because of her imprisonment, according to a source who spoke to VOA in October. The source said authorities had denied her proper medical treatment while she had been detained at Evin.
Iranian state media have been silent on Kord Afshari's apparent transfer to Qarchak prison. VOA cannot independently verify the circumstances of her detention because it is barred from reporting inside Iran.
In a Sept. 2 report about prisons in Iran, the Washington-based rights group the Abdorrahman Boroumand Center said Qarchak's quarantine ward was a holding area for prisoners suspected of coronavirus infection and by early August housed more than 30 such cases. The group said it sourced the information from unpublished correspondence with Iran's Human Rights Activist News Agency.
The report also said most of Qarchak's inmates are accused of drug-related crimes and its living conditions are poor.
"Sanitary conditions in the prison are substandard. Every day, [its] sewer system overflows into the wards' courtyards, filling the grounds with a terrible stench that draws in swarms of insects," the group said.
In addition to apparently transferring Kord Afshari to a prison with poor conditions, Iranian authorities also separated her from her mother, who had been detained alongside her at Evin.
Authorities arrested Kord Afshari's mother, Raheleh Ahmadi, in July of last year and detained her for several days for advocating on behalf of her daughter. Ahmadi later was sentenced to two years and seven months in prison for national security offenses and began serving her sentence at Evin on Feb. 20.
"Saba has been separated from her mother, and this is a violation of human rights and an example of the psychological torture of the two women and their family," said the source who spoke to VOA on December 11. The family also is concerned about Ahmadi's health, as she suffers from a thyroid problem that is aggravated by nervous tension, the source added.
Mahmood Amiry-Moghaddam, director of Oslo-based group Iran Human Rights, told VOA Persian that Iranian authorities typically transfer dissidents to prisons such as Qarchak to put them under additional pressure.
"One reason for transferring Kord Afshari from Evin to Qarchak and separating her from her mother could be to pressure her into giving a televised confession or to break her resistance," he said.
Amiry-Moghaddam said Kord Afshari is one of nine Iranian women transferred from Evin to Qarchak in the past five months. The most prominent of the other dissidents is human rights lawyer Nasrin Sotoudeh, whose transfer occurred Oct. 20.
Sotoudeh has been jailed since June 2018 for her legal work in defending other women's rights activists who were arrested for removing their hijabs in public. She has been serving a more than 30-year sentence for national security offenses, according to rights activists.
In a message to VOA Persian, Abdorrahman Boroumand Center executive director Roya Boroumand said Iranian authorities have another motive for transferring dissidents such as Kord Afshari and Sotoudeh from Evin to Qarchak.
She said Evin ostensibly is meant to house detainees charged exclusively with security-related crimes, whereas Kord Afshari and Sotoudeh also have been charged with "spreading prostitution."
"This kind of distinction adds insult to injury," Boroumand said. "It denies political prisoners the right to be recognized as such and is most likely yet another attempt to demean them."  
https://www.voanews.com/middle-east/voa-news-iran/iran-transfers-ninth-female-dissident-harsher-prison
--------
Saudi Women Make Up 6% of Engineers In Labour Market
December 17, 2020
RIYADH — The Ministry of Human Resources and Social Development has revealed that Saudi women engineers make up six percent of engineers in the labor market, according to the data of the General Organization for Social Insurance (GOSI).
A source in the ministry said that this percentage represents the size of female engineering graduates compared to their male counterparts, and this percentage could be higher due to the delay in granting accreditation of various engineering specializations for girl students.
Speaking to Okaz/Saudi Gazette, the ministry source said that this field is one of the promising areas for Saudi women engineers in the future, especially in the wake of the ministry's recent decision to Saudize engineering professions.
The source noted that Saudi female engineers can join their professions in five majors and they are interior design, project engineer, architect, computer electronics engineer, and general industrial engineer.
According to the source, the ministry is seeking to raise the Saudization rates based on the volume of male and female engineers graduating annually, and to monitor the changes in the labor market with regular updates in order to maintain a balance between supply and demand.
https://saudigazette.com.sa/article/601559
--------
Women Inspectors Document 4,000 Violations in Riyadh
December 18, 2020
RIYADH — Women inspection teams from the branch of the Ministry of Human Resources and Social Development in the Riyadh region have documented around 4,000 violations during their raids over the past six months.
The women teams carried out more than 21,000 field visits, covering commercial complexes, private schools, workshops, and women's sports clubs, in addition to some small women's projects within the neighborhoods of the city of Riyadh and various governorates of the region. The inspections focused on ensuring that business owners adhere to commercial laws and regulations of the market.
Most of the detected violations were pertaining to paragraphs 20 and 21 of the Labor Law that prohibit employment of non-Saudi workers in occupations restricted to Saudis and the employment of male workers in jobs restricted to Saudi female workers. The teams also detected violations such as the absence of labor contracts and medical insurance.
The branch of the ministry stated that the work of inspectors is not limited to detecting and filing violations, but also extends to professional counseling for female employees in the private sector and answering their inquiries regarding their rights and duties. It stressed that the inspection campaigns carried out by the ministry's branch, represented by the Women's Inspection Sector, continue throughout the year to ensure compliance with directives to feminize and Saudize women's accessory shops, as well as regulations of the labor market.
https://saudigazette.com.sa/article/601556
--------
Yemeni Woman Makes Epic Eight-Month Journey To Reach UK
Diane Taylor
8 Dec 2020
A woman who crossed eight borders, two deserts and one sea to get to the UK to claim asylum has spoken for the first time about her incredible journey.
The 29-year-old, who calls herself Noor, escaped from Yemen when her life was threatened and travelled alone with only smugglers and other desperate migrants for company en route. It is highly unusual for a woman from a country such as Yemen to embark on this kind of journey unaccompanied.
She was determined to flee not only because her own life was in danger but also in the hope of rescuing her four children from the Yemen civil war once she had reached safety.
Noor was forced into marriage at the age of 14, but later managed to divorce her husband and became a human rights campaigner, focusing on girls' rights to education and the right not to be forced into marriage as children.
Her oldest daughter is at risk of child marriage in Yemen and she says time is running out to bring her daughter and three younger sons to safety.
Yemen has been described as one of the worst places in the world to be a woman and has been ranked last for 13 consecutive years in the World Economic Forum Global Gender Gap index.
Now that she has arrived in the UK she wants to campaign against child marriage and lack of rights for girls and women in Yemen.
"I have been through a lot," she says, describing her eight-month journey. She fled Yemen when it became too dangerous to remain there because of the conflict and her work as a human rights activist employed by a monthly youth magazine.
Noor's journey began on 14 November 2019 by plane and continued by Jeep through one desert, then through another on foot before reaching Europe and crossing to the UK by small boat from Calais in July 2020. She had passed through Egypt, Mauritania, Mali, Algeria, Morocco, Spain and France.
She was not able to take many possessions with her before leaving her four young children in the care of family members, but packed two items – cash and battery acid.
"I sold all my gold jewellery and borrowed as much money as I could from friends and family to pay all the different smugglers who helped me to move from one country to another," she said.
"As well as the money I took with me I drained the acid from a car battery and concealed it in an empty bottle of face cream. I decided that if any man attacked me on my journey I could throw the acid at them to fend them off."
Fortunately, she did not need to use it.
There were several points during her journey when she was sure she would never achieve her dream of reaching the UK.
"We were walking across the desert through the night. It was very dark. The smugglers knew the route but I did not. I fell and injured my hand and legs and became separated from the others. It is so cold at night in the desert I was sure I would die. I clung on to a tree and by some miracle the smugglers found me after three hours."
She said crossing from Algeria to Morocco was particularly difficult and it took her 17 attempts.
"I finally made it to Spain but suffered a lot of abuse so travelled to France. I stayed by myself in a tent in Calais and paid out the last bit of my money to smugglers there to get me to the UK. Altogether, I paid smugglers €17,000. The smugglers said the boat was for 15 people but they crammed in 21. It started filling with water. We thought we would drown but the UK coastguard rescued us. I was lucky to cross at the first attempt and I was lucky to survive."
Noor said she was forced into a marriage at the age of 14. "My father forced me into the marriage and my uncle falsified documents to say I was 18. Within a year I had given birth to my first child, a daughter who is now almost the same age as me when I was forced into marriage. I hope I can get her and my other children out of Yemen before the same thing happens to my oldest daughter."
Noor has been accommodated in a hotel in London by the Home Office and is waiting for her claim to be processed.
"I am emotionally broken by everything that has happened on my journey to the UK. I feel so weak. But what keeps me going is the need to deliver my message about human rights and the importance of change for women and girls in Yemen.
"Maybe I survived this terrible journey so I can deliver my message."
https://www.theguardian.com/world/2020/dec/08/yemeni-woman-makes-epic-eight-month-journey-to-reach-uk
--------
URL: https://www.newageislam.com/islam-women-feminism/women-56-countries-experienced-social/d/123805
New Age Islam, Islam Online, Islamic Website, African Muslim News, Arab World News, South Asia News, Indian Muslim News, World Muslim News, Women in Islam, Islamic Feminism, Arab Women, Women In Arab, Islamophobia in America, Muslim Women in West, Islam Women and Feminism