New Age Islam News Bureau
28 Oct 2012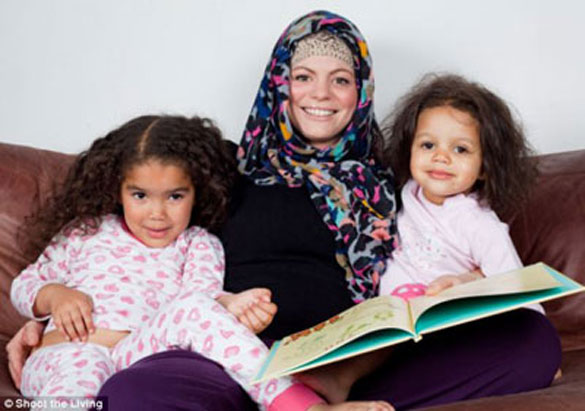 • Former UK Party Girl Converts to Islam, Says Islam Has Changed Her Life
• Bringing Up Baby on Death Row, By the British Mother Who Smuggled £3million of Heroin
• Women's Council of Egypt Demands Authorities Find 'Kidnapped' Girl
• Miracle on Mecca's Streets: Twins Born In the Holy City at Hajj
• Malala's fight brings a wave of hope in Pakistan
• Muslim Girls Miss Own Weddings
• Voices From Beneath the Veil of Bedouin Tradition
• Battle of Crete Award: Another Pakistani Makes Us Proud
• The Greening Agenda: Women in Afghanistan?
Compiled by New Age Islam News Bureau
Photo: Former UK Party Girl Converts to Islam, Says Islam Has Changed Her Life
URL: https://www.newageislam.com/islam,-women-and-feminism/new-age-islam-news-bureau/women-haia-members-to-enforce-men-and-women-mixing-ban-during-haj/d/9118
------------
Women Haia Members to Enforce Men and Women Mixing Ban during Haj
28 October 2012 2:02 am
The Women's department of the Commission for Promotion of Virtue and Prevention of Vice (Haia) in the Grand Mosque has been expanded with more officials with the aim of beefing up its efforts to prevent men and women mixing during the Haj season.
The recruited women, who are postgraduate degree holders, have also been trained to handle languages such Turkish, English and Urdu, some of the major languages spoken by Haj pilgrims, Al-Hayat daily reported quoting a reliable source at the Haia on Saturday.
The Haia give special emphasis on proficiency of the workers in foreign languages because a considerable number of the Haj pilgrims do not understand Arabic.
The three-week language proficiency programs organized by the Haia for its officials focused on the most commonly used words in the major languages, the source said.
Women officials have also been sent to attend programs to develop their supervisory skills and work pressure management at the women's campus of the Umm Al-Qura University, the source added.
Spokesman of the Presidency of the Two Holy Mosques, Ahmed Al-Mansouri, said the Haia set up a women's department to regulate women's prayers inside the Grand Mosque.
The department also prevents women mixing with men and instruct the pilgrims to behave in a gentle manner especially when they are in a crowded environment. The department will be working not only in the Haj season but year-round.
He added that the number of its workers would be increased during the Haj season particularly on the days of throwing at the Jamrat and the Tawaf Al-Wida (farewell circumambulation).
He said their duties also included instructing women pilgrims to perform the sunnah prayer after the circumambulation of Kaaba at locations away from men behind the Maqam Ibrahim, not to sit on the steps of the mataf (area of circumambulation), escalators, staircases and gates to the Grand Mosque. Women must also restrict themselves at the locations marked for women.
Women guides at the Grand Mosque have been looking after the areas allocated for women inside the mosque besides supervising cleaning of prayer carpets and hygienic standard of toilets and the locations where Zamzam water is supplied to women.
Women officials also arranges the copies of the Holy Qur'an available at the women's locations and arrange women worshippers in proper lines and discourage women who stand praying out side their special locations when the obligatory prayers start, the source said.
http://www.arabnews.com/women-haia-members-enforce-mixing-ban
--------
Housewife killed, another tortured for dowry in Bangladesh
October 28, 2012
A housewife was killed allegedly by her husband for dowry in village Jamjami under Alamdanga upazila on Wednesday afternoon.
The deceased was identified Shaju Khatun, 35, daughter of Motiar Mursalin of village Asannogor in the upazila.
Victim's family members and police said, Shaju Khatun was married off to Montu Rahman, son of Shamsuddin Fakir of village Jamjami 16 years back.
Recently Montu demanded Tk 50,000 as dowry from Shaju's father.
As Shaju failed to bring the amount from her parents, her husband Motiar and his family members started to torture Shaju for dowry.
On the fateful day, Montu locked in an altercation with Shaju in the afternoon over the issue and at one stage strangled his wife. Later he poured poison into her mouth to prove it as a case of suicide.
In Bogra, a schoolteacher was severely tortured allegedly by her husband for dowry at Hakirmor in Sultanganjpara of the district town on October 13.
Shahnaz Parvin, 28, daughter of late Akbar Ali of Achuarpara village of Nondigram upazila, was staying with her husband Md Rafiqul Islam, son of Sayed Ali of Jangram village of Shibganj upazila, in the town.
Parvin is an assistant teacher at Buroil Government Primary School.
Victim's brother Samiul Alam said, after marriage, Rafiqul and his family members used to Parvin for Tk five lakh.
On the fateful day, Parvin was beaten up mercilessly by her husband and in-laws following an altercation over the issue.
http://www.thedailystar.net/newDesign/news-details.php?nid=255325
--------
Former UK Party Girl Converts to Islam, Says Islam Has Changed Her Life
October 27, 2012
Her conversion from Ibiza party girl to hijab-wearing Muslim in barely three months may well raise a few eyebrows – and she admits that her friends probably think it's another one of her fads.
But trainee teacher Heather Matthews, 27, says Islam has brought her 'love and happiness' that she never found in her old 'shallow' lifestyle.
Mrs Matthews, a mother of two, converted to the faith four weeks ago – two months after returning from a holiday in Ibiza. And she says that the photographs of the 'old her' taken on that trip show all that is wrong with Western images of beauty.
She said: 'I thought I needed to act and dress in a certain way to feel good about myself. I see girls now and think about what image they are portraying to other people, especially men.
'It is about self-respect. If you dress and act in a certain way, rightly or wrongly, you'll be treated in a certain way.
'Islam has taught me about real love, not false passion and lust. I can even see the logic in arranged marriage.'
A study by multi-faith group Faith Matters found the number of Muslim converts in Britain has now passed 100,000, doubling in ten years.
The report estimated nearly two-thirds of the new converts were women, with an average age of 27 – like Mrs Matthews.
Her path to conversion began when she tried to convince her ex-husband Jerrome, himself a Muslim convert, that the religion was wrong. She was 'very suspicious' of the faith, and began reading up on it to support her arguments.
Although they separated last year, she continued to learn about Islam – and identified with it more and more. Then, four weeks ago, she completed the 'revert' process. She said: 'I underwent the 'Shahadah' ceremony of conversion to Islam by repeating a declaration of faith in front of the Imam at my local multi-faith centre.
'I had several Muslim sisters with me and they bought me a hijab and Islamic books to celebrate. It was wonderful.'
Before Islam: This picture of Heather was taken earlier this year on the party island of Ibiza, which she now says shows everything that is wrong about Western beauty
But she admits that her friends have been shocked at her conversion to a religion which is often seen as being oppressive towards women.
'People are probably thinking "Oh, it is just another one of Heather's fads". It isn't. It is what I've been searching for during the times I've been filling my life with instant gratification,' she said.
Mrs Matthews, from Preston, has also had a cautious reaction from her family. But it is the response from passers-by that surprised her the most – especially the effect of her headscarf.
'No men try to chat me up. It is an idiot repellent. When I'm wearing the headscarf I can smile at people without them thinking it is a sexual advance,' she said.
'I definitely agree with Islam's principles of not having sex with someone you're not married to and to save your beauty for your husband. So I think my next partner would need to be a practising Muslim to understand.
'It is easy for me to say this now, with hindsight, having made the mistakes, but I think I would have been better off with partners who my parents thought were suitable, learning to love them through friendship first.' Mrs Matthews has given up alcohol, sticks to a halal diet and plans to fast during Ramadan. She has an English-language Koran which she reads daily, and wants to learn Arabic so that she can recite prayers five times a day.
But she will not be forcing Islam on to her daughters – Ellah, five, and two-year-old Halle – from her marriage to Jerrome.
'People think I must be oppressed but I'm a strong, confident and free woman,' she said. 'I know I'm one of the most unlikely people to revert to Islam.
'It astounds me. But I've done it for love and happiness and it has completely changed my life.'
Source: Dailymail.co.uk
http://www.informationnigeria.org/2012/10/must-read-former-uk-party-girl-converts-to-islam-says-islam-has-changed-her-life.html
------------
Bringing Up Baby on Death Row, By the British Mother Who Smuggled £3million of Heroin
By DAVID ROSE
27 October 2012
In a bare, whitewashed courtroom in the Pakistani city of Rawalpindi, Khadijah Shah tenderly rocks her baby, Malaika. The only home the infant has known since her birth four weeks ago is a filthy, overcrowded prison cell.
'There's no cot in the jail,' says Khadijah in a thick Midlands accent. 'She has to share my bunk with me. I'm afraid I might squash her or push her out of bed in the night.
'But she's not sleeping much. She's always getting bitten by mosquitoes and she's had a lot of diarrhoea. She's peaceful now, but at night she cries all the time.
'Thankfully, the other girls in the cell don't seem to mind.'
At 9.30am one day in May, Khadijah, 25, and her two older children – Ibrahim, five, and Aleesha, four – were arrested at Islamabad airport as they tried to check in for a flight to Birmingham.
Court documents seen by The Mail on Sunday say that inside their suitcases, hidden beneath layers of clothing, was a staggering quantity of 100 per cent pure Afghan heroin – 65kg (145lb). At current UK wholesale drug prices, the haul would be worth up to £2.8 million.
In Pakistan, the death penalty by hanging is virtually automatic for seizures of a kilo or more. Moreover, possession of drugs is a 'strict liability' crime, which means the prosecution doesn't have to prove that the alleged courier ever knew they were there.
In July, almost three months after Khadijah and the children were first held together in Rawalpindi's notorious Adiala prison, she was able to send the youngsters back to England with her mother.
Khadijah knows that if she is convicted, she may never see them again. Even if she is eventually found not guilty, under Pakistan's snail-like legal system her trial is unlikely to take place for years.
'My son lost so much weight, he looked like a bag of bones'
'My daughter cried when she left,' Khadijah said. 'I cried. She said she didn't want to leave me that she'd rather be in prison. It was awful, and I miss them so much. But I couldn't have let them stay. There are no toys, no playground, nothing for them to do. They'd both been ill, and Ibrahim had lost so much weight he looked like a bag of bones.'
Like many alleged drug 'mules' before her, Khadijah said she had 'no idea' that the suitcases, which she was asked to take to England by a friend, contained heroin.
There is no way of proving whether she is telling the truth. What is clear is that either way, she was only a tiny segment of a much bigger conspiracy, which directly links Taliban killings of British troops in Afghanistan to the heroin bought by addicts on our streets.
'To be capable of a 65kg shipment, the mafia which organised this would have to be a major network, also sending drugs to Africa, every country in Europe, and Dubai,' said an international law enforcement analyst interviewed in Pakistan last week. The official was speaking on condition of anonymity.
'In Afghanistan, a proportion of the money it raises will be benefiting the Taliban insurgency. It is also likely that the dealers here in Pakistan and the distributors in Britain are basically all in the same group.' Pakistan, said the analyst, is now used to transit about 40 per cent of the world's total heroin supply. At Western wholesale prices, the country's share is worth about £20 billion a year.
Of this, he added, the annual total successfully trafficked to Britain weighs about 20 tons, with a wholesale value of up to £1 billion.
Yet to date, Khadijah is the only person facing punishment from the airport seizure on May 6. 'She is not a woman of means – she obviously didn't buy the heroin herself,' said her lawyer, Shahzad Akbar. However, no further arrests have been made in Pakistan or Britain.
At the end of May, Clive Stafford Smith, of the human rights charity Reprieve, which is working with Mr Akbar, volunteered to supply information Reprieve had uncovered about the broader drug conspiracy – information Khadijah did not know herself – to the Serious And Organised Crime Agency (SOCA), the UK body that investigates drug trafficking. Mr Stafford Smith said: 'It took four-and-a-half months for them to set up a meeting. They seemed to have little interest in catching the real criminals.'
Born to Pakistani parents in the Birmingham suburb of Small Heath, Khadijah left Sheldon Heath community school at 16 with no qualifications. 'I just dropped out of my GCSE courses,' she admitted.
She wasn't, she said, ever formally assessed as having special educational needs. But according to Mr Stafford Smith, who has seen her with Mr Akbar, she has difficulty reading and writing.
'She didn't pay much attention at school,' said Khadijah's sister, Zaneb. 'She did a computer course but she couldn't get a job. She's a very naive person. She's a good mother, but she's like a child herself.'
'I didn't open the cases. I didn't know what was inside them'
Khadijah was still just 17 when she moved in with her boyfriend Ahzar, the father of Ibrahim and Aleesha.
But when the children were still very young, Ahzar left her – because his parents had arranged a marriage with someone they considered more suitable.
'I was sad when he disappeared, but now we have very little contact,' Khadijah said.
'I've tried to get maintenance from him, but he's unemployed, so he has no money, anyway.'
About a year ago, Khadijah began seeing Amar, the father of Malaika. At around the same time, she met a man who lived in Smethwick named Imran Khan (no relation to the famous cricketer). It was he who organised her trip to Pakistan. Khadijah said: 'It was meant to be just a holiday. I was staying with the kids in a guesthouse in Islamabad. On the last night a guy called Shakil turned up from Rawalpindi. He seemed like a decent guy – certainly not a criminal.
'He had the suitcases and Imran asked me to take them to England. They said it was just clothes they wanted taking to Britain. Imran took my own luggage and said he'd bring it back with him later. I didn't open the cases and I didn't know what was in them.'
But someone was about to tip off Pakistan's specialist drugs agency, the Anti-Narcotics Force (ANF). A report filed in court by ANF senior investigator, Syed Imtiaz, states: 'On May 6, 2012 at about 8.00 I received information that British national woman Khadijah Shah will travel through flight PK-791 Islamabad to Birmingham with a huge quantity of heroin.'
He put together a team of officers and rushed to the airport. They quickly identified Khadijah, who was clutching three British passports and pushing a trolley with the suitcases into the departures hall. When the ANF men asked her to open the bags, they found 123 sealed and wrapped bags of heroin.
'When they found the drugs, I was stunned,' Khadijah said. 'Imran had been using me. They took me into a small office where a lady officer questioned me. She said I wasn't giving her enough information and she slapped me several times around the face in front of my kids. They were screaming, hysterical. Later my son asked me, "Mummy, have we been arrested?" '
The law enforcement analyst said that recently, drug mafias operating out of Pakistan have increasingly been using women as couriers, especially those who are pregnant.
Last month, another British woman, Yasmeen Akhtar – now one of those sharing Khadijah's cell – was also arrested at Islamabad airport, albeit with 'only' 7kg of drugs. In part, the analyst said, this is because the drug barons think female couriers will be less conspicuous. But there may be another reason: that they believe their networks will be safer if the courier is caught, because Pakistani police are reluctant to torture women.
Here confirmation came from a surprising source – Captain Ahzar Zubair, the Rawalpindi police chief, whose jurisdiction includes the whole of the Rawalpindi-Islamabad area. He said: 'A woman will not be harshly interrogated. Usually she will be the only one punished.
'It's not easy to pick up everyone, and as soon as someone has been arrested, they will know. To catch the rest is a difficult job.'
By nightfall on May 6, Khadijah and the children were in Adiala, the Rawalpindi Central Jail – a vast, sprawling compound containing dozens of separate cell blocks. Above its main gate, painted an incongruous pink, is an Urdu inscription: 'Hate the crime, not the criminal.'
At that time of year, temperatures in the shade regularly top more than 40C (104F). There was no air conditioning and very little room at the jail, said Khadijah.
'In the cell there's two double-decker bunks,' she added. 'Each one has one adult prisoner, but the kids had to share my bed with me. There's very little room to walk around. There's a toilet, but no privacy – we just use it in front of each other.'
The jail food, mainly bread and rice, is 'horrible', though she is able to supplement it by buying her own vegetables.
'My baby seems so ill in this prison. She cries so much'
For the birth, Khadijah was taken to a nearby hospital, but three days later mother and daughter were back at Adiala. Describing the experience of nursing a newborn in prison, Khadijah's eyes fill up with tears: 'I'm really worried about her. I breastfeed her, and she has put on some weight, but she seems to be ill, and she cries so much.
'She's had no medical treatment, no vaccines. The only medicine they seem to have here is Ibuprofen [which, according to its manufacturers, should never be given to a baby of this age].'
Pakistani legal sources say there are several possibilities as to how the ANF received its tip-off. One is that corrupt officials, who had been paid to ensure the drug shipment went through, discovered that more heroin than had been agreed was in the suitcases, and so had Khadijah arrested because they had not been paid enough.
Another, said the international analyst, is that the gang deliberately set her up to provide a diversion, so that while the ANF was occupied with her, other, bigger shipments could be smuggled out.
Whatever the truth, it is evident that the present outcome could have been avoided.
For at least a decade, Britain has helped to train the ANF, and provided it with equipment worth millions of pounds. The ANF also works with MI6, and it sent a team to a four-day meeting at MI6's London headquarters in January 2011.
The ANF's annual report states that it has frequently shared 'real time' intelligence with its British partners. It has also arranged 'controlled deliveries' when instead of being stopped at Islamabad airport, couriers have been allowed to reach the UK, where they can be placed under surveillance.
In several cases, this has led to the successful prosecution of the British end of international drugs conspiracies. For some reason, when they got the tip-off about Khadijah, this was not arranged.
'We have to assume they didn't tell SOCA, so a controlled delivery was not carried out,' said the analyst. 'Maybe there was a lack of trust. Maybe they just wanted to get all the credit which, with a controlled delivery, would have been shared.' Repeated requests for an interview with the ANF were declined.
A SOCA spokeswoman said: 'SOCA's response to an increase in seizures of heroin trafficked through Pakistan in 2011-12 has included improved intelligence exchange with Pakistan's Anti-Narcotics Force. SOCA's activity overseas is conducted in compliance with international humanitarian law and the principles of human rights.'
http://www.dailymail.co.uk/news/article-2224105/Bringing-baby-Death-Row-regretful-British-mother-smuggled-3million-heroin-border-bulging-suitcases.html?ito=feeds-newsxml
------------
Women's Council of Egypt Demands Authorities Find 'Kidnapped' Girl
Egypt's National Council for Women calls on Interior Ministry and security forces to locate missing 13-year-old who was allegedly married off; denounces child marriages
27 Oct 2012
]The National Council for Women (NCW) called on Egypt's Ministry of Interior and security officials in Egypt's north-western governorate of Matrouh, Saturday, to take the required action to find Sara Abdel-Malik, a 13-year-old girl who was reportedly kidnapped in September.
Abdel-Malik's father had filed a complaint to the national body for women's issues, reporting that his teenage daughter was kidnapped after leaving school on 30 September.
According to the father, the girl was kidnapped by a young man who forcibly married her despite the fact that she is still a child.
Full report at:
http://english.ahram.org.eg/NewsContent/1/64/56590/Egypt/Politics-/Womens-council-demands-authorities-find-girl-kidna.aspx
------------
Miracle on Mecca's Streets: Twins Born In the Holy City at Hajj
October 28th, 2012
A Pakistani woman who joined millions of Muslims around the world in the annual hajj pilgrimage was caught by unexpected labour pains near the holy city of Mecca, where she gave birth to twin baby girls and named them after two mountains between which Muslims travel back and forth seven times during the ritual.
Unknown to the rest of the world, Tahira Yasmin, a Pakistani Muslim who was in Mecca for performing the hajj pilgrimage, gave birth to twin baby girls she named after the holy mountains of the Islamic faith, Safa and Marwah.
Full report at:
http://www.albawaba.com/editorchoice/hajj-twins-mecca-448385
------------
Malala's fight brings a wave of hope in Pakistan
Oct 27, 2012
HYDERABAD: The plan was to silence one seemingly weak rebel and ensure victory, as had been the case several times in the past. The rebel was 14-year-old girl Malala Yousufzai. The issue at stake was education of girls. And the opponent, the powerful Taliban.
Malala had dared to speak against the Taliban diktat that denied girls the right to education. Over the years Taliban has become a force that even the most powerful groups in Pakistan have come to fear.
Full report at:
http://timesofindia.indiatimes.com/world/pakistan/Malalas-fight-brings-a-wave-of-hope-in-Pakistan/articleshow/16976537.cms
--------
Muslim Girls Miss Own Weddings
28th October 2012
By Dominik Lemanski
MUSLIM extremists fighting to build a "mega-mosque" in East London are banning women from their own weddings.
Hard-line separatists Tablighi Jamaat, dubbed an "antechamber of fundamentalism" by intelligence officials, insist on segregation between sexes.
Last night Dr Taj Hargey, imam of the Oxford Islamic Congregation and director of the Muslim Education Centre of Oxford, said: "The ceremony is normally a male-only affair where a male relative, usually a father or brother, signs on behalf of the woman and the service is conducted by a male priest, an imam, in front of male witnesses exclusively.
"We totally denounce this kind of sexism."
Full report at:
http://www.dailystar.co.uk/news/view/279350/Muslim-girls-miss-own-weddings/
------------
Voices from beneath the veil of Bedouin tradition
Silenced by tradition, often misunderstood and marginalised, Bedouin women express their concerns and aspirations in post-revolutionary Egypt
Sarah El-Rashidi
26 Oct 2012
Silenced by tribal norms and customs, Sinai's velvety dunes harbour the mystery and secrets of the peninsula's Bedouin female population. Beneath the black silhouette dictated by Bedouin social codes, Bedouin women often internalise their feelings and opinions, frequently inconsistent with warped media portrayal, given their limited outlet for expression.
"Us Bedouin women do not have freedom of expression, decisions are made by men. This is accentuated in the border areas, more than Arish," asserts Bedouin women's rights activist Hanan Moqaibid.
Full report at:
http://english.ahram.org.eg/NewsContent/1/64/54157/Egypt/Politics-/Voices-from-beneath-the-veil-of-Bedouin-tradition.aspx
------------
Battle of Crete Award: Another Pakistani Makes Us Proud
October 27, 2012
After a four-decade-long struggle for women's rights, Dr Fouzia Saeed received her due recognition on Friday when she was awarded the "Battle of Crete Award" by the Washington Oxi Day Foundation for her commendable work in the field.
The first recipient of the annual Oxi Day Battle of Crete Award, which honours a woman for courageous action for freedom and democracy, in memory of the role women played against the Axis Forces in the Battle of Crete in World War II, was given to Burmese pro-democracy leader and Nobel Peace Prize laureate Aung San Suu Kyi.
Full report at:
http://tribune.com.pk/story/457390/battle-of-crete-award-another-pakistani-makes-us-proud/
-----
The Greening Agenda: Women in Afghanistan?
27/10/2012
The House of Commons International Development Committee has just released a new report into development in Afghanistan. It made the headlines because of its not very surprising conclusion that it will make take more than aid to build a properly functioning democratic Afghan state. The report sensibly suggests that UK aid should be focussed on poverty alleviation and - as ActionAid has been saying - that DFID must do much more to support the rights of women in Afghanistan.
This is a recommendation that new secretary of state Justine Greening should embrace as hers, and one on which she can make a very real difference.
Last October I blogged about ActionAid's research with Afghan women which showed that nine out of 10 feared a return to Taliban-style government. 4 out of 10 specifically believed that things would get worse when international troops leave.
Full report at:
http://www.huffingtonpost.co.uk/melanie-ward/womens-rights-in-
------------
URL: https://www.newageislam.com/islam,-women-and-feminism/new-age-islam-news-bureau/women-haia-members-to-enforce-men-and-women-mixing-ban-during-haj/d/9118