New Age Islam News Bureau
2 Oct 2017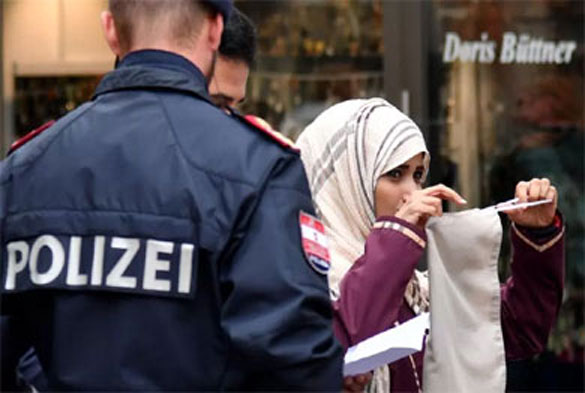 Woman is ordered to remove her face veil by police officers in Austria
-----
• Egyptian Women Fight Tooth and Nail for Inheritance
• Carmakers Rush To Put Saudi Women behind Wheels of Their Models
• Islamic Style Is Showing Up On Catwalks, In Mainstream Stores and On Non-Muslim Women
• Saudi Women with Recognized States' Licenses to Directly Get License
• Meet the Hijabster - Young, Hip Muslim Women in S-E Asia
• 38% of Startups Registered In 2016 Are Owned By Saudi Women
• Iran: Women Nurses Staged Protest In Dehdasht
Compiled by New Age Islam News Bureau
URL: https://www.newageislam.com/islam-women-feminism/women-forced-remove-veil-day/d/112739
--------
Women forced to remove the veil on day one of Austrian burqa ban
Helen Nianias
1 OCTOBER 2017
Muslim women in Austria were forced by police to remove their facial coverings on Sunday, as an anti-burqa law came into effect.
The so-called 'burqa ban' prohibits facial coverings including niqabs and burqas, and also places restrictions on surgical masks, ski masks and clown make-up worn in public.
Yesterday, a woman wearing a niqab facial veil, which only leaves the eyes uncovered, was seen being told to remove her veil by two police officers in Zell am See, a city south of Saltzburg.
While the rule applies to some non-religious facial coverings, it is mostly perceived to be directed at the extremely modest clothes worn by a minority of Muslim women.
Full veils remain rare in Austria despite the surge of migrants and refugees into Europe in 2015, but they have become a target for right-wing groups and political parties.
The measures, similar to those in other European Union countries such as France, also apply to visitors even though large numbers of Arab tourists holiday in the Alpine country.
German Chancellor Angela Merkel has previously indicated her support for a similar law in Germany, saying: "Our law takes precedence over codes of honor, tribal or family rules, and over sharia law."
Some Muslim groups in Austria have criticised the ban. Carla Amina Bhagajati of the Islamic Religious Community in Austria said the "handful" of fully veiled women she knows of in Vienna "now are criminalized and... restricted to their homes."
The legislation was brought in by the outgoing centrist government of Chancellor Christian Kern. The government said: "Acceptance and respect of Austrian values are basic conditions for successful cohabitation between the majority Austrian population and people from third countries living in Austria."
However, the strong support for the new law could point towards political upheaval in Austria's general election on October 15.
Austrian parties campaigning on anti-migrant messages are predicted to win and form a coalition government, reflecting a swing to the right in a country that has mainly had centrist governments since World War II.
The election is expected to see the anti-immigration Freedom Party (FPOe) come second or third and potentially enter a coalition with Sebastian Kurz of the centre-right.
Other measures that came into force Sunday include immigrants signing an "integration contract" and compulsory courses in the German language and "values".
http://www.telegraph.co.uk/news/2017/10/01/austrian-burqa-ban-comes-force/
--------
Egyptian women fight tooth and nail for inheritance
October 1, 2017
Cairo: Nadia Hassan should be a millionaire. However, when her son needed a life-saving heart operation, she had to sell all her jewellery to pay for it.
"My father died in 2007, leaving behind seven feddans [acres, 2.8 hectares] and three apartment blocks in Alexandria," says Nadia, a 54-year-old schoolteacher.
"Since my father's death, my brothers have refused to give me my inheritance share, saying that women do not have the right to inheritance," she told Gulf News.
"Every now and then, they gave me some money, telling me that I should be satisfied with this. I asked some relatives to mediate with my brothers and try to convince them to give me the inheritance share specified by the Sharia. But the mediators failed to make any progress. So, five years ago, I took my case to the court. So far, there has been no ruling," adds the mother of three, whose husband died last year.
Nadia is one of millions of Egyptian women, who face difficulty in securing their portions of inheritance. This occurs mainly in the countryside where women tend to have less rights.
"In my village, a common belief is that women do not have the right to inheritance," says Radwa Salah, a 27-year-old housewife living in the Delta province of Sharqia.
"People here believe that inheritance should not go to strangers, who are the woman's husband," adds Radwa.
Since the death of her mother some years ago, her maternal uncles have refused to give her and her younger sister the share of the vast tracts of farmland left behind by their grandfather.
"On occasions such as Eid Al Fitr and Al Adha [Islam's two holiest festivals], they bring us some gifts, which they think are a fair compensation for inheritance," says Radwa.
"We cannot go to court because this is considered socially disgraceful and also because it usually take courts long years to rule on such cases," she argues.
More than 60 per cent of Egypt's women are estimated to have been denied their inheritance shares, according to independent studies.
Around 95 per cent of that figure is thought to be in Upper Egypt, where male dominance reigns.
Salwa, a native of Upper Egypt, is one of these women.
"My husband used to work as a teacher in Saudi Arabia and sent money to his brothers in Upper Egypt to buy land in his name. They did, but after his death in 1999, I discovered that they registered the land in their names," says Salwa, a mother of four living in Cairo.
"When I asked them to give us our lawful right, they denied they owe us anything. They threatened my family with trouble if I opened my mouth," adds Salwa, who has declined to give her full name for fear of reprisal from her brothers-in-laws.
Egyptian courts hear annually about 144,000 cases related to disputes over inheritances, mainly among members of the same family, according to a recent government study.
Last year, the government approved a draft law making deprivation from inheritance an offence punishable by six months in prison.
The parliament has yet to pass the bill to become a law.
In recent weeks, the plight of Egyptian women where inheritance is concerned has been thrust into focus after Tunisian President Beji Qaid Al Sebsi proposed equal inheritance rights for women in his country.
"Such a call is hard to be implemented in Egypt, which is basically a Salafist [ultra-conservative] country," says Eman Beibers, a women rights advocate.
"All what we demand is to apply the Sharia law related to women's inheritance rights," Beibers told Gulf News.
According to her, there are no specific figures about the numbers of Egyptian women, who have not got their inheritance shares in the mostly Muslim country.
"This is because women's names are not usually mentioned in inheritance papers," Beibers, the chairperson of the Association for the Development and Enhancement of Women, says.
"The women who dare to file inheritance lawsuits at courts risk antagonising their families", Beibers adds, "even though these women may wait for several years before a court verdict is delivered. And even if they get a ruling in their favour, they face a bigger problem in executing this ruling."
http://gulfnews.com/news/mena/egypt/egyptian-women-fight-tooth-and-nail-for-inheritance-1.2098772
--------
Carmakers rush to put Saudi women behind wheels of their models
October 1, 2017
Riyadh: Car companies haven't wasted any time courting the 9 million potential customers unlocked when Saudi Arabia lifted its ban on women drivers.
The decision has lit up social media, with both cheers and jeers for the ruling, which takes effect in June. Also joining the chorus are automakers looking to capitalise on the move, racing each other to get their first words out to woo prospective female drivers in the Middle East's biggest economy.
In a Twitter post titled " Welcome to the driver's seat," Ford Motor Co. attached an image of a pair of woman's eyes appearing in a rear-view mirror against a black background. In another tweet under the hashtag #SaudiWomenCanDrive, it offered a "dream car" to a women's rights campaigner by putting up a picture of a bright yellow Mustang racing in a tunnel.
Tata Motors Ltd.'s Land Rover and Jaguar brands posted an image of a handbag spilling out a car key, lipstick and a bottle of perfume among other items, with titles that say " Adventure awaits you" and "The road is yours."
Volkswagen AG published a black picture, placing the words " My turn" between two henna-tattooed fists. BMW AG's Mini went further, attaching a 11-second film showing a chestnut Cooper driving off a parking space with words painted in white that say " Reserved for Women".
The move by King Salman Bin Abdul Aziz to issue driver's licences to women is part of a larger effort to modernise and diversify the kingdom's economy and reduce its reliance on oil. The change may add about $90 billion to economic output by 2030, said Ziad Daoud, an analyst with Bloomberg Intelligence.
Increased mobility means more women will be able to seek work, which could boost discretionary income. Opening up the auto market in the nation of 32 million won't only boost demand for cars, but also for such related products as insurance, loans and billboard ads, which currently are barred from depicting women.
While sport utility vehicles have been a fixture on Saudi roadways, carmakers may need to make more smaller models for single working women and female students, analysts say. On the flip side, ride-hailing services such as Uber Technologies Inc. could see decline drop as more women get behind the wheel.
For now, car companies are trying to capture the attention of their potential female drivers.
Japanese automaker Toyota Motor Corp., whose vehicles made up 32 per cent of all those sold in Saudi Arabia last year, tweeted a picture of a female driver standing next to a shiny blue car. Its high-end Lexus brand published an image of a woman's finger on an ignition switch with its website and phone number underneath. "Share your choice with us?" it asks in Arabic.
Nissan Motor Co., which is considering making cars in the kingdom like Toyota, published a number plate that's printed "2018" and "Girl" in Arabic, congratulating Saudi women who now have the "permission to drive".
http://gulfnews.com/business/economy/carmakers-rush-to-put-saudi-women-behind-wheels-of-their-models-1.2098785
--------
Islamic style is showing up on catwalks, in mainstream stores and on non-Muslim women
For a decade I've studied how Muslim women dress. Ripped jeans tucked into combat boots, structured jackets accessorized with designer sunglasses, flowy pastel chiffons embellished with crystal-encrusted brooches and tailored batik dresses paired with hand-dyed head coverings. These are just a few examples of what I call pious fashion: clothing that aims to be modest and modern.
For most of the years of my research, the fashion world barely noticed Muslim style and the style makers I studied. But now I see pious fashion showing up on catwalks, in department stores and on non-Muslim women. It's almost as if modesty has gone mainstream.
The majority of Muslim women around the world don't wear traditional black full-body covering like chadors, abayas or burqas, and there's a lot of diversity in what they do choose. What counts as attractive differs wildly in the varying cultural contexts in which Islam is practiced, and Muslims have competing opinions about what defines modern modesty. For some, it's about covering parts of the body — hair, shoulders, arms, chests and legs — although sometimes a scarf is just loosely draped, sleeves are three-quarter, pants are cropped and knees peekaboo out of those ripped jeans. For others, modesty means disguising feminine curves via volume and proportion.
That the fashion industry has begun to take modesty into account is at least in part an economic phenomenon. Muslims spend about $230 billion a year on modest clothing, and estimates predict that figure will reach $327 billion by 2019. That's real money, even within the context of a global apparel market valued at $3 trillion.
High-end design houses are clearly trying to tap into the luxury end of the market. Last year Dolce & Gabbana released a collection of headscarves and coordinated abayas made of their signature fabrics. A $2,000 abaya at Harrods in London is one sort of benchmark for Muslim fashion, but even in Dolce & Gabbana's hands, that's a fairly traditional garment — it wasn't exactly fashion forward.
Style innovations have come from lesser-known designers. Consider Jakarta-based Anniesa Hasibuan. Last year, she became the first designer to show an Islamic collection at one of New York Fashion Week's official venues. Necklines were high, sleeves were long, and the skirts swept the floor. Every model went down the runway wearing a headscarf. Hasibuan received a standing ovation from the who's who of fashion.
What goes down a runway gets picked up by the affordable mix-and-match brands. For Muslim style, Uniqlo comes to mind. The company hired Japanese British designer Hana Tajima a couple of years ago. Her first collection was marketed as "modest" and was available only in Southeast Asia. Now you can buy her designs at Uniqlo flagships all over the world, including on 5th Avenue in New York City. The PR for her Fall/Winter 2017 collection no longer mentions that she's Muslim, and the ads use phrasing like "a new silhouette for modern culturally-aware women."
Items from Uniqlo's standard collections also lend themselves to pious fashion adaptation. A Uniqlo sleeveless jumpsuit I just purchased was layered over a long sleeved shirt on the in-store mannequin: perfectly fashionable, perfectly modest. And nothing about it reads immediately as "Muslim."
Cosmetic companies are getting in on the action as well. Last November, CoverGirl made American beauty vlogger Nura Afia its first headscarf-wearing Muslim spokesperson. Afia joined a lineup of the brand's most diverse models to date in a high-profile campaign promoting a new brand of mascara. This was more than reaching out to a niche market. CoverGirl think it can sell more mascara to us all with an inclusive vision of beauty.
Here's perhaps the strongest evidence that Muslim aesthetics are making inroads in mass culture: Season 16 of the TV design competition "Project Runway" features Ayana Ife. She's Muslim. She wears a headscarf. Her designs cover a lot of skin. But her clothes are "not just for Muslim women" she tells the producers. They are for all women "who love modest fashion."
And among the show's other contestants, there also have been modest designs. In Week 1, Kudzanai Karidza made a swoon-worthy red and blush tunic and long pants that would transform into modest fashion with the addition of a tight long-sleeved top. In Week 3, one version of Amy Bond's convertible jumpsuit was undeniably modest. The silhouette of Samantha Rei's silk sleepwear in Week 4 was translatable to daytime pious fashion. The way Brandon Kee has worked with volume almost always results in pieces that could be incorporated into a modest head-to-toe look.
We expect something new each fashion season, so hemlines and necklines rise and fall, silhouettes come in and out of vogue. It's possible that Muslim-appropriate garments on the racks may be a side product of this churn. But I can't help thinking that modesty is spreading because of the tremendous style success of young Muslim women, like the ones who have taught me so much about pious fashion. They look covered and cool. Pious and modern. Their sartorial savvy is at least one reason why women are being told midi skirts and turtlenecks are wardrobe essentials for the fall.
http://www.latimes.com/opinion/op-ed/la-oe-bucar-muslim-fashion-20171001-story.html
--------
Saudi women with recognized states' licenses to directly get license
1 October 2017
The Saudi traffic spokesman, Colonel Tariq al-Rubaiean, announced a new privilege for Saudi women who wants to obtain driving licenses, if they met the criteria after applying the decision which would allow them to drive.
On Sunday, Colonel Al-Rubaiean said that if a woman has a license from a recognized state, a Saudi license will be issued for her immediately, according to Al Rassed program on the news channel.
The traffic spokesman added that according to the Supreme order, male and female equality will be applied in all the General Directorate of Traffic decisions.
More than 6,000 Saudi women have obtained driving licenses from Gulf countries, which will allow them to obtain a Saudi license easily.
https://english.alarabiya.net/en/News/gulf/2017/10/01/Traffic-spokesman-Women-with-recognized-states-licenses-will-directly-get-Saudi-license-.html
--------
Meet the hijabster - young, hip Muslim women in S-E Asia
2 October 2017
PETALING JAYA (Malaysia) • Young, dynamic and devoted - South-east Asia's young Muslim women are more career-driven and "global" than the generation before, and yet, are more Islamic, says a study.
This is seen in an increased adoption of the hijab, or Muslim headscarf, by young professional women as well as students, according to marketing trend and research outfit J. Walter Thompson's Innovation Group.
Its report The New Muslimah: South-East Asia Focus shows more than half (58 per cent) of Malaysian women aged 18 to 39 said a career is important to them, with 80 per cent putting education first, while about one-third of the respondents travel overseas at least once a year.
Around 1,000 women in Malaysia and Indonesia were surveyed in August for the The New Muslimah report. Religion is a major part of their life, with 95 per cent saying Islam is very important to them and "halal" is a top priority when travelling, buying food (98 per cent) and personal care products (71 per cent) such as shampoo and clothing.
This is posing opportunities for not only businesses but also the young women who are driving an explosion in halal fashion, beauty, technology and food.
With the global Muslim population hovering around the two billion mark - and 40 per cent or some 240 million of them in South-east Asia alone - the Muslim market was estimated to be worth RM5.7 trillion (S$1.82 trillion) in 2015 and is expected to grow to RM9.3 trillion by 2021.
Malaysia is seeing a rise of young Muslimah entrepreneurs.
For example, actress Noor Neelofa Mohd Noor, 28, is leading the pack with her Naelofar Hijab brand.
Ms Vivy Yusof, 29, co-founder of omnichannel modest fashion platform FashionValet, is another well-known businesswoman.
Both of them were recently named in Forbes 2017 "30 under 30 Asia" list in the retail and e-commerce category.
"Young Muslim women are showing a new set of aspirations and behaviours which represents both opportunities and challenges for brands," said The Innovation Group Apac director Chen May Yee.
"Broadly speaking, they are more cosmopolitan as consumers than the older generation of female Muslims and are also more religiously observant, " she added.
This can be seen in the world of fashion and entertainment where Malaysian Muslims are setting trends in the global music scene. Among them are Yuna, who is blazing a trail in America; Shila Amzah, who is popping into the East Asia music scene; and fast-rising indie darling Takahara Suiko of electropop band Venopian Solitude.
Many have even labelled these young women "hijabster" - the hijab-wearing hipster.
The New Muslimah report also shows that nearly all (94 per cent) of the respondents feel there are more opportunities for women, although many identified a need for a stronger voice in their community and in government (93 per cent).
One avenue they are not complaining about is access to technology: four out of five spend at least four hours a day online.
Final-year Universiti Kebangsaan Malaysia student Zakirah Zainan, who is busy building her fledgling e-commerce fashion business @Zakeyra, cites technology, especially social media, as an enabler for her.
"I have started taking orders from Singapore," the 22-year-old said. "I also feel there is a lot of support from society for young Muslim women to venture into business and start their own companies."
Ms Dina Zaman, executive director of Iman Research, a Kuala Lumpur think-tank that studies society and religion, said of the trend: "As our young women across the board become more educated and more empowered, they will seek opportunities or be part of a growing professional demographic."
But Ms Dina cautioned that while this is a cause for cheer, "we also need to be mindful of the fact that while there is a huge number of young women who are part of this group, there are many more young Muslim women who are left behind economically and politically".
http://www.straitstimes.com/asia/se-asia/meet-the-hijabster-young-hip-muslim-women-in-s-e-asia
--------
38% of startups registered in 2016 are owned by Saudi women
2 October 2017
DAMMAM: Nearly 40 percent of startups launched in Saudi Arabia in 2016 are owned by women, "which highlights how the role of women in economic development has flourished," said the Governor of the General Authority for Small and Medium Enterprises (SMEs), Ghassan Al-Sulaiman.
"Since its establishment, the General Authority for SMEs has been working in two directions: Tracking the challenges faced by small enterprises and starting where others have left off," he said.
"In the first direction, we have conducted several workshops for 2000 enterprises in order to identify their weaknesses, while in the second direction, we have studied the experience of almost 18 countries focused on excellent companies which are likely to have a bright future."
Al-Sulaiman also pointed out that, as in the case of developed countries, Saudi Arabia needs strong small enterprises which will contribute to serving large corporations, especially in the presence of new sectors — such as mining, sports and tourism — that need the services and products of SMEs. "There are also large projects looking for a greater contribution from SMEs."
He said the authority was in the final stage of preparing a strategy for the development of the SME sector, and part of it will be allocated for financing SMEs. "There are different ideas for the financing mechanism as well as a few new proposals, and I expect the strategy to be submitted to the Council of Economic and Development Affairs and to the Cabinet within 45 days," he said.
The Minister of Commerce and Investment, Majid Al-Qasabi, said: "SMEs are an engine of economic growth, and thus the Kingdom's Vision 2030 aims to develop this sector and raise its participation in the macro economy from 20 percent to 35 percent, which is expected to provide 500,000 to 700,000 job opportunities by 2030.
"The Ministry of Commerce and Investment has focused on establishing the legal infrastructure for doing business, and so it tried during the past period to ensure that the laws and regulations are encouraging, motivating and comprehensive for investments. "Thus, the ministry has participated in amending the government procurement system to ensure the participation of SMEs, in addition to amending the bankruptcy, commercial mortgage and commercial franchise systems, which will allow SMEs to expand across the Kingdom, and all these systems are in their final stages awaiting to be issued."
Al-Qasabi said the ministry was keen on fighting bureaucracy, and that a committee, "Tayseer", with members from the Council of Economic and Development Affairs has been formed to improve the business environment.
http://www.arabnews.com/node/1170881/saudi-arabia
--------
Iran: Women nurses staged protest in Dehdasht
01 October 2017
The city of Dehdasht, in Kohgiluyeh and Boyer-Ahmad Province in southwestern Iran, saw the protest gathering of nurses in front of the Khomeini Hospital demanding their salaries past due for one year.
In the wake of this gathering on September 27, 2017, the head of the city's health network was forced to appear in the hospital's hall to respond to the swelling number of protesters.
A number of nurses expressed the main demands of the nurses' community in Dehdasht, in this gathering and urged the authorities to respond to their demands.
http://www.women.ncr-iran.org/iran-women-news/4345-iran-women-nurses-staged-protest-in-dehdasht
--------
URL: https://www.newageislam.com/islam-women-feminism/women-forced-remove-veil-day/d/112739
New Age Islam, Islam Online, Islamic Website, African Muslim News, Arab World News, South Asia News, Indian Muslim News, World Muslim News, Women in Islam, Islamic Feminism, Arab Women, Women In Arab, Islamophobia in America, Muslim Women in West, Islam Women and Feminism