New Age Islam News Bureau
11 Apr 2016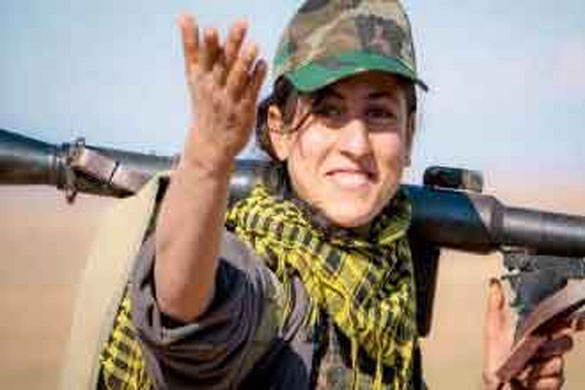 Photo: A Kurdish female fighter from the People's Protection Units (YPG) gestures as she carries a weapon towards her post. (Reuters Photo)A Kurdish female fighter from the People's Protection Units (YPG) gestures as she carries a weapon towards her post. (Reuters Photo)
---------
• Three Female Terrorists Arrested In Pakistan: CTD
• Triple Talaq: India's Muslim Women Fight against Instant Divorce
• Patriarchy, Not Religion Fuelling Oppression of Muslim Women in Malaysia
• Boko Haram Secretly Demands Nearly £40m for Return of Nigerian Schoolgirls
• Eventually a Good News for Pak Bride Arrives – After 13 Years
• More Arab Women Work Outside Of Home, Finds Study
• Uber Could Test Uber for Women in Northern Africa and Muslim World
• Open Letter to French Women's Rights Minister Laurence Rossignol
Compiled by New Age Islam News Bureau
URL: https://newageislam.com/islam,-women-and-feminism/new-age-islam-news-bureau/women-fighters-putting-fear-of-death-into-isis-in-iraq/d/106946
---------
Women Fighters Putting Fear Of Death into ISIS in Iraq
Norma Costello | The Independent | Apr 11, 2016
A Kurdish female fighter from the People's Protection Units (YPG) gestures as she carries a weapon towards her post. (Reuters Photo)A Kurdish female fighter from the People's Protection Units (YPG) gestures as she carries a weapon towards her... Read More "Raping the Yazidi women was part of [the Isis] plan. Destroy the women, destroy the culture," Haveen, a 22-year-old Kurdish fighter says as she scans the road ahead.
Dressed in the green guerilla uniform synonymous with Kurdish armed groups, Haveen and her friend Denis keep watch, as two members of a unit of fighters within the YBS - a Kurdish civil defence militia. The all-women or "jin" unit based in Kananshor village near Sinjar mountain is home to a rotating group of female fighters made up of local Yazidi women and Kurds from nearby Turkey and Syria.
"I have been fighting for a long time now. I was on the frontline but I was injured by an IED [Improvised Explosive Device]," Haveen explains, pointing to a scar near her eye.
Denis, an energetic 30-year-old fighter from Turkey, said the women set up in Sinjar after Isis stormed the region in August 2014. Thousands of women were taken captive as ISIS seized control of Sinjar in north-western Iraq, home to hundreds of thousands of members of the minority religion ISIS has labelled as infidels. ISIS abducted younger women and children and murdered men and older women. Those who could not flee were killed and buried in mass graves.
"After what happened to the Yazidi women it's important to have all women units here," Denis says.
The YBS is an offshoot of the People's Protection Units (YPG) - the paramilitary wing of Syria's Kurdish Democratic Union Party (PYD). The YPG, who have been one of the most effective forces fighting ISIS, say they are training Yazidi women to fight against any further incursions into Yazidi land.
"We have to support these women and help them to protect themselves. Isis took those women and children because they wanted to destroy their honour. We help train the Yazidi women to defend themselves and then they can control their own future. That's why we're here," Denis says.
The women fighters live in separate quarters from the men, and romantic relationships are strictly forbidden. "We live separately but that's the only difference," Haveen says. "On the frontline we are all the same."
The women's base is adorned with pictures of female martyrs and brightly coloured carpets. It boasts a strategic vantage point, with a clear view of all cars entering the Yazidi village. Leaning out the window, Denis erupts into laughter when asked how successful the women's units have been in the battle against ISIS.
"They are so scared of us! If we kill them they can't go to heaven. It makes us laugh.... We make loud calls of happiness when we see them to let them know we are coming. That's when they become cowards," she says. Under the strict interpretation of Islam by ISIS, if a fighter is killed by a women he cannot go to heaven, a fact the women clearly relish
"I like that when we kill them they lose their heaven. I don't know how many of them I've killed," Haveen says as she takes a drag of her cigarette. "It's not enough. I won't be happy until they're all dead"
Three hours away in a predominantly Arab village close to the Syrian border, Kurdish fighters explain how they retook the village - which had been held by ISIS - two weeks ago.
"We waited in the mountains for weeks... We lost 15 fighters, 14 men and one woman," a young guerrilla who gave his name as Dilsan explains.
The YBS has attracted young fighters from neighbouring Syria.
"I came to kick ISIS out of these lands," an 18-year-old fighter named Rozaline explains. "I came for the Yazidi women. I saw them cutting women's heads off in Rojava [what Kurds call the three Kurdish enclaves just south of the Turkish border in Syria]. I saw so many awful things. I don't want to see any more cutting and killing".
The former medical student left her studies to spend three months training with the YPG in the mountains in Syria. A recent recruit to the frontline - she arrived four days ago after ISIS launched an attack to retake the village - Rozaline says she is there to avenge the Yazidi women.
"I must protect the Yazid women from those animals.... I hate them so much but I'm not afraid. Kurdish women sing when we go into battle. We know they are cowards," she says, while the other 'jin' fighters let out the shrill celebratory uluation call they use in battle
The women are in high spirits - but ISIS fighters are just a few kilometres over the horizon. Two suicide bombers recently drove a car loaded with explosives to within 500 metres of the group's base. Fragments are scattered all over the village, as our YBS driver weaves his way through carefully through the sandy terrain littered with recently removed IEDs set by Isis.
"They came to destroy our base but one of our fighters shot them," Amara a Syrian fighter says.
On the road back to Kananshor the car passes a militia base where Kurdish fighters are evaluating their last offensive against ISIS. A small woman shouts into a microphone, assessing the group's strengths and weakness. Dozens of young guerrillas sit listening to the speech, a common occurrence after an ISIS offensive.
Passing through areas of Sinjar mountain we see how the exposed bones of Yazidi women in mass graves are slowly being fenced off by members of the US-based Yazda group - an NGO which aims to support the Yazidis. In the nearby city of Duhok the International Commission for Missing People (ICMP) prepare to exhume the remains of those massacred by ISIS, in order to build a genocide case - a gruesome task that has enlisted a team of international experts and forensic anthropologists.
Denis, who has already spent a large part of her life as a fighter, says protecting the Yazidi women is just one step in their plan to defend women's rights globally.
"You and me, we are free, I am a fighter, you are a journalist but our sisters around the world - they suffer under the power of men, In Africa, in Asia, in Europe and American women suffer like the Yazidis. The fight of our women is a fight for all women," she says.
timesofindia.indiatimes.com/world/middle-east/Women-fighters-putting-fear-of-death-into-ISIS-in-Iraq/articleshow/51773620.cms
------
Three Female Terrorists Arrested In Pakistan: CTD
APRIL 11, 2016
LAHORE: The Counter-Terrorism Department (CTD) Sargodha on Monday announced the arrest of three female suspected terrorists near the Lahore Road area.
The officials claimed to have recovered two suicide jackets and three hand grenades from the possession of the "lady terrorists", said to a CTD statement.
While conducting a raid in the Bypass Sem Nala area, CTD officials were shot at by two attackers, the statement said, adding that CTD officials fired back in self-defence.
The attackers fled and three female suspects were arrested while trying to escape, the CTD said.
The arrested women revealed the identities and addresses of their accomplicess, and special teams have been constituted and dispatched to arrest the two men, the statement said.
The south Punjab operation
The decision to conduct a security operation was taken after the horrific Gulshan-i-Iqbal park suicide attack in Lahore, which killed at least 72 people including women and children.
Military sources had stated the army and Rangers will conduct a widespread operation across Punjab to target militants, their facilitators and their hideouts, following the carnage in Lahore.
Sources had said the decision was taken during a high-level military huddle, chaired by Army chief Gen Raheel Sharif at the General Headquarters.
Prime Minister Nawaz Sharif, while chairing a high-level security meeting in Lahore, had also called for more proactive coordination amongst law enforcement and intelligence agencies against terrorism.
Security forces earlier in April announced continuing military operations against banned outfits and their facilitators in the province.
Operations led by civil and military intelligence agencies will be launched by the army, Rangers, CTD and police as required, followed by constant review and regulation by the Joint Operations Coordination Committee.
Analysts believe that south Punjab, with thousands of seminaries and a history of having provided foot soldiers to militant and sectarian outfits for decades, now offers a promising opportunity for the militant Islamic State (IS) to strengthen its network in the region.
"The main battle has to be fought in the tribal backyard, but the job will remain half-done unless the militant sanctuaries and support networks in the cities both in southern and northern Punjab are completely dismantled," warned a Lahore-based security analyst.
dawn.com/news/1251416/three-female-terrorists-arrested-in-sargodha-raid-ctd
--
Triple Talaq: India's Muslim women fight against instant divorce
11 April 2016
India is perhaps the only country in the world where a Muslim man can divorce his wife in a matter of minutes by just uttering the word talaq (divorce) three times. But this controversial practice of "triple talaq" is now facing a stiff challenge - the Supreme Court is considering whether to declare it unconstitutional, writes the BBC's Geeta Pandey in Delhi.
Shayara Bano's world came crashing down in October.
The 35-year-old mother of two was visiting her parents' home in the northern state of Uttarakhand for medical treatment when she received her talaqnama - a letter from her husband telling her that he was divorcing her.
Her attempts to reach her husband of 15 years, who lives in the city of Allahabad, have been unsuccessful.
"He's switched off his phone, I have no way of getting in touch with him," she told the BBC over phone from her home in the northern state of Uttarakhand. "I'm worried sick about my children, their lives are getting ruined."
In February, a frustrated Shayara Bano filed a petition in the Supreme Court, demanding a total ban on triple talaq which, she says, allows Muslim men to treat their wives like "chattel".
Muslims are India's largest minority community with a population of 155 million and their marriages and divorces are governed by the Muslim personal law, ostensibly based on the sharia.
Even though it has been practised for decades now, the unilateral instant triple talaq is clearly an aberration - it finds no mention in sharia or the Koran.
Islamic scholars say the Koran clearly spells out how to issue a divorce - it has to be spread over three months which allows a couple time for reflection and reconciliation.
Activists say most Islamic countries, including Pakistan and Bangladesh, have banned triple talaq, but it thrives in India.
For years, Muslim women in India have also been demanding a ban on the reprehensible practice - in 2004, I wrote about a similar campaign to end triple talaq.
A dozen years later, the situation appears worse.
And modern technology has made it even easier for unscrupulous men to dump their wives - using text messages as well as post and the telephone to pronounce divorce. There have also been instances where men have used Skype, WhatsApp or Facebook for the purpose.
In November, the Mumbai-based Bharatiya Muslim Mahila Andolan (BMMA - Indian Muslim Women's Movement) released a report chronicling nearly 100 cases of triple talaq.
"Since 2007, we have come across thousands of cases of oral triple talaq, rendering women destitute with nowhere to go," says Professor Zakia Soman, social activist and BMMA founder.
In a majority of the cases compiled by the BMMA, the divorced women were from poor families and most said their husbands did not honour their obligations to pay maintenance, forcing them to return to their parental homes or fend for themselves.
Indian Muslims also follow Halala - where a divorced woman has to marry another man and consummate her marriage in order to go back to her former husband.
"India is the only country in the world where these un-Koranic practices exist. These are barbaric and totally unacceptable. There's a need for a comprehensive review of Muslim personal laws in India," Prof Soman told the BBC.
In October, the BMMA wrote a letter to Prime Minister Narendra Modi demanding "reforms in Muslim divorce and polygamy laws". They also filed a petition in the Supreme Court.
Prof Soman says what makes matters worse for the women is that "this un-Islamic triple talaq is often sanctioned by the Muslim clergy - the qazis and maulvis".
Perhaps that is why the Supreme Court's decision to take up Shayara Bano's petition has been opposed by several influential Muslim groups, including the All India Muslim Personal Law Board (AIMPLB).
Its working committee member Asma Zehra is quick to "condemn" the practice, describing it as "haraam" (forbidden), but insists that the divorce rate is still very low among Indian Muslims and that the issue is being blown out of proportion by forces inimical to Islam.
"Why is everyone after us, after our religion?" she asks.
Ms Zehra says Muslims are struggling to survive under the present Indian government, led by Mr Modi's Hindu nationalist Bharatiya Janata Party, adding that the focus on the issue of triple talaq is "basically because they want to interfere in our religion" with the aim of introducing a uniform civil code.
She says that even though triple talaq has no Koranic sanction, it is not in their power to ban it because AIMPLB is "just a moral body, we can only educate people".
Ms Zehra says they are doing plenty to educate people, but activists say much more needs to be done.
"Condemning it is not enough. These practices need to be declared illegal," says Prof Soman.
"It's important that the Muslim family law is properly codified. Koran gave us our rights, the patriarchal forces have taken it away from women," she adds.
Shayara Bano, in her village in the hills of Uttarakhand, is pinning her hopes on the Supreme Court.
"I want my husband to take me back. I'm hoping to get justice from the court," she says.
bbc.com/news/world-asia-india-35997390
------
Patriarchy, Not Religion Fuelling Oppression of Muslim Women in Malaysia
April 11, 2016
KUALA LUMPUR, April 11 — The root cause behind the oppression of Muslim women in Malaysia lies with patriarchy and how Islam has been used as a tool to control and oppress certain groups in society, panellists at a forum said last night.
In a forum titled "Maqasid Shariah and Women's Rights", Bersih 2.0 national representative Fadiah Nadwa Fikri said that Islam in Malaysia has been used in the past as a tool by men to maintain power over women.
Citing Islamist party PAS's recent reminder to women of their supposed true "functions" as homemakers, the activists said that this was a classic example of how religion is used and interpreted to justify a system which oppresses women.
"This view reinforces patriarchy, it is a system that enables oppression to women.
"Then we have religious teachings that are taught by men and interpreted in their ways," she told attendees at the Kuala Lumpur Selangor Chinese Assembly Hall here.
"So, this societal belief has perpetuated the problem. It has been embedded inside us and it has manifested in many forms such as religious institutions," she added.
Last month, the PAS Ulama council called for women to be allowed to fulfil their true function as homemakers, claiming that Malaysian family institutions were getting weaker due to rising number of divorces.
Muslim non-governmental organisation Pertubuhan Ikram Malaysia (Ikram)'s women's wing chief Datin Paduka Che Asmah Ibrahim.Muslim non-governmental organisation Pertubuhan Ikram Malaysia (Ikram)'s women's wing chief Datin Paduka Che Asmah Ibrahim.
Meanwhile, Muslim non-governmental organisation Pertubuhan Ikram Malaysia (Ikram)'s women's wing chief Datin Paduka Che Asmah Ibrahim said that Islam never set aside different rights for men and women.
"Al-Quran never differentiates between men and women, this applies for rights as well.
"Women can make their own decisions on properties and their spouses among other choices," she said.
Jac SM Kee speaks at a forum titled 'Maqasid Shariah and Women's Rights' in Kuala Lumpur, April 10, 2016.Jac SM Kee speaks at a forum titled 'Maqasid Shariah and Women's Rights' in Kuala Lumpur, April 10, 2016.
Centre of Independent Journalism (CIJ) director Jac SM Kee added that other religions and ideologies such as capitalism and culture can also become a form of "machinery" to perpetuate patriarchy.
The forum was organised by local think-tank Penang Institute and G25.
themalaymailonline.com/malaysia/article/forum-patriarchy-not-religion-fuelling-oppression-of-muslim-women-in-malays
------
Boko Haram secretly demands nearly £40m for return of Nigerian schoolgirls
APRIL 11, 2016
Boko Haram has reportedly demanded a nearly £40m ransom for the return of the missing Chibok girls.
This Thursday will mark the second anniversary of the abduction of 276 female students from their boarding school in Chibok in northern Nigeria by the terror group.
Some of the girls were able to escape their captors but the whereabouts of 219 remains unknown despite a worldwide social media campaign, #bringbackourgirls, to put pressure on the Nigerian military to act.
Citing anonymous sources close to the terror group, the Sunday Telegraph says Boko Haram secretly approached the Nigerian government to negotiate the release of the girls.
The source said the terror group asked for 10bn naira - or £36m - for their release.
A month after the kidnap, the group's leader, Abubakr Shekau, said he would release the girls in exchange for the release of several jailed militants.
A deal along those lines was brokered by the Red Cross but broke down when the government said it did not have the named militants in custody.
President Muhammadu Buhari - whose defeat of his predecessor Goodluck Jonathan last year was partially down to Mr Jonathan's slow response to the kidnap - has stepped up efforts to defeat the terror group, which at the height of their strength controlled an area the size of Belgium in northern Nigeria.
Since the beginning of last year, however, the army has pushed the group back towards their base in the Sambisa forest on the Cameroon border and released over 1,000 women and girls from captivity - but the Chibok girls are nowhere to be found.
The newspaper reported that the Chibok girls are likely to be very well guarded by Boko Haram fighters, as their international fame has made them an important bargaining chip.
Shehu Sani, a Nigerian senator and civil rights activist involved in the peace talks told the newspaper: "I think they are probably in clusters rather than all in one place, but probably not far from each other.
Boko Haram knows they are a prized catch."
RAF Sentinel planes were sent to Nigeria to hunt for the girls in 2014 but only made one possible sighting two months after they disappeared.
The Nigerian armed forces were criticised for not marching on the camp at the time but they said they could not have attacked the group without widespread casualties among the girls.
independent.co.uk/news/world/africa/boko-haram-nigeria-terror-group-secretly-demands-nearly-40m-for-return-of-chibok-schoolgirls-a6977901.html
--
Eventually A Good News For Pak Bride Arrives – After 13 Years
Apr 11, 2016
With a cynical smile over her Burqa clad face, Tahira said, "It was a strange feeling that my three children are Indians but I was not. Now I am going to be an Indian also."
With a cynical smile over her Burqa clad face, Tahira said, "It was a strange feeling that my three children a... Read More
AMRITSAR: Finally, the arduous journey of 13 years of a Pakistani bride of making rounds to 'babu's offices' seeking Indian citizenship came to a pleasant end after she received a much sought after communique from Department of Home Affairs and Justice directing Gurdaspur administration to issue her a certificate of Indian citizenship.
"Ultimately, I will be a proud Indian citizen now. I will be able to move freely anywhere out of Qadian," said Tahira Zahur while talking to TOI on
Monday, adding, that she wanted to visit dozens of places which she had been craving to visit for past 13 years.
Tahira, resident of Faisalabad in Pakistan, was married to Chaudhary Maqbool Ahmad of Qadian in 2003. Since then she and her husband had been running from pillar to post 'pushing' Tahira's Indian citizenship file from one table to another, furnishing unending formalities and seeking required permissions.
The letter issued by Passport branch of Department of Home Affairs and Justice, a copy of which is with TOI, directs the deputy commissioner, Gurdaspur to register Tahira as a citizen of Indian under Section 5(1)(c ) of the Citizenship Act, 1955 and issue her a certificate.
Qadian is the headquarters of Ahmadiyya Muslims community in India. Ahmadiyyas have divided families across the Indo-Pak border and marriages are common phenomena between them. Many Pakistani Ahmadiyya girls are married in India and vice versa.
But at the same time, Tahira expressed concern over pending citizenship cases of other Pakistani girls who are married in India and living in Qadian.
With a cynical smile over her Burqa clad face, Tahira said, "It was a strange feeling that my three children are Indians but I was not. Now I am going to be an Indian also."
Her husband Chaudhary Maqbool said that their journey from going one to office to another and making numerous rounds have finally yielded desirable results. "We are going to celebrate Tahira's Indian citizenship in a big way," he said.
timesofindia.indiatimes.com/city/amritsar/Eventually-a-good-news-for-Pak-bride-arrives-after-13-years/articleshow/51773268.cms
-----
More Arab Women Work Outside Of Home, Finds Study
Apr 11, 2016
Despite increase, women who seek employment still face societal tensions, researcher tells 'Post.'
A WOMAN MAKES traditional pita bread in Kafr Kasim, near Rosh Ha'ayin. (photo credit:Courtesy)
"Arab women from all over the country are going to work, but it is not easy for many psychologically because of the conflict it creates with their husbands," according to preliminary findings of a study being prepared as a PhD at Bar-Ilan University.
Their husbands "want them to continue their full-time care of the home and the children's needs," Joseph Klein, a senior lecturer and head of the division of educational leadership and administration at the university, said in an interview with The Jerusalem Post on Sunday.
Arab women in Israel are slowly gaining more freedom, but they are not disassociating themselves from traditional Arab norms, according to the study.
Rodayna Badir interviewed 800 Arab women aged 24 and older from all around the country for her dissertation.
Badir, from Kafr Kasim, told the Post that "despite the fact we live in modern society, culture and tradition still strongly shape societal norms."
The women she spoke with claimed that their household chores add up to 70 percent of their time.
Badir hopes her research will open up avenues for incremental change by raising awareness of the need to strike a better balance between domestic duties and activities outside of the home.
"I don't want to cut off culture, but to keep our roots while finding the freedom to study and work without limits."
She agreed with the influential American political scientist Samuel Huntington, who argued that modernization does not mean Westernization.
"As the pace of modernization increases, however, the rate of Westernization declines and the indigenous culture goes through a revival," Huntington wrote in The Clash of Civilizations and the Remaking of World Order (1996).
Klein, who is guiding Badir in the research, said that her work has identified several issues that have obstructed women from entering into the workforce: Arab perceptions of women, caring for many children, and schooling issues.
Possible solutions include more support from and communication with the husband, and greater employer flexibility.
"I am optimistic, not for a revolution, but for change," he said, adding that the revolution already happened with more and more Arab women leaving the household to work and engage in other activities.
"We need to ensure that it is not a revolution that breaks down, but one that builds up," said Klein.
Badir found that many women who believed in the importance of taking care of the home and family, had more problems at work as a result.
Women who put more value on home duties would refuse requests to stay late at work. They would ask to leave early, or perhaps take days off.
"Arab women in Israel generally experience a high level of conflict between family and work," she said.
Husbands who support and discuss their wife's work helped ease conflicts within the home.
However, few husbands display such behavior, according to her research.
"We are in a process of change. The woman feels it is her right to work, but does so carefully in order not to blow up the household and go against traditions."
Asked about possible solutions, Badir responded that if husbands would realize that their wives could double household income, perhaps an acceptable balance could be found within the context of traditional culture.
"The change is going slowly," she said.
In addition, she continued, there needs to be more afterschool programs and daycare hours as well as a division of household chores.
jpost.com/Israel-News/More-Arab-women-work-outside-of-home-finds-study-450836
------
Uber could test Uber for Women in Northern Africa and Muslim World
April 10, 2016
A new women-only ride-sharing service, Chariot for Women, is set to launch April 19 in Boston, Massachusetts. Surprisingly, this sounds good and might easily be copied by Uber as it expands into many muslin countries like Northern Africa and some parts of sub-Saharan Africa. Of course, in countries where women can drive. Nigeria is a great example; the northern part of the country could work out well. Think of Kano and Kaduna.
The idea is that only women will drive and only women will be picked up.
Scores of women have reported rapes and assaults by Uber drivers, while, anecdotally, countless others have felt threatened. In March, Uber's safety issues were thrown into the spotlight when Uber driver Jason Brian Dalton allegedly shot and killed six people in Kalamazoo, Michigan. Dalton continued to pick up Uber passengers in between his shooting rampages. Just yesterday, Uber agreed to pay up to $25 million to settle with prosecutors for misleading passengers about the thoroughness of its background checks.
So if we have only women drivers, some areas where women are not usually in close proximity with male strangers will benefit. The Muslim world where women can drive will benefit from this.
tekedia.com/57958/uber-test-uber-women-northern-africa-muslim-world/
---
Open letter to French Women's Rights Minister Laurence Rossignol
April 10, 2016
The French women's rights minister's referring to Muslim women who wear the headscarf as 'negroes who support slavery,' is simply the sign of a fascist, racist and venomous mindset
Madame Laurence Rossignol, your recent remarks labeling women who wear headscarves as "negroes who support slavery" caused real frustration and anger among Muslim women who wear the headscarf as a requirement of their religious beliefs.
I would like to draw your attention to the danger of such stigmatizing remarks in a society like France, which has the largest Muslim population in Europe. As far as I know, there are 6 million Muslims in your country.
Muslim women who practice the directives of Quran and wear headscarves feel free when they are so dressed. The real freedom comes from the feeling that the directive of their beliefs is being implemented. A duty is being done. Prayers will be said in accordance with the Quran and there is a feeling of deep serenity.
Islam as a religion is a system of beliefs that protects women more than any other religion. I am not talking about misinterpretations of the religion, but referencing the pure text of the Quran. So when you say "slavery" and "headscarf" in the same sentence, you ignore a whole belief system and its reference to women's place in society.
In our country, nearly 10 years ago, women who wore headscarves were not permitted to attend universities as students and continue their education or take part in official institutions in an attempt to limit the free participation of Muslim women in daily life. This policy was a real sign of fascist ideology, which, in fact, is akin to slavery to create small robots in the same shape. Fortunately, our country overcame the period of discrimination toward women who wear headscarves, and currently in politics, bureaucracy and academic life, Muslim women can find their place.
Headscarves are a more visible sign of Islam, and I know that some politicians in Europe have a problem with the visibility of Islam in their society. But until now I thought that it was far-right, fascist and racist politicians of some European states. I am still surprised to see such remarks coming from a politician like you who is active in combating racism. I am still trying to understand this dilemma.
For Muslim women, just like any group of women in your society, I think the issues of being active in working life, educated, taking an important role in social life and to have a word in history should be discussed more than their free choices. They should also to be permitted to look after their children freely as mothers, and not be discriminated against by the power of justice, which puts aside the rights of others such as foreigners, refugees and Muslims.
I will not ask you to be empathetic toward Muslim women, but just to respect their free choice.
And I hope you understood the frustration of the 400 women who applied for justice concerning your remarks as well as the dissatisfaction of millions of Muslim women all over the world. I hope a common understanding will be found between you and the 400 women who filed a complaint against you on Friday. Unless your remarks were not a part of an election campaign, since your Prime Minister Minister Manuel Valls stated recently that the 2017 French presidential election will be over cultural and identity battles. As we have witnessed in many cases such as in the case of former President Nicolas Sarkozy, a policy that provokes differences to get more supports will bring a total zero at the end of the day.
dailysabah.com/columns/saadet-oruc/2016/04/11/open-letter-to-french-womens-rights-minister-laurence-rossignol
URL: https://newageislam.com/islam,-women-and-feminism/new-age-islam-news-bureau/women-fighters-putting-fear-of-death-into-isis-in-iraq/d/106946
New Age Islam, Islam Online, Islamic Website, African Muslim News, Arab World News, South Asia News, Indian Muslim News, World Muslim News, Womens in Islam, Islamic Feminism, Arab Women, Womens In Arab, Islamphobia in America, Muslim Women in West, Islam Women and Feminism