New Age Islam News Bureau
05 August 2022
• Arab Women Take On Leadership To Improve Health
• Qatar Participates In International Forum On 'Women's Struggle In Algeria'
• Egypt's Women Handball Team Re-Formed 10 Years After Abolition
• New UN Women Representative Officially Assumes Duty In Uganda
• Muslim 'Wife' Living With Hindu Man In Sindh, Pakistan, Sent To Safe House
• Major GCC Women's Volleyball Tourney Set For Abu Dhabi
Compiled by New Age Islam News Bureau
URL: https://newageislam.com/islam-women-feminism/djs-saudi-arabia/d/127652
--------
Women DJs, Unthinkable Just Years Ago, Becoming Common In Saudi Arabia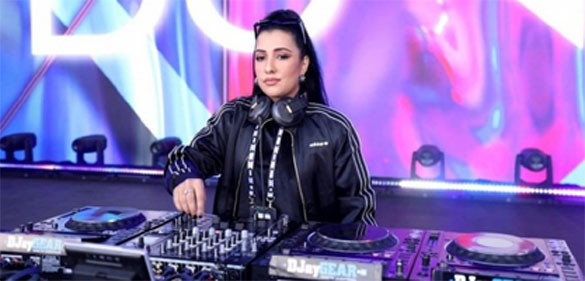 Photo: Collected
----
Aug 2, 2022
Standing behind her control tower with headphones around her neck, Saudi DJ Leen Naif segues smoothly between pop hits and club tracks for a crowd of business school graduates noshing on sushi.
The subdued scene is a far cry from the high-profile stages –- a Formula 1 Grand Prix in Jeddah, Expo 2020 in Dubai -– that have helped the 26-year-old, known as DJ Leen, make a name for herself on the Saudi music circuit.
Yet it captures an important milestone: Women DJs, an unthinkable phenomenon just a few years ago in the conservative Kingdom, are becoming a relatively common sight in its main cities.
These days they turn few heads as, gig after gig, they go about making a living from what once was merely a pastime.
"A lot of female DJs have been coming up," Naif told AFP, adding that this has, over time, made audiences "more comfortable" seeing them on stage.
"It's easier now than it has been."
Naif and her peers embody two major reforms championed by Saudi Crown Prince Mohammed bin Salman: new opportunities for women and expanding entertainment options –- notably music.
The possibility that DJs would be welcomed at public events, let alone that many would be women, is something "we didn't expect" until recently, said Mohammed Nassar, a Saudi DJ known as Vinyl Mode.
"You are seeing now more female artists coming out," Nassar said.
Before "it was just a hobby to express themselves in their bedrooms".
"Now we have platforms, and you know they could even have careers. So it's really amazing."
Winning over sceptics
Naif was first introduced to electronic music as a teenager by one of her uncles, and she almost instantly started wondering whether DJ'ing was a viable job.
While her friends dreamed of careers as doctors and teachers, she knew she didn't have the patience for the schooling those paths required.
"I'm a work person, not a studying person," she said.
Unlike other women DJs, she had the immediate support of her parents and siblings.
Other Saudis, however, required some winning over.
Several years ago, a man came up to her mid-performance, declaring she was "not allowed" and demanding "Why are you doing this?"
His complaints got Naif's set shut down, but she doubts the scene would play out the same way today.
"Now I bet that same guy, if he sees me, he's going to stand first in line just to watch."
Naif has benefited from official attempts to trumpet Saudi Arabia's new entertainment-friendly image.
Her nomination to play at the Saudi pavilion of Expo Dubai 2020 gave her an international audience for the first time.
But it's the work at home that supports her day-to-day, earning her 1,000 Saudi riyals (around $260) per hour.
Here to stay
Other women DJs have encountered more resistance.
Lujain Albishi, who performs under the name "Biirdperson," started experimenting on DJ decks during the pandemic.
Her family disapproved when she started talking about DJ'ing professionally, preferring she strive to become a doctor.
She stuck with it anyway, developing her skills at private parties.
Her big break came last year when she was invited to perform at MDLBeast Soundstorm, a festival in the Saudi capital Riyadh that drew more than 700,000 revellers for performances including a set by superstar French DJ David Guetta.
The experience left her "really proud."
"My family came to Soundstorm, saw me on stage. They were dancing, they were happy," she said.
Both Naif and Albishi say they believe women DJs will remain fixtures in the kingdom, though their reasoning varies.
For Naif, women DJs succeed because they are better than men at "reading people" and playing what they want to hear.
Albishi, for her part, thinks there is no difference between men and women once they put their headphones on, and that's why women DJs belong.
"My music is not for females or for males," she said. "It's for music-lovers."
Source: The Daily Star
https://www.thedailystar.net/arts-entertainment/music/news/women-djs-unthinkable-just-years-ago-becoming-common-saudi-arabia-3086001
--------
Arab Women Take On Leadership To Improve Health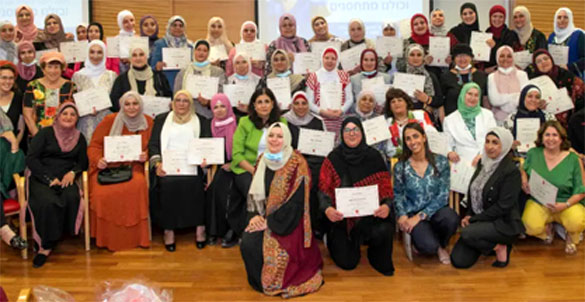 Health Advocates: Dr. Maha Nubani Husseini (2nd row, 6th from L); the writer; (3rd row, 2nd from L); Dr. Donna Zwas (3rd row, 4th from R).
(Photo credit: AVI HAYOUN)
-----
By Barbara Sofer
JULY 30, 2022
"S." was 19 when she met her husband for the first time.
Family members were present and the couple didn't speak much. The same happened in the two subsequent short meetings. The man, also young, seemed shy, but "S." was shy, too. She'd never met a potential groom before.
"S." liked the idea that she would be living in Jerusalem. She was excited and happy as the wedding preparations moved forward.
Only on their wedding day did "S." realize to her dismay that she was marrying a mentally challenged man. There was no way out. Her family would never take her back.
The worst was knowing that her parents were aware of her husband-to-be's limitation and had made the match anyway.
This isn't a story from a 19th-century novel. I met "S." when she spoke publicly at Hadassah Medical Center about how her life had suddenly gotten better. She was among some 45 women who came to the hospital to celebrate their participation in and completion of health courses under the auspices of the Linda Joy Pollin Cardiovascular Wellness Center for Women, with the support of the Jerusalem Municipality and Efshari Bari, the Health Ministry's health promotion program.
"S." is one of 11 children in a family with a hand-to-mouth family existence in a periphery village within the Palestinian Authority. Today she's 38, still married, a mother of four children – one of whom has severe learning disabilities. Her husband doesn't work and they live on disability insurance.
Another of "S.'s" personal frustrations was not being allowed to go to high school beyond the 10th grade. So when she heard about a free course on women's health at the community center in nearby Wadi Joz, she wanted to attend. At first, her husband's extended family with whom they live protested her attending but she overcame their objections. The workshop had 22 sessions, each three hours long, and was adapted from the American Diabetes Prevention Program to fit the Jerusalem community's needs. At each meeting, the women from Isawiya and Wadi Joz would hear from a medical professional in Arabic and take part in discussion groups.
"What we added to the American program was mostly the element of resilience," says Dr. Maha Nubani Husseini, who directs the program curriculum and implementation in the Arab sector. "Our women deal daily with the challenges of lower socioeconomic conditions, plus the restrictions on women's independence within the norms of Palestinian society. Even in better-off neighborhoods, we have husbands who show up at the community centers to make sure that what their wives are doing conforms to their strictures and values."
A shocking statistic: by age 70, half of Arab women have diabetes, and they have a 60% higher rate of cardiovascular mortality than Jewish women.
"There are not significant genetic differences between the Jewish women and the Arab women in Jerusalem that explain the disparities in heart disease," says Dr. Donna Zwas, the Harvard-trained cardiologist who heads the Pollin Center. "The major differences are lifestyle and dietary choices that can be changed, which ultimately will prevent disease and save lives. Arab women in Israel are diagnosed with heart disease 10 years earlier than Jewish women."
But how can a university hospital get to women like "S." in hard-to-reach communities most in need of health intervention?
"Everyone knows that eating well and exercise prevents disease, but the challenge is to get women to find the culturally and personally appropriate way to make the changes," Zwas says.
One effective method is to train the women themselves to be the leaders, an ongoing process that requires a carefully crafted empowerment program that won't draw ricochets that undercut women's efforts. This will improve women's health and have a ripple effect on the entire community.
Potential leaders are spotted within the graduates of the basic course and invited to a smaller leadership training program where they design projects, learning to write proposals that require specifying goals and needed resources. There's also training in public speaking so they can do effective outreach to their neighbors.
At the graduation, many women rose to speak, practicing their hard-won new skills. Among the women who told their stories were a young woman taking the course despite undergoing treatment for breast cancer, and a feisty retired schoolteacher with a long history of community service.
The graduates sang on the bus that brought them to and from the Ein Kerem campus. They wore their holiday clothes, mostly intricately embroidered Palestinian dresses. Absent from the buffet table were the usual burekas and cheese danishes. Instead, there were dessert bowls of yogurt, vegetable-laden tabbouleh and fruit.
"S." says that what stuck to her most in the first course was the idea that she needed to do something for herself. "There were sessions on how to manage stress, and I realized I had to get over the justified anger at my mother for limiting my education and for making such a match for me and do something for myself," she said.
The planning and implementing program in which she was involved is a workshop on eliminating the home accidents that plague Arab neighborhoods.
According to Dr. David Rekhtman, who heads the Pediatric Emergency Room at Hadassah's Mount Scopus hospital, adjacent to Isawiya and near Wadi Joz, the most common accidents include falling from roofs, summertime drownings, burns and accidents from children playing in the street for lack of sidewalks and play areas. There are also hand injuries from cap guns and firecrackers during Ramadan, and even bullets that go astray at wedding celebrations. "Awareness campaigns targeting not storing kerosene in cola bottles have eliminated most of the cases of kerosene-poisoning, a proof that health activism in the area of home safety can be impactful."
"S." was delighted when she was chosen to take part in the advanced leadership course. She said, "I knew that I would feel better about myself if I was involved in something that would help my family and community. I finally believed that I had the potential to do something this important. It has brought me joy." 
Source: J Post
https://www.jpost.com/opinion/article-713247
--------
Qatar participates in international forum on 'Women's Struggle in Algeria'
31 Jul 2022
ALGIERS: The State of Qatar participated in an international forum that highlights the struggle of Algerian women as an example of the struggle of Arab women in the process of liberating their homelands, which was held as part of the activities commemorating the 60th double anniversary of the Independence and Youth in the Republic of Algeria.
Qatar's delegation was headed by Minister of Social Development and Family HE Maryam bint Ali bin Nasser Al Misnad.
In the speech she delivered during the forum, Her Excellency commended the role of Algerian women in the renaissance of their country, and reviewed the efforts of the State of Qatar, its programs and policies related to the advancement of women in various fields, and the achievements made in this regard.
Source: The Peninsula Qatar
https://thepeninsulaqatar.com/article/31/07/2022/qatar-participates-in-international-forum-on-womens-struggle-in-algeria
--------
Egypt's women handball team re-formed 10 years after abolition
August 4, 2022
On Thursday, the Egyptian Handball Federation announced the formation of the Egypt's national women's handball team to participate in foreign tournaments, ten years after its abolition.
Egypt's women handball team last played in the 2010 Africa Cup of Nations.
The Egyptian Handball Federation announced several decisions in its meeting, as follows:
-The formation of the Egyptian national women's handball team to participate in foreign tournaments.
-Ayman Salah is appointed general supervisor of the women's handball team and is in charge of forming the technical, administrative and medical staff and setting up a preparation program for the coming period.
-The Egyptian Super Cup for men will be held from September 10 to 12 at the 6th of October Hall between Zamalek, Al-Ahly and Sporting clubs.
– The formation of an association to take care of old players, coaches and referees, and to pay them monthly pensions.
-Senegal will host the next edition of the Africa Cup of Nations from November 9 to 19, which qualifies the winner for the 2023 World Cup.
The Egyptian women's under-18 handball team made a historic achievement by qualifying for the quarter-finals of the World Athletics Championships in Macedonia.
Source: Egypt Independent
https://www.egyptindependent.com/egypts-women-handball-team-re-formed-10-years-after-abolition/
--------
New UN Women Representative officially assumes duty in Uganda
August 4, 2022
New UN Women Country Representative Paulina Chiwangu formally assumed duty Wednesday after presenting her credentials to Uganda's Minister of Foreign Affairs, Hon General Jeje Odongo.
The presentation took place at the Ministry of Foreign Affairs (MOFA) and was witnessed by dignitaries from MOFA and the UN Women Uganda Country Office.
During the ceremony, the minister acknowledged the tremendous work by UN Women in supporting women's empowerment and gender equality. The new country representative was commended on her impressive experience as well as having worked extensively in Uganda.
"Women in Uganda are still faced with many challenges, including the effects of COVID-19, challenges in externalized labour in the countries in which they work, and patriarchy which still make them lag behind. We want to work with UN Women to address the prevailing challenges in refugee settings and the externalization of labour. UN Women should work closely with the government to identify priority areas that can be worked on together," Hon. Jeje Odongo said.
Ms. Chiwangu remarked on her warm welcome to Uganda, highlighting UN Women's mandate to support all countries to promote gender equality and women's empowerment.
"Firstly, I congratulate Uganda and Brenda Akia for being voted onto the CEDAW committee, the first time a Ugandan has been elected to the committee. On behalf of UN Women, I pledge our close collaboration with her on CEDAW work. Further congratulations to the country on the launch of the Parish Development Model, and I commit support to ensure that it is successfully implemented," she said.
Ms. Paulina Chiwangu holds a Doctorate in Philosophy and has over 20 years of experience in development and humanitarian work.
She has previously served as Deputy Country Representative with UN Women in South Sudan and as Deputy Country Representative for the UN Women Iraq Country Office, as well as Head of KRG Sub-Office.
Prior to her work with UN Women Iraq, she worked with UN Women Bosnia and Herzegovina as Head of Gender Coordination for the UNDAF. She worked with UN Women in Serbia as interim Head of Office. Prior to that, she was heading the UN Inter-Agency Joint Programme on Gender Equality and she was the Acting Country Representative for UN Women office in Uganda for one year.
Before joining UN Women, she was the Head of Planning, Monitoring and Evaluation, as well as the Public Relations Unit for UNDP's Police Reform Programme in Dhaka, Bangladesh. She has held positions in various Southern African countries as well as in the United States and Ireland.
The UN Women Country Representative is an accredited representative of the UN Women Executive Director and the Regional Director and is responsible for negotiations with the host country. The Country Representative also oversees relationships and activities with the government and other partners, provides security for UN Women personnel and facilitates functional common services arrangements with other UN agencies.
Source: Zawya
https://www.zawya.com/en/press-release/africa-press-releases/new-un-women-representative-officially-assumes-duty-in-uganda-y9do56x2
--------
Muslim 'Wife' Living With Hindu Man In Sindh, Pakistan, Sent To Safe House
August 5, 2022
MIRPURKHAS: The third judicial magistrate of Mirpurkhas on Thursday sent a Muslim woman, Ms Natasha, to 'Safe House' in Satellite Town and remanded her purported husband, Anil Kumar, in police custody for a day after she was picked up by police in a raid on their apartment in Zubaida Heights, located on Mirpurkhas-Hyderabad road on Wednesday.
The couple was produced in the court to record their statements. Ms Natasha stated that she was Anil's wife and had been living with him for some years. She further stated that Anil had promised to her that he would embrace Islam soon.
Anil was arrested in Hameedpura locality of the city.
The couple is to be produced in court again today (Friday).
Police had detained three other persons, Dinesh, Bharat and Haresh, during the raid.
Source: Dawn
https://www.dawn.com/news/1703243/muslim-wife-living-with-hindu-man-in-sindhs-mirpurkhas-sent-to-safe-house
--------
Major GCC women's volleyball tourney set for Abu Dhabi
August 05, 2022
ABU DHABI: The Fatima Bint Mubarak Ladies Sports Academy is set to host its inaugural GCC Volleyball Cup tournament between Aug. 26 and 31 at the Jiu-Jitsu Arena, Zayed Sports City.
The tournament will feature six teams, including three from the UAE — Fatima Bint Mubarak Academy Team, Al-Wasl Club and Sharjah Ladies Club.
The event will also include one team each from Saudi Arabia (Saudi Noura Club), Kuwait (Salwa Al-Sabah) and Bahrain (Bahrain Club), with 72 players set to compete.
The staging of this month's championship has been selected by the FBMA to coincide with Emirati Women's Day, which will be celebrated across the UAE on Aug. 28.
By marking the occasion with the participation of the Gulf's top players, FBMA hopes to inspire women and girls to take up the sport.
The tournament was announced during a press conference at Abu Dhabi Sports Council's headquarters, attended by Talal Al-Hashemi, executive director of sports development at the council, and Amal Al-Afifi, board member of the FMBA.
Al-Afifi said: "The launch of the first GCC Volleyball Cup for Ladies represents another significant moment in FBMA's history as we continue our journey of creating regular opportunities for females to participate and succeed in sport.
"Volleyball is a game that is going from strength to strength and rising in popularity and we are delighted to be bringing this important Gulf competition to Abu Dhabi that will showcase the best talent that the region has to offer.
"While we hope to attract new audiences to volleyball, the GCC Volleyball Cup for Ladies also falls on Emirati Women's Day, which provides a perfect opportunity to celebrate the extraordinary women in our society.
"By placing the spotlight on these female volleyball athletes, we hope the younger generation that are watching the matches will be inspired by what they see and be encouraged to follow in their footsteps so they can strive in sport and become the best individual(s) they can be in life."
Al-Hashemi said the tournament was "another great addition" to the busy schedule of sporting events being hosted in Abu Dhabi.
"We believe this new tournament that brings together players from different countries across the GCC will be a valuable opportunity for teams to interact and gain more experience and deliver better performances.
"We have formed a strategic partnership with FBMA and we are happy with the progress made by the Academy as it has become a major supporter of women's sports in Abu Dhabi."
The format will see the six teams split into two groups with the pool matches played between Aug. 26 and 28. Following a day's rest, the semifinals will be contested by the top two sides in each group before the event concludes a day later.
Source: Arab News
https://www.arabnews.com/node/2136556/sport
--------
URL: https://newageislam.com/islam-women-feminism/djs-saudi-arabia/d/127652
New Age Islam, Islam Online, Islamic Website, African Muslim News, Arab World News, South Asia News, Indian Muslim News, World Muslim News, Women in Islam, Islamic Feminism, Arab Women, Women In Arab, Islamophobia in America, Muslim Women in West, Islam Women and Feminism