New Age Islam News Bureau
27 Jan 2019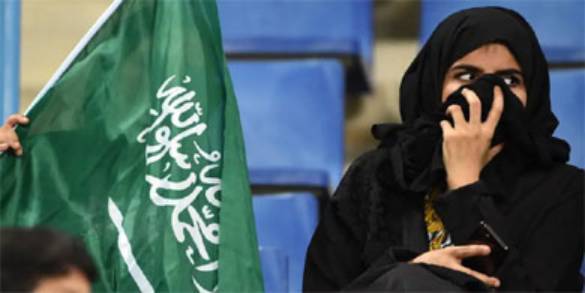 Saudi women cheer at football match in Riyadh ( AFP/Getty )
------
• Nahdlatul Ulema Chairman Calls on Indonesian Muslims to Help Prevent Child Marriage
• Kenya Court's Hijab Ban Ruling Sparks Fears over Muslim Girls' Schooling
• Women Have Honoured Position In Islam: Said Aqil
• Members of Muslimat NU should become smart women: Nahdlatul Ulema Chairman
• No Scientific Data, Medical Evidence to Justify Female Circumcision
• Why Saudi Arabia Hates Muslim Women In The US Congress
• Congress Must Stand Up For Imprisoned Saudi Women
• Lebanon's Nadine Labaki on her Oscar nomination
Compiled by New Age Islam News Bureau
URL: https://www.newageislam.com/islam-women-feminism/women-detainees-being-sexually-assaulted/d/117567
--------
Women Detainees 'Being Sexually Assaulted and Flogged' In Secret Saudi Prisons
Jan 27, 2019
Female rights activists in Saudi Arabia have been sexually assaulted, tortured with electric shocks and flogged so hard they cannot stand, Amnesty has reported, as British MPs ratcheted up pressure on Riyadh to grant them access to the detainees.
At least 10 rights defenders have been tortured, including being made to kiss each other while interrogators watched, Amnesty said in a report released on Friday.
One woman activist was wrongly told by an interrogator that her family members had died, a lie she was made to believe for an entire month. Others held in the secret prisons were tortured with electric shocks, flogged so hard they could not stand, or waterboarded, the human rights group said.
Among the women, who have all been held since a wave of arrests in May, are prominent rights activists such as Loujain al-Hathloul and Aziza al-Youssef, who campaigned for women's right to drive and against the Kingdom's oppressive male guardianship system which controls its female citizens. None has been officially charged or referred to trial, and most have no legal representation.
The alarming reports come as a group of cross-party British MPs and international lawyers gave Saudi Arabia until the end of the month to grant them access to the women.
The group, which has formed a detainee review panel, has sent an official request to the Saudi ambassador to the UK, Prince Mohammed bin Nawwaf bin Abdulaziz, to obtain first-hand testimony from 10 women who are being held in a number of jails in the country.
They said if there was no positive response by 29 January a report detailing all the allegations of mistreatment gathered by rights groups including Amnesty would be published soon afterwards.
The Saudi government has repeatedly denied the claims of mistreatment of the detainees.
"We are extremely concerned about the wellbeing of these activists, who have been in arbitrary detention for around nine months simply for standing up for human rights," Lynn Maalouf, Amnesty International's Middle East Research Director, said on Friday. "The Saudi Arabian authorities have repeatedly proven themselves unwilling to effectively protect detainees from torture, or to carry out impartial investigations into claims of torture in custody. That is why we are calling on Saudi Arabia to give independent monitoring bodies immediate and unfettered access to the detained activists."
Amnesty said the fresh testimonies followed ones they gathered in November that detailed how several activists, including a number of women, had been repeatedly tortured by electric shocks and flogging, leaving some unable to walk or stand.
The group urged the UK government to call for the release of the women, saying that despite hailing "reforms" in Saudi Arabia for much of the first part of 2018, it had done little for the plight of the jailed activists.
Meanwhile in the UK, members of the cross-party group – including the Conservative MP Crispin Blunt, former chair of the foreign affairs select committee; Liberal Democrat MP Layla Moran; and Paul Williams, the Labour member of the health and social care committee – warned they would push ahead with publishing the report if their requests were ignored.
They stressed that they were prepared to keep an open mind and listen to the Saudi government's case on the issue but it was imperative they be allowed to carry out their inquiries in Saudi Arabia.
The pressure comes as Riyadh reels from the catastrophic fall out of the murder and dismemberment of Saudi journalist and regime critic Jamal Khashoggi by Saudi officials at their consulate in Istanbul.
Saudi Arabia's powerful Crown Prince Mohamed Bin Salman (MBS) has faced mounting accusations that he ordered or at least oversaw the killing. The brutal murder also brought to light dozens of other cases of abductions of regime opponents, as well as instances of torture and mistreatment in jail.
Saudi Arabia's top prosecutor has ruled out MBS's involvement and blamed specific intelligence officials who apparently went "rogue".
On Thursday, Reuters revealed that Agnes Callamard, the United Nations special rapporteur on extrajudicial, summary or arbitrary executions, would travel to Turkey next week to head an independent international inquiry into Khashoggi's death.
Earlier that day, Turkish Foreign Minister Mevlut Cavusoglu said it was time for an international investigation and that President Tayyip Erdogan had ordered preparations to be made.
https://www.independent.co.uk/news/world/middle-east/saudi-arabia-prisons-women-activists-sexual-assault-flogging-a8746211.html
--------
Nahdlatul Ulema Chairman Calls on Indonesian Muslims to Help Prevent Child Marriage
JANUARY 23, 2019
Jakarta. Said Aqil Siradj, chairman of Nahdlatul Ulema, the country's largest Islamic organization, has called on Muslims to play an active role in helping to prevent child marriage in Indonesia.
"Preventing child marriage is a mighty important thing to do, to avoid the negative impacts on women and children," Siradj said, as quoted in a statement by the Rumah Kita Bersama Foundation.
In a meeting with members of the foundation at Nahdlatul Ulema's headquarters in Central Jakarta on Monday, Siradj also offered to hold a focus group discussion with NU's education body to build a common understanding on the importance of preventing child marriage and increasing the organization's role in ongoing efforts.
The Rumah Kita Bersama Foundation is a research institute for policy advocacy established in 2010. Its work focuses on fighting for the rights of marginalized communities.
Involving both religious and nonreligious organizations is considered a viable way to help end child marriage, especially in rural communities where it is still practiced and considered part of tradition.
Indonesia ranks 77th among countries with the highest absolute numbers of child marriage, with around one in nine girls married before they turn 18.
The prevalence of this practice in the archipelago affects approximately 375 girls every day, according to data published by the United Nations Children's Fund (Unicef).
Despite the legal age of marriage being 21 in the country, there have been exemptions allowing girls as young as 16 to wed with parental consent.
In December, the Constitutional Court ruled that the government must change this minimum age requirement.
The court declared that the 1974 Marriage Law discriminated against girls and diverged with rules on child protection, and subsequently gave lawmakers three years to decide what the new minimum age should be.
However, many cases show that girls enter into religious marriages through nikah siri, which literally means "secret wedding," that are not registered with the government. The underreported nature of child marriages means that grassroots-level efforts are key, and influential organizations such as Nahdlatul Ulema could therefore play a crucial role.
"Preventing child marriage is an urgent matter for us to reduce divorce rates and for families to thrive," Siradj said.
https://jakartaglobe.id/context/nu-chairman-calls-on-indonesian-muslims-to-help-prevent-child-marriage
--------
Kenya Court's Hijab Ban Ruling Sparks Fears over Muslim Girls' Schooling
January 25, 2019
NAIROBI: A ruling by Kenyan's top court that schools can ban the hijab could lead to Muslim girls — already at risk from practices such as female genital mutilation (FGM) and child marriage — dropping out of school, campaigners warned on Friday.
The Supreme Court ruled on Thursday that every school had the right to determine its own dress code, overturning a 2016 judgment allowing Muslim students to wear the hijab in non-Muslim schools, and directed the government to frame guidelines.
Human rights groups fear some schools will opt to impose the ban, which pertains to both the hijab and the white trousers often worn by Muslim schoolgirls under their skirts.
"I believe there is a large sense of tolerance in most schools, both public and private, in Kenya. But there is a possibility that some schools will enforce a ban," said Demas Kiprono, campaigns manager at Amnesty International in Kenya.
"If this happens, it may affect schooling for Muslim girls. Religious dress is an important issue for some Muslim communities, so the ban may lead to families taking their daughters out of school, or girls may themselves not feel comfortable."
Muslims make up about 10 percent of Kenya's 44 million people, while Christians account for almost 85 percent of the population, according to the latest census data available.
Campaigners say Kenyan girls, including those from Muslim communities, already face multiple barriers to completing their education.
Traditional practices such as FGM and child marriage often force adolescent girls to drop out of school, they said, and schools banning hijabs could lead to higher drop-out rates.
"This is a missed opportunity by the Supreme Court to have set a landmark judgment on women's right to privacy and to choose what she wants to wear," said Agnes Odhiambo, senior women's rights researcher for Human Rights Watch in Kenya.
"If schools decide to take up the ban, the government must monitor this to ensure it does not discriminate against Muslim girls. This ruling does not promote integration, peace and tolerance in our schools and communities."
http://www.arabnews.com/node/1442566/world
--------
Women Have Honoured Position In Islam: Said Aqil
Jan 27, 2019
Jakarta (ANTARA News) - Women have honored position in the Islamic perspective, the General Chairman of the Islamic organization Nahdlatul Ulema (NU), Said Aqil Siroj, said.
The statement was conveyed during commemoration of the 73rd anniversary of Muslimat NU at the Gelora Bung Karno (GBK) sports complex Central Jakarta, here on Sunday.
"The Quran enshrines women in Surah An-Nisaa. An-Nisaa means women. There is no such Surah in the Quran Ar-Rijal (Men)," he said.
In the history of the Islamic struggle, women also made decisive moments. In fact, the first person who defended Islam was a woman named Sumayyah.
"Sumayyah was killed by Abu Jahal, after that her husband Yasir," he said.
He also told a story about Umar bin al-Khattab, the second caliph of the Muslims, who remained silent when his wife scolded him.
The wisdom of those stories is the primacy of women who must be guarded by anyone.
This is also based on the words of the Prophet Muhammad.
"Then respect your wife. The Prophet said, a good husband is a husband who loves his wife," he said.
https://en.antaranews.com/news/122028/women-have-honored-position-in-islam-said-aqil
--------
Members of Muslimat NU should become smart women: Nahdlatul Ulema Chairman
Jan 27, 2019
Jakarta (ANTARA News) - One of the women`s wings of the country`s largest Muslim organization, Nahdlatul Ulema (NU), Muslimat NU, should become an organization of smart women who become teachers for their families.
"The intelligence of women in the family is very important especially to transmit the seeds of Islam that is Rahmatan lil-alamin (a mercy to all creation)," the General Chairman of the Islamic organization Nahdlatul Ulema (NU), Said Aqil Siroj, said here on Sunday.
Rahmatan lil-alamin attached to the values of moderation and tolerance.
"Maintaining those values must be done by smart and educated people. Muslimat NU must be smart," Said Aqil Siroj remarked.
With a strong understanding of the value of moderate Islam, women can fortify their families from the threat of radicalism under the guise of religion.
"They should take care of their families. Don`t be provoked by terrorist in the name of religion," he emphasized.
While the value of tolerant Islam is mutual respect between those who are different in terms of beliefs or ethnic groups.
"Let us take care of the Unitary State of the Republic of Indonesia, the state ideology of Pancasila, and national character," he stated.
Nahdlatul Ulema (NU), Muslimat NU, has an important role in strengthening ahlus sunnah wal jama`ah (Aswaja), a moderate theology in Islam, Chairperson of the Organizing Committee of the 73rd anniversary of Muslimat NU Yenny Wahid earlier remarked.
As the first school for families, Muslimat, Muslim women, become educators who should teach their children based on the values of Islam that are tolerant, moderate, and righteous.
And the result will be Islam that is Rahmatan lil-alamin (a mercy to all creation).
Yenny Wahid remarked that strengthening Aswaja is strengthening the nation and even the world.
https://en.antaranews.com/news/122030/members-of-muslimat-nu-should-become-smart-women-said-aqil
--------
No Scientific Data, Medical Evidence to Justify Female Circumcision
Azrul Mohd Khalib
January 27, 2019
I refer to the letter titled, 'There's no basis for banning female circumcision' written by Rafidah Hanim Mokhtar and Nur Saadah Khair.
It is shocking that they and Wafiq, the International Women's Alliance for Family Institution and Quality Education, are defending female genital cutting. It is alarming that as medical professionals, rather than depending on science, they place religious practices at the centre of their argument.
Despite their demand for an objective analysis of female genital cutting (FGC) backed by reliable and validated data, they have conveniently ignored the fact that there is no scientific data or medical evidence whatsoever which justifies the need or benefits for performing this procedure.
Until recently, it is a practice that barely raised an eyebrow even among the media, human rights and women's rights activists in the country. It is a fact for many Muslims in Malaysia that FGC, also euphemistically termed as female circumcision, is routinely carried out on infants and girls.
Everyday, this procedure is being done. But just because everybody does it, does not make it right.
The euphemistic term of female circumcision and the above response has been used repeatedly to make it sound better and justify the practice.
One of the common responses to the practice of female genital cutting in Malaysia is that we don't do it the way it is done in Africa. So, it is acceptable to do it.
Let us be clear, any harmful procedure which is carried out on the female genitalia for non-medical purposes, whether minor or major, is female genital mutilation. This is also known as female genital cutting.
Female circumcision is female genital cutting.
The World Health Organization (WHO) has four classifications for FGC:
Type 1 is clitoridectomy – partial or total removal of the clitoris and, in very rare cases, only the prepuce or clitoral hood (the fold of skin surrounding the clitoris).
Type 2 is excision: partial or total removal of the clitoris and the labia minora, with or without excision of the labia majora or "the lips" which surround the vagina.
Type 3 is infibulation: narrowing of the vaginal opening through the creation of a covering seal. The seal is formed by cutting and repositioning the inner, or outer, labia, with or without removal of the clitoris.
Type 4 includes all other harmful procedures to the female genitalia for non-medical purposes. This includes the procedure of pricking, piercing, incising, scraping and cauterising the genital area.
Malaysia has Type 1, 2 and 4. We do not have Type 3 which is the practice of infibulation, a form of FGM which has traumatised, scarred and damaged the lives of thousands of girls and women in Africa and some parts of Asia.
WHO also concluded that in comparison to the clear, demonstrable benefits for male circumcision ranging from improved hygiene and prevention of sexually transmitted diseases, there are absolutely no medical benefits from female genital cutting.
The following might sound familiar:
"You know, the blade used in those old Gillette shavers which you can buy at the convenience store? The blade is lightly run across the clitoris and the labia"
"Just a pinprick aja. A hole was made into the clitoral hood."
"A small bit of the labia or the clitoral hood was sliced off."
"I remove a centimetre of the clitoris."
The first and last quotes were from a traditional practitioner, while the rest are some of the common descriptions given by women and girls who have been subjected to the procedure which was described to them by the mothers. They are some of the usual options offered by private hospitals and clinics. The fees range from RM 50 to RM 400.
Based on descriptions of the procedure as implemented around the country, three out of the four forms of female genital cutting are practised in Malaysia.
A ministry of health circular actually prohibits the practice of female circumcision in all public health facilities. Rather than medicalising and regulating the practice, MOH should extend that prohibition to all healthcare facilities, private and public.
Despite all of this, mothers continue to insist on having their infant daughters' genitals cut. Why?
The University of Malaya study on the status of female circumcision in Malaysia cited by Rafidah Hanim and Nur Saadah indicated the following findings:
More than 90% of Malay Muslim female respondents were circumcised.
None of the non-Malay female respondents were circumcised.
More than 93% of women also circumcised their daughters.
The primary reasons for female circumcision were cited as it being a religious obligation, personal hygiene, cultural practice and to control the girl's sexual desire.
In 2006, Al Azhar University declared female circumcision as un-Islamic.
Since then several Muslim majority countries have banned the practice including Egypt and Indonesia (despite the ban, the cutting of girls persists in many rural areas). In 2012, the UN General Assembly's human rights committee adopted a resolution which declared female genital cutting to be a harmful practice and a serious threat to the psychological, sexual and reproductive health of women and girls.
The National Fatwa Council in 2009 made the practice obligatory (wajib) for girls (http://e-smaf.islam.gov.my/e-smaf/fatwa/fatwa/find/pr/15253). Yet, their rationale couldn't even find the necessary references in the Quran and had to utilise arguments from a different mazhab (Maliki).
In comparison, slavery is not only mentioned in the Quran, but it is also provided for as an accepted practice in certain circumstances. Yet, we don't accept or practice slavery today. We condemn it. Last I checked, none of the Muslims I know owned any slaves.
Contrary to what is being claimed, female circumcision isn't required under Islam. There are no medical benefits from the procedure. There is also no evidence that female circumcision does anything to control sexual desire (unless because of the circumcision, the sex act is so traumatic that it would be too painful or impossible).
If there is no medical benefit, no religious obligation, or any benefit whatsoever to performing female circumcision, then why do it?
Rather than medicalising the practice, we should instead be prohibiting and criminalising the act of female circumcision to protect our infant daughters and girls from harm. No ifs, buts or caveats.
https://www.freemalaysiatoday.com/category/opinion/2019/01/27/no-scientific-data-medical-evidence-to-justify-female-circumcision/
--------
Why Saudi Arabia Hates Muslim Women In The US Congress
by Hamid Dabashi
Jan 27, 2019
"Saudi Arabia Declares War on America's Muslim Congresswomen," a title ran in Foreign Policy magazine recently, where we find out: "Gulf Arab monarchies are using racism, bigotry, and fake news to denounce Washington's newest history-making politicians." This is serious business.
The two Muslim women at the centre of attention of the Saudi propaganda machinery are Palestinian American Rashida Tlaib, the newly elected US representative for Michigan's 13th congressional district, and Somali American Ilhan Omar, newly elected US representative for Minnesota's 5th congressional district.
Naturally, many racist conservatives in the United States were upset with the election of two Muslim women to the US Congress, and their run-of-the-mill xenophobia was expected. But the vitriol Saudi-affiliated media outlets and commentators spewed was indeed something new.
So, why would the Saudis, or any other tyranny in the Arab and Muslim world whose very existence is dependent on the benevolent generosity of the US military, pick up a fight with these two newly elected members of the US Congress?
Aren't the Saudis "the Custodians of the Two Noble Sanctuaries", as they call and thus congratulate themselves? Aren't they supposed to be protectors and supporters of all Muslims around the world?
According to the FP, "academics, media outlets, and commentators close to Persian Gulf governments have repeatedly accused Omar, Rashida Tlaib … and Abdul El-Sayed (who made a failed bid to become governor of Michigan) of being secret members of the Muslim Brotherhood who are hostile to the governments of Saudi Arabia and the UAE."
So, there you have it, the catchword: the Muslim Brotherhood.
The bugbear of the Muslim Brotherhood
The rise of the Muslim Brotherhood in the US as a scary monster predates the brief fortune of leading member and deposed Egyptian President Mohamed Morsi. In the Arab world, however, it was in the aftermath of the Arab Spring that the ruling regimes of Bahrain, Egypt, Syria, Saudi Arabia, and the UAE considered it their number one enemy. Because of Hamas (considered a branch of the organisation), Israel, too, joined these Arab states in their shared fear and loathing of political Islam. Through a deliberate and sanctioned ignorance, these governments are reducing the entire spectrum of resistance to their tyrannies to the Muslim Brotherhood.
Saudi Arabia and its allies, the UAE and Egypt in particular, have launched a vicious and indeed deadly campaign against the organisation. But this is not why they have come after the two US Congresswomen.
Another article published on the MinnPost explains: "Saudi loyalists aren't wrong that Omar is a persistent critic of the Saudi regime. Recently, she's condemned the kingdom over two crises that are drawing international scrutiny to the secretive regime: the war in Yemen, and the death of journalist Jamal Khashoggi."
Thus for their outspokenness and open criticism, Omar and Tlaib are perceived as what Professor Mahmoud Mamdani of Columbia University calls "bad Muslims" in his remarkable study and subsequent book. By contrast, good Muslims - the ones Saudi Arabia et al like - are those silently watching it massacre Yemenis and cut Khashoggi to pieces while rushing to make ticket reservations for their Hajj pilgrimage.
Noting these vicious attacks against these young Muslim lawmakers in the new US Congress, Professor Mohammad H Fadel of the University of Toronto pointed out a crucial issue: "The shocking willingness to attack Muslim-Americans and Arab-Americans and embrace American Islamophobia reveal a deeper and more depressing state of affairs between the Arab world and its expatriates."
But why should Saudis and their allies be afraid of Muslim Americans? Well, they fear the Khashoggi effect - too many Muslims exposing and criticising tyranny.
If America could be beautiful
While the Saudis and their allies are scared witless of just two Muslim women, there are strong indications that more will be joining Congress in the coming years.
The 116th Congress, of which Omar and Tlaib are now members, is the most diverse in US history, with a record number of Latinos, African Americans, and Asian Americans and the first Muslim and Native American women to serve.
Before that, the 115th Congress, and before it, the 114th, were also considered most diverse in US history.
Increasing diversity of political representation in the US is a clear trend and Muslim Americans are very much part of it. Currently, there are some 3.4 million Muslims living in the US (just over one percent of the US population), but the young generation among them is emerging as exceptionally engaged in the public and political arenas.
The majority of Muslim Americans (76 percent) are first or second-generation immigrants, many of them (or their parents) hail from lands that suffer under despotic rulers. The Muslim American youth, being politically active at home, is also very much vocal about the tyranny in their homelands (just like Omar and Tlaib are, and just like Khashoggi attempted to be), readily exposing the deep corruption and the evil banalities of the regimes that rule them.
And this is what is scaring, not just the Saudi elites, but also the Egyptian, the Emirati, the Iranian, etc regimes in the Arab and Muslim worlds which detest freedom of expression. They would very much like these outspoken Muslim Americans back home where they can arrest, jail, torture, and murder them in peace.
Muslims living in the US are emerging as a peculiar vintage. Their small number is not a significant portion of the population but their cumulative resistance to the diabolical Islamophobia that is coming their way in their adopted country is making them stronger citizens of a fragile democracy.
This historic opportunity has turned Muslims living in the US (but also in Canada, Europe, and Australia), where they face daily racist xenophobia, stronger agents in their respective histories, and as such, they are serious threats to the countries of their origins and the pathetic tyrants ruling them.
Today, not just Saudi Arabia, but equally Iran, Egypt, Turkey, or Pakistan have lost their exclusive claims on what it means to be a Muslim. Muslims around the globe who are not living under tyranny have equal, if not larger, claims on their faith. The theological and political implications of these small demographic changes are enormous. In this sense, the hatred of the Saudis towards two Muslim American congresswomen is just the tip of an iceberg.
The Saudi-Zionist alliance
It is not accidental that the selfsame Muslim women that the Saudis and their allies hate are targeted by the propaganda machinery of major Zionist outlets, which defame and demonise them because they take principled positions on Israel, criticising its policies and supporting the Boycott, Divestment Sanctions (BDS) movement.
The Saudi-Zionist alliance now runs deeply into the heart of the Arab and Muslim world. Ruling regimes from Saudi Arabia to Chad are putting all their eggs in the Zionist basket, hoping this would ensure their survival. Bad move. The power of the Zionists over the US politics is seriously challenged, and Muslims are part of a rising democratic will that will include the democratic aspirations of Muslim nations in their agendas.
In addition to the Zionist-instigated Islamophobia in Europe, Australia and North America, Muslims on these continents face another abusive danger: Racist Islamophobes abusing legitimate criticism of Arab and Muslim states in their warmongering schemes. The crucial question of women's rights is particularly vulnerable to this abuse and is often incorporated in the aggressive demonisation of not just the ruling regimes (who are responsible for the violations of these rights) but the entirety of Muslim and Arab cultures.
With Islamophobia from one side, bourgeois feminism at the service of war machines on the other, and the Saudi-Zionist alliance aiming to silence and kill voices of Muslim dissent, Muslim living in the US and elsewhere have their work cut out for them.
There is no underestimating the institutional and propaganda power of these nefarious forces. One must celebrate the election of two Muslim women to the US Congress, but one should not be too sanguine about their overnight success either. That the Islamophobes, xenophobes, the Saudis and their regional allies are alarmed is a good sign, but the battles ahead are mighty and mean. After all, for every Ilhan Omar and Rashida Tlaib in the US Congress there is a platoon of Nancy Pelosis and Chuck Schumers in the back pockets of regressive, Islamophobic and Zionist powers.
https://www.aljazeera.com/indepth/opinion/saudi-arabia-hates-muslim-women-congress-190126055438087.html
--------
Congress Must Stand Up For Imprisoned Saudi Women
By Editorial Board
January 26, 2019
HATOON AL-FASSI is one of Saudi Arabia's most eminent and respected scholars. A professor at King Saud University in Riyadh for more than a quarter century, she has authored two seminal books on women's history in Saudi Arabia and numerous journal articles. She has won international honors, including induction into France's academic honor society. For more than a decade, she has also peacefully advocated for improvements in Saudi women's rights, including the right to vote in local elections and the right to drive. For that, since last June she has been imprisoned.
Ms. Fassi is one of more than a dozen female activists who have been arrested in a senseless and unconscionable campaign of repression launched by Crown Prince Mohammed bin Salman. The detentions began just as the regime finally granted women driving rights last June and continued through the summer. At least nine women are still in prison; many were held in solitary confinement for prolonged periods, and some were brutally tortured. All have been subjected to vicious campaigns of defamation in pro-government media. None has yet been convicted of any crime.
According to the Saudi Twitter account Prisoners of Conscience, Ms. Fassi was one of three female prisoners who recently were transferred to common cells in al-Hair prison, south of Riyadh, after being held for long periods in solitary confinement. Little else is known about her case or her physical condition. Late last year, multiple human rights organizations and news organizations, including The Post, reported that several other women held in solitary confinement had been tortured. They were subjected to beatings, waterboarding, electric shocks and sexual abuse. A top aide to Mohammed bin Salman, Saud al-Qahtani, watched the abuse of one of the women, Loujain al-Hathloul, while threatening her with rape and murder, according to Ms. Hathloul's family.
This outrageous behavior has attracted too little international attention and censure. After Canada spoke up for detained activist Samar Badawi and Nassima al-Sadah last August, the Saudi government expelled the Canadian ambassador and withdrew its own from Ottawa. Yet rather than support the Saudi women or Canada, the Trump administration responded by urging the two governments to settle their differences.
More recently, Secretary of State Mike Pompeo said he had raised the case of the imprisoned women during meetings in Riyadh this month. Yet none have been released; having been excused by President Trump for the murder of Jamal Khashoggi, Mohammed bin Salman understands that this U.S. administration will not hold him accountable for even egregious abuses of human rights.
Last week, more than 200 scholars from across the world signed a letter to the Saudi government calling for the release of Ms. Fassi, as well as the other women activists. Now it is time for Congress to get involved. Legislators should seek sanctions against those involved in the detention and torture of the women under the Global Magnitsky Act. They should condition further economic and military cooperation with the regime on their release. No regime that imprisons and tortures peaceful advocates for women's rights should be treated as an ally by the United States.
https://www.washingtonpost.com/opinions/global-opinions/congress-must-stand-up-for-imprisoned-saudi-women/2019/01/26/5b04728a-1f35-11e9-9145-3f74070bbdb9_story.html
--------
Lebanon's Nadine Labaki on her Oscar nomination
January 26, 2019
Nadine Labaki is standing taller than usual. The Lebanese director, a source of national pride, became the first female artist in the Arab world to be nominated for an Academy Award.
Labaki's foreign language nomination for 'Capernaum' makes her one of the only female directors to compete at this year's Oscars, which feature another all-male line-up in the best director category.
"I hope I will be representing women filmmakers the best way possible," Labaki said. "I wish there were a lot more women filmmakers this year represented, nominated in the Oscars. But I am sure in a few years we won't be having this problem anymore."
'Capernaum' is Labaki's third feature film — the latest achievement in a successful career the confident and charismatic Labaki has carved for herself in Lebanon and the region.
In her home country, the 44-year-old mother of two is a unifying figure in a fractured political and religious scene and in an industry that unlike in the West, is dominated by women. With her trademark smoky eyes and black hair, Labaki is also an actress who made a name for herself first as a director of videos for top Arab pop music stars.
'Capernaum,' the masterful neo-realist drama about a 12-year-old Syrian refugee boy and a Kenyan toddler who live parentless on the streets of Beirut received a 15-minute standing ovation in the Cannes Film festival and won the Grand Jury's prize.
The United Nations called it "inspiring" and Oprah Winfrey gave it a shout out on Twitter. Lebanon's Foreign Minister said 'Capernaum' "was a Lebanese touch" on the international movie industry.
'Capernaum' faces against stiff competition from 'Roma,' an awards season favourite that has four Oscar nominations including best picture.
Labaki's nomination is the second in the foreign film category for Lebanon in as many years — reflecting the small country's rising start in a region brimming with as much talent as it is with political turmoil.
Labaki called the making of the movie a life-changing journey that started four years ago. Its theme resonates beyond regional politics, she said.
"We can't help but acknowledge that there is a certain fear of refugees in general around the world and there are these walls we are building, and this fear that keeps growing. [When] you see this kid with so much potential and so much wit and smart and heart and so much resilience and strength, you can't help but break all the cliches that you might have in your head," she said.
'Capernaum' is led by a non-professional cast: a young Syrian boy named Zain, a Kenyan toddler girl, Yonas, who plays the role of a boy. In the film, Zain sues his parents after they fail to protect his little sister against child marriage and for continuing to have children they are unable to care for.
'Capernaum' humanises the real struggle of people mentioned in the news only fuelling fear of strangers, Labaki said.
The film is named after a biblical village cursed by Jesus and has come to be synonymous with chaos.
Watching her small country struggle with a growing number of refugees, Labaki said she felt it was her "duty" to speak out against the chaos and governments failing to deal with it. Lebanon is host to the largest number of Syrian refugees per capita in the region, an issue that has fanned political tension and a social backlash against them
For the cast, 'Capernaum' offered a platform to tell their real story.
"And their story is very painful," Labaki said. "They had a hard struggle in their lives sometimes to even prove they exist. All of a sudden, they exist — not only in a film but they exist on such a big level. And with such a huge exposure and their voice is resonating so much louder because of that exposure they are getting."
The Syrian refugee has now found a home in Norway. The Kenyan toddler returned home. Labaki is making a documentary on the life of the actors after the film.
Labaki's movies have demonstrated wit and humour in tackling Lebanon's complex politics, winning her local and international acclaim. In 'Caramel', which was a runner-up in 2006 for nomination in foreign film category, she dug into the lives of ordinary women from different religious backgrounds as they struggled with tradition, their own sexuality and aging. Her 2011 film 'Where Do We Go Now?' is a tale of a small village's brush with religious tension where women bond to stop local men from fighting.
Labaki said making movies in the Arab world, where fundraising remains one of the main challenges, is a "battlefield...It is as difficult for a man as it is for a woman."
"I have never really felt the difficulty of my job as a woman or the difficulty to achieve anything because I am woman. Maybe because I have never felt it, [so] I never reflected it.
"I never felt any doubt from anyone regarding what I can do as a woman," she said.
https://gulfnews.com/entertainment/hollywood/lebanons-nadine-labaki-on-her-oscar-nomination-1.61653388
--------
URL: https://www.newageislam.com/islam-women-feminism/women-detainees-being-sexually-assaulted/d/117567
New Age Islam, Islam Online, Islamic Website, African Muslim News, Arab World News, South Asia News, Indian Muslim News, World Muslim News, Women in Islam, Islamic Feminism, Arab Women, Women In Arab, Islamophobia in America, Muslim Women in West, Islam Women and Feminism