New Age Islam News Bureau
2 December 2020
•Women Decked In Sarees Run 5km For Charity in Malaysia
•Pakistani Muslim Couple Spiritually Changed Through Street Encounter
•Women Power: Team Biden Ups Female Quotient In Incoming US Administration
•Female Tattoo Artist In Afghanistan Breaks Traditions With Her Designs
Compiled By New Age Islam News Bureau
URL: https://www.newageislam.com/islam-women-feminism/women-decked-sarees-run-5km/d/123641
------
Women Decked In Sarees Run 5km For Charity in Malaysia
Frankie D'Cruz -December 2, 2020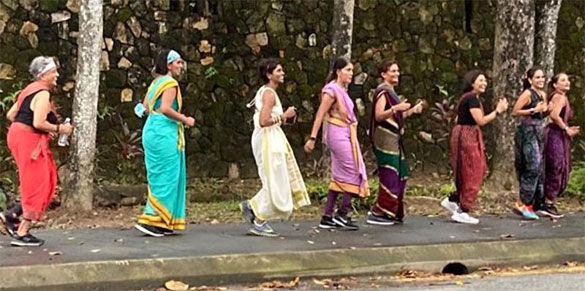 The eight women sweating it out wrapped in all of six yards of material and making heads turn. (Sasha pic)
-----
KUALA LUMPUR: It was an unusual sight as eight women, looking glamorous in colourful, flowing sarees, pounded the asphalt at Damansara Heights last Friday evening to the surprise of onlookers.
The women in their mid-40s and 50s, the oldest in her 60s, were not late for a wedding but were taking part in a 5km saree run for charity.
With 58 safety pins in total keeping their traditional Indian six-yards in place, they shattered the norms on age and attire in endurance running.
The run, thought to be the first in Malaysia, spoke volumes of women breaking common misconceptions and upholding culture.
By breaking stereotypes, the women raised more than RM17,000 for a local Ceylonese welfare body, Perma, that assists the elderly, underprivileged and physically challenged.
Among the runners were the Vijayanathan sisters, radiologist Dr Anushya, 53, and accountant Sasha, 46, who wore their mother's sarees in memory of her 10th death anniversary on Nov 29.
The daughters of 'Mr Hockey' G Vijayanathan were also continuing the charitable work of their mother, Rajaletchmy, who had been part of Perma.
Anushya said, "My mum did charity in a big way and it was a priceless experience for Sasha and me to do our part while wearing her saree."
Sasha said the saree run was mooted by Dr Bharathi Vengadasalam and Rupa Sivanoli as a way to support Perma.
The small number of participants was due to lockdown restrictions, she added.
Family members, including Vijayananthan, husbands and children of the runners rode along with them in cars, cheering them as they finished the run in just over an hour.
"It was a lovely feeling to have done this first saree run for a good cause with a bunch of such inspirational ladies," Sasha said, hoping it will become an annual affair.
Vijayanathan, who was an internationally respected hockey umpire and honorary secretary of the then Malaysian Hockey Federation from 1959 to 1985, said, "I am proud of all the women who took part in the run. By wearing their mother's sarees, my daughters brought back fond memories of their mother."
https://www.freemalaysiatoday.com/category/leisure/2020/12/02/women-decked-in-sarees-run-5km-for-charity/
------
Pakistani Muslim Couple Spiritually Changed Through Street Encounter
By Taylor Benson
December 2, 2020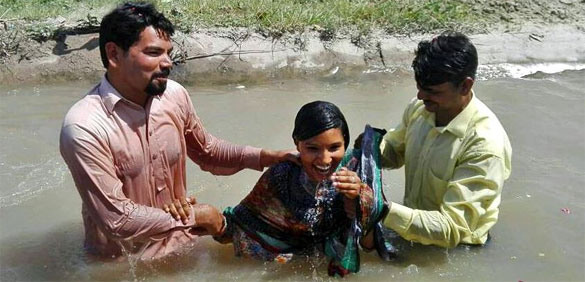 A recent street encounter radically changed the lives of a truck driver and his wife in Pakistan. And now they are powerful witnesses for the Gospel.
------
Pakistan (MNN) — A recent street encounter radically changed the lives of a truck driver and his wife in Pakistan. And now they are powerful witnesses for the Gospel.
FMI-supported Christian leaders recently distributed 500 Bibles to Muslims in Pakistan's bazaars and streets. Nehemiah* with FMI says they gave one Bible to a Muslim truck driver and shared the Gospel with him. When he went on his way, they had no idea if they ever would see him again.
Later, the Christians got a phone call from this same truck driver. He wanted a relationship with Jesus.
"Not only the truck driver, but his wife, his whole family has converted to Christianity," Nehemiah says.
Today, this Pakistani couple is on fire for God and eager to share His love with others. But telling their neighbors about Jesus can be complicated, especially for women.
"Muslim women are not allowed to go out independently in this area," Nehemiah says. "So [the wife] came up with a plan. Why not start a sewing center in her own house?
"Neighborhood women come to her house and they can learn how to stitch Pakistani dresses. So while she is teaching them how to stitch Pakistani dresses, she is sharing the Word of God with them also. She has already distributed more than 50 Bibles in her neighborhood — knowing that it could be her last one."
Distributing Bibles and sharing the Gospel with Muslims in Pakistan is dangerous.
Pakistan ranks fifth on the 2020 World Watch List for Christian persecution. The national blasphemy law means anything that can be construed as blasphemy of Islam is a capital crime.
Despite the risk, Nehemiah says there are still Pakistani Christians bold enough to share Jesus.
"There are many, many people who are thirsty [and] hungry for the Word of God because they have dealt with terrorism, they have dealt with killings and bombings," Nehemiah says.
"We introduce who is the real Prince of Peace."
FMI distributed over 10,000 Bibles in Pakistan this year. They are excited to see what 2021 has in store for a movement of the Holy Spirit in the Muslim world.
Please pray with FMI for more Muslims in Pakistan to find hope and joy in the Gospel. Pray for the truck driver and his wife to grow in their faith, and for God to move through the wife's sewing ministry.
https://www.mnnonline.org/news/pakistani-muslim-couple-spiritually-changed-through-street-encounter/
------
Women Power: Team Biden Ups Female Quotient In Incoming US Administration
December 1, 2020
In a welcome move, US President-elect Joe Biden has revealed an all-female team to head the White House communications office.
While this is a first, Biden has also announced women candidates to other key positions in his incoming administration. He is expected to nominate Indian-American Neera Tanden as the budget director while Cecilia Rouse will be nominated as chair of the Council of Economic Advisers. Janet Yellen has already been picked as treasury secretary and the all-female White House press team will be led by Kate Bedingfield with Jen Psaki as the press secretary.
Coming after Kamala Harris was elected as the first woman vice-president of the US, the women nominations in Team Biden mark a big step for women's empowerment. After all, these highly qualified nominees will be working with the most powerful and visible political office in the world. And this is bound to inspire more girls and women to aim for top office not only in the US but all over the world. That in turn will have a salutary effect on society and business as a whole where women continue to face several glass ceilings.
women in high office can drive policies for a gender equal society. But more importantly, by working with their male colleagues they can encourage the latter to put a gender lens on policy making to the benefit of everyone. It is only when women and men work together as equal partners in all sectors that societies and economies can realise their full potential by unlocking the full breadth of the available talent pool. And given the challenges that the world faces today from the Covid pandemic to climate change, we need to remove any hurdles women face in contributing to society. Here's wishing more power to the women in Team Biden.
https://timesofindia.indiatimes.com/blogs/toi-editorials/women-power-team-biden-ups-female-quotient-in-incoming-us-administration/
------
Female Tattoo Artist In Afghanistan Breaks Traditions With Her Designs
Dec 02, 2020
Women are doing everything and they are proving that they are not less than anyone. Soraya Shahidy of Afghanistan is an artist who is breaking all the stereotypes with her creations. She believes that she is the first female tattoo artist in the country where many say that tattoos are forbidden under Islam. She got trained in Turkey and Iran and said that her artwork is legitimate in Islam.
Speaking to a news agency, she said, "I could have performed this profession abroad but I wanted to do it in Afghanistan because there are no female tattoo artists in the country. I believe it's not only men who can apply tattoos. Women can do it too."
Shahid said that some mullahs say tattoos are forbidden, but there are other mullahs who say the opposite. She further added that people of Kabul are showing their interest in inking tattoos.
She said that most of the people want tattoos on their hands, arms, neck and legs. Girls are more interested in delicate tattoo designs like the names of those they love, roses, butterflies and dragonflies. But some boys prefer designs that are extravagant to her. She added that once a client wanted a tattoo of a tombstone inscribed "volunteer of death".
Like many in the world, Shahidy is thinking of the possibility that the Taliban, who are in peace talks with the Afghan government to end two decades of war, will return to power. She expressed confidence that since the hardline Islamists were expelled in 2001, the nation has changed drastically. She said that "We are not the people who can easily lose the achievements we have gained over the recent years."
https://english.sakshi.com/news/international/female-tattoo-artist-afghanistan-breaks-traditions-her-designs-127075
------
URL: https://www.newageislam.com/islam-women-feminism/women-decked-sarees-run-5km/d/123641
New Age Islam, Islam Online, Islamic Website, African Muslim News, Arab World News, South Asia News, Indian Muslim News, World Muslim News, Women in Islam, Islamic Feminism, Arab Women, Women In Arab, Islamophobia in America, Muslim Women in West, Islam Women and Feminism