New Age Islam News Bureau
20 Oct 2012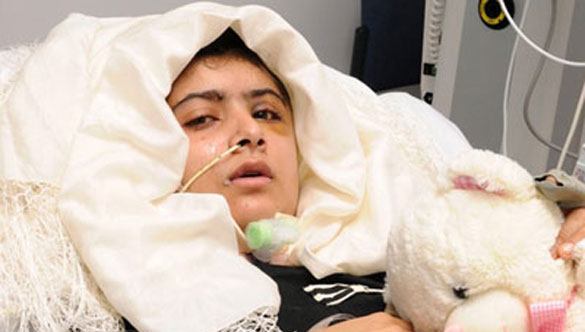 • Mauritania Launches Courses for Female Clerics
• Pakistani Woman killed for honour
• Woman Suffers Acid Attack, In Pakistan, After Divorce
• Women of US Senate Demand Swift Justice in Malala Case
• Afghan Clerics Denounce Violence against Women
• Body Formed To Propose Women-Friendly Projects
• Malala Thanks Well-Wishers – In Writing
• Eid Collection 'Wagah' A Tribute to the Indo-Pak Culture
• Nigeria: Court Grants Nigerian Couple Custody of 'Scam' Baby
• In Depok, pretty ladies sell livestock for Eid ul Adha
• The gun and the press in Pakistan
• King Abdullah, staunch supporter of women's Cause
Compiled by New Age Islam News Bureau
Photo: Malala Thanks Well-Wishers
URL: https://newageislam.com/islam-women-feminism/women-now-serve-religious-police/d/9051
----------------
Women Can Now Serve On Religious Police Force in Saudi Arabia
BY Jacey Fortin
October 19 2012
For the first time ever, Saudi Arabia's national morality police will open its ranks to a whole new demographic: women.
The Commission for the Promotion of Virtue and Prevention of Vice -- or, more colloquially, the mutawa -- is responsible for enforcing religious regulations, including prayer times and dress codes. Its officers, who are frequently accused of overzealousness, prosecute Saudis who exhibit "sinful" behaviours.
The head of the mutawa, Abdul Latif Abdul Aziz Al Sheikh, told the official Saudi Gazette this week that he hopes to begin recruiting female officers soon, according to BBC News.
The announcement is in line with several new initiatives that are increasing women's' rights in this conservative Islamic kingdom of 28 million.
Last year, King Abdullah bin Abdul-Aziz al-Saud announced a slew of reforms to advance -- however incrementally -- gender equity in Saudi Arabia. Laws giving women the right to vote and to stand for public office should be fully implemented by 2015, Abdullah said. Females were also invited for the first time to join the Shura Council, an advisory body of 150 members appointed by the king.
But women are still obliged to play secondary roles to men in their families and communities, and must wear long abayas to hide their bodies in public. Most Saudis do not mind this state of affairs; for religious reasons, even a great many women support the strict moral codes that govern their lives.
Many -- but not all. More and more females, especially in younger generations, are calling for serious change.
Moneyed Monarchy
Change is difficult to come by in Saudi Arabia, an oil-rich and well-armed absolute monarchy that enjoys the staunch support of the U.S. The revered King Abdullah runs a tight ship, and strict conservatism affects every aspect of public and private life.
But the status quo cannot last forever. This monarch is 88 years old, and he walks with a hunch due to back problems. Two men who would have been next in line for throne have already passed away, leaving Minister of Defence Salman bin Abdul-Aziz al-Saud as the current designated crown prince. He is 79, has suffered a stroke, and has a family history of heart disease.
A power struggle could be in the offing, which could exacerbate a burgeoning strain of public dissent that has lately been chipping away at the eminence of the regime.
Some Saudis complain the monarchy exists only to enrich itself. During the Arab Spring of last year, a few of them grew bold enough to make complaints about infrastructural problems and a lack of affordable housing. But Saudi riyals calmed the rising tide of dissent as the monarchy spent more than $100 billion on public services.
For Saudi Arabia's riches to continue to maintain stability the kingdom has to start diversifying its economy away from oil, the commodity that undergoes volatile price shifts and will one day run out.
One Crisis At A Time
Threats to the monarchy are compounded by the growing power of the Internet, which, despite heavy censorship, is still enabling some of Saudi Arabia's boldest citizens to share information and foment dissent.
Females aren't exempt from this trend. Last year, Manal al-Sharif, a 32-year-old woman, made global headlines when she filmed herself driving a car, which is prohibited. After posting the clip online, she was arrested and detained for 10 days.
But over the next few months, dozens more women followed in her footsteps and many of them were not prosecuted for their actions.
A similar protest occurred in May of this year, when a young woman resisted the mutawa as they tried to eject her from a mall because she was wearing nail polish. She filmed the altercation, uploaded the clip to YouTube, and got millions of hits, doing serious damage to the mutawa's reputation.
An increase in these types of incidents may have motivated King Abdullah to appoint a sheikh -- a decidedly moderate leader -- to head the mutawa this year. He has certainly reined in the group's mandate, announcing this month that the police force will adhere to more lenient codes and refrain from making frivolous arrests and raids.
His latest decision to include women in the force is a huge step forward, even if they are only there to address female offenders more effectively, and even if their presence does not lessen the group's moral severity.
For gender-equality advocates in one of the world's most conservative states, even small signs of progress are worth more than anything riyals can buy.
http://www.ibtimes.com/saudi-arabia-crawls-forward-women-can-now-serve-religious-police-force-849877
----------------
Mauritania Launches Courses for Female Clerics
BY JEMAL OUMAR
18 OCTOBER 2012
Nouakchott — Women religious scholars will play a key role in consolidating the values of moderate Islam in the country.
For the first time in Mauritania, a training institution has launched special courses for women religious scholars.
The Mauritanian Scholar Training Centre, headed by Mohamed Hassan Ould Daw, started admissions on October 6th.
"The step, which is aimed at training women religious scholars in Islamic Sharia, is designed to train generations of women religious scholars and muftis over the next years, who would combine the traditional mahdhara training, which depends on memorisation and indoctrination, with the most important elements of modern education, which uses modern sciences methodology," said centre media official Mohamed Aly Ould Emmamma.
"In this way, they would strike a balance between two integrated approaches," he told Magharebia. "The ultimate goal of all this is to consolidate the values of moderation in the Muslim Mauritanian society through the training of women religious scholars after their religious studies were restricted to the traditional mahdhara education."
According to Ould Emmamma,"traditional education deprives those engaged in it from a balanced and objective view of current events", which may lead to issuing "deviant fatwas and even extremist fatwas at other times".
He expressed hope that parents would enrol their daughters in these classes to train based on a moderate approach.
Registration requirements for the new section include memorisation of at least one-quarter of the Qur'an, a master's degree in Sharia and linguistic sciences, or equivalent, and a recommendation from a known mahdhara sheikh showing the scientific level of the student, Ould Emmamma said.
Female activists welcomed this initiative.
"This is a huge work that would give women religious scholars a new vision of Islam and ability to explain it in view of contemporary developments, and to come up with a moderate speech that seeks to build and encourage positive dealing with the other," said Menina Mint Abdallah, a former ambassador and researcher in girl schooling.
"The creation of this new major is expected to give a new technical push that would help consolidate the abilities of women religious scholars in communicating information, and will also change their view of society in general," she told Magharebia.
In her turn, Fatima Mint Ibrahim, who plans to enrol for this major, explained her decision saying that Muslim women must take up their roles in "raising children at home and educating society".
"Mauritanian women are characterised by their ability to eradicate children's alphabetical literacy in a smooth and flexible way," she added. "These are traits that God has given them, as they are mothers and educators by nature, and this compels them to give much of their time to education. It's also known that women's nature is against violence, extremism and deviation."
http://allafrica.com/stories/201210191101.html
----------------
Pakistani Woman killed for honour
October 20, 2012
MANSEHRA, Oct 19: Another woman has fallen prey to the honour killing in Kohistan as a man shot dead his wife allegedly over suspicious character in Puttan area on the night between Thursday and Friday.
The uncle of the victim, while lodging the FIR with the police, stated that the assailant fled the scene after killing his wife. Police sources said that the incident was apparently the outcome of the woman having illicit relation, but facts would come out once the investigation was completed.
The Puttan police after lodging the FIR were raiding different places to apprehend the assailant.
http://dawn.com/2012/10/20/woman-killed-for-honour-2/
----------------
Woman Suffers Acid Attack, In Pakistan, After Divorce
By Riaz Ahmad / Kamran Khan
October 20, 2012
PESHAWAR: In the second such attack in a week, a man threw acid on his former wife, leaving her face disfigured.
This was the 34th reported case of acid throwing in the province and 84th nationwide this year, according to the Acid Survivor Foundation (ASF).
Rozina was rushed to the Lady Reading Hospital (LRH) on Thursday after her ex-husband Tahir Zaman and his mother allegedly threw acid on her face in retaliation for their recent divorce. Rozina was admitted to the burns unit in LRH.
"They threw acid at her face and severely burnt her face and chest," said a policeman, talking to The Express Tribune. Both the accused escaped but an FIR has been registered against them and investigations are underway, he added.
Rozina was on her way to visit relatives with her sister when the incident occurred on Talab Road, Nothia, in the jurisdiction of Gulberg police.
Several months ago, Rozina had filed a petition in the family court wanting a divorce from Zaman. After a series of hearings, which also lasted for months, the court finally decided in Rozina's favour. Tahir was very upset at the news of his divorce and conspired with his mother Jamlu Bibi to attack Rozina.
The victim's family declined to comment on the matter and was busy in treating her.
According to a report by the Islamabad-based NGO ASF, 45% of acid attacks occurred over family disputes, while 17% were caused over rejecting marriage proposals this year. Last year, 150 people suffered acid attacks across Pakistan, with 30 cases reported in Mardan -the highest in any district.
ASF Pakistan's Chairperson Valerie Khan Yousafzai told The Express Tribune that many cases go unreported due to security risks. It is imperative that the provincial government legislate on the issue to protect the victims.
A collective response
Qamar Naseem, the programme coordinator for End Violence Against Women/Girls Alliance, said that ASF and other donor agencies will hold a meeting in Islamabad over the increasing incidents of acid attacks. A plan has been prepared to support treatment, including surgeries, for the victims.
http://tribune.com.pk/story/454118/heinous-offense-woman-suffers-acid-attack-after-divorce/
----------------
Women of US Senate demand swift justice in Malala Case
By Huma Imtiaz
October 20, 2012
WASHINGTON: From politicians to peace activists and celebrities, condemnation of the attack on 15-year-old girls' education activist, Malala Yousafzai, and her friends Shazia Ramzan and Kainat Riaz have been pouring in from all corners of the world.
Fifteen female US Senators wrote a letter to Prime Minister Raja Pervaiz Ashraf, expressing outrage over the Taliban attack on the girls. The Senators called upon the government to bring the attackers to justice and continue working to confront extremism and violence against Pakistani children.
Full report at:
http://tribune.com.pk/story/454162/malala-shooting-women-of-us-senate-demand-swift-justice/
----------------
Afghan Clerics Denounce Violence against Women
By Solmaz Sharif
October 19, 2012
Women's rights activists in Afghanistan take hope after religious leaders speak out against violence against girls and women, promote female education and discourage child marriage.
WOMENSENEWS)--Afghan women's safety activists say a new partnership with religious leaders can help stop Taliban attacks on girls and women that have left a Pakistani teen activist for girls just across the border in Swat Province undergoing brain surgery after a gunshot execution.
Full report at:
http://womensenews.org/story/the-world/121018/afghan-clerics-denounce-violence-against-women
----------------
Body Formed In Pakistan to Propose Women-Friendly Projects
20 Oct 2012
ISLAMABAD: Capital Development Authority Chairman Syed Tahir Shahbaz on Friday formed a committee to propose steps for the welfare of women residing in the federal capital, particularly businesswomen. The committee, to be headed by CDA Planning and Design Member Syed Mustafain Kazmi, was formed at a meeting between the CDA chief and a delegation of women entrepreneurs, led by Samina Fazil, the founder president of the Islamabad Women Chamber of Commerce and Industry. Tahir Shahbaz said that the authority would do everything to achieve goals of gender equality and women empowerment.
Full report at:
http://www.dailytimes.com.pk/default.asp?page=2012\10\20\story_20-10-2012_pg7_11
----------------
Malala thanks well-wishers – in writing
October 20, 2012
LONDON: Teenage activist Malala Yousafzai is finally out of coma – much to the relief of scores of well-wishers who eagerly await her complete recovery.
The schoolgirl has been able to stand with help for the first time, doctors treating her at a British hospital said Friday. She is also communicating by writing notes, said Doctor Dave Rosser, the medical director at the Queen Elizabeth Hospital in Birmingham, central England, where the teenager was taken to from Pakistan on Monday.
Full report at:
http://tribune.com.pk/story/454190/prayers-answered-malala-thanks-well-wishers--in-writing/
----------------
Eid Collection 'Wagah' A Tribute to the Indo-Pak Culture
October 20, 2012
Sania Maskatiya's exclusive Eid collection 'Wagah' is a tribute to the Indo-Pak culture. The collection takes its inspiration from the traditional woven and block printed textiles and Indian miniature art. The design team at Sania Maskatiya engaged local artisans to produce exclusive cotton nets and karandis while employing localised printing techniques. The colour palette for the 'Wagah' collection is a blend of earthy colours ranging from beige, madder, olive, cream, rust, navy blue and black. The collection represents a fusion of subcontinent aesthetics. The collection is exclusively available for purchase at the Sania Maskatiya flagship store.
http://www.dailytimes.com.pk/default.asp?page=2012\10\20\story_20-10-2012_pg9_9
----------------
Nigeria: Court Grants Nigerian Couple Custody of 'Scam' Baby
BY CHIEMELIE EZEOBI
19 OCTOBER 2012
A Nigerian couple who could not bear children received some relief Thursday in a London High Court when Mr. Justice Coleridge ruled that the couple could keep a two-year-old baby even though DNA tests had confirmed they are not the biological parents of the girl, despite their story line.
According to a report by the BBC, the mother claimed she was tricked by a doctor in Nigeria into believing she had given birth while sedated, after she went to Nigeria for fertility treatment.
Full report at:
http://allafrica.com/stories/201210190391.html
----------------
In Depok, pretty ladies sell livestock for Eid ul Adha
Yuli Tri Suwarni
October 20 2012
Lines of livestock vendors with their herds tethered along the roadside are a common view in Greater Jakarta ahead of the Islamic Day of Sacrifice, or Idul Adha.
All of the seasonal businesses looked the same, but Doni played it differently.
The owner of Mal Sapi Qurban on Jl. Akses UI near the University of Indonesia (UI) campus in Depok, south of Jakarta, had a different strategy to lure prospective buyers: he hired cowgirls.
Full report at:
http://www.thejakartapost.com/news/2012/10/20/in-depok-pretty-ladies-sell-livestock-idul-adha.html
----------------
The gun and the press in Pakistan
20 Oct 2012
When teenager Malala Yousafzai was shot by the Taliban, Pakistan's media was warned to curb its coverage of the story.
This week: The chilling impact of the gun on journalism in Pakistan and a look at the history of presidential debates.
When news broke from Pakistan that a 14-year-old girl had been shot by members of the Taliban just for promoting female education on her blog, news organisations around the world jumped on the story. In Pakistan, however, they had to treat the subject with care. The Taliban warned local media to curb their reporting, or deal with the consequences. This is not just a story about one attack - it is a tale of how the journalistic environment in Pakistan has grown so dangerous. According to media watchdog groups, at least 20 journalists have been murdered since 2010 and not one of those cases has resulted in a conviction.
Full report at:
http://www.aljazeera.com/programmes/listeningpost/2012/10/2012101914316525220.html
----------------
King Abdullah, staunch supporter of women's Cause
ABDULRAHMAN AL-ZUHAYYAN
20 October 2012
Sept. 26, 2011, is a historic date for the Saudi people, particularly for Saudi women. This day marked the beginning of a new phase of transformation of the Saudi society. Custodian of the Two Holy Mosques King Abdullah has taken the initiative of giving women more say in the affairs of the state in commensurate with the requirements of progress dictated by the realities of the 21st century.
In his inaugural speech at the fifth term of the Shoura Council, King Abdullah announced that women would be appointed in the Shoura Council in the subsequent term, and that women would be eligible to run as candidates and vote in the 2015 municipal elections. As the fifth term comes to a close, it has been reported that 30 women are expected to be appointed by King Abdullah and preparations are under way at the Shoura Council to accommodate the newly appointed female members.
Full report at:
http://www.arabnews.com/king-abdullah-staunch-supporter-women%E2%80%99s-cause
----------------
URL: https://newageislam.com/islam-women-feminism/women-now-serve-religious-police/d/9051