New Age Islam News Bureau
17 May 2013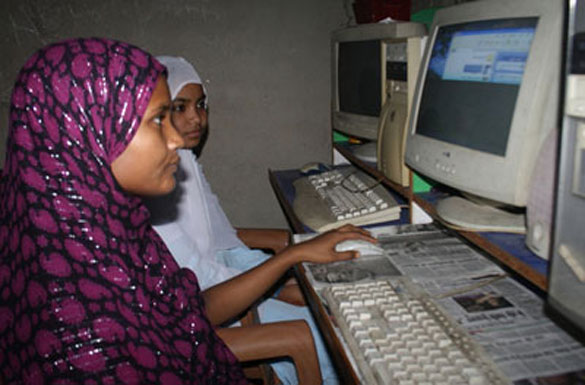 Photo: Shahiba Noori at her computer class Madrassatul Banat in Assam
-----------
• Iran's Educated, Middle-Class and Part-Time Prostitute
• Women's Prison in Gaza Swells with 'Moral' Criminals
• Madrassatul Banat Taking Girls' Madrasa Education to a New Height in Assam
• Can Canada Prevent Muslim Women From Wearing the Niqab in Court?
• More Agreements Surface Barring Women from Voting In Pakistan
• 16 Women Elected On General Seats in Pakistan
• France's First Lady Visits Mali's War-Torn North
• Highest number of women elected on general seats belong to PML-N
• Muslim Women Converts Tell Of Hijab Dilemmas, Family Rows and Negative Portrayal of Faith
• Rochester Women Get 20 Years, 10 Years for Somali Terror Support
• India, Brazil and South Africa Sign Resolution for Women Empowerment
• Bana Gora Is New Chief Executive of Muslim Women's Council of UK
Compiled by New Age Islam News Bureau
URL: https://newageislam.com/islam,-women-and-feminism/new-age-islam-news-bureau/women-banned-from-switching-on--immoral--air-conditioning-by-a-salafist-wahhabist-cleric/d/11617
--------------
Women Banned from Switching on 'Immoral' Air Conditioning by a Salafist-Wahhabist Cleric
May 16, 2013
A man identified on Twitter as Abul Ala and claiming to be a Salafist-Wahhabist cleric, has decreed women should not turn on air conditioners or coolers at home, in the absence of their husbands.
According to the Iran-based Al-Alam news network the cleric is alleged to have decreed: "turning on the cooler ventilator is prohibited for women in the absence of their husbands" because "the woman's act is very dangerous, and may bring about immorality in the society. When she turns the cooler on, someone may notice her presence home, and this might bring about immorality".
The news report also stated Salafist-Wahhabist clerics "have a distorted reading of Islam" and their decrees are "incompatible with common sense".
Salafist and Wahhabist ideologies are considered to be ultra-conservative branches among Sunni Muslims and such kinds of bizarre decrees and Fatwas (a ruling on a point of Islamic law) coming from clerics belonging to these sects are not uncommon.
In April, a Salafist cleric called Sheikh Yasir al-Ajlawni posted a YouTube video claiming the rape of non-Sunni and non-Muslim women were acceptable by the Quran's standards. He was referring to rebel fighters in the ongoing Syrian conflict.
He claimed: "legitimate fatwa for Muslims waging war against Mr. Assad and trying to put in place a Sharia government to capture and have sex with Alawites and other non-Sunni, non-Muslim women".
http://www.ibtimes.co.uk/articles/468236/20130516/saudi-arabia-cleric-coolers-women-prohibited-decree.htm
-------------
Iran's Educated, Middle-Class and Part-Time Prostitute
Sanctions leave some with few choices
By Brendan Daly
May 16, 2013
TEHRAN — Intelligent and confident, Parisa, 23, is from what could be loosely termed a middle-class family and has a bachelor's degree in computer engineering from Islamic Azad University.
On weekends, she sells her body for profit on the streets of North Tehran.
"I'm a lot of fun. My time is very valuable," says Parisa, a diminutive computer technician using a pseudonym to shield her identity.
She is part of a new phenomenon here — young, educated and independent women becoming occasional, part-time prostitutes — driven by the Islamic republic's weakened economy.
A single transaction can make her $80, three-fifths of what she earned monthly at a mid-size tech firm before she lost her job about five months ago. And Tehran has no shortage of sex-starved young men — sons of wealthy parents — who are willing and able to cruise the streets in search of pleasure at a price.
"What choice do I have?" Parisa says. "If I [leave Tehran and] go back to Khorramabad, then I go home a failure. My parents can't support me. With the rising price of everything, I'm afraid to ask them how they are surviving themselves."
Long-standing international sanctions against Iran's nuclear program are squeezing Iran's economy with restrictions on its oil industry and central bank.
Iranian leaders have long denied Western suspicions that the atomic program is geared toward making a nuclear weapon. They say the program is for peaceful purposes but have denied international inspectors access to nuclear facilities.
Meanwhile, out-of-work civil engineers are driving taxis 14 hours a day to make ends meet, and school teachers are reducing the amount of meat they buy every month to feed their children.
A wealthy male neighbour of Parisa's expressed outrage at the economic situation.
"Our girls are selling themselves on the streets! You never saw these five or six years ago," he said. "And all [Supreme Leader Ayatollah Ali Khamenei] can talk about is the nuclear program. What nuclear program? Some Russian-built antique that's been sitting there doing nothing for 30 years?"
Iran's Shiite theocratic regime is widely known for its strict enforcement of Islamic laws, especially those regarding sexual behaviour. But prostitutes in North Tehran ply their trade openly with little, if any, police interference. Parisa says she has never had an encounter with the police.
Punishment for prostitutes and their clients can include up to 100 lashes and jail terms. The prostitute can be executed if she is married. But under this country's corrupt judicial system, a few dollars can buy off a policeman, and what few cases are prosecuted rest on the discretion of a presiding judge.
On the streets of North Tehran, prostitutes negotiate prices with would-be clients through their car windows. Sometimes they will go home with men with the expectation of receiving cash at the end of the night, an approach that often can lead to acrimonious disputes.
Parisa says she worries about her safety. "I have heard stories about policemen, about perverts," she says. "But so far I have been OK. I know how to handle people."
Iran's theocracy has allowed a practice called "sigheh," or temporary marriage, which Sunni Muslims have banned but Shiite Muslims have accepted. Unmarried women and men can receive a "license" to have sexual relations for a designated period of time. The practice has been used most frequently near religious seminaries and during pilgrimages to holy cities.
Parisa says she hasn't bothered to try to get a sigheh to protect her legally in case the police come knocking at the door.
"Nobody cares about such things anymore, not in Tehran anyway," she says, laughing. "The police don't care. The mullahs don't care. And definitely these bache [kids] who pay me for my time don't care about their religion."
• Brendan Daly is a pseudonym to protect the reporter from Iranian government reprisals.
http://www.washingtontimes.com/news/2013/may/16/irans-educated-middle-class-and-part-time-prostitu/
--------------
Women's Prison in Gaza Swells with 'Moral' Criminals
May 17, 2013
At Gaza's only all-female prison located in the central city, dozens of detained women from across the coastal enclave remain under intense security, irrespective of the crime.
Al-Monitor gained access to this high-security, one-story facility with the permission of the Hamas-run Ministry of Interior, on condition that the correspondent be accompanied by a guard, names of prisoners are not published and that the final report was reviewed by the ministry before publishing.
For many people in Gaza, crimes committed by women are rarely heard of due to the conservative nature of Gazan society. Families of female convicts usually don't disclose their whereabouts, and even lie about it.
The head of the prison, Jazya Abu Mousa, said that this year has witnessed the largest number of female prisoners since she began working there in 2007.
"The number changes from time to time as most of the prisoners here are detained and not sentenced," Abu Mousa said.
Criminals in the prison are divided into three categories: thieves, security convicts of crimes often related to cooperating with the Israeli occupation and "moral" convicts, which includes prostitution or sexual relations without marriage. This final category holds the largest number of prisoners.
Abu Mousa blames the increasing number of crimes in the Strip on weak religious awareness among locals, family disintegration and the poor financial situation of most people in Gaza.
Collaboration
RH, 47, collaborated with the Israeli occupation along with her husband, until they were both arrested in 2010. RH's husband was among six spies who were publicly executed and dragged through the streets of Gaza by Hamas' armed wing, the Izz ad-Din al-Qassam Brigades, during the last Israeli offensive in November 2012.
RH and her husband worked in Israel until Israel denied access for Palestinians from Gaza to enter in 2000, following the second intifada. The couple turned to the Egyptian market for survival.
As Gaza was still under Israeli occupation, RH said that her husband met Israeli intelligence en route to Egypt. There, he was offered a permit to go back to his work in Israel.
The economic situation in Gaza had become dire with Israel's severe siege, imposed in 2007, tempting RH's husband to cooperate with the Israelis.
"At the beginning, they told him that they didn't want anything in return, and it was only a matter of humanitarian support, but as time passed they started asking him for information about specific people," RH recalled.
With their father killed and their mother in prison, RH's children found themselves alone. Her son turned to robbery and is now serving a three-year sentence in another section of the same prison. Her daughter-in-law divorced her son, as she no longer wanted to remain part of this "shameful" family.
When asked if she felt guilty for betraying her people, RH said she doesn't believe she committed a big crime, adding that she was a victim of Israel exploiting her needs.
"The only thing I did was transfer money from Israelis to other spies in Gaza while I was going to Israel to treat my son. It wasn't a serious collaboration," she told Al-Monitor.
RH's narrative follows a report by Al-Monitor last month that highlighted Israel's attempts to recruit Palestinians from Gaza seeking medical attention in Israel.
While RH makes attempts to engage and joke with fellow inmates, she said she remains totally devastated inside.
"My man was killed, my son is arrested and I'm away from my children; we are no longer a family. Every day I wish this were just a horrible nightmare. I still can't believe it," she said, struggling to contain tears.
The prison head said she is proud of most of the prisoners, as she senses a willingness among them to change. The prison administration focuses on raising religious awareness among the prisoners so they won't return to crime after their release, said Abu Moussa.
"Besides giving them traditional training like handicrafts and embroidery, Islamic lectures are the main focus," she explained to Al-Monitor.
Forced prostitution
When M's husband found no source of income, as he never had a career, he resorted to drugging his wife and prostituting her for less than $15 a night.
"I only knew about what was going on when the police invaded the house and arrested us. My ex-husband used to drug my drinks. I don't even remember the people I had sex with," M. told Al-Monitor, embarrassed.
Prostitution in Gaza barely exists due to strict monitoring by Hamas authorities.
When M's father discovered what her husband was doing to her, he insisted on a divorce. Six years later, she remarried and returned to a normal life until she received a phone call from one of her former "clients." She said, "He told me he was from a humanitarian organization and that I should go to get my handout, but when I reached the place, I found it was a trap and I was arrested again."
The "client" gestured to M to enter his apartment when she got out of the taxi to meet him. She refused and tried to escape, but nearby police saw the altercation and grew suspicious. They were both arrested.
M has so far served two years of her six-year sentence for both her previous conviction of prostitution and the latest incident. She thinks of nothing but finding a way to reach her three children.
"I was told that my children are not proud of me for what they heard about me. I wish I could hug them and tell them it was not my fault," said M, tears streaming down her face.
Abeer Ayyoub graduated from the Islamic University of Gaza with a BA in English literature. She is a former human rights researcher turned journalist whose work has appeared in Al Masry Al-Youm, Al Jazeera and Haaretz. On Twitter: @Abeerayyoub
http://www.al-monitor.com/pulse/originals/2013/05/gaza-women-prison.html#ixzz2TXXg7rZE
--------------
Madrassatul Banat Taking Girls' Madrasa Education to a New Height in Assam
9 May 2013
Guwahati: At a time when Madrasa education system in Assam is in a deplorable condition, here is an effort to provide all-round training for girls by Madrassatul Banat, the first ever Madrasa exclusively for girls in Guwahati.
The tradition Islamic education centre which was set up in 2004 by All Misbah Educational and Charitable Trust has also introduced computer education for the girls along with other subjects along with Islamic lessons.
"There are number of madrasas in the state for boys but as there was not much opportunity for girls we have decided to establish it here. We are glad to have been the first such madrasa in Guwahati," principal of the Madrasa Maulana Manzur Ahmad Mishbahi told TwoCircles.net at the Madrasa premises.
The Madrasa has not come under the Assam Madrasa Board, fearing it might face the same fate like any other Madrasa institute in the state. "We have a relation with the board as we follow their syllabus but we run our institute by our own capacity. Because, I have seen the poor condition of the Madrasas in the other places of the state which are under the board," he added.
This Madrasa has also introduced a computer learning subject along with Assamese language, English and Mathematics. Besides, it has sewing machine for the girls be self dependent. "We do not want the girls just to learn the lessons of Islamic education but the general lessons and others so that they can be self dependent after they complete their education here," he further said.
The Madrasa which has been running on rented accommodation since 2004 was shifted to its permanent place at Hatigaon area in Guwahati in 2012. At present, altogether 120 students are studying in the Madrasa including from Bihar, West Bengal and Meghalaya. At present, the Madrasa can accommodate 50 students in the hostel which is run by the trust with the donation from well-wishers. There are 10 students for class V to VII at present.
"We have several plans for the institute and hopefully we will be able to one of the best education providers in the state in the coming days. One of our prime agenda is to make the students prepare to face the day to day life besides having the traditional Islamic lessons," said Kari Suraj Ali, who teaches to pronounce the holy Quran to the student.
Shahiba Noori, a student from Bihar who was studying in the XI standard in her state came to Guwahati said that she is enjoying the atmosphere at the Madrassa. "I want to gain as much as knowledge as I can and I want to be a teacher," she said.
All Misbah Educational and Charitable Trust is also planning an Islamic University in Assam.
http://twocircles.net/2013may09/taking_girls%E2%80%99_madrassa_education_new_height_assam.html
--------------
Can Canada Prevent Muslim Women From Wearing The Niqab In Court?
May 17, 2013
Last month in Canada, a landmark ruling that could radically reshape the Canadian justice system's inclusion and conception of religious rights was implemented in an Ontario courtroom after a lengthy legal battle.
The question of whether a woman could wear the niqab — a black garment that covers all but the wearer's eyes — surfaced during court proceedings six years ago, and will ultimately be decided by a test that seeks to determine among other things, whether a woman's religious beliefs are "sincere."
N.S., an Ontario woman accusing a relative and another man of sexually assaulting her in the late 80s, asked to wear the garment while testifying during a preliminary inquiry in 2008. N.S. was told by Judge Norris Weisman to remove it, for the reason that it would impair the defence's ability to assess her demeanour, and the judge's ability to assess her credibility. In the case of religious freedom vs. right to a fair trial, the latter prevails.
Full report at:
http://www.policymic.com/articles/41997/can-canada-prevent-muslim-women-from-wearing-the-niqab-in-court
-------------
More Agreements Surface Barring Women from Voting In Pakistan
Zahir Shah Sherazi
May 17, 2013
UPPER DIR: The recent discovery that political parties had barred women in Lower Dir from voting has turned out to not be an isolated incident. Another agreement has now surfaced, showing that political parties in Upper Dir also mutually agreed to effectively disenfranchise female voters in the region.
The document, a copy of which is available with Dawn.com, carries signatures by representatives of the Pakistan Tehrik-i-Insaf (PTI), Jamaat-i-Islami (JI), Pakistan Muslim League – Nawaz (PML-N), Awami National Party (ANP) and the Pakistan People's Party (PPP).
The document authorises Malik Jehanzib Kalorang and Malik Faiz Muhamamd Khan of Dogram to take a decision about women voting on Upper Dir's PK-93 provincial assembly seat. The decision would be binding on all the candidates contesting in the constituency and those 'in violation' would be fined Rs 10 million.
Full report at:
http://dawn.com/2013/05/16/more-agreements-surface-barring-women-from-voting/
--------------
16 Women Elected On General Seats in Pakistan
May 17, 2013
Islamabad - The nation has elected 16 women representatives out of 463 candidates who entered the political ring for 324 national and provincial general seats.
According to The Researchers, 150 women filed nomination papers at national level from 111 constituencies of which 60 were on party tickets. At provincial levels 313 women filed nomination papers from 213 constituencies of which 115 were party ticket holders.
The Researchers (TR) under its initiatives - Pakistan Governance Forum (PGF) and Women & Politics in Asia Forum (WPAF) - undertook observation of Election 2013 with a gender lens. This was in pursuance of organisation's 10 years effort to observe and document women role in electoral and political processes since 2002. Aazar Ayaz, executive director, informed that a complete report focusing women performance in pre-poll, poll day and post poll phases will be launched as soon as ECP completes election result and government formation is completed.
Full report at:
http://www.nation.com.pk/pakistan-news-newspaper-daily-english-online/editors-picks/17-May-2013/16-women-elected-on-general-seats
--------------
France's first lady visits Mali's war-torn north
May 17, 2013
GAO, Mali — France's first lady Valerie Trierweiler began a tour of Mali on Thursday with a visit to Gao, one of several northern cities liberated by a French-led military operation against an Islamist occupation.
President Francois Hollande's partner, on a 48-hour trip as "part of a mission for children and women," highlighted the role of female soldiers in securing the north for the former French colony as part of Operation Serval.
Full report at:
http://www.saudigazette.com.sa/index.cfm?method=home.regcon&contentid=20130517166083
--------------
Highest number of women elected on general seats belong to PML-N
May 17, 2013
ISLAMABAD, May 16: The Pakistan Muslim League-N has the highest number of women legislators elected on general seats in the recent elections, and that too from Punjab, but not a single woman could win in Khyber Pakhtunkhawa.
Analysts and rights activists working on gender issues have raised concern over problems faced by female candidates, polling agents and even the polling staff in several parts of the KP.
A meeting of the National Commission on the Status of Women, presided over by its chairperson Ms Khawar Mumtaz, urged the Election Commission on Thursday to order re-poll in areas where women were not allowed to vote.
Full report at:
http://beta.dawn.com/news/1011759/highest-number-of-women-elected-on-general-seats-belong-to-pml-n
-----------
Muslim Women Converts Tell Of Hijab Dilemmas, Family Rows and Negative Portrayal Of Faith
16/05/2013
Jessica Elgot
Dilemmas over wearing the Hijab, pressures to marry, abuse from BNP family members and trans-sexuality are just some of the experiences of female Muslim converts in Britain explored in a groundbreaking new study.
Women interviewed for the project co-ordinated by Cambridge University and The New Muslims Project. Spoke candidly about feeling like "trophy converts" as white British followers of Islam, the negative portrayal of Islam by the media and their struggle for acceptance and understanding from society, friends and families.
Full report at:
http://www.huffingtonpost.co.uk/2013/05/16/muslim-women-convert_n_3285337.html?utm_hp_ref=uk
--------------
Rochester women get 20 years, 10 years for Somali terror support
By David Hanners
05/16/2013
The woman known to some as "Mama Amina," who collected clothing to send to the needy in Somalia, was sentenced to 20 years in prison Thursday, May 16.
Amina Ali's crime: Aside from the clothing she gathered, she also raised money -- about $14,000 -- for the Islamic terror group al-Shabaab, which has spent seven years fighting Somalia's nascent governments.
The amount was tiny compared to al-Shabaab's estimated annual revenues of up to $100 million, but federal law bars sending anything.
Ali is 36, and under the way the federal system handles prison sentences, she'll be 53 before she can be released.
Full report at:
http://www.twincities.com/minnesota/ci_23259889/rochester-woman-gets-20-years-terror-support
--------------
India, Brazil and South Africa sign resolution for women empowerment
PTI | May 16, 2013
NEW DELHI: Pledging to work together for women empowerment, India, Brazil and South Africa today signed the fifth India Brazil South Africa (IBSA) Women's Forum Resolution here.
While WCD Minister Krishna Tirath signed the resolution for India, Lulama Xingwana, South African Minister for Women, Children and People with Disabilities and Maria do Carmo Godinho Delgado, Secretary of Evaluation of Policies and Economic Autonomy of Women of Brazil were the other co-signatories.
Full report at:
http://timesofindia.indiatimes.com/india/India-Brazil-and-South-Africa-sign-resolution-for-women-empowerment/articleshow/20090565.cms
--------------
Bana Gora Is New Chief Executive of Muslim Women's Council of UK
17th May 2013
A woman who has led a charity's ten-year commitment to improve lives in Bradford is to take up a new post as chief executive of the Muslim Women's Council.
Bana Gora, who was programme manager for The Joseph Rowntree Foundation's work in the city, will help roll out the work of the Muslim Women's Council nationally, making sure the voices of Muslim women are heard and taken into account.
She said she believes the time has come for women to become "active change agents", helping reform and reshape strategies and policies, including those at government level.
And she believes it can all start from Bradford, where the Muslim Women's Council was first founded as the Bradford Muslim Women's Council.
Full report at:
http://www.thetelegraphandargus.co.uk/news/10425580.Bana_Gora_is_new_chief_executive_of_Muslim_Women_s_Council/
-------------
URL: https://newageislam.com/islam,-women-and-feminism/new-age-islam-news-bureau/women-banned-from-switching-on--immoral--air-conditioning-by-a-salafist-wahhabist-cleric/d/11617