New Age Islam News Bureau
2 May 2014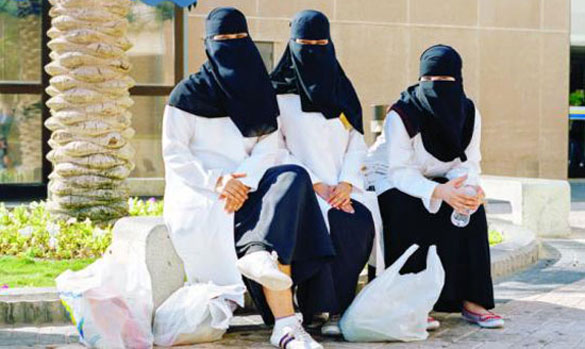 ACCEPTABLE: More Saudi women are entering the nursing profession every year.
------------
• Saudi Women: 'Give Us Freedom and We Will Marry You'
• Nigerian Schoolgirls: Jihadis 'Willing To Consider' Release
• Tunisia Lifts Restrictions on Women's Rights in Landmark Action
• Women Raise Their Voices on the Walls of Afghanistan
• Taliban Target Girls Schools in Pakistan
• Some Hospitals Have 100 Percent Saudi Nursing Staff
• Female Poet Takes a Path Few Dare To Tread
• Saudi Women Apply For Laundry Jobs
• Shariah Law to Become the Legal Code of Brunei
• Disabled Children Are a Blessing in Disguise
Compiled by New Age Islam News Bureau
URL: https://www.newageislam.com/islam,-women-and-feminism/new-age-islam-news-bureau/women-ask-saudi-courts-to-force-husbands-pay-breastfeeding-fees/d/76844
-----------
Women Ask Saudi Courts to Force Husbands Pay Breastfeeding Fees
May 2, 2014
Saudi courts dealt with 13 cases filed over the past two years by women who wanted their husbands to pay them fees for breastfeeding their children.
Judicial experts said the average fee is SR300 a month. A former judge, Yousef Al-Salim, said the fee should be agreed between the husband and his wife.
In case this is not possible, then the fee is estimated according to the normal fee that women charge for breastfeeding other women's babies.
Al-Salim explained that cases filed by women for breastfeeding are according to article 168 of the Shariah judicial system and that breastfeeding is a baby's right.
He added that even divorced women have the right to ask for breastfeeding fees but that there are differences between scholars on this matter.
"The Shafi and Hanafi schools of thought give women the right to ask for breastfeeding fees, even if her husband has died."
Legal consultant Ahmad Al-Jetaili said women's rights are guaranteed by Shariah and women's awareness of their rights is on the rise, as demonstrated by the breastfeeding cases.
He noted such cases are very rare in courts compared to those concerning personal affairs and added that the Ministry of Justice registered seven breastfeeding cases in 2012 and six cases during 2013.
http://english.alarabiya.net/en/variety/2014/05/01/Women-ask-Saudi-courts-to-force-husbands-pay-breastfeeding-fees.html
-----------
Saudi Women: 'Give Us Freedom and We Will Marry You'
May 2, 2014
MARRIAGE is a relationship that links a man and a woman throughout life. They become one, once married, and need to walk on the long, difficult road of life together. It is this togetherness and the adjustments made by both enables the marriage to succeed and make it thrive.
Despite the importance of the joint efforts by man and woman to sustain a marriage, many characteristics of marriage have changed over a period of time, especially with society too changing. The major shift seen is the role of women in the joint venture has become strong, in comparison to the past. Earlier, men were more controlling and they would be the lone decision-maker, but nowadays it is not so. A woman's presence is felt, with her contribution to decision-making in the family.
What has changed? Society, which has become modernized and progressive, yet being traditional, and the stress on education have put a different spin on life. It has led to the emergence of a new generation of young women who announce clearly that their condition to get married is to be given their freedom.
There are young women, mostly urbanized, who have declared, "I won't get married unless he gives me my freedom." There are others who have refused to continue their marriage because their husbands do not give them the freedom or space they demanded. What is the notion of freedom that the young woman is dreaming of at present?
What kind of freedom has driven her to prefer spinsterhood or divorce to a man who does not respect her freedom?
A big segment of young women have expressed the need for freedom to get married, such that the future husband allows her to go out with her female friends whenever she wants and to travel on holidays outside the Kingdom whenever she wishes, whether alone or with her female friends. In addition, he should not interfere in the selection of her dresses and the shape of her veil. He should give her full freedom in selecting her field of work. Some young women have demanded that he should respect her social networking activities with others.
So what is real freedom for women? Will men allow these freedom, especially when it means concessions from them, due to their respecting their partnership with women? Where have these women obtained these concepts toward freedom? Or where was it formed? Is it a reality in marital relations?
Personal matters
Mashael Juhaim said, "I will not get married unless the man respects my freedom and human nature. A man must understand that he has married a human being. He should understand that he has not purchased a plot of land with an ownership title deed."
She added that a man gives himself the right to enjoy full freedom even after marriage. He goes out and stays up the night with his friends until dawn. He has the right to select his friends. He chooses some and leaves others, even if his wife objects to the kind of friends he has. He also grants himself the right to travel whenever he wants, and his wife has no right to hold him accountable.
In return for these, he slaps a siege on his wife and deprives her of her simplest rights including selection of female friends, specifying the type of life she likes to live, the type of work she is interested in, aside from her personal choices, whether related to the way she wears her clothes or other choices.
Room to move
Anfaal Abdulaziz said she dreams of freedom after getting married. She wishes that her future husband accepts this concept because she has lived in a closed environment that specifies a young woman's choices and the form of her freedom. She further said she wishes to get married to a man who respects her and gives her room to move. He should do anything suitable for her so long as it does not violate the Shariah.
She said the concept of freedom in marriage for her means that her personal decisions are in her domain. She should have the right to specify them without her husband's interference in these choices, whether big or small. She said she recently separated from her fiancé — a recent graduate from one of the American universities. She expected her husband to be liberal in some matters. However, she was surprised that her future husband objected to her choice of clothes and her selection of the Hijab when going out of the house. She preferred to end this relationship before getting married to avoid the need for divorce and its problems.
Social prestige
Amaal Abdulghani has criticized some examples in young women's circles of this generation, who have a wrong idea about the notion of freedom.
In the past, a young woman used to dream of a man who would marry her and grant her freedom and respect her ambitions. That freedom means trusting her fully so that she completes her education, if she has not completed it. He should let her choose the work she likes. Also, he should give her the right to participate in taking decisions concerning their lives, whether about him or their children in future. He should be loyal to her and be a loving husband who understands all her human and emotional needs.
Nowadays, freedom means allowing a young woman to put conditions before marriage and it is no longer as it used to be in the past. If the conditions are acceptable and do not violate Shariah then it can be considered. But now by freedom young women mean just letting things loose.
http://www.saudigazette.com.sa/index.cfm?method=home.regcon&contentid=20140502203752
-----------
Nigerian schoolgirls: jihadis 'willing to consider' release
May 2, 2014
The jihadis who kidnapped more than 200 Nigerian schoolgirls two weeks ago say they are "willing to consider" the release of those who have not already been trafficked abroad and sold into marriage.
The girls' abductors, who have been in regular direct contact with a government intermediary, also report that three of their teenaged captives have died - although they did not state how this happened. Eighteen others, they say, are now sick.
The intermediary told Channel 4 News that the al-Qaeda-affiliated group, Boko Haram, has threatened to kill the remaining hostages if there is any attempt by the Nigerian military to rescue the girls. Meanwhile in the capital Abuja, the Nigerian government is coming under intense public pressure to secure the girls' release.
On Wednesday, the government admitted for the first time that it had officially engaged the services of the negotiator. It declined to reveal his identity. He has told Channel 4 News that he wishes to remain anonymous for reasons of personal security.
The intermediary has, however, been in regular, direct contact with senior members of the Islamist insurgent group who claim to be holding the girls, for several days now. He has maintained links with Boko Haram for nearly a decade and has successfully negotiated past hostage releases.
It is not clear how many of the 220 teenagers remain in Nigeria, following reports that they had been split into smaller groups and some moved into neighbouring Chad and Cameroon and sold for a bride-price of less than £10 each, following their forcible conversion to Islam.
Boko Haram has not as yet claimed responsibility for the mass kidnap, which happened in the town of Chibok in north-eastern Borno State 17 days ago, but the group is considered the only likely perpetrator. The girls were snatched from their dormitories in the small hours of the morning of 15 April. The government secondary school was then set ablaze.
Earlier this week, following initial contact with the intermediary, the abductors had agreed to provide a list of the names of the schoolgirls they claim they're still holding, as proof of life. So far, they have not delivered this list.
The intermediary, who has relayed the abductors' demands to Kashim Shettima, Governor of Borno State, told Channel 4 News that Boko Haram is actively "considering a deal" by which most of the girls who remain in Nigeria could be released. The governor is currently in Abuja but could not be reached for comment.
The group did not explain to the intermediary what had happened to the three girls it says had died. It is possible that they were killed while attempting to escape, as 50 of the girls have now done. Reports in other media cite a community elder in Chibok as saying that he too had learned of some deaths, reportedly from snakebites.
But those familiar with the brutal practices of Boko Haram say it is just as likely that the girls had been subjected to extreme sexual violence. This is something of which the girls' parents as well as women's groups have expressed grave fears.
Drug-taking among members of the group is commonplace and they are often high on drugs when they launch frenzied attacks. The intermediary told Channel 4 News that the longer the crisis was allowed to drag on, the worse - and more complex - the situation would get.
Hundreds of Nigerian women yesterday marched through the capital, Abuja, demanding urgent government action to secure their release.
This morning, more than 20 members of the Nigerian Senate met President Goodluck Jonathan to discuss the abductions. They demanded daily information briefings from the government and the military to inform the nation as to what was being done to tackle the crisis.
In past crises, members of the Islamist insurgent group, Boko Haram, have executed hostages when the army has launched an attack or rescue-bid and there are fears that with pressure mounting for fast results, military intervention could have tragic results.
'Western education is forbidden'
Boko Haram has, however, released hostages following negotiations. Most of these have involved the intermediary, whom Channel 4 News has been in contact with since Monday.
Boko Haram claims to be fighting for a strict Sharia state across northern Nigeria. But the guiding influence of Salafist imams has demonstrably waned as the group has fractured and hijacked as an al-Qaeda franchise, with tendrils throughout northwest Africa's Islamic Maghreb.
Many atrocities - from deadly bomb attacks on soft targets, to assaults on schools, churches and even mosques - are claimed by the Taliban-style group, whose name in the Hausa language translates as "western education is forbidden."
http://www.channel4.com/news/nigerian-schoolgirls-jihadis-willing-to-consider-release
-----------
Tunisia Lifts Restrictions on Women's Rights in Landmark Action
May 2, 2014
In a landmark action the North African country of Tunisia has lifted restrictions they had placed on the international women's treaty in what is being lauded as a key victory for women's rights in their region of the world. The Human Rights Watch today announced in a press release that the UN had been informed on the 23 April 2014 by the Tunisian government that they would be disbanding all of their previous limitations on the international treaty.
The international women's treaty is derived from the UN's "Convention on the Elimination of all Forms of Discrimination Against Women" (CEDAW). Implemented in 1979 it is generally regarded as a list of rights which details the parameters of discrimination in all its possible manifestations as well as outlining a plan for how to combat and end such prejudice. If a country chooses to accept and uphold the terms of the convention then they are duty bound to include protections of women in their legal system against any such discrimination, as well as incorporating the terms of gender equality and dedication to eradicating all forms of gender discrimination. Basic aspects of gender equality include the right to an education, to vote and be elected as well as ensuring equal opportunities in the work place and access to healthcare. However it is possible to technically take on the treaty but place certain "reservations" on various parts if countries wish to do so.
The specific exceptions which Tunisia endorsed meant that even though they had officially accepted the terms laid out by the UN on women's rights and gender discrimination, they were able to restrict women's rights on certain issues. Specifically they contested article numbers, 9, 15, 16 and 29 as set out by the constitution, mainly relating to matters in the home and within families. As such women's nationality, their name and occupation, their rights within marriage and access to divorce as well as the right to own property, were all limited under the reservations placed by the Tunisian government. Thus by lifting these restrictions which they placed on women's rights, their landmark action sets them apart as one of the leading countries in Africa with regards to gender equality.
Indeed, despite the requirements set forth by the UN every other country in North Africa and the Middle East who did ratify the treaty maintain exceptions to certain articles it contains, while countries such as Iran still take no part in attempting to support the rights of women. Tunisia is now the only country which has fully adopted the terms of the treaty and continues to demonstrate one of the most progressive attitudes to gender equality in the Islamic and African areas. However, despite the optimistic sentiments which this message has sent to both the female inhabitants of the country and the international community, the country did qualify their announcement by saying that they would only uphold the treaty if it did not conflict with the laws of their Islamic religion.
The Human Rights Watch has also pointed out that Tunisia is one of the few countries on the African continent which has not signed and ratified the "Protocol to the African Charter on Human and People's Rights on the Rights of Women in Africa" (Maputo Protocol), while many other African countries have committed their support. This charter is basically an addition to the CEDAW and outlines further protections and liberties for women. Therefore, if Tunisia wishes to consolidate on the landmark action they pursued by lifting the restrictions they placed on women's rights, then they need to continue to prioritize the importance of gender inequality within their society.
http://guardianlv.com/2014/05/tunisia-lifts-restrictions-on-womens-rights-in-landmark-action/
-----------
Women Raise Their Voices On The Walls Of Afghanistan
May 2, 2014
With women making up 34 percent of voters in the Afghanistan presidential election held earlier this month, the celebration of a new era for Afghan women has been dominating the headlines of European and American media. But the fight for women's rights is far from over in Afghanistan, local street artists Shamsia Hassani and Malina Suliman tell MintPress News.
The murals of the country's most prominent female graffiti writers are — quite literally — drawing attention to struggles and social change in their surroundings and contesting a warped image of Afghan women both locally and internationally.
Silent shouts of political revolt
"Some people who face injustice and the lack of rights take the bomb to kill us or narcotics to kill themselves. Graffiti is a peaceful way of fighting against the government, against all wrong things," Kandahar-born street artist Malina Suliman told MintPress.
In her 24 years, Suliman has been subjected to injustice as a woman, as a refugee and as an artist.
Born in the Taliban's hometown, she was among the first to experience the oppression of the notorious political regime. Aiming to transform Afghanistan according to their perverted interpretation of an Islamic state, the Taliban imposed various sanctions for women's presence in both physical and symbolical public spaces — sanctions that had a major impact on Suliman's childhood. Her family eventually immigrated to neighboring Pakistan and stayed there until the Taliban was ousted from power in 2001.
More than two decades on, Afghanistan remains one of world's worst places for women. The occupation by the United States and its allies has not brought the changes Afghan women were yearning for. The alleged quest to "liberate Afghan women" that was so vocally promoted by Western pro-war propaganda remained the mere domain of gluttonous nationalism and a convenient ploy for concealing the fact that the rise of the Taliban had been initially facilitated by the U.S. as an operation against the Soviet Union.
"Ever since the Taliban took over, my life continues to be full of unexpected changes. Changes that I never want," Suliman said.
Disappointed by continuous political games and manipulation, she is determined to fight for changes she does want to see. While both local and international authorities ignore her voice and those of fellow Afghan women, the artist has found an alternative avenue for channelling her concerns and aspirations: street art.
"I get really frustrated and can't stay in my room. I need to go out, I need to get my frustration out. I need to draw," she explained.
Street art enables Suliman to exhibit her work despite institutional constraints and limited financial resources. As an illegal artistic intervention, graffiti's very essence represents an act of revolt, thus posing as an effective medium for rendering graffiti artists' striking messages of resistance.
Her visual landscapes feature burqa-clad skeletons, prison bars, blood and disabled bodies. For these images, she uses gloomy colors and sharp sketch lines that radiate the notion of hardship and metaphorical claustrophobia felt by Afghan women.
"I meet and talk to people from the community. I listen to them and their problems and then make them into graffiti art," she said.
By expressing the challenges of the oppressed and the marginalized, she contests unilinear narratives about Afghan women that have been carved out by local authorities and global superpowers. She writes her own uncensored version of history, revealing the aftermath of a three-decade struggle and mourning lives lost.
Although Suliman's art is appreciated by many — even, surprisingly, Afghan President Hamid Karzai — her revolutionary agenda comes at a high price. Working in an area still controlled by the Taliban and other insurgent groups, she has been exposed to numerous threats. Threatening telephone calls and brutal physical attacks on members of her family forced Suliman to seek temporary refuge in India before she eventually moved to Kabul, the country's more liberal capital.
"I just wish to go back home," she said with desperation in her voice.
Spraying female solidarity
Apart from being a form of grassroots resistance, graffiti art by young Afghans contributes to reinforcing solidarity and facilitating social change within local communities.
"Many Afghan people have no opportunity to visit exhibitions. If I do art that is there for a longer time and does not require paying for a ticket, people will slowly recognize it and it will become part of their lives," Shamsia Hassani, a Kabul-based graffiti artist born to refugee parents in Iran, said.
On display and accessible to a wide audience, Hassani's street paintings are filling the gap created by the lack of art and color in people's lives. Her murals are imbued with motivating messages aimed at passersby, especially women. In a country where female literacy is estimated to be a little under 13 percent, visual messages are significant for reaching people, particularly those on the social margins.
The artist's work shows Afghan women's potential for claiming their rights and encourages the audience to unite in the fight for the needed social shift. The stone canvases commonly feature over-sized women with explicit female figures in striking turquoise burqas.
"My women are big, strong and modern. I capture them in movement and draw them bigger than in real life. I want people to perceive these women differently," Hassani explained.
In contrast to stereotypical media representations, the artist does not perceive burqas as necessarily oppressive, nor does she see their removal as an act of liberation. She finds the Western equalization of Islamic veils with female oppression patronizing.
"You can develop your talents when wearing the burqa. You can work when wearing the burqa," she said. "Freedom is not to remove the burqa."
While the burqa was undeniably one of the modes of repression deployed by the Taliban, with any violation sanctioned by punitive measures, it is important to note that forced veiling presented only a small part of female oppression supported by the Taliban. Less visible, but considerably more alarming, is how Afghan women were given limited access to schools, politics, the job market and health care services.
Hassani is devoted to refocusing media attention to the real problems of Afghan women — problems anchored in their lack of opportunities and lost dreams.
Her graffiti decorating the ruins of a destroyed industrial building in the suburbs of Kabul puts a visual image to this struggle. Capturing a woman sitting amid the debris, the futuristic image is accompanied by a poem Hassani wrote: "If a stream shall become a river again but the fish have all died. There is no return for the departed."
Breaking the walls
Contrary to popular belief, Western occupation did not deliver the women's empowerment movement to Afghanistan. As one of the most powerful Islamic feminists and Muslim female rulers, Queen Soraya advocated for women's rights in the early 20th century and materialized her revolutionary claims in a number of pro-women policies under the rule of her husband, King Amanullah Khan. As a result, women in Afghanistan were eligible to vote even before American women. Until recent decades quashed their rights and dignity, Afghan women were active participants in the public sphere.
The art of Malina Suliman and Shamsia Hassani are reminding the world that Afghan women are not helpless victims without voice or agency. Their art is not only coloring physical walls, it's also breaking down the metaphorical walls that Afghan women have been forced to stand behind for several decades. The artists liberate female issues from the invisibility and anonymity of four walls and secure their permanent presence on the public side of the wall.
Struggles, aspirations and stories narrated in their colourful artwork demonstrate that the world is not black and white and that female emancipation will not come simply with a new political regime. After years of observing political and media manipulations and their destructive power, the artists are hesitant to share in the enthusiasm about the supposedly groundbreaking presidential elections.
"We still do not know what will happen in our country, it seems to be a big secret. Maybe a new game is running in the background," Hassani said.
Though reluctant to give an optimistic political forecast for post-election Afghanistan, she hopes the new era will usher in the needed change.
Suliman shares Hassani's hopes. "I wish the new president and the new government start listening to Afghan women and think about our rights. I hope the new president has the humanity to give us the value of being humans again," she said.
While placing high expectations on a new president who will be announced on May 14, the street artists are well aware that the end of female struggle will not come from a ballot box. With this in mind, they are determined to continue advocating for the rights of Afghan women by raising their voices of resistance and their cans of spraypaint.
http://www.mintpressnews.com/women-raise-voices-walls-afghanistan/189913/
-----------
Taliban target girls schools in Pakistan
May 2, 2014
Three primary schools have been blown up in Pakistan's Khyber Pakhtunkhwa province. Nobody was in the buildings at the time of the explosions early on Thursday morning. When the Taliban ruled Pakistan's northern Swat valley they targeted schools. But many have been rebuit after the military pushed the Taliban out. Al Jazeera's Imtiaz Tyab reports.
http://www.arabnews.com/taliban-target-girls-schools-pakistan
-----------
Some hospitals have 100 percent Saudi nursing staff
May 2, 2014
Many public hospitals in Jeddah now have Saudis making up 100 percent of their nursing staff, a doctor said here Wednesday.
Ahmed Jaber Al-Harbi, director of the Ministry of Health's maternity and children's hospital in Aziziah, said his facility has 80 percent Saudi nurses, and hopes to have a full complement soon.
Al-Harbi said many other hospitals have 100 percent Saudi nursing staff.
He was speaking at an event to celebrate the Gulf Cooperation Council's (GCC) annual Nursing Day.
"The GCC Nursing Day gives us an opportunity to recognize our nurses and the important contributions they are making to deliver excellent care and improve the health of our patients."
He praised Saudi women for taking up the profession and serving patients in a professional manner.
Al-Harbi said the Health Ministry was making every effort to enhance the performance of Saudi nurses including providing periodic training.
He said nurses are as important as doctors at hospitals, and are getting the respect they deserve in the workplace. However, more needs to be done to ensure they are widely accepted, because many Saudis still consider the profession to be taboo.
Al-Harbi said nursing training institutions in the Kingdom must ensure that they keep up to date with the latest technical and scientific developments.
He said the Health Ministry is replacing expatriates with Saudi nurses.
http://www.arabnews.com/news/564471
-----------
Female poet takes a path few dare to tread
May 2, 2014
FIVE years ago, the literary and cultural scene lacked real talent and most poets were men. Bashayer Mohammad changed this by becoming one of the few women to have secured recognition among poets.
"In Al-Ahsa, there aren't many female poets to carry the torch from others before them. E'tidal Althikrallah is one example. Her poetry is so profound that it has earned her a prestigious position in society," Bashayer Mohammad said.
The fact that there was difficulty in getting their poems published was attributed as a reason for the paucity of female poets.
Many women in Al-Ahsa complained about the restrictions placed on female writers and said their right to publish their work is often denied. Many poets revert to writing novels as books have more appeal with readers and writers, especially women, can easily get books published.
Bashayer Mohammad used to read a lot as a child and hid the novels of "Abeer and Ahlam" from her mother. Other authors she read in secret were Agatha Christie, Naguib Mahfouz, Ernest Hemingway and Abdul Qudus.
"The Price of Chocolate" is a novel written by Bashayer Mohammad about a Saudi couple raising their daughters. The novel deals with foreign principles and concepts imposed on girls who live in a deeply traditional society. Many social issues are addressed in the novel such as tribal discrimination and the definition of friendship. The novel also addresses the story of a promiscuous girl and her never-ending guilt and desire to repent.
Bashayer Mohammad said many writers avoid addressing controversial issues in order not to cause a ruckus. "Going against the majority and taking a firm stance is not an easy and comfortable path. I received threats because of an article I wrote," she said.
"We face a great problem when it comes to professional and sound criticism of literary works. Many of the professional critics wait until the media draws their attention to some work instead of them taking the initiative to look for new and interesting talent," she added.
"I believe in what I write. It is up to the readers to decide how to react to such issues. As female writers, many accuse us of bias against men and depicting them in horrific and cruel personas as a means of revenge.
"I believe that the man is a necessary life partner. My characters, men or women, are depicted as good or evil depending on their function and role in the novel."
http://www.saudigazette.com.sa/index.cfm?method=home.regcon&contentid=20140502203750
-----------
Saudi women apply for laundry jobs
May 2, 2014
JEDDAH — As many as 22 Saudi women have applied to take up jobs as tablecloth washers at a restaurant chain in Jeddah. The company operating the chain said the women would be asked to sit an examination prior to starting work next week. He said the women would clean tablecloths and handkerchiefs and would be paid a monthly salary of SR3,000, in addition to transportation allowance and medical insurance. The official also said the company would pay their contribution to the General Organization for Social Insurance (GOSI). He added that the applicants should be able to read and write.
http://www.saudigazette.com.sa/index.cfm?method=home.regcon&contentid=20140502203754
-----------
Shariah Law to Become the Legal Code of Brunei
May 2, 2014
Brunei is set to implement Shariah Law as its legal code. Over the next two years, judges in the oil rich country will be able to impose harsh punishments for crimes most other judicial systems deem as misdemeanors or illegal.
Currently, alcohol is banned in the conservative country located in the northern section of Borneo. Muslim courts in Brunei already have the authority to govern a family's affairs. Soon, they will have Shariah Law to impose upon both Muslims and non-Muslims within its jurisdiction.
Shariah Law allows death for out of wedlock pregnancies. Other punishments include flogging, limb amputations, or stoning offences such as theft, sodomy, or adultery.
For Brunei's Muslims, those who miss Friday prayers can be fined or jailed under the traditional law. Similar offenses apply for propagating religions other than Islam. Converting from Islam to another religion carries a death sentence.
Indecent behavior such as Muslim women leaving the home unescorted by a male member of the family falls under Shariah Law. Muslim women failing to wear a veil or to cover themselves from head to toe is considered indecent. Non-Muslim women would be forced to wear a head scarf. Anything a Brunei official dislikes could be termed as indecent behavior.
Honor killings are permitted under Shariah Law. If a woman becomes too Westernize, her father or husband can kill her. If a woman is raped, the fault is hers, not the male perpetrator(s).
Under Shariah Law, female genital mutilation is an acceptable practice. Infants to girls entering puberty experience genital mutilation which is the partial or total removal of an adolescent's genitalia. The procedure is done with a knife or razor. There is no medical reason for the practice. No anesthesia is applied. Girls experiencing the removal of their genitalia are susceptible to unnecessary infections over the course of their lives.
Sultan Hassanal Bolkiah, who is also Brunei's prime minister, called the introduction of Shariah Law into Brunei's legal system as a great achievement. The sultan believes the strict interpretation of Shariah Law signifies the people of Brunei are willing to obey Allah's commands as found in the Koran. He does not expect the international community to accept Shariah Law and has asked the people of the world to respect the decision made by his country.
Rupert Colville, spokesperson for the UN High Commissioner for Human Rights, publically condemned the enactment of Shariah Law in Brunei. Under international law, stoning constitutes torture. Women are likely to receive harsher sentencing due to a deeply held stereotypes and discrimination.
Human Rights Watch issued a statement calling the implementation of Shariah Law in Brunei as a monumental step backward in the area of human rights. Phil Robertson, the organization's deputy director for Asia, said the adoption of such laws is nothing more than a move to an authoritarian system based on medieval punishment.
Human Rights Campaign also condemned the establishment of Shariah Law in Brunei. Gay, lesbian, bisexual, and transgender groups which Human Rights Campaign represents would face the death penalty. The organization found such laws horrific and sickening.
Islamic countries neighboring Brunei in East Asia practice and interpret Islam along a more conventional basis. Brunei has broken ranks with its neighbors by establishing Shariah Law into it legal code and applying it to Muslims and Non-Muslims.
http://guardianlv.com/2014/05/shariah-law-to-become-the-legal-code-of-brunei/
-----------
Disabled children are a blessing in disguise
Makkah daily
May 2, 2014
Many families who have disabled children get angry and curse the day the children were born. These families also cry over their bad luck and become frustrated and desperate. Unfortunately, some of them consider their disabled children to be a disgrace. They feel ashamed of them and never try to encourage the children to overcome their disabilities. The families hide their disabled children away from other people's eyes as if the children would bring shame on the family if others saw them. Many families treated their disabled children like that in the beginning before they discovered that those children are actually a blessing in disguise.
Families begin to notice that children who might have physical challenges, also have exceptional levels of intelligence and other abilities. Moreover, these families begin to feel that their lives are changing for the better because of their disabled children. It is then that the families realize how wrong they had been to jump to conclusions and disrespect their children. They regret misjudging their children's disability.
Another striking feature about families who have disabled children is the close ties that they have with each other. You will discover that all the members of such families have a close relationship with one another. They care for each other, they do things together and they cooperate. All of this is because they have a disabled child who has helped them do things that they normally would not have been able to do. Undoubtedly, such families feel they are more blessed than others.
I would like to salute and express my admiration for each and every family which has taken care of their disabled children with love and respect. Allah says in the Holy Qur'an: "And if anyone saved a life, it would be as if he saved the life of the whole people."
http://www.saudigazette.com.sa/index.cfm?method=home.regcon&contentid=20140502203788
-----------
URL: https://www.newageislam.com/islam,-women-and-feminism/new-age-islam-news-bureau/women-ask-saudi-courts-to-force-husbands-pay-breastfeeding-fees/d/76844