New Age Islam News Bureau
19 May 2016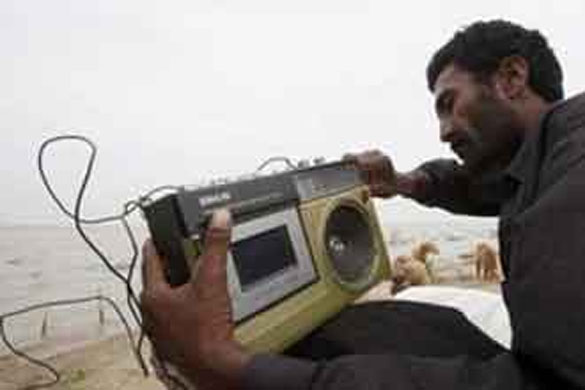 Photo: The authorities in southern Kandahar province have banned women's songs in the local media, a move which has sparked outrage among the media supporters in the country.
----------
• Sheffield Woman Who Spread IS Terror Propaganda Jailed For Four-And-A-Half Years
• Muslim woman's selfie with anti-Islam protestors goes viral
• Former Pennsylvania governor: More "ugly women" than "attractive women" in U.S.
• Meet the Kurdish Female Warrior Who Battles ISIS
• America's First Muslim Clothing Store Says Islamic FashionIsn't Just for Muslims
• From Victims to Suspects: Muslim Women since 9/11
Compiled by New Age Islam News Bureau
URL: http://newageislam.com/islam,-women-and-feminism/new-age-islam-news-bureau/women's-songs-ban-in-kandahar-spark-outrage-among-media-supporters/d/107351
---
Women's songs ban in Kandahar spark outrage among media supporters
Thu May 19 2016
Kandahar bans women's songsThe authorities in southern Kandahar province have banned women's songs in the local media, a move which has sparked outrage among the media supporters in the country.
NAI organization which supports open media in Afghanistan reacted towards the move, saying no governmental or non-governmental organizations have the right to ban women's songs in the media.
According to NAI, the provincial information and culture directorate has asked the local media to prevent airing songs of women.
NAI said the instruction by the directorate is against the article 34 of the constitution of Afghanistan and the public media law.
Citing the public media law, NAI said such bans could only be enforced in consideration with the laws and no governmental or non-governmental organization has the right to restrict the open media in the country.It also added that the local customs could not enforce restrictions as such moves have no legal basis, urging the local authorities to intervene and prevent enforcement of restrictions by the provincial information and culture directorate.
The Ministry of Information and Culture has also voiced concerns regarding the censorship of women's songs by the local authorities in Kandahar saying such moves are against the enforced laws of the country.
khaama.com/womens-songs-ban-in-kandahar-spark-outrage-among-media-supporters-0992
--
Sheffield woman who spread IS terror propaganda jailed for four-and-a-half years
May 18 2016
Sheffield woman who spread IS terror propaganda jailed for four-and-a-half years
A jury of seven women and five men found her guilty of 10 counts of dissemination of terrorist publications, which included sharing videos of IS beheading and burning people alive.
Khadam sent thousands of messages about terrorist activities on Twitter, WhatsApp and Kik between February and March 2015.
Sentencing her, Judge Julian Goose QC said Khadam's defence, that sending the messages and sharing images and videos were a form of research, had been rejected.
"It is particularly shocking that you made such images your favourites and made your profile open to the internet to see," he said.
Khadam set up 14 Twitter accounts to share messages about IS activities, creating new accounts as soon as others were shut down because of their content.
She shared graphic videos and images of IS violence. These included a video of a Jordanian pilot being burned alive, alongside the message 'good riddance', a photo of the beheading of the American journalist James Foley and calls to kill disbelievers' in America and Europe.
She suggested in messages to friends that she was going to Syria and would 'marry' the infamous IS member Jihadi John.
And when confronted by the recipient of one of her messages, who said what IS was doing was not in the name of Islam, she said: "IS aren't doing anything wrong. I will support them as much as I can."
Judge Goose said: "It was only when you were arrested on March 27 that you stopped. Had it not been for your arrest, I am satisfied you would have continued what you were doing.
"You created a note pretending that all of this was research. That document was a deliberate lie to try to bolster your defence."
He added: "There is no evidence that your conduct has led to terrorist acts but the nature of the internet and it's global reach means your spreading of IS propaganda causes a serious risk to the public here and abroad.
The court had previously heard Khadam, who has worked at House of Fraser in Meadowhall and Harvey Nichols in Leeds, say she had been going through a difficult personal time in late 2014 shortly before the alleged offences.
The investigation was led by the North East Counter Terrorism Unit, based in Wakefield.
Unit head detective chief superintendent Clive Wain said: "It is clear from the evidence presented that Khadam openly demonstrated support for Daesh and their ideology, using multiple social media accounts to further spread the propaganda of this terrorist organisation.
"Khadam has not disputed posting the information, claiming she did so out of curiosity and the belief that she did not consider it to be terrorist material. Yet this material glorified terrorism and delivered powerful messages, encouraging terrorist acts and calling upon others to kill.
"Khadam was prolific in her use of social media and showed little regard for the consequences of openly sharing deeply disturbing images and material across a number of digital platforms. Much of this material encouraged violent action and was very extreme in the violence it portrayed.
"During the course of this investigation specialist officers from the North East CTU have reviewed hundreds of hours' worth of videos and thousands of social media postings. Over a five week period, Khadam, tweeted up to 20,000 times.
Police feared that had she not been arrested, Khadam may have attempted to travel out to Syria.
Det chief supt Wain said "The reach and influence of social media is vast; Daesh and other groups are increasingly using the internet to encourage support for their objectives and to provoke individuals to carry out attacks in the UK. Therefore tackling extremist material is important to protect the public and prevent offences that incite or encourage acts of terrorism. It is also vital that collectively we make every effort to stop people becoming radicalised online.
"We rely on the public for information and urge anyone who comes across extremist or terrorist material online to report it using the confidential STOP button at gov.uk/report-terrorism.
"Today's verdict I hope sends out a strong message that actions such as those carried out by Khadam will not be tolerated and ourselves, together with policing colleagues and other partner agencies, will bring those who are breaking the law to justice.
"It is also important to reiterate that our priority is the safety of our communities. We will bring those who have committed a criminal offence before the courts, however we would much prefer to stop people from crossing into a path of criminality
"We can intervene at an early stage and steer people away from becoming involved in terrorist activities and provide tailored assistance through the Prevent Strategy and Channel Project.
"If you have concerns about a loved one then you can seek help through your local police. The earlier you contact us, the more likely we, along with partners can intervene and prevent your loved one becoming criminalised."
yorkshirepost.co.uk/news/crime/sheffield-woman-who-spread-is-terror-propaganda-jailed-for-four-and-a-half-years-1-7918237
--
Former Pennsylvania governor: More "ugly women" than "attractive women" in U.S.
May 18, 2016
There are inartful statements -- and then there are inartful statements like Ed Rendell's.
Rendell, the former Pennsylvania governor, said in a Washington Post story posted Wednesday that there are more "ugly women" than "attractive women" in the United States.
The context doesn't exactly soften the blow: Rendell was talking about presumptive GOP nominee Donald Trump's appeal to voters in the trending-Democratic suburban counties surrounding Philadelphia, the area that effectively determines who wins the state overall.
"Will he have some appeal to working-class Dems in Levittown or Bristol? Sure," he said. "For every one, he'll lose 1½ , two Republican women."
Rendell then suggested that Trump's comments about women will be a problem for moderate suburban women -- especially, he says, the "ugly" ones.
"Trump's comments like 'You can't be a 10 if you're flat-chested,' that'll come back to haunt him," Rendell continued. "There are probably more ugly women in America than attractive women. People take that stuff personally."
cbsnews.com/news/former-pennsylvania-governor-more-ugly-women-than-attractive-women-in-u-s/
----
Muslim woman's selfie with anti-Islam protestors goes viral
Aurelius Casco19 May 2016,
While people like Riffi says he fears that these protestors are creating "danger" among the communities, a fearless young woman named Zakia Belkhiri made a decision to join in one of the protests, unperturbed by the "violence" that might spark.
The protestors were part of a far-right Flemish nationalist group called Vlaams Belang, which NPR has called "openly anti-Muslim". A young Muslim woman took to the streets of Belgium taking cheerful selfies with anti-Islam protesters at an event celebrating Islam.
According to Vox, around 40 members of Vlaams Belang, a far-right Belgian political party, turned up to protest the event. When Zakla Belkhiri found herself face-to-face with anti-Islam protesters there are a number of things she could of done. Last weekend's annual Muslim Expo in Antwerp, Belgium featured workshops, panels, vendors - and a crowd of virulently anti-Muslim protesters, who gathered outside holding signs bearing messages like "Stop Muslim Fascism". He said: "This Islam fair is an apartheid fair, where they preach segregation instead of integration". "If you want to know how young people are radicalised, I advise you to visit this exhibition", he added.
Belkhiri was captured doing so by photographer Jurgen Augusteyns. The photo above of Belkhiri posing against the backdrop of the demonstrators - some of whom were clearly impressed by her cheek - has since been widely shared on social media. She responded to discrimination in the best possible way: with peace and positivity. Tribu Magazine
tribumagazine.net/2016/05/muslim-womans-selfie-with-anti-islam-protestors-goes-viral/
----
Meet the Kurdish Female Warrior Who Battles ISIS
May 18 2016
Lt. Colonel Nahida Ahmad Rashid is a top ranking female commander in the peshmerga, the army of the semi-autonomous region of Iraqi Kurdistan.
Peshmerga (meaning "those who face death") are proving to be the most effective force in the Middle East fighting the Islamic State, or ISIS.
Having fought bravely alongside other (all male) regiments since 2014 at Jalawla, Khanaqin, and Dakuk, Rashid and her battalion of 600 women, are undoubtedly important players in the ongoing war with ISIS.
I interviewed Rashid in late April this year. Living in Soran in northeast Kurdistan, I was taken by car on the three-hour journey to the battalion's base just outside the city of Sulaimaniyah.
My driver, Mr. Hakim, is the manager of the local branch of the PUK (the Patriotic Union of Kurdistan), one of the two main Kurdish political parties.
We were accompanied by another peshmerga, Sarwar "Sam" Dargalaye. Being both an Iraqi and an English-speaking American citizen, he acted as translator as well as bodyguard. Although this region is relatively safe, the kidnapping of westerners does occasionally take place.
Arriving at the main gate of the base we saw a large picture of Capt. Rengin Yousef, a Shahid (a martyr), killed in Oct. 2014 while fighting ISIS. She had been a sniper, "One of the best,"
Warrant Officer Zetun Kamal Marf, said to us later.Yousef, 25, had been a mother of two young children, one less than a year old.
"She had never feared death, she was proud to defend her country, her freedom," explained Marf.
Yousef is one of several battalion women killed in action. Talking to different officers on the base it became clear that these soldiers train together, fight together, and face death together. For these women, the death of a fellow soldier is nothing less than the loss of a loved one, a valued family member.
After a brief tour of the main building, and informative talks with Marf and other soldiers of various ranks, we meet Rashid in her office.
Although feminine, possessing a warm demeanor, and affable sense of humor, she is every bit a commander; a disciplined and decisive leader.
Modest and unassuming, few people are aware that Rashid is, amongst other things, highly proficient in the martial art of Taekwondo.
Through a translator, I asked Rashid why she chose a military career.
"Joining Peshmerga, defending our country and families, fighting for our freedom, is an honor for us all, both men and women," she replied.
Like many Kurdish families today, Rashid's father, brothers, and other relatives were members of peshmerga.
Her desire to fight for her country is rooted in the terrible things she experienced as a child growing up under the rule of former Iraqi dictator, Saddam Hussein. When she was young, Rashid witnessed Iraqi soldiers tie her uncle to a tank, pull him along the road, then throw his lifeless body into a pit.
This was the period of Al-Anfal, Saddam's campaign of genocide against the Kurds and other minority groups. Villages and towns were destroyed; people forced from their homes and moved to settlements little better than concentration camps. An estimated 182,000 Kurdish civilians were killed in that campaign.
As a teenager Rashid, living in Chwarta, a town near to Sulaimaniyah, became a tanzeem, one who secretly helps peshmerga residing in the mountains by providing food, clothing, and ammunition. She also passed on information about the strength and location of the Iraqi forces.
Courageously, Rashid carried out attacks on members of the Mukhabarat–the Iraqi Secret Service. The Iraqis, however, became aware of her activities.
"I ran away to the mountains" she stated defiantly, and from that time onward, she lived as peshmerga. "I didn't want to be a good student," she says smiling, "but only a good peshmerga."
Rashid tells me how, as a young, inexperienced peshmerga, she was surprised that they didn't kill captured Iraqis. Her instructor told her: "We have humanity, we are human not animals, we take care of prisoners."
This humanitarian ethic has characterized the peshmerga throughout its history. Even ISIS fighters are treated humanely if captured.
In 1995, Rashid met Jalal Talabani, the primary founder and leader of the PUK, and later President of Iraq. She suggested to him the idea of a woman's military base. Talabani agreed and Rashid became a leader of a small group of peshmerga women fighters, the original nucleus of today's battalion.
"I wasn't scared," she said facetiously. "Only scared of my worried father. I had to go on duty as a soldier in secret from him, and even my husband didn't know," She laughed.
After graduating at the Qalachwalan Military College Rashid served as a peshmerga officer, this time fighting Ansar al-Islam, a militant Islamic group appearing in north Kurdistan in 2001.
"It was a very hard fight," she explained. "They were the same as Daesh (the name Kurds use for ISIS). They were cruel, inhumane, treating women very badly."
While we talked, Chai (a hot, sugary tea) and fruit was regularly served by a soldier in her early twenties, dressed in army fatigues, her hair in a ponytail underneath a peaked cap.
Rashid was relaxed, friendly, candid. I jokingly said her name is easy to remember, as my wife is also called Nahida. We laughed and showed each other photographs of our spouses.
I asked about her family. She told me with maternal pride that she has "one beautiful daughter, aged twelve."
"How does your daughter feel about you being a commander in peshmerga?" Rashid laughed again.
"She is proud of me," she said, "and she would love to be peshmerga when she is 16. She often says Daesh is bad, killing children like her."
There is a long tradition of female peshmerga. Kurds are proud of the "Zhini Shakh" (women of the mountains), those who fought as guerrillas against Saddam in the 1980s. Various names are revered, such as Khuska Halima (Sister Halima), a peshmerga commander in the 1970s; Leyla Qasim, a student activist executed by Saddam in 1974; Hero Ibrahim Ahmad, a pioneer fighter and the wife of Jalal Talabani.
These peshmerga women of the past and the present are not amazons, or super humans, as has been portrayed occasionally by the media. Such a sensationalized image belies the fact that yes, such women are extraordinary in their courage, determination, and self-sacrifice for others, yet they are ordinary women: wives, mothers, and daughters.
By the manner of the soldiers entering and leaving Rashid's office, it is clear she has the respect of those under her command. But I also noticed an almost palpable oneness between her and her officers, an equality, a "sisterhood" united in fighting a common foe.
I asked Rashid, are women peshmerga treated the same way as men? "Today there is absolutely nothing different," she replied.
She informed me: "When I first served as peshmerga many men looked at me critically. But I asked them directly, what's the difference between me and you?"
"It was very hard for a woman," she says. "Religion and culture have held women back. But I am glad we have managed to change the opinion round."
She continued to talk about gender equality. "Today the training is the same for both men and women. We are being trained by the British Army. The training is hard."
She told me that one of her soldiers had recently broken her wrists while training.
"We train like men, we fight like men, and we are prepared to die like men," she said with conviction.
I spoke of the need for unity between the different groups within peshmerga, particularly the rivalry between the PUK and the KDP (Kurdistan Democratic Party). She agreed. "I don't care who belongs to my party. I respect Peshmerga. Without unity we are nothing."
When I am in uniform, I am peshmerga. When I wear a party dress I can wear either green or yellow," she said, humorously. Green and yellow are the colors of the PUK and the KDP.
There was obviously no shortage of women recruits. In the time I spent talking with Rashid, parents arrived in her office with their daughters, requesting enlistment into the regiment. One woman, now retired, who had previously served with the battalion, expressed a wish to return and fight ISIS.
"I would like to take them all," states Rashid, "but we do not have the funding."
Kurdistan is presently facing a severe economic crisis. Soldiers, like all public sector workers, often do not receive their pay, and ISIS is proving to be a determined foe. Almost 1,400 peshmerga have been killed and 7,500 wounded by ISIS since Aug. 2014. I asked Rashid how she maintains morale amongst her soldiers while facing such daunting issues.
Without hesitation, she told me: "We are all very proud to be peshmerga. We love humanity. We know what to do. We fight to protect our country, to protect humanity."
She looked at me pensively, "Peshmerga never kills the old, women, children, the innocent, and defenseless. Daesh kills anybody and everybody, it doesn't care, it has no morals. This makes us strong."
Peshmerga are proving to be much better fighters than the Iraqi army. I asked Rashid why this is so.
"Although they have the best military equipment, the Iraqis are not a real army," she said.
"They do not have the will to fight. This was seen when they first faced Daesh in 2014, they dropped their weapons and ran. Today, they have good weapons but as we have seen, they are nothing."
She paused and stated: "Weapons do not make an army, it is self-belief. We believe in what we do."
I remind Rashid that ISIS sees female peshmerga as a specific threat and danger. They believe, if they are killed by a woman, they will be denied the rewards of paradise.
"Yes, we realize the dangers. Daesh are especially cruel to women. We believe it would be better to kill ourselves than be captured by them," she replied.
Partly tongue in cheek, I asked what she would say to President Barack Obama if she was invited to the White House for tea.
She smiled and said, "We Kurds are happy for the help you gave us in removing Saddam Hussein. We are grateful for the help the west is giving us in fighting Daesh. But we need you to help us completely remove Daesh."
"We fight with basic weapons. We need more, better weapons," she said imploringly.
"Much of the aid that the west is sending peshmerga never reaches us as it is sent through Baghdad, which fears the Kurds gaining independence."
"One more thing," she said, again smiling. "We, like you, love freedom and democracy. Please be nice with the Kurdish people."
dailysignal.com/2016/05/18/meet-the-kurdish-female-warrior-who-battles-isis/
--
America's first Muslim clothing store says Islamic fashion isn't just for Muslims
May 18 2016
ORLANDO, Florida—It wasn't a typical weekend scene at the Fashion Square Mall in central Florida. A DJ blasted loud belly dance music as fashionably dressed Muslim women in hijabs took red carpet selfies and got free makeovers to celebrate the grand opening of Verona, the first Islamic fashion store to open in a major U.S. shopping mall.
Verona has only been open for a couple of days, but it's already challenging Islamaphobia towards Muslim women who wear headcovers in western society.
"We have this stereotype that hijabis [women who wear the hijab] are oppressed, that they're forced to wear it, and they're uneducated. These things are everything that I am not and everything that my customers are not," store owner Lisa Vogl told Fusion as she and her business partners cut the ribbon on the store.
Vogl is an American designer and fashion photographer who converted to Islam in 2011 and started her own modest clothing and hijab brand in 2013. "From a young age I would design things with my grandma, and she would sew them for me," said Vogl, who's in her early thirties.
As a full-time fashion photographer, Vogl travelled around the Arab world and the United States working on projects featuring Islamic clothing brands. But traveling became a challenge after she had her first kid, so she shifted gears and started her own fashion brand, Verona Collection. "I decided to open up a fashion brand because it's something I can be at one spot and do. It was just easier as a mom," she says.
Vogl says she started designing her own clothing brand in response to the challenges she faced buying fashionable clothing as a Muslim woman. "I would go to the mall and try to find undershirts and slightly modest clothing and it became a difficult task," she says.
I can relate. Shopping for long sleeve fashionable shirts and long dresses without thigh-high slits isn't as easy as you would think! I've spent hours and hours digging through piles of crop tops to find long-sleeved modest tops that look fashionable and trendy. But most of long sleeve shirts I find are in the clearance section—the clothing that's been picked-over and discarded by other women my age.
Verona is trying to change all that.
"Muslim women love to shop, love to be fashionable and can be beautiful even while being modest and wearing hijab," said Rayyan Sokkarie, 18-year-old Verona model and fashion blogger, who was surrounded by fans who took selfies and greeted her at the grand opening of the store.
Sokkarie told Fusion that just having a hijab store in a U.S. shopping mall is a way of showing that Islamic culture is already part of mainstream America.
"Being integrated into a major mall like this with people constantly being exposed to the true face of Muslim women, not the negativity they see in the news, helps narrow the gap between the Muslim community and others," she said.
Vogl said she and her business partners started looking for a store location three months ago and found the Orlando mall was welcoming of the idea. "We did not have much trouble; it was perfect timing that we were able to get an open spot," Vogl said. "We had to tell them what we were selling but they didn't give us a difficult time for anything."
She says the store is open to everyone, and notes that many of her customers are non-Muslim women who like the modest and affordable look.
"Our clothes fit everybody, we like to go with simple basic look that fits everybody's style and that is also affordable, comfortable and fashionable," Vogl said.
But not everyone popping into Verona to welcome them to the neighborhood. Many non-Muslim women I tried to interview for this article declined to comment. Some stopped to watch from a safe distance, while others just walked by shaking their heads in disapproval.
Vogl is undeterred by the haters. She's already planning to opening additional stores in London and Paris. And she'll probably do just fine. The global market for Muslim clothing is
projected to reach $488 billion by 2019, according to Thomson Reuters' State of the Global Islamic Economy Report.
fusion.net/story/303620/americas-first-muslim-clothing-store-says-islamic-fashion-isnt-just-for-muslims/
--
From victims to suspects: Muslim women since 9/11
May 18 2016
In her book From Victims to Suspects: Muslim Women since 9/11, Australian scholar and writer Shakira Hussein recounts how Muslim women have been perceived and portrayed as victims and suspects in Australia and in other Western countries since 9/11.Western societies have always viewed Muslim women as "hapless victims in need of rescue and dangerous agents of an alien ideology in need of discipline". These stereotypes have become more pronounced during the post-9/11 era.
Following the 9/11 terror attacks in 2001, United States First Lady Laura Bush made a radio address to the nation "to kick off a worldwide effort to focus on the brutality against women and children by the Al Qaeda terrorist network and the regime it supports in Afghanistan, the Taliban".
Laura Bush's speech became a mission statement that described American retaliation, the War on Terror as a war to rescue Muslim women not only in Afghanistan but all over the world. Therefore American imperialist intervention in the Middle East became a legitimate mission to save Muslim women.
As Lila Abu-Lughod, a professor of anthropology at Columbia University, points out the First Lady's speech helped recreate "an imaginative geography of West versus East, us versus Muslims-cultures in which first ladies give speeches versus others in which women shuffle around silently in burqas". And Western nations began to overwhelmingly explain "the post-9/11 landscape in terms of Islam's treatment (or mistreatment) of women".
Imperial feminism, approving Western imperialism in order to save other women, has a long history. For instance, Gayatri Spivak, an academic at Columbia University, coined the famous phrase "white men saving brown women from brown men" to describe the British colonial efforts to save Hindu women from death by sati ("self-immolation on their husband's funeral
pyre").
Former Australian Prime Minister John Howard, normally not known for his commitment to women's rights, joined in the imperial-feminist chorus declaring "there is within some sections of the Islamic community an attitude towards women which is out of line with mainstream Australian society."
Since 9/11, Muslim women have also been viewed as suspects. In the wake of the 9/11 attacks the fear of terrorism was very acute, and such fears have been revived by other terror attacks in other places like Bali, Madrid, London and Boston. Also most recently hundreds of young Muslims from Europe, North America and Australia have departed to join the Islamic state in Syria and Iraq, escalating these fears.
For example, Australian politician Jacqui Lambie wanted the burqa banned from the nation's streets for security reasons. But, as Shakira Hussein highlights, "the threat supposedly posed by Muslim women is not limited to" these security reasons.
Besides fear of Islamic terrorism there is "a growing fear of Islam that is gradually undermining Western societies from within", and Muslim women who transmit Muslim cultural practices are held responsible for this infiltration. In addition to this, Muslim women are accused of reversing "the gains made by generations of feminists in the West, re-opening questions that had been considered resolved" because of their so-called "chosen" subservience.
As a result of events such as 2005 attacks in London and the Cronulla riots in Sydney, Islam became a domestic security issue rather than an external problem. And as Hussein points out "unsurprisingly, the domestication of the enemy has also feminised it, with women seen as key agents of Islamic infiltration".
As "the Muslim question" has become the dominant issue in domestic and international politics in Europe, North America and Australia, "Muslim women have come to be regarded as the accomplices rather than (or as well as) the victims of Muslim men". The recent stories about some Muslim women and girls who abandon their families and homes in the West to join the Islamic State in Syria and Iraq have strengthened this new view about Muslim women as "Islamic fifth columnists within the West".
In the wake of the 11 September 2001 attacks in the US, women wearing hijab and other forms of Islamic dress became the main targets of verbal and physical harassment and abuse in Western countries. According to the report of Australian Human Rights and Equal Opportunity Commission (HREOC), there was "a heightened sense of fear among Muslim women after experiences such as being spat on, threatened and assaulted" and also the forcible removal of headscarves by strangers in public places, which Muslim women regarded as degrading as rape.
Now Muslim women are "no longer regarded merely as passive victims awaiting rescue". But instead of acknowledging the diversity among Muslim women, current mainstream views describe them as either good or bad Muslim. And good Muslim women are those who confine their religious practice to private space; who prefer their national identity to ethno- religious identity; and who successfully embody Enlightenment values in their own lives but also promotes an internal reform based on these values within their own societies and communities.
And Shakira Hussein concludes: "Muslim women are told by all concerned that they must determine where their loyalty lies, and act accordingly. Any deviation from the script renders them inherently suspect."
onlineopinion.com.au/view.asp?article=18241
URL: https://newageislam.com/islam,-women-and-feminism/new-age-islam-news-bureau/women's-songs-ban-in-kandahar-spark-outrage-among-media-supporters/d/107351
New Age Islam, Islam Online, Islamic Website, African Muslim News, Arab World News, South Asia News, Indian Muslim News, World Muslim News, Womens in Islam, Islamic Feminism, Arab Women, Womens In Arab, Islamphobia in America, Muslim Women in West, Islam Women and Feminism