New Age Islam News Bureau
11 Jun 2016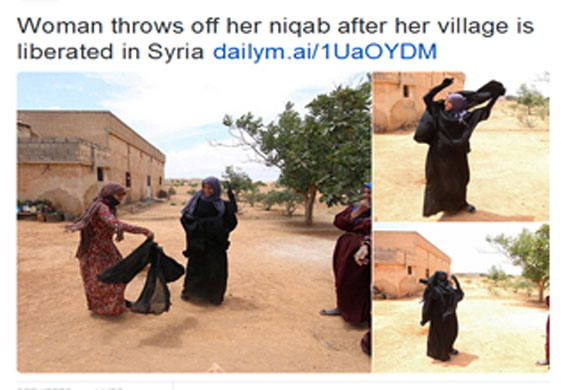 Photo: Woman throws off her niqab after her village is liberated in Syria
--------
• Cover Up During Ramadan, Kelantan Mufti Tells Non-Muslims
• Zaid: PAS Will Arrest Women in Tight Clothes
• Amal Clooney to Defend Yazidi Women against Islamic State Group
• German Swimming Pool Bans 'Burqini' For Muslim Women
• Turkish President under Fire for Views on Women
Compiled by New Age Islam News Bureau
URL: https://newageislam.com/islam,-women-and-feminism/new-age-islam-news-bureau/woman-tears-off-islamic-niqab-after-town-is-liberated-from-isis/d/107604
---
Woman Tears Off Islamic Niqab After Town is Liberated From ISIS
June 10, 2016
Following the liberation of Abu Qal Qal, south of Manbij, Syria, from ISIS, Daily Mail reports that Syrian women were quick to tear off their black, Islamic State mandated niqabs.
According to Rudaw, Syrian Defense Forces (SDF) have surrounded the city and cut off the main supply line. The Telegraph further adds that the SDF Was "supported by coalition air strikes and US special forces" during the battle.
Following the imminent defeat of ISIS, images local women taking off their head coverings were shared online. The population of the area is a mixture of Arabs and Kurds.
heavy.com/news/2016/06/new-isis-islamic-state-daesh-news-mabij-syria-kurdish-women-niqabs-pictures-photos/
--
Cover up during Ramadan, Kelantan mufti tells non-Muslims
June 11, 2016
KUALA LUMPUR, June 11 — The Kelantan Mufti today urged non-Muslims to dress conservatively throughout the fasting month of Ramadan as provocative attire could be Haram for surrounding Muslims.
Datuk Mohamad Shukri Mohamad explained that while non-Muslims have the freedom to dress however they liked, they should be "considerate" and dress appropriately to prevent Muslims from forfeiting their fast.
"They (non-Muslims) should respect Muslims and dress appropriately.
"It is not wrong for them to dress how they like but they must be considerate because when Muslims, particularly men, bump into them at public places, it is considered haram," he was quoted as saying to local daily New Straits Times.
He also urged non-Muslims to refrain from "eating or drinking in front of Muslims during the fasting month."
Additionally, he said Muslim women specifically should also "dress appropriately" as well as to watch their behaviour and language.
"This is part of religious teachings. Islam also teaches Muslims not to waste their money when shopping at Ramadan bazaars. A simple meal is sufficient for the breaking of fast," he said.
Separately, local daily The Star quoted Kelantan Islamic Affairs Department's enforcement chief Mohd Fadzuli Mohd Zain as saying that 31 Muslim women were detained for either not donning a headscarf or wearing tight outfits since the start of Ramadan on Monday.
According to mainstream Islamic teachings, a woman's "aurat" is defined as the whole body, except for the face and palms, while for men, it is the part between the navel and knees.
During the fasting month of Ramadan, Muslims would eat before dawn and fast throughout the day, breaking their fast only after sunset.
themalaymailonline.com/malaysia/article/cover-up-during-ramadan-kelantan-mufti-tells-non-muslims
--
Zaid: PAS will arrest women in tight clothes
June 11, 2016
SEKINCHAN: Former Umno minister Zaid Ibrahim, urging voters in Sungai Besar to reject PAS, said the Islamist party would only end up arresting those wearing tight clothing.
Zaid referred to a new ruling by the PAS-led state government in Kelantan, who had made it a mission to arrest Muslim women dressed in tight attire.
He said that if the Islamist party ever took control of the federal government in Putrajaya, its actions would be more drastic.
"When PAS governs Malaysia with (prime minister) Najib Razak, not just Muslims, but the Malays will also be arrested.
"They only want to arrest women. If a women is dressed in tight clothes, they will arrest her," added Zaid in a speech at a public forum held at Hao Xiang Chi Restaurant here today.
The forum, organised by the DAP, was held in support of the opposition Pakatan Harapan's candidate for the parliamentary by-election next Saturday.
Zaid urged Malay voters to reject PAS come polling day as doing otherwise would be a waste of time. "PAS will surely lose, it's a party with no mission," said Zaid before admitting his interest in beautiful women.
The forum was attended by around 100 Chinese voters who were urged to cast their votes for the opposition candidate, Azhar Abdul Shukur of Parti Amanah Negara.
Also present at the event this afternoon was DAP advisor Lim Kit Siang and Amanah president Mohamad Sabu.
freemalaysiatoday.com/category/nation/2016/06/11/zaid-pas-will-arrest-women-in-tight-clothes/
--
Amal Clooney to Defend Yazidi Women Against Islamic State Group
June 11, 2016
nternational human rights lawyer Amal Clooney will defend Yazidi women who have been victims of sexual slavery, rape and genocide by the Islamic State group in Iraq, her law firm said Friday.
Clooney, a barrister at Doughty Street Chambers in London, is seeking to prosecute the extremist group through the International Criminal Court for their crimes against the Yazidi community.
"We know that thousands of Yazidi civilians have been killed and that thousands of Yazidi women have been enslaved," Clooney, who is married to actor George Clooney, said in a statement.
"We know that systematic rapes have taken place, and that they are still taking place," Clooney said. "And yet no one is being held to account."
Islamic State fighters have killed, raped and enslaved thousands of Yazidis since 2014, accusing them of being devil worshippers and forcing over 400,000 of the religious minority to flee their homes in northern Iraq.
Yazidi campaigners, including Nobel Peace Prize nominee Nadia Murad Basee Taha, have been pushing for international justice for the crimes committed against them by the Islamic State group.
Taha, 21, took her message to the U.N. Security Council in December last year, and has spoken to successive governments, appealing to the international community to act.
Taha said she was abducted by Islamic State group militants from her village in Iraq in August 2014, and taken to the Islamic State group's stronghold of Mosul, where she and thousands of other Yazidi women and children were exchanged by militants as gifts.
She was tortured and repeatedly raped before she escaped three months later.
According to the United Nations, the extremist militants enslaved about 7,000 women and girls in 2014, mainly Yazidis whose faith blends elements of Christianity, Zoroastrianism and Islam, and is still holding 3,500, some as sex slaves.
telesurtv.net/english/news/Amal-Clooney-to-Defend-Yazidi-Women-Against-Islamic-State-Group-20160611-0005.html
--
German Swimming Pool Bans 'Burqini' For Muslim Women
June 11, 2016
BERLIN: A style of swimwear has caused an uproar at a public pool in Germany, but the culprit is not a revealing bikini. Instead, it's the "burqini" that's been banned -- the modest swimsuit worn by some Muslim women.
When the indoor pool in Neutraubling, Germany, held a women-only day, one of the swimmers opted to wear a burqini while swimming and participating in water aerobics.
However, her attire led to complaints from other women at the pool, Mittelbayerische newspaper reported.
The move was also criticized by the town's mayor, Heinz Kiechle.
"Why the burqini as a full-body suit would be necessary to wear during a women's swim day is for me incomprehensible," he said, as quoted by The Local.
Kiechle also told Mittelbayerische that it "contradicts the basic idea of integration and mutual recognition which is always being discussed in many towns".
According to the mayor, the ban on burqinis has to do with a rule which states that "only generally typical apparel" can be worn in the swimming pool. He stressed that an exception will not be given to Muslim women.
ndtv.com/world-news/german-swimming-pool-bans-burqini-for-muslim-women-1417849
--
Turkish President Under Fire for Views on Women
June 10, 2016
Turkish President Recep Tayyip Erdogan's renewed call for Turkish women to forgo birth control and have at least three children has drawn ire from women's rights advocates and is being questioned by Islamic scholars and political experts.
"We do not think that defining women over motherhood, and mulling over how many children they should have, or whether they should work or not, are among the main duties of the president," said Sirin Mine Kilic, the secretary general of a nationwide women's rights group, KADER.
"It would be more useful if the president could mull over issues such as murders of women, child abuse, unemployment of women, and violence against women," she said in a statement issued to Turkish media.
Turkey currently has an average fertility rate of more than two children per woman, according to government data.
The statistics office said Turkey's population rose to 78.7 million last year, a growth rate of around 1.3 percent. The population in 2000 was less than 68 million.
'Incomplete' without motherhood
But that growth is apparently not enough for Erdogan, who wants to see an increased Turkish birth rate.
X"I would recommend having at least three children," Erdogan said, marking the opening of the new building for Turkey's Women's and Democracy Association this month.
"A woman who rejects motherhood, who refrains from being around the house, however successful her working life is, is deficient, is incomplete," he said.
A few days earlier, Erdogan repeated a demand that Turkish women stop using birth control methods.
"No Muslim family should engage in birth control or family planning," Erdogan said, calling on devout Muslims to have more children.
"We will multiply our descendants. They talk about population planning, birth control. No Muslim family can have such an approach," Erdogan said in a televised speech. "Nobody can interfere in God's work. The first duty here belongs to mothers."
Erdogan has two daughters and two sons with his wife, Emine.
Family decision
Islamic teaching supports marriage and having children, said Yasar Colak, the Washington Representative of Turkey's Religious Affairs Directorate (Diyanet).
But Colak also told VOA, "If parents can't live up to their material and spiritual responsibilities for their children, then Islam does permit birth control."
Recep Akdag, the Turkish Health Minister, said he encourages having children but not under government orders.
"This is an issue for families to decide," he said. "Nobody can force people to have children."
Erdogan has annoyed many women's rights activists with his comments on women and motherhood in recent years. He once described birth control as "treason."
The Turkish Society of Obstetrics and Gynecology has slammed Erdogan's statements on birth control as "violations of women's rights."
Ayse Gunaysu, a prominent Turkish women's rights activist and author, told VOA that Erdogan is "extremely sexist. He carries all the anti-woman characteristics of an Islamist."
But Seda Saribas, a young mother of two who was crowned Miss Turkey in 2006, said Erdogan is showing a positive stance on motherhood.
"Family is very important for society," said Saribas, who recently was appointed as the head of the women's branch for Erdogan's ruling party in the province of Aydin.
"To increase the population of our nation is also important," said Saribas, who is a member of the municipal parliament of the city of Aydin.
Demographic changes
Some analysts have suggested that Erdogan's views are motivated by changes in Turkey's demographics which show an increase among Kurds and foreigners.
According to Tarhan Erdem, the founder and director of the Istanbul-based KONDA Research and Consultancy Company, the ethnic Kurdish population in Turkey will outnumber ethnic Turkish population in 2040. Turkey's population is currently about 79 million.
Ankara does not officially recognize the existence of any Kurdish ethnicity in Turkey. There is no official data about the population of Turkey's ethnic Kurds. But according to CIA's World Fact Book, Kurds make up 18 percent of Turkey's population whereas Turks make up about 70-75 percent. The fact book defines the remaining rest as "other minorities."
Kurdish economist Tino Sanandaji told VOA that the Kurdish population has grown by 3 percent per year since the 1965 census, when Kurds represented 7.6 percent of the population.
"If the current trends continue," Sanandaji said, "Kurds are likely to become the majority population in Turkey within a few decades."
URL: https://newageislam.com/islam,-women-and-feminism/new-age-islam-news-bureau/woman-tears-off-islamic-niqab-after-town-is-liberated-from-isis/d/107604
New Age Islam, Islam Online, Islamic Website, African Muslim News, Arab World News, South Asia News, Indian Muslim News, World Muslim News, Womens in Islam, Islamic Feminism, Arab Women, Womens In Arab, Islamphobia in America, Muslim Women in West, Islam Women and Feminism