New Age Islam News Bureau
9 Jun 2019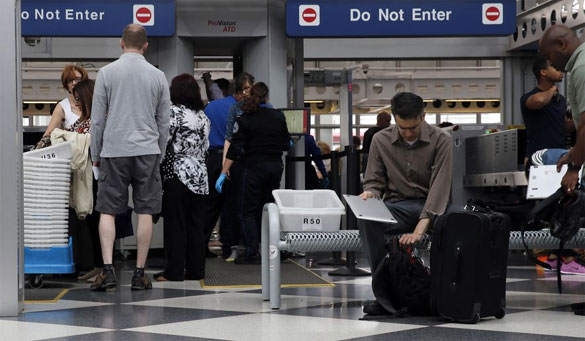 Travelers pass through a Transportation Security Administration checkpoint at O'Hare International Airport, Friday, May 27, 2016, in Chicago. Memorial Day weekend, the unofficial start of summer vacations for many and a busy travel period, serves as a crucial test for the TSA. (AP Photo/Kiichiro Sato)
--------
• Woman Sues Las Vegas Transportation Security Administration Over Strip Search: 'It Was Horrific'
• GTA Muslim women's softball league has grown from 20 to 100 players since it started in 2016
• Muslim woman says 4 teens attacked, harassed her on Bronx bus
Compiled by New Age Islam News Bureau
URL: https://www.newageislam.com/islam-women-feminism/woman-sues-las-vegas-transportation/d/118832
----
Woman Sues Las Vegas Transportation Security Administration Over Strip Search: 'It Was Horrific'
By - Associated Press - Sunday, June 9, 2019
LAS VEGAS — A Las Vegas woman has sued the Transportation Security Administration after she says they made her strip down in Oklahoma before a flight back to Nevada, KTNV reports.
Rhonda Mengert says in her lawsuit she was traveling through Tulsa International Airport on Mother's Day when an implant in her hip set off the metal detector, The TV station reported.
Mengert said she agreed to be pat down by a TSA agent. During the search, the agent found a "common feminine hygiene product" that she was wearing underneath her clothes.
Mengert told KNTV that TSA agents then took her to a private room and asked her to strip down and expose her genitals. The lawsuit says they then instructed her to remove the feminine hygiene product.
"I was told I needed to pull my pants and my underwear down to my knees and remove the item and show it to them for inspection," Mengert said, "it was horrific. It was horrible. It was degrading."
Mengert said she is suffering severe emotional distress and says the search violated her rights.
The TSA issued the following statement about the lawsuit: "Due to pending litigation, we cannot comment on the specifics of this case. TSA does not conduct strip searches and is committed to ensuring the security of travelers, while treating passengers of all ages with dignity and respect."
https://www.washingtontimes.com/news/2019/jun/9/rhonda-mengert-sues-over-tsa-strip-search-tulsa-in/
------
GTA Muslim Women's Softball League Has Grown From 20 To 100 Players Since It Started In 2016
Ramna Shahzad · CBC News · Jun 08, 2019
"One, two three, Bismillah (In the name of God)!"
With a quick team huddle and a chant, they're off.
Every Sunday, dozens of women gather at a Mississauga softball diamond. With lots of practise swings and plenty of pep talk, the scene looks like it could be from any other recreational league.
But this one is a little different.
The Sisterhood Softball League is made up of Muslim women from the GTA who play and grow the game with other Muslim women.It's co-founders say the league is the first of its kind in Canada and it's quickly growing in popularity.
"It's kind of similar to a concept of a church league so it's heavily faith based," Maryam Dadabhoy told CBC's Our Toronto.
"We have a lot of women playing sports who wouldn't otherwise be comfortable playing sports in front of men and that's something that you kind of have to deal with when you play in normal league, because there are spectators."
Dadabhoy and her best friend Hina Mirza started the league in 2016 after borrowing some basic equipment from a men's league. Around 20 to 25 women showed up for the first game and from then on, the league took off.
Today, they have 100 players and eight teams and hope to become even bigger.
Sisterhood Softball meets on Sundays at River Grove Park in the Britannia Road and Queen Street South area. Muslim women of all skill levels are encouraged to join the league.
Milton mom given 25 handmade hijabi dolls by mystery donor
"Coming from the Muslim faith we have some preferences of modesty ... You'll see it in the way that we dress," says Mirza.
"So to be able to translate a Muslim woman's dream into reality meant playing with that accommodation.
Other accommodations include encouraging only female spectators to come out and support the league so the women can feel comfortable while playing.
How Mani Jassal draws inspiration from her South Asian roots to redefine Canadian fashion
"We ask that all male family and friends not come to the games just to provide that safe environment for women to play who otherwise would not be comfortable wearing this clothing," says Dadabhoy.
"Some of them wear longer robes, longer scarves and they modify their wardrobe to play sports comfortably because you don't want it in your face and you want to be able to run comfortably."
The support extends beyond the softball diamond. The league has raised funds for women's shelters and served meals at local banks in the hopes of giving back to their community while shifting perceptions about religion.
American college golfer in hijab out to blaze trail for Muslim women
"There is a stigma around Muslim women, that we are either oppressed or we don't venture out," says Aisha Qureshi, a pitcher for the league.
"I really, really hope that people looking at us see that we're just like anybody else out there ... We love sports. For me it really is about breaking barriers."
The league's umpire, Janice Colachee, says in her 20 years of calling balls and strikes, she has never seen a league quite like this.
"It's just the camaraderie they have. They cheer for each other ... You don't find that usually," she says.
"They just care about each other they get along. It's really nice to see."
At the end of the day, the league says their main focus isn't the sport – it's their sisterhood.
"I love the fact that we have members from opposing teams cheering on somebody when they first come to bat," says Mirza.
"It makes me feel so proud ... to be able to give opportunities to all these women to step up to the plate — pun intended — and try something different knowing that everybody, not just their team but the entire league, has their back."
https://www.cbc.ca/news/canada/toronto/sisterhood-softball-league-1.5167469
-------
Muslim Woman Says 4 Teens Attacked, Harassed Her On Bronx Bus
By Eyewitness News
Saturday, June 8, 2019 2:39AM
MORRISANIA, Bronx (WABC) -- A Muslim woman is seeking justice after she said she was beaten and taunted by a group of teens in the Bronx -- and claims police did not conduct a proper investigation.
The victim, 22-year-old Fatoumata Camara, said the incident happened on the Bx35 at Third Ave and E. 168th Street in Morrisania on May 10 when the group of young teens started harassing her, making inappropriate statements about her being black and wearing Muslim attire.
"I have never seen them in my life," she said about the suspects.
Camara, a recent college graduate, said the altercation turned physical and that she was pushed off the bus and attacked outside. During the fight, she claimed the group threw sunflower seeds at her and yelled racial insults.
She said her nose was broken, her belongings -- including at least $500, her academic award, insurance card, and passport -- were all lost. Camara now has $4000 in medical bills.
The Council on American-Islamic Relations, or CAIR, planned to hold a press conference on Friday to bring awareness to the incident. They want to educate New Yorkers about the New York City Human Rights Law.
Three of the identified suspects are 15 years old and a fourth is 16 years old. The Bronx District Attorney's Office has deferred prosecution as police search for more evidence against the teens.
The victim claims the NYPD did not conduct a thorough, proper investigation.
"The police never reached out to me to tell me what's going on with my case," Camara said. "The DA, everybody, just dropped my case and everybody just acted like my life didn't matter."
Eyewitness News reached out to the NYPD for comment. The Bronx DA said the suspects were brought into the complaint room, but the person who videoed the incident with her phone did not want to cooperate as a witness, and therefore the case was deferred to police.
"The victim eventually viewed photos but was unable to identify anyone. Police closed the case," a spokesperson said in a statement.
The NYPD also released a statement: "Due to the new information presented by the victim today, the NYPD's Hate Crime Task Force will make a determination of whether or not this is a biased incident.https://abc7ny.com/muslim-woman-says-teens-attacked-harassed-her-on-nyc-bus/5336786/
--------
URL: https://www.newageislam.com/islam-women-feminism/woman-sues-las-vegas-transportation/d/118832
New Age Islam, Islam Online, Islamic Website, African Muslim News, Arab World News, South Asia News, Indian Muslim News, World Muslim News, Women in Islam, Islamic Feminism, Arab Women, Women In Arab, Islamophobia in America, Muslim Women in West, Islam Women and Feminism