New Age Islam News Bureau
12 Jul 2013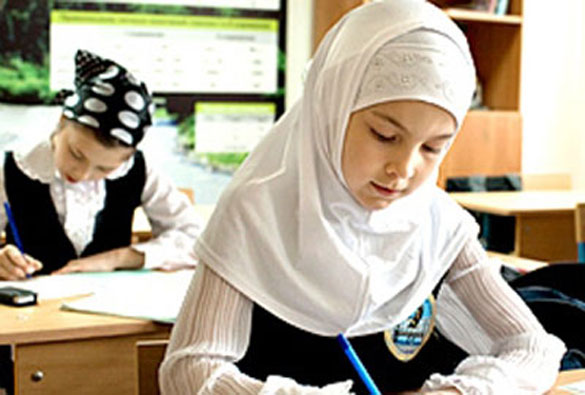 Supreme Court confirmation: prohibited to wear hijab in Russian high schools
---------
• Inter-religious marriage leads to honour killing in Kadapa
• A Hindu woman's journey to Islam
• UK development programme: New support for 1m women in Pakistan
• Siege by Taliban Strains Pakistani Girls' Schools
• Iran Must Release Women from Sexual Servitude
• Time to Let Sudan's Girls Be Girls, Not Brides
• Supreme Court Prohibited To Wear Hijab in Russian High Schools
• Sahar Gul Seared Afghanistan's Conscience but Her Tormentors Are Free
• Girls throng to school in Swat as Malala addresses UN
• Quetta Women's University Reopens after Suicide Attack
• Syrian Regime Tortured Women Prisoners, Freed Female Activist Says
• Media, Police Told To Protect Raped Jakarta Journalist
• Saudi Women's Rights Activists to File Prison Appeal Friday
• More Women Participation Urged In Media for Gender Mainstreaming
• Rise in South Indian women going abroad for jobs
Compiled by New Age Islam News Bureau
URL: https://www.newageislam.com/islam,-women-and-feminism/new-age-islam-news-bureau/woman-stoned-to-death-for-using-cellphone-on-order-of-a-panchayat-in-pakistan/d/12570
----------
Woman Stoned To Death for Using Cellphone On Order Of a Panchayat in Pakistan
12 Jul 2013
DERA GHAZI KHAN: A woman was stoned to death after a cell phone was recovered from her possession. "Arifa Bibi, the mother of two, was stoned to death by her uncle and relatives on the orders of a panchayat after she was found using a cell phone," her two cousins told a TV channel. Police have registered an FIR against three members of the panchayat.
http://www.dailytimes.com.pk/default.asp?page=2013\07\11\story_11-7-2013_pg7_7
----------
Inter-religious marriage leads to honour killing in Kadapa
12 July 2013
Man stabs to death sister, inflicts knife injuries on brother-in-law
In a case of honour killing, Mahabub Basha stabbed to death his sister Rabia and inflicted grievous stab wounds on his brother-in-law Gangaraju in Eguva Thamballapalle village in Kalasapadu mandal in Kadapa district on Thursday, enraged at their inter-religious marriage.
A relative intervened and in turn stabbed Mahabub Basha, police said. Gangaraju and Mahabub Basha were rushed to RIMS hospital in Kadapa for treatment. Gangaraju and Rabia got married last year against the wishes of their family members and left the village, police said. However, they returned to the village three weeks ago and were residing in a rented house. Mahabub Basha went to his sister's house and stabbed her and his brother-in-law, police said.
The Kalasapadu police registered a case.
http://www.thehindu.com/news/national/andhra-pradesh/interreligious-marriage-leads-to-honour-killing-in-kadapa/article4908029.ece
-----------
A Hindu woman's journey to Islam
12 July 2013
A Hindu woman, Saumya, describes how she converted to Islam. Here is her story.
When the truth is revealed to you and you stand face to face with it, how long can you refuse to accept it? How long would you run away denying it?
There comes a point in your life when you have to break free from all the chains that hold you back from answering the True Call.
It is a moment where nothing else seems significant and equivalent to the call of the Almighty God and His path of freedom, bliss and satisfaction.
All the lies with which you have been living with start fading and your beliefs as a disbeliever fall like a pack of cards. And what you witness is an Eureka moment, a moment when you realize the truth, when you realize the beauty of Islam.
I remember the day when I stood in front of the mirror in my room, looking vaguely, trying to search for something but failing to find an answer. In retrospect, I was never an atheist.
I always believed that God existed and being a Hindu it existed for me in thousand forms: From a stone to a tree, from a tree to a river, from a river to a well (funny but true). All were objects of worship for me as I was told by my family and other traditions.
I took pride in being a polytheist, considering that all objects made by God are worth worshipping and that there exists a part of God in them, in every single being; so all are worthy of worship. It could be a cow, a tree, a river (as I said also a well), idols and even human beings themselves.
I detested Islam for being so rigid and stubborn on this. I found the Muslims static, living in the past, while the world is moving far ahead of them. For me all their beliefs were unreasonable (may be because I never looked for reason), impractical, cruel and outdated.
Probably, it was not my fault; I was made to look at them this way. It was a pre-conceived notion, which I inherited from this society which has often kept a negative image of Islam in majority of its opinions.
My first encounter with Islam was in high school where the majority of my classmates were Muslims and during free classes we used to have discussions on Islam (largely because of the anti-Islam propaganda by the Hindu Organizations post 9/11 and the Gujarat riots).
During these talks they tried to clear various misconceptions that I carried regarding monotheism, rights of women, their status, and other popular myths which have become clichéd more or less.
Yet, it was not convincing for me, I still kept those beliefs and my pride in being polytheist. Though I was not anymore an anti-Muslim, I was moved by the sufferings of the people who were one of us, simply dying because they practiced a different faith. I became more secular in my outlook.
I give the major credit of becoming a monotheist to Arya Samaj, a Hindu organization that believes that Hinduism preaches monotheism and not rituals and idol worshiping. After coming under its influence I stopped worshiping idols, performing any sort of rituals and going to temples.
These are what I call the steps I was taking to finally reach my destination that is Islam.
Reading Vedas, Manu Smriti, and other scriptures only confused me. It was all philosophical, nothing material which could help you precisely find an answer for your daily life queries.
While in college studying law, it was the first time when the clarity of Islam dawned over me. It was nothing but a small course of family law — Hindu law and Islamic law regarding marriages, divorce, succession, etc.
While Hindu law was riddled with various technicalities, confusions, differences of opinions and lack of stability, Islamic law on the other hand was clear, precise and certain.
My opinion here changed overnight. What I used to find static, appeared stable to me. This made me curious to read more in this regard; I spent hours online talking to friends who used to tell me about Islam. I read various links and participated in forum discussions. My outlook toward Islam started changing which was reflected when I spoke with my friends or discussed things with them.
Of course this change was not appreciated by them, they warned me against the so-called 'brain washers' whose sole aim is to divert Hindus to Islam. All this used to bother me, I felt scared of their disagreement. I felt as though I were cheating my friends and family by doing what they sternly disagreed of. But, as I said earlier, how long can you run away from the truth? You cannot live with a lie and accepting the truth needs courage. And as the Holy Qur'an says:
"Believers, uphold justice. Always bear true witness, even if it be against yourself, your parents, or your relatives; and regardless of whether the person against whom you are speaking is rich or poor. God is close to people regardless of their material circumstances. Do not be led by emotion, as this may cause you to swerve from the truth. If you distort your testimony, or refuse to testify, remember that God is aware of all your actions." (Qur'an 4:135)
And that day all the fears just drifted away, because if I wouldn't have converted then I guess I would never had. I would have stayed stuck in the complexities of the material world where false emotions stop us from doing the right thing.
Though my friends and family members are yet unaware of it, but certainly I will tell them sooner or later and I hope Insha'Allah (God-willing) that they will respect my decision.
Alhamdullilah, I'm a Muslim today, trying to learn more and more about the Holy Qur'an and the guidelines of Prophet Muhammad, may God praise him. Insha'Allah, I will walk on his path in a better way.
With the help of a few friends and an organization, I've learned to pray; I'm praying 5 times daily Alhamdulillah. I pray to God to give me more strength so that I could always stand firm on my decision.
http://www.arabnews.com/news/457753
-----------
UK development programme: New support for 1m women in Pakistan
July 12, 2013
ISLAMABAD: Up to one million women across Pakistan will benefit from UK support to help protect them from violence and increase their participation in politics, the economy, and decision making, the UK's Development Secretary Justine Greening announced Thursday.
The new support follows a successful pilot from last year, which amongst other things helped thousands of women to get their CNICs and participate in mock-voting training sessions, so that they could vote in the recent elections, according to a Department for International Development (DFID) handout.
Ms Greening pledged at a meeting Wednesday with leading female members of the Punjab Provincial Assembly, including Punjab Minister for Women and Development Hamida Waheedudin, Punjab Minister for Population Welfare Zakia Shahnawaz, and Secretary of Women Development Iram Bukhari that the UK will do all it can to support Pakistan to empower women, stop violence, and harness the economic potential of half its population,
At the meeting she heard about steps being taken by the Punjab government to improve the position of women through its Punjab Women Empowerment Package and discussed how the UK can best support its ambitious goals.
Justine Greening said, "Pakistan has one of the worst 'gender gaps' and is the third most dangerous country in the world for women. Pakistan is missing out on the talent and productivity of half its population, holding back growth and opportunity."
Greening further said that the government of Punjab recognises this and has made excellent progress on protecting and empowering women and girls, such as introducing laws to protect them from sexual harassment at work.
The new support funded by the UK government will help women in local communities by providing them with training on their rights and advice on how to resolve problems, as well as helping district, local and provincial government to implement existing laws which protect and empower women. The assistance will be provided through local Pakistani organisations and will operate in districts across Punjab and Khyber Pakhtunkwha (K-P).
http://tribune.com.pk/story/575907/uk-development-programme-new-support-for-1m-women-in-pakistan/
-----------
Siege by Taliban Strains Pakistani Girls' Schools
12 JULY 2013
GHALANAI, Pakistan — The classroom in Ghalanai, an area nestled amid the mountains of Pakistan's tribal belt, has the air of a military camp: a solitary tent pitched beside a bombed-out building, ringed by a high wall and protected by an armed gunman.
"We need to assure parents that it's safe," said Noor Haider, a local tribal leader who took on school security after Taliban militants bombed the school three years ago.
Extreme measures have become necessary as Taliban militants have pressed their violent campaign against girls' education in northwestern Pakistan, bombing schools and terrifying pupils and parents.
More than 800 schools in the region have been attacked since 2009, according to government education authorities. But it was a vicious attack last October on an outspoken 15-year-old schoolgirl, Malala Yousafzai, that moved the issue to global prominence.
A Taliban hit man shot Ms. Yousafzai in the head in an attempt to silence her eloquent advocacy of education rights in Swat, a picturesque mountain valley that had been the scene of fierce fighting between the Taliban and the military.
After a medical evacuation to Britain, where war surgeons repaired her shattered skull, Ms. Yousafzai has made a startling recovery. In March, she resumed her schooling in Britain. And on Friday she is marking her 16th birthday by addressing a youth assembly at the United Nations headquarters in New York.
That speech will be the first unmediated public appearance by a young woman who has become an international symbol of teenage bravery and educational activism. Ms. Yousafzai has won numerous honors and been nominated for the Nobel Peace Prize. News of her progress is assiduously followed across the world.
Back in Pakistan, however, the Taliban war on girls' education continues unabated.
Ghalanai is the headquarters of Mohmand, a hilly tribal agency along the Afghan border where schools have been the targets of more than 100 attacks. Military check posts dot the hilltops, overlooking largely barren land. A female suicide bomber almost killed the leader of a religious party here this year.
The Pakistani Taliban see schools as symbols of both Western decadence and government authority, but their attacks are also intended to deny the Pakistani military the possibility of establishing temporary bases in the buildings. Typically, they strike in the dead of night, planting explosives that topple buildings and shred desks and blackboards.
The authorities have struggled to respond. At the Government Girls Primary School, Mr. Haider started the tent school with help from the United Nations. Otherwise, the government has done little, he said.
http://www.nytimes.com/2013/07/12/world/asia/siege-by-taliban-strains-pakistani-girls-schools.html
----------
Iran Must Release Women from Sexual Servitude
July 11, 2013
Hojatolislam Hossein Dehnavi is a leading Iranian cleric. He denounced women who do not cater 'sexually' to men. He made these comments at a conference on family values, and it was reported on Fars News Agency, a media outlet run by the Revolutionary Guards. Women must be released from sexual servitude.
"One of the calamities of our society is that some women do not give authority to their husbands and this is more evident in three groups," Dehnavi said in explaining the duties of women toward their husbands.
"The first group are those who are older than their husbands and treat their spouses like a mother would, which harms the authority of men. The second group are those who have a higher education than their husbands and because of their financial independence (they) have some attitude, which harms men's authority."
Here's the core of his meaning, as he describes the third group.
"One of the other duties of women in regard to their men is to take care of their men's instinctive needs (sexual drive). Do not break their pride and (you must) be more sensitive toward them."
He also spoke about the youth of Iran. He said that they 'must not meet in secluded places, must not look at each other with joy or lust, and that young girls must not flirt while talking to boys.'
Iran should allow a mass exodus of women and children. Such an extreme male-dominated society totally inhibits a 'normal' life by anyone's standards.
Dehnavi often speaks of relationships in an Islamic society at conferences and on video.
"Women have to provide sex to their men anywhere and at anytime," he said in one released video of his speeches. "Even in her mother's house, the woman usually refuses and says it's bad and that her mother could find out, but they should do it and so what if her mother finds out? It won't be bad as they are not doing anything illegal."
In another video, Dehnavi decreed that:
-Women commit a sin if they try to "satisfy" themselves after their husbands climax.
-It is not a sin for a man to think about another woman while having sex with his wife. "This is the kindness of God to us Muslims that thinking about sin is not a sin (and when) some men in having sex with their wives talk about other woman, this is not a sin either."
-If thinking of another woman during sex results in pregnancy, "then the child will be a homosexual."
It is well known that since the 1979 Islamic revolution, women have suffered execution, torture, severe corporal punishment, a lack of dignity, and a lessening position in Iranian society.
Hundreds of women are in jail in Iran for political statements and human rights issues. Thousands of girls have joined them. Because the clerics believe virgins automatically go to heaven, many of the women are raped before being executed to deny this right.
But millions of women continue to defy the rules of the clerics. They wear make-up, and wear fashionable clothes. They hold jobs, and some own their own businesses. They play sports, have formed bands, and hold underground parties.
In opposition to the autocratic policies of the ruling clerics, some women and men are converting to Christianity. If discovered, they have been arrested.
According to inside sources, some members of the Revolutionary Guard are displeased with the situation in Iran, and are seeking 'a way out.'
Throughout the world, women are seizing power. They are demanding equality on every issue. In Iran, the first step is that women must be released from sexual servitude.
Alfred James reporting
http://guardianlv.com/2013/07/iran-must-release-women-from-sexual-servitude/
----------
Time to Let Sudan's Girls Be Girls, Not Brides
By Reem Abbas
12 Jul 2013
KHARTOUM, Jul 10 2013 (IPS) - Lawyers and rights activists are calling for a change in Sudan's laws which allow for the marriage of girls as young as 10.
It is time, they say, that Sudan's laws recognise gender equality so that the country's girls and young women can take control of their lives and leave behind the cycle of child marriage and abuse.
"(Activists) are advocating a change in the personal status laws as they discriminate against women and aim to keep them in the household," said Khadija Al-Dowahi, from the Sudanese Organisation for Research and Development (SORD), which conducts research on child marriage.
Sudan's 1991 Personal Status Law of Muslims does not grant women equal rights. It also promotes child marriage. Article 40 of the personal status law sets no age limit for marriage and in fact states that a 10-year-old girl can be married "with the permission of a judge".
"The personal status laws basically state that girls can get married when they are old enough to be able to comprehend matters … but you could easily say that girls understand matters at the age of 10," Al-Dowahi told IPS.
In addition, Sudan has not ratified the United Nations Convention on the Elimination of All Forms of Discrimination against Women.
The U.N. Children's Fund estimates that a third of Sudanese women now aged 20 to 24 were married before the age of 18. In rural areas, where the problem is more persistent, child marriage is as high as 39 percent as opposed to 22 percent in urban areas.
A visit to Khartoum Hospital shows clearly just how widespread the phenomenon of child marriage is in Sudan. Inside, there is an entire Obsetric Fistula ward – the patients there are mostly young mothers whose bodies are too underdeveloped to allow them to give birth, making them prone to developing fistula.
Amel Al-Zein, a lawyer who has researched the issue of child marriage, is very critical of the country's personal status laws.
"Unlike other countries in the region or Islamic countries per se, it does not specify a certain age for marriage, which is the only guarantee to controlling child marriage," Al-Zein told IPS.
Al-Zein stated that women could not go to court to get a divorce or undertake any legal procedures before the age of 18, which contradicts the fact those girls as young as 10 are married.
"When we began researching issues of gender justice, we started seeing how child marriage is interlinked to many issues facing women, the women go to courts to fight over custody and get a divorce only to discover how terrible and discriminatory the laws are," said Al-Dowahi, whose organisation has proposed reforms to the laws.
SORD has recently established a legal aid centre for women being discriminated against by the personal status laws. So far 46 cases have arrived at the centre since its inception three months ago.
Meanwhile, the Council of Sudanese Scholars, a prestigious religious body, is causing controversy. Last year when its secretary-general, Prof. Mohamed Osman Salah, spoke in favour of child marriage, activists became infuriated.
Salah told the press in October 2012: "Islam encourages youth to marry to save them from perversion or any dangers of being single and to make them happy and to preserve reproduction."
Not all religious scholars share Salah's opinion. This is mainly because child marriage in Sudan is a consequence of social and cultural traditions, not only religious values.
Sarah Mohamed*, for example, was married off at 13 years old because the nearest high school for girls was too far from her village – lack of access to education makes parents less likely to keep daughters at home.
This is not an unusual age for getting married in her small village of Karko, which lies in Southern Kordofan.
"I remember how confused I felt, I had no idea what marriage is, I was a child," Mohamed, who turned 30 a few weeks ago and now has five children, told IPS.
She had her firstborn at 16 and today very few people can believe that she has a son in high school.
Rana Ahmed* had a different experience. She was 15 when her mother discovered that she was dating a boy in her neighbourhood, after she caught her speaking to him on the phone.
"She became too upset and told me that she would find me a husband before I did something really bad. She said this would make me stop playing around," Ahmed, now 24, told IPS.
Her husband, who was in his late 30s at the time, took Rana abroad, where he worked as a doctor, for five years. When they returned to Sudan, with her two young children, she felt that she wanted to live again.
"I was bored and unfulfilled in my life, I wanted to experience what girls my age experience. I wanted to have the freedom to date and go out," said Ahmed who is now divorced.
Al-Dowahi said that Ahmed's story is not unique – young girls are not ready for family responsibilities or for sexual experience. Some end up succeeding and going back to school, but others cannot cope and end up having affairs and living a quite different life.
As Sudan's economic situation continues to deteriorate, activists have said that cities are themselves becoming similar to rural areas, with child marriage becoming a pressing problem even among the educated urban communities.
"Before we observed more marriages of girls in agricultural communities … now it is increasing in cities because of the economic situation and the attempt by families to preserve their girls from the corruption of the city," said Al-Zein.
SORD's research showed that women in camps for internally displaced persons and in east Sudan usually face early marriage more than others.
In fact, east Sudan is home to the youngest divorcee – a young girl who was granted a divorce when she was nine. In the traditions of her community, girls are married at the age of two months, and taken to their husbands after they reach 10 years of age.
Lakshmi Sundaram, global coordinator of Girls not Brides, a global partnership to end child marriage, thinks it is a question of the value placed on the girl-child.
"We have to challenge converting a girl, even with her consent, into an economic commodity. We have to address the fundamental aspect that a girl has intrinsic value as a human being, not just a value cost," Sundaram told IPS.
*Names changed to protect identity.
http://www.ipsnews.net/2013/07/time-to-let-sudans-girls-be-girls-not-brides/
----------
Supreme Court Prohibited To Wear Hijab in Russian High Schools
12 Jul 2013
Moscow (AsiaNews/agencies) - Forbidden to wear the Hijab, the Islamic veil, in high schools in the region of Stavropol, in southern Russia, bordering the Muslim majority Caucasus region. This was established on 10 July by the Supreme Court, confirming the validity of a ruling issued earlier by a local court. The judges rejected the appeal filed by lawyer Murad Musayev on behalf of the local Muslim community.
According to the Stavropol regional court, which ruled to ban headscarves in schools, education in Russia is secular and such restrictions are aimed only to promote equality among students of different denominations and faiths. For the judges, the outward appearance of the students "must be secular in nature".
Full report at:
http://www.asianews.it/news-en/Supreme-Court-confirmation:-prohibited-to-wear-hijab-in-Russian-high-schools-28440.html
----------
Sahar Gul seared Afghanistan's conscience but her tormentors are free
Emma Graham-Harrison, Kabul
11 July 2013
When a teenage Sahar Gul was found chained in a dank basement at her in-laws, so starved she could not walk, missing fingernails and covered with burns from electric wires, Afghanistan was appalled.
The case was described as one of almost unprecedented horror and officials promised her tormentors would be pursued through the justice system as an example to others. Neither statement turned out to be entirely true.
Full report at:
http://www.guardian.co.uk/world/2013/jul/11/sahar-gul-afghanistan-tormentors-free
----------
Girls Throng to School in Swat as Malala Addresses UN
AFP
Mingora, July 12, 2013
When the Pakistani Taliban shot Malala Yousafzai in the head, their message to the world was simple: girls have no right to an education and their dreams of a better future should be crushed. The attack portrayed the world's only Muslim nuclear power in an appalling light as Western leaders and celebrities fell over themselves to turn Malala into a global icon of child rights.
But while she gears up to address the UN General Assembly on Friday -- her 16th birthday and nine months since the shooting -- more girls than ever in her home, Pakistan's northwestern Swat valley, are in school.
Educationalists say it has less to do with Malala's fame and more to do with a growing confidence that far from being resurgent, Taliban influence is declining in Swat.
"Many students were actually scared when the government named a college after Malala," said Anwar Sultana, head mistress of Government Girls High School No 1, the oldest in Mingora, the main town in Swat.
Last December, around 150 girls at another school protested against the renaming of their college after the injured schoolgirl, fearing it would make them a target for militants.
They tore up and stoned pictures of Malala, since nominated for the Nobel Peace prize and now being privately educated in Britain, accusing her of abandoning Pakistan.
But Sultana says more girls are now going to school because people feel more liberated as more time passes since the Pakistan army quashed a 2007-9 Taliban insurgency in the valley.
"Whenever you suppress something, it appears with more freedom," she told AFP, sitting on a veranda as girls in long white shirts and baggy trousers poured out of congested classrooms.
"The Taliban banned girls education and threatened females for going to schools. Now more and more girls are joining schools which means the fear is over," Sultana said.
In the first six months of 2013, 102,374 girls registered at primary schools in Swat compared to a total of 96,540 during all of last year, said Dilshad Bibi, Swat district education officer.
At Sultana's school, there are no desks and chairs in the dark brown, grey and orange coloured classrooms. Instead the girls sit on the floor to pack a maximum number into each room.
Saeeda Rahim, 13, is one of those girls.
The Taliban stopped her and thousands of other girls from going to school between 2007 and 2009. When the army offensive came in 2009, she and her family were forced to flee for their safety.
Displaced for three months, she spent much of the time in tears, her dreams of getting an education and becoming a doctor in tatters.
"Those days were the most difficult of my life. I lost hope and courage. I had no energy to read. I thought I'd never be able to study again," she told AFP.
Then when her family returned home, her mother initially refused to let her go back to school, fearing that she could be attacked.
But she is now back at Government High School No 1. She covers her face with a white veil, wears the pink strip of a prefect and says she takes inspiration from Malala.
"I really like her speeches. I want to continue her work, I want to appear in the media and convince parents that education is a right for their daughters," she said.
There is certainly a long way to go.
Throughout Pakistan, nearly half of all children and nearly three quarters of young girls are not enrolled in primary school, according to UN and government statistics published late last year.
In Malala's northwestern Khyber Pakhtunkhwa province only 36% of women and 72% of men are literate, according to the government.
Muhammad Atif, the provincial education minister, says hardline Islamist militants have destroyed 750 schools since 2008, of which 611 have been reconstructed.
The new provincial government, led by the party of former cricketer Imran Khan, has increased its annual education budget by 27% and declared female education its priority.
"Our government has allocated 66 billion rupees ($660 million), the highest amount in the provincial budget for education and female education is our top priority," said Atif.
Azra Niaz, a teacher at Government Girls High School No 1, says Malala's defiance and determination to continue her education -- despite being so badly wounded -- was a true inspiration.
"Every girl has been encouraged. Their fear has stopped. Every girl now wants to become a Malala. They say 'we want to study and progress in life'," she told AFP.
http://www.hindustantimes.com/world-news/Pakistan/Girls-throng-to-school-in-Swat-as-Malala-addresses-UN/Article1-1091201.aspx
------------
Quetta Women's University Reopens after Suicide Attack
SYED ALI SHAH
12 Jul 2013
QUETTA: Despite threats and intimidation, students of Sardar Bahadur Khan Women University appeared to be determined to carry on their educational journey.
SBK Women University was opened amid tight security on Wednesday after 25 days of deadly suicide bombing, which left more than a dozen female students dead.
Academic activities were resumed in Balochistan's only female university.
The students gathered at the site of deadly blast and chanted full throated slogans against the government and university administration for their failure to avert the tragedy, which struck the university on June 15.
Full report at:
http://dawn.com/news/1024203/womens-university-reopens-after-suicide-attack
----------
Syrian regime tortured women prisoners, freed female activist says
Agence France-Presse
Jul 11, 2013
BEIRUT // Alaa Morelli, an opposition activist, escaped the worst in Syrian prisons but to secure her freedom she lied during a forced "confession" on state television and said the uprising was the work of foreigners.
A student of Latakia university, which is on Syria's Mediterranean coastline, Ms Morelli, 23, was arrested on June 12 last year just after sitting one of her second-year exams.
A fellow student reported her for making and distributing pamphlets, which called on Latakia residents to protest against the regime of the Syrian president, Bashar Al Assad.
"I came out of my exam and saw members of the security forces standing there with a student. He pointed me out to them and they detained me," she said.
Full report at:
http://www.thenational.ae/news/world/middle-east/syrian-regime-tortured-women-prisoners-freed-female-activist-says#ixzz2Yryac7Rp
----------
Media, Police Told To Protect Raped Jakarta Journalist
July 12 2013
The Alliance of Independent Journalist (AJI) Jakarta and the Jakarta Legal Aid Institute (LBH) Jakarta) condemned the coverage of an alleged rape of a female journalist in Jakarta.
"The media should not come to any conclusion before the police have thoroughly finished their investigation," AJI Jakarta secretary Dian Yuliastuti said in a press statement made available to The Jakarta Post on Thursday.
The female television journalist reported that she had been raped in an alley off Jl. Pramuka, East Jakarta, on the evening of June 20. However, after the police were unable to find any physical evidence of rape.
Full report at:
http://www.thejakartapost.com/news/2013/07/12/media-police-told-protect-raped-journalist.html
----------
Saudi Women's Rights Activists to File Prison Appeal Friday
By Lucy Westcott
12 Jul 2013
UNITED NATIONS, Jul 11 2013 (IPS) - Two Saudi Arabian women's rights activists are filing an appeal on Friday after being sentenced to 10 months in prison for helping a woman who had allegedly been abused by her husband.
On Jun. 15, Wajeha Al-Huwaider and Fawzia Al-Oyouni were convicted by a district court in Al-Khobar of "takhbib", an element of shari'a law that states they incited a woman to defy her husband and supported a wife without her husband's knowledge. A two-year travel ban will follow their prison term.
The women came to the assistance of a Canadian woman, Nathalie Morin, who called Al-Huwaider asking for help after being locked in a room by her husband without adequate food or water.
Full report at:
http://www.ipsnews.net/2013/07/saudi-womens-rights-activists-to-file-prison-appeal-friday/
----------
More women participation urged in media for gender mainstreaming
By Kiyya Qadir Baloch
12 Jul 2013
ISLAMABAD: At an event, organised by UKs research centre and the Danish International Development Agency (DANIDA) on Wednesday, a report was launched addressing the imperative need for greater women participation in media.
The speakers at the launching ceremony stressed the need for raising awareness among people about gender-based violence. They also called for curbing discrimination against and stereotyping of women in national media.
Full report at:
http://www.dailytimes.com.pk/default.asp?page=2013\07\11\story_11-7-2013_pg7_16
---------
Rise in South Indian women going abroad for jobs
PTI | Jul 12, 2013
CHENNAI: The number of women workers from South India going abroad, especially to countries in the Persian Gulf for want of jobs, has been steadily increasing in the last five years, according to the ministry of overseas Indian affairs.
In 2008, 519 women got their clearance from Protector of Emigrants (PoE) office, Chennai, which monitors the below matriculation qualified workers from Tamil Nadu, Kerala, Karnataka and Puducherry. It said 957 women got clearance in 2009 and another 1,363 women in 2010, adding that the numbers further went up in 2011 with 1,981 women leaving the country abroad for jobs.
Full report at:
http://timesofindia.indiatimes.com/india/Rise-in-South-Indian-women-going-abroad-for-jobs/articleshow/21037105.cms
----------
URL: https://www.newageislam.com/islam,-women-and-feminism/new-age-islam-news-bureau/woman-stoned-to-death-for-using-cellphone-on-order-of-a-panchayat-in-pakistan/d/12570