New Age Islam News Bureau
7 Sept 2015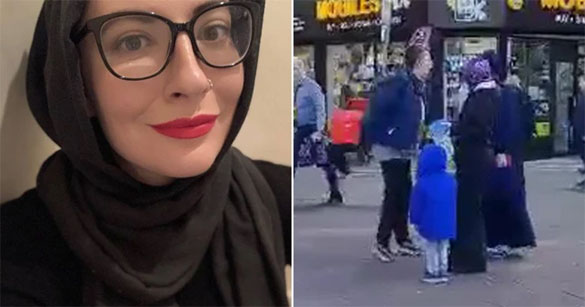 An organisation which monitors Islamophobic attacks claimed women are the primary targets. Getty Images
-----------
• Women Have Right to Divorce 'Unfit' Husbands, Says Saudi HRC Lawyer
• Islamophobic Crimes in London: Women 'Targeted' In Hate Crimes
• Could A Sports Hijab Boost Number Of Muslim Women Playing Sport?
• Afghan Activists Urge Donors to Make Aid Conditional on Women's Rights
• Poisoned Female Afghan Students in Suspected Taliban Attack Now Nearly 300
• PAS Divorce Oath Will Cost Party Women's Votes, Says Analyst
• Torch-Bearer of Modern Art in Pakistan, Zubeida's Work Serves as Inspiration for Women Painters
• Girls Find Their Place in Afghanistan's Music Institute
• UK Woman Detained On Way to Syria Faces Abduction Charges
• Hurdles Hound Foreigners Married To Saudi Women
• Why Do Saudi Women Need Housemaids?
• Breaking Down Stereotypes of Muslim Women In America
• Child Asylum Seekers Look to UK for A Better Life
Compiled by New Age Islam News Bureau
URL: https://newageislam.com/islam-women-feminism/woman-kills-isis-commander-mosul/d/104509
----------
Woman Kills Isis Commander in Mosul for Forcing Her into Sex Slavery
September 6, 2015
An Iraqi woman forced into sex slavery by an Islamic State (Isis) commander took her revenge by murdering him in Mosul. The commander, identified by his nom de guerre Abu Anas, was murdered by the woman in Tal Roman district, located to the west of Mosul, Press TV reported.
Anas had "coerced" the woman to marry several Isis fighters, the report said.
Saeed Mamouzini, the spokesman of the Kurdistan Democratic Party (KDP) in Mosul, told Arabic-language al-Sumaria satellite television network that the Isis commander was killed on Saturday (5 September). There is no information on how he was killed and what has become of the woman. There is also no clarity as to whether the Iraqi woman was a Sunni Muslim or Shia.
Mosul, the second largest Iraqi city since June 2014, is controlled by the Sunni terrorist group. Inside Mosul, Isis has established several sex-slave markets, where captured Yazidi, Christian and Shia women are sold.
The brutal Sunni group that runs such markets in Mosul often strips the women naked before selling them to the highest bidders.
In one incident, Isis militants forced a Yazidi woman to 'repair' her hymen 20 times to restore her virginity before marrying her off to its fighters, Zainab Bangur, a United Nations official special envoy, revealed.
Under the Islamic State, which follows its own twisted interpretation of the Sharia law, keeping sex slaves is a righteous act, acceptable as per the Quran. As per an Isis propaganda article, keeping a woman as slave in fact is a "great prophetic Sunnah (way of life prescribed by Prophet Mohammad) containing many divine wisdoms and religious benefits".
http://www.ibtimes.co.in/iraq-woman-kills-isis-commander-mosul-forcing-her-into-sex-slavery-645615
----------
Women Have Right to Divorce 'Unfit' Husbands, Says Saudi HRC Lawyer
September 07, 2015
JEDDAH — Saudi courts have granted divorces to at least 140 women over the past 11 months and a human rights consultant has said women have the right to divorce if they simply find their husbands inadequate or unfit.
Speaking to Al-Watan daily, Human Rights Commission's legal consultant Omar Al-Khouly explained why courts in various parts of the Kingdom ruled in favor of women when they requested divorce.
"If a man divorces his wife, she has the right to keep her dowry. However, if the woman divorced her husband she must return the dowry. In both cases, the spouse filing for divorce has to report the reason for the divorce," said Al-Khouly.
He said women generally do not wish to disclose the reason for divorce to the judges out of embarrassment or their wish to protect her husband's reputation.
"Women might find out their husbands have cheated on them and are ashamed to reveal such information to the judge. Or it may be that the husband is unable to provide for the family financially," said Al-Khouly.
He said there were instances of women seeking divorce after they discovered that their husbands had been involved in illegal or criminal activities and had previous convictions.
"A woman has the right to divorce her husband if he cannot fulfill her sexual needs. For example, if a woman discovers after marriage that her husband has a sexually transmitted disease, having intimate contacts with him would put her health in danger. In such cases, she is unable to fulfill her right for sexual pleasure and is justified in seeking a divorce," said Al-Khouly.
He added women must understand their rights in marriage so they can make educated decisions.
"The court will never stand against a woman's desire to divorce her husband even if she simply found him inadequate for her. It is her Islamic right to do so," said Al-Khouly while adding that men should disclose any diseases or shortcomings they have before getting married.
"If a woman finds out her husband has some sort of disease, especially sexually transmitted disease which she was not aware of and could jeopardize her health, she has the right to file a divorce without having to return the dowry," said Al-Khouly.
http://www.saudigazette.com.sa/index.cfm?method=home.regcon&contentid=20150907255740
----------
Islamophobic Crimes in London: Women 'Targeted' In Hate Crimes
By Zack Adesina and Oana Marocico
September 07, 2015
Islamophobic crimes have risen by 70% in London in the last year and one group which monitors the crime has said Muslim women seem to be the targets of an increasing number of abusive threats and physical attacks.
Inside Out London has spoken to Muslim women about their experiences of Islamophobia.
Joni Clark, a mother-of-two from east London, said she was abused and attacked on a daily basis because of her traditional Muslim clothing.
A lit cigarette thrown at her Niqab is the latest incident reported to the police by the 22-year old, who converted to Islam.
She said: "I was waiting to cross the road with my son in a pushchair and my six-year-old son by my side and this woman screamed.
"She then said: 'That man running, he lit a cigarette and threw it at you. He tried setting you on fire!' I was shocked."
Concerned about her safety and her sons, Ms Clark decided to move from Penge, south east London, where she had been living for more than four years, for a new start in Whitechapel, east London, an area known for its large Muslim community.
"In Penge, I couldn't walk out of my house without getting some kind of abuse.
"In east London, there are more Muslims and people are used to seeing Muslim women dressed like me.
"People always say Muslims isolate themselves and we don't mix with others but actually it is others who don't want to mix with us."
Hasina Khan, 36, Bristol
Hasina Khan, from Bristol, was spat at during an Islamophobic assault she believes was motivated by conflict in the Middle East.
The 36-year old was heading to work when a man approached her.
"I thought he was going to punch me but he was spitting at me, he did it with such superiority.
"He said something about killing Christians in the Middle East or your people killing Christians in the Middle East. It was so humiliating."
The incident took place in a shopping centre in Bristol but no-one helped and it was only after Ms Khan made a public appeal in the media for help to track down the perpetrator that witnesses came forward.
"It's predominantly women that are getting attacked and the majority of women don't report the incidents," she said.
"They just accept that's the sort of society they are living in at the moment unfortunately."
Brought up in east London, Meanha Begum thinks she has been a target of abuse because of her Muslim appearance.
Ms Begum has become used to being stared at and insulted because she wears the Niqab, but walking home one evening a woman attacked her.
"She was saying: 'What are you doing here, we don't trust you, you need to get that off your face'.
"She pulled my face veil down and pushed me to the floor. She then turned on my friend and started punching and kicking her."
Ms Begum remembers several people witnessed the incident but, rather than help, some laughed while others turned their backs.
"I felt disappointed and heavy hearted. Just because of the way I dress people don't think that I'm worth rescuing."
Ms Begum reported the incident to police and it was only during the subsequent court case she found out her attacker, who was charged with assault, had been carrying a knife.
"I cannot even to begin to imagine what she would have done if we had not fought back and subdued her.
"To this day, I am stunned by the experience, it has affected my confidence and sense of trust in people."
BBC Inside Out London is on BBC One in the London region on Monday 7 September at 19:30 BST, nationwide on the BBC News Channel at 20:30 and on the BBC iPlayer for 28 days thereafter.
http://www.bbc.com/news/uk-england-london-34140219
----------
Could a sports hijab boost number of Muslim women playing sport?
7 September 2015
Sport England's latest participation figures suggest less than one in five Muslim females exercise at least once a week - lower than any other faith group.
Could a sports hijab make a difference? A martial arts champion from east London thinks so - and the BBC Asian Network has found out more.
What is a hijab?
It is a veil or scarf that covers the head and neck. Many Muslim women and girls choose to wear it in public as a symbol of modesty.
It can be worn in many different styles, many different colours and can even be a fashion statement.
But the fabric is not always breathable, so anyone who wears one can get hot and sweaty when they play sport.
There is also a safety issue as pins are often used to keep it in place.
Why is a sports hijab different?
The aim is to make exercise a more comfortable experience for women.
British martial arts champion Ruqsana Begum has designed her own and hopes to bring it to the mass market.
"They're made of Lycra, they're stretchy and don't need pins," she said. "A woman or girl would just pull it over her head and be ready to play sport. They're also moisture-resistant."
Ruqaya Al Ghasara
Ruqaya Al Ghasara competed at the 2008 Olympics and 2009 World Athletics Championships
Begum gained inspiration for her project by reading about Bahraini sprinter Ruqaya Al Ghasara, who wore a specially constructed hijab as she won 200m gold at the 2006 Asian Games in Qatar.
"Nike designed her a one-off piece and I thought more availability of sporty hijabs would get more young people interested in sport," said Begum.
She is not the only one to follow in Nike's footsteps. House of Fraser made headlines this year for selling "sporty hijabs" in its stores.
So what do the stats tell us?
While 30% of women play sport, that figure drops to 17% for Muslim females, according to Sport England's latest statistics.
The graphic below shows Muslim women lag behind other faiths when it comes to once-a-week participation in sport.
Sport England graph
Begum, who works as a technician at a school in east London, says she has noticed some girls who wear hijabs do not want to take part in sport.
"Some of them are conscious about how they look or feel uncomfortable whilst training," she said.
But is there more to it than clothing?
Begum admits it is not just clothing that holds some Muslim women back.
"It's also about educating people about the benefits and creating opportunities," she said.
Muslim Women's Sports Foundation chair Rimla Akhtar agrees.
"Clothing for sports is an important part of improving the experience," she said. "I wear a sports hijab and it is definitely more comfortable."
However Akhtar feels there are a number of other issues to address including "the lack of knowledge and confidence in the sports industry" and the "provision of suitable opportunities and promoting a positive image of sport for all women".
What do others think?
Qamar Musaad, a 16-year-old from Manchester, admits it sometimes feels uncomfortable wearing a normal hijab when playing basketball.
"Sometimes when you're playing, you have to wrap it around again and stuff like that," she said.
She also says some Muslim girls are just not interested in sport or are lazy.
Amina Ismail, a 23-year-old from London, says she is not sporty but would get "so hot" when wearing a headscarf during PE lessons at school.
So what now?
"I think sports hijabs should become part of the PE uniform," says Begum, who is already approaching faith schools and non-religious schools to discuss what more can be done.
Ruqsana Begum
Ruqsana Begum is fighting for a world title in November
The Department for Education said it wanted all children - regardless of their background or religion - to enjoy sports.
It added: "Schools are free to set their own uniform policies, taking into account the needs of their pupils and value for money for parents."
Ismail says sporty hijabs are not the answer on their own.
"I think even now people still see sports as a male domain, so it's more culture than religion that holds some women and girls back," she said.
"There could be more women-only classes, but with things like sports hijabs and burkinis - swimsuits some women wear to cover more of the body - nothing should stop Muslim girls from taking part in sport."
http://www.bbc.com/sport/0/get-inspired/34142220
----------
Afghan activists urge donors to make aid conditional on women's rights
5 September 2015
Activists in Afghanistan have called on international donors not to neglect women's rights when they meet with the government in Kabul this weekend to reaffirm their commitments to peace and development.
Women's rights groups want to avoid another round of empty promises with little connection to the plight of ordinary Afghans.
Following the withdrawal of international troops, they worry human rights will tumble to the bottom of the agenda. With the Taliban gaining ground, security remains the priority for the Afghan government, diminishing political emphasis on rights issues.
Urging donors, including the UK, to make aid conditional on results, advocates say money should only be funnelled to ministries and institutions that show real progress.
"Any process that excludes women should not be supported by donors," said Samira Hamidi, a former director of the Afghan Women's Network.
About a dozen foreign delegations are expected to participate in the summit on Saturday, including a senior contingent from the UK's Department for International Development (DfID) and a deputy secretary of the Australian Department of Foreign Affairs and Trade.
Since taking office, the Afghan president, Ashraf Ghani, has made strides to enhance female representation in government institutions. He has nominated the first woman to Supreme Court – though parliament rejected his first pick – as well as appointing four female ministers, four female ambassadors and two female provincial governors.
Activists regard these appointments as little more than window dressing, however, arguing that they placate international donors while failing to address systemic discrimination.
"Parties in embassies with female MPs and government officials is not promoting women's rights," said Wazhma Frogh, co-founder of the Research Institute for Women, Peace and Security.
On the contrary, Hamidi said, foreign embassies have done little to gauge opinion among Afghan civil society groups. "It is quite disappointing to see very little consultation and engagement with women's organisations," she said.
The senior officials' meeting in Kabul follows up on previous conferences, in 2012 in Tokyo and 2014 in London, where donors and Afghan government officials agreed to take collective responsibility for the country's future. It also marks another step in Afghanistan's transition toward autonomy.
In London last year, Ghani outlined a vision for a self-reliant Afghanistan. But while his plan goes into granular detail about creating a sustainable economy, it is less specific on goals for human rights.
If Ghani's scheme is realised, claim critics, donors will have to allow the Afghan government to skirt firm commitments. Without "measurable benchmarks," as Human Rights Watch puts it in an open letter to DfID, progress will be harder to monitor.
International donors can put pressure on the Afghan government through the legal sector, which they heavily subsidise (pdf).
One event in particular has become symbolic for those who see the legal system as fundamentally rigged against women.
After the murder of Farkhunda, a 27-year-old female religious scholar who in March was attacked by a mob in central Kabul after an argument with a cleric, 49 people were charged, including police officers. Many of the initial verdicts, which included four death sentences, were later overturned or reduced, leading women's groups to feel the authorities were trying to gloss over the incident.
This week, there was further outrage after a man and a woman accused of adultery were flogged 100 times in public in Ghor province. The governor of Ghor, Seema Jowenda, sanctioned the punishment, which was aired on television. Her spokesman told Reuters the punishment was in accordance with sharia law and would teach others a lesson. The Afghan government, however, does not enforce sharia law.
"Donors must condition their aid to the justice sector, and ask for immediate improvements," said Hamidi. "Donors should not get influenced by the ambitious statements of the president. They should ask for real and immediate steps on the promises the president is making."
Frogh said it would be better to withhold aid than to fund institutions that hamper the lives of Afghan women. "If the judge whose salary comes from international money doesn't give us justice, they should not fund him," she said.
With security the overarching issue on the agenda, advocates also criticised the government and its international partners for not committing firmly to increasing the number of women in the country's police force.
Another central agenda point for the summit will be accountability to donors. The Agency Coordinating Body for Afghan Relief and Development, which seeks to mesh together the work of 135 NGOs in Afghanistan, recommended that ministers be held directly accountable for the funds they receive.
In a report on Thursday (pdf), a US congressional watchdog said corruption in the Afghan Ministry for Refugees and Repatriation had swallowed so much of the $950m allocated by the US to assist refugees and returnees that the US State Department had decided to cut the ministry's funding.
http://www.theguardian.com/global-development/2015/sep/05/afghanistan-womens-rights-aid-gender-equality
----------
Poisoned Female Afghan Students in Suspected Taliban Attack Now Nearly 300
By EDWIN MORA
6 Sep 2015
Nearly 300 schoolgirls, including kindergarteners, and female teachers have reportedly been poisoned this week in the western Afghan province of Herat and the Taliban, which is opposed to women's access to education, is suspected to be behind the three gas poisoning incidents.
News outlets have reported different estimates of how many girls actually breathed in poisonous gas during three separate incidents at two Afghan schools.
Mohammad Shafiq Sherzai, a spokesman for the Herat Zonal Hospital, reportedly said that at least 126 students and teachers, all females from the private Habibul Mustafa Schoo in the provincial capital Herat city, were rushed to the hospital after falling sick on Monday.
Some news outlets quote Sherzai as saying that 140 schoolgirls were poisoned on Monday.
As many as 68 school girls, also from the Habibul Mustafa School, were hospitalized for the same condition on Wednesday, reports CNN.
Yesterday, for the third time this week, hundreds of parents in Afghanistan's Herat province sat in the Herat Zonal Hospital waiting after an additional 115 schoolgirls from a separate unnamed school were allegedly poisoned by some type of gas, Sherzai reportedly said.
The girls were between nine and 18-years-old, he noted.
Pajhwok Afghan News reports that when taking into account teachers, an estimated 134 people were exposed to toxic gases on Thursday.
In total, nearly 300 girls were poisoned by toxic fumes at two schools in Herat province "in a suspected attack by Taliban militants," reports Daily Mail.
Afghan officials suspect foul play with some accusing the Taliban.
"The three incidents were suspiciously similar," Voice of America (VOA) learned from officials, who now believe the gas may have been deliberately leaked at the schools.
Abdul Razaq Ahmadi, the education chief in Herat told VOA, "that the perpetrators were enemies of education and growth," suggesting "a big conspiracy."
He said "that people needed to pay attention to the enemy's intentions."
Ultra-conservative elements in Afghanistan oppose female education.
The Taliban eliminated women and girl's access to education while it ruled Afghanistan from 1996 to 2001.
In 2001, the Taliban was ousted by the U.S.-led coalition, which remains in Afghanistan.
Without pointing the finger to any specific group, Aseeluddin Jami, the deputy governor of Herat province, also said he believed the incidents were carried out deliberately, reports CNN.
"Attacks against schoolgirls in Afghanistan happen with alarming frequency, often by militants who believe girls should not go to school," adds the report.
"These incidents have also taken place in Kabul, Bamyan, Maidan Wardak, Jawzjan and Badakhshan provinces in recent years," notes Khaama Press.
No specific group has claimed responsibility for the alleged poisoning attacks.
http://www.breitbart.com/national-security/2015/09/06/poisoned-female-afghan-students-in-suspected-taliban-attack-now-nearly-300/
----------
PAS divorce oath will cost party women's votes, says analyst
BY ZULKIFLI SULONG, FEATURES AND ANALYSIS EDITOR
6 September 2015
PAS risks losing the support of women voters over the issue of its divorce oath, or "bai'ah talak tiga" – a religious vow Kelantan PAS lawmakers made years ago that requires them to divorce their wives should they defect from the Islamist party for another one.
The Islamist party is using the oath against their Kelantan MPs, as leaders such as Kuala Krai lawmaker Dr Hatta Ramli deserted the party in favour of the new Parti Amanah Negara (Amanah).
But observers say that women, who make up the majority of voters in Malaysia, are up in arms over how the party is abusing religion and treating spouses as collateral in its politics.
"Our quick poll conducted on women voters in the Klang Valley showed that almost all of them were angry with PAS for using religion for politics and power," said Hisomuddin Bakar, a political analyst and executive director of think-tank Ilham Centre.
"Based on the observations by Ilham Centre's research panel, if this issue is dragged out for a long time, it will erode their support towards PAS."
The divorce oath was first introduced in 2004 by then-Kelantan Menteri Besar Datuk Nik Abdul Aziz Nik Mat, in a bid to save the state from falling into the hands of rival Malay-Muslim party, Umno.
After the oath proved to be a success in binding state legislators to the party, Kelantan PAS has kept up its secret tradition of directing lawmakers to swear to divorce their wives with the "third talak" if they switch parties, ahead of each general election.
The "talak" is a declaration Muslim men make to dissolve their marriages. Once a husband has recited the "talak" for a third time, he may only remarry his wife after he weds another woman and divorces her.
The late Nik Aziz had kept the practice among Kelantan lawmakers under wraps, and even denied it existed when former PAS vice-president Datuk Dr Hassan Ali disclosed it to the public.
But with the party now splitting into two, PAS leaders have abandoned all pretences and are now using the divorce oath to prevent its lawmakers from deserting the party.
The split came about following the collapse of opposition pact Pakatan Rakyat, after PAS severed ties with its secular ally DAP, chiefly over its desire to implement the Islamic penal code, and the unilateral ways of its president Datuk Seri Abdul Hadi Awang.
However, PAS's latest political gamble may backfire, as women in Islamic non-governmental organisations voice their disapproval over the practice.
"Women, who should be held in high esteem in a Muslim family institution, have become relegated to commodities in their game of politics," said Ikram Malaysia women's chief Datin Paduka Che Asmah Ibrahim.
"Their actions not only lower women's dignity, but it is also against the teachings of the Prophet Muhammad, who declared that men and women are equal before the eyes of God."
Hisomuddin said the revelation was exacerbated by PAS's apparent disregard for the wishes of its supporters and that of Pakatan Rakyat.
He said PAS's refusal to join the recent Bersih 4 rally, and the fuss it made over a protester stepping on a photograph of the party president and prime minister had angered non-Malay voters, particularly the Chinese.
"The incidents suggest that the Chinese will not support PAS in the next general election. Add that to the divorce oath issue, which will cost women's votes, and we can see that PAS's chances to win more seats in future are further jeopardised."
Hisomuddin said voters wanted PAS to focus on bigger issues, such as the rising cost of living, inflation, the goods and services tax (GST) and numerous scandals surrounding the government.
He said the party was only adding to the people's troubles when it chose to pass judgement on others and harp on sensitive issues that could destroy marriages.
In their survey, Ilham Centre had asked respondents whether they would choose a party, which enforced a divorce oath on its lawmakers, and whether this issue would influence their decision.
"Based on the feedback we received, they unanimously rejected PAS. They also said this was one of the main factors that would influence their choice.
"The respondents also urged non-governmental organisations and the women wings of the party to come out with a firm statement condemning and rejecting PAS's use of divorce oaths in national politics."
The respondents also said that if they let the issue slide, it was akin to condoning PAS's practice of belittling women, said Hisomuddin.
On Tuesday, PAS confirmed that 22 of its leaders including Hatta were no longer its members the moment they joined Amanah that was unveiled on August 31.
Kelantan PAS on Thursday claimed the divorce oath its elected representatives swore was valid under Islamic law.
However, PAS deputy president Datuk Tuan Ibrahim Tuan Man has urged all quarters to revert to the Shariah Court over the matter, as it involved Islamic laws and had wide implications. – September 6, 2015.
http://www.themalaysianinsider.com/malaysia/article/pass-divorce-oath-will-cost-party-womens-votes-says-analyst
----------
Torch-Bearer of Modern Art in Pakistan, Zubeida's Work Serves as Inspiration for Women Painters
September 07, 2015
Islamabad - Torch-bearer of modern art in Pakistan, Zubeida Agha's work is on permanent display at the National Art Gallery (NAG) and it is serving the art-lovers and visitors to understand the creative intellect of women painters in the country.
The NAG of Pakistan National Council of the Arts (PNCA) has put on display some works of legends of visual art on permanent basis not only to acknowledge their contributions for the art scenes of the country but also educate the coming generations about the value of their rich history of art, said Mussarrat Naheed Imam, Director Visual Arts, PNCA while talking to APP.
The NAG dedicated one of the galleries solely to the rich and diverse collection of Zubeida Agha, the icon of modern expression in Pakistan. Her modern paintings portray explorations into a non-representational realm of art, and led other artists to discover such artistic directions within their own work.
The display also signifies the importance of creative intellect of women painters of Pakistan who survived challenges with dignity and pride and contributing towards building up country's image to the world at large.
The show is an attempt to pay tribute to the revolutionary artist, legend and Pioneer of Modern Art, Zubeida Agha (1922-1997) and an appreciation of the creative intellect of women painters of Pakistan for actively facing challenges and contributing tremendously towards enriching the art scene of Pakistan internationally.
Zubeida Agha was the first Pakistani modern artist as after the creation of Pakistan in 1947, she was the first artist to hold an exhibition of her paintings and she helped bring the modern idiom to Pakistan.
Zubeida Agha is recognized and lauded as a premiere painter of Pakistan, who, in the changing ethos of 30s and 40s, had the courage and determination to launch a modern idiom of painting, which first baffled and later overwhelmed art critics and viewers. She is one of the great colourists in Pakistani painting and employs colour not only for itself, but to lend veracity and meaning to her images, culled from life and restructured by her amazing imagination to provoke the viewer into thought.
In August 2006, Pakistan Post issued a sheet let of stamps to honour 10 Pakistani painters including Zubeida Agha as a tribute to the great painters who helped to raise an awareness of art in Pakistan and established their names in the universal art world.
Born in Faisalabad, she introduced non-traditional pictorial imagery in Pakistan and initiated a new era in painting. In her early work, she attempted to explore the theme in the medium of sculpture, and also surrealistic paintings, done in sombre colours with titles 'Wisdom', 'Beethoven's Fifth Symphony', and 'Deserted Street'. In 1965, Zubeida Agha was Awarded the President's Award for the Pride of Performance.
http://nation.com.pk/islamabad/07-Sep-2015/zubeida-s-work-serves-as-inspiration-for-women-painters
----------
Girls find their Place in Afghanistan's Music Institute
Sep 07 2015
The World Bank, Kabul Province – Negina, 18, is focused on becoming the best pianist and orchestra leader in Afghanistan. She is working towards her goal at the Afghanistan National Institute of Music (ANIM), the country's only music school, located on a busy street in Kabul City.
"We don't have a single female pianist and female orchestra leader in Afghanistan, so my efforts are geared toward becoming the best pianist and orchestra leader," says Negina, who is in 11th grade.
An orphan, Negina's life changed radically after becoming a student at ANIM five years ago. "Before coming here, I was studying at Spin Kalay School, a public school," she says. "I did not have any hopes of being recognized for any talent and known both in Afghanistan and other countries in the region and the world."
" Music can play a significant role in building bridges between different ethnic groups in Afghanistan, and teach the children and youth to live in harmony in the same way they sit in an orchestra and play together," said Dr. Ahmad Naser Sarmat, Founder and Director of ANIM.
ANIM students have performed on international stages, showcasing the country's rich musical heritage. "I could never imagine that I would be able to serve Afghanistan as much as I have after enrolling in the music institute," Negina says.
The majority of ANIM's 300 students are girls, reflecting the institute's dedication to promoting women's rights and ensuring gender equality in the music sector. Half the students come from impoverished backgrounds. They are taught a full curriculum, focusing on both Afghan and Western classical music, as well as core subjects such as science, English, and mathematics. The library holds books ranging from English to ear training to theory and history of music to chemistry.
The World Bank, together with other donors, has been providing support to ANIM since its establishment. ANIM, which operates under the Ministry of Education, received support under the Afghanistan Skills Development Project (ASDP) that aimed to build a high quality Technical and Vocational Education and Training (TVET) system. ASDP, which was financed by the World Bank and Afghanistan Reconstruction Trust Fund (ARTF), closed on June 30, 2014.
However, the World Bank is continuing to support Afghanistan's TVET system through a follow-on project, the Afghanistan Second Skills Development Project. ANIM continues to receive support through this project, which focuses on providing incentives to schools and institutes offering formal TVET programs through a challenge fund scheme, while simultaneously strengthening the TVET institutional system as a whole.
"Funding from the donors, including the World Bank, provides financial support for the well-being and living costs of students from disadvantaged backgrounds," says Mohammad Sarwar Azizi, Acting Deputy Minister for the Ministry of Education.
Power of music
World Bank funding has also enabled the institute to purchase additional musical instruments, according to Dr. Ahmad Naser Sarmast, ANIM's founder and director. The school began with a broken guitar, a few violins, and a broken saxophone. Today, hundreds of Afghan and Western instruments are housed in a wing of the institute. A large donation added five tons of instruments to the institute's inventory in a single day.
"I strongly believe in the power of music," Dr. Sarmast says. "Music is a powerful tool which can enormously contribute to the healing process of a traumatized nation like Afghanistan. Music can also play a significant role in building bridges between different ethnic groups in Afghanistan, and teach the children and youth to live in harmony in the same way they sit in an orchestra and play together."
In another building, 22 upright pianos sit in wood-lined practice rooms, with 11 more being shipped from Dubai. Doors off the main hallway open into a sitar studio, tabla studio, and percussion rooms. A Pink Panther poster covers the window of a saxophone studio. In a room, students are practicing the xylophone and marimba—the institute is the only place where these instruments are taught in Afghanistan.
Allegra Boggess, who is from the US, teaches piano, oboe, and bassoon and is passionate about the work she is doing at ANIM. "Music had been banned under the Taliban, and I was really drawn to the idea of being able to provide music education to a population that hadn't been able to study music under the Taliban."
Allegra, who has been teaching at the institute since 2012, also directs a girls' ensemble. "I have 22 students. I love doing the individual classes, it's so much fun. One of the pieces we have worked on recently is 'Music alone shall live,' which was translated into Dari," she adds enthusiastically.
In one of the school's workshops, a clarinet lies in sections on a workbench, while screwdrivers, pliers and horsehair violin bows sit on the walls ready for use. ANIM is the only facility in the country that provides repair and maintenance for both Afghan and Western musical instruments. Professional instrument repair technicians train the students as part of ASDP's skills training objective. The students are thus given the opportunity to secure a better livelihood by having a profession in music as well as instrument repair.
http://www.khaama.com/girls-find-their-place-in-afghanistans-music-institute-9617
----------
UK woman detained on way to Syria faces abduction charges
September 06 2015
A woman charged with planning to bring her four children to Syria has answered charges of child abduction in a London courtroom.
The 33-year-old woman and her children were detained in Turkey this week after they went missing from their London home.
The woman refused to stand Saturday when the judge entered, saying she preferred to sit down for religious reasons. She indicated she would plead not guilty.
Police say she took four children under the age of 16 out of Britain without the proper consent.
The woman's father, husband and two sisters were in the court for the brief hearing. She told them not to cry and blew them a kiss.
She will be kept in custody until her next court hearing September 21. (bbn)
http://www.thejakartapost.com/news/2015/09/06/uk-woman-detained-way-syria-faces-abduction-charges.html
----------
Hurdles hound foreigners married to Saudi women
6 September 2015
JEDDAH: Despite recent decisions, foreign husbands of Saudi women are facing a number of hurdles while dealing with the government, either due to lack of information in various sectors or their not having adequate powers, according an online newspaper.
The newspaper carried out a survey of foreign husbands of Saudi wives and has concluded that they are facing a number of problems in their official business in the Kingdom. Sometimes, they are even unable to conclude their dealings.
Yathlim Al-Qathmi, 30 years old, said that he had two such experiences where he faced hurdles. When he visited Jeddah Chamber of Commerce to get official documents of the company, where he works as director of operations, his request was turned down on the grounds that he did not have the company's sponsorship. The chamber said that you should either be a national or you should be under the sponsorship of the company.
Omar Al-Sharief, 32 years old, said that he faced problem in the pregnancy issue of his wife as the company did not give medical insurance to him or his family. When he tried to get a medical insurance card through a company, it refused to do so on the grounds that it is possible only if the entire family is Saudi or the entire family is foreign.
Fahad bin Mahfoudh, 44 years old, asked if there is any logic in that the foreign husband of a Saudi wife is dealt with like a Saudi in matters of employment and he gets the salary of a foreigner.
Abullah Al-Battati, 28 years old, said that the profession "husband of a national" in the residence permit is not recognized in any of the Gulf countries. He has to travel as per the situation of his work, and it is for this reason he must take his wife along with him as they are not allowed to travel alone. He said that "husband of a national" should be a marital status and not a profession in official documents.
He said in the case of the death of a wife, the status of the foreign husband is not clear and it is difficult to find another sponsor. It is also difficult to have children under the same sponsorship as the husband of a Saudi wife can not be under the sponsorship of any other member of the family in case of the death the wife.
The newspaper said that it contacted the Directorate General of Passport through e-mail to get an explanation of the issues raised by foreign husbands, but it did not receive reply.
http://www.arabnews.com/saudi-arabia/news/802226
----------
Why do Saudi women need housemaids?
September 07, 2015
With regard to the article "Will Saudi recruitment problems ever end?" (Sep. 4), I fail to understand why Saudis need housemaids. I have spent most my life in Europe and North America, and I never saw that women in the West need housemaids. Women in the West work in offices as well as at home without maids, while women in the Middle East do not work in offices but they still need maids. Why do recruited housemaids run away? The simple answer is: They not treated well and they are not paid well.
Asad, Online response
Before the oil boom, GCC families did all the work at home alone without the need of "help", I refuse to call them maids because they are human. I understand the need of some help from time to time,which is normal, but overall, many chores and duties at home can be distributed among family members. Instead of lazing around and doing nothing, the work can always be done. Many people around the world survive without helpers, so did our ancestors, so why can't we now?
http://www.saudigazette.com.sa/index.cfm?method=home.regcon&contentid=20150907255734
----------
Breaking down stereotypes of Muslim women in America
September 4, 2015
We first posted on this blog about Aizzah Fatima and Dirty Paki Lingerie four years ago.
Since then, the play has achieved tremendous success. (Dare this blog claim a little credit for it?)
It has performed sold-out shows in New York City, London, Toronto, and in Turkmenistan, Scotland and Aizzah's native Pakistan.
Aizzah plays six Pakistani-American Muslim women ranging in age from six to 65 and addresses misconceptions about Muslim women, sex, and politics as it transcends boundaries of culture, religion and gender, moving and entertaining audiences with its unique and universal appeal. The Wall Street Journal said this play "breaks down stereotypes of Muslim women in America" and that reviewers call a "must-see" production.
Now, playright-actress Aizzah Fatima and director Erica Gould have brought the play almost locally—to Catskill.
http://blog.timesunion.com/muslimwomen/breaking-down-stereotypes-of-muslim-women-in-america/6550/
----------
Child asylum seekers look to UK for a better life
7 September 2015
Why would a child leave home to take the risky journey on their own from Africa, or Afghanistan, across Europe to Britain? Radio 4's Andrew Bomford was given rare access to a children's home for unaccompanied child asylum seekers.
Shasli looks happy as he sits in the pale sunshine at a children's home near Ashford in Kent. He's been here eight weeks now, and has made lots of friends.
But ask the 16-year-old from Sudan how he got here, and why he came, and his face darkens.
"It was a very difficult journey. Every time I remember the journey and what I have been through, I get very sad and very upset."
Shasli is one of 99 teenagers currently living at the Millbank Centre near Ashford.
A former old people's home, it is a stark municipal building run by Kent County Council, which serves as a reception centre for boys aged between 16 and 18 who arrived in Britain on their own, usually by smuggling themselves onto lorries or trains across the Channel.
Kent is looking after 730 unaccompanied child asylum seekers - a number which has more than doubled since March this year.
Shasli, who is Muslim, says he left Darfur in Western Sudan with his mother and two brothers after his father was killed by Sudanese government soldiers.
They travelled together across the Sahara, as far as Libya - but there he says Libyan police forcibly separated him from his family and he has not heard or seen anything of them since.
He managed to get on board a smugglers' boat with 150 people, mostly women and children, to make the perilous journey across the Mediterranean.
"We were six days on the sea, but only had food for two days. It was very hard," he says. "There were a lot of people, and the boat was just about to sink. But we were rescued by the coastguard."
A boy at the Millbank CentreImage copyrightKent County Council
Image caption
The boys living at the Millbank Centre are assessed by social workers and child psychologists
After being processed in Italy, he set out on the journey to Britain, by first hiding himself on a train to Milan, and later to Paris. In the French capital he lived under a bridge with other Sudanese for several months last winter.
Some people from a French charity gave them food, clothes, and blankets, he says. When the weather got warmer he jumped a train to Calais.
Children like him seem much older than their teenage years. They've had to grow up quickly. Most of the youngsters travelling alone are about his age, but the council is currently looking after 15 children who are under 13 and turned up in the UK on their own.
All those under 16 and all girls are placed immediately with foster parents.
Shasli describes a nightly ritual of walking miles across the Calais countryside, down railway lines, and along dark roads, looking for trains or lorries to hide in. He was often chased by the police, he says.
'Very lucky'
"One time they were chasing me and I fell down on my knee and I was hurt. The police use a kind of spray which they spray in your face. It makes you very sick. We made so many attempts and every time we were caught by the police and they brought us back." His luck changed one night when he and three friends found a lorry carrying large sheets of sponge.
"I found a gap I could squeeze into. I covered myself with the sponge. I heard the police at the port, but they did not open the truck to search it. I was very lucky.
"In Dover I started knocking hard on the truck, and the driver opened it for me. I told the driver I wanted to hand myself over to the police, and I looked up and there they were. I was very happy because I knew I had finally got to England."
A male migrant looking into a lorry at CalaisImage copyrightReuters
Image caption
Migrants gathered at Calais often attempt to enter lorries and smuggle themselves over to the UK
Kent County Council says it spends £660 a week looking after each unaccompanied child asylum seeker like Shasli. With the surge in arrivals this year, it estimates it will cost £6.2m in total.
Most of the money is reimbursed by the government but the council complains that recently it has been left with a £5.5m shortfall. It is urging the government to devise a dispersal system so the responsibility is shared out among other local authorities around the country.
Kent County Council has been forced to hurriedly convert an old outdoor education centre near Cranbrook, and a derelict old people's home in Whitstable, into temporary accommodation for new arrivals.
"These young people have had traumatic experiences which you or I hopefully would never have to experience in our lives," says Peter Oakford, the Kent councillor responsible for children's services.
The largest group of children currently at the Millbank Centre are from Eritrea, followed by those from Afghanistan. Staff say it's quite rare that they see Syrian youngsters, because most of them tend to travel in family groups.
A boy at the Millbank CentreImage copyrightKent County Council
Image caption
The asylum seekers are able to complete their education at school or college
During the first two months they are assessed by social workers and child psychologists. Their ages are verified as best they can, because few arrive with any documents.
Later, Shasli and three other boys gather together their few belongings and are taken to a house where they will live together and look after themselves, living off benefit payments administered by the council.
Social workers will visit and they'll get a chance to go to school or college. When 18 they can apply for refugee status.
But why was he so determined to come to the UK?
"In some European countries they do not really take care of refugees.
"But here in England I know this is a country of laws and that they do respect human beings. That's why I came here."
http://www.bbc.com/news/uk-34168528
----------
URL: https://newageislam.com/islam-women-feminism/woman-kills-isis-commander-mosul/d/104509