New Age Islam News Bureau
20 April 2022
• UAE: Kalpana Chawla Award To Honour Women's Achievements
• Bella Hadid Continues To Speak Up For Palestinians On Instagram
• Saudi Women Join Food Empowerment Convoy To Help Needy Families
• Alkhorayef: Over 17,000 Saudi Women Working In Industrial Cities
Compiled by New Age Islam News Bureau
URL: https://newageislam.com/islam-women-feminism/woman-in-saudi-arabia-widows-divorcees-scammer/d/126831
--------
Woman In Saudi Arabia Helps Police Arrest 'Widows' and divorcees Scammer' Via Social Media Platforms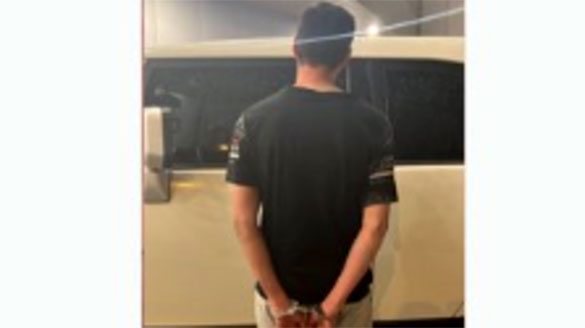 This screengrab taken from a video posted by the Kingdom's interior ministry shows a man in police custody for scamming widows and divorcees. (Screengrab)
-----
19 April ,2022
Saudi Arabia's security forces arrested a citizen for scamming widows and divorcees via social media platforms, the Kingdom's Ministry of Interior said on Tuesday.
The Riyadh police detained the man, who became known as the "widows' scammer," with the help of a woman who cooperated with security forces to lure him and catch him red-handed, the ministry said in a video posted on Snapchat.
The man reportedly posted ads on social media platforms claiming he can help widows and divorcees finalize paperwork which they need to submit to associations and institutions that offer them financial help.
For the latest headlines, follow our Google News channel online or via the app.
He would then provide them with forged documents on condition that they give him a share of the money they get.
In the video posted by the ministry, a woman who is in a police car can be seen talking on the phone with the suspect, telling him she is a widow and that she has the documents he had asked for in order to help her.
The police arrested him after he shared his location with her, the ministry said, adding that it has taken the necessary legal measures against him and transferred him to the public prosecution.
Source: Al Arabiya
https://english.alarabiya.net/News/gulf/2022/04/19/Woman-in-Saudi-Arabia-helps-police-arrest-widows-scammer-
--------
UAE: Kalpana Chawla Award To Honour Women's Achievements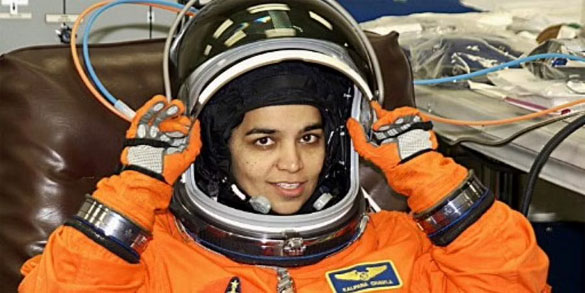 The Kalpana Chawla
-----
by Ashwani Kumar
18 Apr 2022
Science India Forum (SIF) UAE, a volunteer organisation, has introduced an award named after Kalpana Chawla to honour women achievers in the country.
Chawla, the late astronaut, was the first woman of Indian origin to go to space, and continues to be a role model and inspiration for many. The Kalpana Chawla Women Achievers Awards 2022 will honour the achievements of women in the fields of science and technology, academics, entrepreneurship and industry, arts and culture.
The initiative is supported by Indian missions in Abu Dhabi and Dubai, and community leaders, scientists and academicians.
Dr Zulekha Daud, founder and chairperson of Zulekha Health Care Group, and the chair of the organising committee for the award, said: "Women need to be self-motivated as they are going to continue to face challenges in all personal and professional spaces. Any desire to change anything in their lives must be driven by their own commitment and courage. Find your dream and pursue it - nothing must stop you, as you are blessed with the capabilities that no human can take away."
Tadu Mamu, Consul (press, information, culture and labour), Consulate General of India, Dubai, urged the community to take part in the nomination process of the award.
"I encourage more women to come forward, nominate themselves or other friends and peers, and be part of the awards," she said.
Dr Eesa Mohammed Bastaki, president, University of Dubai, underlined: "I appreciate the activities of SIF. I welcome the initiative of Kalpana Chawla Awards 2022."
Dr Zulekha added: "I have faced a lot of challenges personally and professionally. I always refer to a challenge as an 'opportunity'. The moment of truth is when you take that important decision when you have to quit or go on. Experiences will help you make the right decisions. Experiences make women strong and enable the strength they need to go on."
Self-nomination, and those from organisations, associations, and other individuals can be made at www.sifuae.com till April 25. The final list of winners will be selected by an expert panel and announced in Dubai on May 21.
Source: Khaleej Times
https://www.khaleejtimes.com/uae/uae-kalpana-chawla-award-to-honour-womens-achievements
--------
Bella Hadid continues to speak up for Palestinians on Instagram
April 18, 2022
DUBAI: Palestinian-Dutch supermodel Bella Hadid took to her Instagram account this week to highlight Israeli violence toward Palestinians in Al-Aqsa Mosque, Jerusalem writing, "If you want me to stop talking, they should stop killing."
The 25-year-old posted a carousel of videos featuring graphic clips of Israeli forces attacking Palestinian worshippers.
The post comes just days after the catwalk star called out the social media platform for shadow-banning her Instagram Stories when she posted about Palestine.
In a lengthy caption, the model, daughter of real estate developer Mohamed Hadid, whose family fled Palestine as refugees in 1948, accused Instagram again of trying to silence her, writing: "If you really would like to silence me, just like the journalists, or really anyone trying to educate about Palestine, Instagram, I will continue to come forward with peace, showing factual information about how the [Israel Defense Forces], Israeli government and Settlers attack innocent Palestinians for no reason, except for simply being Palestinian."
She continued: "I am not here to make this up. Believe me, I do not want to have to post this kind of terror. These are not actors. These are real IDF soldiers (who are supposed to protect) and real Palestinian people, with lives, families, jobs, history and souls. If you want me to stop talking, they should stop killing.
"The excuse I hear most is 'the Palestinians. they were asking for it' I hear, 'they had a knife. That was the reason the soldiers started to attack.'
"Absolutely not. As you can see here, these are peaceful people, most of the time with their children, praying, or just…living. Sure, there can be extremists on both sides. (As anywhere in the world) But I will not continue to sit here and have my [people's] name be slandered as if they are constantly doing something wrong to deserve this kind of abuse. Absolutely UNPROVOKED abuse. In their home, and on their land, that they have lived in for hundreds of years. Especially now, during the holy month of Ramadan."
Not one to back down, the model posted a second set of videos, similar to the first, that included footage of IDF soldiers arresting and detaining Palestinians. She wrote in the caption that she will not "allow us all to be named terrorists."
"This occupation is not only killing…many women, children and men on a regular basis, but it is tainting the name of other people in the process. It is saddening and sickening," she wrote.
Hadid has always been vocal about her viewpoints on Arabs and Muslims and often shows her solidarity with Palestinians.
Last year, she joined demonstrations in New York City to protest the Israeli airstrike attacks on Palestinians living in Gaza.
Source: Arab News
https://www.arabnews.com/node/2065521/lifestyle
--------
Saudi Women Join Food Empowerment Convoy To Help Needy Families
Hebshi Alshammari
April 19, 2022
RIYADH: The Future Women Society on Sunday launched a charity project to distribute 800 food baskets to 4,000 beneficiaries from the neediest families in the Riyadh region.
About 200 volunteers are taking part in the Food Empowerment Convoy 2022 campaign, which will provide food baskets containing basic items, highlight the role of volunteer work in community service, and consolidate the relationship between the FWS and those taking part in the project.
It also aims to activate the role of community partnership and meet the food demands of families in need during Ramadan.
Project director Thikra Al-Abdul Latif said the campaign was about building a relationship with families who had no breadwinners and were most in need of empowerment.
The project has several phases: Assessing the needs of the target group, searching for supporters, determining the required quantity of the food basket contents, developing a distribution plan, and choosing the best prices for the baskets' contents.
"The last two phases are based on preparing baskets containing foodstuffs for daily consumption that are sufficient for families throughout Ramadan and distributing the baskets to the locations previously identified in the distribution plan."
FWS chairperson Dr. Gareebah Al-Twaiher said that a follow-up study would be carried out on the beneficiary families to see the social impact of the convoy project.
She added that the society was proud of its partnerships with the Ehsan platform, Al-Rajhi Endowment, Obeikan Endowment, and the Feena Khair (There is Good in Us) initiative.
Abdullah Al-Ghanim, the follow-up supervisor at Feena Khair, said all sections of the nonprofit sector needed to provide services to beneficiaries across all categories.
"I expect, in this case, that the results of these partnerships are satisfactory due to the presence of diverse and sufficient expertise to accomplish fast, proficient, and distinguished work."
Al-Ghanim added that the FWS was like any other association. "The goal is the same, which is to serve religion, the nation, and society."
He said he regarded the Food Empowerment Convoy project with admiration and pride for the interest it had attracted, the love of voluntary charitable work among women, and their keenness to develop families in the community and educate them to be active elements in the community.
Abdul Wahab Mohammed Al-Faiz, secretary-general of the Mohammed Ibrahim Al-Subaie and Sons Charitable Foundation (Ghoroos), inaugurated the food distribution convoy project in the presence of interested parties, specialists, and several women who came to receive their baskets.
Ghoroos has been involved in nonprofit projects for several years and is preparing to launch new initiatives and partnerships in the nonprofit sector by the end of 2022.
Source: Arab News
https://www.arabnews.com/node/2066586/saudi-arabia
--------
Alkhorayef: Over 17,000 Saudi women working in industrial cities
April 19, 2022
RIYADH — Minister of Industry and Mineral Resources Bandar Alkhorayef said that more than 17,000 Saudi women are working in the industrial cities. "The oases of MODON provide an attractive environment and incubator for women's investments, as well as for entrepreneurs and small projects," he said.
The minister made the remarks while attending Al-Mishraq Initiative, organized by the Businesswomen's Committee at the Riyadh Chamber of Commerce and Industry on Monday.
Alkhorayef said that the ministry's industrial strategy aims to adopt advanced industrial techniques and reduce dependence on low-skilled labor. "The future jobs will be based on creative thought derived from the culture of society," he said.
The minister noted that the system of industry and mineral wealth seeks to develop the national industry and achieve the optimal investment of mineral resources, which contributes to increasing the penetration of Saudi exports and their access to global markets, in addition to meeting the requirements of local markets.
He stressed that investment in the industrial sector has become one of the easiest investments due to the clarity of procedures and the existence of legislation and possible incentives.
Speaking on the occasion, Ajlan Al-Ajlan, chairman of the board of directors of the chamber, said that the Saudi businesswomen were able to keep pace with developments in the economy and the investment environment and they have achieved great successes at all levels.
"All fields are open to them and there are equal opportunities for investors, whether they are women or businessmen. The Kingdom's economy witnessed strength and sustainability so that it can achieve the goals of the Kingdom's Vision 2030 through diversifying sources of income and creating attractive invest opportunities," he said.
Al-Ajlan noted that the industrial sector is at the top of the list of sectors that are witnessing great development at the level of legislation, investments and capital attraction.
For her part, Abeer Al-Houkal, head of the Businesswomen's Committee, said that the meeting shed light on the challenges facing the business sector, and finding appropriate solutions through consultations in a friendly atmosphere that brings together stakeholders and government officials.
"This is aimed to contribute to promoting women's investments and encouraging them to enter new areas. This is in a way that enhances communications and integrations between the public and private sectors to achieve the objectives of the Kingdom's Vision 2030," she added.
Source: Saudi Gazette
https://www.saudigazette.com.sa/article/619561/SAUDI-ARABIA/Alkhorayef-Over-17000-Saudi-women-working-in-industrial-cities
--------
URL: https://newageislam.com/islam-women-feminism/woman-in-saudi-arabia-widows-divorcees-scammer/d/126831
New Age Islam Islam Online, Islamic Website, African Muslim News, Arab World News, South Asia News, Indian Muslim News, World Muslim News, Women in Islam, Islamic Feminism, Arab Women, Women In Arab, Islamophobia in America, Muslim Women in West, Islam Women and Feminism