New Age Islam News Bureau
12 Sept 2015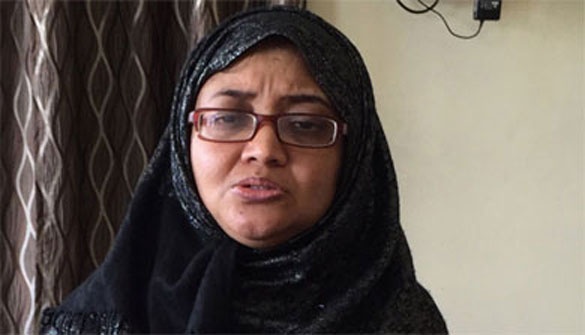 Afsha Jabeen, 38, alias Nicole alias Nicky Joseph, who was thought to be a British national is actually from Hyderabad's Tolichowki area.
--------
• World Bank Praises Women Empowerment in Saudi Arabia, Lebanon and Egypt
• Saudi Woman Architect Exhibits Her Talent at Riyadh Metro Project
• More Saudi Women Would Like To Invest In Industries
• Mommy Cares: Parents of Autistic Children Come Together In Support Group
• What Drives A Woman To Commit Murder?
• Two Simple Principles Helped My Indian Mother Turn $8 into a Million
• How Savithri Has Been Playing Mother to Destitute Elderly Women for 37 Years
Compiled by New Age Islam News Bureau
URL: https://www.newageislam.com/islam,-women-and-feminism/new-age-islam-news-bureau/woman-held-at-hyderabad,-india,-airport-for-'links-with-isis/d/104562
----------
Woman Held at Hyderabad, India, Airport for 'Links with ISIS
By Sreenivas Janyala
Hyderabad
Sep 12, 2015
An alleged recruiter for the Islamic State (IS) was Friday deported from Abu Dhabi and arrested by Hyderabad police at the Rajiv Gandhi International Airport in Shamshabad. The woman, identified as 38-year-old Afsha Jabeen alias Nicole alias Nicky Joseph, allegedly recruited Hyderabad resident Salman Mohiuddin — arrested earlier this year — to the IS.
Nicky was deported late Thursday night along with her husband Devendra Batra alias Mustafa and three daughters. Police said she lives in Hyderabad's Tolichowki area.
Home Ministry sources confirmed that she had been deported by the UAE as part of a campaign, wherein the country routinely deports individuals with links with the IS. Last week, two youths from Kerala were deported to India by the UAE for allegedly spreading IS propaganda on the internet. Salman, 32, was arrested on January 16 just before he boarded a flight to Dubai. Police had alleged that Salman planned to subsequently reach Syria via Turkey to join the IS.
Hyderabad man Salman Mohiuddin held after US warned he'd join ISIS At the time, Salman had told officials that Nicky — who he initially claimed was a British national living in Dubai — had "influenced" him to join her in Dubai and subsequently go to Syria. But after sustained interrogation, it emerged that Nicky was, in fact, a resident of Hyderabad who was living in Dubai with her husband. A graduate of Shadan College, Hyderabad, Nicky allegedly took an interest in IS activities and started recruiting people for the group. On Friday, a police official confirmed she had been arrested. "She arrived from Dubai today morning and we have arrested her as a co-accused in the case involving Salman Mohiuddin," the official said. Officials said Salman met Nicky on Facebook around June last year when he was living in the US. "They created various social networking groups under fake names and started propaganda and attracting people who were interested in the IS," an official said.
Officials added that Salman was arrested following a tip-off from US intelligence agencies, which had been monitoring his movements ever since he left the US for India in October 2014 after being denied a visa extension. Officials said US intelligence was keeping a tab on him after discovering that he frequented the websites of IS and other jihadi groups. "He had also left messages on IS websites and on the social media pages of jihadi groups in Syria," an official said. Son of a garments trader, Ahmad Mohiuddin, Salman is a resident of Bazaar Ghat under Habeebnagar Police Station in Hyderabad. He completed his B.Tech in 2008 from Anwarul-Uloom College of Engineering and Technology at Vikarabad on the outskirts of the city.
In 2011, he went to the US and joined the Texas Southern University for a Master of Science degree in Transportation Planning and Management. After completing studies, Salman worked mostly as a sales executive at several places in Houston, including a car rental firm and a pharmaceutical company.
http://indianexpress.com/article/india/india-others/hyderabad-woman-held-at-airport-could-be-islamic-state-recruiter/
----------
World Bank Praises Women Empowerment in Saudi Arabia, Lebanon and Egypt
September 12, 2015
WASHINGTON: The World Bank has praised the efforts of Saudi Arabia, Lebanon and Egypt for introducing reforms to empower women socially and economically.
The report issued Wednesday stated that Saudi Arabia and Lebanon had passed laws to protect women from domestic violence, which meant that four countries in the region had legislation in place for this purpose.
In addition, Saudi Arabia gave women 20 percent representation in the Shoura Council, while Egypt allocated 25 percent of seats in parliamentary councils and 10 percent in Parliament. Egypt had also criminalized sexual harassment in public places.
The report focused on 11 economies in the region from 15 around the world that restrict the development of women. The report showed that countries in the Middle East and North Africa have several legal restrictions in place hampering women on the economic front.
In some countries, women are not allowed to pass their nationality on to their children, while 18 other countries in the region have jobs restrictions including a wide gap between the wages of men and women.
On the international level, the report said that women face job restrictions in 100 out of 173 countries surveyed. It stated that women are prevented from working in certain jobs in factories in 41 countries, while 29 countries prevent them from working at night.
The report praised the reform efforts undertaken in some parts of Africa and Latin America. It stated that certain parts of Europe and Central Asia have some of the most progressive property laws, and access to credit. However, there were instances of women being prevented from working in certain jobs without any justifiable reason.
http://www.arabnews.com/saudi-arabia/news/805211
----------
Saudi woman architect exhibits her talent at Riyadh Metro project
September 12, 2015
RIYADH — Rima Bint Sultan is the only Saudi woman architect working for the multibillion Riyadh Metro.
"I work for long hours, whether in the office or in field, most often under the scorching sun or in the middle of rising dust," Sultan said while explaining the nature of her work.
Sultan proved her extraordinary skills at the site of the SR22.5 billion Riyadh Metro project, Al-Hayat Arabic daily reported.
The construction of the 176-kilometer metro, which will give rail connectivity throughout the capital city, started in 2013 and is expected to complete by 2018.
Sultan works alongside two Spanish female engineers who have long years of experience in the field and a Saudi female mechanical engineer.
As a child, Sultan had always been fond of drawing and her passion for art ultimately led her to choose architecture as her profession.
"I used to draw pictures on white paper. This passion for drawing helped me concentrate on this art and subsequently study architecture at Riyadh's Prince Sultan University. After my graduation, I joined a company working on Riyadh Metro as a trainee and later became a full time employee. This provided me a golden opportunity to build contacts with experienced engineers and architects who are among the world's best," the 25-year-old architect said.
Her responsibilities at work include drawing architectural designs, worksite visits, supervision of heavy drilling machinery and attending meetings.
http://www.saudigazette.com.sa/index.cfm?method=home.regcon&contentid=20150912256371
----------
More Saudi Women Would Like To Invest In Industries
12 September 2015
RIYADH: The desire of Saudi businesswomen to be involved in industrial projects has increased by up to 39 percent compared to previous years, according to data released by the United Nations Development Fund for Women. A questionnaire prepared by the Fund discovered that the proportion of women involved in industrial projects in the Kingdom stood at only 15 percent six years ago, but has now increased substantially to a total of 54 percent.
Omaima Azouz, a businesswoman and chairperson of the Fashion Designers Committee at the Council of Saudi Chambers, said that many women now want to have their own business to be free from the routines of mundane work, and to avoid having to be employed by other companies. "These are some of the reasons why their eagerness to contribute to industrial projects has begun to grow tremendously", Azouz said.
"However, some businesswomen face obstacles to achieving their goals as many of them lack the required training and experience in this field, making it risky for them to enter and succeed in the industry", she added.
http://www.arabnews.com/saudi-arabia/news/805201
----------
Mommy Cares: Parents Of Autistic Children Come Together In Support Group
September 11, 2015
Nada Nazer, the mother of a 17-year-old daughter with autism, casts a positive smile and a beam of optimism despite the challenges parents of autistic children constantly face.
When her daughter Ghalia was little, Nazer could not find doctors to diagnose her child. She and her husband decided to travel to the United States to get the care needed for Ghalia.
However, there seems to be little change 17 years later. Today, Nazer says, "In Saudi Arabia, public hospitals are the only places that offer diagnosis for autistic children. And their sessions only last half an hour."
She considered it significantly lacking compared to the United States, where she received a thorough examination coupled with comprehensive care that were longer.
Autism spectrum disorder is a complex developmental disability that affects a person's ability to communicate and interact with others.
According to statistics published by the US Centres for Disease Control and Prevention in 2014, approximately 1 percent of the world population has autism. Some reports in the past two years claim the number of autistic children in Saudi Arabia ranges between 250,000 and 400,000 though no accurate official statistics is available.
Nonetheless, it remains an obscure subject in society. Nazer says, "Some people would shy away from the subject or keep it a secret. However, my husband and I spoke about it openly."
The couple's voices gradually reached out to others. Nazer says, "I would go to children's birthday parties, malls, or other places and a mother would approach me for advice or help. Sometimes they would just share with me their stories about their autistic children or someone they know with autism."
When such incidents became frequent, in 2010, Nazer decided to start "Mommy Cares", a support group for mothers with autistic children.
From the first meeting itself, 50 mothers started attending. What started as word-of-mouth quickly spiraled into a large community and became immediately active in social media networks. Those living in Jeddah are committed to attending the monthly meetings, where they not only share experiences, but also summon experts to deliver talks and workshops.
"People are hearing about it and are asking to join," says Nazer. "The mothers are relieved to hear about others' experiences because they feel they are not alone. They tell me it's recharging for them."
She adds that WhatsApp helped in reaching out to mothers living in other cities.
"Today, we have over 350 members," she says. "The board consists of women who also have autistic children – and most of them are working moms."
The case is still today. Mommy Cares is not sponsored by outside bodies.
Ghalia lives in Jeddah with her family, who continually supports her in all aspects of her wellbeing. Homeschooled by a private teacher, Ghalia is receiving the required diet and medication on a regular basis in addition to her other needs. Her parents don't think it's practical to separate her from her siblings by living abroad.
"But what about others who cannot afford all these essential services?" says Nazer, voicing the concern of many parents, some of whom have more than one autistic child in their family.
Covering autism treatments costs tens of thousands of Saudi riyals annually.
Parents constantly complain about autism centres in Saudi Arabia. Many barely find positive outcomes a year after admission.
Nazer explains the centres are not efficient for several reasons. "They are run by incompetent employees. Even if they have special education degrees, they are not trained to deal with autistic children."
Furthermore, Nazer says, "The centres don't invest well in teachers. As a result, the overall quality is low."
For example, many centers only admit children who meet certain criteria. One prerequisite is being toilet trained, an issue many mothers are not familiar with teaching their child at home.
Dr. Soher Balkhy, consultant developmental pediatrician at King Faisal Specialist Hospital and Research Center, says, "There is a lack of qualified staff in centers in the Kingdom. In addition, some services are lacking, like speech therapy for example."
She adds, "Some cases with severe disability are not admitted. Also, when boys reach a certain age, their enrollment is not renewed."
Moreover, she says that apart from the major cities, the rest of the Kingdom lacks centers and services.
Dr. Balkhy says that family education is important and should be further invested in, as many children have shown improvement when parents work with the center to rehabilitate the child.
Despite these challenges, Mommy Cares insists on a proactive approach. The support group aims to raise awareness about autism and have parents' voices heard.
"There are also a lot of people taking advantage of the costly facilities and services for autism," Nazer explains. "At our support group, we warn parents from being used or exploited."
They regularly bring in experts to the meetings to train mothers instead of having to rely on centers.
The support group organizes a special event each year on Autism Day, held in April. The first event was a peaceful march in a mall where the moms walked with their children, handing out awareness pamphlets.
"Another year we hosted a carnival for them and it was overwhelming to see the joyful reactions of the moms and their children," says Nazer. "They felt liberated."
Autistic children are not generally welcomed in public places. People consider them harmful and should be left at home, she adds.
After persistent pressure by many parents in the Kingdom, the Ministry of Social Affairs announced it would cover the fees for autistic children getting schooling at the centers, a temporary step until public schools are to be established.
"Adults remain marginalized as well," adds Nazer. "The next step should be to support them and find them jobs. Many places claim they have jobs but don't train them beforehand, causing a vicious circle."
Research on autism remains incomplete, with contradicting studies and theories, including identifying the causes of autism.
The universal logo, a puzzle piece, elucidates the ambiguity of autism. Nazer says, "People need to know it's an epidemic. There needs to be more awareness in the world about autism."
http://www.saudigazette.com.sa/index.cfm?method=home.regcon&contentid=20150912256283
----------
What Drives A Woman To Commit Murder?
September 12, 2015
Last Ramadan, a middle-aged woman stabbed her husband to death, a crime that sent shockwaves throughout her native Jazan. In a more gruesome incident, a woman burned her husband to death and, most recently, a woman was beheaded for killing her stepdaughter.
Stories about women committing murder have become regular fixtures on the front pages of Saudi newspapers. Once almost unheard of, the number of women killers is on the rise. Al-Riyadh daily spoke to several experts to find out what is causing an increasing number of women to commit such gruesome acts.
Social factors
Dr. Nasser Al-Zahrani, assistant professor of sociology at Makkah's Umm Al-Qura University, believes that the social factors have to be taken into consideration when analyzing the motives of someone who commits murder.
"The percentage of crimes committed by men continues to be higher but the fact that women's crimes are increasing is alarming. Perhaps openness to other societies can explain the reason behind the frequent crimes perpetrated by women. In the past, these crimes rarely happened," Al-Zahrani said.
According to Al-Zahrani, Saudi society treats women as if they have to obey men and never revolt against their hegemony. The idea that women should bear ill-treatment by men under all circumstances has been instilled in the minds of many people.
"As women become more aware of their rights and are exposed to other cultures where women rise and challenge patriarchal rules, they have started to demand their due rights. When they fail, however, many turn to violence. It is their way of saying 'we no longer want to succumb to the wishes of men'," he added.
Badar Al-Dubian, a criminal law researcher, took a different stance and said illicit relationships were to blame for the increase in female killers.
"Studies have shown that most women commit crimes without an outwardly violent approach. So, they will poison food, set a home on fire and make it look like an accident or conspire with another man to commit the crime. Very often the motives are traced back to revenge," he said.
He, however, said the Islamic law does not differentiate between men and women when it comes to punishment for murder.
Ahmad Al-Malki, a legal consultant and lawyer, said the courts in the country protect women's identity and treat women's cases with high confidentiality. Only the parties involved in a dispute or crime and those who are related to the women involved are allowed to be present in the courtroom when the hearings take place.
Psychological pressure
Dr. Hatim Al-Ghamdi, a consultant psychologist, said women usually kill when they are under immense psychological pressure.
"If we study the cases of women who committed crimes this year and the one before, we will find that most experienced immense psychological pressure. Killers, male and female, need to be rehabilitated," he said.
http://www.saudigazette.com.sa/index.cfm?method=home.regcon&contentid=20150912256284
----------
Two Simple Principles Helped My Indian Mother Turn $8 into a Million
Sep 10, 2015
ALOK DESHPANDE: In 1969, my mother landed in New York with $8, a suitcase, and the sari on her back. She left India after receiving a scholarship to the physical-therapy program in Warm Springs, Ga. The fact that she left familiar surroundings for an unknown world was remarkable. But even more remarkable were the simple lessons on money that made her a millionaire and will impact our family for generations.
My parents were part of a community that followed two principles on money:
1) Avoid things you don't understand.
2) Spend less than you make.
As an immigrant, the first principle eliminated most financial products. In their early years, my parents simply didn't understand credit, insurance or investing. My mother never liked the idea of buying things she couldn't afford. She preferred to wait until she could pay cash. In the same vein, she didn't understand why she would take her hard-earned $100, put it into an investment and watch it go up and down with limited control. She preferred knowing exactly how much she had.
Over time, my parents were ushered into more mainstream financial products. Still, my mother kept physical bricks of gold and silver with the steadfast belief that they were all she could rely upon. From the perspective of most financial savants, using little to no credit and not investing for growth are financial suicide. They may have been right if my mother wasn't a professional at the second principle–spending less than she made.
My mother was the model of saving. At restaurants, she ordered water, lemons and sugar instead of the $2 lemonade. She conserved water from the dehumidifiers to water the plants. She purchased airline tickets for peak flight times and then surrendered them for vouchers. In fact, every expense she made was filtered for how she could spend less. It was second nature. It was her way of life. It was done in a way that didn't deprive the family. And it significantly reduced her financial stress.
By following principle No. 2, my mom had a foolproof plan where she was in complete control. She wasn't dependent on market returns or a pending bonus for financial security. She didn't lose sleep over her lack of financial knowledge because she was investing in herself. Sure, in hindsight, she didn't maximize her portfolio, but that was far less important than the daily feeling of empowerment she gained from following the two principles.
Many immigrants took the same path as my mother. They saved 20% to 50% of their income every month for 40 years. Most didn't do it to consciously make a sacrifice. Instead, it was part of their daily routine that simply made sense. Their stories are far less decorated than the rags to riches tributes of Oprah, Howard Schultz, and Jean Paul DeJoria. But their strategies are far more replicable.
No matter what your broader financial strategy includes, you can all apply the two principles. You have the ability to spend less than you make. You can avoid things you don't understand or take the time to learn them. You can develop a deeper relationship with your money that creates a burning desire to keep it. And in the process, you can pass down more than money. You can pass down the principles that protect that money for generations to come.
http://blogs.wsj.com/indiarealtime/2015/09/10/how-my-mother-turned-8-into-a-million/
----------
How Savithri Has Been Playing Mother to Destitute Elderly Women for 37 Years
September 12, 2015
Savithri Vaithi's wrinkled face hides hundreds of stories about the homeless elderly women she has taken care of and their painful days that she has tried to ease. With no family to take care of them, these destitute women have landed up at Savithri's doorstep and she has taken them in, with kindness and compassion, one by one.
"It is not an old age home where kids can drop their mothers off. It is a home only for those who have no one and nowhere to go," explains Srilekha, Savithri's niece, brought up by her.
Several hundred women have knocked on the doors of Vishranthi in all these years, looking for some help and rest in their twilight years. Savithri has given them the dignity they deserve.
Savithri is 80 and not in very good health now. "But she is still worried about all those ladies living in Vishranthi. She still has the final say and she will always be the soul behind this initiative," says Srilekha.
Savithri started working in the social sector when she was just 16. She worked in the slums of Choolai in Chennai, as part of a group called 'Barefoot Walkers' who would take care of the health, education and other needs of the slum dwellers.
Later, she started a book bank, educated underprivileged kids, and worked for the homeless and needy.
Savithri with one of the earliest Governor of Tamil Nadu Late Shri Prabhudas Patwari who laid the foundation of Vishranthi for the buidling on which it stands tough to this day
Savithri with one of the earliest Governors of Tamil Nadu, Late Shri Prabhudas Patwari, who laid the foundation of the building on which Vishranthi stands to this day
But it was Vishranthi that gave Savithri's life a new purpose. She started it in the late 70s with support from Help Age India and Dr. Natrajan, a geriatrist at the General Hospital in Chennai.
"The idea was to bring together some housewives who wanted to do something in their free time and leverage their energy to do something good for the elderly. Savithri started identifying abandoned women at the railway stations, roadside, etc., and bringing them to her old age home. Gradually, the news spread and hundreds of women started coming to Vishranthi," says Srilekha.
Wife of A.V. Meiappa Chettiyar donated an acre of land in Palavakkam and Help Age India raised funds for the construction of the building. And this is how Vishranthi moved from a small rented house to bigger premises that now house over 150 elderly women and a staff of about 50.
For all of them now, Savithri is the family that they had once hoped would give them respect and peace in their old age.
From providing them with healthy food to having them undergo regular medical checkups, Savithri makes sure that they lack for little. And eventually, she performs their last rites with the dignity and grace they deserve.
"We have welcomed new women here and even seen their deaths. We get attached to all of these ladies. It is very difficult to see them die," says Srilekha.
"In earlier times, women were not allowed to go to the cremation ground. But Savithri went there every time one of the ladies from our old age home was taken there. She received strong opposition but she stood against that boldly. Thanks to her, those challenges are not being faced by us now because she raised her voice against them back then," she adds.
After a woman dies in the old age home, the staff at Vishranthi arrange to donate the organs of the deceased. They try to trace the family to participate in the last rituals. But if the family cannot be found, the women are cremated with due respect.
"These old age homes are full of stories of hundreds of women — each one more heartbreaking and thought provoking than the other," says Srilekha.
Though Savithri is very sick and immobile to take care of the home by herself now, the administration of Vishranthi is being ably carried out in the same standard that she had set, by a Board of Trustees which changes every two years.
"She is leaving behind a legacy that we all will cherish. Her dream is our dream now and we will make sure we keep growing and taking care of these needy women," concludes Srilekha.
To know more about their work, contact them at – vishranthi.trust@yahoo.com or lekha.shri@gmail.com
Like this story? Or have something to share? Write to us: contact@thebetterindia.com, or connect with us on Facebook and Twitter (@thebetterindia).
http://www.thebetterindia.com/32932/savithri-vaithi-old-age-home-destitute-women-vishranthi/
----------
URL: https://www.newageislam.com/islam,-women-and-feminism/new-age-islam-news-bureau/woman-held-at-hyderabad,-india,-airport-for-'links-with-isis/d/104562