New Age Islam News Bureau
3 Sept 2018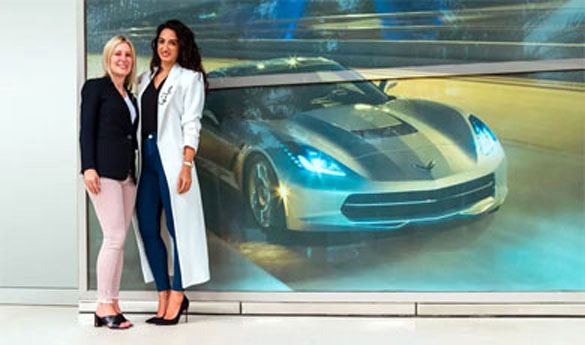 Molly Peck, chief marketing officer of General Motors Middle East and Saudi mountaineer Raha Moharrak.
-------
• Two Malaysian Women Caned Under Islamic Law for Lesbian Sex
• Egyptian Woman Made Famous By 'Leaked' Mubarak Photo Threatens To Sue Anyone Who Uses It
• Chevrolet Signs Raha Moharrak, the First Ever Saudi Woman to Climb Mount Everest as Brand Ambassador
• First Women's Go-Karting Race Held in Saudi Arabia
• Women Participated In More Protests during Recent Days In Iran
Compiled by New Age Islam News Bureau
URL: https://www.newageislam.com/islam-women-feminism/woman-alleges-forced-undergo-nikah/d/116271
--------
Woman Alleges 'Forced To Undergo Nikah Halala', Raped By Father-In-Law; 5 Booked
September 2, 2018
A woman has alleged she was forced to undergo 'Nikah Halala' and marry her father-in-law who raped her following which a case was registered against five people, including her husband, police said Sunday.
Under 'Nikah Halala', a man cannot remarry his former wife unless she marries another man, consummates the marriage, gets a divorce and observes a period of separation period called 'Iddat'. Apart from her husband and father-in-law, the others booked include her husband's uncle and two 'unidentified' clerics, a senior police official said.
Bareilly Zone Additional Director General of Police said the woman, a resident of Uttar Pradesh, got married on December 7, 2014. "The woman alleged that she was thrown out of her in-laws' house on December 25, 2015," he said.
Following which on January 3, 2016, the woman registered a case against her in-laws for harassing her. However, on December 24, 2016, both the sides reached an agreement and she went back to her in-laws' house, the police official said.
The woman in her complaint said at her in-laws place, her husband, his father, his uncle and two clerics claimed that as she was out of the house, they had a divorce and she have to undergo 'nikah halala'.
The victim claimed that she had objected to nikah halala but the two clerics, brought by her husband's uncle, had said that she will be married to her father-in-law for nikah halala process.
Later, she was locked in a room with her father-in-law who raped her. In the morning, she was given divorce by her father-in-law. After which she was raped by her husband, and she became pregnant, police said quoting the FIR. After this she went to her maternal home, and gave birth to a boy on October 6, 2017.
The victim also alleged that she had submitted an application in this regard with the district magistrate, following which she and her family were receiving death threats from her husband and a few clerics.
The ADGP said, "A case of gang-rape has been registered against the woman's husband, father-in-law, uncle-in-law and two unknown clerics." "The case was registered on Saturday, and investigations are underway," the senior police officer said.
https://indianexpress.com/article/india/woman-alleges-forced-to-undergo-nikah-halala-raped-by-father-in-law-5-booked-5336409/
--------
Two Malaysian Women Caned Under Islamic Law for Lesbian Sex
03 SEPTEMBER 2018
Kuala Terengganu, Sep 3 Two Malaysian women were caned Monday for having lesbian sex in violation of strict Islamic laws, despite an outcry from activists at the "cruel and unjust" punishment.
The case has sparked widespread condemnation and focused attention on what rights groups say is a deteriorating climate for the gay community in the Muslim-majority country.
Campaigners said it was the first time that women in Malaysia have been caned for violating a Sharia regulation which forbids same-sex relations.
The country operates a dual-track legal system and Islamic courts can handle religious and family matters for Muslim citizens, as well as cases such as adultery.
The women, aged 22 and 32, were arrested in April by Islamic enforcement officers after they were found in a car in a public square in northern Terengganu state, one of the country's most conservative areas.
The pair, whose identities have not been revealed, pleaded guilty last month to breaking Islamic laws and were sentenced to six strokes of the cane each and a fine of 3,300 ringgit ($800).
They were caned at the Sharia High Court in Kuala Terengganu, state capital of Terengganu, a court official confirmed to AFP.
The women's conviction sparked a storm of criticism. Before the caning was carried out, Gwen Lee, Amnesty International's Malaysia head, slammed the punishment as "cruel and unjust".
Malaysia "must end the use of caning and repeal the laws that impose these torturous punishments completely," she said.
Thilaga Sulathireh, from transgender rights group Justice for Sisters, said the caning would "increase the impunity of perpetrators to carry out acts of violence" aimed at gay people.
Concerns have been mounting in recent weeks in Malaysia, a multi-ethnic country where some 60 percent of the population is Muslim, about a deteriorating climate for the lesbian, gay, bisexual and transgender (LGBT) community.
The Islamic affairs minister has spoken out against homosexuals and ordered pictures of LGBT activists to be removed from a public exhibition, while a transgender woman was brutally attacked in the southern state of Negeri Sembilan.
Malaysian Muslims have traditionally practised a tolerant brand of Islam but concerns have been growing in recent years that attitudes are becoming more conservative. AMS AMS
https://www.outlookindia.com/newsscroll/mahesh-bhatt-excited-about-jalebi/1375218?scroll
--------
Egyptian Woman Made Famous By 'Leaked' Mubarak Photo Threatens To Sue Anyone Who Uses It
September 02, 2018
CAIRO: A leaked photo of the deposed Egyptian president Hosni Mubarak has sparked a frenzied debate in Egypt, ranging from his health to the state of the country's economy.
Mubarak, 90, who was driven from power in 2011 after massive Arab Spring protests against his rule, appeared next to Helly El-Saadani, a nutritionist. The former ruler looked to be showing his age but had also put on a significant amount of weight.
Egyptians have pored over the image in forensic detail to try to glean as much information as possible about Mubarak's health and situation.
The image was a far cry from when he was wheeled into a court room on a hospital gurney during legal proceedings after the uprising.
El-Saadani told Arab News that the picture was private and leaked without her "permission and consent."
"If anyone uses it again I will sue them," she said in a statement. "I hope the news respects the privacy of people from now on."
After the leak, El-Saadani reposted the picture herself on her Twitter account and said: "I took this picture with President Mubarak because I love him and I respect him very much. It was a dream come true to have met him.
"He asked me not to publish this picture, but somehow the picture was stolen from my phone and was leaked by someone close to me. Shame."
Doubts have been expressed on social media about whether the picture was actually leaked or whether she published it herself.
Some people claimed that it is illogical that this picture in particular, which appears to send a statement about Mubarak's wellbeing, was stolen and leaked.
El-Saadani responded that it was leaked because she has no PIN code for her phone.
Some Egyptians took the opportunity of the picture's release to ask Mubarak's eldest son, Alaa, via his Twitter account, about his father's health, to which he responded: "Thank God, thank God, my father is fine."
One of the Egyptian daily newspapers published a report discussing the chair upon which Mubarak was sitting in the picture. The report said that the La-Z-Boy recliner he was using is worth around 24,000 Egyptian pounds ($1,329).
This angered Alaa Mubarak, who described the article as "another level of hostility, stupidity and repression."
He said the newspaper preferred to ignore all the problems of the people and instead worked hard to find the price of a chair.
"Things will never improve if you don't respect the intelligence of the people," he said.
The statement had more than 3,000 retweets and a lot of supportive comments. One person said that if Mubarak was still president, the chair would have cost a lot less in Egyptian money because of the collapse of the Egyptian pound in the years after he had been ousted.
Alaa Tounsi, a beauty expert, confirmed that Mubarak was completely free of cosmetics in the image. Ahmed Riad, an expert in reading body language and facial expressions, said: "He has an open body language, and his face shows comfort, happiness, tranquility and inner peace."
Islam Shawki, a graphic designer, said that the picture was real and had not been doctored or altered, denying rumors in some newspapers stating that the image was "fabricated."
Former President Mubarak appeared in public for the first time since his resignation two years ago with his family in a tourist resort.
He appeared in the picture smiling and in good health, hugging his granddaughter, and sitting next to his son Jamal in a car.
There have been many rumors about Mubarak's health over the years, with false reports of his death spread through social networks.
The former president stood trial on charges of killing demonstrators during the uprising. The Misdemeanor Court ordered his release on Aug. 21, 2013.
He was acquitted on Nov. 29, 2014, of all the charges against him before the Court of Appeal in Cairo.
http://www.arabnews.com/node/1365701/middle-east
--------
Chevrolet Signs Raha Moharrak, the First Ever Saudi Woman to Climb Mount Everest as Brand Ambassador
August 29, 2018
Chevrolet Middle East has signed Raha Moharrak, the first ever Saudi woman to climb Mount Everest and the seven summits, as the company's brand ambassador in the Middle East. Moharrak made history when she became the first Saudi woman and youngest Arab ever to summit the world's highest mountain in 2013, an achievement she accomplished when she was just 27.
Molly Peck, chief marketing officer of General Motors Middle East, said "We are extremely proud to have Raha on board the Chevrolet Middle East team, Raha is a dynamic and driven young Arab woman whose personality not only complements the Chevrolet brand but also embodies Chevrolet's mantra of Finding New Roads, pushing boundaries and challenging the status quo."
Moharrak's inseparable love for altitude began after she summited Africa's highest peak, Mount Kilimanjaro. In addition to Mount Everest and Kilimanjaro, she has conquered a total of eight of the world's highest and most challenging mountain tops, including Vinson Massif in Antarctica, Mount Elbrus, the highest peak in Europe, as well as Aconcagua in the Argentinian Andes. Moharrak has also been on a total of 14 expeditions and currently holds 12 different records.
A self-described "accidental role model," Moharrak has inspired both women and men of all ages in the Middle East by pursuing her passion for mountain climbing, adventure sports and proving that she could, where others tried to convince her that she could not.
"I am thrilled to start working with Chevrolet Middle East as their regional brand ambassador," said Moharrak. "I've always been unapologetic about who I am and that has allowed me to pursue my passion in mountain climbing and exploring the world's most remote regions. It has also allowed me to inspire people to be who they are, relentlessly, and I'm very excited to work closely with Chevrolet to create content that will continue to inspire others to push their own boundaries and take the road less traveled," she said.
A graduate of the American University of Sharjah, Moharrak currently works in the UAE as a graphic designer and art director for a global marketing firm. When she is not working, summiting the world's highest peaks, or training for her next expedition, she can also be seen participating at public events around the Middle East as a key note speaker.
http://www.arabnews.com/node/1363981/corporate-news
--------
First Women's Go-Karting Race Held in Saudi Arabia
2 September 2018
The first all-women's go-karting race final was held in Jeddah on Saturday, where ten contestants raced for prizes worth over $2,500.
The event was sponsored by Saudi Arabia's General Authority for Sports represented by the Saudi Federation of Automobiles and Motorcycles. Aseel al-Hamad, the first female board member of the Saudi Arabian Motor Federation, told Al Arabiya English that she was thrilled to be part of the event, which is considered the first of its kind in the kingdom, and that there was wide interest from Saudi women drivers to be part of the competition.
"The first round was in July, and 20 contestants were selected for having the best race times. The tour ended on July 30 with five finalists qualifying for the final round. Twenty other contestants with the fastest times were chosen in August. The round ended with five finalists qualifying on August 26, so the total number of finalists were ten," Hamad said.
The winner of the competition was Saudi national Amjad al-Umry who is a mechanical engineering student at King Faisal University.
"The competition was really high, and the ladies competing are at a very high level and I am really happy to have competed with women at such a level," Umry said.
Hamad said that the Saudi Arabian Motor Federation fully supported the event, and that it was "received with positivity from young Saudi women" who were keen on trying the sport that is considered fairly new in the kingdom.
"This tournament is the beginning of the future of motorsports for women in Saudi Arabia in line with the direction of the General Authority for Sports and its support of women's sports," Hamad said.
She added that the integration of women in sports in Saudi Arabia today is an affirmation of the government's support, and the empowerment of Saudi women in various fields.
https://english.alarabiya.net/en/variety/2018/09/02/IN-PICTURES-First-women-s-go-karting-race-held-in-Saudi-Arabia.html
--------
Women Participated In More Protests during Recent Days In Iran
01 September 2018
Women participated in more protests in Iran in recent days, along with crowds of demonstrators filling the streets of Sanandaj, Karaj and Zabol.
In Sanandaj, people protested on August 31, 2018, against the IRGC's shooting and killing of Iranian porters. Women participated in this protest in significant numbers.
A large group of women headed towards the Koodak (Child) Park in Sanandaj while calling for an end to the attacks against poverty-stricken porters who try to make living by carrying heavy loads on their shoulders across the border. During their protest, they also held a tribute to the memory of the environmentalists who were killed during a forest fire in Marivan caused by the explosion of undetonated projectiles and bombardment of the IRGC artillery.
In Karaj, women participated in protest of medical personnel of Khomeini Hospital as they staged a protest gathering in front of the Karaj Municipality for the third time this week on August 29, 2018, against the authorities' failure to pay 10 months of their salaries. Women personnel have played a significant role in these protests. Previous protest gatherings were also held on August 26 and 27, 2018, at the hospital in Karaj.
The hospital staff of Khomeini hospital, in Karaj, including a large number of Iranian women participated in several protests to demand their non-paid salaries. They held a two-day sit-in protest in front of the Emergency Room on July 23 and 24, 2018, to protest officials' failure to pay their salaries. Also on May 22, 2018, the female staff of Khomeini Hospital in Karaj gathered for the fifth time to protest their non-paid wages.
Also on August 29, 2018, the hospital staff of Amir Al-Momenin Hospital in Zabol, which consists of mostly women personnel staged a protest gathering against the delay in salary payments and the decrease in their wages. While the country is facing an economic crisis, the delay and decrease in the personnel's wages only add to the problems of the female personnel and their families.
https://women.ncr-iran.org/iran-women-news/5446-women-participated-in-more-protests-during-recent-days-in-iran
--------
URL: https://www.newageislam.com/islam-women-feminism/woman-alleges-forced-undergo-nikah/d/116271
New Age Islam, Islam Online, Islamic Website, African Muslim News, Arab World News, South Asia News, Indian Muslim News, World Muslim News, Women in Islam, Islamic Feminism, Arab Women, Women In Arab, Islamophobia in America, Muslim Women in West, Islam Women and Feminism