New Age Islam News Bureau
24 November 2021
• Two Young Muslim Women Subjected To Islamophobic Rant in Town Centre of Nottinghamshire
• Saudi Arabian Girls 'Dream Big' With Soccer League
• Turkish Women Feel Vulnerable Since Turkey Withdrew From A Convention Helped Deter Male Violence
• Croatia Violated Rights Of Afghan Girl Who Was Killed By Train, Court Rules
• The Devastating Ways Women Suffer At The Poland-Belarus Border
Compiled by New Age Islam News Bureau
URL: https://www.newageislam.com/islam-women-feminism/woman-advocate-saman-raffat-islamabad-judge/d/125835
--------
Woman Advocate Saman Raffat Imtiaz Recommended As Islamabad High Court Judge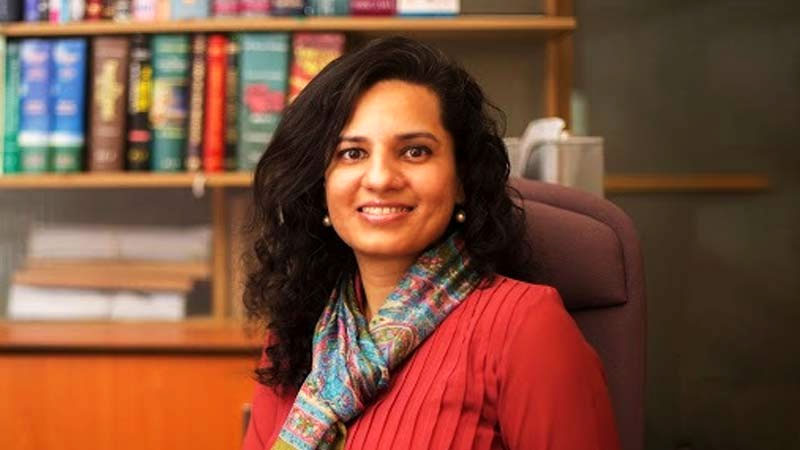 Saman Rafat Imtiaz. Source: imtiazlaw.com
----
Malik Asad
November 24, 2021
ISLAMABAD: The Judicial Commission of Pakistan (JCP) on Tuesday recommended the names of three eminent lawyers for appointment as judges of the Islamabad High Court (IHC).
Headed by Chief Justice of Pakistan Gulzar Ahmed, the JCP held its meeting in the Supreme Court building.
IHC Chief Justice Athar Minallah had proposed the names of Saman Raffat Imtiaz, Arbab Mohammad Tahir and Barrister Sardar Ejaz Ishaq Khan as the IHC judges.
The commission considered the proposal and unanimously recommended them for additional judges of the IHC, sources told Dawn.
Ms Saman Raffat Imtiaz obtained her law degree from the University of Richmond, Virginia, USA, after completing her undergraduate in business administration from the American University in Dubai. She has been practicing law in Karachi since 2004.
Arbab Mohammad Tahir is a senior lawyer from Balochistan and currently working as the advocate general of the province.
Ejaz Ishaq Khan did his BA Hons (Juris) from the University of Oxford. He then qualified as Barrister-at-Law from Lincoln's Inn and enrolled as an advocate of the Lahore High Court in 1994. His father Sardar Ishaq Khan was a leading criminal law expert of the country.
The JCP will send these nominations to the Parliamentary Committee for Appointment of Judges. The committee under Article 175-A of the Constitution has been empowered to ratify the nominations of the JCP within a fortnight.
Sources said the JCP in its meeting scheduled for Dec 7 will consider the names of two additional judges — Justice Babar Sattar and Justice Tariq Mehmood Jahangiri — for confirmation of their appointment as judge of the IHC.
Source: Dawn
https://www.dawn.com/news/1659922/jcp-recommends-3-lawyers-as-ihc-judges
--------
Two Young Muslim Women Subjected To Islamophobic Rant in Town Centre of Nottinghamshire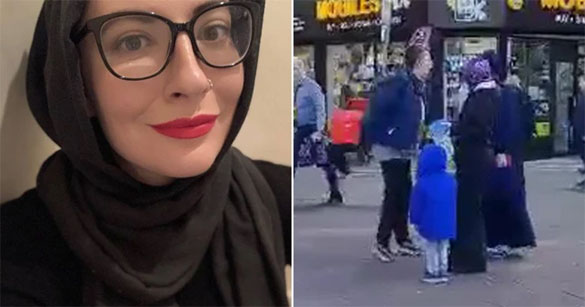 Dina Singh (left, and in group wearing blue) said she and her friend were singled out by a woman as they walked through Mansfield town centre (Picture: Dina Singh)
-----
Josh Layton
22 Nov 2021
Two young Muslim women with a three-year-old boy are shown being subjected to Islamophobic abuse by a woman in a busy town Centre.
The victims were apparently targeted for their religion by the aggressive stranger who calls them 'terrorists' in a foul-mouthed tirade.
A passer-by filmed the incident on a mobile phone as the woman yelled abuse at the trio in Mansfield, Nottinghamshire, at around 11am on Friday.
The perpetrator leaned into their faces as she shouted insulting remarks about their faith, and only desisted when a passer-by intervened and street wardens turned up at the scene in the town centre.
Dina Singh, from Mansfield, told Metro.co.uk that she and her friend were walking through the shopping area when they were targeted for no other reason than being visibly Muslim.
The 26-year-old said: 'I was walking through the market place on my own at first when this woman started throwing abuse at me.
'She was saying: "Get away with that Allah", "I've got my own laws", "f**k off" and stuff like that.
'I'm used to it, it doesn't really bother me, so I just laughed and walked on.
'I met a friend and we walked back round with her little boy and she started going at it again, getting worse.
'I said, "What is your problem?" so she gets in my face, starts yelling at me, saying "my brother died in the war because of you lot" and "f**k your religion" and calling us terrorists.
'She got worse and worse. She was in my face saying "let's go at it".
'It was pretty frustrating to say the least. She carried on until a guy came along and stood between us and the town centre security turned up.
'My friend was with her little boy and they were pretty shook up by it.'
The Muslim convert was wearing a jilbab – a long headscarf and outer garmet that goes to the waist – and her friend was in a hijab and Western clothing.
She believes they were picked out simply because of the way they were dressed as they walked through the market town.
The mum-of-three told Metro.co.uk it is not the first time she has been the victim of ignorant comments in Mansfield.
She said: 'It's disappointing. It hasn't happened to that extent before but you do hear comments whispered under people's breath.
'It leaves you feeling uncomfortable and makes you feel like you are not wanted in your home town.
'My friend, who is from a neighbouring town, was still shaking from it an hour later when we went for coffee.
'Her little boy didn't say anything to her about it but it must have had an effect on him.
'We are British born and raised, so you can't say it was against us because we are foreigners, we were picked out purely because of our choice in the way we were dressed and the fact we are Muslim.'
Superintendent Sukesh Verma, Nottinghamshire Police's strategic hate lead, said: 'We received a report from a member of the public about an incident on Friday 19 November and are investigating a potential racially aggravated public offence. We have identified a suspect who is due to attend a voluntary interview today.
'We are aware of a video of the incident that is circulating on social media and want to reassure the public that we are investigating this fully.
'Nottinghamshire Police take any reports of racially aggravated crimes or incidents extremely seriously and want to encourage anyone who is a victim of hate to report it to the police by calling 101, via CrimeStoppers or through True Vision's dedicated hate reporting site.'
Source: Metro UK
https://metro.co.uk/2021/11/22/muslim-women-and-boy-3-subjected-to-islamophobic-rant-in-town-centre-15643498/
--------
Saudi Arabian girls 'dream big' with soccer league
Nov 22, 2021
Saudi Arabia's launch of its first women's soccer league today would clear the way for girls who dream of turning professional — and maybe even playing in a World Cup.
Long condemned for harsh restrictions on women, Saudi Arabia lifted a decades-old ban on female soccer players only a few years ago, and it aims to develop a national team strong enough to contest major tournaments.
The conservative Muslim nation has faced criticism of using sports events to gloss over its poor human rights record and the jailing of female activists.
Its latest step in the reform drive came this month when the Saudi Arabian Football Federation announced the formation of a women's soccer league in which 16 teams would play games in Riyadh, Jeddah and Dammam.
Among those excited by the move was Farah Jafri, who said she hoped to turn pro and play in England's top division as well as represent her country on the biggest stage at the World Cup.
"In the beginning of my football journey, I faced some difficulties in that not all people accepted it," she said.
"But my family and friends used to encourage me a lot," said the ponytailed 18-year-old dressed in a jersey.
Like many other girls who were passionate about soccer, but unable to participate in competitions, Jafri played on the street with her relatives or at school with friends.
Her only other outlet was watching games on television, she said.
The kingdom adheres to a rigid interpretation of Islam, and the involvement of women in sports is still frowned upon in some quarters.
Since the rise to power of Crown Prince Mohammad bin Salman in 2017, some restrictions on women have been lifted as the country opens up to the world through sweeping reforms.
The shift has enabled women to drive and take part in mixed-gender settings, even as a rigorous crackdown on dissent remains in place.
Jafri is one of about 30 players selected from 400 candidates to be part of the Saudi Arabian national women's squad, officials said.
"I dream of the day I can represent my country in the women's World Cup," she said, adding that she also hopes to play for English side Manchester City at the club level.
There are no women's teams affiliated with sports clubs in Saudi Arabia, whose men's team has qualified for the World Cup five times.
During a training session in Riyadh, the women in the national team excitedly took to the field at Prince Faisal bin Fahd Stadium, some of them without veils, but wearing long tracksuits under their shorts.
Officials have yet to announce any sports clothing restrictions for the women, who in the past faced close scrutiny from the religious police enforcing a strict dress code.
The team's goalkeeper, Lama al-Oneizi, said she was elated to be part of the team.
"I fulfilled my dream and even my parents' dream because they are the ones who encouraged me a lot on this journey," the 25-year-old said.
Saudi Arabia has so far set up three training centers for girls between the ages of 13 and 17 across the country, with plans to establish up to nine by 2025.
It announced this week that Monika Staab of Germany was appointed as head coach of the women's national team, which has been dubbed the "Green Eagles."
"Everything is new, just like a baby starts to walk, to stand," said Staab, who won the inaugural UEFA Women's Cup in 2002 as the manager of Eintracht Frankfurt.
The Saudi Arabian national women's squad is preparing for its first friendly match in February.
Staab, who has previously coached the national women's teams for Bahrain and Qatar, said she was optimistic.
"In five to eight years, they would be No. 1 in the Gulf and this would be a big achievement," she said.
Source: Taipei Times
https://www.taipeitimes.com/News/world/archives/2021/11/22/2003768301
--------
Turkish Women Feel Vulnerable Since Turkey Withdrew From A Convention Helped Deter Male Violence
24/11/2021
Istanbul (AFP) – Turkish women feel more vulnerable and legally unprotected since Turkey withdrew from a convention that activists argued helped deter male violence, according to women's campaign groups.
The landmark Istanbul Convention came into force in 2014 and laid the way for a Europe-wide legal framework to tackle, prevent and prosecute violence against women.
Turkey abruptly withdrew in March following a decree by President Recep Tayyip Erdogan.
And though there's been no detectible surge in violence, rights advocates say that there has been a jump in unexplained deaths.
The withdrawal also risked encouraging abusers, campaigners say, with one asking lawyers if they would be released from prison.
Conservatives in Erdogan's ruling Justice and Development party (AKP) had claimed the treaty promoted homosexuality and threatened the traditional Turkish family structure, although there was no public consultation on the claims.
Women's rights advocates have been protesting since March to make their voices heard and keep the convention alive, even as the government insisted its home-grown laws and constitution were adequate to protect women.
"This country is waking up to a woman's murder every day," said Nursen Inal of the We Will Stop Femicide Platform.
"Turkey's departure from the Istanbul convention has encouraged male perpetrators," she told AFP, ahead of the International Day for the Elimination of Violence against Women on Thursday.
The brutal killing in Istanbul of 28-year-old Basak Cengiz, an architect, repeatedly stabbed by a man wielding a samurai sword earlier this month, sparked a public outcry.
The suspected killer, Can Goktug Boz, reportedly told the police that he committed the murder because he was bored.
"I went out to kill someone and picked a woman," he said according to testimony published by Turkish media.
He was later charged with aggravated murder.
'Off the agenda'
A total of 345 women have been killed since the start of the year, according to the We Will Stop Femicide Platform. There were 410 women killed in 2020, with dozens found dead under suspicious circumstances.
The killing of Cengiz revived calls for Turkey to rejoin the treaty but Erdogan sought to draw a line under the issue last week, saying that the convention was "completely off the agenda".
"To us, women are the holiest creature. We will never allow their holiness to be tainted," he said. "Thus, there's no need for the Istanbul convention."
But women's advocates are fighting on.
Berrin Sonmez of the Women's Platform for Equality said Turkey's withdrawal from the convention created a perception that male offenders can act with impunity.
"A jailed male perpetrator asked his lawyer shortly after Turkey exited from the treaty whether he would be released," she told AFP.
Adile Dogan of the Esenyali Women's Solidarity Association, said the attitude of security forces and prosecutors had also changed.
Previously, every police station had a department dedicated to policing violence against women, and restraining orders could be imposed within 24 hours, Dogan said.
Now it takes a full two days to impose such a protective order and police station provision for women can be inadequate.
Dogan said that women threatened by male violence are now required to obtain a medical report proving injuries, with a threat no longer enough to start procedures.
'Will not give up'
Sonmez said police stations are reluctant to assist women and instead refer them to the courts which can sometimes prove difficult to access, particularly in city centres.
Activists also pointed to the increase in the number of suspicious deaths since the convention was removed.
Sonmez said: "180 women were murdered from March to July 2021 and besides that, there have been 171 suspicious deaths. This is not a justifiable number."
Cases were closed without further investigation unless there was social media pressure, she said.
Inal questioned why "these women's deaths remain suspicious?"
"Because of a lack of adequate prosecution and investigation," she said.
"Laws are there to protect the women, therefore we keep saying we will not give up on the Istanbul convention."
Source: France24
https://www.france24.com/en/live-news/20211124-murder-every-day-turkish-women-fearful-after-treaty-exit
--------
Croatia violated rights of Afghan girl who was killed by train, court rules
19 Nov 2021
After four years of legal struggle, the European court of human rights (ECHR) has ruled that Croatian police were responsible for the death of a six-year-old Afghan girl when they forced her family to return to Serbia via train tracks without giving them the opportunity to seek asylum.
The little girl, named Madina Hussiny, was struck and killed by a train after being pushed back with her family by the Croatian authorities in 2017.
Judges of the Strasbourg-based ECHR said on Thursday that the Republic of Croatia violated the girl's right to life, treated children inhumanely by keeping them in detention, illegally deprived the whole family of their liberty, collectively expelled part of the family from Croatia, and ultimately prevented them from accessing their lawyer.
"This is a big win for justice, after four years of gut-wrenching legal struggle," said the volunteer-run media and advocacy group Are You Syrious (AYS), which, alongside the Centre for Peace Studies, a NGO promoting non-violence, has supported the Afghan family. "The verdict won't bring the little girl back, but we hope it serves as some sort of closure for the family.''
Madina and her family had made it into Croatia by scrambling across fields and over and under fences but that night, like many others, she was stopped by the Croatian police.
According to her family, she was happy to see the officers at first, expecting to be taken to a police station to formally claim asylum, their right under European law. Instead, they were driven to the railway line and ordered to walk back towards Serbia.
"I begged: 'If you won't accept us, please let us stay here tonight. In this weather we are already tired and cold, the children are little,'" Madina's mother, Muslima, told the Guardian in 2017. "But they were inhuman."
Croatian border guards had initially denied that Madina and her family had set foot in their country before her death. However, four years later, the ECHR ruled that authorities in Zagreb played a role in her death by denying her family's claim for asylum, and consequently putting the six-year-old in the path of the train.
"The European court concluded that Croatia collectively expelled the mother and her six children from Croatian territory in the middle of the night outside of any legal procedure and without considering their individual situation," said Antonia Pindulić, legal officer of the Centre for Peace Studies, which, alongside AYS and Border Violence Monitoring Network intervened in the case as a third party.
Charities said that the ECHR was the last resort to seek justice after Croatian institutions failed to carry out an effective investigation on the circumstances that led to the six-year-old girl's death.
The recordings of thermal imaging cameras, as key evidence available to the police, had mysteriously disappeared.
"We expect Prime Minister [Andrej] Plenković to urgently dismiss those responsible for the death of a child at our borders due to the actions of institutions that we, the citizens of Croatia, finance," the Centre for Peace Studies and AYS said at a press conference in front of the Croatian government.
"This verdict must not be limited to the Republic of Croatia paying €40,000 (£33,000) in non-pecuniary damage to Madina's family from the state budget,'' said Tajana Tadić from AYS. For all the victims in our borders, for the people who died there, as well as for all the activists who have been intimidated to keep quiet about it, it is time to bring to justice those who enable and cover up this violence, and that responsibility must be sought at the top of the Ministry of the Interior."
Hundreds of migrants walk the snowy paths of the Balkan route daily, in an attempt to reach central Europe. Most are stopped by Croatian police, searched, often allegedly robbed, sexually assaulted and violently pushed back into Bosnia, where, for months, thousands of asylum seekers have been stranded in freezing temperatures.
Last October, leading European media outlets released footage showing a masked Croatian police officer beating up young asylum-seekers with a stick at the country's border with Bosnia.
On Friday, the interior minister, Davor Božinović, said that he would not resign after the ECHR ruling. Božinović said the death of Madina was a tragic event. "However," he added, "I ask you not to underestimate the situation in which the Republic of Croatia found itself. There are groups of people, families who are coming to Europe. The Republic of Croatia can either prevent illegal entry into its territory or become the so-called hotspot to a large number of migrants from other parts of the world.
"It is least in my interest, both as a man and as a minister, to avoid answering questions when we talk about victims, about human victims, about the death of a child," he said. "However, we must pursue a policy of acting in accordance with the law and fulfilling our obligations as a state."
Source: The Guardian
https://www.theguardian.com/global-development/2021/nov/19/croatia-violated-rights-of-afghan-girl-who-was-killed-by-train-court-rules
--------
The Devastating Ways Women Suffer At The Poland-Belarus Border
By Sara Cincurova
22 Nov 2021
Sokolka, Poland – When 28-year-old Shirin*, an Iraqi Kurd, crossed the border from Belarus into Poland with her seven-year-old son Ali*, she did not expect to end up unconscious and immobile in the freezing woods.
"Me and my son survived only by miracle," Shirin told Al Jazeera from a hospital in a Polish border town, a day after she was loaded into an ambulance.
Her body was covered in injuries and blisters from the cold.
"I will never forget what I have seen in the woods," she said. "I have seen so many children and babies there. Their mothers were screaming and praying for a miracle. The adults could barely survive, so what chance do babies have?
"These images will be haunting me until I die."
Shirin fled the Kurdish region of Iraq with Ali, her only child, and her husband Afran* on October 22.
But when Belarusian police saw them attempting to cross the border into Poland, they intervened and pushed Afran back deeper into Belarus, according to her testimony.
Shirin crossed the border alone and spent 21 days in the woods with Ali.
"My son was crying: 'Please, my father, please, my father,' but we didn't know if he was alive or dead. We ended up alone, freezing, with no food."
Shirin cried and shook as she told Al Jazeera her story. Both her legs and one arm were bandaged. She was unable to walk.
She still does not know where her husband is.
'I don't know where she is'
Thousands of women and children have made attempts to reach the European Union by entering Poland in recent weeks, as a migration crisis that began in August escalates.
Crowds of people are now stranded between the border that separates Belarus and Poland. They travelled to Minsk, the Belarusian capital, on a promise that they would be able to breach the fence and enter the EU country.
Poland and its Western allies say Belarus encouraged people, mostly from the Middle East, to the country in an attempt to push them towards the border and destabilise Europe – an act of revenge for Western sanctions on the administration of President Alexander Lukashenko.
There is no official data about the numbers of people at the Belarus-Poland border, but Agnieszka Kosowicz, head of the Polish Migration Forum, an NGO supporting refugees and migrants in Poland, told Al Jazeera that "2,666 women have applied for asylum in Poland this year alone, out of a total of 6,697″.
She said while women's stories are covered less often by the media than those of men, women represent a significant percentage of the migrating population.
"We know for sure that women are present at the border based on local volunteers' everyday testimonies.
"Volunteers talk about women so weak they cannot walk or attend to their children, about women who cry over their children who are hungry, and women who mourn lost babies – children they lost as a result of miscarriage, or literally lost their children while walking in the forest at night," she said.
Azin Govand*, a 27-year-old asylum seeker from the Iraqi Kurdish region who is now in Minsk, has not seen her three-year-old daughter Shewa* or her husband since Belarusian authorities allegedly separated the family at the border.
At the same time, Azin said the authorities pushed her back into Belarus.
"I haven't heard from my husband and daughter for more than seven days," Azin told Al Jazeera by phone, from a Belarusian number.
"I recently saw a picture of a baby girl dressed in the same clothes as my daughter on social media. The girl was lying on the floor near the border, face down," she said. "It could have been my daughter. I don't know where she is."
Kosowicz said several families have been split up at the border or become separated in the forests.
This includes, for example, when a parent is taken to hospital while the children are left in the forests, or people getting lost, or as people are pushed back by border officials on both sides of the frontier.
Amid the chaos, cases of miscarriage have been documented. Other women have been found with young babies with severe medical problems.
A one-year-old Syrian baby boy is believed to be the youngest victim of the refugee crisis at the border. The cause of his reported death has not yet been established.
Nazanin*, an Iraqi Kurdish woman who was recently rescued from the Polish woodlands near the Belarus border after having spent a month there, told Al Jazeera that "only God saved her [seven-month-old] baby from dying."
The and her husband had fled Zakho, a region near the border with Turkey and Syria, because they were exposed to shooting and shelling.
"The baby was freezing," Nazanin said. "She was crying because of the cold every night.
"We only had a T-shirt and one sweater for the baby, no other clothes, and no nappies," she said.
"We were told the journey would be short, and ran out of food quickly. We haven't eaten for 10 days, and walked seven or eight kilometres (four to five miles) without shoes," she said, pointing to her frostbitten feet.
"During all that time, we had to drink dirty water given to us by Belarusian guards, or water that we found in the swamps. We were all sick."
'Horrific' scene
Karol Wilczynski, director of the Salam Lab NGO working against Islamophobia in Poland, who has been helping the stranded refugees, told Al Jazeera that he has seen several women and babies in need.
"The most horrific and moving scene I have ever witnessed was that of a 49-year old grandmother with her two-year-old granddaughter," Wilczynski said. "When we found them, the grandmother was unconscious and had severe hypothermia – only 34 degrees (93.2F) of body temperature. By some miracle, the baby survived."
He said an emergency services operator refused to send an ambulance and threatened to call border guards "to deal with the refugees".
"We then called Border Aid, a group of paramedic volunteers, who said the grandmother would have died if she had stayed there any longer. I cannot imagine what would have happened to the baby," Wilczynski said.
He has been volunteering with Grupa Granica, an umbrella organisation providing aid at the border which supported 1,000 people from November 8 to 12.
"Out of the 1,000 people, 10 percent were children, and more than 25 percent were women," he said. "Out of the remaining 65 percent of men, a huge part were vulnerable."
Sarkawt*, 36, spent about a month in the woods, with his wife Nazdar* and their three children aged six, eight, and nine.
The cold and lack of drinkable water hit Nazdar, who collapsed and was hospitalised.
The children suffered frostbite.
"Even though we don't know what will happen to [Nazdar], I thank God every day for saving all three of my babies," Sarkawt told Al Jazeera.
"In the woods, I took my jacket off and put it on my babies. Sometimes, I tried to make a fire, but sometimes, it was too swampy, and I couldn't," he said.
"In the woods, we saw many women and children," he said. "On the Belarusian side, the guards would sell us food and water but would ask for astronomical prices. They would sell us a bottle of water or one biscuit for the children for $50 because they knew the mothers would pay," he said.
Kosowicz said she is in contact with one woman who delivered premature twins after crossing into Poland.
"I also remember women who could not take a few steps away from the group to urinate, and women who had their periods and could not attend to their basic hygienic needs in privacy," she said.
"Each time we hear a new story, it is dramatic."
Source: Al Jazeera
https://www.aljazeera.com/news/2021/11/22/refugees-crossing-polish-border-recite-tales-of-horror
--------
URL: https://www.newageislam.com/islam-women-feminism/woman-advocate-saman-raffat-islamabad-judge/d/125835
New Age Islam, Islam Online, Islamic Website, African Muslim News, Arab World News, South Asia News, Indian Muslim News, World Muslim News, Women in Islam, Islamic Feminism, Arab Women, Women In Arab, Islamophobia in America, Muslim Women in West, Islam Women and Feminism