New Age Islam News Bureau
11 Jun 2015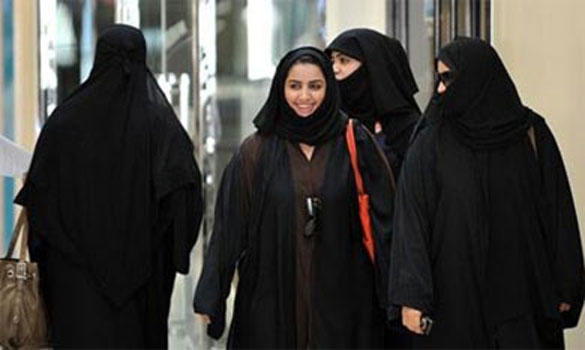 File photo of women in Riyadh, Saudi Arabia. No women participated in the 2012 elections for Saudi's Eastern Province council, but this year there are more than 80. (File: AFP)
---------
• Islamic State in Mosul Forces Women to Stay Indoors During Ramadan
• Eighty Women to Run for Saudi Arabia's Eastern Province Council
• Berlin Borough Town Hall OKs Muslim Headscarf
• Indonesian Women 'Can Help Combat Terror'
• Lack of Miniskirts in Tunisia Reveals Bigger Problem
• Dismay as Russian Boxing Orders Bikini Girls to Cover Up
• Women and Ethnic, Religious Minorities Change Face of Turkish Parliament
• 'Niqab Ban' Returns as Conservative Bill Planned For Canadian Parliament's Final Days
• Women and Girls in Africa 'Being Left Behind' In Fight against HIV/AIDS ' UN Report
• Improving Women's Lives would Boost Sahel's Development: UN Envoy
• Tahera Ahmad Says She May Pursue Legal Action against United Airlines for Discrimination
Compiled by New Age Islam News Bureau
URL: https://www.newageislam.com/islam,-women-and-feminism/new-age-islam-news-bureau/wives-of-is-leaders-pass-info-to-avoid-intercepts--report/d/103445
----------
Wives Of IS Leaders Pass Info to Avoid Intercepts: Report
11 June, 2015
Wives of top Islamic State leaders, including its chief Abu Bakr al-Baghdadi, play an important role in passing information to one another and then to their spouses to avoid electronic intercepts, according to a media report.
American intelligence agencies have extracted valuable information about the Islamic State's leadership structure, financial operations and security measures by analysing materials seized during a Delta Force commando raid last month that killed the terror group's leader Abu Sayyaf in eastern Syria, the New York Times reported quoting US officials.
The information harvested from the laptops, cell phones and other materials recovered from the raid on May 16 has already helped the U.S. identify, locate and carry out an airstrike against another Islamic State leader in eastern Syria, on May 31.
New insights yielded by the seized trove - four to seven terabytes of data, according to one official - include how the organisation's shadowy leader Baghdadi, operates and tries to avoid being tracked by coalition forces.
Wives of the top Islamic State leaders, including Baghdadi's, play a more important role than previously known, passing information to one another, and then to their spouses, in an effort to avoid electronic intercepts, the report said.
Baghdadi meets periodically with regional emirs, or leaders, at his headquarters in Raqqa in eastern Syria, it said.
To ensure his safety, specially entrusted drivers pick up each of the emirs and demand that they hand over their cellphones and any other electronic devices to avoid inadvertently disclosing their location through tracking by American intelligence, the officials said.
"I'll just say from that raid we're learning quite a bit that we did not know before," a senior State Department official was quoted as saying.
Abu Bakr al-Baghdadi, who was captured in the operation, has also provided information to investigators, a senior American official said.
The materials also gave away new details about how the Islamic State has allocated revenue from oil production. About half goes to the group's general operating budget, the remainder is split roughly between maintaining the oil-field production facilities and for salaries to the workers, American officials said.
American counter-terrorism analysts have also learned new information about the Islamic State's hierarchy. The military council of the terror outfit has a sub-group known as the Security Council, which is in charge of leading Islamic State assassinations, kidnappings, interrogations and other attacks, the report said quoting officials.
http://www.thehindu.com/news/international/islamic-state-women-play-an-important-role/article7302030.ece
----------
Islamic State in Mosul Forces Women to Stay Indoors During Ramadan
11 June, 2015
Erbil, Kurdistan Region – The Islamic State group (IS/ISIS) in the state of Nineveh in northern Iraq issued Wednesday a new list of instructions described as "taboos for women in the month of Ramadan", local activists reported.
According to the group's new regulations, women won't be allowed to leave their houses before Iftar time under any circumstances, vowing violators of severe penalties.
Speaking to ARA News on the phone, Abu Rakan, a civil rights activist based in Mosul, said: "The group has banned women from leaving their homes before the Iftar in the month of Ramadan. Women's movement during Ramadan will only be possible in the evening on condition of being accompanied by a Muharram (an adult male from the family)."
Abu Rakan added that IS militants notified shopkeepers in the city to close their shops in the last ten days of Ramadan, exempting stores that supply food and basic needs, as well as pharmacies and bakeries.
Regarding the living conditions in the city, the same source reported that the situation has deteriorated in the recent weeks after the radical group closed highways between Mosul and other Iraqi cities, which prevented the entry of goods causing a shortage of basic supplies.
The radical group of the Islamic State has been in control of the city of Mosul since June, 2014, after the collapse of Iraqi government forces.
http://aranews.net/2015/06/islamic-state-in-mosul-forces-women-to-stay-indoors-during-ramadan/
---------
Eighty women to run for Saudi Arabia's Eastern Province council
11 June, 2015
There are over 80 women running for the Saudi Arabian Eastern Province city council elections in August with at least 10 female candidates contesting places on each municipal committee, a social activist told Al-Hayat.
Fowziyah Al-Hani of the "Baladi" campaign, which works to increase women's representation in the city council, said female participation in the Shoura Council has improved Saudi society.
She believed more women in the city council would help societal development as well. She said: "I believe the Saudi woman will be a complementary addition to the city councils in the Kingdom.
"A lot of women are apprehensive about nominating themselves. They fear their agendas and plans would be stolen by other candidates if they were publicized."
She added women candidates would always be under the spotlight in the election and their private lives exposed. "It is financially and emotionally exhausting to campaign and challenge social norms.
"Not everyone can afford such a cost but the women who nominated themselves have great courage and I wish them all the best and thank them for their initiative."
She added no women participated in the 2012 elections, driving her to organize an awareness workshop for women in cooperation with the Alwaleed Bin Talal Foundation.
"We had a great turnout in 2012 and we will hold the workshops again this year with bigger hopes and more improvements.
"In 2012, we were introducing the concept and importance of city council elections and this year will be talking in detail on how to run a successful campaign and to lobby in the municipality."
Candidate Hanan Al-Daham said she was the first Saudi woman who decided to run for city council after King Abdullah announced that women should participate in the elections.
She said: "I run to serve the citizen, the resident and the country as a whole. "As a citizen, I have a social responsibility and an obligation to give back to my community.
This is my first city council election but it is not the first election I have stood for. I was previously elected as the head of the National Retirees Society."
She added the Saudi woman is capable of giving back to society and enhance the infrastructure of the Kingdom.
She said: "We will be rivaling men and bringing our perfectionism into good use. My participation in the election does not compromise my religious values and morals as a Saudi Muslim woman.
"Women in the city councils is looking up and many doors will open for us, giving us the opportunity to contribute to the betterment of our society."
http://english.alarabiya.net/en/perspective/features/2015/06/10/80-women-to-run-for-Saudi-Arabia-s-Eastern-Province-council.html
---------
Berlin Borough Town Hall OKs Muslim Headscarf
11 June, 2015
A young Muslim woman has been allowed to start a traineeship in the public sector in Berlin after local authorities considered rejecting her because she wore a headscarf.
Betül Ulusoy has been through a rollercoaster ten days. After being accepted for a traineeship with her local state authority, she was told they were reconsidering their decision and then finally told on Tuesday that she could indeed take up the place.
At the centre of the decision was the fact that as a devout Muslim she wears a headscarf.
The 26-year-old had applied for a position as a junior lawyer with the borough authorities. Last Monday the town hall told her that her application had been successful.
But when she arrived at the town hall the following day to sign her contract, her soon-to-be employers saw her headscarf and promptly announced they would have to review their decision.
The case stirred an intense media debate, as Germany searched its soul on the various issues Ulusoy's case touches on - Islamophobia, freedom of expression and the separation between church and state.
The case has been particularly magnified because it took place in Neukölln, Berlin's so-called 'problem borough,' a district where roughly every third inhabitant is of an immigrant background.
Neukölln has become a touchstone for debates about integration and religious freedom.
Neutrality law
While this might at first glance appear to be a case of Islamophobia in the workplace, the case is more complex.
In Berlin the Neutralitätsgesetz, or neutrality law, states that anyone who works for the city authorities can show no outward sign of religiosity. That means no cross, no kippa, no headscarf.
But the same law also states that nobody can be discriminated against based upon their religious beliefs.
Ulusoy herself makes no attempt to deny that the headscarf she wears is an expression of her religion.
Speaking to Die Welt, she said that the headscarf brought her closer to God and was a sign that inner values are more important than what one sees on the outside.
But she said that wearing the headscarf forms part of her freedom of expression and that she herself saw it as a form of emancipation.
"The law states clearly that I am not to be discriminated against," she said. "I am in my period of training and a ban [on wearing a headscarf] means in essence a ban from working."
Constitutional conundrum
The debate about where women are allowed to wear headscarves is nothing new. Indeed in March the constitutional court - Germany's highest chamber - declared that it was unconstitutional to completely ban headscarves in the work place.
While that ruling related to schools in Baden-Württemberg, it set a precedent for the whole of Germany.
Speaking to RBB on Monday, Die Linke (the left party) spokesman Hakan Tas said that the Neukölln authorities would be contravening this ruling by rejecting Ulusoy's application.
"Nobody can be shut out," he said.
But not everyone agreed.
Robbin Juhnke, a Christian Democratic Union (CDU) borough council member told RBB "the neutrality law is clearly the higher law. She can wear her headscarf in the privacy of her own home."
An exception for traineeships
Finally on Tuesday the town hall came to a decision.
Neukölln's mayor, Franziska Giffey of the Social Democratic Party (SPD), announced that "If Ms Ulusoy so wishes, she can begin to work here on July 30."
Ulusoy will now become the first person who wears a headscarf on religious grounds to take up a position with the Neukölln administration.
But the exception that has been made for her does not necessarily have wider implications.
The neutrality law itself contains exceptions for traineeships. But it is clear that any state employee who interacts with the public as a representative of the city must do so without displaying any signs of religiosity.
It is therefore not certain whether Ulusoy would later be given a full-time position with the borough administration.
"The state needs to remain neutral," Die Welt reported Giffey as saying. "And when civil servants carry out official tasks they are prohibited from wearing religious symbols."
Whether the constitutional court will rule that the Neutralitätsgesetz is in contravention of constitutional rights will have to wait until another day.
http://www.thelocal.de/20150610/berlin-allows-muslim-woman-to-work-with-headscarf
----------
Indonesian Women 'Can Help Combat Terror'
11 June, 2015
MUSLIM women have a big role to play in efforts to combat Islamic extremism and the exodus of foreign fighters, Indonesia's minister for women believes.
LIKE Australia, Indonesia is also grappling with the threat posed by radicalisation and misguided youth venturing off to Iraq and Syria to join Islamic State fighters.
Estimates of Indonesians involved in the conflicts vary from 50 odd up to 300.
Women's Empowerment Minister Yohana Yambise said Indonesian authorities have been focused on stamping out radicalisation at grassroots village level where it was easy for people to fall prey due to poverty and high illiteracy levels.
"We encourage mothers and wives to tell men not to go," she told AAP in Jakarta.
Her warning comes as Australia hosts a two-day counter-terrorism summit in Sydney on Thursday.
Ministers from Japan, Malaysia and New Zealand are attending along with representatives from the US, Pakistan and Britain.
Indonesia is sending its ambassador to Australia rather than a minister.
* The reporter travelled to Indonesia as part of the Ministry of Foreign Affairs journalists' visits program 2015
http://www.theaustralian.com.au/news/latest-news/indonesian-women-can-help-combat-terror/story-fn3dxix6-1227392759945
----------
Lack of miniskirts in Tunisia reveals bigger problem
11 June, 2015
In 2010, Tunisia sparked the Arab Spring that led to the resignation of political leaders around the Arab world. But it proved to be a lot harder to organize a miniskirt protest.
Former Tunisian President Habib Bourguiba banned miniskirts shortly after the country's independence in 1966. Recently, an online campaign urged Arabic men to oppose immodest female dressing: The campaign set up a Facebook page called "Be a man and don't let your woman out in revealing clothes." Organizers argued the hijab and other modest clothing protect women from unwanted attention.
In response, Tunisia's League for the Defense of Secularism and Freedom declared last Saturday a national miniskirt day. It set up a Facebook page to attract women to the rally against female discrimination in the Muslim world. The page received thousands of "likes," but only about a dozen women dressed in miniskirts showed up at the rally in Tunis, the country's capital.
Protest organizers blamed the low turnout on women's fear of their families and Islamic extremists. Tunisian teacher Lilia Kammoun explained she and her mother both wore miniskirts, but her daughter is now hesitant to do the same: "It's sad that we're moving backward."
During the Arab Spring, many women organized protests, hoping they would lead to increased female rights. Tawakkol Karman organized protests and rallies against the Yemeni ruler and won the 2011 Nobel Peace Prize.
Tunisia has proportionally more women in politics and other fields than other Arab countries, but it still has a way to go. In its 2014 Global Gender Gap Index, the World Economic Forum ranked Tunisia 123 out of 142.
The Associated Press contributed to this report.
http://www.worldmag.com/2015/06/lack_of_miniskirts_in_tunisia_reveals_bigger_problem
----------
Dismay as Russian Boxing Orders Bikini Girls to Cover Up
11 June, 2015
The announcement by a top industry promoter that boxing matches in Russia will no longer feature scantily clad women out of respect to Muslim fighters has sparked dismay in the sporting world.
An online survey by sports.ru showed that 73 percent of their readers were opposed to the decision to compel so-called ring girls to wear more clothes. The survey also carried a link to a picture of a female announcer, only her face visible, dressed in traditional clothing from the North Caucasus.
One commentator on sports.ru wrote: "the ring girls look better than the boxing 'show' itself. Why would you deprive the audience of this distraction by covering her up from head to toe?"
The reaction in other publications was similar. "Russian ring girls will be the most modest ring girls in the world. Now lovers of female beauty at a boxing match will be a bit sad …" read a headline on Russian sport news site sport-weekend.com.
Even state-owned Rossiiskaya Gazeta, which carries official announcements and publishes all new laws passed in Russia, appeared to be dismayed by the new initiative. "It's difficult to imagine a boxing duel without the revealing attire of the ring girls," the paper wrote Tuesday.
The backlash was sparked after Andrei Ryabinsky, head of boxing promotion company Mir Boksa, which organizes most fights in Russia, said bikini-wearing girls would no longer be used at fights. Ring girls traditionally enter the boxing arena holding signs announcing the number of the upcoming round.
"Muslim boxers take to the ring, and we respect them. A boxing show is not the sort of place where there should be girls in bikinis," Ryabinsky said Tuesday, news agency TASS reported.
"This is a serious sporting event of an international level, and not a strip club. Therefore we decided to change the format so it is more civilized," Ryabinsky was cited by TASS as saying.
Boxing matches in the mainly Muslim republics of Russia's North Caucasus already use female announcers who do not wear bikinis, but who are dressed in traditional clothes. In some predominantly Muslim countries the practice of having female announcers at fights has been scrapped altogether.
http://www.themoscowtimes.com/arts_n_ideas/news/article/dismay-as-russian-boxing-orders-bikini-girls-to-cover-up/523426.html
----------
Women and ethnic, religious minorities change face of Turkish Parliament
11 June, 2015
A record number of women are set to enter Turkey's Parliament after Sunday's election, together with Christians, ethnic Kurds and Armenians, in a huge shift for a country that has long viewed demands for diversity as a threat to national unity.
Emblematic of the change sweeping Parliament is the arrival of Dilek Öcalan, niece of the jailed leader of the outlawed Kurdistan Workers' Party (PKK) Abdullah Öcalan. Now 27, Dilek was 11 when her uncle was seized in Kenya by Turkish commandos, spirited back to Turkey and sentenced to hang, later to be spared the noose and banished to an island prison. For many Turks that all may seem now like it took place in another world.
"First of all, I see myself as a representative of women and youth," she told local media, "I may be Kurdish, but I will be representing all those exploited, oppressed, ignored groups, all peoples, cultures, beliefs and languages."
Her appearance in the Turkish legislature would have been unthinkable a decade ago but with the settlement process launched in 2012 between the government and PKK to end Turkey's long-standing Kurdish question, has helped to change the political country's political terrain.
The opening to the Kurds -- after a war that has cost over 40,000 lives -- is seen by many as one of the conciliatory, liberal reforming moves by then-Prime Minister Recep Tayyip Erdoğan during his first years in power. It is not clear what now will be the fate of this settlement process.
Ironically, it was the success of Dilek's Kurdish party, the Peoples' Democratic Party (HDP), which stripped the ruling Justice and Development Party (AK Party) of its overall majority and thwarted Erdoğan's drive for sweeping new powers. The HDP had attracted voters disillusioned with the more combative, authoritarian Erdoğan of recent years.
The election marked a watershed in Turkish politics.
A total of 97 female lawmakers are due to take seats in Parliament, accounting for 17 percent of Turkey's 550 seats. That level of female representation is still well behind the United Arab Emirates, Uzbekistan and most of Europe, according to World Bank data.
"In Turkey, it is regarded as a luxury for women to be involved in politics. We will fight to change this," said Selina Doğan, an ethnic Armenian lawmaker with the secular, main opposition Republican People's Party (CHP).
It was still unclear whether the AK Party co-founded by Erdoğan in 2001 will try to form a coalition with another party or attempt to establish a minority government.
The Islamist-rooted AK Party -- which critics say is looking to roll back Turkey's long-entrenched secularism -- was the only major party to see its number of women lawmakers drop, from the current 46 to 41.
The HDP will send a total of 30 women to parliament. Its success, winning 80 of 550 seats, was one of the election's biggest upsets.
Led by the charismatic Selahattin Demirtas, the HDP broadened its support beyond the Kurdish community, wooing young people and centre-left secularists who sensed perils in Erdoğan's drive for a two-thirds majority in order to change the constitution and forge a powerful new "Turkish style" presidency for him.
First openly gay candidate
The HDP was one of the parties to field candidates who were members of ethnic and religious minorities, as well as Barış Sulu, an activist who had hoped to become Turkey's first openly gay lawmaker, although he failed to win a seat.
"For democratic stability, this is very good news," a Western diplomat told Reuters on the increased diversity in the parliament.
Four lawmakers from Turkey's Christian minority -- two from the HDP and one each from the CHP and AK Party -- won seats.
Christians have been traditionally sidelined in the majority Muslim country. When a lawyer from the ethnic Syriac minority was elected in 2011, he became the first Christian in government in half a century.
Turkey's roughly 3 million Roma will get their first parliamentarian after 38-year-old CHP candidate Özcan Purcu won from the party's stronghold city of İzmir.
Two members of the small Yazidi ethnic group were also elected, one of whom, Feleknas Uca -- a former European Parliament member from Germany -- is still learning to speak Turkish and wants to take her vow to become a representative in her native Kurdish.
The new parliament will have three ethnic Armenians, a group that has traditionally faced some of the greatest discrimination.
Some Turks see ethnic Armenians as traitors bent on slandering Turkey's global reputation, a conflict that goes back to the 1915 mass killings of Armenians. Turkey officially accepts that Christian Armenians were killed by Ottoman forces during the First World War, but denies there was any systematic attack on civilians amounting to genocide.
"It doesn't matter how many Armenians there are in the parliament, what matters is our stance," newly elected Garo Paylan told the Armenian daily Agos after the election outcome.
Like Dilek Öcalan, Paylan hopes the new face of the Ankara legislature will be matched by a new political spirit.
"I hope we will be able to change Turkish politics," he said.
http://www.todayszaman.com/national_women-and-ethnic-religious-minorities-change-face-of-turkish-parliament_384708.html
----------
'Niqab Ban' Returns as Conservative Bill Planned For Canadian Parliament's Final Days
11 June, 2015
With just days to go before Parliament rises for the summer — and MPs shift into election campaign mode — Multiculturalism Minister Tim Uppal says the Harper government has a last-minute bill coming to ban face coverings at citizenship ceremonies.
The Quebec government introduced legislation Wednesday to enshrine religious neutrality in provincial institutions, including a requirement for people giving or receiving provincial government services to have their faces uncovered. The law would mean some Muslim women, for example, could not choose to wear their Niqabs in this context.
"We broadly support Quebec's legislation regarding the uncovering of faces for giving and receiving public services," Uppal told reporters after the Conservative caucus met on Parliament Hill.
"Our government will be moving forward in the coming days with legislation with respect to the face coverings at citizenship ceremonies, and we will consider what other measures may be necessary," the minister said.
His colleague, Infrastructure Minister Denis Lebel, who represents a Quebec riding, told reporters the Conservative government is analyzing other possible measures in the future, but acknowledged that the federal bill would not go as far as Quebec's for the time being.
When asked if this proposal was Islamophobic, Uppal said absolutely not.
"We've been very clear that... regarding citizenship ceremonies, at a time when people are pledging allegiance to this country, when they're joining the Canadian family, we find that Canadians expect that anyone joining the Canadian family at that time would have their face uncovered," he said.
Previous 'Niqab ban' struck down
In late 2011, then-immigration minister Jason Kenney issued a directive for citizenship judges to force Muslim women to remove their Niqabs or any other face-covering garments, such as burkas, before they can recite the oath of citizenship to become Canadians.
That ban was struck down by a Federal Court judge in February, in a case brought by Zunera Ishaq, who argued that female officials could easily take her oath in private, and that the law doesn't require that people be "seen" taking it.
All that's needed, the judge agreed, is for citizenship applicants to sign a form saying they've taken the oath. The ban was inconsistent with the duty given to citizenship judges, the Federal Court ruled.
The decision sparked strong public and political reaction and a sharp rebuke from Prime Minister Stephen Harper, who told a Victoriaville, Que., audience days later the federal government, would appeal the ruling.
"I believe, and I think most Canadians believe, that it is offensive that someone would hide their identify at the very moment where they are committing to join the Canadian family," Harper said in February. "This is a society that is transparent, open and where people are equal."
Although a bill can be introduced in a Parliament's dying days, there's insufficient time for new legislation to pass all stages without the unanimous consent of all parties in both the House of Commons and the Senate.
Wedge issue?
Putting a bill on the table, however ill-fated it may be, could be useful for Conservatives as parties define their positions and campaign messages on key issues for the coming election campaign.
The Niqab ban was politically popular in some parts of Quebec, where heated debates about the failed secular charter divided the province over public displays of religious beliefs.
Tom Mulcair, whose New Democrats rely on strong support in Quebec where the ban was popular, came out against Harper's move to appeal.
"I see that Muslims are often scapegoats for political debate. And that, I find it heartbreaking," he told reporters in French.
Liberal Leader Justin Trudeau also condemned the appeal.
But the Bloc Québécois supported the ban, targeting a controversial ad at Quebecers who voted NDP in 2011.
http://www.cbc.ca/news/politics/niqab-ban-returns-as-conservative-bill-planned-for-parliament-s-final-days-1.3107975
----------
Women and Girls In Africa 'Being Left Behind' In Fight Against HIV/AIDS ' UN Report
11 June, 2015
Despite considerable advances made in the global response to the AIDS epidemic over the last several decades, young women and adolescent girls in Africa "are still being left behind," according to a new joint report from the United Nations and the African Union.
In the sub-Saharan region, AIDS-related illnesses remain the leading cause of death among girls and women of reproductive age. In 2013, 74 per cent of new HIV infections among African adolescents were among adolescent girls, the Joint UN Programme on HIV/AIDS (UNAIDS) said in a statement.
Young women and adolescent girls acquire HIV on average five to seven years earlier than young men, and in some countries in the region, HIV prevalence among this population can be as much as seven times that of their male counterparts.
"In the absence of a vaccine, ending gender-based violence, keeping girls in school and empowering young women and adolescent girls are the best options we have available," Sheila Tlou, UNAIDS Regional Director for Eastern and Southern Africa, said.
In order to guide regional and global advocacy and inform political dialogue on HIV prevention and treatment among young women and adolescent girls, UNAIDS and the African Union have launched a joint report entitled Empower young women and adolescent girls: Fast-Tracking the end of the AIDS epidemic in Africa.
The document outlines three political commitments to advance the rights and empowerment of Africa"s young women and girls to help Fast-Track an AIDS response firmly rooted in gender equality and social justice.
The commitments are to stop new HIV infections among young women and adolescent girls in order to ensure that AIDS is no longer the leading cause of death among adolescents; to empower young women and adolescent girls through comprehensive sexuality education; and to prevent HIV infections among children and keep their mothers alive.
"As we work with our communities, our networks, our health service providers and our governments, we must commit to demanding a comprehensive focus on young women in the AIDS response," said Rosemary Museminali, UNAIDS Representative to the African Union.
The report launched 8 June as part of the 26th Gender is My Agenda Campaign pre-summit to the African Union meeting in Johannesburg, South Africa.
http://www.sierraleonetimes.com/index.php/sid/233688033
----------
Improving Women's Lives would Boost Sahel's Development: UN Envoy
11 June, 2015
DAKAR - Improving access to education, healthcare and jobs for women in the arid Sahel region of Africa could play an important part in rolling back poverty in one of the world's most underdeveloped areas, the U.N. special envoy to the region said.
Hiroute Guebre Sallassie, the U.N. secretary general's special envoy to the Sahel, said the traditional role of women - including low levels of education and participation in the formal economy - was an obstacle to development.
"Without a fundamental restructuring of the role of women, the Sahel risks delaying its legitimate aspirations...in terms of development," Sallassie told a news conference late on Monday.
UN Women, a United Nations agency focused on gender equality, has suggested that the impoverished countries of the Sahel are amongst the worst performers in the emancipation and equal rights of women.
In Burkina Faso, Chad, Mali, Niger and Senegal more than 90 percent of women had no formal education, it said in a report whose regional findings Sallassie presented in the Senegalese capital Dakar. The report was first released in April.
While globally women are in school for an average of 7.3 years, compared to 8.2 years for men, women in Sahel countries received fewer than three years of formal education on average. In Burkina Faso, that fell to just 0.3 years.
Men in the Sahel region are also educated less than the global norm, enrolling in school for an average of fewer than five years. Still, men's average school attendance was up to three times as long as their female counterparts, depending on the country.
The report called for a virtuous circle of decent jobs, social services and government policy prioritising education and equality.
Lack of economic independence had repercussions on women's rights. Some 69 percent of women in Senegal said, for example, they do not have the final say over their own healthcare.
Female genital mutilation remains common in many countries in the mostly Muslim region.
Nicole Gakou, the president of the union of female business leaders in Senegal, said that large-scale financing needed to be made available to female entrepreneurs to allow them to undertake bolder projects.
"Women today are confined to everything that is 'micro': micro-credit, micro-businesses," she said. "We need other things ... substantial financing. Funding for long-term projects."
http://news.sudanvisiondaily.com/details.html?rsnpid=250984
----------
Tahera Ahmad Says She May Pursue Legal Action Against United Airlines For Discrimination
11 June, 2015
After claiming she faced discrimination on a United Airlines flight on May 29, Muslim passenger Tahera Ahmad told HuffPost Live that she has not ruled out pursuing legal action against the company.
Ahmad, who is a Northwestern University chaplain, described the "horrible experience" in a Wednesday interview and said that a flight attendant refused to give her an unopened can of diet soda because she thought Ahmad would "use it as a weapon." When host Caroline Modaressy-Tehrani asked if she plans to take any legal steps, Ahmad said she is considering "all options" to ensure future passengers don't experience a similar encounter.
I am not looking to get this flight attendant fired. ... She made a terrible mistake, and people make mistakes," Ahmad said. "I have asked for United [Airlines] to really recognize this. If they choose to just gloss over it, as they had in their last statement, that's really unfortunate. So, at this point I am going to consider all options in which to ensure this kind of utter humiliation does not happen to anyone."
Ahmad, who was aboard a Shuttle America flight that serves United Express customers, said the flight attendant gave another passenger an opened can without a problem, which she perceived as a clear act of discrimination. When Ahmad pressed the issue, another passenger interjected and said, "You Muslim, you shut the 'F' up. ... You know you would use it as a weapon, so you need to shut the 'F' up." According to Ahmad, the flight attendant didn't intervene.
"It was just a really horrible experience because this man is basically shouting over and trying to silence me, and the flight attendant didn't do anything," she said. "There was no bystander intervention."
While the airline originally called the encounter a "misunderstanding," it has since pulled the flight attendant from future flights with United Express and will be retraining the worker.
http://www.huffingtonpost.com/2015/06/08/muslim-woman-tahera-ahmad-united-airlines_n_7513776.html?ir=India&adsSiteOverride=in
----------
URL: https://www.newageislam.com/islam,-women-and-feminism/new-age-islam-news-bureau/wives-of-is-leaders-pass-info-to-avoid-intercepts--report/d/103445