New Age Islam News Bureau
4 Aug 2019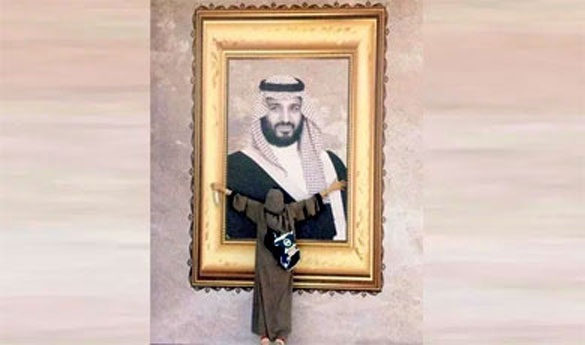 The viral picture showing Munira Abdullah hugging a giant portrait of Crown Prince Mohammed bin Salman. (Supplied photo)
------
• The Woman In The Frame For A Photo That Went Viral Summed Up Exactly How Saudi Women Feel Because Of Amendments To The Saudi Kingdom's Laws
• Women at Centre of Violin Playing Controversy in Iraq Holy City
• German Islamic Community Recommends Men Hit 'Unruly' Women
• The Dutch 'Burqa Ban' Collides With Reality, And Should Make Governments Think Again About Policing Dress
• Iraq's Yazidi Women Must Abandon Kids Born in IS Captivity
• Looking At Post-Qaddafi Libya through The Eyes Of Female Footballers
• Emirati Women Lawyers Occupy Pride Of Place In Legal Profession
• Facebook Expands Women Entrepreneurship Program In Pakistan
• Nurses And Teachers, Rural Women Hold Protests To Demand Their Rights
Compiled by New Age Islam News Bureau
URL: https://www.newageislam.com/islam-women-feminism/with-female-lgbtq-prayer-leaders/d/119383
--------
With Female and LGBTQ Prayer Leaders, Chicago Mosque Works To Broaden Norms In Muslim Spaces
By Nausheen Husain
AUG 03, 2019
The story of Rabia al-Basri is one that Muslim kids learn early.
She ran through her hometown of Basra, Iraq, with a torch in one hand and a bucket of water in the other. When townspeople asked her why, she said she wanted to burn down heaven with the torch and put out hellfire with the water so that people could worship without fear of punishment or desire for reward, for the sake of God alone.
"The story defines this space," said Mahdia Lynn, who co-founded the mosque in 2016 in the Loop that bears the name of Rabia, and, more importantly, she said, the responsibility that comes with it.
At Masjid al-Rabia, the difference from mainstream mosques is immediately apparent. Every Friday, a handful of men and women pray shoulder to shoulder. The khutbah, or sermon, is a discussion, and congregants participate in a group circle. There is no consistent imam, or leader in prayer; rather, anyone can volunteer to stand in the front to lead. It is one of very few public mosques in the world that allows and encourages women to lead prayer in a mixed-gender prayer space.
"Our approach says that wanting to lead a prayer in that moment, that is what makes a person equipped to lead," Lynn said.
In mainstream mosques where men lead the prayer, men pray in the front and women pray behind them, or in some cases, behind a barrier. Sometimes, women pray in a separate room with an audiovisual setup.
While women-only mosques have existed for hundreds of years in China, it is only in the past several years that imams and scholars have begun to organize more inclusive mosques in Indonesia, Europe and the United States — all with varying styles and levels of success. In 2015, the first women's-only mosque in the U.S. opened in Los Angeles, according to news reports.
Though men and women often attend private prayer groups together, it is difficult to find any mosques in the world that publicly advertise having a prayer space with no barriers to gender, like Masjid al-Rabia.
"Most of the places it is happening, people are organizing based on who wants to worship and not because they want to publicize it," said Amina Wadud, an Islamic scholar who has worked for decades at the intersection of Islamic theology and women-centric movements. "Sometimes you do a thing because you feel the thing is good and you don't need any attention for it. Sometimes you have to combine that intention with some advertisement because how else do you open people up to the story?"
In Chicago, Lynn said the group is moving to a larger space that, in addition to hosting prayers, will serve as a hub for the social justice work the mosque began several years ago. The most important work the mosque does, Lynn said, is its prison ministry, which has grown to more than 600 participants in the past two years.
"Like Muslims who are queer and trans, (incarcerated people) are our family members who are forgotten. And the fact that they are forgotten is both unacceptable and changeable," said Lynn, who is transgender. "In the faith tradition, there is a strong idea of freeing prisoners and serving those who are oppressed. You are ultimately helping the oppressor by preventing them from oppressing people."
'Embodied ethics'
Lynn's work is only the latest in a long tradition of global attempts to broaden mainstream prayer norms.
Twenty-five years ago in Cape Town, South Africa, Wadud, who is retired and lives in Indonesia, for the first time led a part of the Friday prayer, which is generally performed by a male leader.
She waited more than 10 years to do anything as public as that again, though she was asked. She said she took time in the interim for "spiritual reflection and intellectual research," to figure out her own intentions. The next time she led a Friday prayer service, it was in New York in 2005 and it made headlines because of the size of the congregation — more than 100 people participated — and a protest was held outside.
She said it was important to take a public step at that time.
"It was about embodied ethics, where it's not enough to say, 'I believe women are equal to men.' I have to demonstrate it with my body," Wadud said. "Sometimes you have to do that."
Imam Ibrahim Khader of the Muslim Community Center organization, which has three locations in the Chicago area, said the separation of men and women in a prayer space is based on hadith, or sayings, of the Prophet Muhammad, one of which states that, in a congregation, the best place for a man during prayer is the front row, and the best place for a woman during prayer is the back row. He also pointed to the requirement of Muslim men to attend Friday prayers, which, according to hadith, does not exist for Muslim women.
"At the end of the day, these are narrations," Khader said. "We can try and reason with these and understand the context, but we still follow them."
Scholars, particularly those who say they prioritize inclusion over other ideas, lean on the Quran, which they say has higher authority than either the words or the actions of the Prophet Muhammad, to make their case.
"In Muslim patriarchies, men's authority is underwritten by specific interpretations of 'Islam.' I put 'Islam' in quotes because, if we are speaking about the Qur'an, then there is nothing in it — not a single verse — that says women cannot lead a prayer and only men can," Ithaca College professor Asma Barlas, who studies patriarchal interpretations of the Quran, said in an email. "Nor is there a single statement to the effect that men are morally or religiously or ontologically superior to women. Not one."
Chicago activist Hind Makki runs a blog called Side Entrance, through which she encourages Muslim women to document women's prayer spaces in mosques around the world: "the beautiful, the adequate and the pathetic."
"Certain prayer spaces can be spiritually abusive, and we need to collectively create our own spaces," Makki said.
As some Muslim communities struggle with inclusion, Makki encourages people to create third spaces, away from mainstream mosques and the secular world, where they can follow their faith without some of the cultural baggage.
"In the here and now, people have shown that they need to create their own spaces that are healthy and welcoming for spiritual sustenance, which you can't get at mosques where your spirituality is not part of the picture," she said. "Whether that's creating a mosque like Masjid al-Rabia, or just gathering in someone's living room, it's so important for your spiritual health."
An interfaith environment
Lynn, 31, who is from southeast Michigan, said she has always had an instinct toward community organizing, and she found Islam in her early 20s, at a time when she was living a very different kind of life than now.
"I was not good at being a human being. I was just not understanding what my place in the world was. Who to be, how to live, what to do," she said. "Islam gave me an understanding and an order."
She said the first year of being Muslim was a journey she took alone, but in 2014, she attended an LGBT Muslim retreat in Philadelphia.
"It felt like I was among people who knew the importance of the tradition, what it meant to be a transgender woman practicing Islam, what it means to be someone on the outside looking in," she said. "That got me back into the community organizing and activism, back to troublemaking."
This year, Lynn conducted her first nikkah, or wedding ceremony, and the masjid's (mosque's) first one — for two queer Muslim men in a prison hundreds of miles away. It was a wedding, she said, that ended up being a stack of papers an inch or two thick mailed to Lynn that contained some of the essentials for an Islamic wedding: written statements from witnesses, an exchange of vows, a mahr statement (a financial agreement in the case of separation). Later, she and others from the mosque threw a party that doubled as a proxy wedding with stand-ins for the grooms.
This week, the masjid, which is run by Lynn, who is a part-time employee, and a few other volunteers, moved into a space at GracePlace in the South Loop, sharing a prayer hall with Christian congregations, and hosted its first Friday prayer. At the final prayer before the move, congregants discussed their new home.
"Are they also progressive?" asked one attendee.
"Yeah, we had to make sure they were OK letting all the gay Muslims in," said Hannah Fidler, a volunteer program coordinator at the mosque. The group laughed, even though for a community like this, security can be a real concern.
The move to a more public forum is a big change for the community, and Lynn said she hopes it will allow Masjid al-Rabia to become more established in Chicago. The focus for the past couple of years has been mission-based activities, like the prison ministry, a joint Eid and Pride celebration, and Quran study groups, she said. But with a larger space, it's possible to intentionally grow Friday attendance and make sure it's accessible to everyone.
Wadud, the Islamic scholar, said this kind of space marks an evolution.
"We are seeing, what does it take to start a movement? What does it take to spread a movement?" she said. "What does it take for it to no longer be a movement because it's just par for the course?"
https://www.chicagotribune.com/news/ct-south-loop-mosque-female-prayer-leader-20190803-56axwv37arfm3i3gajgc4umgb4-story.html
--------
The Woman In The Frame For A Photo That Went Viral Summed Up Exactly How Saudi Women Feel Because Of Amendments To The Saudi Kingdom's Laws
DEEMA AL-KHUDAIR
August 04, 2019
When Munira Abdullah went to bed on Thursday night she was just another one of many Saudi women newly empowered and independent because of a raft of amendments to the Kingdom's laws.
By the time she woke up on Friday morning she was an internet sensation — thanks to a photo snapped on the spur of the moment in a Riyadh cinema foyer.
The picture shows Munira hugging a giant portrait of Crown Prince Mohammed bin Salman, and perfectly captured the emotions of many Saudi women in the wake of the new legal amendments.
"What drove me to have this picture taken is my admiration and deep gratitude toward the crown prince," Munira, 30, an education technology resources specialist from Taif, told Arab News.
"There was no planning," she said. "I went to watch a movie at the cinema in Al-Qasr Mall for the first time in my life, and I was very happy and grateful.
"On my way out, I saw the portrait and rushed to hug it, and my sister took the picture and documented these beautiful emotions."
The photo not only took Twitter by storm, it also made the front page of Arab News on Saturday. Now Munira is fielding a barrage of comments on social media from other women who say she has summed up exactly how they feel.
"They all say, 'Thank you for conveying our emotions about the crown prince'," she said.
"I feel gratitude and joy for their joy too and I continue to reply to them to this day."
The legal changes, announced by royal decree, strengthen women's rights in the areas of labor, travel, social insurance and civil status, and reduce the role of male guardians.
http://www.arabnews.com/node/1535201/saudi-arabia
--------
Women at Centre of Violin Playing Controversy in Iraq Holy City
By Seth J. Frantzman
August 3, 2019
A woman playing a violin and other women and men dancing at the opening events of the West Asia Football Federation in Karbala, Iraq has caused controversy as religious far-right conservatives condemned the "unethical behavior" and others rallied to the women's defense.
The controversy began on July 30 when several women and dancers took to the field of a stadium in Karbala in Iraq before Iraq played Lebanon. One woman played a violin. But Shi'ite religious leaders, who care deeply for the city's sacred shrines and holy history said they received the "sad news" of the violations of the sanctity of the city. The battle of Karbala in the seventh century between supporters of Imam Husayn and the Ummayad Caliph led to the death or martyrdom of Husayn in battle and a shrine in Karbala today is a major center of pilgrimage. The shrine also contains sites of 72 other men Shi'ites revere for being martyred alongside Husayn. As such the city is important for religious figures, and some saw the opening ceremony for the games as offending the religious nature of the city.
Several days after the woman played the violin and others danced, the controversy has roiled Twitter in Iraq and abroad, with hashtags in Arabic relating to the stadium. One hashtag refers to the "sanctity of Karbala" and the other to the stadium. The outpouring of anger and support shows the divisions in Iraq and also raises other issues. One man wondered why urban planners had allowed a stadium to be built near shrines in the city in the first place. One cleric has called for the stadium to be closed. Another twitter user going by the name Mahmoud Darwish posted a photo of the Iraqi woman with the violin and noted "with four strings she shook the sanctity and the turban-wearing men with their obscurantist beliefs." Another man posted photos of women dancers at the opening of games in Malaysia to show that other Muslim countries have women doing similar activities.
Joyce Karam
✔
@Joyce_Karam
Wow. In #Iraq , this woman is getting slammed by religious conservatives for playing National Anthem on violin at West Asia Championship Opening in Karbalaa.
I don't know her name but she plays beautifully:
Embedded video
592
1:43 AM - Aug 2, 2019
Twitter Ads info and privacy
218 people are talking about this
Nouri al-Maliki, former Prime Minister of Iraq and a Dawa party leader, has reportedly called for an investigation. Local authorities in Karbala said they had nothing to do with the opening ceremony and condemned it. According to Rudaw, the public relations department of the Ministry of Youth and Sport said the comments reflected hypocrisy. "There are politicians who first need to go close all the bars and nightclubs in Baghdad before attacking the ministry of youth and sport."
The women, especially the violinist who was identified as Lebanon's Joelle Saade, seem to have received more support on social media, as Iraqis pushback against the conservatives, some have contrasted the women with the rituals that take place at Karbala, such as men cutting and whipping themselves during the mourning for Husayn on Ashura every year. One man posted photos of the three dancers at the ceremony, and a child's face covered in blood during a religious procession. "Welcome to Karbala, the holy art and beauty of the sanctity of the rituals of ignorance and violence," wrote Rasaha Alazawe, a writer, on Twitter. Other commenters simply put a heart symbol with photos of the women playing violin and dancing.
Hassi🔱
@hassi99
The underlying issue that caused #قدسية_كربلاء to erupt on this scale should have nothing to do with religion, Iraqis just love controversy afterall. The real issue is the ignore of urban planning in the first place, WHO ON earth would allowed a stadium to be built right next to
8
3:17 PM - Aug 3, 2019
Twitter Ads info and privacy
See Hassi🔱's other Tweets
"Kabala's name is big in the news again because certain politicians and clergy are upset a woman was playing the violin," noted Amin Karaji, a commenter on Iraqi issues. "My God, who cares? If you loved Karbala so much then what did you do for it in your office? No projects, no airport."
The controversy over the violin in Karbala therefore goes deeper than just an incident of women and religious conservatives, it is symbolic of problems across Iraq where many are angry that religious issues or parochial politics of families and clans seem to trump the need for better infrastructure. There is a feeling that these controversies are grabbed by politicians to increase anger, not really over the violin, but to score minor political points at the expense of average people who suffer electrical outages and lack of decent roads or sewers or education. This comes at a time as Iraq is seeking to move on and rebuild after the war against ISIS and also faces challenges of security threats as well as the dominance of many religious or ethnic-based parties in politics.
https://www.jpost.com/Middle-East/Women-at-center-of-violin-playing-controversy-in-Iraq-holy-city-597534
--------
German Islamic Community Recommends Men Hit 'Unruly' Women
August 4, 2019
By Benjamin Weinthal
The Islamic community in Munich issued guidelines on its website that encourage men to assault their wives or female partners if they are "unruly."
The Bavarian Broadcasting 24 outlet published the shocking report on Saturday, writing, "In the case of a marriage in great difficulty or when the partner is 'unruly,' the Islamic Center Munich [IZM] invokes the Koran. Accordingly, the husband should comply with three steps: First, reprimand. Second, separation in the marriage bed. And third, beating."
Visitors of IZM's website have been informed about the permissible beating of women for 15 years, according to the Bavarian Broadcasting 24 journalists Sabina Wolf and Joseph Röhmel, who first reported the story.
The Islamic community's alleged advocacy of anti-woman violence is under the website category "Woman and Family in Islam." The classification states that the beating "has a more symbolic character."
The Munich prosecutor's office told Bavarian Broadcasting 24 that the incitement to violence against women on the website is not a crime.
The Islamic Center Munich has ties to the Islamic Community of Germany association. German authorities say the ideology of the Muslim Brotherhood plays a role in the Islamic Community of Germany organization. Egypt classifies the Muslim Brotherhood as a terrorist entity.
The Islamic Center Munich told Bavarian Broadcasting 24 that it plans to modify its website within two weeks.
https://www.jpost.com/International/German-Islamic-community-recommends-men-hit-unruly-women-597560
--------
The Dutch 'Burqa Ban' Collides With Reality, And Should Make Governments Think Again About Policing Dress
Rabina Khan
August 4, 2019
When I stood as an independent candidate in the Tower Hamlets' mayoral elections of 2015, a white man asked me what colour my hair was under my veil. I said it was pink. He smiled, so then I added, "Not really, it's green." It was a small moment, but it got me thinking. I wrote an article – My Hair is Pink Under This Veil – and delivered a talk at Cambridge University.
Muslim women have endured all manner of law makers, politicians, and the public, giving them fashion tips. They think they're trying to empower us. The former leader of the Commons, Jack Straw, claimed that community relations would be improved if they ditched the veil; former prime minister David Cameron commented that Muslim women were "traditionally submissive".
Both white male politicians faced a backlash from the very Muslim women they thought they were liberating from enslavement.
In October 2018, the UN criticised France for violating women's rights, stating that rather than protecting women with the country's ban on clothing that concealed faces, its consequence would be to confine them to their homes and marginalise them.
And just two days ago, the Partial Ban on Face-Covering Clothing Act, or burqa ban, came into force in the Netherlands. This law not only prohibits women from wearing face coverings such as burqas and niqabs on public transportation, in government buildings or at health and education institutions, but also outlaws anyone wearing full-face helmets, ski masks and balaclavas in the same places.
Muslim women wear a burqa as a symbol of their religious belief and religious freedom, in the same way that a Sikh would wear a turban. Veils (mantillas) are worn by some devout Catholic women in the UK and are a common sight in Spain and other Catholic countries in Europe.
The problem is that the burqa ban is unworkable.
Dutch police and transport companies have expressed a reluctance to enforce it. The police have stated that the ban is not a priority, so will not be able to respond within the usual half hour timeframe. The Dutch government now insists that the "partial ban doesn't target any religion and that people are free to dress how they want".
The reality of trying to impose a ban on what women wear proves that without the common will of the people, prejudicial laws such as the burqa ban are ineffectual. To restrict what people can wear based on their religious beliefs is a violation of human rights. Liberal western democracies cannot promote freedom of choice and expression on the one hand if they try and restrict what clothes people wear with the other.
The main question frequently asked about my veil (or hijab) is, "Is the veil really a choice, or is it a symbol of oppression?" People have every right to ask and as Muslim women we should respond in a way that helps others understand, not see questions as a challenge.
Let us not fool ourselves; without doubt, there are women who live in family units where they are forced to wear the veil. But there are people of all colours, cultures and religions who have husbands or wives who dictate what they should wear, what they should do and to whom they may speak.
Controlling relationships are not just a Muslim issue.
At primary school, a teacher decided to both impose the burden of representation on my young shoulders and question my Britishness when she informed my class that they should feel "privileged to have me as a classmate" because it would "widen their horizons".
There are many powerful Muslim women in prominent positions who have overcome societal preconceptions to pursue their goals, which is testament to their fortitude. And there are tens of thousands of hijab-wearing Muslim women who will never have power but also challenge preconceptions when they walk out of their front door in the morning.
Muslim women are more than able to fight for their equality but need to be supported and celebrated to achieve that – just like women all over the world.
Enshrining common prejudice in law achieves nothing apart from exposing the lack of common sense of those who draft them.
https://www.independent.co.uk/voices/netherlands-burqa-ban-niqab-law-muslim-islam-women-a9038001.html
--------
Iraq's Yazidi Women Must Abandon Kids Born in IS Captivity
By Rashid Yahya 
August 3, 2019
DOHUK, Iraq — Yazidi women and girls who were enslaved and raped by Islamic State militants have few choices. They may have been freed, but they can't bring home the children they had with the extremists.
Five years ago Saturday, IS militants launched attacks on Yazidi villages in northern Iraq, kidnapping, enslaving and massacring thousands. The attacks were labelled genocide by the United Nations.
The attacks traumatized the Yazidis, an ancient religious minority who are no strangers to persecution throughout the ages. But the brutality of the IS onslaught posed major challenges to the community. Although the Yazidis are a monotheistic faith, IS viewed them as heretics and sought to annihilate both the people and their religious sites.
In April, a month after the final military defeat of IS, Yazidi religious leaders made an apparent bid to protect the insular and still-grieving community by decreeing that they will embrace survivors of militant attacks. It was a move aimed at erasing the social stigma associated with rape.
But in what appeared to be a response to backlash from conservative community members, the spiritual council put out a statement days later saying its decision had been distorted. The council affirmed that children born to IS fathers would not be accepted back into the community.
Some mothers put their kids for adoption. A few refused to return home.
One woman, a 20-year-old resident of a village south of the town of Sinjar, recounted how she sobbed and yelled as her baby boy was peeled from her arms by the Kurdish-led Syrian Democratic Forces, who administer eastern Syria and lead the military fight against the militants there. The child was seven months old when her family paid ransom to free her from IS in October last year.
"I cried and screamed with all my might, but it didn't help anything," said the woman, who hailed from Tal Qasab village and who agreed to speak on the condition her name be withheld because of social stigma. She lives in a tent in a displaced persons' camp in Dohuk, miles from her village, which still lies in ruins.
"They said, 'You can't take him with you. He is a Daesh child.' My family also didn't accept that I bring him back with me," she said, using the Arabic acronym for IS.
The militants attacked the Yazidi areas in Nineveh province on Aug. 3, 2014. They killed hundreds of Yazidi men, sometimes identifying them as adults only by the hair under their armpits. IS kidnapped the women, girls and boys, transporting most of them into Syria.
But hundreds are still missing. Some of the children who were raised under IS and indoctrinated in jihadi ideology have refused to go home and some still live in camps in Syria.
According to the Kurdistan region's Office for Yazidi Abductees, based in Dohuk, an estimated 3,425 Yazidis have been freed from a total of 6,417 abducted. The office said 1,921 children were saved out of 2,992 children.
When IS was finally defeated in March, a number of Yazidi women and children emerged from the last militant-held sliver of land, a riverside village in southeast Syria called Baghouz.
In Nesiriya village in Iraq's northern Mosul province, an 18-year old native of Sinjar who was liberated five months ago from Syria said she wants to join her mother and sisters who took refuge in Germany. Three of her brothers are still missing.
Freed from the last IS-held enclave on March 1, she didn't look back when she left behind her three children in Syria who were born to a Tunisian IS fighter.
They are all in an orphanage run by the Kurdish-led Syrian forces, she said.
She was only 13 when she was kidnapped. Tunisian militants bought and sold her, then forced her to convert to Islam and marry one of them.
"I told him that I don't want children, just give me pills or anything like that," she told The Associated Press. "He said no, I will make babies."
The young girl moved around with the IS militant and had three children in three different towns. The last, a four-month-old toddler, was born as IS was making its last stand.
Before leaving, she breastfed her baby and calmed the middle girl who was following her around in tears. For her eldest, a 2-year old boy, she bought new clothes and shoes.
"He ran to pick up his boots and told me: 'Mommy; take me with you in the car. Mommy, take me to the car.' I told him: 'Ok. OK. I will in a little bit,'" she recalled.
"I left him crying for me too. But they will forget me. They are still very young. They will forget me."
https://www.washingtonpost.com/world/middle_east/iraqs-yazidi-women-must-abandon-kids-born-in-is-captivity/2019/08/03/bcb0ef38-b5f6-11e9-acc8-1d847bacca73_story.html
--------
Looking At Post-Qaddafi Libya through The Eyes Of Female Footballers
03/08/2019
LONDON - "At times like this, it is really important to show alternative narratives from places like Libya," director Naziha Arebi said before the screening of her documentary "Freedom Fields."
The 95-minute film, a release stated, takes an intimate look at post-revolution Libya through the eyes of an aspiring all-female football team whose struggle to gain mainstream acceptance mirrors the broader challenges facing women in Libyan society.
The lives of three friends — Fadwa, the amicable player; Halima, the ice cream-loving goalkeeper; and the lean and determined Naama, an internally displaced person from Tawergha — are portrayed on and off the field.
Their stories are told in three parts. The first in 2012, a year after the revolution, a period marked by great hope for change, democracy and gender equality. The second in 2014 when the spirit of hope has been replaced with a sense of confusion and loss after the Islamic State established a presence in Libya. The last part, in 2016, describes the sadness of the Libyan people as they realise they are worst off.
The three women refuse to be defeated. They set up an NGO that works in schools, refugee camps and orphanages to promote sport and reconciliation. Fadwa said she hoped to go to France during the FIFA Women's World Cup and Naama qualified for the Olympics. The film begins with an eerie nighttime scene as headlights light a secret practice location during a power cut. The football pitch is like Libya with shadowy characters lurking in semi-darkness and nothing is as it seems.
When an Islamist group sends the team a communique ordering them to stop playing, a male supporter burns it.
The struggles with the Libyan Football Federation, which prevents the women from travelling to international competition because of security concerns, are eloquently portrayed and the women speak of their desire to represent their country.
At first, the players seem to have given up on their dreams; some have accepted marriage, others concentrate on their studies but one last opportunity presents itself and they pay their own way to travel to Egypt to compete as a private team.
After the London screening, Arebi pointed out that in Libya for everyone who wants to stop you there will be someone who wants to help you.
"Even though there were a lot of people who wanted to stop me making the film and prevent the women from playing soccer there were always people who wanted to help and that is something I wanted to show," she said.
One of the most moving scenes shows a father, who has secured a safe training ground for the team, telling his daughter: "A girl can be different. She does not have to keep to the norm. When the family gives their daughter hope they give her everything."
The women speak emotionally about their plight. In one outburst a player explains how the revolution promised freedom but life for women has not improved and religion has imposed greater limitations.
The fly-on-the-wall style is very effective but some of the scenes lack context. In the case of Naama, the viewer cannot fail to be impressed by her determination and courage but there is no background to the tensions that led to the destruction of Tawergha and forced her to flee.
Arebi, describing how she came to make the film, said: "I am half Libyan, half British. I grew up in the UK and felt quite robbed of my Libyan ties. I wanted to find out about Libya and went there for the first time in 2010.
"I heard of the Libyan women's football team and I wanted to explore their stories. I thought this film would be finished in 2013. [It took seven years to make.] As a result of sticking around in Libya, it became something more nuanced and interesting, more reflective of Libya and these women's lives rather than just a neat kind of sports film."
The documentary can be summed up as a character-driven production that puts the lives of three women under the microscope. It allows them to speak for themselves and ends with a song of the powerful comments they made during the years of filming.
"They love that song and when they saw the film they were amazed at some of the things they had said," Arebi said.
Arebi said she looks forward to a time when "Freedom Fields" can be publicly screened in Libya. This is impossible at present because there are no functioning cinemas but it will be shown at NGO and community screenings.
https://thearabweekly.com/looking-post-qaddafi-libya-through-eyes-female-footballers
--------
Emirati Women Lawyers Occupy Pride Of Place In Legal Profession
Marie Nammour
August 4, 2019
Emirati women have long been empowered and their practice of the law is yet another achievement shaping their career path.
Among the many advocates who attend the Dubai Courts, about 20 per cent are Emirati women lawyers. They take up and win cases just as professionally and efficiently as their male peers.
Emirati women have long been empowered and their practice of the law is yet another achievement shaping their career path.
For Amal Al Subaei, an Emirati lawyer, female lawyers are more competitive and accomplished and more keen to follow the procedures precisely (than men).
"We are very happy and content being Emirati lawyers under the wise leadership of our country. We enjoy widespread respect," Al Subaei said.
However, there are some challenges and difficulties, according to Al Subaei. "There are some intruders in our profession. They work in the field without any legal justification. Typing centres, for example, unlawfully compete with us and offer legal services."
For her, a lawyer plays a key part in guiding the litigants towards the right path of securing their rights rather than "using" their clients or squandering their money.
Al Subaei pointed out that some clients prefer to hand over their case to a man while others seek a female lawyer's legal assistance. However, some others don't mind the gender. "It just depends on the nature of the case. There is no competition among lawyers. Lawyers represent themselves and their profession. We have mutual respect. We even help each other in some cases when needed," she said.
She said that in her long experience in the profession, she has realised that if it is a personal status case then a female lawyer is most often preferred, especially if the client is a woman. "In general, there is no discrimination. It depends on the clients' decision, there is no criteria. We can't force anyone."
Dr Hawra Moosa, another Emirati lawyer, said that some clients think that the male lawyer is "stronger" and more "rigorous" in handling cases. "They think that the court room is sort of a battle field and that a "boxing match" will take place between the lawyers."'
However, she highlighted the fact that some clients have a great deal of trust in the female lawyer in the sense that she is more keen to take care of the case and dedicate her personal time to follow it up. "All lawyers face challenges, not just female ones," Dr Moosa pointed out.
For Sudanese legal consultant Reem Abdullah Ahmad, the clients, whether women or men, feel more at ease when a woman lawyer fights their legal case as "she would be more likely willing to understand and listen".
"If the case is a personal status case (divorce, custody or alimony), the clients usually prefer that it is taken up by a woman lawyer. Such cases usually have very sensitive details and parties to it would feel somewhat embarrassed to share what they may consider as their 'family secrets'."
The challenges are always there, she added. "However, we have proved ourselves in the field."
For some clients, the gender of the lawyer matters, while for others it does not.
"How we approach their problem makes all the difference. Once we gain their trust, the ice is broken. The language could well be a barrier. So, if we speak the client's language, it is an advantage," Ahmad pointed out.
"In criminal cases that are, for instance, about sexual assault, rape or consensual illicit sex, a client would feel more inclined to talk to a lawyer of the same gender. In most cases, a client would feel embarrassed and hesitant, at first, to share the full story. When they find how committed we are to help them, they share all the minor details. Confidentiality is essential to preserve the relation."
She also stressed that lawyers need to be transparent. She underlined that at the end whatever are the results, the client would be satisfied because they handled their case in the best way possible.
https://www.khaleejtimes.com/uae/dubai/emirati-women-lawyers-occupy-pride-of-place-in-legal-profession-1
--------
Facebook Expands Women Entrepreneurship Program In Pakistan
August 3, 2019
Facebook has announced the expansion of its #SheMeansBusiness program in Pakistan, in partnership with the Lahore Women's Chamber of Commerce, to provide women entrepreneurs with the tools, training and resources that can help them secure funding and grow their businesses.
"The flexibility offered by digital technologies is enabling a new generation of women entrepreneurs around the world to make positive contributions to their families and communities. However, women still face a number of obstacles such as a lack of funding and networks that can help them grow and scale. With this partnership, we want to nurture current and future generations of Pakistani women business leaders by providing access to a series of workshops and online learning tools," said Beth Ann Lim, Head of Community Affairs at Facebook, Asia Pacific at the launch of the program in Lahore.
According to the Future of Business Report - a collaboration between Facebook, the World Bank and the OECD, women business owners on Facebook in Pakistan still face significant funding challenges, with less than 1 in 5 stating that they currently have a bank loan or a line of credit. Of those surveyed, over 3 in 4 Pakistani women business owners on Facebook say that social media helps their business.
Dr. Faaiza Amjad, President, WCCI, said online platforms such as Facebook have helped women entrepreneurs expand their businesses. "When women are successful in business, it drives social growth too: more women are employed, more diverse role models are created and there is stronger diversity. Successful female entrepreneurs invest in their communities and in educating children.Through our partnership with #shemeansbusiness, we will be able to help equip Pakistan's women entrepreneurs with the knowledge, connections, skills and technology required to build and grow their businesses online," she said.
A range of studies including those carried out by the Global Entrepreneurship Monitor, OECD, World Bank and International Finance Corporation in conjunction with McKinsey reinforce the point that harnessing the economic potential of women can lead to release substantial socioeconomic gains potential. According to a recent study by the Clinton Global Initiative published on the United Nations Economic and Social Council site, when women work they invest 90 per cent of their income back into their families, compared with 35 per cent for men.
Run in collaboration with business leaders, civil society, NGOs and the public sector, #SheMeansBusiness is active in 21 countries around the world, including Pakistan, has trained more than 130,000 women in digital skills across Asia Pacific, reached 130,000 online through the #SheMeansBusiness resource hub.
https://www.thenews.com.pk/latest/507755-facebook-expands-women-entrepreneurship-program-in-pakistan
--------
Nurses And Teachers, Rural Women Hold Protests To Demand Their Rights
Aug 3, 2019
Nurses working in hospitals of Mashhad held a protest outside the Governor's Office in this capital of Khorasan Razavi province in northeastern Iran, on Saturday, August 3, 2019. They demanded to receive their wages and overtime dues.
Nurses have held various protests in different cities across Iran because they do not receive their salaries and wages despite working under harsh and harmful conditions.
Nurses and teachers, rural women hold protests to demand their rights
Women of Nasrabad village in Yazd, held a protest on Tuesday, July 30, 2019, demanding release of protesters to confiscation of their lands. They demanded freedom of the men who had stood up to the plunder and confiscation of their lands. The women gathering outside the Governor's Office in Taft, held a placard which read, "Either stop confiscation of our lands or listen to our grievances, or release those who have been imprisoned in this regard."
The protesting women said, "There are no one left in Nasrabad. They should arrest the remaining few and pave the way for the confiscation of our lands."
Nasrabad is a village located in the cool areas of Yazd in central Iran.
A group of civil activists including a number of women activists went to the Department of Education of Shahriar, to follow up on the situation of Mohammad Habibi. They said the department had rejected the request for granting him paid leave. The rejection is significant because the Department of Education can subsequently lay off Mohammad Habibi since his imprisonment has become lengthy.
Imprisoned teacher Mohammad Habibi, was arrested for the second time on May 10, 2018, in the teachers' gathering on Teachers' Day in Iran. He has been sentenced to a total of 9 years in jail plus 74 lashes. He has also been deprived of having activities with any political or social party or group and of leaving the country for two years.
https://women.ncr-iran.org/2019/08/03/nurses-and-teachers-rural-women-hold-protests-to-demand-their-rights/
--------
URL: https://www.newageislam.com/islam-women-feminism/with-female-lgbtq-prayer-leaders/d/119383
New Age Islam, Islam Online, Islamic Website, African Muslim News, Arab World News, South Asia News, Indian Muslim News, World Muslim News, Women in Islam, Islamic Feminism, Arab Women, Women In Arab, Islamophobia in America, Muslim Women in West, Islam Women and Feminism