New Age Islam News Bureau
23 Jun 2015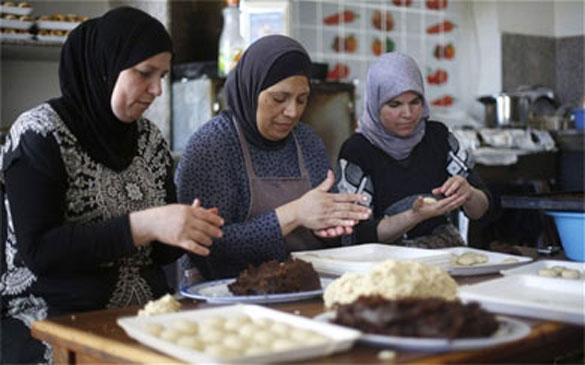 Palestinian women prepare sweets for sale ahead of Eid al-Fitr Photo: REUTERS/Mohamad Torokman
---------
• 2 Female Suicide Bombers Kill 30 in Northeast Nigeria
• Annoying Remarks UK Muslim Women Are Sick of Hearing at Ramadan
• Saudi Women Can Become Hotel Chefs
• Malala Presses World Bank, UN to Set Goals on Education
• Indian Woman Throws Her Children Out Of Burning Flat To Safety in Saudi Arabia
• Racist Jibe against Obama by Israeli Minister's Wife
• The Women Helping To Fight Extremism in the UK
• Baghdadi's Ex-Wife Gives Birth In Lebanese Hospital: Report
• Rights Group Slams Malaysian Court for Sentencing 9 Transgender Women to Fines, Jail
• 60-Year-Old Malay Woman Wants Muslim Name Dropped From Identification Card
• Fury over Gender Ban in Bordeaux Muslim Grocery Store
Compiled by New Age Islam News Bureau
URL: https://www.newageislam.com/islam,-women-and-feminism/new-age-islam-news-bureau/will-kanizan-be-the-first-woman-to-be-executed,-in-pakistan?/d/103617
----------
Will Kanizan Be The First Woman To Be Executed, in Pakistan?
By Rana TanveerPublished: June 23, 2015
LAHORE: Fifty-four-year-old Kanizan may in time claim the dubious distinction of being the first woman to be executed.
In her ardour for the love of one man, Kanizan has now languished in jail for 26 years. A resident of Toba Tek Singh, Kanizan was handed the death penalty for seven murders that she carried out with her accomplice and lover Khan Muhammad in 1989. Khan was hanged in 2003, but so far, Kanizan has escaped execution because she is mentally unwell. Her appeals were earlier dismissed by the Supreme Court.
Kanizan was recently shifted from Multan Women's Jail to Kot Lakhpat Jail for execution. Jail authorities, however, found her mental condition unstable and admitted her to the Punjab Institute of Mental Health in Lahore, where she is still under treatment.
Superintendent of Kot Lakhpat Jail, Asad Javed Warraich, told The Express Tribune that finding her mentally unwell, jail authorities have sent a reference to the Punjab home department for a final decision about her execution. The only obstacle to her hanging is her mental condition, otherwise, she would have been executed already, he said.
Kanizan is accused of killing five minor siblings and their mother, who were found slaughtered at their house in Kukranwala village on July 28, 1989. Khan Muhammad had registered an FIR against an unidentified accused for killing his eight-month pregnant wife Mariam Bibi and children Shaukat Ali, 4, Razia,6, Liaqat Ali, 7, Hanifan Bibi, 9, and Aslam Ali, 13.
It later turned out that it was Muhammad himself who had committed the murders. After his arrest, Muhammad confessed to the multiple killings in connivance with Kanizan. The police also arrested Kanizan and charged them both of individually killing three people with an axe and a knife.
Wahab Bub, a resident of the same village, said after the murders, the area's residents and people from neighbouring villages boycotted Kanizan and all of her relatives. He passed judgement about her previous marriages and her love for Khan.
Khan's nephew Muhammad Imran said the two had initially claimed that their djinns had made them kill the family, but it was revealed during investigations that Khan had killed his family so he could marry Kanizan.
At present, Kanizan remains the only condemned woman prisoner whose appeals against the execution have been dismissed by the Supreme Court as well as the President of Pakistan. The total number of condemned women prisoners in Punjab stand at 47.
There are no other clemency appeals of condemned women prisoners from Punjab pending before the president, the Federal Shariat Court or the General Headquarters of Pakistan Army. Four appeals of condemned women prisoners from the province are pending before the Supreme Court, while 42 appeals of women prisoners are pending before the Lahore High Court.
http://tribune.com.pk/story/908184/will-kanizan-be-the-first-woman-to-be-executed/?utm_source=Daily+Roundup+Newsletter&utm_campaign=02263316df-Daily_Roundup_5pm&utm_medium=email&utm_term=0_19961368d8-02263316df-65338937
--------
2 female suicide bombers kill 30 in northeast Nigeria
June 23, 2015
BAUCHI: Two girls blew themselves up on Monday near a crowded mosque in northeast Nigeria's biggest city, killing about 30 people, witnesses said.
It is the fourth suicide bombing this month in Maiduguri, which is the birthplace of the Boko Haram Islamic extremist group.
Fishmonger Idi Idrisa said one teenager exploded as she approached the mosque crowded with people from the nearby Baga Road fish market, performing afternoon prayers during the holy month of Ramazan.
The second teen appeared to run away and blew up further away, killing only herself, he said.
Civilian defence fighter, Sama Ila Abu, said he counted at least 30 corpses as he helped to collect the dead. Both men said said there were many injured being sent to the hospitals.
Boko Haram has kidnapped hundreds of girls and women and the numbers of female suicide bombers has raised fears that it is using the captives in its campaign.
A military bomb disposal expert has told the AP that most bombs carried by girls and women have remote detonation devices, meaning the carrier cannot control the explosion.
Boko Haram has stepped up attacks since Nigeria's new President Muhammadu Buhari announced the military command center is moving from the capital Abuja to Maiduguri in Borno State.
The attacks come as Nigeria and its neighbours are preparing to strengthen a multinational army that this year drove Boko Haram out of the towns and villages where it had set up a so-called Islamic caliphate.
But bombings and hit-and-run attacks have continued, along with cross-border raids.
On Thursday, a group of the extremists attacked two towns in neighbouring Niger, killing at least 40 people, the government said.
In its first attack on Chad, suicide bombers a week ago simultaneously attacked two buildings including the national police academy in N'Djamena, the Chadian capital, killing at least 33 people.
http://www.dawn.com/news/1189761/2-female-suicide-bombers-kill-30-in-northeast-nigeria
----------
Annoying Remarks UK Muslim Women Are Sick of Hearing at Ramadan
By Radhika Sanghani3:00PM BST 22 Jun 2015
Every year, a significant proportion of the 2.71 million Muslims living in the UK will celebrate Ramadan – the ninth month of the Islamic calendar.
This year it began on June 18 and will finish on July 17. For these 30 days, those Muslims observing the festival will fast during daylight hours.
That means no food, liquids, smoking or sex. They can eat and drink two meals a day – before dawn and after sunset – but that's it.
Most people who fast have been doing it for years, and it doesn't drastically affect their daily lives. They'll still go to work, or look after their families.
The only difference is they'll be doing it on less fuel, and they'll be forced to hear the opinions of everyone around them.
For women, it can be even worse as they'll be subjected to a very specific set of questions that most of them are sick and tired of hearing.
Here are some of the worst offenders I've collected via social media and from speaking to Muslim women:
'Do you lose lots of weight? You must look so skinny at the end of it.'
Firstly, this is not the point of Ramadan. In Qu'ran it says Muslims should fast "to attain Taqwa [God-consciousness]".
Secondly, starving the body of food can lead it to burn fat and eventually lose weight - though it still requires healthy eating, with a balanced diet. But in some cases, people will actually gain weight if they consume large portions of calorific food when they break their fast.
'Why have you stopped fasting?!'
Muslim women cannot fast when they have their periods – instead they make up those days at a later date. Chances are that if a woman was fasting but suddenly stopped, it's because she's menstruating and probably doesn't want to discuss that with the whole office.
Anisa Subedar, a radio producer, tells me: "I don't fast when I'm on my period because God understands how dreadful I'm going to feel and how all I want to do is bury my face in a plate of doughnuts."
'What do you do if you're pregnant?'
Pregnant women and those breastfeeding don't have to fast, according to Islamic texts. If they want to, they can discuss it with their doctor.
Do you have to cover your hair because you're fasting?
Subedar says people often ask her this. Her response? "No."
Wearing headscarves or Niqabs is not related to fasting for Ramadan.
'I thought you were too intelligent to fast?'
It shouldn't need saying but intelligence, or a lack thereof, has nothing to do with Ramadan. People who fast do it out of a sense of religious duty.
'Should you really be going to the gym?'
If people are eating healthily when they break their fast, it's really their choice.
'If you eat your lipstick do you break your fast?'
"No - make-up doesn't count,"Subedar explains: "It's all about intention (niyaah). If my intention was to constantly graze on my lipstick to get me through my fast then it probably negate my reasons to fast. Besides, lipstick isn't particularly nutritious."
And for good measure, here are a few more pesky questions and remarks Muslims of both genders loathe:
'Are you hungry?'
Probably, but you reminding them doesn't help...
'It's so wrong - I couldn't do it'
"Try it," says Subedar. "You'll be amazed at what your body is capable of."
'Why should you get allowances at work?'
'God wouldn't care if you ate'
'Not even water?!'
Nope. Not even water.
http://www.telegraph.co.uk/women/womens-life/11691472/Ramadan-Stupid-remarks-Muslim-women-are-sick-of-hearing.html
----------
Saudi women can become hotel chefs
23 June 2015
JEDDAH: The Ministry of Labor has decided to allow Saudi women to become chefs at hotels.
However, it would continue to ban them from working in these positions at furnished apartments because they are often exploited to work as receptionists or in other jobs, a local publication has reported.
Many Saudi women have become famous for preparing food, with several posting their creations on social networking sites such as Instagram and Facebook. Many have also started their own food production and delivery businesses.
One hotel owner said many hotels, especially five-star facilities, target foreign tourists. "Seventy five percent of visitors at these hotels are foreigners. Therefore, hotels prefer to hire foreign chefs for their experience in preparing international cuisine including local food. However, hotels in the Kingdom that prefer local food can benefit from the services of Saudi women," he said.
Hotels have become accustomed to recruiting foreign chefs because of their experience in producing cuisine from nations across the world.
http://www.arabnews.com/featured/news/766186
----------
Malala presses World Bank, UN to set goals on education
June 23, 2015
WASHINGTON: Nobel Peace Prize laureate Malala Yousafzai urged the World Bank and United Nations on Monday to raise the focus of education in their new millennium goals.
Malala, who in 2012 survived a severe gunshot in the head for her support of girls' schools in Pakistan, met with World Bank President Jim Yong Kim to discuss the coming package of official Sustainable Development Goals the United Nations plans to release later this year.
"It is very important that we raise our voices to speak out for girls deprived of a secondary education," Malala said.
"To help all girls and boys achieve their full potential, we should make sure the Sustainable Development Goals include a commitment to fund a 12-year quality and free education for all children, especially girls," the 17-year-old said.
In September the United Nations will weigh proposals for the Sustainable Development Goals, a series of targets for countries to achieve over the next 15 years. They will replace the Millenium Development Goals created in 2000 for the first 15 years of the century.
A meeting is scheduled in Addis Ababa, Ethiopia, in mid-July to find ways to finance the new targets.
http://www.dawn.com/news/1189941/malala-presses-world-bank-un-to-set-goals-on-education
----------
Indian Woman Throws Her Children Out Of Burning Flat To Safety in Saudi Arabia
Last updated: Monday, June 22, 2015
MADINAH — An Indian mother has been commended for her bravery after saving her three children from a fire that started in her kitchen.
Umm Nabeel was preparing suhoor (pre-dawn meal) for her husband in their apartment on the second night of Ramadan when the fire started and spread to other parts of the two-bedroom flat.
She told local daily Al-Madina on Monday through a translator, her husband Mohammed Ajmal, that she had to decide quickly before she and her three children suffocated.
"I had to take the risk of throwing my three children out of the window, which was seven meters high or watch them being roasted alive," she said.
Umm Nabeel said the approaching fire and the dense smoke left her no choice but to take the chances of throwing her children out in the hope they might survive.
"If I kept them inside the apartment we would all get burned. I started with my younger daughter Alyan who is 3. I closed my eyes and threw her out of the widow."
The mother said luckily their father and some young Saudi men brought a long white cloth and suspended it under the window to cushion their fall.
Umm Nabeel said she then threw to safety her two other children — Nabeel, who is 12, and Shifa, 10. "I was the last to jump, but none of us was hurt or injured.
Thanks to Allah, we are all safe." Umm Nabeel thanked Madinah residents who provided her with an alternative apartment in Al-Nasser District.
"The most difficult moment through the entire ordeal was when my daughter asked me whether we were all going to die," she said.
http://www.saudigazette.com.sa/index.cfm?method=home.regcon&contentid=20150623248113
----------
Racist jibe against Obama by Israeli minister's wife
Last updated: Monday, June 22, 2015
AL-QUDS — The flamboyant wife of Israeli Interior Minister Silvan Shalom published an "inappropriate joke" Sunday about US President Barack Obama on her Twitter account, only to later delete it and apologize.
"Do u know what Obama Coffee is? Black and weak," Judy Shalom Nir-Mozes wrote to her 74,400 followers. Online shock, condemnation and accusations of racism later led her to delete the incriminating tweet.
"I apologize, that was a stupid joke somebody told me," she wrote on her @JudyMozes Twitter account in English.
"President Obama I shouldn't have written the inappropriate joke I heard," she also wrote, addressing the US leader directly.
"I like people no matter about their race and religion." "Sorry if I caused any offense to anyone. I hope I will stay married when my husband will land and hear what I did," she added.
Her husband, a member of Prime Minister Benjamin Netanyahu's Likud party, is also the minister charged with strategic ties with the United States.
The outspoken Nir-Mozes is a scion of the Mozes family that owns the top-selling Yediot Aharonot daily. She hosts a weekly radio program as well as participating in a number of television shows.
She publishes blunt tweets and Facebook posts about a wide range of social and political issues, including criticizing members of Israel's political left for what she perceives as their lack of patriotism. Netanyahu is also a regular target for her criticism. — AFP
http://www.saudigazette.com.sa/index.cfm?method=home.regcon&contentid=20150623248079
----------
The women helping to fight extremism in the UK
20 June 2015
A group of Muslim people in Leeds have been working with the local community to combat extremism and try to prevent young British people from travelling to the Middle East to join militant groups.
Baroness Warsi has criticised David Cameron for calling on British Muslims to do more, saying that it risks alienating those who are working to prevent radicalisation.
Jayne McCubbin reports.
http://www.bbc.com/news/uk-33210339
----------
Baghdadi's Ex-Wife Gives Birth In Lebanese Hospital: Report
Jun. 23, 2015
BEIRUT: The ex-wife of ISIS chief Abu Bakr al-Baghdadi, who is formally under the custody of Lebanese authorities, allegedly gave birth at one of Lebanon's military hospitals, pan-Arab daily Al-Hayat reported Tuesday.
The daily cited judicial sources as saying that Iraqi national Saja Hamid al-Dulaimi, who was three weeks pregnant from her Palestinian husband Kamal Khalaf when arrested in November last year, gave birth at a military hospital in Lebanon. The report did not mention when the woman gave birth.
The infant is reportedly still with Dulaimi at a General Security detention center.
Dulaimi, one of Baghdadi's wives, was married to him for a short period six years ago.
She was detained with her daughter in north Lebanon after she was found carrying a fake passport.
Al-Hayat said Khalaf remains at large, despite previous reports saying that he was detained along with his wife.
The last audio message purportedly from Baghdadi came in November, days after Iraqi officials said he was wounded in an airstrike on an Iraqi town near the Syrian border.
Baghdadi has only appeared in public once, in a video showing him delivering a Friday sermon in the northern Iraqi city of Mosul last July, shortly after it was captured by his group.
http://www.dailystar.com.lb/News/Lebanon-News/2015/Jun-23/303394-baghdadis-ex-wife-gives-birth-in-lebanese-hospital.ashx
-------
Rights group slams Malaysian court for sentencing 9 transgender women to fines, jail
Jun 22, 2015
KUALA LUMPUR, Malaysia – Human Rights Watch on Monday criticized a Malaysian Islamic court for fining nine Muslim transgender women for cross-dressing and jailing two of them for a month.
Religious authorities in northeastern Kelantan state arrested the group in a raid on June 16 and they pleaded guilty the next day, the New York-based watchdog said in a statement. Their lawyer has filed an appeal and the two sentenced to jail were released on bail pending the outcome, it said.
"The raid is the latest incident in a pattern of arbitrary arrests and harassment of transgender women in Malaysia," it said.
Human Rights Watch has called Muslim-majority Malaysia one of the world's worst countries for transgender people as they face constant harassment, sexual abuse and arrest by Islamic authorities.
Since the 1980s, every state has passed Shariah criminal enactments that institutionalize discrimination against transgender people. All 13 Malaysian states prohibit Muslim men from "dressing as women," while three states also criminalize "women posing as men," it said.
Malaysian transgender rights activist Thilaga Sulathireh said one of the nine transgender women was celebrating her birthday with family and friends in a private party at a hotel when they were detained. She said the two were sentenced to jail because they had been arrested several times previously for cross-dressing.
"Laws against cross-dressing not only deny transgender women in Malaysia their fundamental rights but also contribute to a hostile environment," said Thilaga, who is with the Justice for Sisters group.
Last November, three Muslim transgenders won a landmark ruling in a civil court against Shariah law banning them from cross-dressing. The Court of Appeals unanimously ruled that the Shariah law in southern Negeri Sembilan state was discriminatory as it failed to recognize men diagnosed with gender identity issues and deprived transgenders of the right to live with dignity.
The state's Islamic Religious Department has appealed the ruling to the top Federal Court, with a hearing due in August.
Figures for how many people have been arrested and sentenced under the law are not known, but Human Rights Watch last year said it interviewed transgender women who said they had been jailed from four months to three years. Several of them were placed in male wards, where they face sexual assault from both guards and other prisoners, it said.
http://www.570news.com/2015/06/22/rights-group-slams-malaysian-court-for-sentencing-9-transgender-women-to-fines-jail/
----------
60-Year-Old Malay Woman Wants Muslim Name Dropped From Identification Card
FMT Reporters | June 23, 2015
OHOR BAHRU: A 60-year-old woman who was converted to Islam at the age of 13 by her father wants her Muslim name removed from her identification card.
Heng Kim Lan said her father never taught her about Islam and she did not practise the religion all her life.
She has also lodged a police report requesting that her Muslim name be dropped.
Heng said this at a press conference organised by the Johor Warisan complaint bureau at the southern Johor Chinese Press Club building yesterday.
The Sun Online reported that her late father, Heng Gee Peng @ Othman Abdullah was a Muslim convert since 1957 and he died in 1980.
Heng said her father took her to the National Registration Department when she was 13 to apply for her identification card and he put two names on it – Heng Kim Lan @Fauziah bt. Abdullah.
Her mother was not a Muslim convert.
She said seven of her nine siblings had removed their Muslim names from their IC many years ago.
Heng, who has been working overseas, realised that it was becoming more difficult to remove the Muslim name from the IC.
Johor Warisan chief Syed Othman Syed Abdullah said he would help Heng to drop the Muslim name from her IC.
http://www.freemalaysiatoday.com/category/nation/2015/06/23/woman-wants-muslim-name-dropped-from-ic/
----------
Fury over gender ban in Bordeaux Muslim grocery store
By Henry Samuel
22 Jun 2015
The south-eastern French wine capital of Bordeaux is up in arms over a Muslim-owned grocer's decision to impose male and female-only days for customers.
A small sign outside the De L'Orient à L'Occidental (From East to West) store stipulated that women were only welcome on Mondays, Tuesdays, Wednesday and Fridays.
Men, on the other hand, were kindly asked to take their custom elsewhere on weekends.
The gender split was put in place by the store's owners, recent converts to Islam, to make sure women and men do not meet.
Jean-Baptiste Michelon, the store's co-owner, said: "It's really for practising Muslims. A man doesn't want to find himself alone with a woman. A woman who comes to buy books here doesn't want to find herself alone with a man, especially out of respect if she is married."
"I don't think her husband would accept such things," he told BFM TV, adding that the rule did not apply to non-Muslims.
But it invoked the wrath of local authorities, with Bordeaux mayor Alain Juppé calling for authorities to intervene to "put a stop to such discriminatory practices" that could lead to "criminal charges".
He said he "firmly condemns behaviour that is totally contradictory to the rules of the French Republic's rules on equality and (gender) mixing."
Naïma Charaï, a Socialist regional councillor and head of French equality group ACSE, criticised the gender-specific opening hours, saying they were "unimaginable and unacceptable".
"Respect for the republic should be seven days a week," she wrote on Twitter.
Marik Fetouh, the deputy mayor of Bordeaux in charge of equality, told 20 Minutes newspaper that the ban was unprecedented.
"This is the first time we've seen something like this in Bordeaux," he said, adding that gender-specific rules in shops were not typical for Muslims in the region.
"It's problematic because it creates a bad image for the Muslim community, who actually abide by 99 per cent of the laws of France."
Mr Fetouh said that gender discrimination cases can see penalties of up to five years in prison and fines of up to €75,000 (£54,000).
Florian Philippot, vice president of the far-Right Front National, waded in to the row, saying: "If it proves correct, they should close down this shop that is flouting our laws and basic principles".
With the controversy snowballing on Monday evening, the owners decided to take down the sign.
He told France Bleu: "I thought it was more practical. But I didn't expect all of this. People have told me it's discriminatory and I don't want to be an outlaw."
http://www.telegraph.co.uk/news/worldnews/europe/france/11692358/Fury-over-gender-ban-in-Bordeaux-Muslim-grocery-store.html
----------
URL: https://www.newageislam.com/islam,-women-and-feminism/new-age-islam-news-bureau/will-kanizan-be-the-first-woman-to-be-executed,-in-pakistan?/d/103617