New Age Islam News Bureau
17 Jan 2015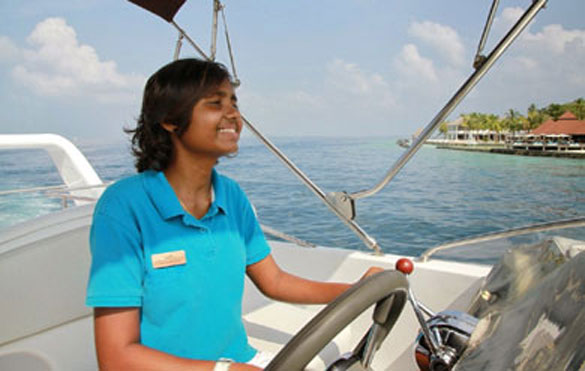 Aishath Rizuna "Rizu", Maldives' first female boat Captain
------------
• Istanbul Suicide Bomber Was 'Teen Widow of Norwegian IS Jihadist'
• Anjali Wasn't Allowed To Live With Husband: Sindh High Court
• British Police Arrest 18-Year Old Woman on Suspicion of Terrorism
• The Widow of a Paris Terrorist and Other Real Wives of Islamic State
• Oceans New – Maldives' First Female Boat Captain
• Women's Sporting Rights: The Battle is in Philadelphia... and Riyadh
• Syrian Women and Children Struggle In Lebanon
• British Mother 'Flees from ISIS to Turkey after Realising Her Mistake'
• Malala's 'Action/2015' Campaign Against Inequality, Poverty Launched World Wide
• Pak Girls School in Rajgarh Gets 'Threat Note'
• Saudi Artist Depicts Women Suffering Through Art
Compiled by New Age Islam News Bureau
URL: https://www.newageislam.com/islam,-women-and-feminism/new-age-islam-news-bureau/will-a-'remove-the-hijab'-campaign-turn-heads-in-egypt?/d/101083
-----------
Will A 'Remove The Hijab' Campaign Turn Heads In Egypt?
17 Jan, 2015
The headscarf, or "Hijab," has always been a controversial issue in Egypt, with most clerics saying it is obligatory in Islam, while intellectuals call it a tradition rather than a religious rule.
The controversy intensified with a campaign called "The International Day for Taking Off the Headscarf," launched in Sept. 2013 by Bahaa Anwar, head of the Secular Party of Egypt and a prominent Egyptian Shiite.
The campaign never took off, but the debate has continued into 2015.
"The headscarf is not obligatory in Islam and it is used by clerics to control women. A piece of cloth cannot possibly determine how religious a woman is," said Anwar, adding that his party planned to provide counselling for women who are forced to wear the headscarf or want to take it off.
Politics
Many commentators say taking off the Hijab is politically motivated. Psychology professor Rashad Abdel Latif said a year of Muslim Brotherhood rule led youths to associate religion with extremism. "Women took off the headscarf as a statement against extremist ideas promoted by the Brotherhood and other Islamist factions," he said.
Professor of political sociology Saeid al-Sadeq said the Brotherhood and its supporters tarnished the image of Islam. "Islamists used a violent discourse, and they followed talk about Islamic law with threats of torture and murder," he said.
Professor of psychology Mohamed Nabil said the Brotherhood was incapable of understanding the nature of the Egyptian people. "They did not realize that Egyptians will be repulsed by the aggressive ways they used to promote Islamic principles, and will never be forced into doing something through such terrorizing acts," he said.
Abdel Latif, Sadeq and Nabil also linked the phenomenon of taking off the hijab to the rise of atheism in Egypt, citing the latter as another consequence of Brotherhood rule.
Journalist Sara Allam linked taking off the headscarf to the rebellious atmosphere that has prevailed since the Jan. 25 revolution that toppled President Hosni Mubarak. "The 2011 revolution reshaped the Egyptian society as rebellion was proven to yield fruits," she wrote, adding that this specifically affected women who played a major role in toppling the regime and realized they were capable of challenging other taboos.
"Women started reconsidering their position in society, and rebellion extended to the general patriarchal system," she wrote. "That is when the legend of the veil fell, and women who claimed they were wearing it out of conviction admitted they were victims of a manipulative religious discourse." Taking off the Hijab, Allam said, was no longer the taboo it used to be.
Religion
However, Islamist analysts and supporters of the headscarf have focused on religion rather than politics. Safaa Salah al-Din, one of the administrators of preacher Amr Khaled's website, says many girls wear the Hijab without knowing its religious value, either because they are forced by their parents upon puberty, or because religious institutions do not sufficiently raise religious awareness.
Salah al-Din also criticized veiled women who behave in an un-Islamic manner, thus providing a bad example to others. "We cannot only blame the woman who takes off the headscarf, but also the surroundings that did not help her to understand the value of such a step," she wrote.
Psychologist Amr Abu Khalil blames the clergy's post-revolution behaviour for women's growing disinterest in wearing the headscarf. "When preachers started getting involved in politics, women no longer found the support they needed to keep the headscarf," he said. "The same happened with men who became reluctant to marry veiled women, and this encouraged women even more to take off the veil."
Fashion
Azza Kurayem, a sociology professor and advisor at the National Center for Social and Criminal Studies, focuses on the social aspect of the phenomenon, as she links the headscarf to fashion trends.
"In the sixties, when liberal ideas were promoted, women wore miniskirts and men had long hair, then it got more conservative in the seventies and eighties and this is when the headscarf started spreading," she said. Similarly, the hijab "started off strict, then women began wearing tighter and more revealing clothes while keeping the headscarf, until they eventually took it off."
http://english.alarabiya.net/en/perspective/analysis/2015/01/15/Will-a-remove-the-hijab-campaign-turn-heads-in-Egypt-.html
------------
Istanbul suicide bomber was 'teen widow of Norwegian IS jihadist'
17 Jan, 2015
The woman from Russia's Daghestan Republic who allegedly executed a suicide bombing attack in central Istanbul on Jan. 6 was the wife of a Norwegian extremist of Chechen origin, with whom she spent three months in Istanbul and passed the Syrian border.
After Turkish media reported the assailant's identity as Diana Ramazova, a Russian-language news website, Kavkazpress, reported that she was a Russian citizen from the Republic of Daghestan, who was "radicalized by the Wahhabi ideology."
Ramazova was the widow of Abu Aluevitsj Edelbijev, a Norwegian citizen of Chechen origin, who she had met online and married in 2014 in an Islamic religious ceremony, though it is not known where the ceremony was conducted. Edelbijev died in Syria in December 2014 fighting with the Islamic State of Iraq and the Levant (ISIL).
The couple spent three months in Istanbul in 2014. Ramazova entered Turkey from Russia with a tourist visa in May 2014, while no entrance logs for Edelbijev have been found, raising the suspicion that he entered the country illegally.
It is not known whether the couple spent the three months in Istanbul on a honeymoon or if they were participating in ISIL activities and meeting with fellow extremists while in the city.
According to Turkish and Norwegian intelligence sources, Ramazova and Edelbijev traveled to Syria in July 2014, took the names "Sümeyra" and "İdris," respectively, and fought for ISIL.
Ramazova illegally reentered Turkey on Dec. 26, 2014, through the southeastern province of Gaziantep on the border with Syria, after Edelbijev was killed.
She then allegedly proceeded to blow herself up on Jan. 6 at the Tourism Police Station in Sultanahment, one of Istanbul's most popular tourist districts, killing one policeman, Kenan Kumaş. It is not yet known where she obtained the grenades she used for the explosion.
Before the suicide bomber's identity was revealed by the authorities, the outlawed Revolutionary People's Liberation Party/Front (DHKP/C) claimed the attack.
However, the family of the alleged DHKP/C bomber, identified as Elif Sultan Kalsen, said the body at the morgue did not belong to their daughter.
http://www.hurriyetdailynews.com/suicide-bomber-who-attacked-istanbul-police-was-married-to-norwegian-isil-jihadist.aspx?pageID=238&nID=77070&NewsCatID=509
---------
Anjali wasn't allowed to live with husband: Sindh High Court
17 Jan, 2015
KARACHI: Anjali Kumari Meghwar, who was named Salma after she was said to have converted to Islam, was not allowed to live with her husband by the Sindh High Court for the controversy over her age, it emerged on Friday when the final order on the petitions of her father and mother-in-law was issued to the press.
A division bench headed by Justice Sajjad Ali Shah had on Wednesday disposed of the petitions of Anjali's father, Kundandas Meghwar, against her forced conversion and her mother-in-law, Mai Bashiran, who sought quashment of the kidnapping case against her son.
Almost all major newspapers had initially reported on Thursday that the division bench had dismissed the petition of Anjali's father against her "forced conversion" and "forced marriage" and that she was allowed to live with her husband.
The reports sparked a wave of criticism and the deputy speaker of the provincial assembly criticised the judiciary, declaring that the provincial government would adopt a legal course in the backdrop of the SHC order.
However, the SHC on Friday cleared the air and issued two orders of the division bench passed in the two petitions.
The first order was passed after the first session of the hearing on the morning of Wednesday when the bench heard the counsel for the two parties. The bench, with the consent of the two sides, ordered production of Anjali at 1pm for meeting her parents and husband before she recorded her statement.
The bench also said in its first order that "and if she [Anjali] wishes to go with her parents she would be allowed and in case she wishes to go with the Respondent No. 8 Riaz Ahmed Siyal son of Muhammad Baksh Anwar Siyal, she would accordingly be allowed".
Later, Anjali was produced in court accordingly and further proceedings were held at Justice Shah's chamber where the investigation officer of the kidnapping case against her husband recorded her statement.
According to the bench's second order, which was issued to the press on Friday, counsel for Anjali's father pointed out that the girl was only 12 and a half years old and a case under Sections 3 and 4 of the Sindh Child Marriage Restraint Act, 2014 stands registered and therefore she could not be allowed to go with her husband.
The second and final order said: "Consequently, we asked the investigation officer to disclose as to whether her age has been determined by the medical board, the investigation officer submitted that according to the report her age is between 14 to 15 years. Under these circumstances, we asked Mst Anjali whether she wants to accompany her parents but she refused and stated that she wants to go with her husband, however, keeping in view that there are three versions regarding age of Mst Anjali i.e 12 ½ years as per her father, 14 to 15 years as per medical report and 18 years as per her own statement, therefore, she cannot be allowed to go with her husband unless her age is determined, otherwise, it would frustrate the very purpose of Child Marriages Restraint Act XV of 2014."
The bench also observed in its second order: "Since Mst Anjali Bai (Muslim name Mst Salma) is not willing to go back with her parents, therefore, we while sending her back to Pannah Shelter Home leave it for the prosecution to prove her actual age before the court where a case is pending against the Respondent No. 8 Riaz Ahmed Siyal under Section 3 and 4 of the Sindh Child Marriage Restraint Act."
Anjali's father had asked the court to declare that Anjali was an underage person and no statement under Section 164 of the criminal procedure code could be recorded at this stage or if her statement was necessary then a judicial magistrate in Karachi might be authorised to record her statement.
The petitioner father said that her daughter was 12 years old and she was abducted and forced to convert to Islam. However, the young girl told the judges that she embraced Islam and married Riaz Siyal of her own volition.
http://www.dawn.com/news/1157497/anjali-wasnt-allowed-to-live-with-husband-shc
---------
British Police Arrest 18-Year Old Woman on Suspicion of Terrorism
17 Jan, 2015
British police have arrested an 18-year old woman at a London airport on suspicion of preparing acts of terrorism and membership of a banned organisation, a police statement said.
Her arrest on Friday after she arrived on a flight at Stansted airport was connected to a prior investigation which had already resulted in the arrest of a 21-year-old man in October last year.
The woman was taken to a London police station where she remains in custody, the police said.
The arrest is the latest in a series carried out by British counter-terrorism officers since the country's threat level was raised in August to its second-highest level because of risks posed by Islamic State fighters returning from Iraq and Syria.
Much of Europe is currently on heightened security alert after last week's killings in Paris and raids in Belgium in which two gunmen were killed.
British Prime Minister David Cameron is in the United States for two days of talks with President Barack Obama where they have said they would tackle the threat posed by extremists.
http://www.thehindu.com/news/international/british-police-arrest-woman-on-suspicion-of-terrorism/article6796916.ece
----------
The Widow of a Paris Terrorist and Other Real Wives of Islamic State
17 Jan, 2015
ISTANBUL—On the CCTV footage released by Turkish police, the widow of one of the Islamic fanatics responsible for last week's terror rampage in Paris comes across as prim, even drab, as she goes through passport control at the airport here.
Hayat Boumeddiene's tightly drawn white headscarf and hooded coat is a cultural world away from the scanty bikini she was wearing in a photograph that showed her on a beach fondly clutching future assassin Amedy Coulibaly. The holiday snap was taken before 2009, when she started to cover herself up with scarves and veils.
The transfer is startling from sun-worshipper and eager holidaymaker to the buttoned-up moll of an Islamic assassin. The 26-year-old looks giddily in love cuddling Coulibaly—a display of public affection hardly in keeping with the puritanical strictures of Salafi jihadis.
Her now-dead partner also used to pursue a lifestyle that clashed with the teachings of Islamic militants. Neither were paragons of religious rectitude. French police arrested Coulibaly on a string of theft and drug offenses before he embarked on the path of jihad and ended up gunning down four Jews at a kosher supermarket in Paris last week. In the caliphate of the self-styled Islamic State, where, according to Turkish authorities, Boumeddiene has found sanctuary and to whom Coulibaly apparently aligned himself, theft and drug use incur far worse punishments than those meted out by the unenlightened West—including flogging, amputation, and execution.
But then Boumeddiene and Coulibaly aren't unique in having exited rowdy alternative lifestyles totally at variance with Islamic puritanism, embracing instead the simplicity of jihad. Although Coulibaly, it seems, observed the conservative demands a little less than his consort. During a 2010 interview with police investigators, Boumeddienne admitted Coulibaly "wasn't really religious" and liked to "have fun."
Some Westerners do indeed appear to have been devout before traveling to Syria or aligning themselves with jihadis—although how knowledgeable the really young ones or the obviously disturbed are about their religion remains questionable. Some of the frantic devotion has the ring of hollow religiosity, ritual without content, more cult-like than anything else.
Even so, Melanie Smith, a researcher with the International Centre for the Study of Radicalization, has argued that many of the estimated 200 or so Western girls and women who have gone to Syria to join the militants "tend to be extremely pious and have been IS fan-girls for the duration of the Syrian conflict."
Aqsa Mahmood, a 20-year-old who was raised in a well-heeled Glasgow suburb and attended an exclusive Scottish girls' school, fits into that profile. She led an orderly life as a teenager—wasn't involved with boys, drugs or petty crimes. She seemed normal in most ways until she was lured and groomed online. And, according to her parents, she became more "concerned and upset" by reports of the Syrian conflict. "Aqsa, like many young people in our community, was naturally angry and frustrated at the loss of innocent life in the Middle East," the parents said at a press conference last summer after their daughter ran off to Syria to become a jihadi bride.
Other recruits to the jihadist cause, though, appear to have had a more "secular" glide path, swapping what they see as the rootlessness and chaos of their lives for the false clarity and fake simplicity offered by al Qaeda or the Islamic State (also widely known as ISIS).
That appears to be more the explanation for the recruitment of Britain's Sally Jones—an even more unlikely Salafi candidate than the bikini-wearing Boumeddiene. Jones was 45 years old when recruited and wasn't even born into a Muslim or a minority immigrant family.
Now calling herself Sakinah Hussain or Umm Hussain al-Britani, Jones, a mom-of-two from the rural county of Kent in southeast England, sneaked into Syria in late 2013 after an online romance with Junaid Hussain, a young hacker-turned-militant from the English city of Birmingham. She is thought to be living in the town of Raqqa, the de facto capital in northern Syria of the Islamic State. In online exchanges with potential Western recruits, she claims to be enjoying the strict Sharia law of the caliphate, from whence she tweets blood-chilling threats.
Her most vicious micro-missive was in the wake of the mass decapitations of 50 Syrian soldiers, in which she declared: "You Christians all need beheading with a nice blunt knife and stuck on the railings at Raqqa... Come here I'll do it for you!" She posts photos of herself posing with an AK-47 assault rifle and dressed in black niqab, which covers all of the face and body except the eyes. She and Hussain—he's 25 years her junior—are now married.
But back in the 1990s she was a member of a smalltime girl punk rock band called Krunch and was then wielding a guitar rather than an automatic rifle. She was in and out of relationships and dead-end jobs. One video clip shows her wearing a low-cut top and tight leather mini-skirt. Neighbors in the town of Chatham have described her to British tabloids as a "nightmare"—an aggressive, anarchic woman who dabbled in witchcraft and drugs and threatened to put spells on them.
A purposeless, ungrounded life stands out with Boumeddiene, too. Born in the Paris suburb of Villiers-sur-Marne, she grew up in a rundown part of the town. Her mother was devout and died when Hayat was 6. Her father was unable to cope after his wife's death and Hayat and some of her six siblings had to be taken into foster care. Her father visited her rarely and then appears to have broken with her after remarrying, although recently they are said to have reconciled. In care, she had to be moved frequently between foster homes because she proved troublesome and violent. She met Coulibaly in Juvisy-sur-Orge, southeast of Paris, while working as a cashier, a job she later lost because of her insistence on wearing the niqab.
One neighbor told French media that Coulibaly was the driving force in their partnership: "She left here with that man. He did everything and then it all came down on her. He was the mastermind."
Maybe so, maybe not. The real masterminds seem to be their jihadi mentors, who knew how to channel the purposelessness and direct the anger. Of her religion, she told detectives in 2010, "It's something which calms me down. I've had a difficult life and this religion has answered all my questions."
http://www.thedailybeast.com/articles/2015/01/14/the-widow-of-a-paris-terrorist-and-other-real-wives-of-islamic-state.html
------------
Oceans new – Maldives' first female boat captain
17 Jan, 2015
Aishath Rizna maneuvered Kurumba Maldives' two tiered speed boat out of the Malé harbour with an expertise surprising for a young captain who'd just gotten her license.
We were sailing against the wind, but her command of the vessel rivaled that of any seasoned captain – a post traditionally held by men. Rizna is the Maldives' first active female boat captain.
"I feel confident on a speed boat. It's really cool," the 24-year-old told us 15 minutes later at Kurumba Maldives' café lounge. She is sun-tanned, clad in a blue shirt and white shorts.
Rizna, also known as Rizu, joined Kurumba at the Children's club three years ago, but jumped at the chance to train as a boat captain after Kurumba fleet manager Shameem offered the opportunity.
"The fleet section is traditionally an all-male section. This is very inspirational for the management team," said a beaming Jason Kruse, Kurumba's General Manager.
Inspirational Family
Rizu draws inspiration from her family which she says has a history of strong, self-sufficient women – proudly describing her mother's skills for electrical work and how her grandmother still climbs trees at the age of 67.
She had grown up swimming, fishing, and driving boats as a child on northern Funadhoo Island in Shaviyani Atoll, before moving to Malé for secondary education.
"My father is a fisherman while my mother is a housewife," said Rizu as she sipped orange juice. "When I was small I used to go fishing with my father on a small boat."
Rizu said that her family is very proud of her becoming the country's first active female captain, especially mentioning her father, who is very happy about his daughter's achievements, encouraging her to move forward.
While school bored her, she always enjoyed snorkeling, diving, water sports. For her, working at Kurumba – and combining captaincy and recreation – is now a "vacation, more than work".
Journey to captaincy
"When Rizu came, she was very quiet and shy, but you can see her confidence build throughout and now, she leads her own crew," said Jason.
Rizu described her journey to captaincy as one of difficulty – training for a few hours every day during her free time – while recounting her very first boat lesson in which she spent over two hours practicing how to bring the boat to a perfect stop.
"The first few days were very challenging," she explained. "It was very difficult but I always thought next time I will do better."
Along with the practical aspects of boating – acquired from experienced captains working in the Kurumba fleet, she also had to learn the national regulations on seafaring and navigational theory.
"The crew was very helpful. They do not get angry at me even if I make mistakes, but instead they would give me a couple of lessons on how to correct my mistake," said Rizu of the all-male crew under her captaincy.
Speaking of Rizu's achievements, fleet manager Shameem shows great pride: "This is something I thought I'd never see."
Opportunity for women in hospitality
Meanwhile, Rizu rejected rumours regarding female employees in the tourism industry.
"Resort managements have very good rules and regulations and local employees are not allowed to do whatever they want," she said.
"People think that local employees would start drinking or go the wrong way, but we are not allowed to do any such thing," said Rizu. "Instead, there are plenty of recreational activities to keep us occupied."
Jason also highlighted the importance of increasing the female ratio of Maldivian employees in resorts, saying that there is increasing demand from female Middle Eastern clients for all female services.
"We are trying to increase our Maldivian female ration in the resorts. It's a certain area we are making some changes in order to encourage more Maldivian girls to join the resort."
Jason shared ideas of developing an all female crew speed boat which would be able to take such clients on excursions where they could confidently enjoy the full Maldivian experience by disrobing before a swim.
He shared Kurumba management's ethos of breaking boundaries by getting more females into the industry, while pointing out that the resort currently employs two local women as trainee chefs and that the spa department was also headed by a woman.
Heading out from the resort back to Malé, Rizu said that becoming a boat captain is just one step towards her ultimate dream: "travelling to every island in the Maldives in my own boat".
http://minivannews.com/feature-comment/oceans-new-maldives%E2%80%99-first-female-boat-captain-92155
------------
Women's Sporting Rights: The Battle is in Philadelphia... and Riyadh
17 Jan, 2015
A pre-teen female player has attracted widespread attention with her fight to overturn a clerical ban on her right to play football alongside boys in a co-ed league. Backed by her parents, the player initially succeeded with an online and media campaign to force the clergy to lift the ban temporarily. However, the clergy has since rescinded its decision and definitively reinstituted the ban. Not taking no for an answer, the player earlier this month launched a renewed public campaign to force the clergy's hand.
The player's name is Caroline Pla. She is an Anglo-Saxon Catholic. She's fighting her battle for equal women's sporting rights with Catholic bishops in Philadelphia, not with Muslim imams somewhere in the Middle East or North Africa. Her battle is taking place today rather than decades ago and as such serves as evidence that resistance by Muslim clergy to women's rights, including the right to play with or in proximity to men, is hardly unique. Ms. Pla's case is not an isolated incident. The Diocese in Harrisburg, Pennsylvania, adheres to the same policy. It recently ordered male Catholic youth wrestlers not to engage with their female counterparts.
Ms. Pla's story also highlights the fact that whether Muslim or Christian, rejection of women's' unrestricted right to engage in sports whether as players in Philadelphia or Saudi Arabia or as spectators in Saudi Arabia and Iran where women are banned from attending competitions in stadia has little to do with religion and everything to do with culturally conservative attitudes towards women in different parts of the world cloaked in religious arguments.
Ms. Pla's story is in many ways the same as that of Christian and Muslim players in the Palestinian women's national soccer team who tell very similar tales about the societal obstacles they had to overcome. It is also fundamentally similar to that of women in most other Middle Eastern and North African societies. It is a story of women of whatever age and cultural or religious background who are frequently supported by at least one family member in their resolve to stand up to society as a whole or their sub-community for their rights.
The similarities between Ms. Pla's story and that of women in the Middle East and North Africa takes on added significance in the wake of the Islamist violence that recently rocked Paris and that has sparked debate about whether and to what degree conservative Muslim norms differ from conservative Western values.
To be sure, Ms. Pla has a leg up on her Middle Eastern and North African counterparts. She is waging her battle in a society that encourages women's sports, values freedom of expression and upholds the right to stand up to religious or temporal authority. Ms. Pla is also waging her campaign in a country that allows women to drive and does not refer cases of violators to courts that deal with terrorism as happened recently in Saudi Arabia. Saudi Arabia is a country that also puts itself in a separate category by not including physical education in the curriculum of public girl's schools and forcing women's soccer teams to exist in a nether land
Ms. Pla started playing co-ed American football when she was still in kindergarten. Five years later, Ms. Pla and a group of friends joined a team that plays in a Catholic Youth Organization (CYO) league outside of Philadelphia. Mid-way her second season, the archdiocese of Philadelphia advised her parents that Ms. Pla could not play because football was considered a boys sport in the league handbook. In response, Ms. Pla launched an online petition that was picked up by the media and forced the archdiocese to back off. It did so with a caveat: the archdiocese retained the right to reverse its decision whenever it wished to do so.
Last summer, the clerical body announced in a statement quoted by Yahoo Sports that "preparation for Christian adulthood...involves the development and encouragement of appropriate, dignified and respectful forms of contact between male and female students. The Diocese therefore believes that it is incompatible with its religious mission and with its effort to teach Gospel values to condone competitions between young men and women in sports that involve substantial and potentially immodest physical contact. Consequently, Diocese has adopted this policy prohibiting co-ed participation in the following sports: wrestling, tackle football, and tackle rugby."
Take out the words Christian and Diocese, and the statement could have been issued by the Saudi Arabian Olympic Committee, which last year advised the International Olympic Committee (IOC) that it would allow women in a rare concession to compete in the 2016 Rio de Janeiro Olympics but only in traditional Islamic sports endorsed by a literal interpretation of the Qur'an. Mohammed al-Mishal, the secretary-general of the Saudi Arabian Olympic Committee said the kingdom was training women to compete in equestrian, fencing, shooting, and archery Olympic contests which are "accepted culturally and religiously in Saudi Arabia".
In another incident, authorities in the Saudi province of Mecca removed public television screens during last year's World Cup in Brazil to prevent men and women from mixing in violation of the kingdom's strict gender segregation rules.
The move sparked protests on social media. "Those who removed the screens showing the World Cup in the gardens didn't do it because of mixing but because they love to kill peoples' pleasure," thundered an angry soccer fan on Twitter. "If a person is sitting with his family, and he is in charge, what kind of mixing are they talking about?" asked another.
The dividing lines in Saudi Arabia were further evident in response to a YouTube video viewed by nearly half a million people. The video showed a rare female Saudi soccer fan clad in traditional all enveloping dress cheering her club, Al Hilal, against the United Arab Emirates' Al Ain in an Asian Champions League match.
Commenters on the video lined up on both sides of the argument with 1,826 dislikes and 969 likes. A proponent of the ban on women attending sporting events in stadia asserted that "we do not allow women to have 100% freedom... Most Muslim women agree with this...so I don't understand how most of the world's women wear tight clothes and walk half naked on the streets and beaches as if it were normal ..! Don't these women have brothers or fathers???"
Saudi women may be fighting their region's toughest battle for women's rights but women across the Middle East and North Africa are nonetheless making headway. To be sure, they fight their battles in an environment that is less welcoming and less conducive than that in which Ms. Pla operates. Ms. Pla's struggle is however no less significant, if only because it shows that restrictive conservative attitudes towards women are universal rather than culture or religion-specific.
James M. Dorsey is a senior fellow at the S. Rajaratnam School of International Studies as Nanyang Technological University in Singapore, co-director of the Institute of Fan Culture of the University of Würzburg and the author of the blog, The Turbulent World of Middle East Soccer, and a forthcoming book with the same title.
http://www.huffingtonpost.com/james-dorsey/womens-sporting-rights-th_b_6469098.html?ir=India
------------
Syrian women and children struggle in Lebanon
Preethi Nallu
17 Jan, 2015
New visa requirement for Syrians in Lebanon has created additional challenges for families separated by the border.
"When I bid goodbye to him, tears brimming in my eyes, I thought it would be a matter of months before we saw each other," Fatima told Al Jazeera. "Now, more than two years later, I have learned how to cope with the indefinite wait."
Fatima, who did not provide a last name, was married for less than a year before having to part with her husband, who remains in Syria. A majority of the people who now live around her in Lebanon's Bekaa Valley - at a refugee settlement where she moved in 2012 - are women and children.
In a nearby tent, mattresses are covered with blue plastic sheets, but the tent is still imbued with the smell of recent, persistent downpours. Harsh winter storms and freezing temperatures throughout the region have claimed the lives of several people, including two young children.
Hundreds of thousands of Syrian refugees who fled their country are grappling for survival in Lebanon, with no resolution in sight. And starting on January 5, Lebanon began a mandatory visa requirement for all Syrians entering the country - a measure that threatens to further sever families on different sides of the border.
According to the International Rescue Committee (IRC), a global humanitarian aid organisation, the voices of female refugees have been stifled due to an increasing burden of meeting basic needs. In a recent report drawing on more than 70,000 interviews with female refugees, the IRC found a trend of "sexual exploitation and harassment, domestic violence, and early and forced marriage". Last year, the UN refugee agency found that more than 145,000 Syrian refugee women were "fighting for survival" and caught in a spiral of poverty, isolation and fear; by the start of this year, local organisations projected that number to surpass 200,000 in Lebanon alone.
http://www.aljazeera.com/indepth/inpictures/2015/01/syrian-women-children-struggle--201511474252620136.html
------------
British Mother 'Flees from ISIS to Turkey after Realising Her Mistake'
17 Jan, 2015
A British woman who was feared to have travelled to Syria to join Isis with her toddler son is believed to have fled across the border to Turkey after realising her mistake.
Tareena Shakil, 25, is reported to have fled to Turkey after begging Turkish border guards for her life, according to The Sun newspaper.
The woman reportedly told her family she was going on holiday to Spain before leaving for Isis stronghold of Raqqa, located on the north bank of the river Euphrates in northern Syria.
Ms Shakil, who lived in Sparkbrook, Birmingham, is now reportedly being held for questioning at the Turkish immigration detention centre in the border city of Gaziantep.
An attempt to force her to marry an Isis fighter is reported to have promoted her change of heart.
"It's a miracle she escaped alive. Tareena realised when she got to Syria she had been a victim of false propaganda from IS," the woman's father, Mohammed Shakil, who lives in Burton-on-Trent, is reported to have told The Sun newspaper
"She hoped to escape to an idyllic lifestyle. Instead she found a living hell."
Ms Shakil is reported by a number of newspapers to have been a fan of the reality television show The Only Way Is Essex (TOWIE).
Ms Shakil's father reported the woman missing to Staffordshire Police in late October. The case has since been passed to West Midlands Police.
A spokeswoman for West Midlands Police said: "A 25-year-old woman from Sparkbrook was reported missing by a member of her family on October 24.
"We have since been working to establish the woman's whereabouts and that she is safe and well."
A Home Office spokesperson said all people returning for Syria and Iraq were dealt with on a case-by-case basis.
http://www.independent.co.uk/news/world/middle-east/british-mother-who-travelled-to-isiscontrolled-syria-with-toddler-son-flees-to-turkey-after-realising-her-mistake-9983150.html
------------
Malala's 'action/2015' campaign against inequality, poverty launched world wide
17 Jan, 2015
A coalition of over a thousand organisations in 120 countries has launched a global campaign under the banner of action/2015 that calls upon world leaders to agree on plans to eradicate poverty, prevent dangerous climate change and tackle inequality.
According to a statement, the campaign had been announced by Pakistani child rights and education activist Malala Yousafzai when she accepted the Nobel Peace Prize in December.
"People globally want an end to injustice, poverty and illiteracy. Our world is interconnected and youth are ready and mobilised more than ever to see real change take place," she said.
"Together, we are demanding our leaders take action in 2015 and we must all do our part. I will continue to work tirelessly to call on world leaders to seize this opportunity to guarantee a free, quality primary and secondary education for every child. That is my goal and I hope that my voice will be heard as it is the voice of millions of children who want to go to school."
According to action/2015, if world leaders duck key decisions on poverty, inequality and climate change at two crucial summits in New York and Paris later this year, almost a billion people could face a life of extreme poverty with billions more continuing to face a life of hardship. The figures were calculated by International Futures model developed at the Frederick S Pardee Center for International Futures at the University of Denver based on best and worst scenarios.
Alongside Malala, dozens of high profile activists from Queen Rania Al Abdullah and Bono to Ben Affleck, Bill and Melinda Gates and Mo Ibrahim have backed the coalition.
Throughout 2015, the campaign will provide ways for everyone everywhere to get involved in influencing the outcomes of these global debates to bring about an end to poverty in all its forms, meeting of fundamental rights, tackling inequality and discrimination and building a world where everyone can participate and hold their leaders accountable. Further, there is a push for transitioning to 100% renewable energy.
As part of the launch efforts, rallies and demonstrations will be staged in more than 50 countries across the world from Costa Rica and Bolivia to Lebanon and Liberia to Nigeria and Norway to South Africa and Sri Lanka.
http://tribune.com.pk/story/822613/malalas-action2015-campaign-against-inequality-poverty-launched-world-wide/
------------
Pak Girls school in Rajgarh gets 'threat note'
17 Jan, 2015
LAHORE: A government school in Rajgarh area of Lahore received a threat note pasted on its main entrance, creating panic among teachers, students and their parents.
According to details, unidentified persons pasted a threat note on the main gate of Government Junior Model Girls School Rajgarh. Parents who were visiting school for dropping their children read the note and informed the school administration. Officials of district administration and police reached the spot immediately. Police sent the letter to the forensic laboratory for further investigation. However, the classes began normally after the school was cleared.
School Principal Tehmina told that she heard a noise around 8:15am about the note. "We don't know who made the noise or who pasted the note," she said. She added that it was not confirmed whether the note was sent by terrorists or any other person.
It is pertinent to mention here that security of schools in Pakistan is on high alert since December 16 after a deadly attack on the Army Public School Peshawar. Educational institutions also remained closed for around 25 days over security reasons.
However, a police official told Daily Times that there was no threat by terrorists to the school, and that some locals could have done this, as people living in the neighbourhood were not happy about the opening of the new gate of the school following security arrangement. A dispute was also reported among the locals of area and the school administration, he revealed.
Provincial Minister for Food Bilal Yasin visited the school after the news of the threat letter spread. While speaking on the occasion, he said that the government had made sufficient security arrangements at schools, colleges and universities, and that police officials had been deputed there. He said that protective equipment and CCTV cameras had been installed at main gates of educational institutions. He informed that members of the Punjab Assembly monitor security of schools and colleges in their respective constituencies every morning.
Bilal added that the morale of our students is high and nefarious designs of terrorists will be foiled. He said that parents should fully support the government and send their children to school without any fear. He said that we will have to keep our morale high to cope with terrorism. Conveying a message to the parents, the minister said that they should send their children to schools and colleges and not pay heed to any rumour.
http://www.dailytimes.com.pk/punjab/16-Jan-2015/girls-school-in-rajgarh-gets-threat-note
------------
Saudi artist depicts women suffering through art
17 Jan, 2015
Fatimah Al-Nemer, an award-winning Saudi artist, began drawing when she was five; by the age of fourteen she wanted to make a career out of it.
"Initially, I used black and white, and then I used colors and began to focus on light spaces and dimensions.
Eventually, I used acrylic colors and media art to express feminine characteristics," Al-Nemer told Saudi Gazette.
Al-Nemer focuses on women's issues and their suffering. After studying plastic art, she focused on the human body through collages and acrylic colors.
Her sheer hard work and dedication has enabled her to showcase her work in the Middle East, and also at the Scandinavian Countries Exhibition, the Prince of Wales Museum in India, the Contemporary Art Exhibition at the Contemporary Art Museum in Sweden, the Jarash Festival Exhibition in Jordan, and several other venues in Kuwait, Morocco and Jeddah.
She has also received awards for Contemporary Saudi Art and calligraphy, and won a Ministry of Culture and Information youth competition.
Artists still struggle to gain recognition in the Kingdom. However, the country recently launched its first public outdoors art exhibition.
"It is difficult to hold an exhibition in the Kingdom due to the laws and regulations imposed on us, particularly in the Eastern Province.
There are so many pressures and restrictions attached to permits for exhibitions," said Al-Nemer.
"All this is because of some people that have nothing to do with art yet take a negative approach towards it.
This is what drives Saudi artists to hold exhibitions overseas. We have complicated laws and few exhibitions as a result.
Besides, most halls are located in one region," she added. Al-Nemer believes that different forms of art are interconnected.
"Art and photography can make a strong impact on the world. This is the age of globalization. We can reduce the time it takes an artist to reach stardom," she said.
The young Saudi is a full-time artist and organizes exhibitions to be held in the Middle East and abroad.
"In my eyes, all forms of art are interconnected and intertwined with each other.
Anything new and exciting can motivate me to depict things from a completely different perspective in a renewed and innovative way," she said.
Many forms of art have influenced Al-Nemer. "I love them and was influenced by them. I do not have a role model because I am still searching for beauty.
Wherever I see beauty, I feel attached to it," she said. Art is growing in popularity within the Gulf and events are being held regularly, especially in Dubai and Abu Dhabi.
People from all over the globe attend these exhibitions. "The largest art market is in the Gulf, especially Dubai, Qatar and Saudi Arabia.
We have the biggest art lovers in these countries, something that tells us that people's awareness of art has increased," she added.
"An artist is a mirror of his society. He should focus on social issues and suggest solutions because he represents the voice of people and civilization," said Al-Nemer, who is working on a project for Middle East artists that will be held in Geneva and another one in London thereafter.
"Global artists will attend the second one in September. I have another exhibition in Jeddah and I will also participate in the Arabian Wings auction, which will be held in Jeddah," she added.
Following the Islamic Arts Festival in Sharjah, Al-Nemer is to hold an exhibition in Dubai in March, which is a joint project between artists from Saudi Arabia and the United Arab Emirates, as well as a further one in Washington and Kuwait.
"I will also be participating in an exhibition of contemporary art in Paris with a group of international artists," she added.
http://www.saudigazette.com.sa/index.cfm?method=home.regcon&contentid=20150117230773
------------
URL: https://www.newageislam.com/islam,-women-and-feminism/new-age-islam-news-bureau/will-a-'remove-the-hijab'-campaign-turn-heads-in-egypt?/d/101083