New Age Islam News Bureau
16 Feb 2013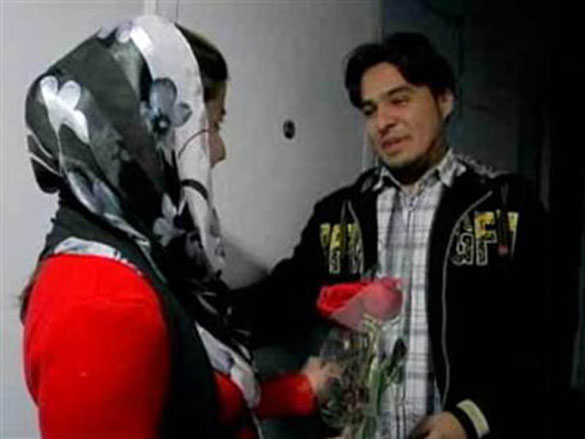 • Pharmacy Chain in Saudi Arabia Says 'No' To Hiring Women
• Muslim Women Musicians Puzzled By Kashmir Fatwa
• Valentine Wish: Can Love Conquer War In Battle-Weary Afghanistan?
• Syria Women Face Horror of War, Displacement to Give Birth
• Women Find It Impossible To Access Basic Sexual And Reproductive Health Services.
• Muslim Women Lawyers Aim To Reconcile Traditional Beliefs with Secular Society
• System Bears Primary Guilt for Violence against Women
• Child Rehab Programs on Saudi-Yemeni Border Set
Compiled by New Age Islam News Bureau
Photo: Valentine Wish: Can Love Conquer War In Battle-Weary Afghanistan
URL: https://www.newageislam.com/islam,-women-and-feminism/new-age-islam-news-bureau/wife-sets-husband-ablaze-for-spending-more-time-with-first-wife/d/10443
-----------
Wife Sets Husband Ablaze For Spending More Time with First Wife
Hassan Ibrahim
16 February 2013
A senior legislative aide in the Senate, Mohammed Ibrahim Matazu has died in Kaduna following burns he suffered when his wife set him ablaze in Abuja.
Matazu, who was Senior Legislative Aide to Senator Mohammed Sani Saleh of the Congress for Progressive Change (CPC) from Kaduna Central, was rushed to Kaduna after the incident where he died at the Ahmadu Bello University Teaching Hospital, Shika, near Zaria and was buried in Kaduna on Thursday.
Senator Saleh told journalists in Kaduna on Friday that the law must take its full course on the matter which he described as a murder case.
He described Matazu as the pillar in his office who contributed a lot to the development of the CPC, in his legislative duties and the smooth running of his office.
"This is a plain murder case and a case of homicide like this is a case between the state and the accused. His wife who committed this heinous crime is in police detention now, and I intend to follow through to ensure that justice is done," he said.
According to family sources, the angry wife who they referred to as 'mummy' was not happy with late Matazu who she alleged, spent more time in Kaduna with his senior wife and mother of his children.
Speaking to journalists, the deceased's brother, Mr0 Magaji Ibrahim, said late Matazu had told him that he had always explained to 'mummy' that he visits Kaduna often to represent the senator and to ensure that some of their constituency projects were completed.
"The wife said she poured petrol on him because he spent more days with the first wife in Kaduna. But my brother was always in Kaduna because of the assignment given to him by the senator. So he used to spend 10 days before going back to Abuja because he was going round the seven local governments to supervise the boreholes the senator was drilling in those areas," he said.
According to him, 'mummy' was the second wife and was yet to have a child. She was being detained at a police station in Abuja. The first wife has six children.
He said last Wednesday, Matazu had told him on phone that he was coming to Kaduna from Abuja to represent Senator Saleh at a meeting because the senator would be travelling to Imo State for another engagement.
However, a missed call rose his curiosity on Thursday morning and when he called the number, a voice that happened to be that of Matazu's neighbour told him about his brother's ordeal.
"He asked if I am Matazu's brother and I said yes. He said my brother had rushed out of his room with fire all over his body, and was shouting that the fire was killing him. So the neighbours rushed and rescued him. But my brother's wife came out of the house, saying that where is Matazu and by the time she caught up with him, she now asked him, what can you do now?That was at about 9:00am. on Thursday."
He said when neighbours asked his brother what happened, he told them that it was his wife that poured petrol on his body and set him on fire.
"It was at this point that the neighbours grabbed the wife and called the police to arrest her. They all left for the police station with her. My brother too followed them to the police station with pains all over his body. It happened in Gwarinpa, Abuja, the day he was preparing to go to Kaduna for the meeting.
" He was later rushed to Zone 3, Wuse hospital. He was briefly treated there as his body was bandaged. But according to the doctor's report, 77 per cent of his body was severely burnt, though he was still talking with people."
He said when Senator Saleh came, he advised that Matazu be taken to the National Hospital, Abuja, but there was no space for admission there and they took him to a hospital in Gwagwalada, only to be told that they were on strike.
He said they finally got an ambulance and moved him to the 44 Army Reference Hospital, Kaduna, where the doctors advised that Matazu be taken to the Ahmadu Bello University Teaching Hospital (ABUTH).
He said about seven doctors at Shika tried their best and treated Matazu who was responding to treatment and was hoping to survive. But he died on Wednesday and was buried Thursday in Kaduna according to Islamic rites.
http://www.tribune.com.ng/news2013/index.php/en/component/k2/item/5386-wife-sets-husband-ablaze-for-spending-more-time-with-first-wife
-----------
Pharmacy Chain in Saudi Arabia Says 'No' To Hiring Women
16 February 2013
A Minister of Labour official said on Wednesday the ministry made no plans to allow women to seek employment in Saudi pharmacies.
Even if the Labour Ministry eventually issues an edict to give female pharmacists jobs in commercial establishments, Al-Nahdi group said, it will conduct no such hiring.
"In general, not many Saudis are keen to work for commercial pharmacies," Housm Al-Qurashi, marketing vice-president of Al-Nahdi group, said. "The salary that companies are offering to pharmacists is low compared to the salaries that Saudi pharmacists receive in pharmacies at government hospitals."
A Labour Ministry source, who spoke on the condition of anonymity, told Arab News the ministry issued no decree despite numerous media accounts to the contrary.
"I read such news in the media, but the issue had never been discussed at the ministry," he said.
There are female pharmacists in the Kingdom working mostly in government pharmacies. There are an estimated 7,000 pharmacies across the Kingdom.
Demand for pharmacists is high. Saudi pharmacists prefer to work for big governmental hospitals, aiming to get a high salary and a better position, Al-Qurashi said.
"In our company we don't have Saudi men or women working as pharmacists," he said. "We do have Saudis pharmacists who work as CSR managers, accounting managers, and many other leading positions." He added: "Before we can hire Saudi female pharmacists, we would have to add private toilets and partitions to the building, and provide security staff. It is really difficult to allow women to work in commercial pharmacies. Many are located in underdeveloped areas where it is impossible for women to work."
Some female Saudi pharmacists say that working in commercial pharmacies is not desirable.
"I graduated from King Abdulaziz University two years ago. It was impossible for me to find a job in a governmental hospital," said Hala Al-Youssef. "I found several job opportunities in private hospitals for a salary of SR 3,000. At that time I refused to work for these hospitals as their salaries were too low."
She said governmental hospitals hire Saudis in the second position immediately with salaries between SR 7,000 to SR 10,000. A Saudi pharmacist also often gets promoted to a senior position within one year.
Nadin Nasser, a Saudi pharmacist, who works for a governmental hospital, said that opening up opportunities for Saudi women to work in commercial pharmacies would be a positive step.
"In government hospitals, pharmacists suffer from working in a crowded area," Nasser said. "They have to prepare and sometimes make the medications. Such tasks are difficult, especially for pharmacists who don't want to work hard. Working in commercial pharmacies is easier for pharmacists. The working hours are long, but the job is all about selling medications to the patient."
http://www.arabnews.com/pharmacy-chain-says-%E2%80%98no%E2%80%99-hiring-women
-----------
Muslim Women Musicians Puzzled By Kashmir Fatwa
February 12, 2013
SRINAGAR, India – A Kashmir-based mufti's fatwa against an all-girl band has been met with bewilderment by women artists from Muslim-majority countries, including Tunisia, the news agency IANS reported Monday (February 12th).
"Women in our country dance and sing on stage. They are even allowed to sing Sufi and spiritual music – traditionally a male bastion," Slim Baccouche, leader of Mechket Ensemble, a Sufi band from Tunisia, told IANS. The band performed in New Delhi during last week's International Sufi Festival.
"Music is the gift of freedom for us in which men and women are equal," he said. "Women bands are common in Tunisia."
IANS also quoted Sahar Lotfi, who leads a Sufi band in Iran, as expressing surprise that "a Kashmiri women's rock band was forced to give up (performing)".
Last week, a human rights group announced it will file a case against Grand Mufti Bashir-u-Din Ahmad for issuing the fatwa against the band, called Pragaash. The edict has put Kashmir in a "bad light", NDTV quoted Pervez Imroze of the Jammu and Kashmir Coalition for Civil Society as saying.
http://khabarsouthasia.com/en_GB/articles/apwi/articles/newsbriefs/2013/02/12/newsbrief-02
-----------
Valentine wish: Can love conquer war in battle-weary Afghanistan?
Mandy Clark
Feb 16, 2013
KABUL, Afghanistan -- Suliman and Farzana Sharifi's marriage is very unusual in Afghanistan.
The 23-year-olds have a love match in a country where most weddings are arranged. That fact makes Valentine's Day, a holiday banned by the Taliban but embraced by many of the country's urban youth, extra-special for the two.
Both work hard to surprise each other on Valentine's Day, which they've celebrated for the three years they've been together.
"I don't let him know, he doesn't let me know," said Farzana, a university student who heads up an Islamic NGO that runs orphanages throughout the country. "Like a month before Valentine's day we act that we don't know it is Valentine's Day. So, we normally surprise each other."
This isn't just a game – the couple believe that love is simply more powerful than hate, and it could be a weapon in ending the insurgency.
"When love comes even the Taliban can't stop anybody," Farzana adds.
But can love really stop Taliban fighters in other parts of the war-torn country?
An American charity put money on it. Getting married in Afghanistan, one of the world's poorest countries, is very expensive. Women's families can demand dowries of up to $10,000 from prospective husbands, Qasimi said. With the average Afghan earning less than $500 a year, these demands make marriage and family unachievable for many.
With the help of local NGOs, Texas-based Comfort Aid International helped organize a mass wedding of 38 couples last year.
"We did this to prevent our youth from joining the Taliban side. They often join the Taliban because they are single and poor," local organizer Sayeed Saleh Qasimi said.
That's were Comfort Aid steps in – it has helped arrange the weddings for more than 1,000 couples already. Local organizations it works with have negotiated with local families to agree to more reasonable dowry prices.
One young husband, Sayeed Hussaini, says he simply wouldn't have been able to get married without the charity's help.
"Everyone wants things in life, like getting married," the unemployed construction worker said. "But a lot of people are doing bad things for money like joining the Taliban."
He added: "I am jobless but I will not join them."
Hussaini's new wife Fatima is the reason he won't risk his life.
She says she's grateful for the charity's help in easing their financial woes, which allowed the couple to marry.
So perhaps Farzana is right to hope that love can conquer war.
"I think love can change anything," she said, turning to her husband Suliman. "Yeah, yeah it changed you, it changed me."
http://worldnews.nbcnews.com/_news/2013/02/14/16960893-valentine-wish-can-love-conquer-war-in-battle-weary-afghanistan?lite
-----------
Syria women face horror of war, displacement to give birth
16 February 2013
Syrian women waiting for pre-natal care at a Lebanese clinic know their pregnancies may end prematurely due to stress and fear, and that they may be unable to provide for their babies.
Many of the women are unable to cover the high cost of hospital care in the northern Lebanese city of Tripoli, home to thousands of Syrians uprooted by the conflict that has ravaged their country for nearly two years.
Full report at:
http://english.alarabiya.net/articles/2013/02/16/266537.html
-----------
Women Find It Impossible To Access Basic Sexual And Reproductive Health Services.
Unhappy Valentine's Day - women's silent killer
Women and girls in many countries find it almost impossible to access basic sexual and reproductive health services.
15 Feb 2013
Valentine's Day is meant to be a day of celebration. But for many young women and girls across the world, it will be nothing more than a reminder of their daily sufferings.
For Louisa, a young woman from Burkina Faso, who was verbally abused and slapped during childbirth at a local hospital; for Elena, a 10-year-old girl raped by a priest in Nicaragua and was pressured to keep quiet about the abuse; and for Marta, a 30-year-old domestic worker from Indonesia who was refused contraceptives at a local health centre because she doesn't have children yet, February 14 will probably go completely unnoticed.
Full report at:
http://www.aljazeera.com/indepth/opinion/2013/02/201321295347753313.html
-----------
Muslim Women Lawyers Aim To Reconcile Traditional Beliefs with Secular Society
Feb 15, 2013
By Kristin Choo
On a sweltering day in mid-July, Azizah al-Hibri, founder and chair of Karamah: Muslim Women Lawyers for Human Rights, presided over the graduation ceremony for the group's 2012 Law and Leadership Summer Program. It was a festive occasion, held in the elegant drawing room of Karamah's offices in Washington, D.C., housed in a building that once was the French ambassador's residence.
Full report at:
http://www.abajournal.com/news/article/muslim_women_lawyers_aim_to_reconcile_traditional_beliefs/
-----------
System Bears Primary Guilt for Violence against Women
16 February 2013
Press Release: Dr. Nazreen Nawaz
Capitalist Liberal System Bears Primary Guilt for Violence against Women
It is the Capitalist Liberal System that Bears Primary Guilt for Fuelling Violence against Women
On February 14th, the movement 'V-Day' has sponsored an event entitled, "One Billion Rising" that is a call to one billion women worldwide to rise up and demand an end to violence against women. According to the movement, women in around 190 countries will be organising various activities in their communities on the day to bring greater awareness and attention to the problem, including in over thirty Muslim countries. "One Billion Rising" takes its name from the UN statistic that estimates that 1 in 3 women in the world will be raped or beaten in their lifetime which is equivalent to 1 billion women and girls.
Full report at:
http://www.scoop.co.nz/stories/WO1302/S00175/system-bears-primary-guilt-for-violence-against-women.htm
-----------
Child rehab programs on Saudi-Yemeni border set
16 February 2013
Child protection activists on the Saudi-Yemeni border have launched several programs to rehabilitate child workers repatriated from Saudi Arabia and other neighboring countries.
The project is being coordinated with the International Program on the Elimination of Child Labor (IPEC) and focuses on the creation of jobs in Hajjah Province, in Yemen's north-west region.
Full report at:
http://www.arabnews.com/child-rehab-programs-saudi-yemeni-border-set
-----------
URL: https://www.newageislam.com/islam,-women-and-feminism/new-age-islam-news-bureau/wife-sets-husband-ablaze-for-spending-more-time-with-first-wife/d/10443