New Age Islam News Bureau
30 Jan 2014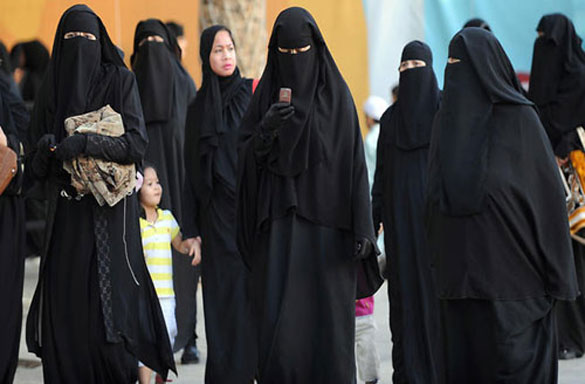 This trade was usually the domain of expatriate children at traffic signals, but has now become a daily routine for many Saudi women
-----------
• Saudi Women Selling Tissues on Streets for a Living
• • British Expats Start Help Group for UAE Divorced, Separated People
Yemen Police Foil Marriage of 8-Year-Old Girl
• Iran: Fatwa Orders Women to Keep Wearing the Islamic Veil
• Saudi Women Defy Tradition to Enter Workplace
• Parents Urged To Watch Out For Potential Child Sexual Abuse
• Indian-Origin Woman Held, Charged In London Anti-Terror Operation
• Egyptian Belly Dancer Next Move, To Run in Parliamentary Elections
• Little Progress on Girls' Education in Developing Countries - Report
• President Obama Says Women Deserve Equal Pay for Equal Work
• Bangladesh: Homestead Gardening Changing Lives of Char Women
Compiled by New Age Islam News Bureau
URL: https://newageislam.com/islam-women-feminism/widow-gang-raped-orders-muzaffargarh/d/35516
------------
Widow Gang Raped On Orders of Muzaffargarh Panchayat in Pakistan
January 30, 2014
LAHORE: A 40-year old widow was raped by men of her village by the order of a panchayat in Mauza Rakh Tibba Sharqi, in Muzaffargarh district, The Express Tribune has learnt.
After receiving information about the incident, the police have arrested three suspects, including the leader of the panchayat and two of the alleged rapists, Investigation Officer (IO) Assadullah Khan informed The Express Tribune. Punjab Chief Minister Shehbaz Sharif has taken notice of the incident, Express News correspondent Naeem Qaiser reported.
Assadullah also said that an FIR was filed on the complaint of the victim against five of the accused persons. However, while the FIR was filed under charges of 'attempted rape', the victim alleges that she was already raped, and only filed the said FIR under pressure from the police.
Sources familiar with the incident said that the rape was ordered to avenge illicit relations between a woman from the family of the rapists and the brother of the rape victim.
The 40-member panchayat had decided that the widow should be punished for her brother's illicit relations with the daughter of the alleged rapist. The father and his two sons carried out the 'punishment.'
The rape took place on January 24 when five men locked the widow inside a room while the panchayat — who had declared that 'dishonour should be avenged by dishonour' — waited outside, reported Express News
The accused later threatened the widow that they would kill her if she raised her voice against them.
IO Assadullah Khan said that all efforts were being made to arrest the remaining accused as soon as possible.
http://tribune.com.pk/story/665337/jirga-justice-widow-gang-raped-on-orders-of-muzaffargarh-panchayat/
----------
Saudi Women Selling Tissues on Streets for a Living
January 30, 2014
RIYADH — Many Saudi women have resorted to selling tissues on the streets to provide for their families, Al-Eqtisadiah daily reported.
This trade was usually the domain of expatriate children at traffic signals, but has now become a daily routine for many Saudi women.
Such women sit along streets for more than eight hours a day in the scorching heat, freezing cold and other weather conditions because they have no other source of income.
Along King Abdullah Road, Um Nayef, a Saudi woman in her 40s, said she has seven children to support.
Her husband has abandoned her and his children and is not providing for them.
Her relatives have also neglected her and her only option was to sell paper tissues along streets.
"This activity does not provide me with enough income but it has at least allowed me to stop asking people for money and assistance."
She noted that many, however, do offer assistance when they learn of her situation.
Um Nayef pointed out that she does not have the money to deal with other products and selling tissues provided her with the best solution due to their low cost.
Um Abdullah, a Saudi woman in her 30s, said her income is around SR50 a day and she sells paper tissues throughout the day.
She leaves her selling place before sundown because she is afraid of the dark.
"There are many who sympathize with me and offer extra money for the tissues that is enough to support my family for a few days."
Um Safyah said her husband has abandoned her and their five daughters, while she is illiterate and could not find a job.
She receives food from a charitable organization but claimed that it is not enough for her children.
"I also could not obtain social security payments because I am married and such benefits are only for widows and divorced women," she said.
Dr. Majeedah Al-Najem, assistant professor of social studies at King Saud University, defined poverty as the inability to meet basic living costs.
She said that there are 1.2 billion people worldwide whose income is less than one dollar a day.
She added women on limited incomes outnumber men living in the same conditions by a ratio of 2.5 to 1.
"Poor families supported mainly by women are 30 percent more than those supported by men," she said.
She pointed out that this is due to the limited opportunities available for women compared to men, especially during social and economic crises.
Al-Najem noted that among Arab countries, the UAE has less poor women than men, 83 for every 100 poor men.
"In the Kingdom, Kuwait, Sudan, and Oman there are between 120 to 160 poor women for every 100 poor men and in Syria that number is 271 poor women," she said.
She asked for a review of social security system payments and beneficiaries of the system.
Al-Najem believed social security payments should take into consideration the cost of living.
http://www.saudigazette.com.sa/index.cfm?method=home.regcon&contentid=20140130194159
----------
British Expats Start Help Group for UAE Divorced, Separated People
Jan 30, 2014
Dubai: Two British expats, one divorced and the other separated, have started an unlikely group called Leaves Dubai to help people deal with the trauma of broken marriages, which they claim are on the rise in the UAE.
Fiona Cameron, 46, and Anne Prince, 44, both Dubai-based teachers, said they started the informal group after they found many expats, away from their homes, groping for direction and support when their marriages fell apart in the UAE.
"From going through the initial shock of rejection to more practical issues of managing finances, coping with children and making sense of the law, the challenges of dealing with a broken marriage in the UAE can be daunting. You can go round in circles trying to find the right answers," said Prince, noting she went through an "emotional nightmare" when her husband of 23 years wanted to leave her for another woman he met in Dubai last year.
She said one in three marriages break up worldwide and the UAE is perhaps no exception. The reasons for divorce here range from lack of full family responsibility, more avenues for socialising through work or otherwise, the ability to remain anonymous and the pressure to keep up with an image of being well to do.
Surprised and shattered by her husband's rejection, Prince said the veritable maze she suddenly found herself in as she tried to figure out the best way forward for herself and her two children set her thinking. "I had been so blind. I began to seek advice from the British Embassy and from lawyers and from anyone who would listen to me. Funnily enough, I began to meet other women who were going through similar scenarios. Some supported me and some I gave support and advice to. That's when I realised that we should all be talking to each other to give each other strength. At the same time, I began to talk to Fiona who also had a similar idea and so Leaves Dubai took off last June."
Two stories
Unlike Prince, who is estranged from her husband but still receives financial assistance from him, Cameron said she had nothing to do with her husband whom she divorced last year.
"In spite of having three children, my ex-husband and I no longer planned activities together as a family. He spent more time away from home, socialising with friends. As the situation got progressively worse, I suggested we end the marriage. He wasn't happy and told me he had placed a travel ban on the children preventing them from leaving the UAE. As an expat woman in Dubai I felt very vulnerable," said Cameron.
Deciding to consult a lawyer, she said: "The lawyer advised me that if the marriage breakdown was not amicable, I would be in a precarious situation and that my husband could indeed ban the children from travelling and keep them with him until we were divorced as the UAE does not recognise a 'separation'. I phoned the British Embassy which said they could not get involved with the legalities of child custody and travel bans. I felt alone, worried and frightened that I could be separated from my children. I couldn't believe that the lovely gentleman I had met in Dubai and had married 10 years ago was now using the UAE law to his advantage."
Divorce cases in the UAE are governed by Islamic Sharia law. Under Sharia it is difficult for an estranged couple to separate, unless the judge is fully convinced that the marriage will not work. Couples have to first register a case at the Moral and Family Guidance Section at the courts, following which a counsellor will meet them for a discussion. If the couple, or either of them, still insists on divorce, the papers will be forwarded to the court. But non-Muslims are also allowed to ask for the laws of their home countries to be applied.
Choosing to pursue the second option, Cameron said she left the country with her three kids within 24 hours of meeting the lawyer.
"We stayed in the UK for six months whilst I sorted out my divorce, the custody of the children, the finances and my job. My company was sympathetic and also willing to support me in my move back to Dubai as a single mum with three children. I was able to secure my legal custody of the children in Dubai."
She said she owned two houses and bank accounts jointly with her husband, besides a car loan, and sorting them out was tough.
Cameron said: "Once I returned to Dubai, I was surprised by the women who approached me with their stories of unhappy marriages, financial insecurities and uncertain futures; women who felt lonely in their circumstances. I knew those feelings and setting up Leaves was all about not having to do any of it on your own."
Not surprisingly, several expats are finding comfort in the group.
Elise Maxwell, a 45-year-old Western expat with three teenage children, said: "After 25 years, my husband suddenly wants me out of his house and visa. I couldn't come to terms with it and had many questions: how could he do that to me? What do I do – go in for a divorce or separation? Which lawyer do I consult? What about the kids? And so on. But Leaves Dubai is helping me connect the dots and realise there's light at the end of the tunnel."
According to Leaves Dubai, the challenges of an estrangement in the UAE are unique as it often boils down to survival.
Issues like sponsorships and visas immediately come into play, besides the financial pressure. As a result, many women have to pack their bags and leave the country.
There's also a woeful lack of understanding about the law, especially where children are involved. "The same lawyer can tell different things to different people or people can get different opinions from different lawyers. The feeling of loneliness in a foreign land also makes you vulnerable. It's a nightmare if you want to date again and people hesitate to talk as you never know what's right or who knows whom."
But Prince said: "It helps to see that many of our dilemmas and problems are similar, even if our situations are different and whatever happens, there will always be a solution."
Why marriages break up in the UAE
According to Leaves Dubai, one in three marriages break up worldwide – and the UAE is no exception. Its members say there are many reasons that lead to such break-ups in this country:
Lack of responsibility and involvement with the family to the extent back home as maids are easily available
More time, avenues to socialise through work or otherwise. For many, work, social and sports commitments takes precedence over family
Anonymity. Away from their home people tend to make up their own history as there's a feeling that they can get away with it
Pressure to keep up with an image of being well to do and being with the 'happening' crowd.
Tips for estranged women in the UAE
Leaves Dubai offers free information and advice to residents going through a divorce or separation. It meets once a month. Open to anyone, it has reached to over a dozen estranged women so far.
Some tips for women:
Don't be alone in an unhappy situation and don't act on impulse
Seek advice from different people and areas
Trust your instinct with lawyers. Ask for pro bono time first as lawyers can be expensive
Whatever happens, have an amicable settlement with your spouse. You need each other in this country
Diffuse the power play and talk rationally as a couple
Depending on the situation, make the spouse take financial, emotional and intellectual responsibility
No matter how young the kids are, be honest to them
http://gulfnews.com/news/gulf/uae/general/british-expats-start-help-group-for-divorced-separated-people-1.1283744
------------
Yemen police foil marriage of 8-year-old girl
Jan 30, 2014
Sana'a: Yemen police jailed a man for six days after he attempted to marry off his 8-year-old daughter to his relative in the northern province of Ibb, local security official and two activists told Gulf News on Wednesday.
Last Thursday, independent website Al Masder Online reported that an 8-year-old girl, Iftikhar, was about to be wedded to her cousin on January 23 in the Al Souhoul area of Ibb district. Local activists urged police and human rights organisations to intervene and stop the wedding.
Responding to the appeal, the chief security of Ibb district, Brigadier General Mohammad Al Qudisi, sent an armed vehicle filled with soldiers to the area to stop the wedding.
"The police arrived in the nick of time. The wedding preparations were in full swing," Al Qudisi told Gulf News by telephone.
When he heard about the police's arrival, the father locked the would-be bride and her mother in the house and fled.
Al Qudisi said: "The police threatened to break the door when the mother refused to open it."
The mother initially opposed the wedding, but gave in when her husband threatened to divorce her, according to Yasser Abbad, a local journalist and activist who first contacted the police.
"The policemen were cooperative and immediately agreed to send forces to stop the wedding. We risked our lives to help stop the wedding. We were afraid that we might come under fire from the father," Abbad said.
The police took the girl out of the house and handed her to her uncle, who had contacted the activist when he heard about the wedding.
"The girl's uncle was angry when he heard about the marriage, but was unable to stop it. So he contacted us a day before the wedding," Abdul Yousifi, a local activist said.
"The girl is a primary school student and was unaware that she was getting married."
The police shortly managed to round up the father and questioned him about his motives for trying to marry off his daughter.
"The father said that he gave a tribal pledge to his nephew to marry his daughter when another man did not accept his marriage proposal," the official said.
The official maintained that they did not keep him in prison for long "since he confessed his fault".
"We did not want to destroy his poor family as he is the breadwinner. Also we released him when he admitted his fault and pledged not to marry her off before she reaches the legal age of marriage."
Child marriage in Yemen jumped to the headlines in September in the wake of unconfirmed media reports about the death of an 8-year-old child bride on her wedding night. The ministry of interior urged activists and citizens to be out the lookout for any child marriage in the country. The ministry's officials managed to foil many underage marriages across the country last year.
http://gulfnews.com/news/gulf/yemen/yemen-police-foil-marriage-of-8-year-old-girl-1.1284029
------------
Iran: Fatwa orders women to keep wearing the Islamic veil
Adnkronos International English
Jan 30, 2014
Iran's most senior Shia clerics including the nation's supreme leader, Ayatollah Ali Khamenei, have decreed that women they will be punished under Islamic law if they don't wear the veil.
"The veil remains obligatory for all Iranian women and the Islamic Republic has the right to imposed this norm across the whole country," read the edict or fatwa, cited by the Digarban website.
"Any woman who rebels against this ordinance will be appropriately punished under Islamic Sharia law," continued the fatwa.
The edict was signed by Khamenei and other grand ayatollahs including Nuri Hamedani and Makarem Shirazi.
The fatwa comes after the moderate government of Hassan Rohani last September instructed the country's moral police to ease checks on clothing worn by women in public.
The hijab has been obligatory in Iran since the 1979 Revolution that brought the ayatollahs to power. Over the past decade especially, young Iranians have rebelled increasingly against the face-veil and other religious dictates.
Dozens of women have been arrested by the moral police in recent years, accused of violating Iran's dress code.
http://www.adnkronos.com/IGN/Aki/English/Religion/Iran-Fatwa-orders-women-to-keep-wearing-the-Islamic-veil_321163607685.html
------------
Saudi Women Defy Tradition to Enter Workplace
Jan 30, 2014
Debt collectors may be synonymous with burly men in leather jackets, but the rapid entry of Saudi women into the workplace is challenging such stereotypes in the conservative kingdom.
Hanan al-Otaibi, 26, runs a team of 12 female debt collectors who are subcontracted to chase bad loans for Al Rajhi Bank, the largest Islamic lender in Saudi Arabia.
Her team achieves a 70 per cent higher debt repayment rate than their male counterparts and hopes to expand into its own office space with 50 staff by the end of the year.
"Women calm the rage in men," she tells the Financial Times over the phone from her office in the segregated business centre. "It is easier for women to persuade men; we can tap into emotions and are less likely to threaten the police."
The growing business overseen by Ms Otaibi is a striking example of the quickening pace of female employment in the Gulf state.
Over the past six years female participation in the workforce has almost doubled from 9 per cent to 16 per cent, cutting into female unemployment of roughly 30 per cent.
The government is keen to attract more women into the workplace as part of its fresh attempt to lure Saudis from government jobs to the private sector.
While the majority of Saudi women are joining the teaching profession, many others are ignoring threats from ultraconservative opposition and replacing men in retail outlets as supermarket cashiers.
"This is a significant change – you can't run a household with only one member working any more," says John Sfakianakis, chief investment officer at Riyadh-based family group Masic. "The lifestyle doesn't allow it, given the increasing cost of living."
Lamya Alkadi, manager and partner at the Dour business centre that hosts Ms Otaibi's team of debt collectors, has rented out all but two of its 37 workstations as traditional opposition to females in the workplace ebbs.
The centre's rose-petal cushions and immaculate kitchen betray the space as a strict male-free zone for start-ups, including therapists, event organisers and interior designers.
"Work feels empowering," says Eman al-Nafjan, a Saudi blogger involved in recent driving protests that saw women illegally driving in the kingdom. "But we are going from zero."
Despite the gradual loosening of social mores surrounding work, entry into the workplace remains fraught with difficulties. Women still cannot drive themselves in a country where public transport remains under-developed.
Mufleh al-Qahtani of Saudi Arabia's ruling family-funded National Society for Human Rights says the ban on female driving is a cultural issue that will only change with generational change. Most people in the kingdom, men and women included, remain opposed to such a reform, he says.
"As more women come back from abroad, they will see it as normal, and things will change," says Mr Qahtani.
Ms Nafjan, however, disagrees with the argument that society is balanced against women's rights, including driving. When she took part in driving protests, most members of the public were supportive. She estimates that the ultraconservative wing of Saudi society determined to keep women at home now amounts to roughly 20 per cent of the population.
The government, she says, is going slow on female rights as part of a broader campaign to keep a lid on popular demands for a greater role in political, social and economic decision-making.
"They want to keep all demands low, from freedom of speech to a constitutional monarchy," she says. "The focus on women's driving keeps the ceiling low."
http://www.ft.com/intl/cms/s/0/a3c25b04-8845-11e3-a926-00144feab7de.html#axzz2rpVvqla9
------------
Parents urged to watch out for potential child sexual abuse
Jan 30, 2014
A senior academician urged parents to take extra caution to protect their children against sexual abuse.
Wafa Maria Asiri, head of the Kindergarten Unit of Education at the Ministry of Education, was addressing callers on the nature and various types of sexual harassment against children and how to prevent them.
The official explained that sexual harassment can occur in verbal and physical form. "Harassment also includes allowing a child to view pornographic material or images," she said.
She stressed that young minds are vulnerable to such influence.
The phone-in service is part of an awareness program conducted by the National Center for Media and Health Promotion at the Ministry of Health, which hosts a group of health specialists who will raise awareness on the prevention of sexual harassment on children, social environment and peoples' behavior patterns. The program coincided with the beginning of the second school semester on Monday.
Members of the public can contact officials on toll free number 8002494444 between 1 p.m. and 3 p.m. during weekdays.
Amal Abu Jedaiye, director of the National Center for Media and Health Awareness, will handle inquiries, including cases of molestation. People can also contact health officials through Twitter on @saudimoh.
The official also said that the ministry conducts awareness campaigns from time to time to educate the masses on various topics related to health.
"The Shoura Council recently reviewed the entire draft law on the protection of children's rights, which contains five chapters and 25 articles, and felt that it should be further studied by the council's social affairs committee to ensure more rights and privileges for children," said Ahmed Al-Yahya, assistant secretary-general of the Council, in a statement.
http://www.arabnews.com/news/517136
------------
Indian-Origin Woman Held, Charged In London Anti-Terror Operation
January 30, 2014
A 36-year-old woman of Indian-origin was arrested and charged with attempted murder by the counter-terrorism command wing of the Metropolitan Police in London.
Kuntal Patel, who works for the Barclays Bank in Canary Wharf, was arrested on Sunday under the Anti-Terrorism, Crime and Security Act, 2001, and was charged on Wednesday night following an intelligence-led operation that included searches at three addresses in London.
"Kuntal Patel…has tonight been charged with attempted murder following an investigation by the Counter-terrorism Command. She is due to appear in custody at Westminster magistrates' court tomorrow, Thursday, 30 January," the police said in a statement.
Kuntal is the daughter of Meena Patel, who sits on the bench at the Thames magistrates' court. This is one of rare instances when a woman of Indian origin has been arrested and charged under Britain's anti-terrorism laws.
Kuntal's arrest and questioning at an east London police station was preceded by the operation that included a search of Patel's house in Stratford, the police said.
Her house on Park Road is located near Olympic Park, the venue of 2012 London Olympics.
According to local councillor Ron Manley, who has reportedly known the Patels for more than 20 years: "They are a very upstanding family. Meena is a magistrate and used to work for a local authority, Kuntal works in the city and her younger daughter Poonam is a pharmacist".
"They are a Hindu family and I've known the two girls since they were at primary school. They have always been very polite, very nice girls," he told the local media.
Kuntal was the second person to be arrested in the operation.
The first arrest was that of a 19-year-old son of Nicholas Sutcliffe, a senior diplomat at the Foreign Office.
The young man has since been released and will face no further action, the police said.
http://www.hindustantimes.com/india-news/indian-origin-woman-held-charged-in-london-anti-terror-operation/article1-1178187.aspx
------------
Egyptian Belly Dancer Next Move, To Run in Parliamentary Elections
Jan 30, 2014
Controversial Egyptian belly dancer Sama el-Masry announced on Wednseday she will run in the next parliamentary elections for the Sharquiyah governorate, Mursi's home district, in revenge against the Muslim Brotherhood.
"I will run the elections and I will hopefully win them so I can show the Brotherhood every day who they really are," Masry told the Egyptian daily news website al- Masry al-Youm.
Masry also said that she is planning a special surprise for the Islamist group and that she will unveil it on her new show "Ayouh baa."
"The end of their group will be on my hands, my program will uncover all the traitors and agents," she said, referring to members of the Muslim Brotherhood.
Masry's comedy show will be aired for the first time on Thursday on her new channel dubbed "Feloul," or "Corrupted."
The first episode, which is expected to gather political and artistic figures, will poke fun at Nobel laureate Mohammad ElBaradei.
The Egyptian belly dancer has repeatedly made bold statements on her political views against the Brotherhood.
One of her videos went viral in July last year. In the video she sings in Arabic with English subtitles and dances as a message to American President Barack Obama, accusing him of supporting the Brotherhood and meddling in Egypt's affairs.
The song was titled "Obama, your mother, your father."
http://english.alarabiya.net/en/variety/2014/01/30/Egyptian-belly-dancer-next-move-To-run-in-parliamentary-elections-.html
------------
Little progress on girls' education in developing countries - report
Jan 30, 2014
LONDON (Thomson Reuters Foundation) - One out of four young people in poor countries - and one of three young women in South and West Asia - are unable to read all or even part of a sentence, according to a new report, which estimates 175 million youths in developing countries are illiterate.
If current trends continue, the poorest part of the young female population in developing countries won't achieve literacy until 2072, the United Nations Educational, Scientific and Cultural Organisation (UNESCO) said in its annual Education for All Global Monitoring Report.
UNESCO noted that despite some progress, the goal of achieving gender parity, or equal enrolment ratios for boys and girls, in primary and secondary schools by 2005 had been missed.
In primary education 60 percent of the countries surveyed achieved gender parity by 2011, compared with a fifth of low income countries. The report found Afghanistan and Pakistan to be the countries with fewer girls in school: 71 girls for every 100 boys in the former and 82 girls for every 100 boys in the latter.
Young women in Afghanistan are even less likely to enrol in secondary education, despite some improvements in the last two decades. In 1999, no girls attended secondary school in Afghanistan, compared to 34 percent in 2011. One million children were out school in the country in 2011, the report said.
In Yemen, just 36 percent of young women are literate.
Women make up two-thirds of illiterate adults around the world, a figure that has remained largely unchanged for over two decades.
Most countries with high levels of gender disparity in access to both primary and secondary education are in sub-Saharan Africa. The Central African Republic has made no progress in putting girls in school, and it now has the second highest level of gender disparity in the world, after Afghanistan, the report said.
Burkina Faso on the other hand has made fast progress, thanks to a government plan focused on girls' education and other aid-supported initiatives that have created a more gender-balanced education system.
The report noted that enrolment ratios are not necessarily indicative of gender equality in a country's schools as many factors weight in, such as providing girls with a safe learning environment.
Access to education is not the only obstacle to the achievement of the Millenium Development Goal (MDG) on education by 2015, UNESCO said. Funding misspent on poor quality education amounts to 10 percent of global spending on primary education, according to the report.
In its recommendations, UNESCO urged governments to concentrate their efforts in getting the best teachers to work with the most marginalised students in remote, underserved areas.
http://www.trust.org/item/20140130051043-gzad3/?source=hpeditorial
------------
President Obama says women deserve equal pay for equal work
Jan 30, 2014
In his fifth State of the Union address, President Barack Obama talked about the effects of stagnant wages, and said they are especially challenging for women.
He said it's time for politicians and businesses to work together to ensure equal pay for equal work. "Today women make up about half our workforce. But they still make 77 cents for every dollar a man earns. That is wrong, and in 2014, it's an embarrassment. A woman deserves equal pay for equal work. She deserves to have a baby without sacrificing her job. A mother deserves a day off to care for a sick child or sick parent without running into hardship - and you know what, a father does, too. It's time to do away with workplace policies that belong in a "Mad Men" episode. This year, let's all come together - Congress, the White House, and businesses from Wall Street to Main Street - to give every woman the opportunity she deserves. Because I firmly believe when women succeed, America succeeds."
http://www.trust.org/item/20140129104208-3zhei/?source=hpeditorial
------------
Bangladesh: Homestead gardening changing lives of char women
Jan 30, 2014
For the last 4 years, homestead vegetables gardening has brought fortunes to the distressed and landless women living in the remote and hardly reachable char areas on the Teesta River basin at five upazilas in Lalmonirhat district. The charwomen have achieved this success through cultivating vegetables on their tiny homesteads along with other income generating activities, driving away 'monga' and beginning a new life under assistance of the Char Livelihoods Programme (CLP).
Over 20,000 extremely poor families living in the char areas of Lalmonirhat sadar, Aditmari, Kaliganj, Hatibandha and Patgram upazilas in the district have achieved the success to overcome poverty comprehensively so far. CLP beneficiaries are mostly cultivating pumpkin, sweet gourd, Korola, Chichinga, Borboti, patol, Kakrol, Jhinga, Shosha, brinjal, cauliflower, chilli, Palong and Lal sak and other vegetables, they said adding they are happy earning additional to support the poor family.
Char woman Shilpi Begum, 48, at Char Gobordhan said, "Before taking up vegetables farming as the means of our subsistence, most of the women were in abject poverty in the erosion-and poverty-prone sandy char on the Teesta basin." "Now the charwomen are leading a changed life and out children are going to schools and dreaming of a better Bangladesh," she said. "I have cultivated pumpkin vegetables on tiny homestead brings good result for us. I have already sold vegetables at Tk 3,000 in the last one month, after meeting my family's requirement.
Mohishkhocha union parishad UP Chairman Mosaddeque Hossain Chowdhury said, huge quantities of vegetables are being produced in over 65 char villages of the Teesta basin under five upazilas in Lalmonirhat. The Deputy Director in Lalmonirhat Agriculture Extension Department Abdul Mazid said the poor char people have been improving livelihoods through homesteads vegetables cultivation, animal husbandry and other income generation activities. The poor char families are being enabled to escape floods through raising plinths and are becoming self-reliant through various income generations including homesteads gardening, he added.
http://www.thedailystar.net/country/homestead-gardening-changing-lives-of-char-women-8941
------------
URL: https://newageislam.com/islam-women-feminism/widow-gang-raped-orders-muzaffargarh/d/35516