New Age Islam News Bureau
15 Feb 2018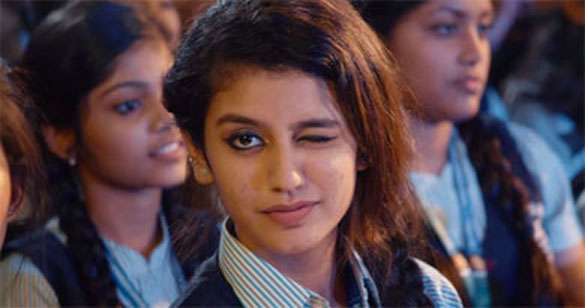 'Winking Girl' Priya Prakash Varrier
-----
• Burqa Clad Muslim Girls Mark Valentine's Day as Haya Day in Nagpur
• 100 Women: The Afghan Women Celebrating Valentine's Day
• Triple Talaq: Legislation Is Interference in Islamic Shariat, Says Maoists
• Some Finding It Hard to Digest Women at Asma's Funeral
• Hijab Saga: Muslims Warns Nigerian Law School, Say Religious War Looms
• 48pc Pakistani Women Have No Say in Health Matters: UN
Compiled by New Age Islam News Bureau
URL: https://www.newageislam.com/islam-women-feminism/some-maulanas-islamic-scholars-upset/d/114292
--------
Why Some Maulanas and Islamic Scholars Upset With 'Winking Girl' Priya Prakash Varrier
February 15, 2018
Several Muslim scholars and leaders have come together to condemn Malayalam actress Priya Prakash Varrier for her expressions in a clip of song 'Manikya Malaraya Poovi'.
At India TV's chat show 'Kurukshetra', Syed Rizwan Ahmed, an Islamic scholar, said that performing in a flirtatious manner on the song is against the teachings of Islam.
"After scrutinising the lyrics, I noticed that it is based on an Arabic poetry. It is about Prophet Muhammad and his first wife Khadija. How they met and tied the knot. Playing the song at a wedding ceremony is good, but a juvenile (school going) performing in a flirtatious manner on the song (original song) is wrong," he said.
Sufi Abdul Qadri of Sufi Majil too echoed same sentiment. "This has never happened before… it is a conspiracy to defame Islam. Taking name of Rasulullah while dancing is wrong," he said.
Maulana Arif Qasmi, president of All India Imam Foundation, said that the song huts the sentiments of Muslims. He added that the girl should wear hijab because it is a matter of Quran and Islam.
Maulana Sajid Rashidi, president All India Imam Association, however, said that there is nothing objectional in the lyrics of the song.
"I have not seen anything objectional in the transaction of the lyrics," he said.
The song 'Manikya Malarayi Poovi' from Malayalam movie 'Oru Adaar Love' went viral shortly after it was released. The song was launched on February 9. It garnered almost 1 crore views on YouTube till Tuesday evening.
Police complaint filed against Priya Prakash Varrier
Priya, the actress featured in the clip of the song, shot to fame overnight but in a dramatic turn of events, a police complaint was filed on Tuesday in Hyderabad against the actress. The complainant alleged that song hurts the sentiments of Muslims.
Priya, 18, is pursuing B.Com at a Thrissur college. Priya has done modelling in past and acted in a short film. Oru Adaar Love is her first full-length commercial flim.
https://www.indiatvnews.com/news/india-india-tv-exclusive-why-few-maulanas-and-islamic-scholars-upset-with-winking-girl-priya-prakash-varrier-427885
--------
Burqa clad Muslim girls mark Valentine's Day as Haya Day in Nagpur
Feb 14th, 2018
Nagpur: Valentine's Day has its own unique flavour when it turns to city of Oranges as the guys and gals in city pack their own style of celebration into this day. On Wednesday when the city folks were soaked up in celebration and set the mood in red (red rose, red dress and other reds!!!), the young girls from Muslim community made it a point to show that the day is not really meant for showing your loved ones how much you love them or opening up in thoughts. It also meant some amount of shyness too.
And that is why the nembers of Girls' Islamic Organisation of India marked the Valentine's Day in Nagpur as 'Haya-Day'.
Many of the girls from the organisation took to streets with placards displaying "Haya Day 14th February." The placards further present the word 'Haya' (means sharm in Hindi and shyness in English) embedded into a heart. The caption reads – Haya is the part of our faith.
The girls were seen consciously wearing burqas, holding the placards as they took silent march through city streets.
https://www.nagpurtoday.in/burqa-clad-muslim-girls-mark-valentines-day-as-haya-day-in-nagpur/02141818
--------
100 Women: The Afghan women celebrating Valentine's Day
14 February 2018
In the centre of Kabul I come across multiple shop-fronts decorated in a style which has become familiar to us in the past few years, writes BBC Pashto journalist Shafiqa Khpalwak.
There are bouquets of red and white roses, heart-shaped balloons and empty boxes beautifully wrapped and placed on top of each other.
Yes, Valentine's Day is just around the corner and love is in the air.
For a moment it all looks surreal. Kabul has witnessed multiple terrorist attacks during the past month, with more than a hundred killed and many more injured.
Yet among all this fear and hopelessness the people of this ancient city, as they have often been forced to do in recent years, just get along with their daily lives.
Valentine's Day is one of the few occasions when young people in Kabul give themselves a reason to celebrate - and to love.
I cannot help but think what it meant to love - and to be loved - in Afghanistan. We are by no means aliens to this human emotion, but our men are never good at talking about it and our women aren't allowed to express it.
I decide to ask Afghan women if they had ever been in love.
A woman in her mid-thirties who wants to stay anonymous tells me she fell in love more than eight years ago. When her mother found out, she told her own brothers "to 'get rid of me'.
"I was attacked by them multiple times," she says.
"Every time they came to kill me I would run to the room and grab a copy of the Holy Koran.
"I cried and begged them to forgive me, to let me live for the sake of the Koran. I somehow survived.
"But after what happened in the family no one has ever come to ask for my hand in marriage. People don't think I am clean enough for their sons."
Just a week ago BBC Pashto published an online story about the killing of a young couple just across the border in the Federally Administered Tribal Areas (FATA).
Their sin? Falling in love and running away from home in order to get married.
Often in such cases the two families are at each other's throat. This time however they joined hands, sent a message to the couple that they had accepted their decision and it was time for them to return home. The trustful couple agreed.
On returning to the village they were shot at and killed as soon as they stepped out of the vehicle. The authorities promised to take action but judging by previous records one can't hope for much.
A student tells me other girls in her class stopped talking to her after they found out she was in love with a man.
Some students say they were still looked down on, even when they married the person they love.
"My sister-in-law told me I had no honour, because I had had an affair with her brother," one girl tells me.
Things are different for men. Afghan men boast about having girlfriends and lovers.
If things go wrong men will be protected by their families and mothers, but for the women involved in the same love affair things end up in shame, social isolation and even death.
But there are women who believe love is worth all the trouble.
"My friends are not happy about my relationship but I don't care," says one young woman.
"I know my mother will kill me if she finds out; she will accuse me of bringing shame to the family.
"But it's all worth it when you are in love. You don't plan on falling in love. It just happens to you."
I think about our poetry and literature, about how women poured their hearts out in those verses; confessing their love to their beloved. Were they a different breed of Afghan women?
For me, the legacy of those women still lives on through the brave young women of Afghanistan today who dare to fall in love against all odds.
http://www.bbc.com/news/world-43058259
--------
Triple Talaq: Legislation is interference in Islamic Shariat, says Maoists
February 15, 2018
Hyderabad: Govt. has no jurisdiction for the enactment of Triple Talaq issue. It is dreaming to make India a Hindu State under the influence of "Brahmins" and higher castes. Maoists extended full support against the ongoing efforts of the Govt. to get this bill passed. They issued a press note in which they said that they fully understand the issues of the Muslim women who are the victims of "Triple Talaq" but government has no right to interfere in Islamic Shariat.
The Central Committee of Maoists advised Muslim community to resolve this issue mutually. Now that the Sunnis are also opposing "Triple Talaq", there is a need to create awareness among the Muslims.
Comrade Abhay, spokesman of CPI-M in his press statement addressed the people and said that the present government is under the influence of Hindutva forces. It is making an attempt to implement Uniform Civil Code, construction of Ram Mandir and repealing Article 370.
He further told that Hindutva forces are shedding crocodile tears on Muslim issues.
He termed the legislation on "Triple Talaq" a conspiracy and said that the Muslims follow their own faith which no one has the right to change. He also mentioned that ever since BJP assumed power, atrocities on the Muslims have increased. There is a long history of communal riots since 1947 but after 2014, the situation has become worse. Muslims are being targeted in the name of "Cow Slaughter", "Ghar Wapasi", "Love Jihad" and other issues.
CPI- M in its press note said that the political parties have turned the parliament into a platform of conflicts in order to divert attention from basic issues.
Making a reference to PM Modi's speech, the committee said that he is expressing concern over a woman out of 10 who is a victim of "Triple Talaq" but he is not prepared to implement the recommendations of Sachar Committee report of 2006.
The committee pointed out that more than 25% Muslim children in the age group of 6-14 do not go to school. The representation of Muslims in government jobs is negligible. Even in Civil Services, they are less than 3%. In police dept., they are less than 6%.
The party pointed out that although, ban has been imposed on "Triple Talaq" in Pakistan and other Islamic countries but in India, it has been made a criminal case which is an interference in the religious matter of the Muslims.
CPI – M is of the opinion that Muslims should live a dignified life in the country.
Citing the statistics of Census of India 2011, he said that laws relating to child marriage, anti-dowry and atrocities on weaker sections are not functioning properly. In the same manner, "Triple Talaq" law will also be ineffective.
https://www.siasat.com/news/triple-talaq-legislation-interference-islamic-shariat-says-maoists-1318588/
--------
Some finding it hard to digest women at Asma's funeral
February 15, 2018
LAHORE: A presence of a large number of women at the funeral of Asma Jahangir has caused an uproar in the country, especially the conservatives finding hard to digest it and creating a conspiracy out of it, while an equal number of people welcomed the change and termed it progressive.
After Asma Jahangir's abrupt death due to cardiac arrest, many of her female comrades, colleagues and relatives joined the prayer at Qaddafi Stadium, which was led by Syed Haider Farooq Maududi, son of Jamaat-e-Islami (JI) founder Syed Abu'l Al'a Maududi, in the front row.
This, however, did not go down well with the fundamentalists in the country, and they built their argument on 'women are not allowed to join the funeral'.
Some labelled her "glorious" funereal a pleasant precedent, another called it 'false priorities'. The often hate-spewing Bol TV also put its oars in.
Farooq Maududi, however, remained steadfast and it was his decision to allow the women to attend the funeral. Speaking to Bol News, he said, "I allowed the women to join the funeral and I stick by it."
Paying tribute to the iron lady, a Twitter user wrote: "All they did [women] was honour her memory by standing next to men like she did all her life."
A Twitter user wrote: "Somehow ended up reading comments under a news post regarding #AsmaJahangir Funeral on Facebook. I'm horrified. Actually traumatised is a better word. How can people be so bitter and hateful? Like how do they even carry this amount of hatred in themselves?"
Another user lauded the gathering, being thankful to Asma for reminding women that "funeral is wajib on women too", while the other cherished the event as a challenge to "depravity and Imamhood".
Another wrote women honoured Asma by attending her funeral.
One questioned her faith and wrote: "She was not anti-state since she knew the reality of greatest fraud against Indian Muslims in the name of know as Pakistan. Beyond doubt she was 'anti-Islam' and fought hard against any attempt of implementing Islamic laws in Pakistan.
One of the users at Twitter made an analogy between misogyny and secularism on the pretext of her funeral, while others called her a 'traitor' and chided media for her 'glorification'. The Twitter user also said that her activism to help those in need was an attempt to weaken institutions.
https://www.pakistantoday.com.pk/2018/02/15/some-finding-it-hard-to-digest-women-at-asmas-funeral/
--------
Hijab saga: Muslims warns Nigerian Law School, say religious war looms
February 14, 2018
By Seun Opejobi
The Muslim Rights Concern (MURIC) has raised alarm that the six Nigerian Law School campuses across the nation may not allow female Muslim students due for Bar Part II to wear their hijabs during the 2017/2018 First Term Law Dinner, from Wednesday, 13th February to Thursday, 15th February, 2018.
Its Director, Prof Ishaq Akintola, in a statement, warned of religious crisis if the hijab controversy is not properly managed.
The don insisted that any attempt to bar female Muslim law students who wish to use hijab from doing so is an infringement on Allah-given fundamental rights of those students as entrenched in Section 38 (i) & (ii) of the 1999 Constitution of the Federal Republic of Nigeria.
He disclosed that MURIC has received reports of a number of female Muslim law students at the Agbani, Enugu, Lagos and Abuja campuses who are allegedly being threatened with disciplinary measures should they use the Hijab at the Law Dinner.
Akintola said: "We remind authorities of these Law School campuses of the provisions of Section 42 of the Nigerian Constitution which prohibits the placing of any citizen under any internally formulated restriction.
"We also call attention to Section 13 of the Code of Conduct Bureau and Tribunal Act (1991) which forbids officials from taking any action "prejudicial to the rights of any person knowing that such act is unlawful or contrary to any government policy
"We affirm clearly, emphatically and unequivocally that whatever emanates from any circular in any Nigerian institution (the Law Schools included) must comply with the dictates of the Nigerian Constitution which is the font et origo of all laws, rules, regulations, provisions and directives in this country.
"MURIC warns that certain campuses of the Nigerian Law Schools are deliberately precipitating crisis by stereotyping female Muslim students on the issue of hijab. Those who seek to play God in the lives of Nigerian Muslims are religious fanatics bent on intimidating, oppressing and persecuting Muslims.
"This is a dangerous situation capable of snowballing into a religious crisis whose consequences no one can predict. The Qur'an affirms that oppression is worse than killing (Qur'an 2:191).
"This verse underlines the gravity of the hijab phenomenon. Female Muslims are being persecuted in order to give undue advantage to non-Muslims. It is religious apartheid. It is unacceptable. We will rather be free men in our graves than live like puppets and second class citizens.
"Those who make rules and regulations impossible to obey make it impossible not to disobey. Law Schools where anti-Muslim dressing codes are issued in a multi-religious Nigeria do not belong to decent and accommodating communities of men and women.
"We call on the Federal Government and the National Assembly (particularly the House of Representatives where the Amasa Firdaus case is still being investigated) to turn its attention to what is going on in the Law School Dinners across the country. Muslims are not being violent now but they are being persecuted.
"Those who fail to listen to the dialogue group may have cause to regret it sooner or later."
http://dailypost.ng/2018/02/14/hijab-saga-muslims-warns-nigerian-law-school-say-religious-war-looms/
--------
48pc Pakistani women have no say in health matters: UN
Faiza Ilyas
February 15, 2018
KARACHI: A United Nations report released on Wednesday presents a very bleak picture of Pakistan that is yet to make a serious start for women's development, the majority of whom are deprived of education and basic healthcare.
The report finds that 98.8 per cent of women from the poorest rural households are education poor (defined as having only completed six or less years of education), with the rural Pashtun women not only being the most deprived in education but also have the least say in decisions regarding their own health care.
Released two years after world leaders had adopted the 2030 Agenda for Sustainable Development, the report — Turning Promises into Action: Gender Equality in the 2030 Agenda — examines all 17 Sustainable Development Goals (SDGs) and shows their impact on the lives of women and girls. It highlights how the different dimensions of well-being and deprivation are deeply intertwined and suggests measures to tackle existing structural inequalities and turn promises into action.
Pakistan is one of the four countries highlighted in the report where 4.9 million women aged between 18 and 49 years are simultaneously deprived in four SDG-related dimensions.
Across nine out of 10 dimensions, women and girls from the poorest 20 per cent of households in rural areas fare worse than women and girls from the richest 20 per cent of households in urban areas.
Disaggregation by ethnicity revealed further differences. In the case of malnutrition (proxied by a low Body Mass Index), Sindhi women and girls from the poorest rural households fare far worse than any other group across all wealth quintiles and locations. "However, the most disadvantaged ethnic group often varies across indicators, oscillating between the Sindhi, Saraiki and Pashtun.
"A closer look at those most likely to be disadvantaged — that is, women in the poorest rural households — suggests that in six of the 10 dimensions studied, Sindhi and Saraiki women and girls fare the worst while Pashtun and Punjabi women tend to fare better.
"Exceptions can be observed in some areas, such as access to clean cooking fuel, where rural poorest were equally deprived irrespective of ethnicity," the report says.
Deprivation in access to employment, according to the report, is unique: the richest are much more likely to lack employment as compared to the poorest, 86.8 and 53.3 per cent, respectively.
On average, 48.1 per cent of women and girls aged between 15 and 49 years in Pakistan have no say in decisions regarding their own health care, but rates vary significantly by location, wealth and ethnicity. For instance, women and girls in rural areas are 1.3 times as likely to report having no say in decisions regarding their own health care as those in urban areas: 52.5pc compared to 39.3pc, respectively.
The differences by ethnicity, however, reveal the largest inequalities, with Pashtun and Sindhi women and girls most likely to report having no say (65.2pc and 62.5pc, respectively) and Saraiki, Punjabi and Urdu least likely (44.0, 40.4 and 31.9pc, respectively).
"The furthest behind are women and girls facing the compounded effect of intersecting forms of discrimination (ethnicity, wealth and location). Ethnicity in some cases exceeds wealth and location as a predicting factor for having no say in own health-care decisions. For example, rates of 'no say' among Pashtun women and girls are higher than the national average, irrespective of wealth and location," the report says.
The report recommends investment in accessible, affordable and quality early childhood education and care as an important strategy that could help contribute to the achievement of gender-and child-related targets of the 2030 Agenda by reducing the time women spent on unpaid care enabling them to increase their access to employment, improving children's health and nutritional outcomes.
https://www.dawn.com/news/1389532/48pc-pakistani-women-have-no-say-in-health-matters-un
--------
URL: https://www.newageislam.com/islam-women-feminism/some-maulanas-islamic-scholars-upset/d/114292
New Age Islam, Islam Online, Islamic Website, African Muslim News, Arab World News, South Asia News, Indian Muslim News, World Muslim News, Women in Islam, Islamic Feminism, Arab Women, Women In Arab, Islamophobia in America, Muslim Women in West, Islam Women and Feminism