New Age Islam News Bureau
21 Dec 2016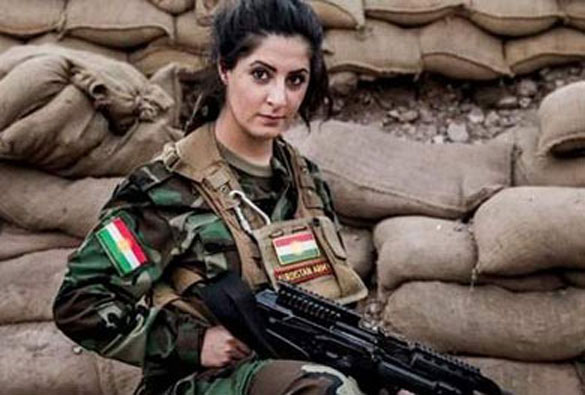 Palani is often the subject of vicious threats both on and offline following her return to Denmark. (Picture via twiiter/@GalactusGalaxi)
--------
• Muslim Woman Assaulted With Beer Bottle in Australia, Hijab Torn
• To Protect Themselves, More American Muslim Women Give Up Hijab
• Online Quiz Launched To Promote Women's Rights in Islam in Malaysia
• Veiled and Undercover: Exposing Harassment of Muslim Women in the U.K.
Compiled by New Age Islam News Bureau
URL: https://newageislam.com/islam-women-feminism/daesh-offering-$1m-this-kurdish/d/109446
--------
Why is Daesh offering $1m for this Kurdish woman's head?
December 20, 2016
Palani is often the subject of vicious threats both on and offline following her return to Denmark
Daesh has offered a $1 million reward for the killing of a Kurdish-Danish woman who dropped out of university in 2014 to fight the terror group in Syria and Iraq. Joanna Palani, 23, is currently behind bars and facing trial in Copenhagen for leaving the country after a 12-month travel ban imposed in June 2015, The Independent reported. Her trial begins tomorrow and if found guilty she faces up to two years in prison under the new laws designed to stem the flow of Daesh militants from Denmark to the Middle East.
Palani is often the subject of vicious threats both on and offline following her return to Denmark.
The latest offerings of financial reward for her death were made by Daesh social media channels in several different languages over the weekend, the paper said, citing Arab media.
"How can I pose a threat to Denmark and other countries by being a soldier in an official army that Denmark trains and supports directly in the fight against [Daesh]?" she posted on Facebook shortly after her passport was confiscated by cops last year.
Palani, whose family originate from Iranian Kurdistan, was born in a refugee camp in Ramadi in Iraq during the first Gulf War. Her family won asylum in Denmark when she was a child.
She quit a politics degree to join the Kurdish revolution against Daesh after the extremists rose to prominence in 2014, fighting with both the Kurdish People's Protection Units (YPG) in northern Syria and Peshmerga forces in Iraq, it said.
In a Facebook post, Palani said she was inspired "to fight for women's rights, for democracy - for the European values I learned as a Danish girl."
http://www.khaleejtimes.com/region/mena/daesh-offers--1-million-for-head-of-kurdish-woman-who-fought-them-in-syria-iraq
--------
Muslim Woman Assaulted With Beer Bottle in Australia, Hijab Torn
December 20, 2016
A Hijab-clad Muslim woman was allegedly assaulted in Australia with a beer bottle and her headscarf torn off after her attacker said "merry Christmas" but she replied with "happy holidays". The woman was allegedly assaulted after an exchange of words with a man at the Beeliar Village shopping complex, Perth, that quickly escalated into a physical fight.
The 33-year-old woman, who wanted to remain anonymous, told WAtoday that she was walking into Coles (supermarket) when a man yelled out "merry Christmas". "I turned around and said and 'happy holidays' to you," she said.
"He then yelled, 'no Merry Christmas', so I said, 'ok', then he called me a '(expletive) Muslim'," she said. "I asked him what he said and I saw him grab a bottle so I quickly turned away and he threw it at me and it smashed on my shoulder and neck. Imagine if I didn't turn around, it could have cut my face open," the woman said.
She said her headscarf came off during the scuffle, which the man dumped near the shopping complex.
Despite the single mother being left shocked and traumatised by the incident that took place on Friday, she decided to follow him as she was calling the police. She said the man then started hurling sticks and rocks at her. "I was screaming on the phone to triple-zero because I thought this guy could kill me," she said.
"I was running into oncoming traffic to get away from this guy because he was threatening to punch me in the face. I have been racially abused in the past because of my religion but this is by far worse," she added.
The woman went back to the shopping centre and waited for the police to arrive. She waited for an hour and rang police again who allegedly told her there was no log of her triple-zero call. Cockburn Police are investigating the assault and are appealing for anyone with information about the incident to contact Crime Stoppers.
The woman also reported the incident to the Islamophobia Register Australia and the Register's President, Mariam Veiszadeh, was quoted as saying that it was one of the "worst attacks" she had heard of. The suspect was described as light skinned, 25-35 years old, 175-180 centimetres tall of slim build. He is believed to have short blonde and was wearing blue shorts and a white top.
The attack comes amid assaults targeting hijab-clad women in different parts of the world from the US to the UK.
http://indianexpress.com/article/world/muslim-woman-attacked-in-australia-4437348/
--------
To protect themselves, more American Muslim women give up hijab
December 21, 2016
DECEMBER 20, 2016 NEW YORK—Three and a half years ago, when Nassrene Elmadhun was 8-1/2 months pregnant with her first child, she never dreamed she would ever go out without wearing hijab.
Since her early teens in Colorado, Dr. Elmadhun has worn a headscarf, both as an expression of her traditional Muslim faith and her commitment to its requirements for public modesty. She wore it throughout her years as a doctor in Boston, where she became the chief surgical resident at Beth Israel Deaconess Medical Center, a top trauma center and affiliate of Harvard Medical School.
She was wearing it on April 15, 2013, when her husband texted her. A bomb had exploded near him at the finish line of the Boston Marathon. "I got my scrubs on and waddled into the hospital and did my best to aid the victims," says Elmadhun. "I still have my fleece with 'Boston Strong.' It's something that will be forever burned into my memory."
That day marked a turning point, however. Though she had been acutely aware of the fact that her headscarf made her stand out, Elmadhun says, she always felt confident and strong wearing hijab, both as a Muslim and as an American who felt, in a deeply personal way, her country's promise of liberty and religious freedom – even after the difficult days following Sept. 11, 2001.
Instead of second glances, she became the object of angry stares. Instead of folks assuming she's from another country, or expressing surprise she speaks without an accent, they began to openly associate her with the Tsarnaev brothers, who perpetrated the Boston bombings, or other Muslim extremists.
Sunni and Shiite Islam: Do you know the difference? Take our quiz.
"Over the last several years, there's been this growing unease, feeling uncomfortable in my own skin," the surgeon says. "And that is something that's new.... I was feeling less and less welcome in my own community, and more and more like there was a target on my back."
And so, like a number of Muslim women this year, Elmadhun made the wrenching personal decision to stop wearing her headscarf.
"You feel fear, it's human nature," says Mariana Aguilera, who converted to Islam 10 years ago and now runs The Demureist, a Brooklyn-based website that celebrates conservative lifestyles and fashion, especially for Muslim women wearing hijab.
"But this is more than about our fear," says Ms. Aguilera, who has decided to keep wearing her headscarf, despite receiving verbal threats this month. "There's a reason why we have this religious freedom in our country, and if we don't do something – this climate is destroying our values, and that's dangerous."
Indeed, if Muslim women wearing hijab across the country have been feeling especially vulnerable during the current political climate in which few can recall such open hostility, for many of them harassment and violence has also cut to the core of their faith – a chill on their freedom to remain true to their visible acts of worship and what they see as a theology of modesty.
It's a theology that is shared by some Orthodox Jewish women, who often wear wigs to cover their heads in public. In some Orthodox Christian, Roman Catholic, and Protestant traditions, too, women are sometimes required to cover their heads in places of worship – a practice common in the United States just decades ago.
Hiding one's faith
"It would be a tragedy to us here in the United States if Muslims felt like they had to hide their faith, if Muslim women felt like they had to take off their hijabs, or Sikh men their turbans, or anyone who felt they could not identify who they are in public," says Imam Omar Suleiman, president of the Yaqeen Institute for Islamic Research in Irving, Texas.
"So I think that it's important that we collectively challenge these attacks on people that are identifiably Muslim," he continues. "It's important for us to challenge all of that, and to stand tall and firm, because at the end of the day, bigotry is not something that can be reasoned with. And bigotry should not force us to change the way we live our lives."
Elmadhun and Aguilera point to 2015, when armed protesters were marching in front of mosques and candidate Donald Trump was calling for a ban on all Muslims entering the country. That year, hate crimes against Muslims were becoming more and more common – up 67 percent, according to the FBI. That also was the year Dzhokhar Tsarnaev was convicted and sentenced to death for the Boston Marathon bombings. During the trial, Elmadhun says she was walking her son in a stroller in Brookline when a man stopped his car, got out, and yelled, "Go back to your [expletive] country, you [expletive] terrorist!"
Earlier this month, a man at Grand Central Terminal in New York pushed a New York City transit worker down a staircase, yelling "You're a terrorist, go back to your own country!" In Brooklyn, another man threatened an off-duty police officer with his pit bull, also telling her and her son to "go back to your country."
On the steps of a municipal court in New Jersey, too, a man spit in the face of an advocate with the Muslim American Society's Immigrant Justice Center, after she testified in a domestic violence case, according to the Religious News Service.
Self-defense classes
Such incidents led Aguilera, the daughter of a former professional boxer, to organize a self-defense class for women who wear hijab. She and her colleagues expected 50 or so women to respond for a class scheduled after the election. Posted on Facebook by her sponsor, New York's Muslim Community Network, the self-defense class got about 2,700 people expressing interest in a class accommodating 40.
The class includes a time for women to share their experiences and fears and discuss how to respond, both physically and emotionally.
"Our knowledge about how to manage that fear is very vital," says Aguilera. "Eventually these are going to take a toll, because once you start denying who you are, that takes a toll on your personality, and that's not healthy."
The attack Monday on the Christmas market in Berlin that killed 12 brings more unease. Both women say that anytime a Muslim terror attack occurs, they feel they are being held personally responsible for actions occurring hundreds, if not thousands, of miles away – and which they emphatically deny represents the religion they hold dear.
"Last year, after the Paris attacks, it was like every time something like that happens, there's the aftermath, and people who have nothing to do with it, we have to take the heat for that," says Aguilera. "And the first people targeted, the most vulnerable, are Muslim women."
At the same time, however, many advocates have been frustrated by recent fabrications. In November, police discovered a student at the University of Louisiana at Lafayette lied about having her hijab ripped off. And in New York, a young woman who lied to police and the media, alleging that two white Trump supporters attacked her on the subway, was arrested and charged with filing a false report. In the young woman's court appearance, she was uncovered, and her head had been shaved.
For Elmadhun, wearing hijab for most of her life was "a positive and powerful message, allowing me to recognize that I am not just what I appear to be, but I'm a human being who should be valued for who I am and what I have to offer."
And though she does feel relieved in many ways, and feels safer with her son outside, "I'm also sad that I was driven to this," she says. "I'm sad about what it means about our religious freedoms in general in our country, I'm sad that I had to give it up. I was kind of forced into this. It wasn't really a choice."
http://www.csmonitor.com/USA/Politics/2016/1220/To-protect-themselves-more-American-Muslim-women-give-up-hijab
--------
Online Quiz Launched To Promote Women's Rights in Islam in Malaysia
December 20, 2016
PETALING JAYA: Projek Dialog has launched Hidayah Muslimah, a series of 12 quizzes on its website with the aim of educating Muslim women on their rights.
Project coordinator Victoria Cheng said the quiz series in Bahasa Malaysia featured realistic life scenarios that were relevant to the modern Muslim woman.
"The quiz series offers an honest and realistic depiction of the Muslim woman wearing different hats – mother, spouse, friend, student and career woman.
"We want women to be able to critically understand their roles and their worth," she said at Projek Dialog today.
Declared the first Malaysian quiz on Muslim women's rights, Hidayah Muslimah is fleshed out with scriptural references and contextual scenarios.
"We also tried to incorporate key points that they can take away and ponder upon so that their growth as women is empowered by knowledge of their rights in Islam."
Hidayah Muslimah was created by a team of six women over the course of a year. The project is funded by CIMB Bank.
"The quiz is fully designed, conceptualised, written and illustrated by six talented women, who each brought their own skill sets and unique experiences to the quiz," Cheng said.
Hidayah Muslimah co-writer Yana Rizal said the quiz series was carefully curated to provide a fair representation of woman's rights in Islam.
"We did a lot of research and fact-checking to ensure we present a fair representation of Muslim women's rights."
Also present at the launch was prominent activist Marina Mahathir, who said Hidayah Muslimah was a creative way to engage women on their rights in Islam.
Marina said the current issues afflicting local Muslim women were discrimination and domestic violence.
"Many Muslim women do not know the rights accorded them in their religion. They are taking in what they hear and it doesn't connect with their real lives.
"A project like this which tries to personalise common situations is a good step. It enables women to understand the rights they have in Islam."
http://www.freemalaysiatoday.com/category/nation/2016/12/20/online-quiz-launched-to-promote-womens-rights-in-islam/
--------
Veiled and Undercover: Exposing Harassment of Muslim Women in the U.K.
December 21, 2016
Originally from Greece, Irene Zempi is a foreigner in the U.K., but it's not obvious until she speaks. She didn't give much thought to her ability to blend in until 2009, when she began working at the charity Victim Support in Leicester. That was where she met Muslim women who were being abused in public because of the way they dressed. Propelled by the injustice and shocked at the lack of information on the topic, she went on to earn a PhD in criminology with a focus on the purposeful victimization of visibly Muslim women.
While Zempi was conducting her doctoral research, she interviewed Muslim women who urged her to wear the Islamic hijab (headscarf), niqab (face veil) and jilbab (long dress) so she could better understand their collective experience. A practicing Orthodox Christian, she agreed that dressing the part would be the best way for her to examine the issue of female-focused Islamophobia. So, in 2012, she went undercover for a month in Leicester. The level of harassment she faced was astonishing, she says.
Nearly four years have passed, but the data from Zempi's research is now more timely than ever. In 2015 alone, there was a 326 percent increase in hate crimes against Muslims in the U.K., with Muslim women more likely to be attacked than Muslim men. And police figures show that hate crimes soared in the country following the Brexit vote earlier this year.
Women & Girls spoke with Zempi, who teaches criminology at Nottingham Trent University, about her month as a Muslim, the results of which will be published fully for the first time in an upcoming report with co-author Imran Awan of Birmingham City University.
Women & Girls: Why are Muslim women more likely to experience Islamophobia than Muslim men?
Zempi: We see that Muslim women who are visibly Muslim in terms of their dress are easy targets. It's obvious that they're practicing Muslims and, to some extent, wearing a veil is a symbol of Islam in the West. A hate crime is a message crime. Therefore, for hate crime perpetrators, attacking the symbol of Islam – the veil – sends the message to the wider COMMUNITY that all Muslims are vulnerable. The perpetrators think they can get away with it if they attack Muslim women because they don't think the women will fight back or report it to the police because they view Muslim women as oppressed and forced to wear the veil.
So, there isn't just one reason why Muslim women in veils are more likely to experience abuse. It's a combination of reasons. Muslim men also suffer from Islamophobia. Women experience it more in the public space – like when they walk on the street or take public transport – while men are more likely to experience it in the labor market.
Women & Girls: As part of your research you dressed in Muslim clothing for a month. What did you experience?
Zempi: When I would leave my house and go to the city center I felt unsafe. People would say things to me like "Muslim terrorist," "Muslim bomber" and "Why do you have that on your face?" But it wasn't just verbal abuse, it was also persistent staring and being ignored in shops where I've been dressed as I am normally. So, I could see the difference in people.
On one occasion, I was walking down the street and [someone in] a passing car threw eggs at me. Everyone was staring, but no one was coming to my assistance, so I felt doubly victimized.
It was really, really difficult. I lost my appetite, had indications of depression and I didn't want to speak to anyone or leave the house. When I told my Muslim friends about my experiences, they said: "This is what we suffer on a daily basis."
Women & Girls: You said you lost your appetite and were depressed. In your research, how did you find Muslim women cope with harassment on a long-term basis?
Zempi: Not everyone reacts in the same way. Some women might choose to take the veil off, either permanently or for a short time. I've met women who have refused to go to shops or they don't leave the house at all. So, there's a sense of imprisonment. And, in some cases, it could even lead to radicalization, because if you're really vulnerable, you can easily be brainwashed. Some women who wear the veil are not wanted, even in the Muslim COMMUNITY. So, they might experience bias, prejudice or hate perpetrated by fellow Muslims who are more secular or so-called modern.
Women & Girls: Would you say Brexit has contributed to increased harassment of visibly Muslim women in the U.K.?
Zempi: Absolutely. Imran Awan and myself have spoken to people in the Muslim COMMUNITY, and I think the feeling is that the political campaigns related to the E.U. referendum and Brexit – but also the political campaign of Trump in the U.S. – legitimize Islamophobia because they make it mainstream. Therefore, people on the street feel that if politicians make these comments, then it's fine for them to attack Muslim women because they're wearing the veil or they think the women are supporting terrorists. We can see the ripple effects across the world.
Women & Girls: What should be done to reduce Islamophobia and make visibly Muslim women feel safe?
Zempi: I think it's important for us – government, academia, criminal justice agencies – to work together now in the current climate to try to understand and address the problem. But I also think the politicians who have made these comments have the responsibility to protect the communities they are meant to protect. They need to rise to the challenge of making sure they don't PROMOTE hate bias and prejudice toward minority communities, in general, and Muslims, specifically.
We tend to see Muslim women in stereotypes – as forced to wear the veil, victims of FGM [female genital mutilation] and forced marriage, or related to extremists. I think we need to attack and address these stereotypes. We also need to offer training to the media because the media often PROMOTE these stereotypes.
And, finally, I think we need to work more with hate-crime perpetrators. We place more emphasis on victims, but I think we also need to educate the perpetrators. I would like to see some work done with perpetrators that will allow them to understand the impact and implications of their actions.
https://www.newsdeeply.com/womenandgirls/veiled-undercover-exposing-harassment-muslim-women-u-k/
--------
URL: https://newageislam.com/islam-women-feminism/daesh-offering-$1m-this-kurdish/d/109446
New Age Islam, Islam Online, Islamic Website, African Muslim News, Arab World News, South Asia News, Indian Muslim News, World Muslim News, Womens in Islam, Islamic Feminism, Arab Women, Womens In Arab, Islamphobia in America, Muslim Women in West, Islam Women and Feminism, Moderate Islam, Moderate Muslims, Progressive Islam, Progressive Muslims, Liberal Islam