New Age Islam News Bureau
12 February 2022
• Pakistan's First Woman String Theorist, Tasneem Zehra Husain: 'Sky Is Limit for Girls in Science'
• Miss World Somalia Hoping To Inspire Other Black Muslim Girls as First Hijabi-Wearing Contestant
• Saudi Scientist Hayat Sindi on Making Arab Women More Visible In Science
• Taliban Release Afghan Women Activists, Foreigners
• Women in Tanzania Challenge Male Dominance in Engineering
• French Lawyer Attacks EU over Poster Featuring Muslim Woman
• Ethiopian Woman Is First Domestic Worker In Lebanon To File Slavery Case Against Employer
Compiled by New Age Islam News Bureau
URL: https://www.newageislam.com/islam-women-feminism/hijab-burqa-string-theorist/d/126359
--------
Why I Wear a Hijab and Why I Don't: Protestors Ayesha and Urwah Explain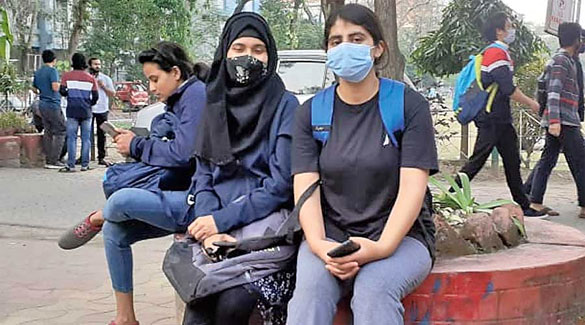 Ayesha Akhtar (left) and Urwah Jawaid at Jadavpur University on Friday.
Picture by Subhankar Chowdhury
-----
Subhankar Chowdhury
12.02.22
At Jadavpur University, hundreds of students protested on Friday the torment a student in Karnataka faced because she wore a hijab to college.
Among the protesters were two friends, Ayesha Akhtar and Urwah Jawaid. Ayesha wears a hijab but Urwah doesn't. They told The Telegraph that they joined the protest to "firmly oppose the forces that seek to dictate what a woman should wear".
Ayesha Akhtar, Park Circus
Third-year student of mathematics (honours)
I started wearing hijab after my first year in college. I felt good about it. I read about it and understood the purpose…. Now, it's a part of my identity. No one forced it on me. So I feel no one has the right to take it away from me. It's about me. The way I dress up should solely be my decision.
It should be like any other piece of clothing. Just like no one else can decide whether I wear a skirt or a salwar-kameez, they should have no business to do with my hijab.
I am at the protest today to voice my opinion about the injustice being perpetrated in institutes in Karnataka.
I used to visit Park Circus Maidan to protest the discriminatory citizenship law and the NRC. Students were in the forefront of that protest.
The time has come again for campuses to stand up to these forces that don't hesitate to send a pack of boys after a woman exercising her right.
Urwah Jawaid, from Srinagar in Kashmir
Second-year student of computer science and engineering in Calcutta
The hijab is more an umbrella term for me. It is not about a head covering. It is about being genuinely good, inside out.
I don't cover my head yet but one day I might. Right now, I feel like I won't be able to carry it and end up disrespecting what it stands for righteousness.
If I start wearing a hijab in the future, it will be out of my own choice and I will be the happiest. It is no one else's business because it is about me and my faith. It is not something a third person can intervene in. You can't be the judge of how I express myself.
I am at the protest because we need to raise our voice against what's happening in the country.
A person wearing a head covering by her own choice is hurting no one. That person is not outraging anyone's liberty. She has the right to be in her place of education.
It is extremely sad to see students fight among themselves on the basis of religion. Students should never be divided.
Our students are going in a very communal and extreme direction and it pains me to see this sorry state. The campuses must rise in revolt to prevent this and that's why I am here today.
Source: Telegraph India
https://www.telegraphindia.com/west-bengal/why-i-wear-a-hijab-and-why-i-dont-ayesha-and-urwah-explain/cid/1851598
--------
Pakistan's First Woman String Theorist, Tasneem Zehra Husain: 'Sky Is Limit for Girls in Science'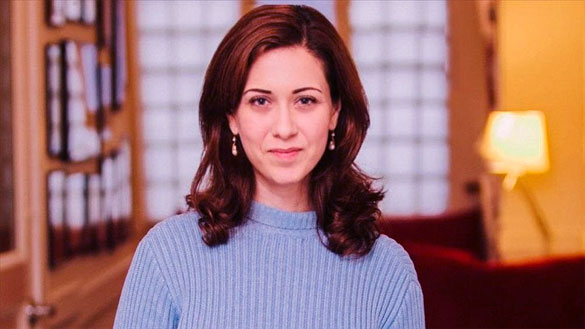 Theoretical physicist Tasneem Zehra Hussain. Anadolu Agency
-----
February 12, 2022
LAHORE: Pakistan's first woman scientist to earn her PhD in the cutting-edge world of string theory is urging girls nationwide to pursue a career in science with "every field open to them".
Speaking exclusively to Anadolu Agency to mark the International Day of Women and Girls in Science, which falls on February 11, Tasneem Zehra Husain said it was not easy for her to pursue a scientific career "as I had no inspiration to look up to and in schools and even college, teachers especially made science subjects very dry."
An eminent theoretical physicist who is also a literary enthusiast, Husain studied mathematics and physics at Kinnaird College before completing her master's degree in physics from the Quaid-i-Azam University in Islamabad.
"I was a keen observer of puzzles. Growing up, I used to get bored of things very easily," she explained.
She recalled how, when she told her father in the seventh grade that the curriculum in school had gotten "very dry," he advised her to study for the O-level exams.
"That was an interesting thing for me," she said.
O-level exams are subject-based academic qualifications for students in several countries, including Pakistan. They correspond to grades nine and 10, the first two years of high school.
Husain is a doctoral alumna of Sweden's Stockholm University, where she studied theoretical physics and won a scholarship to further study the field of high-energy physics.
"When I was doing my post-doctorate, I helped the Lahore University of Management Sciences (LUMS) in establishing a School of Science and Engineering. But the biggest dilemma in our country is that all of our bright students have to go outside of the country to pursue a stable career," Husain told Anadolu Agency.
Even while diving deep into string theory, a scientific model seeking to explain all of the physics at a fundamental level in an ambitious "theory of everything," Husain did not abandon her love of literature, and managed to write her first novel, Only the Longest Threads.
That book was about the defining moments in which new scientific theories affect the understanding of the universe, and she is now working on a follow-up.
MORE FLEXIBILITY
According to a report in the Journal of Pakistan Medical Association (JPMA), observations from 2019 found that 85,000 female doctors are not working in the field, despite government and health institutions' public awareness campaigns.
Husain stressed that there is no limit to what women can accomplish in the field of science, but stressed that the academic system needs be more flexible towards women according to their expertise.
"You can see doctors. So many of them don't work after marriage because a woman after the marriage has to carry a child physically, and that affects her health," she explained.
"If she isn't available for work for a certain time period, it doesn't mean she is lacking the capacity to work. A flexible system and proper policymaking are required."
TEACHING TEACHERS
Husain also underlined the role of teachers as guiding stars, as they can spark inspiration in their students to take more interest in subjects and can even make those subjects more fun and interesting, stressing their real-life applications.
"If the teachers aren't aware of the latest ways of teaching and they don't have command over their subject, they can't tell the students what the practical implications of that subject are," said the scientist.
"If students, especially girls, get proper guidance and counselling, the sky is the limit for them and they can do wonders. It's high time that we start telling our girls that every field is open for them."
Source: Pakistan Today
https://www.pakistantoday.com.pk/2022/02/12/pakistans-first-woman-string-theorist-sky-is-limit-for-girls-in-science/
--------
Miss World Somalia hoping to inspire other Black Muslim girls as first Hijabi-wearing contestant
By Faiza Amin and Meredith Bond
Feb 11, 2022
As the Miss World Pageant is set to kick off next month, a contestant with a close connection to Canada is making history as the first hijabi to compete in Miss World.
Miss World Somalia is hoping to inspire young Black and Muslim girls when she takes the stage in March.
Khadija Omar, whose parents are Somali, was born in a Kenyan refugee camp before coming to Canada in 2010. Her family arrived in Kitchener as refugee where she lived until enrolling at York University in Toronto.
Omar said she enjoyed growing up in a multicultural country like Canada, but she still felt like she didn't quite fit in.
"When I came to Canada, as a refugee, obviously there was a culture shock. And in the beginning, I actually didn't speak English. So I was put in ESL, and then I was able to learn English," Omar told CityNews. "Canada is very multicultural country. There's so many cultures, it's very diverse. But I still felt I didn't fit."
Her goal as Miss World Somalia is to provide representation for Black girls and girls who wear hijabs on such a large platform, what she didn't see growing up. Omar says she has already heard from some young girls about her impact on them.
"There's girls who are saying that I would love pageant but I never went into it because I've never felt represented. And that's how I felt when I was young. So being able to do that for so many people. It is like it's such an amazing feeling. Because I feel like the world is really changing.
Omar hopes girls will see her and know they can achieve the same thing. "She's different. She feels beautiful. She feels confident. So why can't I be different be like that too'."
Past Miss World, Omar is hoping to fulfil one of her passions and launch an inclusive makeup brand. She says she was inspired to start a brand when reflecting on experiences in which she went to buy makeup and couldn't find foundations or pigments that matched her skin tone.
"I love makeup. So being that young girl who loved makeup as a form of art and being represented and that was something that made me very sad," said Omar. "I don't wear makeup to hide my insecurities. That's not how I see makeup. I wear makeup to make me feel confident."
And she says she wants every girl to feel they are represented by her brand. "I want to make sure that my brand represents every girl. I want every culture represented. I want every girl to look at this brand and be like, 'Oh, I see myself and then I feel if I can wear this. I feel beautiful'."
Another passion she hopes to pursue is psychology. Omar said she was inspired to study psychology at university when she was in high school and went to a Muslim therapist.
Omar said many have said it's rare to find a therapist that can relate and understand the struggle you have experienced in your life.
"So many Black people, so many Muslim people don't have a therapist that can understand them," said Omar.
She added therapy played a big role in her life and she wants to be able to provide that for others.
"It's so important to be able to go to someone you could talk to and have them understand you. And I feel with mental health and everything that's happening in this world, you need someone to talk to. You don't have to hide how you're feeling," said Omar. "It's really important to express everything, not to put everything inside because it really can destroy you as a person. And even when I was in high school, that was something I went through and if I didn't have that person to go talk to, I don't think I'd be here right now."
Currently, she's working on her "Beauty With a Purpose" campaign for the pageant which is focused on climate issues in Somalia and it brought her back to the refugee camp where she was born in Kenya, helping some of the nearly 12,000 Somali refugees displaced by severe drought.
The trip is being led by the United Nations High Commission for Refugees and she hopes to continue "campaigning about refugee climate crisis, it's impact and how it can be dealt with effectively to avoid similar recurring problems."
Omar said another one of her goals in the refugee camp is to help provide period products and hopes to help inspire these young girls living in the camp.
"When I was a refugee, I remember there were little kids all going around talking about what to do when they go out. And I always said, 'I want to come back to the refugee camp.' I always knew in my heart I wanted to go back there and help in some way possible," explained Omar.
"What I noticed is there's some things that we take for granted that we don't notice is such a big issue, [for example] they have problems being able to have pads. For us woman, it's such a normal thing. But the stories of what girls have to go through just to get one or two pads, it's so crazy," added Omar.
Omar has already made the Top 40 for Miss World and the finals are scheduled to be held on March 16 in Puerto Rico.
Source: Toronto City News
https://toronto.citynews.ca/2022/02/11/miss-world-somalia-first-hijabi-wearing-contestant/
--------
Saudi scientist Hayat Sindi on making Arab women more visible in science
Ahmed Maher
Feb 12, 2022
Saudi biotechnologist Hayat Sindi is one of Saudi Arabia's most notable scientific exports. The inventor of a host of technologies designed to make medical diagnostics more accessible, her work has made a difference worldwide.
Marking International Day of Women and Girls in Science at Expo 2020 Dubai, Dr Sindi said women need to be encouraged to choose careers in science, technology, engineering and mathematics.
"Women in science should never be sidekicks or inferior to their male counterparts," she said from the Saudi pavilion of the international event. She added that Expo 2020 has provided an opportunity to cast light on the prejudices and stereotypes women face.
"Underrepresentation of women in science is a global issue and it's not confined to the Arab world," she said.
Dr Sindi received a degree in pharmacology from King's College London in 1995 and went on to become the first Arab woman to earn a doctorate in biotechnology from Newnham College, University of Cambridge.
She has also carried out extensive laboratory work at the Massachusetts Institute of Technology, Harvard University and University of Cambridge.
Dr Sindi recalls how her father always supported her in the face of a society that told her that men are the breadwinners.
Receiving her primary education in public schools in Makkah, Dr Sindi said she grew up seeing men dominating science, from Persian mathematician and astronomer Muhammad Al Khawarazmi to Albert Einstein.
"I used to ask my father, 'are they really human beings?'" she said. "I just felt I didn't fit. I always aspired to have female role models.
"This narrative put women off, worldwide. My father was a great man who always encouraged me to think and supported me fully when I told the family about my ambition to travel in 1990s and pursue my dreams in science abroad."
Dr Sindi said women have outperformed men in several key areas that have benefited humanity.
"For example, Stephanie Kwolek invented the fibre used in bulletproof vests, which saved lives in many forms," she said, referring to the Polish-American chemist who died in 2014.
In 2007, she served as the director of Diagnostic for All, a non-profit initiative that creates low-cost diagnostic devices designed for use in the developing world.
In 2012, Unesco recognised Dr Sindi for her work in creating an ecosystem of entrepreneurship and social innovation for scientists, technologists and engineers in the Middle East. She was then named a Unesco Goodwill Ambassador.
She has promoted social innovation and scientific progress as a way to create a better quality of life for the most deprived.
In 2018, she was listed as one In 2018, she was listed as one of BBC's 100 Women, an annual announcement that celebrates the most inspiring and influential women from around the world.
She said she will soon launch a project in Riyadh to give every young scientist, technologist and engineer in Saudi Arabia and beyond the opportunity to fulfil their potential, regardless of their gender, as well as help countries in the developing world with scientific and educational infrastructure.
Huge progress
Women role models in the Arab world are not in short supply today, Dr Sindi said.
"Today we see women who are leading engineers and technologists, who are not dealing with science as boring stories but they do science to benefit their societies," she said.
"For instance, when you tell young girls about MRI, this sounds boring, no? But you engage them when you tell them the benefits of this scanning technology, which has enabled doctors to rightly diagnose by screening any part or tissue of the body.
"We see women who want to develop solar systems in the developing world, women who want to be biotechnologists to help farmers. This drive is on the rise compared to the past decades when few women flourished in science."
Asked whether the Arab world will produce its first woman Nobel laureate anytime soon, Dr Sindi said the prize is not the only recognition of excellence or outstanding achievements and should not be a target in itself.
"This shouldn't be a target because the selection has many factors around it. So many amazing scientists around the world haven't got it," said Dr Sindi.
Her best advice to aspiring young scientists? Never give up.
"We need to eliminate fear in our children and adopt the 'you can' culture. Give them a purpose for the science they learn and do. I cried many times. I felt stupid many times. It's OK," she said.
Source: The National News
https://www.thenationalnews.com/gulf-news/2022/02/11/saudi-scientist-hayat-sindi-on-making-arab-women-more-visible-in-science/
--------
Taliban release Afghan women activists, foreigners
12 Feb 2022
Islamic Emirate of Afghanistan announced that the foreigners who were detained for not having identity cards, working licenses, and relevant documents were released after identifying their identities.
Spokesperson of the IEA, Zabiullah Mujahid in a Twitter post said that they were in a good situation and were in constant contact with their respective families.
The Two foreign journalists and their Afghan colleagues were detained on Friday, February 11, 2022, and were in the Taliban's custody for hours before getting free.
UNHCR in a Twitter post confirmed the detention and said that the two foreign journalists and their Afghan colleagues were working for the agency.
In the meantime, the Taliban have also released three Afghan women activists who were detained three weeks ago.
Parwana Ibrahimkhail, Tamana Zaryab Paryani, and another woman are reported to be released on Friday but reports about the latter two are not yet confirmed.
Meanwhile, rumors have it that Tamana Zaryab Paryani along with her three sisters will be released soon.
The women were released after staging anti-Taliban and pro-women demonstrations in Kabul.
The issue had gravely concerned the United Nation and had called for the release of the women.
Source: Khaama Press
https://www.khaama.com/taliban-release-afghan-women-activists-foreigners-765876589/
--------
Women in Tanzania challenge male dominance in engineering
Kizito Makoye ???????
12.02.2022
DAR ES SALAAM, Tanzania
A new generation of young women engineers in the East African country of Tanzania is challenging the deeply rooted male-dominated engineering profession by pursuing careers in what was once a no-go area for undergraduate girls.
A group of engineers is being taught on a rolling basis to challenge men's dominance in the technical area as part of the women-only Structured Engineering Apprenticeship Program, which is co-funded by the governments of Tanzania and Norway.
The initiative, which began in 2003, served as a stepping stone for graduates and has helped to increase the number of women engineers, as well as inspire schoolgirls to follow in their footsteps when the time comes.
Men's arena
For decades, the country's engineering profession was perceived as a man's arena, discouraging women from entering. According to the government's statistics, Tanzania had only 2,595 professional engineers in 2010, with only 96, or 3.7% of them being women.
Gender imbalance is a serious problem that affects every sphere of human activity. While some countries have taken a big step to quash it, others, such as Tanzania, are still grappling with balancing the pendulum.
In a bid to address the challenge, the Engineering Registration Board, which is responsible for regulating engineering practice, sought financial support from the Norwegian government to train women graduates and help increase their number registered as professional engineers.
Honing technical skills
Veronica Ninalwo, an assistant registrar for the Structured Engineering Apprenticeship Program, said the initiative, which began with a $2 million grant, has helped more than 400 women engineers improve their technical skills over the last decade or so.
"We have taken serious measures to bridge gender imbalance in the engineering profession because the prevailing state of affairs did not reflect the vision of our organization," Ninalwo said as the International Day of Women and Girls in Science was celebrated on Feb. 11.
According to her, the program was created to train women graduate engineers and double the number of registered engineers in the country.
"We have given a preference to women so that they can acquire the requisite professional qualifications before taking on additional family responsibilities," she told Anadolu Agency.
Few women hold technical engineering positions ostensibly due to a lack of motivation and a common misconception that engineering is man's field, analysts said.
Jackline Kimaro is a women engineer working in a men-dominated field. There were only a couple of girls in her class of 45 students at the College of Engineering and Technology in Dar es Salaam.
"I enjoyed being in that class and I knew I would succeed because my teachers were very supportive," Kimaro told Anadolu Agency.
At a time when most young women in her hometown of Rombo were encouraged to help their mothers to milk cows or tend crops, Kimaro, who is gifted with a distinctive analytical mind, was attempting to break men's domination in the profession of engineering. "I developed a strong interest in solving mathematical issues, which was the driving force behind my decision to pursue engineering," she explained.
Shoulder to shoulder with men
Kimaro attended a premier girl's school while growing up in Moshi, in the country's northeastern region, which may explain why she felt confident enough to rub shoulders with boys at university.
"There is a false belief that some fields of study or jobs are only suitable for men, which girls are taught from a young age, and we must reject it," she asserted.
"We need role models who can motivate girls to pursue careers in engineering and build a bright future for themselves," she said.
For Agatha Kessy, 32, the biggest hurdle of her job as a civil engineer is not about making complex decisions, rather the stereotypes she encounters while working with men colleagues.
Kessy, who supervises building projects in the capital, has to deal with a lot of disobedience from the men she leads.
"When I instruct them to mix concrete in a certain ratio, the casual laborers often question my decision," she said.
She does not receive the respect she deserves from her men colleagues, she alleged, suggesting that "we need to get rid of that state of mind … Women are capable of doing anything."
Shouting above a crane on a busy construction site, Kessy is getting used to her work and mingles freely with casual laborers some 20 years older than her.
Dressed in a shiny orange safety jacket and a hard hat, she feels confident because none of the men she supervises has a university degree.
"Those who ignore my instructions often end up doing their work twice, because my standards are high and there is no room for error in construction," she said.
Source: Anadolu Agency
https://www.aa.com.tr/en/africa/women-in-tanzania-challenge-male-dominance-in-engineering/2500621
--------
French lawyer attacks EU over poster featuring Muslim woman
11 Feb 2022
A French lawyer has criticised the European Union over an advertisement for its Conference on the Future of Europe event featuring a hijab-wearing Muslim woman.
Thibault de Montbrial, an adviser to France's centre-right presidential hopeful Valerie Pecresse, said the use of such an image to illustrate the continent's future left him "speechless".
The hijab is a headscarf worn by some Muslim women and has been the subject of a decades-long feud in France.
"The Muslim Brotherhood dared not dream of it, the useful idiots did. For my part, I will fight with all my might to avoid such a future for Europe," de Montbrial tweeted on Wednesday, citing the political group founded in Egypt nearly a century ago.
Translation: "The choice of a veiled woman to illustrate a conference 'on the future of Europe' leaves you speechless. The Muslim Brotherhood dared not dream of it, the useful idiots did. For my part, I will fight with all my might to avoid such a future for #Europe. #Islamism"
The poster for the ongoing event, which gives EU citizens the opportunity to have their say on possible reforms of the bloc's policies and institutions, includes a call to "make your voice heard" and states "the future is in your hands".
Picking up on de Montbrial's outburst, Mehreen Khan, EU correspondent for the Financial Times newspaper, said the bloc was "once again being accused of being a clandestine Islamist plot puppeteered by the 'Muslim Brotherhood' because there is a Muslim woman on a poster".
Khan highlighted remarks made by French reporter Jean Quatremer, who claimed there were known "links" between the European Commission – the bloc's executive arm – and the Muslim Brotherhood.
"But nothing changes, because the EU is less and less democratic," tweeted Quatremer, the European correspondent for France's Libération newspaper.
Khan drew comparisons between those comments and the fractious, anti-immigration, pro-Brexit campaign waged by some British politicians in 2016.
"For all those who lamented the racism of parts of the Brexit Leave campaign, in 2022 apparently serious media from the EU's biggest country hold up Brussels as a rotten Islamist conspiracy because there are brown women in some EU stock photos archive," she tweeted.
The social media row puts France's treatment of its minority Muslim population – the largest in Europe – back in the spotlight ahead of the country's April presidential election.
Last month, the French Senate voted in favour of banning hijabs in sports competitions.
That move came a year after legislators in the French Parliament's lower house approved the so-called "separatism" bill to strengthen oversight of mosques, schools and sports clubs in a bid to safeguard France from "radical Islamists" and promote "respect for French values" – one of President Emmanuel Macron's landmark projects.
Officially known as the law Reinforcing The Principles Of The Republic, Paris says the now-legally enshrined legislation will bolster France's secular system.
Critics argue that it unfairly singles out Muslims.
Source: Al Jazeera
https://www.aljazeera.com/news/2022/2/11/french-lawyer-attacks-eu-over-poster-featuring-muslim-woman
--------
Ethiopian woman is first domestic worker in Lebanon to file slavery case against employer
BASSAM ZAAZAA
February 11, 2022
DUBAI: An Ethiopian woman has become the first migrant domestic worker in Lebanon to lodge a criminal complaint accusing an employer of slavery.
In the lawsuit brought against a Lebanese dentist, the 40-year-old Ethiopian accused her former employer, a woman, of illegal confinement, torture, verbal and physical abuse, and intimidation over a period of eight years, during which she claims to have been treated as a "slave."
In a short video posted online, the woman said she started working for the Dentist in February 2011, and alleged that she called her a "black slave" and used other bad words against her.
"I went to work in Lebanon to earn money and help my mother," she said in the video.
The woman's family feared she was dead as they did not hear from her for more than seven years.
Court documents allege that she was forced to work 15 hours a day, seven days a week and only received payment for 12 months of service. She also accuses her former employer of cutting her off from the world by locking her in an apartment, as well as beating, insulting and threatening her.
Following public pressure after her situation became known, the worker was released in 2019 and returned to Ethiopia, where she currently resides.
According to documents obtained by Arab News, Legal Action Worldwide, a nonprofit organization that provides legal assistance, offered advice to the worker before she left Lebanon.
Fatima Shehadeh, LAW's Lebanon Program Manager, told Arab News on Friday that although her organization assists dozens of migrant domestic workers in cases related to forced labor and similar situations, the Ethiopian woman is the first to bring a criminal case in the country based on such accusations.
When asked whether the legal team representing the woman had also lodged a civil lawsuit against the employer seeking compensation for financial, moral or emotional damages, Shehadeh said that a request for compensation was submitted but she declined to reveal the details because of client confidentiality.
A judicial source told Arab News that the employer denied the woman's accusations when questioned by prosecutors and pleaded not guilty at Baabda Criminal Court on Thursday. During the hearing, the accused asked presiding Judge Rania Yahfoufi for an adjournment until she can hire a lawyer to defend her when the court reconvenes on March 31.
"We are pleased we are moving forward with the fight for justice," said Antonia Mulvey, LAW's executive director. She added that thousands of migrant domestic workers are reportedly subjected to torture, physical and emotional abuse, and gender and race discrimination.
"(Her) case is critically important for challenging the human rights violations committed against MDWs because of an exploitative and abusive migration-sponsorship system that excludes them from Lebanese labor law, leaving them without any rights or legal protection," she said.
The worker's legal team also asked for an arrest warrant be issued a second suspect, an employee of the recruitment agency through which she was hired, but the request was rejected.
Source: Arab News
https://www.arabnews.com/node/2023046/middle-east
--------
URL: https://www.newageislam.com/islam-women-feminism/hijab-burqa-string-theorist/d/126359
New Age Islam, Islam Online, Islamic Website, African Muslim News, Arab World News, South Asia News, Indian Muslim News, World Muslim News, Women in Islam, Islamic Feminism, Arab Women, Women In Arab, Islamophobia in America, Muslim Women in West, Islam Women and Feminism