New Age Islam News Bureau
10 Sept 2015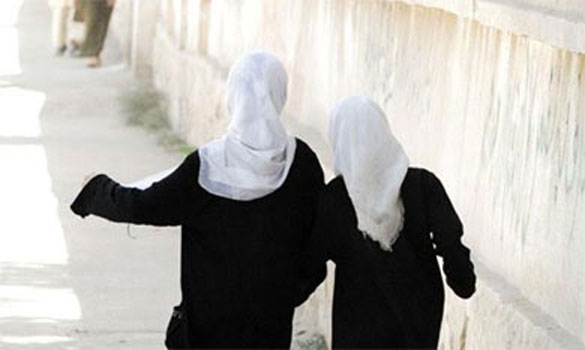 Life without love is "less sweet". Credit: US Embassy Kabul Afghanistan on Flickr, under Creative Commons
• Gazan Female Sports Journalist Aims To Go Beyond the Border
• Suicide Prevention Day: Bachelors, Married Women Top Pakistan's Statistics
• Barriers to Women's Economic Advancement Rife in South Asia: WB Report
• Rape Accused Saudi Diplomat Leaves India with Wife: Reports
Compiled by New Age Islam News Bureau
URL: https://newageislam.com/islam-women-feminism/good-girls-choose-love-afghanistan/d/104542
---------
Why Good Girls Never Choose Love in Afghanistan
September 9, 2015
My mother told me a story from our neighbourhood in the Herat province in Afghanistan about a young woman named Latifa. She lived in our community during the Taliban regime in 1999. Latifa was only 20 when she fell in love with a boy named Qurban and she had to keep it a secret from her family.
A while later, Latifa became pregnant. When Latifa's family found out, they suggested to Qurban's family that he marry her. When Qurban refused, Latifa's family killed her. Nobody told the police.
At that time under the Taliban there was no real government, and the Taliban themselves harassed and abused women in the city. If this were to happen today, Latifa's parents could be sent to jail. But in this case, the family killed their daughter and moved away. Qurban married another woman and they have children.
Latifa's family killed her because of their honour. In Afghanistan there are many stories like this one. People kill their daughters, sisters and wives when they discover their secret love.
About a month ago, I read in the news about a 15-year-old girl named Saberah in Badghis province. She loved a boy in her neighbourhood. She could not tell her family because she knew they would kill her. So she ran away with her boyfriend.
Soon Saberah's family learned which village Saberah was living in. Her grandfather went to the village and requested that Saberah come back. People in the village made him promise he wouldn't harm her and when he promised, they let Saberah go with her grandfather.
When Saberah got to her house, her family and relations beat her. Her uncle acted as the judge and declared that she should die so then her family beat her to death and buried her inside the house. Police arrested four relatives, but Saberah's father escaped.
I think life without love is like a body without a spirit. Love can change life and become the foundation of a new life without sadness or bitterness. When we see a woman and man starting marriage with love, we think that with encouragement they will continue their lives with love. But when a couple starts their new life by force without love, the foundation for their life together is shaky. They don't have the same enjoyment. Life is less sweet.
I think love is an important part of our life. When a girl and a boy love each other and want to get married to one another I think they will be starting a good life, the kind of life that will be enjoyable for both of them. They will be successful in their lives. I think people in society should be supportive of them to bring them good fortune.
But unfortunately in Afghanistan most marriages are forced marriages. Girls especially suffer from these kinds of marriages and they have no happiness. Their lives are only about delivering children and looking after them and obeying their husbands and their new in-law families.
This story is part of Teen Voices at Women's eNews. In 2013 Women's eNews retained the 25-year-old magazine Teen Voices to continue and further its mission to improve the world for female teens through media. Teen Voices at Women's eNews provides online stories and commentary about issues directly affecting female teens around the world, serving as an outlet for young women to share their experiences and views.
Zahra W. is a teen writer with the Afghan Women's Writing Project.
http://womensenews.org/story/afghan-womens-writing-project/150909/why-good-girls-never-choose-love-in-afghanistan
---------
Gazan female sports journalist aims to go beyond the border
09/10/2015
With her camera and notepad at the ready, it's a regular day's work for Palestinian sports reporter Nelly al-Masri.
Snapping sports men and women, she's among the few female journalists covering sporting events in Gaza.
Masri comes from a sporting family, her father, Ismael al-Masri was a well known soccer player and coach in the 1960s.
"For sure, my upbringing has a huge role in developing my skills in the sports field, memorizing the information and knowing all related issues to the Palestinian sport.
"Since my father was a player on the Palestinian soccer team in the '60s, a well-known football coach and managed the Palestinian soccer team until 2005, that qualified me to have a lot of information regarding Palestinian sports, the clubs, the players and it encouraged me to love sports, play it and later enter the field of sports journalism,'' said al-Masri.
Working in a male-dominated industry in a conservative environment isn't always easy.
But for Masri it isn't the social barriers that are getting in the way of her career, she says it's the travel restrictions imposed by Israel and Egypt that makes it hard for her to pursue certain stories.
"Closing the crossings caused me to lose many chances. I was going to participate in a conference in Morocco with the Arab sports leaders association and [another conference] in Sharm el-Sheikh. I have conferences that I want to attend in October in Bahrain and Morocco, the conference for female Arab sports reporters, but until now I don't know if I will be able to get out of Gaza or not,'' she said.
As a member of the West Asian Athletics Association media committee and vice president of the women's sports committee in the Palestinian Olympic Committee, Masri is making strides in her field.
And according to her father she's a role model for other women wanting to follow in her footsteps.
"It's important to me as an athlete and as a modern man who lived the experience to encourage a role for woman in society. The woman should pave her way in society as she likes it and it's in line with her hobbies.
I support women to be a part of society. We are a Muslim and modern society that understands the traditions of our country and homeland,'' said Ismael al-Masri.
A blockade imposed by Israel and Egypt means residents cannot import many basic construction materials to rebuild, as they can be used to build weapons and attack tunnels. Israel no longer gives work permits to Gazans, and only a tiny few ever receive permission to set foot out of the increasingly impoverished enclave, the rest confined indefinitely to an area less than half the size of New York City.
According to the World Bank, Gaza now has the world's worst-performing economy, with the world's highest unemployment at 43 percent, 68 percent among those aged 20-24. Since 1994, real per capita income has fallen by nearly a third. Manufacturing – once the hoped-for backbone of an economic revival – has shriveled by 60 percent.
But despite the setbacks, Masri remains committed to covering stories beyond the Gaza border.
http://www.jpost.com/Israel-News/Sports/Gazan-female-sports-journalist-aims-to-go-beyond-the-border-415789
---------
Suicide Prevention Day: Bachelors, married women top Pakistan's statistics
10 September,2015
LAHORE (Web Desk) – World Suicide Prevention Day (WSPD) is being observed worldwide on Thursday while, figures suggest that majority of the people who end their lives in Pakistan are either bachelors or married women.
Statistics show that suicide rate has increased by at least three percent in Pakistan in the ongoing year. Human Resource Commission's annual report states that as many as 5,000 to 7,000 people end their lives in Pakistan. However, it is difficult to formulate an exact figure of people who attempt suicides but not necessarily succeed.
Researchers said that married women below 30 years of age form the major chunk in the suicide rate chart.
What does psychology suggest?
Dr Neelum, a practicing psychologist in Lahore said that bad terms between two people, rejection, poverty and domestic issues are major causes of such tragic incidents in societies. She said that science could not doubt the role of immaturity in suicide cases.
Science suggests that selfish trait in people leads them to believe that their wishes are superior and more importantly, legitimate than others'. Such inherently sad souls do not attempt to face the issues but end up taking their lives.
What does religion say about suicide attempts?
Islam, in no case permits suicides and terms it Haram without exception. Religious scholars are of the viewpoint that measures on government-level and individual-level are needed to curb the rising condemnable phenomenon.
Complete code of life that Islam is, the religion has cited eternal torment for people who end their lives. Scholars have cited numerous Hadiths from different authentic compilations including Sahih Al-Bukhari which clearly state that anyone who commits suicide would be sentenced to suffering for eternity. Certain quotes state that such people would have to die again and again in eternal life the way they took their lives.
Clerics have termed reasons behind such acts mainly to be western influence and imitation, growing gap between people and Sunna, mosques and teachings of Holy Quran.
International organizations' contribution
International Association for Suicide Prevention (IASP) hosts WSPD in collaboration with World Health Organization (WHO) and World Federation for Mental Health.
Most of the countries use National Policy for Suicide Prevention put forth by United Nations Organisation (UNO) as guide and helping material in forming policies in the matter.
http://dunyanews.tv/index.php/en/Pakistan/298089-Suicide-Prevention-Day-Bachelors-married-women-t
---------
Barriers to women's economic advancement rife in South Asia: WB report
September 10, 2015
Women in South Asia continue to trail their peers in many parts of the world as discriminatory laws thwart their economic advancement, says the World Bank Group's Women Business and the Law 2016 report released on Wednesday.
The report, published every two years, examines laws that impede women's employment and entrepreneurship in 173 economies throughout the world.
The 2016 edition expands coverage in South Asia from five to eight economies, adding Afghanistan, Bhutan and the Maldives.
Several economies from the South Asia region are among the most restrictive in the world in the dimensions measured affecting women's entrepreneurship and employment. The region as a whole has been lagging in enacting reforms in the areas measured by the report with only three reforms made in two economies in the past two years.
The report says that Pakistan issued two reforms in the past two years. It set the legal age of marriage for both boys and girls at 18 years and introduced criminal sanctions for men who contract marriage with a minor and anyone who performs, facilitates or permits underage marriage.
Pakistan also introduced a 22 percent quota for women in local government. However, many restrictions on women still prevail in the country. In order to register a business, married women need to include their husband's name, nationality, and address, and they need to do this in the presence of a witness.
http://www.pakistantoday.com.pk/2015/09/09/business/barriers-to-womens-economic-advancement-rife-in-south-asia-wb-report/
---------
Rape accused Saudi diplomat leaves India with wife: Reports
September 10, 2015
New Delhi: According to a report, the Saudi Arabia diplomat, who is accused of raping two Nepalese women left India with his wife. Ministry of External Affairs had on yesterday sought a detailed report from the police on the issue.
The Vienna Convention deals with the privileges of a diplomatic mission and diplomats to perform their function without fear of coercion or harassment by the host country. This forms the legal basis for diplomatic immunity. Under article 29 of the Vienna Convention, the diplomat enjoys complete immunity against arrest or detention.
Saudi diplomat, family charged with rape, torture: Embassy cries foul
In 2003, the then Senegalese envoy's son in New Delhi was accused of murdering his driver, but police could not pick him up for questioning as he was protected under the Vienna Convention that provides diplomatic immunity to serving diplomats and their immediate family.
In the current case relating to allegations of rape against a Saudi Arabian diplomat, police in Gurgaon said they will proceed in the case keeping in mind the Vienna Convention.
The external affairs ministry has sought a report from police, and could step in if the police require to interrogate the diplomat, who has been accused by two Nepalese women of rape. The women have also accused the diplomat's wife and daughter of harassment.
However, the diplomat and his family are protected under the 1961 Vienna Convention on Diplomatic Relations which says diplomats "shall enjoy immunity from the criminal jurisdiction of the receiving state. He shall also enjoy immunity from its civil and administrative jurisdiction".
In May 2003, then Senegal's ambassador to India, Ahmed el Mansour Diop, denied that his son Mansur Ali was responsible for killing their driver, Dilwar Singh.
Diop had in a statement denied the allegation that his 24-year-old son had killed their driver at a five-star hotel.
Ali had reportedly found Dilawar Singh in an inebriated state and asked for the car keys, telling the driver he was not in a state to drive and he would drive it himself.
A quarrel followed during which Dilawar Singh is said to have hit his head on a hard object and died.
Police registered a case on charges of culpable homicide not amounting to murder against Ali, who was not arrested on the ground that he may enjoy diplomatic immunity.
In 2013, the arrest and strip search of India's deputy consul in New York, Devyani Khobragade, had kicked up a storm in India and led to tensions between India and the US. Khobragade was accused of visa fraud and underpaying her maid.
Khobragade was governed under the Vienna Convention on Consular Relations, which provided her limited immunity.
India transferred Khobragade to its permanent mission in the UN to provide her full diplomatic immunity. She was later moved to India. But in a diplomatic "reciprocal" move, India stopped all commercial activities at the popular American Community Association Club, where diplomats and their families would hang out, the extra police barricades outside the US embassy were removed, and the special privileges offered to US officers at consulates were withdrawn, among other measures.
In a rather famous case in neighbouring Pakistan, in 2011, Central Intelligence Agency agent Raymond Davis was arrested by the Pakistani authorities after he shot dead two armed men in a Lahore street.
The US maintained that Davis's rights as a diplomat were violated by his arrest. He was later let off by a Pakistani court after coughing up 'blood money' to the relatives of the killed men.
The audacious shooting in broad daylight and the US claiming Davis was protected by diplomatic immunity had strained ties between the two countries.
Nepalese women recount horror, Saudis protest "intrusion" into diplomat's house
In January this year, India's then high commissioner to New Zealand Ravi Thapar was recalled over allegations that his wife had assaulted their chef.
Police were denied permission to interview both Thapar and his wife Sharmila.
Violation of the Vienna Convention can have global implications. The convention protects the institution of diplomacy from local laws, and it is globally accepted, say experts.
http://www.siasat.com/news/rape-accused-saudi-diplomat-leaves-india-wife-reports-833350/
---------
URL: https://newageislam.com/islam-women-feminism/good-girls-choose-love-afghanistan/d/104542