New Age Islam News Bureau
4 Nov 2016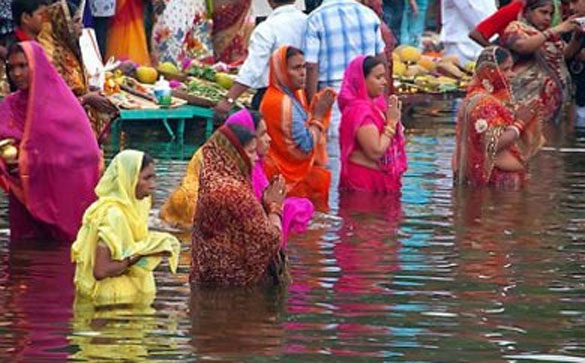 Hindus see in these Muslims a show of communal harmony (Representative photo)
---------
• These Muslim Women Also Perform Chhath Puja
• Saudi Arabia Refuses To Even Consider Allowing Women to Drive
• Istanbul Declaration Slams Harassment of Hijabis
• Cover Girl Names Muslim Beauty Blogger Nura Afia as Newest Ambassador
• Deputy Leader of Britain First Guilty Over Verbal Abuse Of Muslim Woman
• Muslim Toronto Police Chaplain's Views Troubling
Compiled by New Age Islam News Bureau
URL: https://www.newageislam.com/islam,-women-and-feminism/new-age-islam-news-bureau/why-do-young-saudi-women-run-away-from-home?/d/109011
--------
Why Do Young Saudi Women Run Away From Home?
Nov 4, 2016
Modi Al-Zahrani
THE Ministry of Labor and Social Development reported that 1,750 young women ran away from home in 2015 and that 67 percent of them were non-Saudi. This shows that this issue has not yet preoccupied the public's mind. Most of the runaways were either teenagers or young women who were abused by family members.
Jeddah and Makkah accounted for 82 percent of runaway cases followed by Riyadh and the Eastern Province. Most of the young women who ran away in Makkah, Jeddah, Riyadh and the Eastern Province suffered some kind of domestic violence or grew up in broken homes. Some of them went astray because of families falling apart.
Recently, two young women left their families and fled to South Korea. I think this is a major social issue that needs to be studied and analyzed to find the right solution. Organizations that carry out security and social studies such as Naif Academy for National Security, Naif Arab University for Security Sciences and the Crime Busting Research Center should research why young women and teenagers run away from home. The best way to do this is by interviewing female inmates in prisons and women's refuges. I have interviewed dozens of teenagers who have suffered domestic abuse and have found some common motives that drove them to run away. Examples include forced marriages or the refusal of parents to let their daughters marry the men they chose.
Moreover, emotional emptiness and family disintegration drive young women to run away. Usually, such women try to meet young men and flirt with them over the phone to satisfy their inner needs as females. One important reason behind this problem is bad company and influence. I discovered that most of the women I met complained that their parents never paid enough attention to them or took care of them. On the contrary, their parents were cruel and negligent.
These problems are solvable. Social and behavioral experts should work closely with the families of these young women and explain to them the importance of taking back their daughters and providing them with healthy environments. If left unattended and uncared for, these young women could become involved in crime or in situations that threaten national security.
http://saudigazette.com.sa/opinion/young-women-run-away-home/
--------
These Muslim Women Also Perform Chhath Puja
Nov 3, 2016
Patna: Surprising though it may sound, but sexagenarian Zaitoon Biwi of Rajkhand village in Vaishali district's Guraul block would like you to believe that observing Chhath is as important to her as celebrating Eid and Bakrid.
The Muslim woman has been performing Chhath for five years now, in fact. And for a strong reason.
"Motherhood eluded my second daughter-in-law as she had miscarriages. A Hindu woman advised me to wish for the grandchild and vow to do Chhath in lieu of the baby," Zaitoon recalled and added she had been observing fast and offering 'arghya' to the rising and setting Sun every Chhath ever since her 'bahu' got blessed with daughter Shabeena.
Zaitoon, who works as a domestic help, has three sons -- Israil (35), Ismail (32) and Ishaq (30) -- who work as daily wagers and are devout Muslims who don't miss a single 'namaaz'. "But they don't stop me from doing Chhath either," the elderly woman said, rather proudly, and added non-veg items become a strict 'no-no' in their kitchen after Diwali till Chhath so as to maintain the sanctity of the festival.
Zaitoon is not alone. Najma Khatoon, who lives near Adalat Ghat next to Bankipore post office in Patna, has also been observing Chhath -- for more than 15 years. "My husband is a Hindu. But he never forced me to do Chhath," the woman, now 45, said on Thursday.
Instead, Chhath for Najma too is as a thanksgiving exercise. "I was issueless for six years after my marriage. As my husband and I turned desperate, a Chhath devotee advised me to observe the rituals. "I promised her to do so if I was blessed with a child, and the very next year Reena was born. Even a son, Raju, came a year later," she said.
Najma recalled how all her neighbours helped her perform the stringent rituals when she kept Chhath fast for the first time. "I didn't know anything about the rituals then. Now you can call me an expert of sorts on Chhath," she said smilingly.
Najma's neighbour Ahmad Khaleel sees nothing wrong in a Muslim woman performing Chhath. "God is one. It's just that we humans know Him by different names," he said, sitting next to Najma and sipping tea.
Stay updated on the go with Times of India News App. Click here to download it for your device.
http://timesofindia.indiatimes.com/city/patna/These-Muslim-women-also-perform-Chhath/articleshow/55232813.cms
--------
Saudi Arabia refuses to even consider allowing women to drive
3 November 2016
Saudi Arabia's most influential advisory council - one that has great sway over the king - has refused to even consider allowing women to drive.
The Kingdom is the only country on the planet that still bans women from driving.
The proposed inquiry would have contemplated questions such as "What are the difficulties if they start?" and "What is required to allow them to drive?"
One male member of the Shura Council - the formal advisory body to King Salman – had proposed looking into the possibility, an unnamed member of the council told AFP.
But the suggestion failed to get the 50 per cent plus one support required among the 150 members, which includes 30 women. While the Shura council has the power to propose laws to the King, it cannot pass or enforce laws.
In April, Deputy Crown Prince Mohammed bin Salman Al Saud said the country was not ready for female drivers, while its top cleric said women would be 'exposed to evil' if allowed to drive.
Activists say women's driving is not technically illegal but that the ban is linked to tradition and custom.
A slow expansion of women's rights began under the late King Abdullah, who appointed female advisers to the Shura Council in 2013.
He also announced that women could for the first time vote and run in municipal elections. At least 20 women were elected for the 2,106 contested council seats last December.
Some activists have challenged the driving ban by getting behind the wheel and posting images of themselves online.
Other Saudi women, however, believe change cannot be forced - a message the kingdom's powerful Deputy Crown Prince Mohammed bin Salman, 31, gave in April when he unveiled the Vision 2030 plan for economic diversification and social change.
"So far the society is not persuaded - and it has negative influence - but we stress that it is up to the Saudi society," he said, commenting on whether women should drive.
http://www.independent.co.uk/news/world/middle-east/saudi-arabia-women-drivers-refuses-to-even-consider-a7395131.html
--------
Istanbul Declaration slams harassment of hijabis
4 November 2016
ISTANBUL: Growing global Islamophobia, especially the harassment of veiled women, was denounced at a high-profile conference on Thursday.
The sixth session of the Ministerial Conference on the Role of Women in the Development of OIC member states, adopted the amended OIC plan of action for the advancement of women as well as Turkey's proposal to establish a women's council mandated with offering advise to the conference.
The Istanbul Declaration emphasized the need to address discrimination against women who follow their Islamic beliefs and culture and are victimized at workplaces, in educational institutions and media.
Dignitaries representing their countries expressed concern over the ordeal of female refugees and displaced women living under the shadow of armed conflicts, which hinder their development.
The participants commended the countries, which have offered shelters to migrants and refugees, especially women.
They requested OIC member states to pass legislations necessary for combating trafficking, abuse and harassment of women and for preventing violence and domestic abuse against women and children.
They also called for the development of policies and laws supporting the work of women and for taking measures to eliminate sexual harassment at workplaces and public spaces.
http://www.arabnews.com/node/1006286/middle-east
--------
Cover Girl Names Muslim Beauty Blogger Nura Afia as Newest Ambassador
Nov 4, 2016
CoverGirl is continuing to lead the way for representing diversity in the beauty industry by revealing Muslim beauty blogger Nura Afia as their new brand ambassador.
Nura who is known for her make-up tutorials is different from other vloggers as she wears a hijab in all her videos.
She further confessed that she was insecure about wearing a hijab, especially as she was growing up. But she dons it proudly now.
Nura Afia's popular makeup channel has racked up over 200,000 subscribers who faithfully watch her share unique beauty hacks and creative ways to rock a hijab.
Nura's candidness has made her a member of Cover Girl's #LashEquality campaign, Glamour Magazine reported. The brand stresses on inclusivity within beauty and celebrates the launch of the brand's 'So Lashy! BlastPro Mascara' which is designed to flatter every lash type.
Afia's make-up skills will soon be on giant billboards in Times Square. Big league brands like Cover Girl continue to represent beauty in diversity and this is breaking the norms of general beauty standards in a fantastic way.
The group of brand ambassadors also includes actor Sofia Vergara and singer Katy Perry.
http://www.pakistantoday.com.pk/2016/11/03/entertainment/muslim-beauty-blogger-becomes-brand-ambassador-for-cover-girl/
--------
Deputy leader of Britain First guilty over verbal abuse of Muslim woman
3 November 2016
The deputy leader of far-right group Britain First has been found guilty of religiously aggravated harassment after hurling abuse at a Muslim woman wearing a hijab in front of her four young children.
Jayda Fransen, 30, was fined nearly £2,000 at Luton and South Bedfordshire magistrates court for wearing a political uniform and shouting at Sumayyah Sharpe during a "Christian patrol" of Bury Park in Luton on Saturday 23 January.
Fransen admitted telling Sharpe that Muslim men forced women to cover up to avoid being raped "because they cannot control their sexual urges", adding "that's why they are coming into my country raping women across the continent".
But she denied the words were intended to be offensive.
"The reason I said them was because from everything I have studied, I understand them to be true," Fransen said in her defence.
District judge Carolyn Mellanby said she believed the group had gone to the area looking for trouble – but said Sharpe had been mistaken for an easy target.
"I have no doubt the words used towards her [Sharpe], in her expression, represented everything against her and what she believes in," she said. "In other words, offensive, insulting, abusive and, in my judgment, intended to cause offence and alarm and distress to her religion."
About 20 Britain First members took part in the "patrol" of Bury Park, distributing branded newspapers which had a front page that said: "World War Three has begun – Islam against the world," the court heard.
Sharpe, who was shopping with her four young children at the time, refused a newspaper from the group.
Giving evidence on Wednesday, she said it was at this point that Fransen, from South Norwood, south London, crossed the road and confronted her. The incident was captured on camera by members of Britain First.
Sharpe told the court: "She came across, shouting at me, saying, 'Why are you covered?' and she said that quite a few times. I told her it was my choice that I cover.
"I then turned to the camera and I said, 'Film me, I'm British, I'm a British Muslim. It's my choice to wear this clothing and it's my right.'"
She added: "I called her a slapper, I admit, and I told her to piss off because I was so angry at that point that she had done that in front of my children."
In video footage shown to the court, Fransen was seen brandishing a white cross as she told Sharpe that Muslim men made women cover themselves so that they were not raped.
Following the incident, Sharpe said she had to go home and explain the meaning of the word rape to her young children.
She also told the court her four-year-old son was now scared to leave the house in case they ran into the group.
Mellanby described Fransen's behaviour as "shocking" and commended Sharpe for the "eloquent" account of events she had provided to the court.
Footage of the incident with Sharpe was edited and included in a video posted on the party's YouTube channel.
The judge said she was aware that as a result, Sharpe had been branded a terrorist on some websites.
Fransen, who was elected deputy leader of Britain First in autumn 2014, was also found guilty of wearing a political uniform in a public place. She was dressed in a green coat with a Britain First lapel and black beanie hat bearing the party's emblem during the patrol, which Mellanby ruled was similar attire to the rest of the group and signified her association with the party.
Fransen was fined £1,000 for the religiously aggravated harassment and £200 for wearing a political uniform.
She was also ordered to pay £620 in costs – as well as a £100 surcharge – and issued with a two-year restraining order to prevent her from contacting Sharpe or engaging in intimidating behaviour towards her.
A further charge of failure to surrender to police bail was withdrawn by the prosecution.
Following the hearing, a Britain First supporter was arrested on suspicion of common assault after an alleged altercation with a journalist.
Fransen, who is described by Britain First as a "devout Christian", condemned the court's verdict in a video posted to the group's Facebook page.
She said: "It was just absolutely absurd in the court. It was just a really clear display of Islamic appeasement. That's all that we've just seen."
https://www.theguardian.com/uk-news/2016/nov/03/deputy-leader-britain-first-guilty-over-verbal-abuse-muslim-woman-jayda-fransen-hijab
--------
Muslim Toronto Police chaplain's views troubling
BY FARZANA HASSAN
EMBER 03, 2016
He says Muslim women should obey their husbands. He even suggests a wife should make herself available and "not withhold this right from her husband without a valid excuse."
Further to his dictates on wives' sexual obligations to their husbands, he argues that some scholars agree that if a woman "refuses without a valid reason, then she has committed a major sin."
He even insists that women must seek permission from their husbands whenever they want to leave the house because the man is the "main decision-maker of the home."
These are not edicts issued by Wahhabi clerics in Saudi Arabia, or by jihadis from ISIS or al-Qaida. The source is right here in Canada.
Musleh Khan is the new Muslim chaplain hired by the Toronto Police to bridge gaps between law enforcement and the Muslim community and to provide religious and moral support to Muslim officers. The police union is justifiably concerned about his comments, made in a 2013 webinar entitled "The Heart of the Home: The Rights and Responsibilities of a Wife."
Of course, people offended by these comments understand the importance of a relationship that requires both parties to respect each other's wishes. They are enlightened enough to see that Khan's comments promote a kind of sexual tyranny.
Khan is not alone. Some segments of the Canadian Muslim community espouse similar opinions on women's rights and responsibilities. They encourage the sort of master-slave relationship between a husband and his wife — or wives — that is constantly advocated in conservative and fundamentalist circles across the country.
When the police union raised concerns about Khan's views, he played the context card: He conceded that his words may have been inappropriate, and that when "taken out of context," such terminology can create a misleading impression.
"Upon deliberating on the definition of obedience as being 'to yield to explicit instructions or orders from an authority figure,' I agree that the term was inappropriate if used out of context," Khan reportedly said in statements provided to media.
Yet if the problem were just a semantic one, he would have reworded his opinions in a way that clears up the misunderstanding. He did claim that what he meant by obedience was actually devotion, loyalty and love.
Yet this just means that the wife is the one required to show these qualities by kowtowing to her husband's directives, which is not what defines a loving relationship.
This context card is played by fundamentalist apologists on any subject, from the subjugation of women to jihadi violence. But the context itself is flawed.
The issue is never the manner of expression, but rather the outrageous substance of the opinions themselves, which have no place in Canada in 2016.
Although he has insisted that he will be "more mindful of women's equality," it is hard to see how Khan will perform his obligations appropriately.
It is astounding that the stringent vetting process that police departments use to hire their staff can yield no one more suitable than Musleh Khan. Even more troubling is that he received letters of recommendation from members of his community, an indication that few in the community understand the toxic substance behind his comments.
Mike McCormack, head of the Toronto Police Association, is rightly troubled by the appointment.
It would help if Khan said something meaningful enough to convince the public he had changed not his words but his mind.
http://www.torontosun.com/2016/11/03/muslim-toronto-police-chaplains-views-troubling
--------
URL: https://www.newageislam.com/islam,-women-and-feminism/new-age-islam-news-bureau/why-do-young-saudi-women-run-away-from-home?/d/109011
New Age Islam, Islam Online, Islamic Website, African Muslim News, Arab World News, South Asia News, Indian Muslim News, World Muslim News, Womens in Islam, Islamic Feminism, Arab Women, Womens In Arab, Islamphobia in America, Muslim Women in West, Islam Women and Feminism