New Age Islam News Bureau
24 October 2021
• 'White Marriage' – Live-in-Partner, Like Sex Before Marriage, Is Illegal Under Iran's Strict Islamic Laws
• 'Our Dream Of Playing Sports At The National And International Levels Came To An End' – Afghan Female Athletes
• CAIR Chicago Celebrates First Muslim Representation In American Girl Doll Pushed By Local Activist
• Community Health Workers Can Help South African Women With Perinatal Depression
• It's Brave Of Japan's Royal Women To Acknowledge 'Depression'
Compiled by New Age Islam News Bureau
URL: https://www.newageislam.com/islam-women-feminism/white-marriage-iran-islamic-laws/d/125634
--------
'White Marriage' – Live-in-Partner, Like Sex Before Marriage, Is Illegal Under Iran's Strict Islamic Laws
By Sarbas Nazari
24-10-2021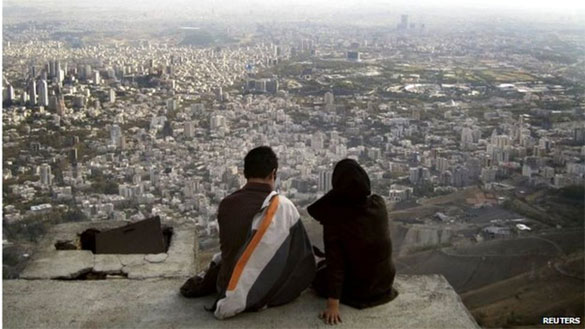 Despite Iran's strict Islamic laws, increasing numbers of young couples are choosing to live together before marriage. (Photo: BBC)
-----
"I had to get rid of our unborn baby. It was the toughest decision of my entire life," says Mitra, a 27-year-old interior designer living in Tehran with her partner.
Mitra and Mohsen, a 32-year-old doctor, moved in together under an arrangement known as a "white marriage" - a form of cohabitation between a man and a woman which, like sex before marriage, is illegal under Iran's strict Islamic laws.
They eventually had a change of heart and hoped that they would be able to navigate the legal labyrinth to obtain a birth certificate for their unborn child. Despite their best efforts, they were pushed towards an abortion.
Article 1167 of Iran's civil code, which declares that "a child born of adultery shall not belong to the adulterer", means that unmarried parents have no custody rights as a couple and only the mother can request for her name alone to be listed on the child's birth certificate.
As for the child, the authorities keep a confidential record of those born in such circumstances - information which can prevent them from obtaining certain jobs in the future.
While there is no official figure for white marriage relationships, they are increasingly common and have become a thorn in the side of the hardline establishment.
And, having failed to curtail them, alarmed officials are now having to wrestle with the dilemma of what to do with the children of cohabiting couples.
"At the end of the day, those children will need to receive their birth certificates before being enrolled at schools," Deputy Minister of Youth Affairs Mohammad Mehdi Tondgouyan recently told Ilna news agency, warning that the consequences of failing to address the issue could be disastrous.
Although they are aware of the issue of children conceived in white marriages, few among Iran's elites have spoken about it publicly.
Outspoken reformist former lawmaker Parvaneh Salahshouri sounded the alarm last September, when she warned that abortion was the only choice for cohabiting women who got pregnant.
Iran's establishment argues that economic challenges and complicated pre-marriage rituals are pushing single Iranians away from conventional, religiously-approved marriages.
It has gone the extra mile to encourage the younger generation into such unions, offering interest-free loans to help with the initial costs.
"How about the neck-breaking rents?" she notes, referring to a housing market that has seen prices skyrocket in the past few years.
Shina has been with her partner Sadegh for a decade and sees cohabitation as a trending form of rebellion against authorities in the Islamic Republic.
"We are not giving in to such a forced arrangement [of marriage]," she says. "How is it that refusal to exchange a few vows suddenly renders our relationship illegitimate?"
Evidence of the popularity of cohabitation is clearly visible on Iran's vibrant social media platforms - also a sign that the social stigma is fading away.
A plethora of channels on the Telegram messaging app are serving as places for single Iranians to search for a partner. One channel has more than 45,000 subscribers, who share their personal data in the hope of finding a match.
Their grip on power was tightened earlier this year following the election as president of the ultraconservative cleric Ebrahim Raisi.
Only two weeks ago, he ordered Iran's top internet supervisory body to prioritise the "health and security" of cyberspace - an indication that stricter controls could be in store.
The couple applied for a German visa when Shina became pregnant in 2016, knowing the legal problems they and their child would face. However, they were turned down.
Abortion is illegal in Iran unless the pregnancy poses a risk to the woman's life or the foetus has severe physical deformities. Because of those restrictions, the abortion pill is not available on the market and many women are forced to seek illegal terminations that can be unsafe.
One 36-year-old obstetrician, who wishes to remain anonymous for security reasons, says she has conducted three illegal abortions for cohabiting couples at her private clinic west of Tehran.
Pari and her partner Yassin, who are both 35, spent all their savings on buying a flat in the Turkish city of Istanbul, which has become a popular destination for many Iranians disillusioned by their country's economic meltdown and the stifling social and political environments.
"When I had my very first morning sickness I decided that I would keep the baby this time, regardless of the price," says Pari, who had an abortion after a previous pregnancy.
"Leaving behind our homeland was never easy. But we will be raising the child born out of our love, and that's what matters," she declares proudly.
"Still, I cannot stop thinking of the cohabiting friends of mine, who are longing to have a baby and are being deprived of the chance."
Source: Bbc.Com
https://www.bbc.com/news/world-middle-east-58957045
---------
'Our Dream Of Playing Sports At The National And International Levels Came To An End' – Afghan Female Athletes
Jafar Haand
October 24, 2021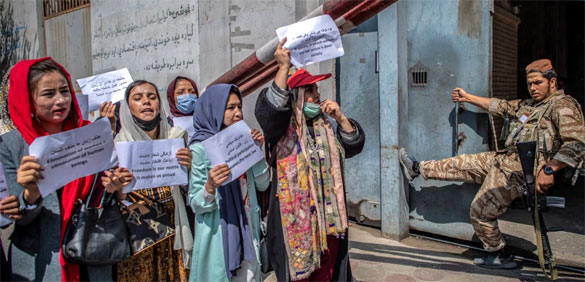 FILE - A Taliban fighter watches as Afghan women hold placards during a demonstration demanding better rights for women in front of the former Ministry of Women Affairs in Kabul, Sept. 19, 2021.
-----
WASHINGTON — Women athletes in Afghanistan say the Taliban's return to power has put an end to their dreams of playing sports at the national and international levels.
"It is over," said 21-year-old Homaira Barakzai, the captain of Afghanistan's national handball team, adding that "Everything has changed with the political change (Taliban's return). Our only hope right now is to survive. Our future, as athletes, is unknown."
After seizing power in August, the Taliban rolled back the hard-won women's rights gained in the past two decades in Afghanistan. They did so by imposing strict restrictions on women, including a ban on women's sports.
"It was very painful" to see that Afghanistan did not play in the Asian Women's Handball Championship, said Barakzai. The games were held September 15-25 in Amman, Jordan.
Barakzai added that the Taliban's takeover of the Afghan capital and the chaos at the Kabul airport after the collapse of the Afghan government prevented them from traveling to Amman for the games.
Barakzai said now that the Taliban again control Afghanistan, she will not be able to play for her country. "Our dream came to an end as the Taliban returned to power."
A high-ranking Taliban official told the Australian broadcaster SBS last month that Afghan women will not be allowed to play sports if they cannot "get an Islamic dress code."
"It is obvious that they will get exposed and will not follow the dress code, and Islam does not allow that," said Ahmadullah Wasiq, the deputy head of the Taliban cultural commission.
Mashhed Barez, a member of Afghanistan's national handball team, told VOA that the Taliban ban on women's sports is "very disappointing."
"If someone thinks that the Taliban have changed, they are mistaken. The Taliban want people to live in poverty and misery," Barez said.
Under Taliban rule in the late 1990s, women were forced to cover themselves from head to foot. They were not allowed to leave their houses without a male companion. The Taliban forbade women from playing sports.
In the past 20 years, millions of girls enrolled in schools, and tens of thousands of women served in the public and private sectors. Afghan women athletes have participated at national and international tournaments, including the Olympic Games.
New York-based rights group Human Rights Watch (HRW) has accused the Taliban of widespread human rights violations against Afghan women and girls.
In a statement last month, HRW's associate director of the Women's Rights Division, Heather Barr, said "women's rights activists and high-profile women have been harassed and many are afraid and in hiding."
"Because my parents were worried about my safety, I had to move to a relative's house," said Barakzai. "Now I cannot go out. I have to stay at home."
Arzo Rahimi, chairperson of the Girls Football Federation in Afghanistan, told VOA that the international sports bodies should not forget about the country's women athletes.
She added that athletes' lives "are in danger under the Taliban," and urged the international community to help with their evacuation to safety.
Last week, the world soccer body, FIFA, evacuated 100 football players and their families from Afghanistan with the help of the Qatari government.
The International Olympic Committee and a number of other sports bodies and countries have helped in the evacuation of dozens of other women athletes.
London-based rights group Amnesty International said in a statement this week that though the international evacuation of at-risk Afghans from Afghanistan ended two months ago, "those left behind face formidable obstacles to seeking safety outside the country."
Freshta Ahmadzai, a member of the Afghan national basketball team, told VOA that women athletes, being at high risk, are "forced" to leave the country because the Taliban do not give women their rights.
"If the Taliban allow women to work and play sports, I will not leave my country," Ahmadzai said.
Source: Voa News
https://www.voanews.com/a/our-dream-came-to-an-end-afghan-female-athletes-speak-out-about-taliban-s-return-/6280537.html
----------
CAIR Chicago celebrates first Muslim representation in American Girl Doll pushed by local activist
By Tyra Whitney
October 23, 2021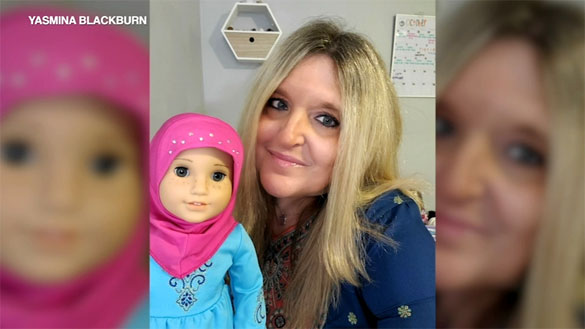 Mattel, Inc. has launched an official Eid outfit for 18-inch American Girl dolls following a push by Chicago-based activist Yasmina Blackburn.
-----
CHICAGO (WLS) -- Mattel, Inc. has launched an official Eid outfit for 18-inch American Girl Dolls following a push by Chicago-based activist Yasmina Blackburn.
Eid-al-Fitr is a Muslim holiday that means "Festival of Breaking Fast" in Arabic. It comes at the end of Ramadan, a holy month of prayer and fasting.
Blackburn, a longtime associate of the Chicago chapter of the Council on American-Islamic Relations, the nation's largest Muslim civil rights and advocacy group, first wrote a letter to the American Girl president in 2009.
She asked for Muslim representation in the doll line for her daughter. The Company responded they had no plans to incorporate Muslim holidays into their line, though they had products for Christmas and Hannukah.
"I am thrilled to work with American Girl in making their products more inclusive," said Blackburn, "especially celebrating Muslim holidays and traditions. I worked closely with the designers to ensure the first outfit was typical of an American Muslim girl and not feeding Oriental stereotypes. I'm very happy with the results and for future Muslim items to come out of the AG line. It's important for kids to feel that their holidays are recognized at school and in the public sphere as well as on toy shelves. I am grateful to Mattel for their positive response and collaboration, my mother and daughter for their support, and CAIR-Chicago for its inspiration of my activism."
"This signals a great shift in the public eye regarding what it means to be an American girl," CAIR-Chicago Communications Coordinator Saadia Pervaiz said. "Growing up, I had no access to dolls that looked like me, let alone celebrated what I celebrated. With this clothing line, now young girls are able to see themselves reflected in their toys. Their peers will also be exposed to the multi-faceted American girl experience, which promotes acceptance in the long run."
Source: ABC7Chicago
https://abc7chicago.com/american-girl-doll-muslim-mattel/11154683/
----------
Community health workers can help South African women with perinatal depression
October 24, 2021
Depression is defined by symptoms such as persistent sadness, low mood, sleep disturbances, low energy, and feelings of hopelessness. The condition is universal and can affect anyone. But certain people are more vulnerable or at risk of experiencing depression. Poverty and trauma are among the risk factors.
Pregnant women and mothers of infants are also at a higher risk of experiencing depression. This is because of the increased pressures they face economically, in their relationships, with their families and socially. And maternal depression has negative impacts on infant growth and nutrition.
Research done in Khayelitsha, a low-income township on the outskirts of Cape Town in South Africa, found that around 19% of pregnant women experienced depression and 16%-35% experienced postnatal depression. This is strongly contrasted with high-income country estimates where 9% of women experience antenatal and 10% experience postnatal depression.
The services that should be available to help these women are very scarce in South Africa. The country's mental health sector has been severely neglected and under-resourced. It receives only 5% of the total national health budget.
One way that's been proposed to help boost mental health services is "task sharing". This is defined as transferring specific tasks to community health workers with shorter training and fewer qualifications than specialists.
It has shown some promising results so far. But to be effective, it needs to consider how a person describes and understands the causes of depression, what elements of therapy are helpful, and how external factors influence the efficacy of counselling and therapy.
In the first sub-study, a sample of 34 participants were asked how they would describe depression. They responded with phrases and idioms such as "being stressed", "thinking too much", "feeling sad", and "being afraid".
The women also identified what they said were reasons for their depression. These were all related to contextual issues, such as a lack of support from partners and family, having an unwanted pregnancy, the death of a loved one, facing poverty and unemployment, thinking too much (a description and a cause), and anxiety around coping with a new baby.
The women's own descriptions of how they felt and why were an important first step in developing a way to help them. A psychosocial counselling intervention needs to acknowledge womens' context and address some of the above issues in collaboration with them. The information that the participants provided was used to help to develop a six-session counselling intervention for a randomised controlled trial testing task-sharing for pregnant women in Khayelitsha, with community health workers providing the counselling.
The second sub-study was conducted after the randomised controlled trial was completed. It examined transcripts of counselling sessions from 39 participants in the trial. Each had received six sessions of psychosocial counselling from a community health worker.
The study investigated elements of the counselling sessions that women said had helped improve their symptoms of depression. Participants said they valued their counsellors giving them information on pregnancy, birth and depression (known as psychoeducation).
The women appreciated it when counsellors told them it was normal to feel depression. Counsellors who expressed empathy and showed commitment to the therapeutic process were also appreciated. The women valued the experience of confidentiality and being able to share their problems with someone they trusted. They felt a sense of relief after opening up to someone, and were able to start communicating better. This led to a feeling of connection and hope.
Participants also appreciated the advice that counsellors gave them about their relationships with their partners and their family members. Although this is not normally used as a therapeutic technique in counselling, it appeared to help women in this context.
Many of these factors have been identified in other studies of the counselling components and techniques that are effective in low- and middle-income countries. The study therefore validates the use of these "common elements" of therapy across a wide variety of counselling interventions.
The study also revealed social and economic factors that women in Khayelitsha face in their everyday lives that may have influenced how helpful counselling was for them. These included food insecurity, intimate partner violence, economic abuse and alcohol abuse by partners, lack of support from partners, HIV/AIDS, and continuously occurring traumatic events.
Although women said counselling from community health workers was helpful in many ways, these social and economic factors had a negative impact on the short- and long-term effectiveness of the counselling for them.
The study thus recommends that psychological interventions should include elements that try to address some of the social determinants of mental health. Strategies to deal with intimate partner abuse and to build economic skills would be examples.
The findings also support the provision of a basic income grant for all unemployed people. This would assist in reducing anxiety for women around obtaining food and other things they need for physical and mental wellbeing.
In summary, this study highlighted the importance of addressing depression and anxiety for pregnant women and mothers of young children, using locally relevant descriptions of depression and addressing the causes identified.
Employing community health workers to provide counselling helps women to some extent and reduces the burden on specialists in the public mental health sector. But sufficient training and consistent supervision is essential to equip these health workers with appropriate counselling skills.
Interventions to assist depressed pregnant women also need to use techniques and strategies that consider the very real influences of poverty and related trauma on both depression and on counselling effectiveness.
Source: The Conversation
https://theconversation.com/community-health-workers-can-help-south-african-women-with-perinatal-depression-170031
-----------
It's Brave Of Japan's Royal Women To Acknowledge 'Depression'
By Motoko Rich
Oct. 24, 2021
TOKYO — One of the toughest places to be a woman in Japan is within its royal family.
Nearly three decades ago, Empress Michiko lost the ability to speak after public carping about her supposed shortcomings as the wife of Emperor Akihito. Ten years later, Michiko's daughter-in-law, the current Empress Masako, retreated from public duties to cope with depression after the media harangued her for failing to produce a male heir.
Earlier this month, the imperial household revealed that Michiko's granddaughter, Princess Mako, 30, had suffered from post-traumatic stress disorder because of unrelenting public disapproval of her choice of a fiancé, Kei Komuro, a recent law school graduate whom she will marry on Tuesday.
"She felt like her dignity as a human being had been trampled on," Princess Mako's psychiatrist said in a news conference, adding that "she thinks of herself as somebody without value."
Although imperial women are not eligible to sit on the throne, the criticism they receive can be harsher than for the men of the family, who are protected in part by their proximity to the line of succession.
"In addition to working as a royal, you have to maintain beautiful fashion, and after getting married, your purpose is to give birth," said Rika Kayama, a professor and psychiatrist at Rikkyo University in Tokyo.
"Are you being a good mother? People will ask," she added. "Do you have a good relationship with your mother-in-law? How are you supporting the men in your life? So many jobs must be done perfectly without a hitch. I don't think men in the imperial family are looked at this closely."
Japan is slowly changing, with two women standing for prime minister during a recent governing party leadership election. And some corporations are making concerted efforts to elevate more women into positions of authority.
Women who protest their unfair treatment or advocate for equal rights are often censured for stepping out of line. The kind of criticism hurled at Princess Mako on social media echoes the treatment of women who have spoken out about sexual assault or even workplace rules about wearing high heels.
"There's this idea that the imperial family is sort of timeless and they are not part of modern society," said Mihoko Suzuki, founding director of the Center for the Humanities at the University of Miami, who has written about women in monarchies. Traditionalists, she said, want to "project this older, more comforting, stable idea about gender roles onto the imperial family."
After World War II, the emperor was stripped of his godlike status under the new, American-imposed constitution. And in many ways, the three generations of royal women reflect the evolution of Japan in the decades since.
As the nation shed the shackles of its wartime history, Michiko became the first commoner in centuries to marry into the family. Rather than handing her children over to court chamberlains to raise, she cared for them herself. Accompanying her husband, Akihito, as he traveled throughout Japan and internationally, she brought a human touch to the previously distant imperial family, kneeling to talk to victims of disasters and to people with disabilities.
But when she renovated the imperial residence or wore too many different outfits, the press griped. Rumors spread that court officials and her mother-in-law did not consider her deferential enough.
In 1963, after a molar pregnancy just four years into her marriage, she underwent an abortion and retreated for more than two months to a villa, as speculation spread that she had suffered a nervous breakdown. Thirty years later, she succumbed to severe stress and lost her voice, recovering it only after several months.
Her daughter-in-law, Masako, was a Harvard graduate with a promising career as a fast-rising diplomat in 1993 when she married Naruhito, then the crown prince. Many commentators hoped she might help modernize the fusty royal family and serve as a role model to Japan's young working women.
Instead, her every move was analyzed for its potential effect on her ability to bear a child. After a miscarriage, she gave birth to a girl, Princess Aiko, disappointing those who wanted a male heir. Court officials, protective of her womb, limited her travel, leading her to withdraw from public duties. She issued a statement saying that she was suffering "accumulated exhaustion, mental and physical."
Eight other princesses have married out of the family and been stripped of their monarchical status, though none have been subjected to attacks like those against Princess Mako.
"I find it very, very odd that the Japanese people believe that they should have a say in any shape or form in who she marries," said Kenneth J. Ruoff, a historian and specialist in the Japanese imperial family at Portland State University.
Princess Mako's father, Crown Prince Akishino, originally withheld approval of the marriage after the couple announced their engagement in 2017, saying he wanted the public to accept the match before he gave his blessing.
He "said that they should get married with the blessing of the people, so even he said that we have the right to give input," said Yoko Nishimura, 55, who was taking a walk inside the gardens of the Imperial Palace in Tokyo last week. "I think the Japanese feel like since the imperial family represents them in a way, we have the right to give our opinions."
Even as the couple have quietly prepared for a private registration of their marriage without royal pomp, the attacks have not stopped. In recent weeks, protesters have marched in Ginza, a popular shopping district, bearing signs reading "Do not pollute imperial household with this cursed marriage" and "Fulfill your responsibilities before you get married."
A writer in Gendai Business, a weekly magazine, fulminated against Princess Mako's choice, saying she would "expose Japan to shame internationally." On Twitter, some have called her a "tax thief," even though she has decided to renounce a royal dowry worth about $1.4 million. Others have accused the princess of faking her post-traumatic stress.
Both Harry and Meghan have spoken openly about the cost to their mental health. Prince Harry's frankness about his depression over the death of his mother, Diana, who also suffered from depression and eating disorders, has helped open conversations about mental health in Britain.
"I don't think the women in the imperial family have been public about their mental health issues in order to start a dialogue," said Kathryn Tanaka, an associate professor of Japanese literature and culture at the University of Hyogo. "But I think it's brave of them to acknowledge."
Source: NY Times
https://www.nytimes.com/2021/10/24/world/asia/japans-princess-mako-wedding.html
----------
URL: https://www.newageislam.com/islam-women-feminism/white-marriage-iran-islamic-laws/d/125634
New Age Islam, Islam Online, Islamic Website, African Muslim News, Arab World News, South Asia News, Indian Muslim News, World Muslim News, Women in Islam, Islamic Feminism, Arab Women, Women In Arab, Islamophobia in America, Muslim Women in West, Islam Women and Feminism