New Age Islam News Bureau
23 Apr 2017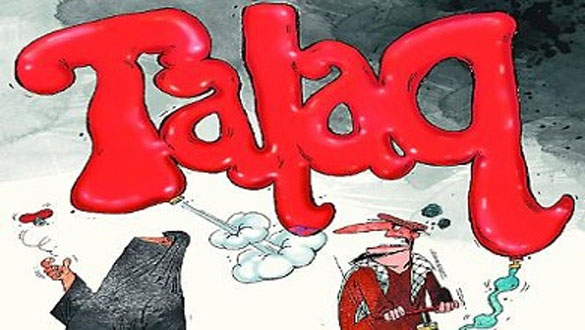 Photo: Representative image
------
• Government and AIMPLB Must Empower Muslim Women to Solve Triple Talaq Issue
• Muslim Women Preachers Enlisted In Egypt's Fight against Extremism
• Pakistani Female Entrepreneur Selected For Prestigious Blackbox Connect Silicon Valley Event
• Telengana Minister Distributes Sewing Machines to 400 Muslim Women
• Parda, Polygamy and Triple Talaq Have Suppressed Muslim Women: Tripura Governor Tathagata Roy
• Triple Talaq: Jamaat-e-Islami-e-Hind Women's Wing to Hold Awareness Drive in State
Compiled by New Age Islam News Bureau
URL: https://www.newageislam.com/islam-women-feminism/while-triple-talaq-row-rages/d/110873
-----------
While Triple Talaq Row Rages, Indian Muslim divorcees and widows Say They Need Jobs
Omar bin Taher | TNN | Updated: Apr 23, 2017
HYDERABAD: Many Muslim divorcees and widows feel that while the issue of triple talaq is being taken seriously by the government, others such as their welfare, including provision of jobs, are seldom talked about. These widows, young and old, want the government to ensure employment for them.
"When a talaq issue comes to the fore, police and media rush to support the woman. Though this is good, there are other women of the community whose husbands have either met with an accident or been murdered. They have to run from pillar-to-post to get justice. They need jobs and skills," said Naseem Begum, AamAadmi Party women's wing state president.
Karimunnisa, a resident of Mohammed Nagar whose husband was murdered, says that the wheels of justice have moved slowly in the case of her husband. "My husband, Muneer, was killed under PahadiShareef police station limits. He was the sole bread winner of the family. I was called to the station twice and made to sit for hours. The police seem to be serious enough with talaq cases. But I am yet to get justice. I am not satisfied with the ongoing investigation. I want my husband's killers hanged,'' says Karimunnisa, who has to fend for herself and her two children alone.
A young woman, who did not wish to be identified, said she was divorced in 2010 and was looking for a better job to provide for her daughter. "I have been struggling to find a platform to earn. If the government machinery is serious about the welfare of Muslim women, why not provide them jobs," she said
Parveen Begum, a 35-year-old divorcee, says after her husband's death, she has been struggling to make ends meet. Now, her life depends on the 1,000 pension, which is not sufficient for her and her two daughters.
"It has been more than five years that my husband died. Since then it's been difficult to arrange even for basic necessities. At times, my relatives help by providing rice and some money for daily expenses and medicines. I want to do some work to earn and live a life of dignity," she says.
It was recently that the Telangana State Wakf Board handed over cheques to widows that had been pending for 10 months. More disbursals are expected in the next few weeks.
My husband, Muneer, was killed under PahadiShareef police station limits. He was the sole bread winner of the family. I was called to the station twice and made to sit for hours. The police seem to be serious enough with talaq cases. But I am yet to get justice.I am not satisfied with the ongoing investigation
My husband, Muneer, was killed under PahadiShareef police station limits. He was the sole bread winner of the family. I was called to the station twice and made to sit for hours. The police seem to be serious enough with talaq cases. But I am yet to get justice.I am not satisfied with the ongoing investigation
timesofindia.indiatimes.com/city/hyderabad/while-triple-talaq-row-rages-women-say-they-need-jobs/articleshow/58322829.cms
--------
Government and AIMPLB must empower Muslim women to solve triple talaq issue
22-04-2017
The government intends to prohibit triple talaq practice through constitutional amendment for the betterment of Indian Muslim women, whose marital life is instantly spoiled by the utterance of the three words on the whim of the husband.
Triple talaq through the instant messaging methods of mobile and internet or in drunken condition without giving the couple the opportunity of reconciliation is undesirable, according to Islamic jurisprudence.
Many Muslim countries have already abolished this method. The All India Muslim Personal Law Board (AIMPLB), an umbrella body for safeguarding Islamic laws in India, opposes the government's intervention in personal laws of Muslims.
However, it now advocates the formulation of some guidelines according to Islamic law to discourage practices of divorce that are not in compliance with religion. The AIMPLB also plans to create awareness and suggests social boycott for those men who adopt unlawful methods for separation.
Beyond the religious line, if the practice of triple talaq violates rights and creates a sense of insecurity among Muslim women, then it is the responsibility of both the government and AIMPLB to take measures to redress complaints about the same within the ambit of the Constitution.
The divorce issue is widely linked with Muslim women though the highest rate of divorce in India is among Christians and Buddhists. As per Census 2011, the crude divorce rate - number of divorces per thousand female population - was 2.53 among Muslims, 2.66 among Christians and 3.33 among Buddhists. The number for separated women is lowest among Muslim women - 3.43 - and the highest among Buddhists, 7.12, and Christians, 6.65, for the year 2011.
Before the divorce or separation, a mechanism needs to be formed for reconciliation among couples, with divorce being regarded as the last solution to avoid the worst circumstances, such as torture by husband or suicide.
Along with divorce, suicide is another major social evil that has caused the deaths of 6,95,000 women during the last 15 years, from 2000 to 2015. Interestingly, the most common reason behind suicide among women was found to be family problems - 40 per cent - and then marriage-related issues, 9 per cent, in the year 2015.
Women are also badly treated by family members in the absence of divorce; incidences of cruelty against women by husband and his relatives were 1,13,403, according to NCRB estimates for 2015.
Before the divorce or separation, a mechanism needs to be formed for reconciliation among couples. Photo: Reuters
The aforementioned figures apparently indicate that women, irrespective of religious affiliation, are maligned via different means in our male-dominated society.
To avoid danger to a woman in a bad marriage and during family conflict, divorce is permissible and considered as a solution under Indian laws.
However, its instant imposition without an effort towards reconciliation has the whooping impact on the couple, specifically on the future livelihood of the woman as she is more financially dependent on the male partner.
Empowering of women could avert its bad consequences as they could become more self-reliant. Instead of meddling with personal laws, the government can contribute largely towards empowerment of Muslim women via reforms in education, health, employment and representation in legislative bodies - so that they can take better decisions and become capable of managing unwanted situations.
Out of 429 lakh married Muslim women, only 2 lakh women are affected by divorce but the illiterate women make up 267 lakh (38 per cent) of total 702 lakh women.
Muslim women also have fewer opportunities in higher education - only three per cent have attained the graduation level according to the 2011 Census while their share is less than five per cent in enrolment for higher education, according to 2014-15 data.
An estimate derived from a government survey conducted in 2014 on education showed that 20 per cent Muslim women between 5-29 years of age discontinued education due to financial constraints and 23 per cent due to engagement in domestic services, while this number for boys was 30 per cent due to financial issues and 24 per cent due to engagement in economic activities.
Muslim women are largely underrepresented in state legislative bodies and Parliament. They constitute around 7 per cent of the country's population but have worse representation than men in Parliament.
According to the population ratio, their ideal representation should be around 35 out of 543 seats but unfortunately only four and three candidates won in the last two parliamentary elections of 2014 and 2009, respectively.
Uttar Pradesh, a state with 19 per cent Muslim population, doesn't have any Muslim woman representative. The BJP, a party raising the triple talaq issue ostensibly for the betterment of Muslim women, did not consider allotting a single ticket to Muslim women in the recent Assembly and earlier parliamentary elections.
Similarly, the government can find wider scope for empowerment of Muslim women in many other segments.
The AIMPLB also can't rid itself of responsibility by calling the proposed ban on triple talaq as unconstitutional and an act of interference by the government in personal laws.
Empowerment of women should be initiated within the community itself. The AIMPLB needs to formulate a detailed multi-prolonged vision with the help of all stakeholders for the betterment of Muslim women in India - and a line of action must also be laid down against triple talaq.
dailyo.in/variety/triple-talaq-muslim-women-empowerment/story/1/16798.html
--------
Muslim women preachers enlisted in Egypt's fight against extremism
Cairo: In an ornately decorated prayer room, Nour al-Hoda al-Gammal delivers an impassioned sermon to a small group of women while their kids fidget restlessly.
Preaching in Egypt, the largest Arab nation with a deeply religious and patriarchal society, is a profession mostly reserved for men.
But Gammal, 30, who has been preaching for about a year, is one of thousands of female preachers who have cultivated a loyal following of women. Her carefully updated Facebook page has over 600,000 likes.
"We wanted to move beyond the idea of traditional sheikhs or that we are unapproachable scholars; rather we are at your service, to teach you," she told Fairfax Media.
Egypt's growing radicalisation problem has led it to turn to women preachers in a bid to change hearts and minds. More than 140 women preachers will soon take part in a state-led campaign to combat religious extremism and promote national loyalty.
The move is a first for Egypt, according to the Ministry of Religious Endowments, but female preachers have long played an important role in ministering to Egyptians.
"There was a grassroots movement that developed starting in the early 1980s of women beginning to preach in the local mosques. It was only once this trend had become widespread that the state tried to regulate it and bring the women preachers under its administrative structure," said SabaMahmood, a University of California anthropology professor.
The ministry is aiming to give licences to around 2000 women preachers by year's end.
They are expected to undergo four years of religious instruction in an institute recognised by either the ministry or al-Azhar, Sunni Islam's highest seat of learning.
Egypt embarked on a similar project in 2015 in collaboration with the National Council of Women, a state body set up during Hosni Mubarak's rule, but this quickly faltered as its responsibilities were so ill-defined.
People look at damage inside St George's church after a suicide bombing in the Nile Delta town of Tanta in April.
People look at damage inside St George's church after a suicide bombing in the Nile Delta town of Tanta in April. Photo: AP
But some critics are troubled that the state is encroaching on already dwindling personal freedoms under President Abdel Fattah al-Sisi.
Sisi, who was defence minister under Islamist president Mohamed Morsi until he overthrew him in a 2013 coup, has been keen to portray himself as a moderate who can promote reform in Islam.
An ambulance outside Saint Mark's Cathedral following a suicide bombing that killed several people, just after Coptic ...
An ambulance outside Saint Mark's Cathedral following a suicide bombing that killed several people, just after Coptic Pope Tawadros II finished services in the city of Alexandria. Photo: AP
It was a point he returned to after the Palm Sunday terrorist attacks on Coptic churches, which killed 44 worshippers and injured dozens.
Imposing a national three-month state of emergency after the bombings, Sisi also ordered the formation of a supreme council to combat terrorism and extremism.
He has routinely cast the Muslim Brotherhood as a terrorist group in league with Islamic State – a claim the Brotherhood denies – and has been locked in an ideological battle with al-Azhar, which includes a university, a mosque and a network of schools, over his vague promises to modernise the faith.
Egypt's armed forces have been battling the Islamic State-affiliated Wilayat Sinai (Sinai Province) as the insurgent group has stepped up its attacks on Coptic Christians.
Al-Azhar's Grand Mufti, Ahmed al-Tayeb, has come under pressure since the most recent attacks for comments he made in 2015 refusing to denounce IS militants as infidels.
Islam is an integral part of public life in Egypt; three out of four Muslim Egyptians believe religion is central to their lives. The revolution in 2011 laid bare the fault lines of religious expression, between Egyptians who view faith as a matter of personal belief and those who see religious values as inextricably linked to political ones.
Egyptians voted for Mohamed Morsi, the Muslim Brotherhood's nominee for the presidency, in 2012. His slim victory suggested that for some it was not so much a vote for a religious candidate as against his rival, Ahmed Shafiq, who was strongly identified with the ousted Mubarak regime. However, Morsi's disastrous year in power saw the Brotherhood clash with the military and alienated many Egyptians, leading to his overthrow in July 2013.
The state, even under monarchic rule before 1952, has had to strike a delicate balance in trying to authorise a version of Islam that appeals to a wide spectrum of the population. Egypt's constitution maintains Islam is the religion of the state and that sharia is the main source of legislation.
The decision to appoint female preachers explicitly to tackle extremism is an endorsement by the state of female leadership and fits with Sisi's vision of a "centrist Islam".
However, Mahmood says it is also part of a larger pattern of the state asserting control over citizens' lives.
"In the early 1990s … the state started requiring that all women who were preachers in mosques be licensed through the government-run centres for dawa [preaching] and those who did not have this licence were then forcibly removed," she explained to Fairfax Media.
"What makes this moment under Sisi slightly different is that it is even more oppressive than the Mubarak regime ... its censorship and regulation of the religious field [is] more intense."
Sisi's crackdown on dissidents has widened to include those religious figures who don't toe the state's line.
For Gammal, away from the politicisation of female preaching, she points to a spiritual essence in her pedagogy.
"Renewing religious speech means that everyone has to preach goodness and elevate their ethics – it is not just a domain reserved for the [Ministry of Religious] Endowments or al-Azhar."
Mona Salah, 59, sees dawa as a religious duty and a moral imperative. She memorised the Koran at 19, taught Islamic jurisprudence in Saudi Arabia for years and graduated from a preaching preparation institute in Dokki, an upmarket suburb of Cairo, in 2002.
"Sudden death of loved ones and moral corruption all around us drove me to tread down this path", she told Fairfax Media.
"We want to raise a generation with solid moral values – the most important thing in our religious practice are ethics, if we focus on that then the whole umma [global Muslim community] will be fixed."
Salah noted that the current political moment is sensitive for preachers striking a balance between their Koranic interpretations and the state's shifting line on what is considered "moderate".
"In a lot of mosques, preachers are regularly prevented from giving their sermons based on their religious interpretations if they have become stringent or rebuking in their tone," Salah said. "We are walking next to the wall, as they say."
The "centrist" version of Islam that Egypt's institutions are promoting is based on the idea of remaining loyal to its leadership and not encouraging dissent as it faces extremist threats in the region.
An avowed Salafi, Salah campaigned for controversial preacher Hazem Abu Ismail when he unsuccessfully ran for presidential elections in 2012. He, like Morsi, is now behind bars.
Salafis, who are extremely conservative in their religious practice, were a critical bloc in Sisi's bid for the presidency in 2014 but have also had a contentious relationship with the authorities since 2011, where they were hesitant to participate in democratic elections. They eventually mobilised their base to enter parliament in 2011, were supportive of Morsi but then turned on him to support Sisi, who has shunned them in recent years.
Their ideas have been deemed too extreme for the state's liking.
Inas al-Sattar, 46, who has been preaching for over two years, enjoys the connections forged with women who attend her religious classes in a small institute in Alexandria.
"When I ask a sheikh [male religious elder] for an example about something specific to my womanhood, he will never feel what I am going through because he hasn't experienced it. When a woman asks me I reply through an embodied response as a woman armed with my religious knowledge," she told Fairfax Media.
Mahmood, the University of California professor, says this is an important development in engendered by Muslim women changing perceptions of a conservative patriarchal society.
"Issues women were reluctant to ask of male preachers are openly discussed and debated among women in the setting of mosques. This has changed the interpretive discourse on orthodox Islam as well as involved women in the study of religious sources far more intimately than was the case before," she said.
Sattar views the ministry's announcement as a positive step in encouraging more women to be religiously active, but would like preaching to be even more present in the public life of Egyptians.
"Through your works and actions as a Muslim woman, your behaviour with others, even the intonations in your voice, these are what show me your true Islam – it's never through your veil."
The preachers Fairfax Media spoke to emphasised the need for a virtuous life as a priority that goes hand in hand with being a dutiful citizen, and lament what they see as moral decay.
This is a view that authorities under Sisi have also been trying to push forward – with mixed results.
In recent years, a pro-regime Islamic preacher with a television program was imprisoned for a year, a poet and loyal supporter of Sisi has been charged with contempt of Islam and four Coptic Christian teenagers were sentenced to five years' jail for making a video mocking Islamic State and later sought asylum in Switzerland.
In her newly-opened centre, the soft-spoken Gammal sitting at her desk shrugs off the idea that radicalisation can be tackled through sermons alone.
"It shouldn't just be the institutions that should change the religious discourse, it is for every citizen to partake in this endeavour."
With a dedicated young team updating her sermons online, she nonetheless sees her calling to preach as a personal duty.
"I am against the official designation of the term daiya [female preacher]. It's not a job – it's a role to aspire to in life."
smh.com.au/world/muslim-women-preachers-enlisted-in-egypts-fight-against-extremism-20170401-gvbl0h.html
--------
Pakistani female entrepreneur selected for prestigious Blackbox Connect Silicon Valley event
A Pakistani female entrepreneur has been selected to represent her startup at Blackbox Connect this year, a two-week residential programme for startup founders across the globe being held at the accelerator in Silicon Valley.
Sana Farooq is founder and Chief Executive Officer of the The E-Learning Network (ELN), a UK-based centre that seeks to provide training to teachers through online courses that eliminate the costs of travel. It also caters to other professionals in the education sector.
Farooq's ELN claims she is the first Pakistani female entrepreneur to be selected to participate in the event, which is sponsored by Google for Entrepreneurs.
She is amongst 15 other female entrepreneurs from across the world that will be participating in the upcoming event - the Blackbox Connect 18 Female Founders Edition from May 15-26 - that seeks to "hone their craft of entrepreneurship, amplify their drive, and fortify the foundation of their startup."
Startup founders are nominated for participation by a Google for Entrepreneurs network partner.
dawn.com/news/1328750/pakistani-female-entrepreneur-selected-for-prestigious-blackbox-connect-silicon-valley-event
--------
Telengana Distributes Sewing Machines To 400 Muslim Women
April 22, 2017
Minister for Irrigation T Harish Rao today said the State government was determined to the welfare of the Muslim Minorities in the State. He distributed sewing machines to 400 Muslim women at a program at Gajwel along with Finance Minister EtalaRajender. Speaking on the occasion, Harish Rao said Chief Minister K Chandrasekhar Rao was giving top priority to Muslims and passed a bill for 12 per cent reservations. The aim of the government was to ensure that the Muslims grow and develop along with other communities by implementing various welfare schemes. KCR was working with an aim to empower the Muslims socially, educationally and economically. Towards that direction, the official machinery was working for the welfare of all sections, he added. (NSS)
siasat.com/news/harish-distributes-sewing-machines-400-muslim-women-1174263/
--------
Parda, polygamy and triple talaq have suppressed Muslim women: Tripura governor Tathagata Roy
AdarshChandran | TNN | Apr 22, 2017, 08.39 PM IST
COIMBATORE: Muslims are not questioned for their crimes because of vote bank politics, said Tripura governor Tathagata Roy at a university event here on Saturday. Roy was addressing on furthering the role of women in Indian polity, and said that traditions like parda (veil), polygamy and triple talaq have suppressed women in the country.
Roy said that the reason we do not find enough women making inroads in politics is because of the suppression by the society. "Nobody questions about these traditions because it will affect their vote bank. Most of these traditions are followed by Muslims," said Roy. "Recently some steps have been undertaken to create an atmosphere where Muslim women are made aware of their rights, and they are beginning to come out and speak for themselves," he added.
Roy said that he is not against the Muslim community. "I respect Muslims and their religion is as much important as the Hindu, Christian or any other religion," he said. Quoting examples of some Muslim women who have spoken for their rights, he spoke about famous Bangladesh author, TasleemaNasrin, a Syria-born psychiatrist practicing in the US, Wafa Sultan, Pakistan-born IrshadManji who is an author and educator in Canada, and AyaanHirsi Ali, a Dutch-American activist originally from Somalia.
The Tripura Governor was in the city to inaugurate a workshop at Avinashilingam University. During his speech, Roy also recalled the contribution of some women leaders in India. He said, "According to Indian scriptures women play an important role in public administration, and this continued till the 13th century when the Mughals invaded us. From then till the British rule, there were hardly any women who became prominent in public life."
Roy took some names like Rani Lakshmibai, Sarojini Naidu, Indira Gandhi, J Jayalalithaa, Mamta Banerjee, SushmaSwaraj, Mayawati and VasundaraRaje to cite examples of women politicians in India. He said that Indira Gandhi was the person behind the liberation of East Pakistan and formation of Bangladesh. "On one hand her work to liberate East Pakistan was commendable, the imposition of emergency in the country was a bad idea," he said.
He also recalled the role of woman like Fathima Jinnah, the sister of Mohammed Ali Jinnah. "She poisoned Jinnah after the death of his wife," he said.
timesofindia.indiatimes.com/city/coimbatore/parda-polygamy-and-triple-talaq-have-suppressed-muslim-women-tripura-governor-tathagata-roy/articleshow/58317315.cms
--------
Triple talaq: Jamaat-e-Islami-e-Hind women's wing to hold awareness drive in state
April 23, 2017
AT A time when the BJP-led Central government has been raising the issue of triple talaq in the Muslim community, the Girls Islamic Organisation, a woman's wing of the Jamaat-e-Islami-e-Hind, has launched a state-wide campaign in Gujarat to raise awareness among the Muslim community on Muslim Personal Laws, as well as started initiatives to "clear misconceptions" harboured by other communities, regarding the important issues pertaining to talaq and marriages.
On Saturday, members of GIO— Fatima Tanveer and RaziaShaikh—arrived in Vadodara to kick off the campaign, which will continue until May 7. Addressing the issue of triple talaq and marriages in Islam, Tanveer said, "We are planning to undertake mohalla meetings, public gatherings, table top discussions as well as door-to-door campaign to educate the Muslim community members about the issues of personal laws, so that they do not get swayed by the misconceptions that are being promoted these days such as triple talaq and polygamy." Tanveer blamed the ongoing campaign against triple talaq as a "conspiracy" to influence Muslims who are unaware of the personal laws.
Speaking about Muslim women, who have reportedly supported NarendraModi in public on his stand on triple talaq, Tanveer said, "We do not know if these women are really Muslim or not. Islam is a religion that does not believe in coercion. Anyone who wants to follow the tenets based on the commandments of Allah, is free to do so. None of us has the right to alter these tenets."
Tanveer added that the Shariah law is sacrosanct and cannot be altered and said that the notion of triple talaq being torturous to a woman is wrong. "The Shariah law has provisions for the couple to mutually discontinue their marriage through talaq as well as to reconcile after the first and second talaqs if they feel they have fondness for each other. It is not to be uttered in one go, like many people believe. If it is spoken in one go, then the damage is done. We are trying to educate our community members about it," she added.
The JIH will also hold signature campaigns across the country after the 15 days programme to sensitise people, especially women, in the community on the issues.
indianexpress.com/article/india/triple-talaq-jamaat-e-islami-e-hind-womens-wing-to-hold-awareness-drive-in-state/
URL: https://www.newageislam.com/islam-women-feminism/while-triple-talaq-row-rages/d/110873