New Age Islam News Bureau
10 Jun 2018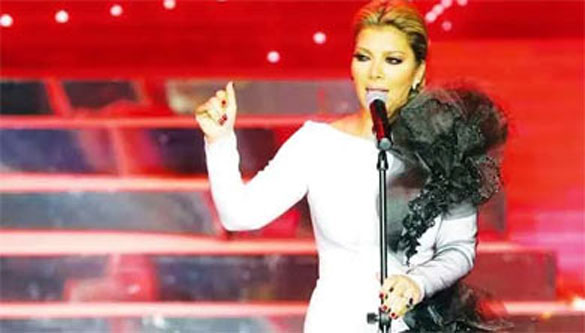 Syrian singer Assala performs during the 15th annual Murex d'Or awards ceremony held at the Casino Du Liban in Maameltein north of Beirut on June 4, 2015. AFP
------
• Syrian Singing Star Assala Nasri Heads to Riyadh for Women-Only Eid Concert
• Saudi Arabia Arrests 2 More Female Activists as Part of Crackdown On Dissent
• Online Campaign Paves Way For Women Drivers
• Saudi Women Join the Ranks of Licensed Drivers Ahead Of Ban Ending
• In A First, Sherine to Perform In Saudi Arabia This Month
• Iran: Six-Year Sentence Issued For Young Woman Protester in Babol
• Iran: Murderer of Reyhaneh Jabbari Chosen as Trusted Attorney
• How A Young Hero Rescued A Woman Trapped In Perilous Yemen Flooding
Compiled by New Age Islam News Bureau
URL: https://www.newageislam.com/islam-women-feminism/where-aid-money-gone-afghan/d/115501
--------
Where's the aid money gone? Afghan girls' struggle for education
by Mellissa Fung
June 10, 2018
Kabul, Afghanistan - "See, this is our school. You can see where the girls are."
Sixteen-year-old Mahnoz Aliyar is one of the 14,000 students of Kabul's Sayedul Shohada school. The road leading up to the school gate is not paved and potholes full of muddy water make it difficult to navigate. Conditions are little better inside the gates.
Mahnoz points to a big open field.
"You see? We don't have any classrooms, we don't have any buildings, and we don't have enough facilities for the girls."
Some classes are held under makeshift tents; others are held out in the open, with nothing to buffer the girls from the elements of Afghanistan's punishing summers and bitter winters.
While the girls persevere through rain, hail or shine, boys attend classes inside several buildings on the school grounds.
Still, the fact that girls are attending school is a huge improvement from the days of Taliban rule, when girls and women were banned from getting an education.
Thanks largely to the efforts of international donors who have spent billions of dollars rebuilding the Afghan education system, millions of girls have returned to school since the Taliban fell in 2001.
However, their exact numbers are unknown.
'He was saying that school is not good for girls'
A 2017 World Bank report suggests that as many as 66 percent of Afghanistan's girls are not in school. And those who are enrolled still struggle to get an education. They have to fight against a society that has long discouraged them, a corrupt system and a lack of proper facilities that disadvantages them.
Mahnoz has been a student at Sayedul Shohada since the first grade. She's now in grade 11 and hopes to attend the American University in Kabul after she graduates next year.
"I want to learn there. After that, I want to get a job. After that, I plan to go into politics. I want to go into politics and I want to supply everything for the girls. That's my wish."
But it will take more than her own fierce determination if Mahnoz is to achieve her goals.
First, she needs her country to be stable. According to a recent Human Rights Watch report, instability is one of the main reasons why so many girls are out of school. Families are less likely to send girls to school in insecure conditions than boys.
Even in the relative security of their neighbourhood, the Dascht-e-Barchi district of west Kabul, Mahnoz's father, Allahdad, says he worries about Mahnoz and her younger sister every day when they make the half-hour walk to school. He has reason to be worried - a recent bomb blast just two kilometres from their school killed 60 people.
In addition to safety concerns, cultural norms still dictate many girls' lives.
Allahdad was at first reluctant to allow Mahnoz to go to school. But she's managed to convince him otherwise.
"Before he was saying ... that school is not good for girls," she recalls. "And the girls should work in the home, cleaning, washing, these things. But right now, he is OK. I am always saying to him the world has changed. And we should learn knowledge, we should go to school."
Bribing their way into teaching jobs
If the struggle to get to school is one hurdle, girls face even more obstacles once they are enrolled.
An independent review of corruption in the education system revealed that the poor quality of education leads many parents to pull their daughters out of school.
Muzaffar Shah, the former director of Afghanistan's anti-corruption agency, says that's because teaching jobs often go to those who can afford to bribe their way into jobs rather than those who are most qualified.
"Our findings show that there was more discrimination against women," he says. "Whereas males had more access to get those jobs - either through recommendations, through knowing people, through knowing influential people. And this was not the case for females."
An estimated 75 percent of teaching graduates are unemployed, with most of them being women who do not have those connections or cannot afford to pay a bribe.
Getting more female teachers into classrooms could mean more families would be willing to send their daughters to school - many families will not accept men teaching their girls.
'If there are ghost schools, who gets the money?'
The anti-corruption report also found that most schools still lack basic infrastructure, despite the billions of dollars international donors have invested in construction and rehabilitation of school buildings. Most, according to the report, are still incomplete.
"Our findings show that literally money was taken in cash to remote parts of Afghanistan by the trustees, and we had information that the money did not make it to the right people," Shah explains.
Back at Sayedul Shohada, Aqeela Tavakoli, the principal of the girls' school, explains that Japanese donors built two new buildings for the girls five years ago. But the school shura, or local council, decided to give those buildings to the boys.
Aqeela points to a large patch of ground near one of the new buildings and says: "That is for the girls, but no one has come to build a school."
Because of the deteriorating security climate in Afghanistan, most donors can't get out of their embassy compounds to monitor the projects they support. That lack of oversight, Muzaffar Shah says, can often drive corruption.
"The schools are located in areas which are insecure. It's hard to know if those schools are there or not - if there are ghost teachers, if there are ghost schools, if there are ghost principals, who gets the money?"
'We've learned hard lessons'
Jeff Cohen, the deputy mission director for the largest donor, USAID, acknowledges that his government could have done better.
"Just because as a donor, you want to build a school in this place, doesn't mean it's the right school to build," he says. "I think we've learned lessons - hard lessons. We've tried to do a lot very quickly. It's still a process. Self-reliance is a long-term goal," says Cohen.
Self-reliance is something Mahnoz has learned in her 16 years. Asked whether sometimes it all just seems too hard, a fiery determination flashes in her big brown eyes.
"If I face a problem ... I am saying to myself, that 'Mahnoz, this situation is not good. You have to change this situation.' And just by starting you can change first your family, then your neighbourhood, and after that ... you can serve your people."
https://www.aljazeera.com/indepth/features/aid-money-afghan-girls-struggle-education-180606134316480.html
--------
Saudi Arabia arrests 2 more female activists as part of crackdown on dissent
Jun 9, 2018
Saudi Arabia has arrested two more female activists as Saudi Arabia continues its heavy-handed crackdown on voices of dissent.
The two women are accused of expressing support for other jailed female activists and voicing anger at Saudi Arabia's decision to imprison them.
The developments came as the United Nations has accused Riyadh of misusing its anti-terror law to crush peaceful dissent, denying freedom of expression, imprisoning critics and allegedly subjecting some of them to torture
The UN has urged Saudi authorities to bring the law in line with international norms and halt what it called "barbaric and public executions."
According to the UN report by Ben Emmerson, who visited the kingdom last year as UN special rapporteur on counter-terrorism, said the definition of terrorism in laws enacted in 2014 was "objectionably broad".
International human rights groups have long urged the kingdom to improve its treatment of human rights advocates and end the death penalty.
In early June, the European Parliament issued a resolution calling for their unconditional release and that of all human rights defenders. It also called for a more vocal European response.
"The Saudi Arabian authorities' endless harassment of women's rights activists is entirely unjustifiable, and the world must not remain silent on the repression of human rights defenders in the country", said Samah Hadid, Amnesty International's Middle East Director of Campaigns.
Amnesty International has also called on the "international community and allies of Saudi Arabia" to exert pressure on Riyadh to immediately and unconditionally release women's rights defenders currently detained in the Arab kingdom.
Over the past few weeks, a number of prominent women's rights activists, including Loujain al-Hathloul, Iman al-Nafjan and Aziza al-Youssef, were arrested and still remained in detention centers without charge and incommunicado with no access to their families or lawyers.
Most of the detainees are prominent figures, who enjoy considerable respect among the Saudi grassroots, including university professors and a psychotherapist.
Saudi authorities have so far labeled the detainees "traitors", infuriating the country's rights activists who fear additional arrests amid much-hyped reports of reforms led by Saudi Crown Prince Mohammed bin Salman.
This is while reforms have been accompanied by heavy-handed crackdown on dissent against Saudi critics, ranging from clerics to some of the very female activists who campaigned for years to end the ban.
During the past few weeks, Saudi authorities have arrested seven women and four men who were outspoken women's rights defenders in the peninsular country, many of whom had campaigned against the long-standing ban on women drivers in Saudi Arabia.
The ban is scheduled to be removed this month, with licenses being issued from 24 June, making Saudi Arabia the last country in the world to permit women to obtain driving licenses.
In September last year, Riyadh removed the driving ban on women as part of reforms to undo the damage the kingdom has suffered for decades of human rights violations both inside and outside of Saudi Arabia.
The move came shortly after women were also permitted access into a sports stadium, for the first time, to watch a concert. Saudi women had also been banned from voting until 2015, when they were allowed to vote in local elections.
http://www.presstv.com/Detail/2018/06/09/564488/Saudi-Arabia-arrest-female-activists-crackdown-on-dissent
--------
Online campaign paves way for women drivers
June 09, 2018
Later this month, women will drive on the streets of Saudi Arabia for the first time. To mark this historic occasion, Mohamed Yousuf Naghi Motors Jaguar Land Rover has been running a series of special events titled #HerCarHerChoice in Jeddah, Riyadh and Alkhobar aimed at assisting women to correctly purchase their next car as the driver rather than as a passenger.
While women for a long time have been influential in the buying process of new cars, this time it is different as the needs of a driver differ from that of a passenger.
The events aim to support the company's commitment toward empowering females and facilitating their developmental role in accordance with Saudi Vision 2030.
According to a study conducted by Mohamed Yousuf Naghi Motors Jaguar Land Rover, the most desirable features while purchasing a vehicle among females include entertainment systems, practicality, safety and performance. Through these events, the company is enabling women to get a closer look at the features under the supervision of specialists in the field.
"We realize that women have a great influence when it comes to choosing a car from the perspective of being a passenger but this time it is different," said Mahmoud Mirza, national marketing and CRM manager at Mohamed Yousuf Naghi Motors Jaguar Land Rover. "For the first time, women are in the driver's seat, and Mohamed Yousuf Naghi Motors Jaguar Land Rover is welcoming these females into our showrooms where we have recruited qualified females as sales representatives to provide the best experience to our female customers."
The educational campaign answered the many questions women have with regards to the process when buying a car from a driver's perspective. Until now, purchasing a car usually meant choosing the type of car, and the date of manufacture and color, whereas buying a car as a driver requires greater knowledge about its performance and handling characteristics and overall driving behavior as the vast majority of female buyers will be experiencing this for the first time.
http://www.arabnews.com/node/1318811/corporate-news
--------
Saudi women join the ranks of licensed drivers ahead of ban ending
10/06/2018
LONDON - Saudi authorities have begun preparations to remove the country's ban on women driving, which is to end June 24. Saudi officials on June 4 issued driver's licences to ten women, as a precursor to removing one of the most divisive issues in Saudi society.
"Ten Saudi women made history on [June 4] when they were issued driver's licences," said the Information Ministry's Centre for International Communication (CIC). "Expectations are that, next week, an additional 2,000 women will join the ranks of licensed drivers in the kingdom."
"It's a dream come true that I am about to drive in the kingdom," Rema Jawdat, one of the licence recipients, was quoted by CIC as saying.
News that women had been issued driver's licences saw "#first_saudi_female_driving_licence" become the top trending hashtag among Saudi Twitter users. A video showing the first Saudi woman, Ahlam al-Thenayan, receiving her licence also went viral and was widely carried by Saudi news outlets.
Ultraconservatives argue that women driving is immoral and warned that women doing so would be subject to sexual harassment. Four years ago, the country's top cleric, Grand Mufti Abdulaziz al-Sheikh, warned that the ban "was in the best interest of society," arguing that it protected women from dealing with the consequences of an accident.
Anticipating such concerns, Riyadh recently passed a law criminalising sexual harassment, with convictions carrying a prison term of up to five years and a fine of up to $80,000.
Ending the women's driving ban is part of Saudi Arabia's Vision 2030 programme, which is to reduce the kingdom's dependence on the energy sector through diversifying its economy.
Tied to economic changes are various social reforms, in which women's rights feature prominently. They include an easing of the kingdom's male guardianship system, granting women independent access to government services, jobs, education and health care without the need for prior consent.
Saudi Crown Prince Mohammed bin Salman bin Abdulaziz emphasised that point in an interview with CBS News' "60 Minutes" programme in March, during which he stressed equality of the sexes. "Absolutely," he said. "We are all human beings and there is no difference."
The ban on women driving had been unofficially in place for decades before it was codified into law after 47 female Saudi activists drove in Riyadh to protest the unofficial ban in November 1990. They were jailed for one day and had their passports confiscated.
A royal decree by Saudi King Salman bin Abdulaziz Al Saud signalled the reversal of the ban last September.
https://thearabweekly.com/saudi-women-join-ranks-licensed-drivers-ahead-ban-ending
--------
In a first, Sherine to perform in Saudi Arabia this month
June 10, 2018
CAIRO: Egyptian singer Sherine Abdel Wahab will perform in Saudi Arabia for the first time in a ladies-only concert this month.
The concert will be held in Jeddah at King Abdullah Economic City on June 19.
The singer wrote on Instagram a message to her fans saying: "To the beautiful women of Jeddah and Saudi Arabia, I'm happy that my first concert in the country will be on June 19."
The tickets are already available for booking online, going from 400 riyals (Bronze Level) to 2,200 riyals (Diamond Level).
http://www.arabnews.com/node/1318906/offbeat
--------
Iran: Six-year sentence issued for young woman protester in Babol
09 June 2018
A young woman who had been arrested during Iran uprising in December 2017-January 2018 has been sentenced to six years in prison.
Massoumeh Mohammadi, 23, a student residing in Fereydoon-kenar, is presently detained in the Prison of Babol, in Mazandaran Province, in northern Iran.
According to the data collected by the Women's Committee of the National Council of Resistance of Iran, at least 500 women were arrested by the clerical regime in the protests that started in late December 2017 and continued into mid-January 2018. Those arrested included a large number of female students, the identities of whom have not been disclosed, yet.
https://women.ncr-iran.org/iran-women-news/5239-iran-six-year-sentence-issued-for-young-woman-protester-in-babol
--------
Iran: Murderer of Reyhaneh Jabbari chosen as trusted attorney
09 June 2018
Hassan Tardast, the judge who issued the death penalty for Reyhaneh Jabbari, was introduced as a trusted lawyer to undertake the cases of political prisoners and prisoners of conscience.
The Iranian Chief Justice has endorsed a list of 20 lawyers as trusted defense attorneys to represent political prisoners and prisoners of conscience in their court trials. According to this extrajudicial measure, from now on, only these 20 lawyers are permitted to defend cases involving political and security charges.
Independent lawyers not backed by the government, female lawyers, directors of the lawyers' guild of Tehran and human rights lawyers have not been included in this list. The latest measure by the Iranian Judiciary thus deprives political prisoners and prisoners of conscience from the right to choose their own lawyers and access to justice and fair trials.
Hassan Tardast has presided over a number of controversial cases including the case of Reyhaneh Jabbari, as a judge. He has issued some 800 retribution verdicts (death penalties), many of which contained ambiguities.
Reyhaneh Jabbari, 26, was hanged in Gohardasht Prison, in Karaj, after seven years of imprisonment on October 25, 2014, for defending herself against rape by a senior Intelligence Ministry official.
Other so-called attorneys on the list have similar criminal backgrounds. For example, Abdolreza Mohebbati, represented Saeed Mortazavi, the notorious Public Prosecutor of Tehran, in court during the trials of political activists and protesters arrested during the 2009 anti-government uprising in Iran.
https://women.ncr-iran.org/iran-women-news/5240-iran-murderer-of-reyhaneh-jabbari-chosen-as-trusted-attorney
--------
How a young hero rescued a woman trapped in perilous Yemen flooding
10 June 2018
A young Yemeni man was filmed as he rescued a women trapped in dangerous floodwater in the city of Sanaa this week.
Farid Othman Ali Jabbar, a motorbike "taxi" driver, has received huge praise from his community for his heroic behavior.
Speaking to Al Arabiya, Jabbar said he was working at the time and had a passenger with him on the bike, but when he saw commotion near a bridge, he didn't think twice.
"I saw someone trying to save her with a rope, but I wasn't working. So I tied the rope around myself and lowered myself near the floodwater. The woman was in a state of fear and panic. She was unable to climb due to her age."
In the video, the woman is seen clinging to a wall as the floodwater rises above knee length.
"I told her 'don't worry, you will be fine' and tied the rope around her and gave a signal to the people on the bridge to pull her up. Once she was safe, they threw the rope down to me and I managed to reach the bridge again," Jabbar said.
https://english.alarabiya.net/en/variety/2018/06/10/WATCH-How-a-young-hero-rescued-a-woman-trapped-in-perilous-Yemen-flooding.html
--------
URL: https://www.newageislam.com/islam-women-feminism/where-aid-money-gone-afghan/d/115501
New Age Islam, Islam Online, Islamic Website, African Muslim News, Arab World News, South Asia News, Indian Muslim News, World Muslim News, Women in Islam, Islamic Feminism, Arab Women, Women In Arab, Islamophobia in America, Muslim Women in West, Islam Women and Feminism