New Age Islam News Bureau
12 Jul 2014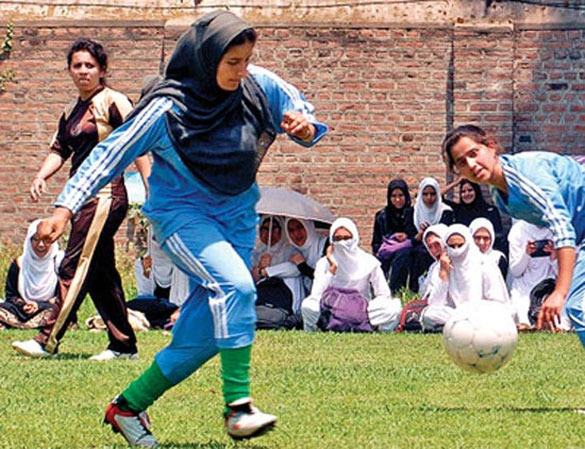 Kashmiri girls break tradition by taking on a man's game Nissar Ahmad
------------
• African Women Being Smuggled Into Britain as Sex Slaves
• Gaza Strikes: Half of Dead Were Women and Children
• Iraqi Women Taught Rifle Marksmanship as ISIL Closes In On Baghdad
• Spanish Women Athletes Slam Handball Bikini Rules
• 129 Women Killed In Six Months in Turkey, Lawmaker Says
• NRIs Join Hands with Kerala Govt to Rehabilitate Nurses back from Iraq
• 19th Women's Leadership Course Launched in Dubai
• Saudi Arabia Recruits Indian Maids to Ease Labour Shortage
Compiled by New Age Islam News Bureau
URL: https://newageislam.com/islam,-women-and-feminism/new-age-islam-news-bureau/wearing-the-hijab-and-playing-football-in-kashmir/d/98066
-------------
Wearing the Hijab and playing football in Kashmir
12 July 2014
Shunning taboos and breaking stereotypes, young women footballers are bending it like Bechkam in conservative Kashmir in the fasting month of Ramzan.
Thanks to the J&K Football Association, which for the first time organised a major women's football tournament in Srinagar to explore the hidden talent of young girls in the restive valley.
At least 112 women footballers participated in the tournament that has been a runaway success in the valley that has of late seen the surge in moral policing by Islamists. Mallinson Girls School (MGS) VII defeated Government College for Women (GCW), MA Road, VII in the penalty shootouts in the final match on Friday.
What added zing to the tournament were the Hijabs (head scarf). Several girls donned the Hijab, which eventually became an intrinsic part of the sports uniform during the matches.
"Hijab is part of my overall personality. It is part of my uniform and I feel comfortable in it. Nobody has objected to it. In fact, I would say they (organisers) supported it," Iflah Qureshi, BA first year student and defender of GCW team, said.
The tournament was unique in the sense that the girls wore full body gear instead of knickers and t-shirts that is the standard dress code for woman footballers across the globe.
Organisers said the fully body gear instilled confidence among players and they could play their natural game with ease. "They played the game in tracksuits all through the tournament," SA Hameed, general secretary of J&K Football Association, said.
Women's football has been a no-go area in Kashmir. Battling odds some women have taken the plunge and joined the game irrespective of social mores.
"Around 80 per cent people do not encourage women to play football. But I got the support of my parents and that is why I continued playing the game," Nadia Nighat, BA first year student and right out of GCW team, said.
There are others who have made big in the football world. Seerat Shafi, a class XI student and MGS forward, was selected for Under-14 national camp some time ago. "I have been playing football since 6th standard. I now aim to play for the national side," she said.
The tournament was held one-and-a-half years after "Praagaash", the three-member rock band comprising drummer Farah Deeba, bass player Aneeqa Khalid and guitarist and vocalist Noma Nazir, was forced to shut shop following the Kashmir Grand Mufti Bashir-ud-din's fatwa calling music un-Islamic.
Organisers said the women's football tournament will be a regular feature from next year. "We got a good response this year. We will make this tournament a regular feature. Unfortunately, our exam schedule is such that when the football season starts outside the state our kids are busy writing exams here," Hameed said.
http://www.dnaindia.com/india/report-wearing-the-hijab-and-playing-football-in-kashmir-2001536
-------------
African Women Being Smuggled Into Britain as Sex Slaves
12 July 2014
Dozens of women are being smuggled into Britain as sex slaves every year under the threat of black magic curses, it was revealed last night.
Police are increasingly concerned at the threat of international trafficking rings who target vulnerable and poor African women.
They believe that 'close to all' the 160 Nigerian victims rescued last year had been subjected to sinister rituals aimed at terrifying them into submission.
Many were taken to witchdoctors who cut them, rubbed black powder in their wounds and threatened them with death if they ran away from their captors.
In some cases young women were forced to sleep in coffins, drink chicken hearts soaked in alcohol or 'sacrifice' intimate items.
The disturbing reality of the little known crime emerged as three evil human smugglers were jailed for a total of 13 years.
Olusoji Oluwafemi, 44, Johnson Olayinka, 45, and Florence Obadiaru, 48, were the London connection in a global trafficking conspiracy.
They conned an innocent 23-year-old into flying to Heathrow on a bogus passport with the promise of education, a job and a new home.
But instead she was raped, beaten and subjected to a 'juju' ritual before being sent to Italy where she was destined to be pimped out on the streets as a prostitute.
The victim's terrible ordeal was only uncovered when officials in Milan spotted her forged passport and sent her back to London where she was saved by police.
Last night, Liam Vernon, of the National Crime Agency (NCA), said her experience is typical of many other Nigerian victims.
He said: 'This isn't a phenomenon that is just affecting Britain; it is a Europe-wide problem. They are moving women around to avoid detection.
'These rituals are simply a method controlling the women who are from a region where juju is not always seen as necessarily a bad thing.
'But it is very powerful and there are very strong beliefs that you must adhere to what is said or very bad things will happen to you and your family.'
Investigators believe the 23-year-old victim, who was poorly educated and spoke little English, is just one of many victims of the Nigeria-based organised crime group.
The trio were in constant contact with a shadowy 'fixer' woman who prowled poor Nigerian villages looking for young women to exploit.
The woman, who remains at the centre of an international manhunt, also supplied woman to another crime gang that was smashed last year.
Investigators discovered the victim volunteered to travel to London because her family had fallen into hardship since the sudden death of her father in 2008.
She was told that she must repay £40,000 by working in Britain and taken to a witchdoctor to pledge her total obedience to the gang.
The woman swore an oath in a juju ceremony that involved cutting her armpit and pubic hair and taking finger nail clippings.
She flew to Heathrow in September 2011 before spending several weeks at the house of Obadiaru, in Brockley, South East London.
The victim was then provided with a false passport and throwaway mobile phone and sent to Milan where immigration officials turned her away.
On her return it took weeks and several pain-staking interviews before experts from the NCA could understand what had happened to her.
When officers raided Oluwafemi's home they discovered he was using it as a 'forgery factory' and had more than 60 images of fake documents on his laptop.
(MUST) They built a case against the three traffickers using communications data from their mobile phones which supported her account of their movements and links.
All three defendants were convicted of trafficking the woman for sexual exploitation and arranging for her transfer to Italy.
Mastermind and counterfeiter Oluwafemi, who orchestrated the British side of the operation, was jailed for six-and-a-half years.
Johnson Olayinka, 45, who collected the victim from Heathrow and organised her false UK passport, was jailed for four-and-a-half years.
Florence Obadiaru, 48, who kept the victim at her home in London for two-and-a-half weeks before she left for Italy, was jailed for two years.
She has worked as a care assistant for ten years and has just finished a degree in nursing at Bedford University in Luton.
Judge Rebecca Poulet QC told them: 'This was a sophisticated and carefully planned operation in Nigeria which must have cost a considerable amount of money to the traffickers.
'The expected returns were also considerable. She was subjected to a juju ritual with the threat of death.
'She would have been forced into controlled prostitution as she had no possible way in which she could conceivably support herself in Italy.'
http://www.dailymail.co.uk/news/article-2689262/Women-smuggled-Britain-sex-slaves-trafficking-rings-threat-black-magic-curses.html#ixzz37BHJJZpV
-------------
Gaza strikes: half of dead were women and children
12 July 2014
Israeli airstrikes hit hundreds more targets yesterday, as the Palestinian death toll, including many women and children, continued to rise.
US president Barack Obama phoned Israel's prime minister, Binyamin Netanyahu, to offer US assistance in brokering a ceasefire. "The United States remains prepared to facilitate a cessation of hostilities, including a return to the November 2012 ceasefire agreement," a White House statement said.
The offer comes against a backdrop of mounting civilian casualties in the Gaza Strip. According to the Daily Telegraph, an Israeli airstrike hit a beachside café in the south of Gaza on Wednesday, killing eight people inside who were watching the World Cup semi-final between Argentina and Netherlands.
"The strike killed Mohammed Fawana along with three sets of brothers – Ahmed and Suleiman Astal, 18 and 16, their cousin Musa, also 16, Mohammed and Ibrahim Ganan, 24, and 25, and Hamdi and Ibrahim Sawaleh, 20 and 28," the Telegraph reported. "A third Sawaleh brother, Salim, 23, was still missing on Thursday."
Palestinian hospital officials said the death toll has now risen to 80 and claimed "half of those killed were women and children", The Guardian reports. The Palestinian health ministry said that some 600 people – mainly civilians – had also been injured. Israel insists that "dozens of terrorists" are among those who have died in the strikes.
Israeli authorities say militants have fired nearly 500 rockets from Gaza since the country launched Operation Protective Edge on Tuesday morning. No casualties have been reported from Hamas rockets being fired into Israel.
During his phonecall with the Israeli prime minister, Obama "strongly condemned" rocket fire by Hamas, but also "expressed concern about the risk of further escalation and emphasised the need for all sides to do everything they can to protect the lives of civilians and restore calm".
The French and Russian Presidents, Francois Hollande and Vladimir Putin, also appealed for calm and called for a ceasefire, the BBC reports.
http://www.theweek.co.uk/world-news/59314/gaza-strikes-half-of-dead-were-women-and-children#ixzz37BJKSJmQ
-------------
Iraqi women taught rifle marksmanship as ISIL closes in on Baghdad
12 July 2014
Iraqi militias are creating a new line of defense against the Islamic State of Iraq and the Levant (ISIL): mothers, daughters, sisters and wives.
The Badr Brigade, a Shiite militia comprised of 10,000 members, is offering a five-day course for women to learn how to use an AK-47 to defend their family while most Iraqi men are on the front lines.
"We are training these ladies to make them ready if [ISIL] makes it into their neighborhood," Maj. Kareem Abdullah toldCNN Tuesday during an interview in Baghdad. "They will be the ones who have to defend their home."
"I must do this," Zahra Hassan, one of 450 women who have taken part in the training, told CNN.
The training also includes teenagers. Ageel Fadhil, who is just 14-years-old, joined her mother Shama for the training. Ageel will be tasked with protecting her younger brother Ali, age 7, while her mother is at work.
When asked by CNN if she would be able to kill an attacker, she replied, "If God wills it, yes."
© Copyright 2014 The Washington Times, LLC. Click here for reprint permission.
http://www.washingtontimes.com/news/2014/jul/8/iraqi-women-taught-rifle-marksmanship-as-isil-clos/#ixzz37Bjy2900
-------------
Spanish women athletes slam handball bikini rules
12 July 2014
Spanish women are angry about European handball rules that force female players to wear skimpy bikinis accusing sports officials of using their bodies to "lure people to the sport".
Under regulations set by the European Handball Federation, female beach handball players have to wear bikini tops and bottoms that are no wider than four inches (10cm) "to leave their stomachs exposed".
Players can face penalties for covering up and the row flared up after officials warned the Spanish Handball Federation last weekend that 21 of 22 female teams playing in a tournament were wearing team kits that covered up the body too much.
Spain's Basque Handball Association has presented an official complaint to the European Commission to have the rules changed because male players are allowed to wear clothing that is "loose and long".
"This isn't so that female players are more comfortable or play better," the Basque Women's Institute told the Spanish edition of the Huffington Post.
"It is there so that the girls' bodies lure people to the sport, it has nothing to do with sporting values."
The Basque campaign has been taken up by MEPs.
"The rule infringes on principles of equality, it's sexist and it puts the appearance of the players before their technical capabilities," said Izaskun Bilbao, an MEP for the Basque Nationalist Party, according to the Local website.
The campaigners have won the first round in their battle after Spain's main sports council described the regulations as "sexist" and allowed female beach handball players to choose their uniforms when playing national matches.
http://www.telegraph.co.uk/news/worldnews/europe/spain/10961635/Spanish-women-athletes-slam-handball-bikini-rules.html
-------------
129 women killed in six months in Turkey, lawmaker says
12 July 2014
Some 129 women were killed in the first half of the year, up from 88 in the same period a year earlier, said Aylin Nazliaka, a main opposition Republican People's Party deputy, at a July 11 press meeting at the Parliament.
The figures came at time when the number of overall murders in the country showed a sharp increase, separate reports cited. Nazliaka said 58 women and children were raped as 292 women were wounded, adding that the country was facing "systematic murders" in the last decade.
Only last month 17 women and girls were killed, she said as the number of rape incidents reached 26. Some other 56 were wounded.
Some 17.6 percent of the victims were killed because they wanted to divorce.
On July 8, the day that the Family Ministry announced that there were no women in Turkey under protection, 21 year old Sefika Söylemez was killed by her husband in the western province of Çanakkale, Nazlikaya recalled, asking "Is the sole murderer Sefika's husband?"
"Her murderers are those who remain deaf to what goes on. It is the Family Ministry, it is the representatives of the government. The society has killed Sefika," she said.
Murders increase in Ramadan
A separate report shows that murder rates in Turkey have increased up to around seven murders per day in the first 10 days of Ramadan.
The Turkish National Police Department (EMG) announced that on the first 10 days of Ramadan, 68 murders were committed, which increased the daily murder rate from three to seven murders per day.
In another research made by the Umut Foundation, it was said that 114 women that were murdered in the first five months of 2014.
According to the research made by the foundation, 15 of the 68 that were murdered in the first 10 days of Ramadan were women. In Turkey, 22 women get murdered monthly, but the number has increased to 15 in the last 10 days of the month of Ramadan. According to official reports the motives for the murders are generally reported as ''an instance of outrage."
http://www.hurriyetdailynews.com/129-women-killed-in-six-months-in-turkey-lawmaker-says.aspx?pageID=238&nID=69005&NewsCatID=509
-------------
NRIs Join Hands with Kerala Govt to Rehabilitate Nurses back from Iraq
12 July 2014
Various non-resident Indians (NRI) groups have joined hands with the Kerala government in rehabilitating nurses who were forced to return from Iraq following the civil war.
Cash assistance and jobs were offered to 46 nurses, who returned from Tikrit after a 25-day ordeal, and others who returned separately, at a meeting convened by Chief Minister Oommen Chandy here on Friday. Ten nurses who returned separately met Chandy earlier and urged him to consider them too for the rehabilitation.
Doha-based Behzad Group of Companies led by C K Menon offered a cash assistance of Rs300,000 to the 46 nurses from Tikrit to clear their liabilities. The nurses have been called to Trivandrum next week to receive the money.
UAE-based Aster DM Healthcare disbursed Rs25,000 each to the nurses at the meeting, which was attended by 45 nurses and representatives of all agencies that offered jobs and financial assistance to the nurses and opposition leader V S Achuthanandan.
The Aster Group, headed by Dr. Azad Moopan, also offered jobs to all the 46 nurses in their hospitals in India and abroad. They have already issued appointments to 15 nurses at the Aster Medcity at Cheranallur in Cochin, 13 at Malabar Institute of Medical Sciences in Calicut and one at DM WIMS Medical College Hospital in Wayanad.
The Oman-based Atlas Group of Hospitals headed by Ramachandran has offered to accommodate 30 nurses in the vacancies available in the hospitals under the group in Oman on a salary ranging from Rs36,000 to Rs40, 000. The representative of the group offered to create another 16 posts for the remaining nurses.
The NMC Group based at Abu Dhabi and Kerala Institute of Medical Sciences (KIMS) have also offered jobs to all the nurses. Majority of the nurses preferred to work abroad. However, they will be able to go only after passing the concerned health ministry exam — the HAAD test.
Nithya Mol, a nurse from Kottayam, said the Gulf-based groups had offered to train them for appearing for these tests in their hospitals at their expenses. They will also bear all the expenses for their travel for writing the tests and joining the jobs.
She told the Khaleej Times that the nurses will consider various offers made to them by different agencies and take a joint decision soon. She said all the nurses were extremely happy with the help rendered to them by the government and the NRI groups.
Several nurses preferred job in government hospitals in Kerala. However, the health department has cited some technical issues in considering their request.
Talking to reporters after the meeting, the Chief Minister said that the Iraqi authorities had agreed ensure the payment of outstanding salaries to the nurses who returned from Tikrit. He said that they would make arrangements to provide the amount for the same to the Indian Embassy in Baghdad.
Chandy expressed the hope that the nurses will be able to get their pending salaries within a week. According to information, 31 nurses have got arrears of two months salary and another 15 four months.
The Chief Minister said that the government would also consider all those who returned from Iraq in distress conditions for rehabilitations. He said that he had requested the NRI groups to consider their cases also.
The meeting was also attended by Non-resident Keralites Affairs Minister K C Joseph, Finance Minister K M Mani, Labour Minister Shibhu Baby John and senior officers of the Norka department. The opposition leader has offered full cooperation for all steps taken by the government to rehabilitate the returnees from Iraq.
http://www.khaleejtimes.com/kt-article-display-1.asp?xfile=data/international/2014/July/international_July214.xml&section=international
-------------
19th women's leadership course launched in Dubai
12 July 2014
DUBAI: Under directives from Sheikh Hamdan Bin Rashid Al Maktoum, Deputy Ruler of Dubai and UAE Minister of Finance, the Scotland-based Al-Maktoum College of Higher Education has launched the 19th edition of its programme on multiculturalism and leadership skills for 56 female students from nine UAE universities and colleges as well as five employees from Dubai Courts.
The new edition of the programme will be conducted at the college's campus in Dundee, Scotland, between Aug. 9 – Sept. 5, said Mirza Al Sayegh, Chairman of the College's Board of Directors, at a press conference at Higher Colleges of Technology (HCT) in Dubai as he announced the launch of this year's edition in presence of representatives of the participating universities, and Dr Hossein Godazgar
Principal and Vice-Chancellor of Al-Maktoum College of Higher Education.
The 56 participants are students at Abu Dhabi University, The American University in Dubai, The British University in Dubai, University of Sharjah, Zayed University, the Dubai-based College of Islamic and Arabic Studies, and Higher Colleges of Technology (HCT).
Sheikh Hamdan Bin Rashid is the patron and sponsor of Al Maktoum College for Higher Education which was established in 2001. Its aim is to bridge the possible gap between the Muslim and Western worlds by focusing on intelligent debate and scientific understanding of Islam and the role of Muslims in the contemporary world.
Al Sayegh noted that the programme was carefully-planned to produce the maximum benefit for the participating students who should act as ambassadors of the UAE for a whole month and show the true image of the UAE, Arab and Muslim women.
Participants will meet the representative of Scottish Prime Minister and Scotland's Parliament, and other VIPs and decision makers.
The training consists of a combination of comprehensive course lectures, tutorials, debates and workshops that allow the students to explore in more depth their leadership potential in a multicultural society, as well as topics such as cultural interaction, women in Islam, diversity and a multicultural society.
A total of 600 female students engaged in the multiculturalism and leadership skills programme in the past ten years, noted Al Sayegh.
http://gulftoday.ae/portal/0f46c74e-41a4-4ed9-a555-7ab45c8ee005.aspx
-------------
Saudi Arabia recruits Indian maids to ease labour shortage
12 July 2014
Saudi Arabia has started issuing recruitment visas for domestic maids from India under a new employment contract finalised by the two nations, media reported Thursday.
Saudi Deputy Labour Minister Mufarrij Al-Huqbani said in a statement that the joint Saudi-Indian joint committee on labour issues finalised the recruitment contract that consist of several provisions to ensure the authenticity and implementation of the standard employment contract, the recruitment cost, action against recruitment agencies violating laws and a mechanism to prevent cheating by middlemen, the Saudi Gazette reported.
This is the first time that the Indian government has entered into a labour cooperation pact with the Saudi Arabia.
The new recruitment will ease the shortage of domestic workers in the country.
The agreement is for five years and will be renewed automatically for similar periods.
Earlier in May, Indian and Saudi Arabian officials discussed points of standard employment contract for Indian workers in this country.
Saudi Arabia is home to around 2.8 million expatriate Indians, many of whom are blue-collar workers.
Indians form the largest expatriate community in this Gulf nation.
Of the around 500,000 domestic workers in Saudi Arabia, mostly working as maids, helpers, drivers and cleaners, around 10 percent are women, the report said.
The contract is based on the agreement on 'Labour Cooperation for Domestic Service Workers Recruitment' signed by Saudi Arabian Labour Minister Adel Fakeih and then Indian Minister of Overseas Affairs Vayalar Ravi in New Delhi in January this year.
A committee of senior officials from both countries will monitor the implementation of the pact to straighten out any difficulties.
The committee will meet regularly to discuss issues arising between the two parties from time to time.
Al-Huqbani said the recruitment offices and companies in Saudi Arabia would have to abide by the said contract.
The employment contract has been distributed to the National Committee for Recruitment and recruitment offices in the Gulf nation.
The contract seeks to establish a mechanism to provide 24-hour assistance to domestic workers.
The standard employment contract provides minimum wages, working hours, paid holidays and dispute settlement mechanism.
However, the joint agreement also puts forth specific conditions for incoming domestic workers.
"They should be of good conduct, should not have legal or criminal cases. They should pass medical check-up, abide by the laws and traditions during the period of work in the kingdom," the report said.
http://www.deccanherald.com/content/418916/saudi-arabia-recruits-indian-maids.html
-------------
URL: https://newageislam.com/islam,-women-and-feminism/new-age-islam-news-bureau/wearing-the-hijab-and-playing-football-in-kashmir/d/98066