New Age Islam News Bureau
20 Apr 2019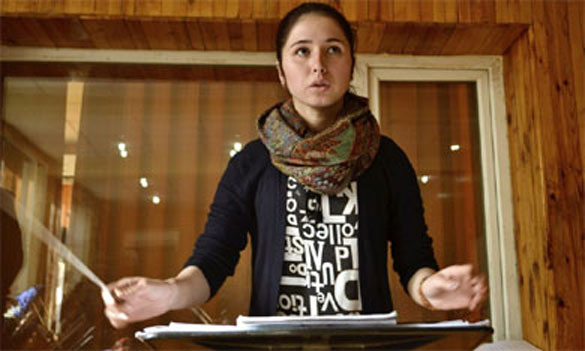 Negin Khpelwak Photographer: Mohammad Jawad/picture-alliance/dpa/AP Photo
-----
• American College Golfer In Hijab Out To Blaze Trail For Muslim Women
• In Iraq, Tribal Traditions Rob Women, Girls Of Rights
• Women's Mosque of Canada launches in Toronto
• Yemeni Women Demand Equal Representation In Peace Process
• Saudi Embassy in Georgia Says Passports of Runaway Sisters Are Valid
• Suspected Far-Right Extremist Attacks Muslim Woman Wearing Headscarf In Berlin
Compiled by New Age Islam News Bureau
URL: https://www.newageislam.com/islam-women-feminism/we-be-silenced-afghan-female/d/118379
--------
`We won't be silenced,' Afghan female musicians tell Taliban
April 20, 2019
Fresh from a sold-out concert tour of the U.K. and Sweden, Afghanistan's first female conductor is convinced music can help deliver peace to her war-torn country. If only the Taliban would listen.
At just 22, Negin Khpelwak has already stared down threats and intimidation from her conservative relatives, who wished she would take on any career but music. Now, like many of her fellow citizens, she is watching peace talks between the U.S. and the Taliban with growing alarm.
"We can bring freedom, peace and honor to Afghanistan," said Khpelwak, who leads the country's the first all-female Zohra Orchestra who've played classical Western and Afghan music at the World Economic Forum in Davos. "Women can't go back to the dark days -- they can break our instruments, they can ban the music, but they never take it from our hearts."
The Taliban, who control or contest half the country, banned all forms of music during their brutal regime that ran from 1996 to 2001. Even now, when the orchestra played its last concert in Kabul in February, most of the 700 guests had to pass through as many as 10 security check points protected by armed guards and dogs.
The U.S. reached a draft peace agreement with the insurgent group in January that may eventually lead to a withdrawal of foreign troops and a Taliban pledge not to allow terrorists to use the country. Talks aimed at bringing an end to 18 years of war were scheduled to begin again over the weekend, but appear to have been stalled. After being initially excluded from the U.S.-led talks, the Afghan delegation was set to include 52 women, up from just a handful in earlier sessions.
The country's key demands in the dialogue include preserving the current government system under "Islamic Republic of Afghanistan," holding elections and retaining the current constitution. U.S. Special Envoy Zalmay Khalilzad is leading the negotiations. He's hoping to finalize a deal this year before presidential elections slated for September.
Women's voices
Afghan women have repeatedly voiced concerns about the lack of female representation at the peace talks, particularly given what is at stake.
Women have won hard-fought gains in politics, business and education since 2001, pushing back against the country's male-dominated society. Last year about 400 female candidates contested in 68 seats reserved for women in the parliament, while hundreds of women run small businesses and teach at schools, and more than 3.5 million girls are now in education.
Zakia Wardak has been fighting for women's rights in Afghanistan for eight years. Last October she stood for a seat in the parliamentary elections in Kabul, the results of which have yet to be announced -- sweeping aside concerns for her safety and about entering the hyper-masculine, deeply corrupt world of Afghan politics.
"I highly doubt peace will come at the cost of our rights because the women today are not the women of 1996, neither are the Taliban," said Wardak, whose late father and brother were Afghan generals, noting she is sure Afghan women will be part of the wider negotiations.
There's much at stake for Afghan women after the "horrors" they experienced during the last period of Taliban rule, said Michael Kugelman, a senior associate for South Asia at the Woodrow Wilson Center in Washington.
Yet with U.S. President Donald Trump last month calling the war "ridiculous," many analysts believe the Washington is ultimately unconcerned with protecting the relative gains for women in Afghanistan as it tries to extract itself from the seemingly unending conflict. Some also doubt the Taliban's lip-service towards women's rights.
"The Taliban claims to be a more moderate outfit than it was in previous years," said Kugelman. "If it truly does represent a new and more conciliatory Taliban 2.0, then one would expect it to welcome Afghan women in negotiations. Unfortunately to this point there's no indication this is happening."
For now, the group still condemns and punishes anyone playing music, but said it would review its position and make a decision based on "the verdict of Islam" if it returns to the country after a peace deal, their spokesman Zabihullah Mujahed said in a message, without providing more detail. The group's current position banning all forms of music is also based on the verdict of Islam.
Read also: Women singers test limits, signal Afghanistan's changing times
Musical journey
Khpelwak was just a baby when the Taliban took over the country in 1996 and immediately banned women from attending schools or leaving home without a partner. Now she is at the Afghanistan National Institute of Music, that world is alien to her.
"Music is part of our life and music is our passion," she said at the school, urging both Afghan President Ashraf Ghani's government and the U.S. to convince the Taliban not to harm musicians.
The founder and director of the school music -- who himself survived a Taliban bombing in 2014 at a concert in Kabul -- said the days of the militant group ruling the country as a dictatorship have now gone.
"The youth of Afghanistan today are a totally different force than the youths of 1996," Ahmad Naser Sarmast, 56, said at his office adorned with musicians' portraits and trophies lining the shelves. He said the new generation won't allow the Taliban "to come and turn the wheel of history backward."
Music has flourished in Afghanistan since 2001, and now hundreds of students -- male and female -- are learning the craft in Sarmast's school, which has represented Afghanistan's music in more than 35 countries since its inauguration in 2010.
Still, some female musicians worry the Taliban will forcibly push them to quit and stay at home.
"If the Taliban comes back, it might be a great danger for us," said violinist Gul Mina, who is in grade 11 at the school and hopes to become a violin teacher in order to change other girls' lives. "Their return could be a huge disaster to our lives and musical works."
https://www.thejakartapost.com/life/2019/04/19/we-wont-be-silenced-afghan-female-musicians-tell-taliban.html
--------
American college golfer in hijab out to blaze trail for Muslim women
Apr 19, 2019
Noor Ahmed outwardly lives her Muslim faith, and even growing up in a state as diverse as California she says she encountered hostility on the street, in school and on the golf course.
One of the top junior golfers in Northern California coming out of high school, Ahmed was a starter in her first year at Nebraska and the No. 2 player most of this spring. She is believed to be the only golfer at the college level or higher who competes in a hijab, the headscarf worn in adherence to the Muslim faith.
Arriving in Lincoln two years ago, Ahmed sensed hesitancy from teammates mostly from small Midwestern towns and unaccustomed to seeing a woman in a hijab. She didn't feel embraced until an unfortunate yet unifying event roiled the campus midway through her freshman year.
A video surfaced of a student claiming to be the "most active white nationalist in the Nebraska area," disparaging minorities and advocating violence. The student, it turned out, was in the same biology lecture class as Ahmed.
Teammates offered to walk with her across campus, and one who would become her best friend, Kate Smith, invited Ahmed to stay with her. She didn't accept but was heartened by the gesture.
"That," Smith said, "was when she realized how much each and every one of us care for her on the team, that it wasn't just like, 'Hey you're our teammate.' No, it's 'We want you to be safe, we want you to feel at home here."'
Having grown up in the post-9-11 era, Ahmed, like many Muslims in the United States, has been a target for bullying and verbal abuse. She began wearing the hijab in middle school.
On the course, in an airport or even walking across campus she can feel the long stares and notices the glances. She said she has never been physically threatened — "that I know of" — and that most of the face-to-face insults came before she arrived at Nebraska.
Social media breeding ground
Much of the venom spewed at her now comes on social media. She has been the subject of several media profiles, and each sparks another round of hateful messages. She acknowledges she reads but doesn't respond to messages and that an athletic department sports psychologist has helped her learn how to deal with them.
"I've been called every racial slur in the book," she said. "I've been told explicitly that people who look like me don't play golf, we don't have a right to exist in America, you should go home. It would definitely faze me a little bit, but it never deterred me. I'm really stubborn, so I'm going to prove you wrong, just wait. When people think they're dragging me down, it kind of fuels the fire in me that I'm going to be a better golfer, I'm going to be a better student, I'm going to keep climbing up the ladder."
The daughter of Egyptian immigrants is from a close-knit family in Folsom, California, and she steeled herself for the cultural adjustment she would have to make at Nebraska.
She dealt with loneliness and anxiety, especially her freshman year. She had difficulty finding a support network. There is a small Muslim community on campus, but she didn't immerse herself in it. The demands on athletes are great, and they are largely segregated, eating and studying in facilities separate from those used by regular students.
'Why would Coach bring someone like that on the team?'
Nebraska coach Robin Krapfl said she was initially concerned about how teammates would react to Ahmed. Krapfl remembered meeting with her golfers and telling them about her.
"I could tell by a couple of the looks and maybe even a comment or two that they weren't 100 per cent comfortable with that," Krapfl said. "A lot of our girls come from small-town communities that are very limited in their ethnicity. It's just the fear of the unknown. They had just never been exposed to being around someone from the Muslim faith."
Krapfl said she saw a golfer or two roll their eyes, another shook her head. "I overheard, 'Why would Coach bring someone like that on the team?' "
"Luckily when she got here people could see her for who she was and the quality of person she was," Krapfl said. "It took a while. It really did. You've got to get to know somebody, who they really are and not just what they look like."
Smith said she sometimes cringes when she and Ahmed are in a group and the conversation turns to politics, immigration or even fashion, like when someone innocently or ignorantly tells Ahmed that she would look good in a short dress or a certain hairstyle.
"She can never wear a short dress, so why would you want to depict her as that?" Smith said. "You have to respect her beliefs and why she's doing it. Also, I think a lot of things are connected to women's beauty standards and how people don't think she can look beautiful when she's covered. I think she's a really beautiful girl no matter how much skin she's showing."
International support
For all the challenges Ahmed faced, there have been positives. Some people have complimented her for living her faith as she sees fit, a Muslim teen who golfs in a hijab and lives in the United Kingdom wrote to says she draws inspiration from her, and a player for another college team approached her at an event to tell her she recently converted to Islam and just wanted to say hi.
"I remember going and crying and, wow, I'm not alone out here," she said.
Ahmed said she's naturally shy and a bit uncomfortable with the attention, but she hopes Muslim girls coming up behind her are watching.
"I grew up never seeing anyone like me," she said. "Honestly, I didn't realize how much grief I was carrying, having never seen an image of myself or someone who looked like me in popular American culture. It's a big deal.
"Why are basketball and football so heavily African American? If I were black and I saw people who looked like me competing in that sport, that's probably the sport I would choose. I think it's really important when we're talking about trying to make golf and other sports and other areas in American culture diverse, how important it is to see someone who looks like you and how it will fuel other people's interest."
Ahmed started playing golf at 8, and her parents encouraged her to take the sport to the highest level possible. Wearing the hijab has never interfered with her game and she has never considered not wearing it on the course.
"I think Muslim women who choose to observe it or choose not to observe it have the right to exist in any space they want to be in," she said, "and I would feel like I would be sending a message that the hijab doesn't exist in this place or it shouldn't, and I don't feel comfortable with that."
https://www.cbc.ca/sports/golf/american-college-golfer-hijab-blaze-trail-muslim-women-1.5105110
--------
In Iraq, tribal traditions rob women, girls of rights
April 18, 2019
AMARAH, Iraq: Two weeks into Mariam's forced marriage to her cousin according to Iraqi tribal custom, she desperately doused herself in fuel, flicked on a lighter and attempted suicide by self-immolation.
The 22-year-old spent three days in hospital in Iraq's southern Misan province last summer before succumbing to her wounds, recalled sheikh Haydar Saadoun.
"A university classmate from a different tribe had proposed, but her relatives refused," said Saadoun, an official from the Bani Lam tribe in the town of Amarah in Misan.
"They said they had rights over her because of 'nahwa'," he said, referring to a tribal custom that authorizes the men of a clan to reject marriage proposals to a female member.
They arranged for her to wed her cousin instead.
"He was already married, had fathered multiple children and was illiterate, while Mariam was going to university," Saadoun said.
Wearing a modern three-piece suit under a traditional cape, he told AFP he tried to dissuade Mariam's fiance but was overruled.
"He told me: 'I'll break her nose. I'll marry her and rub her face in it'," Saadoun recounted.
Iraqi society remains largely conservative, bound by tribal traditions and customs practiced from its sprawling capital Baghdad to far-flung rural provinces.
In the country of nearly 40 million, clan names can carry weight in securing work, a spouse and even votes.
They often trump government institutions, as tribes look to their own mediation methods to resolve disputes instead of the official court system.
Women and girls often suffer under these patriarchal systems, with many forced to marry against their will, subject to domestic abuse and deprived of an education.
The southern provinces of Misan and Basra, where tribal influence is widespread, have the highest rates of child marriage in Iraq, the UN's children's agency UNICEF said in 2018.
In Misan, 35 percent of married women between 20 and 45 said they wed as teenagers, and in Basra the rate is 31.5 percent.
In one tribal custom known as "fasliya," women are married off as restitution for blood spilt between two tribes.
Karima Al-Tai, a women's rights activist in Misan, said the custom had ravaged her own family.
"Twenty years ago, a conflict broke out between my tribe and another. During the fighting, a man from the other clan was killed," said Tai, 50.
Calling for a truce, Tai's tribe offered "five virgins" to the opposing tribe — including her cousin, Sahar, who was married off to the victim's brother.
Over "20 years of hell" Sahar was bullied and harassed by her husband's family, Tai recalled. Even her children were publicly branded "children of the fasliya."
But when Sahar asked her family for help, said Tai, "her relatives would tell her, 'you're a fasliya. Accept your fate'."
"Fasliya" is still being practiced. In 2015, a tribe in the southern province of Basra married off 50 girls and women to another tribe under a truce.
With no family support or access to outside help, some Iraqi women and girls have turned to suicide.
A 2017 study of 62 attempted self-immolation cases in Basra found that family problems, including marital issues, were the precipitating factor in 80 percent of the cases.
Authorities in Misan said 198 women had attempted suicide over the past two years, and 14 of them lost their lives.
But details are scarce. Mental health problems in Iraq remain taboo, and efforts to discuss them with tribal leaders have seen little success.
Even Grand Ayatollah Ali Sistani, the top religious authority for most Iraqi Shiites, called last year for an end to "nahwas" and other tribal practices, to no avail.
The customs were criminalized in Iraq's 1959 personal status law, which was strictly implemented under Saddam Hussein's brutal rule.
Marrying a woman by force under "nahwa" is punishable by three years in jail for a cousin and 10 years for a more distant relative.
But as the central government lost influence across swathes of Iraq following the 2003 US-led invasion, tribal power structures took precedence.
Now, "this law is not applied because no woman would file a complaint against her own family," said lawmaker Intissar Al-Juburi.
And efforts to introduce tough laws to protect women have been hampered by political stalemates and an emphasis on security and economic issues.
Meanwhile, tribal customs are becoming further entrenched, according to Maytham Al-Saadi, a professor at Misan University.
"In the past, fasliyas would be proposed only in cases needing blood money, but in recent decades they've been used to end the simplest disputes between tribes," he said.
http://www.arabnews.com/node/1484686/middle-east
--------
Women's Mosque of Canada launches in Toronto
April 19, 2019
A new mosque was launched in Toronto on Friday with the core concept of for women by women.
Trinity-St. Paul's United Church played host to the first Friday prayers held by the Women's Mosque of Canada.
"What we're doing here today is really re-asserting that women have a role in faith and they have a role in faith leadership," said Rev. Dr. Cheri DiNovo.
Founder Farheen Khan said the idea has been a long time coming. The group welcomed not only Muslim women but also members of communities from across the Greater Toronto Area.
"We've been talking about this for a number of years. I've had conversations with lots of different women and imams and community members to say 'is this something we can do?' and there's always been mixed reaction," she said.
Cynthia Levine-Rasky was among those in attendance. She is the co-founder of Sisterhood of Salaam Shalom, an organization that strives to nurture relationships between Muslim and Jewish women.
According to their website, their mandate revolves around building bridges and fighting hate. It also states that they currently have 150 chapters.
"Maybe this is the beginning of opening up those spaces and opening up the possibility for Muslim women to feel more comfortable in their places of worship, to make their own spaces," said Levine-Rasky.
Farheen Khan told Global News that going forward, they will aim to hold prayers every other week and try to amass a congregation by travelling around the Greater Toronto Area.
Her eventual goal is to launch a campaign to raise funds for a mosque, which will serve as a permanent place to worship.
https://globalnews.ca/news/5185860/womens-mosque-of-canada-launches-in-toronto/
--------
Yemeni Women Demand Equal Representation In Peace Process
Mina Aldroubi
April 18, 2019
Yemeni women are demanding equal representation in a United Nations-led peace process aimed at ending the country's devastating four-year war.
The UN's special envoy to Yemen Martin Griffiths helped broker a deal between Yemen's internationally recognised government and Houthi rebels in Sweden last December that agreed to a ceasefire in the port city of Hodeidah and a prisoner exchange.
But the agreement is yet to be implemented, the government says because of rebel violations. Yemeni women say it failed to include their perspective.
The parties included in the process "must consult regularly with women, and to ensure women's meaningful inclusion," Muna Luqman told the UN Security Council this week. Ms Luqman is the co-founder of the Women Solidarity Network that is assisting Mr Griffiths' group of women advisers.
The women advising the UN envoy have set a number of objectives aimed at ending the fighting, building peace, improving living conditions and amplifying women's voices and participation in negotiations and peace-building.
But they feel that their voices need to be further enhanced and included in the heart of negotiations.
"There is no excuse any more for continuing to exclude women except a poorly designed peace process," she told the Security Council.
Ms Luqman, known as one of Yemen's leading peace activists, became the third Yemeni woman to brief the council this week.
"We are frustrated because women's role in peace building continues to be ridiculed, and women who are the real peace makers, continue to be excluded in the ceasefire and peace process," she said.
Despite the success of the Stockholm Agreement in bringing the two sides together, it failed to include a substantial number of women delegates.
"It excluded women and also led to a gender blind agreement," Ms Luqman said.
There is only one woman on the negotiating table: Rana Ghanem – a member of the government delegation.
Her participation has placed intense pressure on her to represent all of aspects of Yemen's female population.
"As the only woman among the delegates, I feel that I have to carry a lot of responsibilities, including the status and situation of women," Ms Ghanem told The National during the last round of talks in Sweden.
Yemeni women have been leading efforts to bring peace to Yemen and hold communities together with limited resources, Ms Luqman said, adding that talks have been set up with Houthi women.
"They [Houthi women] expressed their readiness to participate in peace negotiations. And it is not impossible to include them."
She went on to say that she is a survivor of the war in Yemen, explaining that her home in Taiz has been destroyed.
Ms Luqman mediated the evacuation of children from an orphanage stormed by Houthis seeking to position snipers in Taiz.
"Escaping death in Yemen is increasingly becoming difficult," she said, noting that four months after the signing of the Stockholm Agreement, armed clashes continue in Hodeidah, more families are being displaced and people are deprived of food, medicine, fuel and electricity.
For his part, Mr Griffiths expressed gratitude for Ms Luqman's efforts and called for a greater woman's participation in the talks.
"There is no doubt we can all do a lot better when it comes to the inclusion of women and other sectors of civil society indeed in the political process," Mr Griffiths said.
The UN envoy said Ms Muna encourages "us to do better in our efforts to include women, both in the formal delegations that come to rounds of formal consultations, but also in those much more extensive consultations that will help refine the issues we put before the parties."
Hooria Mashhour, a former Yemeni human rights minister who advised a group of women who assisted Mr Griffiths, praised the UN's efforts to include women but argued that more needs to be done.
"We want to see many women involved in all peace process mechanisms including consultation, dialogues, negotiations and in the post war phase," Ms Mashhour told The National. "In this phase we are much looking forward for applying a transitional justice approach."
https://www.thenational.ae/world/mena/yemeni-women-demand-equal-representation-in-peace-process-1.850872
--------
Saudi Embassy in Georgia Says Passports of Runaway Sisters Are Valid
20 April 2019
The Royal Embassy of Saudi Arabia in Georgia stated on Friday that the passports of citizens Maha and Wafa Zayed are valid, adding that any allegations that the passports are canceled are incorrect.
The sisters, identified as Maha al-Subaie, 28, and Wafa al-Subaie, 25, traveled from Riyadh to Istanbul and then went to Georgia by land.
Maha and Wafa claim that they were physically abused by their family, and they applied for asylum in Georgia.
After an attempt to get a visa for Australia failed due to what they said were "passport issues," they took to Twitter to appeal for help.
On Thursday, Georgia's interior ministry said that there were no relatives in the country who posed danger on the two women, after one of the sisters posted a video on twitter saying that their father and brothers arrived in Georgia and are looking for them.
https://english.alarabiya.net/en/News/gulf/2019/04/20/Saudi-embassy-in-Georgia-says-passports-of-runaway-sisters-are-valid.html
--------
Suspected Far-Right Extremist Attacks Muslim Woman Wearing Headscarf In Berlin
15.04.2019
A suspected far-right extremist verbally and physically assaulted a Muslim woman at a Berlin metro station, police said on Monday.
The incident was the latest in a string of xenophobic attacks in the German capital in recent months targeting people of foreign appearance, including Muslim women with headscarf or Jews wearing a kippah.
The 33-year old Muslim woman told police on Sunday that a man uttered racial slurs and later assaulted her at the Greifswalder metro station.
The suspected far-right extremist showed the illegal Nazi salute before running away from the scene, she said.
The woman received medical treatment for her injuries, according to the police.
Germany has witnessed growing violence by far-right extremists in recent years, fueled by the propaganda of neo-Nazi groups and the Islamophobic AfD party.
Every day, at least three people become a victim of far-right, racist or xenophobic acts of violence in Germany, according to the VBRG, an umbrella group of counseling centers for victims of right-wing violence.
https://www.dailysabah.com/islamophobia/2019/04/15/suspected-far-right-extremist-attacks-muslim-woman-wearing-headscarf-in-berlin
--------
URL: https://www.newageislam.com/islam-women-feminism/we-be-silenced-afghan-female/d/118379
New Age Islam, Islam Online, Islamic Website, African Muslim News, Arab World News, South Asia News, Indian Muslim News, World Muslim News, Women in Islam, Islamic Feminism, Arab Women, Women In Arab, Islamophobia in America, Muslim Women in West, Islam Women and Feminism