New Age Islam News Bureau
4 Oct 2014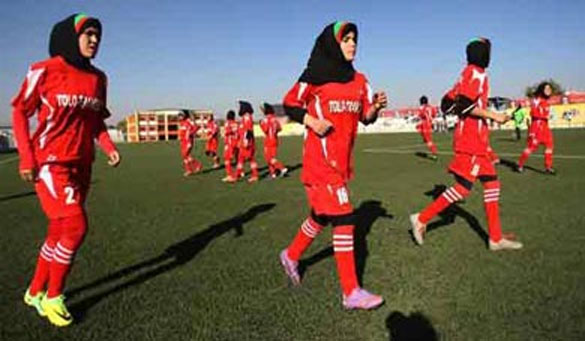 Nasir Ahmadzai, press officer for the Afghan Premier League, said the match was a symbol of progress for women
-------
• Floral Designs Are In As Muslim Women Shop For Hijab Fashions
• Better Education and Girls' Rights in Pakistan Start Now
• ABVP to Launch Campaign against 'Love Jihad' In Delhi University
• Hundreds of Young Women from the West Leaving Home to Join IS Fighters
• 'Facial Coverings' Restricted In Australian Parliament House Public Galleries
• 1,497 Breast Cancer Cases in Saudi Kingdom Reported In a Single Year
• World First: Woman Has Baby after Womb Transplant
• '5% of Saudis of Both Sexes Reluctant To Get Married'
• Yusra Hussien Hunt: Police Fear for Girls' Safety after Jihad Dating Website Claims
• Big Hopes for Afghan Women's Football
• Iranian Women Aim High In Combative Sport Kabaddi
Compiled by New Age Islam News Bureau
URL: https://www.newageislam.com/islam,-women-and-feminism/new-age-islam-news-bureau/we-need-muslim-women-to-unite-with-us-in-the-fight-against-terror/d/99387
-----------
We Need Muslim Women to Unite With Us in the Fight against Terror
4 October 2014
AUSTRALIA is home to 476,000 Muslims and of those 227,000 are women and girls.
These women, like many other communities, contribute to Australia's cultural and religious diversity, which is a source of social and economic strength, and a key part of Australian life.
Their importance, even though they represent a very small number of Australian women, should not be underestimated.
This is why the debate about the Burqa is not only unfortunate but threatens to alienate the very people who we need to help keep us safe. This is why it is imperative we maintain a calm and reasoned debate at this critical time.
The debate about what women wear has become a distraction; the real issue is how we best protect ourselves from potential terror threats in Australia.
It threatens to polarise us at the very time we need to be united, calm and reasonable. We cannot allow the Burqa to become the public embodiment of people's fear of terrorism. What you do not know, you fear; and what you fear, you isolate.
Having extensively consulted with the Muslim communities — and most recently in relation to the security legislation — I know that they are at the heart of the protection of our national security. Many have already played a pivotal role in keeping our country safe from terrorists by alerting authorities to disaffected young people who may leave our shores to fight.
They include the wives, the mothers, the girlfriends and the aunts who are at the forefront of the country in stopping young people from travelling overseas to fight or to become radicalised.
Muslim women of Australia may represent a very small percentage of an Australia that is home to many faiths and cultures, but they are now united with us in the fight against terrorism.
Freedom is at the heart of our Australian values.
It is a fundamental value that all Australians are free to choose their religion.
They are entitled to express and practise their religion and beliefs, without intimidation or interference, as long as those practices are within the framework of the Australian law. Similarly the freedom of Australian women is one of our values. This includes the freedom of people to express their religion or culture through their choice of clothing.
BURQA DEBATE: Western feminists fail to see free choice
It is always regrettable that women, especially Muslim women, are criticised or attacked for what they choose to wear. We are a free society and it is not the business of government to tell people what they should and should not wear. However, in heightened security environments, identification can be important for all Australians.
I welcome the Prime Minister's request that parliament's presiding officers reconsider their interim decision on arrangements for people wearing facial coverings in the public gallery.
Other governments have dealt with this. In 2011, the NSW government with the support of Australian Muslims was able to work collaboratively to ensure laws were enforced, at the same time affirming religious freedom for women who chose to cover their faces.
The NSW Ombudsman report last year reviewed the new police powers and confirmed they were working well to ensure laws were enforced. This is the time to reinforce what unites us as a country, not what divides us. For if we don't, we risk losing the very unity we need in our fight against terrorism.
Senator Fierravanti-Wells is parliamentary secretary to the Minister for Social Services and has responsibility for multicultural affairs.
http://www.theaustralian.com.au/national-affairs/opinion/we-need-muslim-women-to-unite-with-us-in-the-fight-against-terror/story-e6frgd0x-1227079549664
----------
Floral Designs Are In As Muslim Women Shop For Hijab Fashions
4 October 2014
On the eve of one of Islam's biggest holidays, the Nasiba fashion store in Coburg North is bustling with women searching for the perfect Eid-al-Adha outfit
Floral designs are trendy at the moment, proprietor Nasiba says. A sign reading "Eid special" advertises a discounted collection of two-piece hijab, in pink and blue, and decorated with diamantes.
Above the cash register sits a mannequin head, clad in a black Burqa. The model's plastic eyes peep out from an unveiled rectangular cut-out in the fabric.
But the shop does limited sales in these types of garbs, selling an average of one Burqa a day. The store's core business is headscarfs, shawls and the long, loose-fitting dresses known as abaya.
"Anything is OK as long as it doesn't show the figure of the body," says Nasiba, as she flicks through a hanger of colourful dresses.
In recent days, just how Australia's Muslim women choose to dress has been the subject of growing commentary. Headlines over terrorism-linked police raids have been followed by calls to ban the Burqa in federal Parliament.
The smiling mothers shopping for their holiday outfits say their Hijabs have recently been attracting fearful glances in the street. Nasiba says she feels her entire religion is being unfairly judged by the actions of "one or two people".
Meadow Heights mother Samia said she had started locking the doors of her car while driving through the suburbs. Her husband has warned her not to go out alone with the kids
"But it's school holidays. How can I stay at home!" she said. "Honestly, it's been fine, I think we're just sticking to the areas we know."
Childcare worker Leena is out shopping also, for a new comfortable outfit for work. She said she believed the media was portraying Muslim people "as something we're not".
"I would like to see a documentary on the true Islam to say what they're hearing is not necessarily right."
Four years ago she was standing on a Moonee Ponds pedestrian strip when she was shoved and abused by a stranger. "No one helped. They just looked at me. That's what annoyed me," she said.
"I was born and raised here, I call myself an Aussie."
On Friday, Leena paired an olive green Hijab with matching cargo pants and a fitted long-sleeve black top. She says wearing her headscarf makes her feel safe. "I don't feel oppressed. I feel free."
http://www.smh.com.au/national/floral-designs-are-in-as-muslim-women-shop-for-hijab-fashions-20141003-10pznm.html#ixzz3FAteWXtu
----------
Better Education and Girls' Rights in Pakistan Start Now
4 October 2014
Amid the sadness and sorrows of a summer where children's rights have been ignored, neglected, and trampled upon in the world's conflict zones; there is a glimmer of hope.
In the Pakistan province of Sindh, child marriage has been outlawed with the most extensive legislation yet to dissuade patriarchs from marrying off their children as teenage brides.
And now in an important step to follow up on this new law, a child marriage free zone will be created in Pakistan by the education and girls' rights organization, Idara-e-Taleem-o-Aagahi (ITA), designed to encourage girls to stand up together for their rights when pressed unfairly into an early marriage. The Global Business Coalition for Education is one of the backers for this first pilot zone.
The new law, which makes marriage illegal under eighteen years old, stipulates a three year sentence on the husband who marries an under-age child. Fathers who sell their children off in marriage will also be subject to a minimum of two years imprisonment. Guardians and family friends who marry off adolescent members of their family are also to be punished as a result of the old Child Marriage Restraint Act, first passed 85 years ago in 1929.
Today, over 10 million children across the world are married off before they finish their school days. The rate of child marriage has not been falling fast enough to encourage more girls to complete their education, and in some countries like Iraq and Pakistan, Muslim extremists have ruled that current laws be weakened to make child marriage easier.
In April, Iraq legislators urged that child marriage be permitted at eight years and in Pakistan the council for Muslim ideology called for the removal of age limits.
But the new move in Pakistan's Sindh province to outlaw child marriage in such a forceful way, with such new enforcement mechanisms, is a triumph for campaigners who have been exposing the perils of forced marriage and of schools girls being married off when they should still be in education.
It represents a significant progress too for the child marriage free zone movement, which started in Bangladesh and will soon have more child marriage free zones in Pakistan. Here, girls are encouraged to come together to resist pressure upon them to leave school and be married off before their school days are over. Here, girls have clubbed together to tell even their fathers that they will not be married off against their will. And in the dozen or so Bangladeshi zones, great successes have been recorded as a result of girls coming together to support each other.
In the next few weeks, modelled on this record of achievement when a similar zone is to be created in Pakistan, Baela Raza Jamil, Director of Idara-e-Taleem-o-Aagahi (ITA) who are behind the new initiative, will send out a message that girls are not powerless when faced with parental pressure to marry before they are ready to do so.
Child marriage free zones, encouraged by Plan International, are spreading in popularity throughout not just the Indian sub continent, but across the world. There is now talk of creating child marriage free zones in countries from Tanzania and Malawi to Ethiopia and Nigeria. This is one very positive step when as Girls Not Brides, the ground-breaking umbrella organisation against early marriage has made clear, it happens alongside proper policing of the law, registration of girls' birth dates, and educational work in schools. All of these actions contribute to the ending of the practice of child marriage.
Ending child marriages is one way of ensuring girls get the education they deserve, and to stand up for the right of girls to schooling as championed by A World at School's campaign. But of course the way that child marriage was ended most successfully in the West was when school was made compulsory, and when the parent of any girl who was absent from school was pursued by the attendance officers, and eventually making it a crime to fail to get their child to school. Making education fully compulsory and policing it is the next stage in the battle for girls rights. The new petition #UpForSchool is calling globally for every child to be in school and learning - if you have not yet signed please add your name now: www.upforschool.org
http://www.huffingtonpost.com/sarah-brown/better-education-and-girl_b_5926940.html
----------
ABVP to launch campaign against 'love jihad' in DU
Mail Today
4 October 2014
The Akhil Bharatiya Vidyarthi Parishad (ABVP) will soon launch a campaign in the Delhi University to counter 'love jihad' in an attempt to what it claims as raising voice against atrocities on women.
The campaign, which will include sensitizing and raising awareness on 'love jihad', will be launched soon after the varsity reopens in mid-October after vacation, ABVP leaders said.
"We will campaign against 'love jihad' in the DU after colleges re-open. The ABVP top leadership has already announced for a campaign in all universities," Rohit Chahal, ABVP national secretary and a student of Buddhist Studies at DU, claimed. Observing that cases of 'love jihad' are reportedly increasing across the country, the ABVP leaders claimed that the trend of Hindu women falling in love with Muslim men posing as Hindus and their alleged forceful conversion is not a simple event but is happening as part of a strategy.
"There are many cases of 'love jihad'. We will launch a campaign in all universities to raise awareness on 'love jihad' which is part of a larger campaign. We are not against love but against hiding identity and forced conversions," ABVP national vice-president Mamta Yadav asserted.
The ABVP leaders said that their move is aimed at restoring 'respect for women', 'safety for women' and achieving a 'liquor-free culture'. At a recent national meeting, the ABVP had reportedly decided to form vigilante groups at universities to curb 'love jihad'.
Chahal said that the ABVP will run a general awareness campaign on women's safety, female foeticide and other issues in the DU. The ABVP will form a human chain on October 7 at various locations in the country to raise awareness against atrocities on women.
http://indiatoday.intoday.in/story/abvp-love-jihad-delhi-university-rohit-chahal/1/394097.html
----------
Hundreds of Young Women from the West Leaving Home to Join IS Fighters
4 October 2014
Hundreds of girls and women are going missing in the West, reappearing in Iraq and Syria to marry Islamic State extremists.
GIRLS as young as 14 or 15 are travelling mainly to Syria to marry militants, bear their children and join communities of fighters, with a small number taking up arms. Many are recruited via social media. Women and girls appear to account for about 10% of those leaving Europe, North America and Australia to link up with militant groups including Islamic State, Isis.
France has the highest number of female recruits with 63 in the region – about 25 of the total – and at least another 60 believed to be considering the move.
In most cases, they appear to have left home to marry extremists drawn to the idea of "supporting brother fighters" and "having children to continue the spread of Islam", said Louis Caprioli, former head of the French security agency Direction de la Surveillance du Territoire. If their husband dies, they will be given adulation as the wife of a martyr.
Five people, including a sister and brother, were arrested in France this month on suspicion of belonging to a ring in central France that specialised in recruiting young French women, according to Bernard Cazeneuve, the interior minister.
Counter-terrorism experts in Britain believe about 50 British girls and women have joined Isis, about a 10th of those known to have travelled to Syria to fight.
Many are believed to be based in Raqqa, the eastern Syrian city that has become an Isis stronghold.
Twin sisters Zahra and Salma Halane, 16, left their home in Chorlton, Manchester, in July without their parents' knowledge to follow their brother to Syria.
The girls – whose parents came to Britain as refugees from Somalia - passed their GCSEs last summer and went on to study at Sixth Form College. They left home in the middle of the night and were reported missing by their parents.
Now, both are reportedly married to Isis fighters. A social media account believed to belong to Zahra shows her in a full veil posing with an AK-47 and kneeling in front of the Isis flag.
Those identified by researchers at the International Centre for the Study of Radicalisation at Kings College London are mainly aged between 16 and 24.
Many are university graduates and have left behind caring families.
Another woman from Britain, Aqsa Mahmood wrote in a blog post earlier this month, "Most sisters I have come across have been in university studying courses with many promising paths with big happy families and friends and everything in the Dunyah material world to persuade one to stay behind and enjoy the luxury.
"If we had stayed behind, we could have been blessed with it all – from a relaxing and comfortable life, to lots of money. Wallahi I swear that's not what we want."
At least 40 women have left Germany to join Isis in Syria and Iraq in what appears to be a growing trend of teenagers in that country becoming radicalised and travelling to the Middle East without their parents' permission.
"The youngest was 13," Hans-Georg Maassen, president of the Federal Office for the Protection of the Constitution told the Rheinische Post. Four under aged women left with a romantic idea of marriage and married young male militants who they got to know via the Internet.
In Austria, the case of two teenage friends Samra Kesinovic, 16 and Sabina Selimovic, 15, who ran away from their homes in Vienna to join militants in Syria may be only the "tip of the iceberg", said Heinz Gartner, director of the Austrian Institute for International Politics. An estimated 14 women and girls are known to have left Austria to fight in the Middle East, according to the interior ministry.
The United States does not have data available on women and girls joining Isis fighters in Syria, a senior intelligence official said in an e-mailed statement.
"We do not have numbers to share on the number of women linked to Isis or fighting for them," the official said.
Daveed Gartenstein-Ross, a counter-terrorism expert at the Washington-based Foundation for Defence of Democracies, downplayed the issue in the US, saying the number of women and girls joining Isis were of concern, but not an epidemic. "It's a threat but it's (one) among many potential threats coming out of Syria," he said.
Karim Pakzad, of the French Institute of International and Strategic Relations, said some young women "had an almost romantic idea of war and warriors. There's a certain fascination even with the head and throat-cutting. It's an adventure".
Some may feel more respected and important than in their home countries, he added.
But Shaista Gohir, of the UK Muslim Women's Network, said little was known about the young women's motivation or what happened to them after leaving home.
"Some of these girls are very young and naive, they don't understand the conflict or their faith and they are easily manipulated. Some of them are taking young children with them; some may believe they are taking part in a humanitarian mission," she said.
Social media plays a crucial role in recruiting young women to join Isis in the Middle East, according to many experts.
Some British women and girls have posted pictures of themselves carrying AK-47s, grenades and in one case, a severed head, as they pledge allegiance to Isis. But they also tweet pictures of food, restaurants and sunsets to present a positive picture of the life awaiting young women.
Mia Bloom, a security studies professor at Massachusetts University and author of Bombshell Women and Terrorism, said the recruitment campaign painted a "Disney-like" picture of life in the caliphate. Some young women were offered financial incentives such as travel expenses or compensation for bearing children.
Women living amid Isis fighters used social media adeptly to portray Syria as a utopia and to attract foreign women to join their "sisterhood in the caliphate", she said.
"The idea of living in the caliphate is a very positive and powerful one that these women hold dear."
But the reality was very different, she said.
Bloom and Rolf Tophoven, of Germany's Institute for Terrorism Research and Security Policy, said reports indicated that women had been raped, abused, sold into slavery or forced to marry.
"Isis is a strictly Islamist, brutal movement ... the power and the leadership structure is clearly a male domain," said Tophoven.
Messages between a British Isis fighter in Syria and his common-law wife, read in a British court last month, revealed that many fighters are taking several wives.
In an article in Foreign Policy focusing on Isis's attitudes to women, former CIA analysts Aki Peritz and Tara Maller said fighters were committing horrific sexual violence on a seemingly industrial scale.
"For example, the United Nations last month estimated that (Isis) has forced some 1,500 women, teenage girls and boys into sexual slavery. Amnesty International released a blistering document noting that (Isis) abducts whole families in northern Iraq for sexual assault and worse.
Even in the first few days following the fall of Mosul in June, women's rights activists reported multiple incidents of (Isis) fighters going door to door, kidnapping and raping Mosul's women."
http://www.thestar.com.my/Lifestyle/Women/2014/10/03/More-young-women-are-leaving-home-to-join-Islamic-State-fighters/
----------
'Facial Coverings' Restricted In Australian Parliament House Public Galleries
4 October 2014
Muslim women who wear the Burqa into Federal Parliament will be banned from watching proceedings from regular public galleries and will be forced to sit in glass enclosures instead.
Extra security measures were announced on Thursday afternoon while Parliament's Speaker Bronwyn Bishop and Senate President Stephen Parry await security officials' advice on a request from Liberal senator Cory Bernardi to ban the religious face-covering from being worn in the building.
Senator Bernardi believes the Burqa is a symbol of oppression and un-Australian but wants it banned from Parliament on security grounds.
A message from the Department of Parliamentary Services says while screening policies are under review it is "prudent to implement an additional layer of security controls".
"Persons with facial coverings entering the galleries of the House of Representatives and Senate will be seated in the enclosed galleries," the statement says.
"This will ensure that persons with facial coverings can continue to enter the chamber galleries, without needing to be identifiable."
The glassed enclosures are commonly used by school groups so the procedures of Parliament House can be explained to them without disrupting parliamentary proceedings.
Two separate broader reviews into who can be issued passes and whether the Burqa should be banned outright in the building are still taking place and the presiding officers could still decide to extend restrictions to stop Burqa wearers from entering the building.
Senator Parry said the changes were an "interim" and "management" measure.
"One of the key reasons for this is if there is an incident or someone is interjecting from the gallery, which as senators would know happens from time to time, they need to be identified quickly and easily so they can be removed for that interjection," he told the Senate.
The President said it was important that people interjecting weren't allowed back into the building "in disguise" if they had been booted out.
Prime Minister Tony Abbott said this week that as far as he was aware nobody had ever sought to enter Parliament wearing the Burqa.
But Senator Bernardi has told Fairfax Media his concerns were prompted after seeing a group of veiled individuals in the building three years ago.
In other new security arrangements, adult visitors being signed in by pass holders, including journalists, staffers and bureaucrats will have to show ID, including those wearing Burqas.
Currently, they can be signed in without showing any proof of who they are. Regular visitors to Parliament's public areas do not need to show any ID or be signed into the building.
Burqa restrictions condemned
The decision was immediately condemned by the federal human rights and race discrimination commissioners.
Race discrimination commissioner Tim Soutphommasane told Fairfax Media the ruling would see Muslim women treated differently to non-Muslim women.
"No-one should be treated like a second class citizen, not least in the Parliament," he said.
"I have yet to see any expert opinion or analysis to date which indicates that the Burqa or the Niqab represents an additional or special security threat.
"Muslim Australians are entitled to a fair go and to be treated as equal members of our society.
"If there is a concern with public safety or security, this surely would be met with the security screening that all visitors are required to undergo upon entry into Parliament."
He said he hoped the ruling did not mean bigots had won "because the vast majority of Australians understand that bigotry has no place in our society and that there is no right to be a bigot".
Human rights commissioner Tim Wilson lashed the new security arrangement for treating some Australians as "a different type of citizen".
"This will treat free citizens wearing an otherwise legal piece of clothing, after they have gone through security, as a separate group of people," he said.
"There is no justification for such a measure. If there was a danger then why would we sit people with children?
"The need for separate treatment in the Federal Parliament for people who wear face covering is completely unjustified and unnecessary."
Immediately after the new rules were circulated, Greens leader Christine Milne said in a tweet the decision was "disgraceful".
"Just found out Muslim women who wear facial coverings are to be relegated to the part of Parliament reserved for rowdy school children," Senator Milne said.
Inflaming cultural divisions
Earlier in the day, the Greens leader wrote to Ms Bishop and Senator Parry urging them to reject the proposal for a Burqa ban at Parliament House, describing it as an assault on multicultural values that would inflame cultural divisions.
Senator Milne wrote that Parliament should be "led by example and bring all members of our community together. We won't make Australians safer by marginalising and attacking people."
"Security screening already applies to everyone entering Parliament House," Senator Milne wrote.
"In airports and courts culturally appropriate screening protocols already exist which only require women to temporarily remove the Burqa for identification purposes.
"However, the current proposal seeks to permanently ban the Burqa in Parliament House, which is not only completely at odds with our multicultural and free society, but is not deemed necessary in airports for security and nor should it be at Parliament House."
The restrictions on the wearing of the Burqa in Parliament come as PUP senator Jacqui Lambie has proposed a private members' bill banning the Burqa from public spaces across Australia. On Thursday her stance was criticised by Maha Abdo from the Muslim Women's Association, who questioned as to how the facial covering was a risk.
http://www.smh.com.au/federal-politics/political-news/Burqa-crackdown-facial-coverings-restricted-in-parliament-house-public-galleries-20141002-10p8pl.html#ixzz3FAnVpNez
----------
1,497 breast cancer cases reported in a single year
4 October 2014
Some 1,497 breast cancer cases were reported in a single year Kingdom-wide, 50 percent of which were in the late stages, local media said quoting medical sources.
The announcement of these breast cancer figures coincides with the launch of the national awareness program on breast cancer, which kicked off in Jeddah on Thursday.
The event, which comes under the slogan "the Kingdom is rosy," will be organized by the Cancer Society in the Eastern Region, the Sheikh Mohamed Hussien Al-Amoudi Center of Excellence in Breast Cancer, Health Directorate, and Roche Program for Awareness of Doctors and Cancer Patients.
Fatima Al-Milhim, head of the Early Detection Committee at the Saudi Cancer Society, said awareness campaigns in the last few years have contributed to enlightening women and society in general on the importance of early detection of the disease which, in turn, saved thousands of cases due to the discovery of the disease in its early stages.
For her part, Samiya Al-Amoudi, executive director of the Sheikh Mohamed Hussien Al-Amoudi Center of Excellence in Breast Cancer at King Abdulaziz University and supervisor of the campaign in the Jeddah Province, said one in eight women is subject to breast cancer.
http://www.arabnews.com/food-health/news/639586
----------
World first: woman has baby after womb transplant
4 October 2014
A 36-year-old Swede has become the world's first woman to give birth after receiving a womb transplant, medical journal The Lancet said on Saturday.
The baby boy was born last month, it said, describing the event as a breakthrough for infertile women. Both mother and baby are doing well.
The baby, weighing 1.775 kilos (3.9 pounds), was born by Caesarean section at 31 weeks after the mother developed pre-eclampsia, a pregnancy condition, it said.
The woman had a genetic condition that meant she was born without a womb but her ovaries were intact.
The replacement organ came from a 61-year-old woman, a family friend who had been through menopause seven years earlier. The organ was transplanted in an operation last year.
The recipient underwent in-vitro fertilization, in which eggs were harvested from her ovaries and fertilized, and then cryogenically preserved.
A year after the transplant, a single early-stage embryo was inserted into the transplanted womb. A pregnancy test three weeks later was positive.
"Our success is based on more than 10 years of intensive animal research and surgical training by our team and opens up the possibility of treating many young females worldwide that suffer from uterine infertility," the British journal quoted Professor Matts Braennstroem of the University of Gothenburg, who led the operation, as saying.
"What is more, we have demonstrated the feasibility of live-donor uterus transplantation, even from a post-menopausal donor."
http://english.alarabiya.net/en/life-style/healthy-living/2014/10/04/World-first-woman-has-baby-after-womb-transplant-.html
----------
'5% of Saudis of Both Sexes Reluctant To Get Married'
4 October 2014
Some five percent of Saudis of both sexes are facing a life with no marital prospects, while a third of marriages ended in divorce in a two-year period, local media said quoting a recently released study.
More than 1.4 million Saudi girls and 100,000 young men remain unmarried, a local daily said quoting a study.
The United Arab Emirates (UAE) had the highest divorce rate among the Gulf Cooperation Council (GCC), with a more than 40-percent divorce rate and a 60-percent spinsterhood rate, followed by Qatar, at 38 percent and 15 percent, Kuwait 35 percent and 18 percent, Bahrain 34 percent and 20 percent, and Oman at 29 percent and 17 percent, the report said.
Mohamed Al-Qahtani, assistant professor of sociology, said the problem emanates from the absence of spiritual, religious and social compatibility between couples which, in turn, will fail to produce healthy family units.
"The situation has led to high divorce rates and has shocked a new generation that may be reluctant to get married as a result," the academician said.
GCC countries are suffering from a population crisis, while Saudi Arabia, Kuwait and Oman are experiencing a natural balance between foreign workers and their population.
The UAE, Bahrain and Qatar, meanwhile, continue to suffer from population imbalances since many citizens are married to foreign and Arab nationals, which has led to high separation rates due to social differences, he said.
http://www.arabnews.com/saudi-arabia/news/639151
----------
Yusra Hussien Hunt: Police Fear for Girls' Safety after Jihad Dating Website Claims
4 October 2014
Counter terrorism police officers searching for missing Yusra Hussien have refused to confirm whether she was lured to Syria through a jihad dating website.
National newspapers yesterday reported that officers feared the missing Bristol 15-year-old had been groomed online.
Yusra disappeared on September 24 after skipping school and flying to Turkey from Heathrow.
It was reported that Yusra may have contacted a dating site called Jihad Matchmaker in the weeks before she left. It is possible she could have been brainwashed into running away by men working for the Islamic State who are looking for wives.
Police officers from the Counter Terrorism Unit, based in London, refused to say whether the reported fears were true. A spokesman only confirmed police were still investigating Yusra's disappearance. He said: "Officers from the South East Counter Terrorism Unit, supported by the Metropolitan Police Service and Avon and Somerset police, are leading the response to ensure the safe return of a 15-year-old girl and 17-year-old girl who were reported missing.
"Enquiries by officers identified the 15-year-old from Bristol and the 17-year-old from London are understood to have flown to Istanbul. Officers believe they may be attempting to make their way to Syria. Officers are providing support to both families and are working to identify where they are and encourage them to return home safely."
It was claimed by the newspapers, which cited security sources, that Yusra contacted a Twitter account with the same name as Jihad Matchmaker, which urges followers to "picture all the little Mujahideen running around", a number of weeks ago.
The Twitter account has fewer than 200 followers, and it has not been verified whether it provides a genuine service in matching girls with extremists in Syria.
However, a spokesman for the Counter Terrorism unit said that a journey to Syria would be "extremely dangerous" for Yusra, who is in Year 11 at City Academy. He said: "Travelling to Syria is extremely dangerous and anyone who is considering travelling to the region is putting themselves at great risk.
"We urge anyone who is concerned about someone planning on travelling to Syria to contact police and get access to the support available.
"Our aim is to not criminalise young people, it is to prevent tragedies.
"The UK Counter Terrorism Network continues to work to deliver the Prevent strategy with key partners and communities to support individuals who may be thinking of travelling to Syria and thereby putting themselves at great risk or may be vulnerable to extremism."
The reports came on the same day that Yusra's parents, Mohammed and Safiya, made a heartfelt appeal for their daughter to come home.
They also refuted claims that Yusra had become radicalised and begged people to wait for evidence before calling their daughter a jihadist bride.
Mr and Mrs Hussien said: "Yusra, our daughter, is a very young bright bubbly girl who is loved by not only her family but her peers, teachers and her community. She's a typical teenager – she loves to play table tennis and to ride her bicycle."
"Our family is very heartbroken and we are struggling to come to terms with this situation."
http://www.westerndailypress.co.uk/Yursa-hunt-police-fear-girls-safety/story-23037563-detail/story.html#ixzz3FAoR8FEo
----------
Big hopes for Afghan women's football
4 October 2014
KABUL - The final score line read Kabul 5 - Herat 1, but for the players and noisy supporters who cheered them on Friday, women's football was the biggest winner at the climax of Afghanistan's first female sport's league.
Empty stands at Kabul's 6000 seat all-weather stadium failed to diminish the enthusiasm of the hundred or so spectators urging on their teams, in a country where women were rarely allowed to leave their homes under the Taliban's oppressive rule.
The groundbreaking women's four-team league was held in parallel with the Afghan Premier League (APL), a competitive men's event now in its third year.
"I came here to support my team because football is not only for men," said Waheeda Bahrami, 17, a high-school student in Kabul, wearing the yellow replica shirt of her team and waving pictures of the players.
"Backing the girls is so important for us. Football is good for health and we need to show girl power."
Players wore black head-scarves and full leggings to adhere to the country's conservative Muslim culture in the trophy clash between the home side and western Herat.
Even 13 years after the fall of the Taliban, gender segregation remains sharp in Afghan life, with women in cities and rural areas often wearing the all-encompassing Burqa when they venture out of the house.
"I feel sad. Most of the families don't allow women to come watch football," said Najeela Bayat, 35, who attended the game with her husband and 10-year-old son.
"We had problems at the gate. They wouldn't allow my husband to come in. They told me only I could go in. But we insisted."
On the pitch, the star player was Madina Azizi, 19, agricultural student and striker for Kabul, who scored four goals.
"My family never told me not to play, they encouraged me. Here in Afghanistan there is war, suicide attacks, everything. When I play football I forget everything," she said.
"I think the future for women's football here is bright, if we work hard."
http://www.smh.com.au/sport/soccer/big-hopes-for-afghan-womens-football-20141004-10qa8d.html#ixzz3FAw44ldv
-----------
Iranian women aim high in combative sport Kabaddi
4 October 2014
Iran captain Salimeh Abdollahbakhsh visited the hospital on the eve of the Kabaddi final at the Asian Games. She had fever and felt dreadful. She had no intention of missing the kabaddi title match, though, knowing her skills could tilt the match in favour of her team and against India, the creator and dominant nation in the sport.
So she lined up along with her teammates - all in their Hijabs - as they prepared to give India a run for its money in a combative sport that combines tag with wrestling.
In the end, India won the final 31-21, but Iran showed glimpses of its potential and is growing in confidence for the next Asian Games.
"India is, of course, a good team but Iran is improving fast," Abdollahbakhsh said. "Iran could have done better in the final and I thought we had a chance of upsetting India. We won the bronze last time and silver here. We're aiming for gold next time."
Abdollahbakhsh and her teammates present a rather paradoxical sight as they compete in a sport that involves running and grappling with opponents, covered from head to toe and with full-length sleeves.
But in contrast to games in which head covering are banned - like the hijabs were here in the women's basketball competition - officials in Kabaddi take great care to ensure the faith and customs of the athletes is respected. Often, the umpires have to move quickly to block spectators' views with their blazers if a player's head covering is displaced.
"We come from a conservative society and are used to playing (in) the way we dress, so that's not a problem. Our aim is to gain maximum exposure and play a team like India more often so that we can improve our skills," said 29-year-old Abdollahbakhsh, a member of the team that played in the inaugural women's competition at the 2010 Asian Games in Guangzhou, China.
Coach Azam Maghsodlou said a series with India could not be organized ahead of the games, but Iran had prepared well anyway.
"We had camps spread over nine months in preparation," Maghsodlou said.
"There were exposure tours to Thailand and South Korea and that helped the team get together and gel. We also have a growing pool of players."
Iran has some 100 Kabaddi clubs for both men and women, with many in its northeastern province of Golestan. The game has gained in popularity over the past decade but can't be compared with the likes of football or volleyball in terms of popularity.
"People follow kabaddi since we are doing well at the Asian Games, but it still has a long way to go," Maghsodlou said. "One has to remember the fact that India has been playing it for hundreds of years."
That's a fact India's head coach Edachery Bhaskaran knows all too well, so his praise for the Iranian team was genuine.
"They have strength and stamina but we are better in skills and technique," Bhaskaran said. "I understood midway through the tournament that Iran was the team to watch and so we studied a lot of their videos and made plans for particular players."
The basic rules of Kabaddi are simple, but the finer arts of the game have taken centuries to develop. It is a game between two teams of seven players each. The teams take turns to send a raider into the rival half of the field to gain points by trying to touch opponents, who then go out of the game. All the while, the raider chants the word 'Kabaddi' until running out of breath.
The opposite team tries to either evade the touch or gets into a grapple to try to stop the raider returning to their own half.
Despite the visible improvement from the Iranian team, Indian player Abhilasha Matre remains convinced that her country's larger player base will keep it ahead of the competition.
"They're an improving side but I'm sure even a second-string Indian side will be able to beat Iran," she said.
http://english.alarabiya.net/en/sports/2014/10/03/Iranian-women-aim-high-in-combative-sport-kabaddi.html
----------
URL: https://www.newageislam.com/islam,-women-and-feminism/new-age-islam-news-bureau/we-need-muslim-women-to-unite-with-us-in-the-fight-against-terror/d/99387